In this article: I'll cover what you need to know to find the ideal TV for your situation.
I'll also suggest some features to look out for if you're thinking of cutting the cord.
I did a lot of research before I bought my last TV, and I'm still very happy with it over four years later. But I dig intense research in a way not everyone does. So I'm going to try to simplify the search process for you with some guidance that will hopefully help make TV shopping relatively quick and painless.
Narrowing your search
It's good to keep in mind that "must-have" features are subjective. Sometimes it's worth stretching the budget to get one, and other times it's better to save that money and put it toward a sound system.
The right TV fit depends largely on what you watch and when you watch it. For example, if darkened movie nights are a big deal, you might want to splurge on an OLED set. If you just got a PS5, you'll definitely want to make sure your new TV has the features to make the most of the new console. Check out our gaming section for more on that.
Sort and filter to find what you want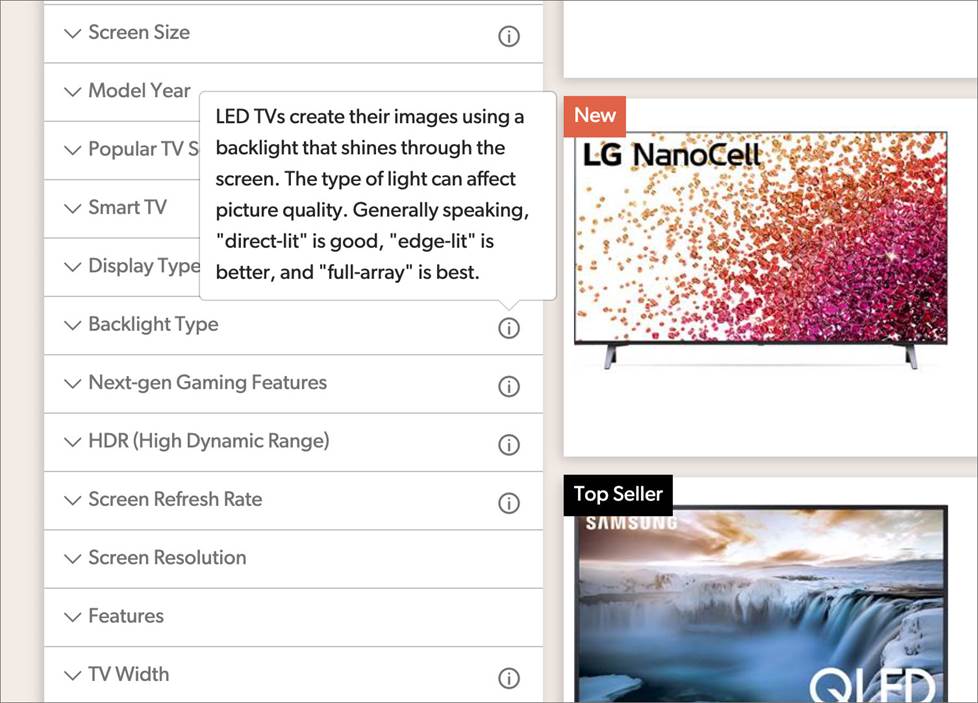 Need more information? Hover over the "i" on a filter to get more details.
When I'm shopping on our site, the first thing I do is sort by customer ratings so I can immediately see what products people love the most. We also offer a ton of filters that are really helpful for narrowing your options. It's super easy to shop by brand, size, price, and all kinds of other specs.
Screen size: You can probably go bigger than you think
My first "flat screen TV" had at least three inches of frame around the actual screen — which meant an extra six inches of non-screen space I needed to have room for in height and width. But now TVs are basically all screen — with nearly-invisible bezels measuring only about an eighth of an inch.
That means you can probably go bigger than you think. TV sizes are taken from diagonal measurements. A newer 65" TV is actually only about 57" wide. And if you are looking to maximize every inch of space, we've got you covered with precise measurements of everything including stand dimensions and mounting hole pattern — all verified by our product research team.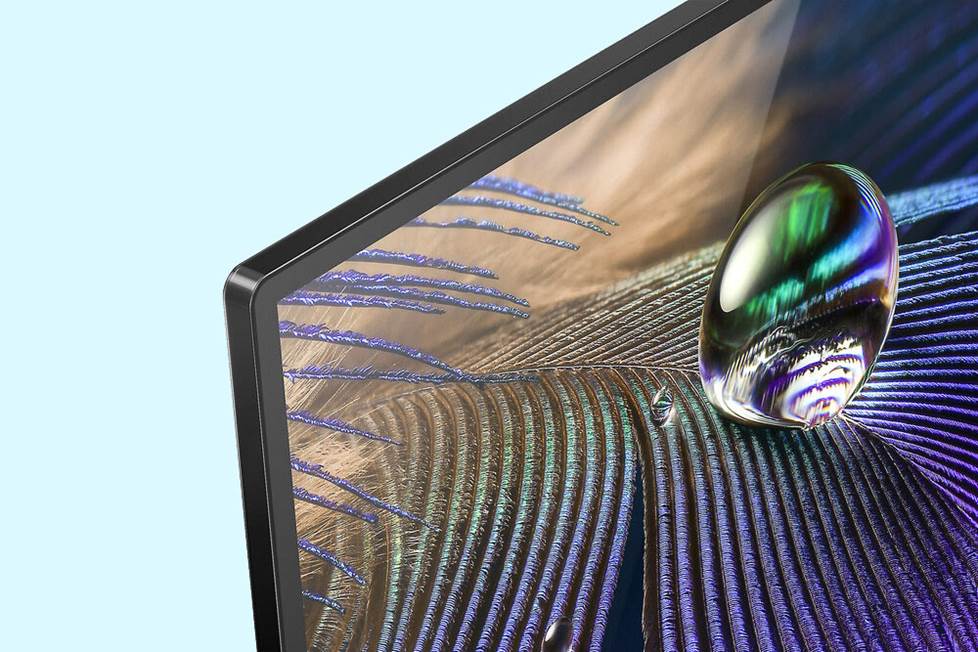 TV bezels are impossibly thin now, so all you see is a big, beautiful picture.
For specific screen size recommendations, plus other helpful tips on room considerations, see our article on choosing the right screen size for your room.
If you want a screen over 100", consider a home theater projector. See our article on how to choose a projector.
Screen resolution
4K Ultra HD TVs are now the standard, and they are what I would recommend for most people. These sets are a lot more affordable than they were even a few years ago, and 4K content is widely available.
The term 4K refers to a horizontal screen resolution of roughly 4,000 pixels across. To be precise, a 4K TV screen is 3840 pixels across by 2160 down, for an impressive 8,294,400 total pixels.
4K vs. 8K
8K has four times as many pixels as 4K, but that doesn't mean it's four times better for you. There is almost no 8K content available yet, so if you are looking to maximize your TV budget, get the best 4K model in your price range.
That said, if you are going really big, and price isn't necessarily an object, you might want to consider 8K. The models I've seen have some impressive upscaling, and the subtle improvements in picture detail will be even more apparent as your screen size increases.
Do you need a TV with HDMI 2.1?
If you've hooked up any A/V gear in the last decade, you've probably used an HDMI cable. And if you're TV shopping, you've likely heard about the latest version: 2.1.
Most new TVs have one or more inputs that support some or all of the following 2.1 features:
Huge bandwidth increase (up to 48 Gbps, compared to 18 Gbps with version 2.0)
eARC (enhanced Audio Return Channel) passes uncompressed surround sound formats like Dolby Atmos and DTS:X between eARC-equipped devices
Up to 8K UHD resolution at up to 60Hz
Dynamic HDR formats (HDR10+, Dolby Vision, and Advanced HDR)
Gaming features of HDMI 2.1
VRR (variable refresh rate) reduces stutter and frame tearing for smoother gameplay
ALLM (auto low latency mode) for reduced input lag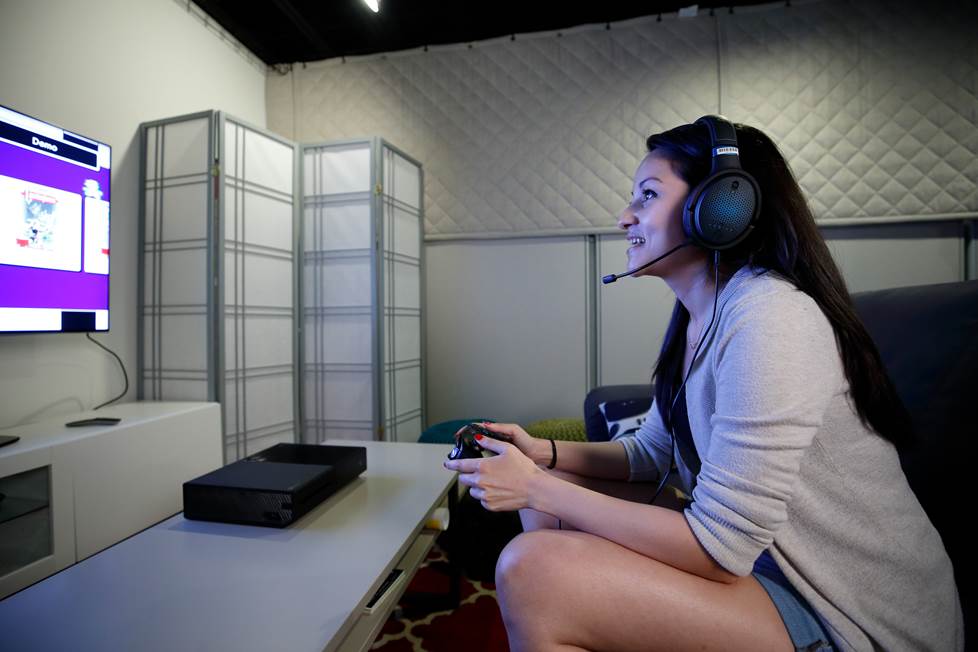 Love gaming? That's a great reason to invest in a TV with HDMI 2.1.
If you have or are planning to get a next-gen gaming console, you'll definitely want a 2.1-capable TV. Another major reason to snag one is if you want to send a Dolby Atmos signal from your TV's streaming apps or connected sources through to your sound system. For example, I got to test out the Atmos-capable Sonos Arc before it came out, and I was seriously bummed that my older TV couldn't pass an Atmos signal through to it.
It's important to note that TV manufacturers can pick and choose which HDMI 2.1 features they want to support. If you require a specific one, be sure to confirm that the TV you want supports it.
Check out our HDMI cables buying guide to learn more about the HDMI 2.1 spec.
HDR (High Dynamic Range)
4K and 8K TVs can display millions of pixels, but HDR can provide a major boost to the quality of those pixels by expanding the range between the picture's darkest blacks and brightest whites. This allows you to see more detail, especially in highlights and shadows. Colors are also more realistic. In short, the picture you see is more rich and lifelike.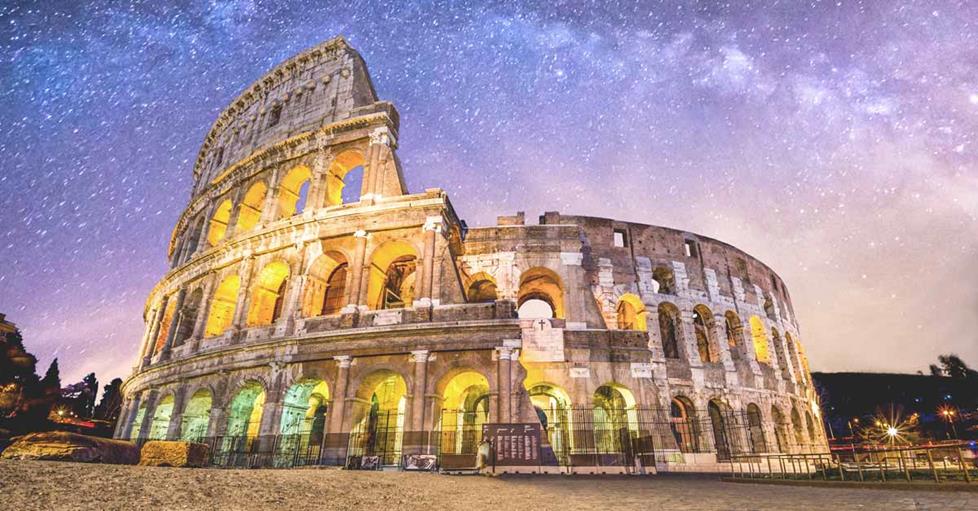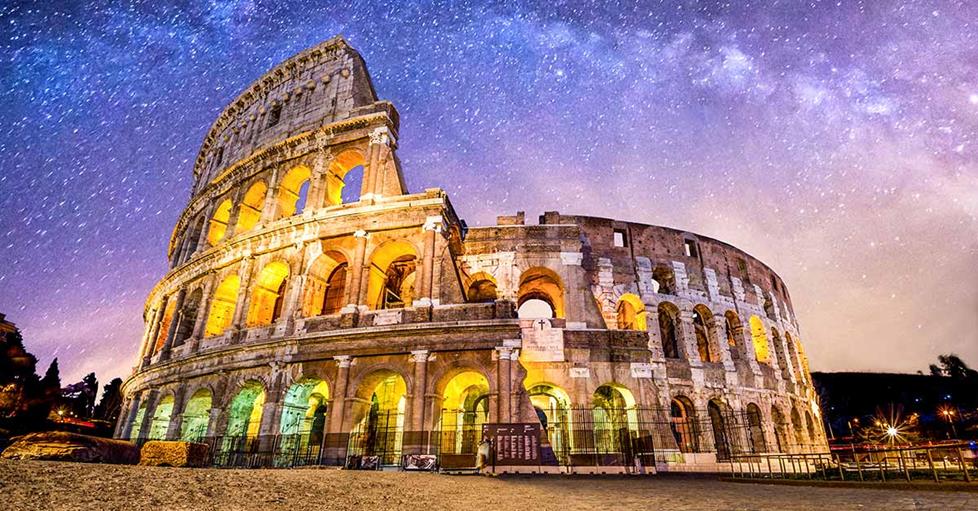 As you compare UHD TVs, you'll find four different HDR formats:
HDR10: the most common format (mandatory for UHD Blu-rays)
Dolby Vision™: a dynamic format on select Blu-rays, also supported by streaming services like Netflix and Amazon
HDR10+: Samsung's alternative to Dolby Vision, supported on Blu-rays and some streaming services (Amazon)
HLG (Hybrid Log Gamma): designed for use on broadcast, cable, and satellite TV
TVs that support "dynamic" formats like Dolby Vision or HDR10+ can change picture settings on a scene-by-scene basis — potentially providing a more accurate, lifelike picture.
4K TVs generally don't support every HDR format, so look for one that is compatible with what you watch the most. For example, if you watch a lot of Netflix and want the best 4K streaming experience, look for a TV that supports Dolby Vision.
LED or OLED?
LED and OLED TVs differ in how their panels light the image. LED TVs shine a backlight through a liquid crystal layer while OLED TVs are self-illuminating. There are excellent sets in both categories.
OLED TVs offer infinite contrast
If picture quality is your top priority, then you should consider an OLED TV. The major advantage offered by OLED display technology is that each pixel can turn on and off individually to create absolute black. This creates a contrast ratio that is essentially infinite, resulting in richer colors and a more lifelike image.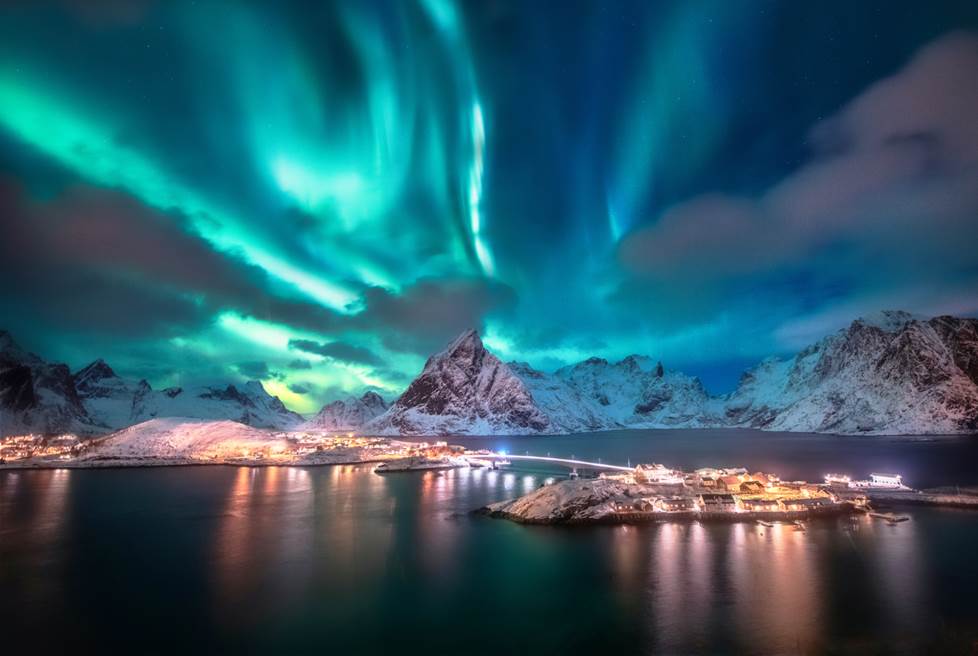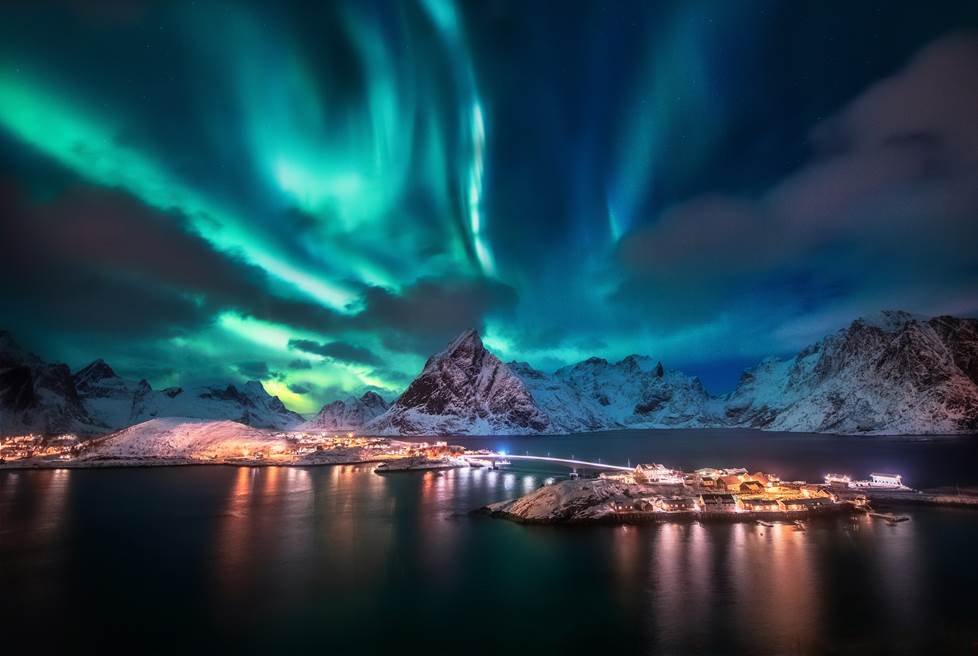 When I first saw an OLED in person, I was stunned. The picture quality was like nothing I'd ever seen. And because they don't require a backlight, OLEDs are unbelievably thin.
LED TVs get bright
OLED TVs are brighter than they've ever been, but the brightest TVs are still LED models. They also offer a wider range of screen sizes and prices than you'll find with OLEDs. Higher-end models use a more sophisticated type of backlight called Full Array with Local Dimming (FALD). These sets have a higher number of LEDs with dimmable zones that offer better contrast than other LED TVs.
An exciting recent development is the implementation of mini LEDs. These TVs take the FALD technology a big step further by using LEDs that are significantly smaller than those used in traditional backlighting. That means they can pack a lot more of them in for a much punchier picture. You'll find this cool feature on LG's QNED, Samsung's Neo QLED, and these Sony TVs.
For an in-depth comparison see our OLED vs LED TV article.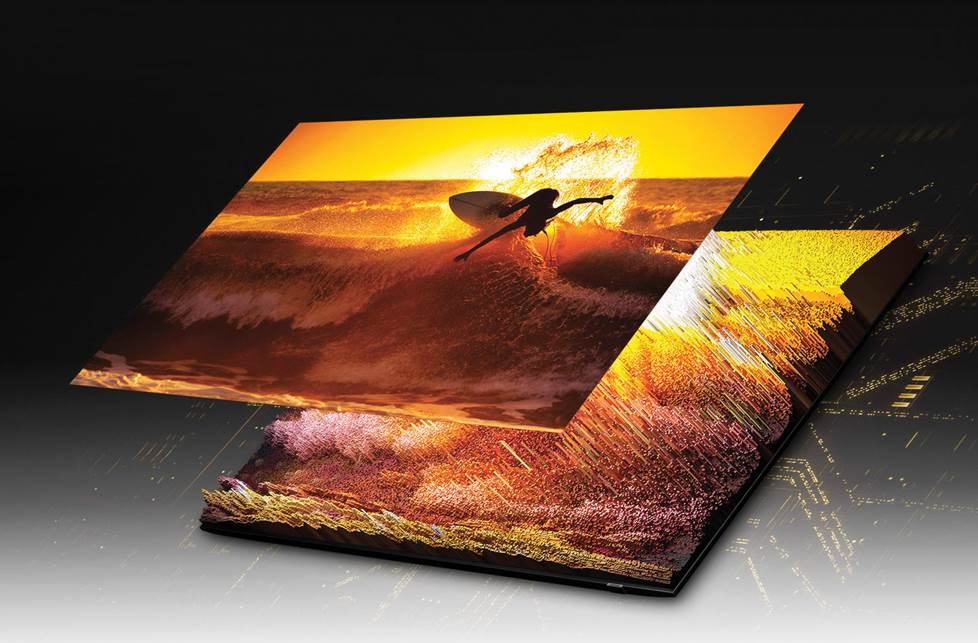 TVs with a Mini LED backlight, like Samsung's QN90C, offer incredibly precise light control for wide contrast and realistic shadow detail.
What are QLED TVs?
If you're confused by where QLED TVs fit in, you're not alone. These sets use a special quantum dot layer to deliver vibrant color. Samsung has been using this technology in their LED TVs for years. Their "Neo QLEDs" mentioned above pair this special quantum dot layer with the dense array of mini LEDs for rich color and excellent contrast. Samsung also now offers OLED TVs with Quantum Dots to deliver a "mind-blowing picture," according to one customer. They call this hybrid design Quantum HDR OLED.
LG also offers some LED and Mini LED TVs that are enriched with Quantum Dots, while Sony uses it only in their flagship OLED model, which they call QD-OLED.
Screen refresh rates
A TV's refresh rate tells you how many times per second the screen refreshes itself. High-end models usually offer a refresh rate of 120Hz, which means the screen refreshes itself, or draws a new image, 120 times per second. That doesn't necessarily make them twice as good as 60Hz TVs, but they do offer some advantages for certain kinds of content.
From some sources, movies — which are often shot at 24 frames per second — may appear juddery on a 60Hz TV as frames are duplicated an uneven number of times. A TV with a refresh rate of 120Hz, on the other hand, can display each frame five times (24 x 5 = 124) for smooth, judder-free motion.
And next-gen game consoles can display content with a frame rate of 120fps, so a TV with a refresh rate of 120Hz will display fast game action more smoothly than a 60Hz set.
Actual refresh rate vs. effective refresh rate
The true screen refresh rate maxes out at 120Hz. But TV makers sometimes use higher numbers to describe the "effective" refresh rate: a made-up figure that's supposed to represent the motion blur improvement of the refresh rate combined with other technologies like a blinking backlight. So, Samsung's Motion Rate 120 is actually 60Hz and Motion Rate 240 is 120Hz; Sony's Motionflow XR 960 is 120Hz.
Smart TV features
Nearly all new TVs have built-in Wi-Fi, apps for streaming, and voice control compatibility. It might just come down to which streaming interface you prefer. Sony TVs use a Google TV software platform which offers a well-organized way to find just the show or movie you want across all your streaming services.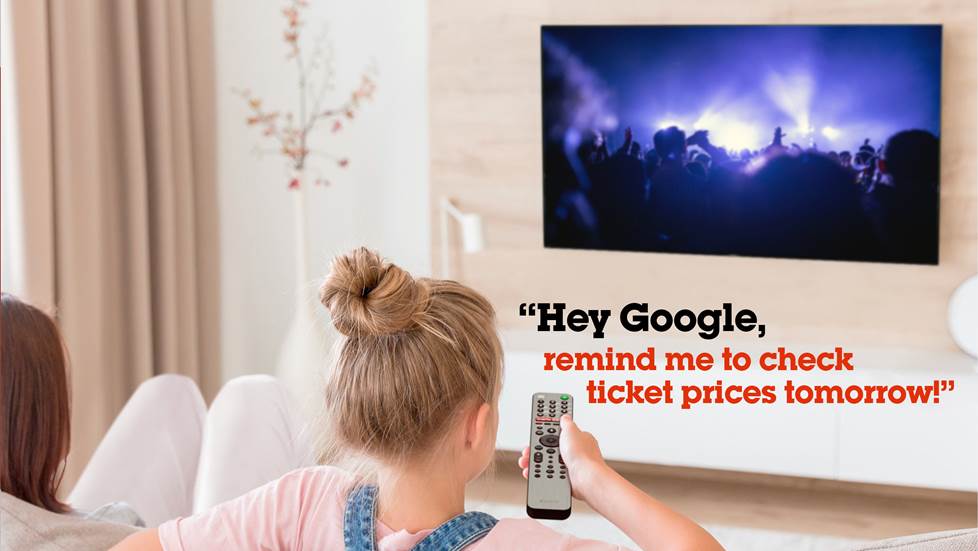 Nearly every new TV has a built-in voice assistant to make it easy to set reminders, find your favorite shows, and adjust certain settings.
Higher-end TVs will also have more advanced remotes that are easy and fun to use. Most will have a voice control button, often with the option to choose Amazon Alexa or Google Assistant. You'll also find dedicated buttons for streaming services like Netflix and Hulu.
LG's Magic Remote also includes gesture control, which lets you search and select content just by pointing and clicking. I also love that Samsung's new remotes have a built-in solar cell that keeps the battery charged using the basic lights in your home.
Many TVs offer support for Apple AirPlay 2 and Chromecast Built-in so that you can stream content from your computer or phone.
If you're going to be streaming a lot of 4K content, make sure you have a robust internet connection as it can make a big difference in the picture quality.
See our wireless router buying guide for more information on what you need to get a strong internet connection.
Cutting the cord is easier than ever
Many people are able to get all the programming they want through a combination of an antenna for over-the-air broadcasts, plus web streaming. In fact, the selection and convenience of streaming has contributed greatly to the rise of "cord cutters" — people who are cutting back or eliminating their cable or satellite TV service.
Get local channels over the air (for free)
Many TVs have a built-in tuners that allow you to view over-the-air broadcasts for free when paired with an antenna. Check out our antenna buying guide for more info on that.
An exciting new development in the TV world is the new ATSC 3.0 standard, commonly known as "NextGen TV." This is a huge upgrade to antenna-based television. The new framework can deliver massively improved picture and sound quality for over-the-air broadcasts. Look for TVs with a built-in ATSC 3.0 tuner to enjoy this cool feature when it becomes available in your area (antenna required.)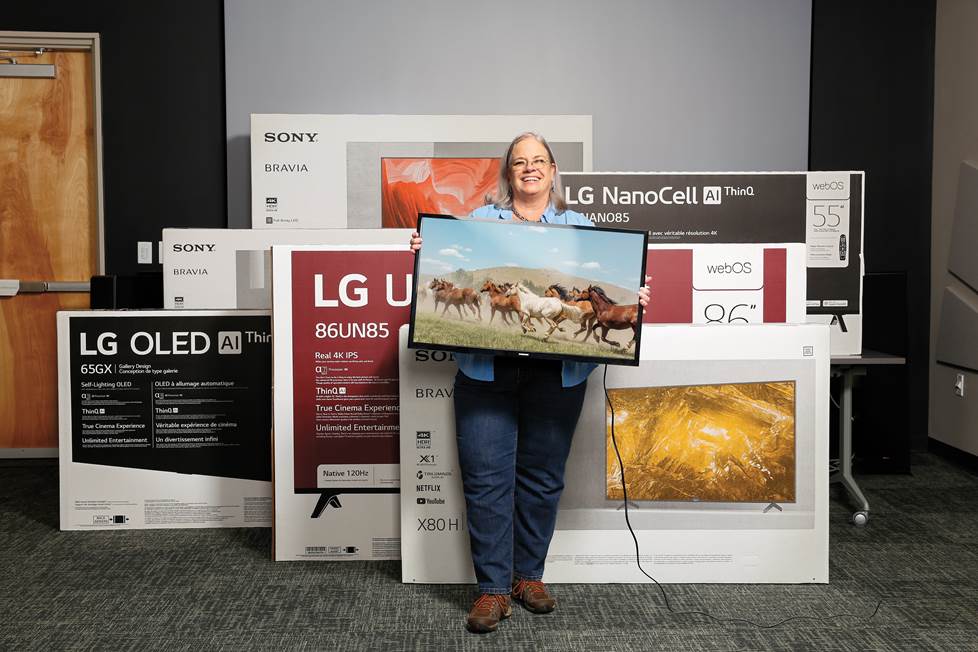 Personalized advice from our team of experts
Hopefully this article has cleared up some confusion and helped you focus on what to look for in a TV. It's worth taking your time because a TV is something you'll probably use every day and an investment you can enjoy for many years.
Need more help choosing the best TV for your situation? Contact our expert advisors — they know this gear inside and out.
Check out our setup guide for help getting your new TV up and running. And if you need some one-on-one assistance, just ask. We offer free lifetime tech support with every Crutchfield purchase.