Yuneec Typhoon H Hexacopter with Intel® RealSense™
Aerial drone with flight controller, 4K camera, backpack, and 2 batteries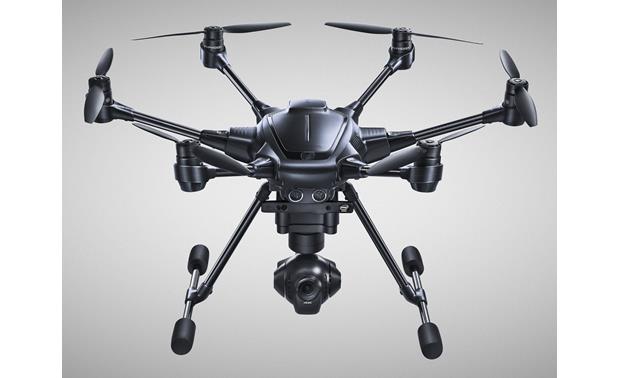 Yuneec Typhoon H Hexacopter with Intel® RealSense™ - Front

Yuneec Typhoon H Hexacopter with Intel® RealSense™ - Easy-access battery compartment

Yuneec Typhoon H Hexacopter with Intel® RealSense™ - 4K CGO3+ camera and gimbal with included accessories
From Yuneec: Typhoon H Orbit Me Mode
From Yuneec: Typhoon H Point of Interest
From Yuneec: Typhoon H Team Mode
From Yuneec: Typhoon H Watch Me/Follow Me Mode

Yuneec Typhoon H Hexacopter with Intel® RealSense™ - Rechargeable battery included

Yuneec Typhoon H Hexacopter with Intel® RealSense™ - RealSense technology helps the drone "see" and avoid unexpected obstacles

Yuneec Typhoon H Hexacopter with Intel® RealSense™ - RealSense technology helps the drone sense relative altitude as well as obstacles

Yuneec Typhoon H Hexacopter with Intel® RealSense™ - Records to included microSD memory card

Yuneec Typhoon H Hexacopter with Intel® RealSense™ - Retractable landing gear allows for 360-degree shots and soft landings
Item # 9596026088 | MFR # YUNTYHBRUS
This item is no longer available.
Overview
Our take on the Yuneec Typhoon H Hexacopter with Intel® RealSense™ by Crutchfield's Eric Angevine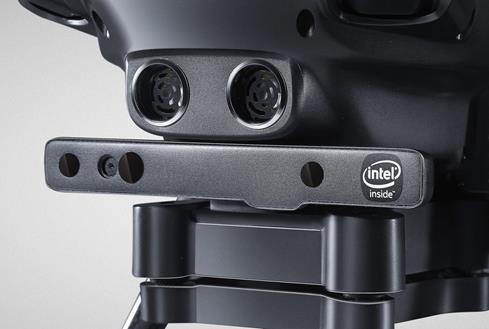 RealSense™ technology from Intel® helps the Yuneec Typhoon H avoid unexpected obstacles, even in hands-free modes.
A high-tech drone that "sees" obstacles
When you're flying a high-tech machine like the Typhoon H, you want to do everything you can to avoid a crash. Yuneec added Intel RealSense technology to help your drone "see" what's in front of it, so you can focus on where you're running, driving, biking or paddling when you're in operating it in hands-free mode. RealSense™ integrates with Yuneec's Follow Me mode, and builds a 3D image of the surrounding environment to aid in navigation. That way, the drone can sense and avoid unexpected obstacles while you and the onboard 4K camera are focused on getting the best possible shot.
Fly higher, faster, and smarter
The Yuneec Typhoon H provides an excellent entry point to serious aerial filmmaking. The hexacopter comes with a 4K camera and gimbal mount, and it can take that camera up high, and track a moving subject with impressive speed and maneuverability. It's an aerial camera platform par excellence, and it's ready to fly just moments after it arrives on your doorstep. The drone comes with the powerful and intuitive ST16 flight controller and a nearly full rechargeable battery. The drone comes with a backpack, so you're ready to hit the trail in search of the perfect shot.
A compact camera platform
The 4K camera and gimbal make this a high-tech camera platform that opens up tons of options for filmmaking on a budget. Imagine piloting your Typhoon H to capture a car chase from above, or let it hover to create an establishing shot before you cut to the close-up of the actors. It adds a whole new dimension to small-budget movie making.
Pinpoint flight control
The ST16 Personal Ground Station flight controller will make you feel like a real pilot, too. It's a sophisticated piece of hardware built around a 16-channel 2.4GHz radio control transmitter that offers a powerful Wi-Fi® link with your aircraft. As the drone takes the camera up for a high-level view, you'll get 720p live video streaming back to the controller's high-resolution touchscreen. Control joysticks are placed for easy thumb access, and surrounded by monitoring displays, switches, and dials that offer precise, intuitive control of the Typhoon H.
Product Highlights:
drone ships with ST16 controller, CGO3+ 4K camera, backpack, and rechargeable battery
convenient backpack-style carrying case with hard outer shell included
Typhoon H Drone:
included Intel® RealSense™ module helps the drone actively avoid obstacles during flight
six rotors let the drone fly fast and maneuver quickly
flight time: up to 25 minutes
maximum horizontal speed: 43.5 miles per hour
up to 35° roll angle
specialized flight modes:

get your drone to follow you hands-free with Follow Me/Watch Me mode
keep the camera revolving around you with Orbit Me mode
have the camera orbit something or someone else with Point of Interest mode
Journey mode keeps the camera trained on one spot as the drone flies up and away
set a point-to-point route with Curved Cable Cam mode
Dynamic Return to Home gets your drone back to you safely

retractable landing gear
rotor arms fold for easy storage
20-1/2"W x 18"H x 11-5/8"D
weight: 3.4 lbs.
CGO3+ Camera:
shoots 4K video at 30fps, 1080p HD video at 120fps
12-megapixel still camera
360° range of motion when used with gimbal mount
wide-angle lens offers 115° field of view
ST16 Personal Ground Station:
16-channel 2.4GHz radio control transmitter offers pinpoint remote control of the drone and camera
7" touchscreen for viewing live video and making menu choices

view live video downlink at 720p
range: 1 mile

navigational alerts include sounds and vibrations
integrated flight simulator lets you practice tricky maneuvers first
built-in rechargeable battery
Warranty and Other Info:
What's in the Box:
Yuneec Typhoon H Hexacopter with Intel® RealSense™ owner's manual
Hexacopter (w/ installed Intel RealSense module)
Gimbal camera (w/ lens cap)
Ground Station Controller
16GB microSD card (inside SD-card adapter)
10 Propellers
2 Rechargeable batteries
Battery charger
AC power supply
AC power cord
12V power adapter
Sunshade
Backpack
Quick Start
Single Mode/Team Mode instructions
"Box Contents" card
"Know Before You Fly" card
"WARNING!" card
Customer Support Card
"WARNING" note
"Notice For Flying On A Boat" Card
"Obstacle Avoidance Limitations" Card
Scratch & Dent items may be missing non-essential accessories. In some cases the manufacturer's accessories have been replaced with generic equivalents.
Yuneec Hexacopter its awesome

Anonymous, Quebradillas, PR
Reviews
Yuneec Typhoon H Hexacopter with Intel® RealSense™ Reviews
Average Customer Review(s):


Submit a review and then enter to win a $350 rewards card
Review this product
Thanks for submitting your review
Most reviews are processed and published within 5 business days. You will receive a confirmation email once your review has been published.
Customer photos
Pros:
Cons:
Crutchfield response
---
Details
Product Research
Features
Typhoon H: Yuneec's Typhoon H is an advanced aerial photography and videography platform, perfect for skilled pilots and photographers alike. It offers up to 25 minutes of flight time while filming with the CGO3+ 4K-resolution camera. Settings can be freely and remotely adjusted through the ST16 Personal Ground Station Controller, an easy and intuitive remote controller which features a 7" Android-based touchscreen that displays live footage of your flight. It is also capable of detecting obstacles and intelligently navigation around them through its built-in Intel RealSense Technology.
Hexacopter Arial Drone: The Yuneec Typhoon H is a hexacopter arial drone with six rotors. Carbon fiber is used extensively to decrease weight and increase durability. It has a maximum flying speed of 30mph (13.5m/s) in Angle Mode, 43.5mph (19.4 m/s) in Follow Me Mode, and 13mph (6m/s) in Smart Mode. The Typhoon H also has a maximum climbing speed of 11mph (5m/s) and maximum descending speed of 6mph (3m/s).
Six Rotors: The six rotors allow for the Typhoon H to have a greater overall payload. Quick release buttons make installing and removing each propeller simple and fast. High performance propellers, make the Typhoon H agile, fast and instantly responsive to commands.
5-Rotor Fail Safe Mode: Further, the additional two rotors create redundancy and act as a failsafe system, so if one motor fails, the Typhoon H can make a safe five-rotor flight landing.
Retractable Landing Gear: The Typhoon H's landing gear retracts out of the way to give you a full, 360° view of the world without anything obstructing your view.
Intel RealSense Technology: The Typhoon H incorporates Intel RealSense Technology to intelligently detect obstacles and self-navigate around those obstacles while in flight. The Typhoon H's Intel Real Sense module consists of three cameras that act like one (a 1080p HD camera, an infrared camera, and an infrared laser projector) to sense depth and track motion. Typhoon H's full 360° camera gimbal and retractable gear allows the module to always be facing obstacles in the path of flight, regardless of camera position. The Typhoon H also uses GPS (not just vision) to track obstacles. From a tiny tree branch to a large building, the Typhoon H can navigate around obstacles, regardless of size, and stay in contact with the subject, even if it becomes obscured. Additionally, RealSense is capable of remembering its environment, further enhancing the prevention of possible collisions. It is not reactionary - if it avoids an obstacle once, it will remember the location of the obstacle and automatically know to avoid it.
In Smart, Follow Me, Watch Me, and Return Home modes, if the Typhoon H senses objects in front of it, the Hexacopter will actively seek out alternate routes avoiding those obstacles. Once a clear path is obtained; the Typhoon H will then continue as normal.
In Angle mode, pilots will still have full control of the Typhoon H, but if an obstacle presents itself in front of Typhoon H, the RealSense module will stop the forward flight and await command.
Note: The Tphoon H can fly at up to 12mph (5m/s), and reliably navigate around obstacles as they come into its view. Obstacles can be sensed from 32' (10m) away in daylight conditions. Due to its broad array of sensors, obstacles as indistinct as leafless trees can be seen and acted upon.
ST16 All-In-One Controller: The ST16 Ground Station Controller is an integrated transmitter, receiver and Android platform that gives you full control over Typhoon H through joystick, push-button, and touchscreen control; allowing you to easily program autonomous flight and capture stunning photos and videos. The large 7' integrated screen displays real-time footage of your flight, eliminating the need for an external device. The Android powered ST16 Ground Station Controller's 7" touchscreen displays live footage of your flight in HD 720p resolution and enables a wide variety of autonomous flight modes. The Typhoon H's effective range with the ST16 controller is up to 1 mile (1.6km).
CGO3+ Gimbal Camera: The included CGO3+ Gimbal Camera communicates wirelessly with the ST16 Ground Controller via RF (5.8GHz); up to 1 mile (1.6km). The CGO3+ has a new glass lens in the camera. Further, the 3-axis anti-vibration CGO3+ gimbal camera captures ultra-stable video and vivid still images and can be rotated in an unlimited, 360° range of motion. The CGO3+ gimbal camera features an improved 98° wide-angle fixed focus lens, and integrated video downlink module that delivers 720p real image transmission of your flight as well as the option of manual camera settings. Steady video can be captured in stunning 4K/30fps and beautiful slow motion video can be captured in 1080p/120fps. You can also take vivid 12.4 megapixel still images.
microSD Card Slot: The CGO+3 Gimbal Camera stores its still image shots and recorded video images onto a microSDHC Class 10 memory card (up to 128GB).
GPS Receiver: The Yuneec Typhoon H Hexacopter requires a suitable GPS signal/lock in order to start the motors and to be flown. This means it should only be operated outdoors in open areas that are free from people, vehicles and other obstructions. In order to acquire a suitable GPS signal/lock, it's critical that the GPS antenna installed in the top of Hexacopter always have a clear view of the sky (100° minimum clearance required).
Note: Loss of GPS signal/lock may result in a crash or even a "fly away".
3 Main Flight Modes: The Yuneec Typhoon H Hexacopter offers three main flight modes - Smart, Angle, or Home.
Smart Mode: Smart Mode is typically the best mode for first-time pilots. In Smart Mode, the Hexacopter will always move in the direction the right-hand control stick is pushed relative to the pilot and no matter which way the front/nose is pointed. So if you push the stick to the left, the Hexacopter will always move to the left, regardless of the direction the nose is pointing; even if it's spinning. This mode is helpful for pilots that lose orientation while flying.
Angle (Pilot) Mode: Angle (Pilot) Mode is the mode preferred by experienced RC/drone pilots because the Hexacopter will move in the direction the control stick is pushed relative to the front/nose of the aircraft. So if you push the right-hand stick to the left, the Hexacopter will bank toward the left side and move to the left. This means if the front/nose of Hexacopter is pointing away from you it will move to the left, but if the front/nose is pointing at you the Hexacopter will move to the right.
Dynamic Return Home: Dynamic Return to Home allows you to move your location while in flight. Should you need to enable the Dynamic Return to Home option, the Typhoon H will return to your current location rather than from where you lifted off. Additionally, you can still pilot the Typhoon H while in Dynamic Return to Home while on its vertical descent to pinpoint the final landing location. The Typhoon H will return and land within 26' (8m) of you.
Advanced Flight Modes: The Yuneec Typhoon H also offers a variety of advanced flight mode for more unique applications.
Orbit Me: The Typhoon H flies a circular path around you, keeping the camera trained on you the whole time.
Point Of Interest: Select a subject and the Typhoon H will orbit that subject autonomously.
Journey: The Typhoon H will go up and out, as far as 150', and capture the perfect aerial selfie.
Curve Cable Cam: Easily program an invisible route for the Typhoon H to fly along. The Typhoon H will then fly between pre-set coordinates while you independently controlling camera position.
Follow Me/Watch Me: The Follow Me flight mode ensures the Typhoon H moves along with you, while the Watch Me mode tells the Typhoon H to follow you while always pointing the camera at you wherever you go.
Team Mode: With Team Mode, you can bind one Ground Station Controller to the Typhoon H and the optional Wizard Wand (sold separately) to the CGO3+ camera simultaneously. Capturing truly creative content is vastly more practical with cooperation between pilot and camera operator.
Geo Fences: The built-in GPS on the Typhoon H establishes a 26' (8m) diameter Smart Circle around the pilot when taking off and landing, and also creates a Geo Fence that keeps the aircraft from traveling farther than 300' (91m) from the pilot's position. Typhoon H is programmed to be FAA compliant, meaning that it does not travel higher than 400' (122m) and prevents flight in no fly zones.
Rechargeable Batteries: The Yuneec Typhoon H Hexacopter is powered by lithium-polymer rechargeable battery (5400mAh) that provides up 25 minutes of flight time (two batteries included). The battery can be recharged using the supplied charging base and the included AC power adapter or 12V DC power adapter. It will take 2 hours to fully charge the battery. The ST-16 Ground Controller is powered by a pre-installed lithium-ion rechargeable battery (8700mAh) and can be recharged using a USB/AC power adapter (not included).
Portable & Easy Storage: Each one of the six arms folds down for unparalleled convenience and compactness. The included backpack's ergonomic design is perfect for your travel. Its nylon construction and inner protective material are remarkably durable and impact resistance.
Graphical User Interface (GUI): You can download Yuneec's Typhoon H Graphical User Interface (GUI) software onto your Windows PC (not compatible with Mac). The Graphic User Interface (GUI) is your tool for updating the Typhoon H Hexacopter to the newest firmware. The GUI can also be used to check all the sensors that are installed on the Typhoon H; including the GPS, pressure, temperature, compass, esc, and accelerometer. The Typhoon H will need to be connected to your computer via a microUSB-to-USB cable (not included)
Firmware Updates: Click here to check for the latest firmware updates.
Warranty Note: Crash damage and "fly aways" are not covered under warranty.
FAA Rules & Regulations: Please familiarize yourself with the FAA's rules & regulations for unmanned aircraft systems before flying your drone. Click here for more details.
Dimensions
Typhoon H Hexacopter:
Width = 20.5"
Height = 12.25"
Depth = 18"
Weight = 68.8 oz
CGO3+ Gimbal Camera:
Width = 3.25"
Height = 5.375"
Depth = 4.25"
ST16 Ground Controller:
Width = 13.25"
Height = 12.5" (w/ antenna raised)
Depth = 3.125"
Our Product Research Team
At Crutchfield, you'll get detailed, accurate information that's hard to find elsewhere. That's because we have our own in-house Product Research team. They verify what's in the box, check the owner's manual, and record dimensions, features and specs. We stay on top of new products and technologies to help people make informed choices.
Q & A
Customer Q&A
Crutchfield asked


Why did you buy this?
This Drone is for High end photography and video.

[ JASON Apr 14, 2017 ]
Take self/group action videos and potentially create real estate video/pictures

[ Stephen Nov 01, 2016 ]