Panasonic TH-50PZ850U
50" VIERA® 1080p plasma HDTV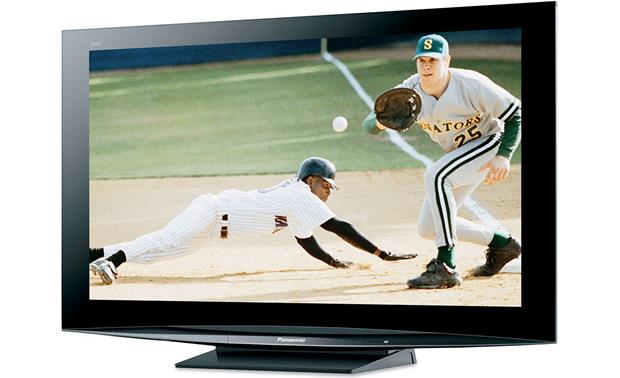 Panasonic TH-50PZ850U - Front

Panasonic TH-50PZ850U - Back
Creating a Connected System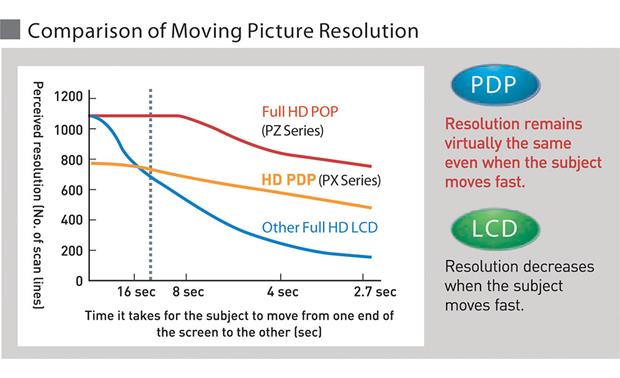 Panasonic TH-50PZ850U - In head-to-head comparisons with other screen types, plasma TVs have demonstrated superior motion resolution.

Panasonic TH-50PZ850U - Remote

Panasonic TH-50PZ850U - Side
Item # 13350PZ850 | MFR # TH-50PZ850
This item is no longer available.
Overview
Our take on the Panasonic TH-50PZ850U by Crutchfield's Steve Kindig
The "PZ850" series sits at the top of Panasonic's impressive 2008 plasma line. The 50-inch TH-50PZ850U definitely raises the bar in this popular screen size, offering ultra-precise performance and picture adjustments that will please the most demanding videophiles.
Picture controls to suit both novice and expert
HDTV picture quality keeps improving, yet few models display their full potential without a professional calibration. The TH-50PZ850U delivers a gorgeously clean, natural-looking picture without requiring you to make a lot of adjustments. Simply choose the "Studio Reference" picture mode to see colors the way the director originally intended — the way they look on reference monitors in editing rooms. A separate "Pro" setting lets you further fine-tune picture controls like brightness, contrast, and tint.
Panasonic's most advanced plasma screen design
The TH-50PZ850U uses Panasonic's most advanced 1080p plasma panel technology. It can reproduce 5,120 shades of gray — 25% more than last year's models — for naturally seamless colors. Picture contrast is outstanding too, with notably deep black levels. This TV's 24p Cinematic Playback mode optimizes 1080p video from a Blu-ray player — it doubles the original playback frame rate to 48 frames per second, just like most theater projectors do. You'll feel even more like you're sitting in a theater.
Have more fun with videos and photos — without touching your PC
Panasonic included direct Internet access so you can connect the TH-50PZ850U to your broadband Internet connection and use Panasonic's easy VIERA CAST interface to view videos at YouTube™ and photos at Google's Picasa Web Albums™.
And "850-series" plasmas include advanced memory card playback. You can view high-res AVCHD™ video recorded with one of Panasonic's high-definition SD™ card camcorders, or display digital photos you save to SD with a digital camera. Simply insert the card into the TV's front-panel slot and sit back while the whole family enjoys beautifully lifelike home movies or the latest vacation pics in the comfort of your living room.
Learn about the ins and outs of HDMI connections at the Crutchfield Learning Center.
Shop our selection of HDMI cables.
Tip: For a list of over-the-air digital TV stations you can receive, as well as antenna recommendations for your location, enter your zip code in AntennaWeb's mapping tool.
Scheduled delivery to your door: This item will be delivered to the door of your house or apartment. Available to physical addresses in 50 United States only. Limited delivery available to Alaska and Hawaii for an additional $99 per item — call 1-888-955-6000 for more details. Sorry, we can't ship to P.O. Boxes or freight forwarders. Delivery takes 5-7 business days once your order has been processed. Extra charges may apply to items that must be carried up more than 5 flights of stairs. Allow extra time for delivery to remote addresses.
Product Highlights:
49.9" screen (measured diagonally)
widescreen 16:9 aspect ratio
built-in digital (ATSC) and analog (NTSC) tuners for over-the-air TV broadcasts (antenna required)
built-in QAM cable TV tuner receives unscrambled programs without a set-top box (cable service required)
1920 x 1080 pixels
30,000:1 contrast ratio (1,000,000:1 dynamic)
480Hz Sub-field Drive anti-blur technology
24p Cinematic Playback mode (displays 1080p/24 content at 48Hz)
"Studio Reference" and "Pro" advanced picture adjustments
Digital Cinema Color Re-Mastering for extended color range
Deep Color and x.v.Color™ support
built-in stereo speakers (15.5 watts x 2)
multibrand remote control
VIERA Link™ simplifies remote control for compatible Panasonic components (HDMI-CEC)
picture settings memory for each video input
8 A/V inputs, including:

2 composite video (1 rear, 1 front)
2 S-video (1 rear, 1 front)
2 component video (accepts signals up to 1080i)
4 HDMI v1.3 (3 rear, 1 front) — accepts signals up to 1080p (60Hz, 24Hz)

PC input: analog RGB (D-Sub 15-pin)
RF input for antenna/cable signals
optical digital audio output for Dolby® Digital
front SD™ memory card slot for digital photo/video playback
Ethernet port with VIERA CAST™ for accessing customized Internet content
RS-232C port for external control of the TV via a computer
Energy Star® 3.0 compliant — see our article on TV power consumption for more info about this and other testing standards
detachable stand (stand "footprint" is 18"W x 15-1/4"D)
wall-mountable (bracket not included)
49-7/8"W x 31-1/8"H x 4"D (33-1/8"H x 15-1/4"D on stand)
weight: 99.2 lbs. with stand; 88.2 lbs. without stand
extra long-life panel (100,000 hours)
warranty: 1 year parts & labor — in-home service or pick-up for service
What's in the Box:
Panasonic TH-50PZ850U Owner's manual
50" Widescreen plasma TV
Wireless remote control (N2QAYB000217)
2 "AA" batteries
6.5' AC power cord
F-type antenna adapter for 5C-2V
Pedestal base
2 Pedestal poles
4 Machine screws (M5 x 18mm)
4 Machine screws (M5 x 25mm)
2 Cable ties
Cleaning cloth
Operating Instructions (Eng/Span/Fren)
HD setup guide (Eng/Span/Fren)
Plasma Concierge brochure
Product Registration card
Panasonic Customer Care Plan card (extended service plan)
"How to secure the AC cord" sheet
"Maintaining the shiny parts" sheet
Pedestal base assembly diagram
RS232C Terminal Specifications sheet (Eng/Span/Fren)
This is an amazing TV, beautiful crisp clean picture, with perfect color right out of the box. TV runs nice and cool compared to other brands and older Panasonics. Crutchfield service is also outstanding. TV arrived in less than a week in perfect condition.

ERIC, Kihei, HI
Energy Guide:

View the Energy Guide
Reviews
Panasonic TH-50PZ850U Reviews
Average Customer Review(s):


Submit a review and then enter to win a $350 rewards card
Review this product
Thanks for submitting your review
Most reviews are processed and published within 5 business days. You will receive a confirmation email once your review has been published.
Customer photos
Pros:
Cons:
Crutchfield response
---
Details
Product Research
Features
Remote Control
Input And Output Notes
Mounting
Features
Built-in Tuners: The TV has both analog (NTSC) and digital (ATSC) tuners, as well as a QAM tuner for unencrypted cable signals. With these built-in tuners, you don't have to purchase a separate digital set-top box to receive and decode HDTV/SDTV signals.
Native Resolution: The TH-50PZ850U has a display resolution of 1920 x 1080. All incoming signals are converted to this native resolution. The HDMI digital and component video inputs will accept 1080i, 720p, 480p, and 480i, and will display them as 1920 x 1080. The HDMI inputs will also accept a 1080p signal.
24p Playback: This TV is capable of displaying film-based video at the frame rate of 24 fps via HDMI. Some Blu-ray and high definition discs offer special 24p frame rate video for most accurate display of film-based material.
Deep Color/x.v.Color Compatible: This unit is compatible with the Deep Color and x.v.Color technology that corresponds with the HDMI Version 1.3 specification. This technology supports higher bit rates and more color possibilities than previous HDTV signals.
Increased Contrast Ratio: The Panasonic TH-50PZ850U Widescreen VIERA plasma 1080p HDTV has an increased native contrast ratio of 30,000:1 and dynamic contrast ratio of 1,000,000:1.
Anti-Reflective Filter: The TV's flat panel features a new AR (anti-reflective) screen coating that acts as a filter to reduce annoying reflections and improve picture quality.
68.7 Billion Colors: From deep blacks providing excellent shadow detail to vibrant colors rendering brilliantly bright scenes, the TH-50PZ850U displays an incredible 68.7 billion colors.
5,120 Shades of Gradation: Plasma displays can suffer from an artifact called false contouring, where transitions between different shades of the same color are too sharp. These transitions can appear as distinct lines between the different shades of color. Having 5,120 shades of gradation helps minimize the false contouring artifact so color transitions take on a smooth, natural appearance.
Aspect Modes: Depending on the input signal, you can choose one of the following aspect modes:
4:3: displays a 4:3 picture at its standard size with bars along the sides
Zoom: magnifies the picture uniformly (vertically and horizontally) to fill the screen, so the top and bottom are cut off (recommended for letter box sources)
Full: stretches the picture horizontally to fill the screen (recommended for anamorphic sources)
Just: stretches a 4:3 picture to fill the screen but with aspect correction applied to the sides of the screen so that elongation is only apparent at the left and right edges of the screen (recommended for normal TV broadcasts)
H-Fill: enlarges the 4:3 picture horizontally to fill the screen, the side edges are cut off
Picture Menu: The Menu list allows you to make the following adjustments in picture quality:
Picture Modes: You can choose one of the following picture modes:

Vivid: provides enhanced contrast and sharpness when viewing in a well lit room
Standard: recommended for normal viewing conditions with subdued room lighting
Studio Reference: provides high-quality gradation and color tone picture for a cinema-like feel
Custom (Photo): adjust picture, brightness, color, tint, and sharpness
Game: for playing video games. The mode will be set automatically if "GAME" is selected from the input label setting.

Picture Adjustment: Several picture settings can be individually adjusted, including Picture (white areas), Brightness (dark areas), Color, Tint, and Sharpness.
Color Temperature: This feature selects the level of warm colors (red) and cool colors (blue). You can choose from a Cool, Normal, or Warm setting.
Color Management: When turned on, color management enhances green and blue color reproduction. This is especially useful for outdoor scenes.
C.A.T.S. (Contrast Auto Tracking System): adjusts the brightness and gradation accordingly to optimize contrast.
Zoom Adjust: adjusts the vertical alignment and size when aspect setting "Zoom" is selected.
PC Adjust: sets the PC display for sync, dot clock, H-position, V-position, clock phase, input resolution, and Horizontal (15-110kHz) or Vertical (48-120Hz) frequency.
Advanced Picture: Some advanced picture settings include:

Video NR: Video Noise Reduction removes snow from a weaker analog TV signal.
Digital Comb Filter: The motion adaptive 3D-YC comb filter minimizes noise and cross-color in the picture when the composite video input is used.
Color Matrix: When viewing a signal input through the component video inputs, this TV will automatically optimize the color parameters based on the color matrix setting:
Block NR: Reduces the block noise specific to digital signals from DVDs, STB's etc.
Black Level: You can adjust the TV's black level to Dark or Light.
HD Size: This mode selects between 95% or 100% for the scanning area of the HDTV. This allows you to move any edge noise out of the viewable area.
24p Direct In: Achieves more cinematic playback by reproducing the movie contents at twice the speed of 24 frames per second (60Hz or 48 Hz).
Anti-Image Retention Features: The TV's Pixel Orbiter feature helps to prevent image retention (burn-in) by shifting the display image. You can set the feature to automatic or force, and designate the time interval for the "Force" setting as 1, 2, 3, or 4. You can also change the brightness of the side bars that appear in 4:3 mode, or start a scrolling white vertical bar across the screen to prevent burn-in.
VIERA Link: VIERA Link HDAVI Control lets you operate all of your Panasonic "HDAVI Control" compatible home theater components connected by HDMI by pressing a single button on your TV's remote control. Panasonic equipment with the "HDAVI Control" function enables the following operations: Automatic input switching, Power on link, Power off link, Speaker control, and One-touch theater playback. Equipment with HDAVI Control 2 (or more) function enables the following operations: Providing the setting information, Automatic lip-sync function, and Direct TV recording. Note: VIERA Link is the new name for "EZ Sync."
VIERA Cast: Using the television's rear-panel RJ-45 Ethernet port you can access select internet services (TV content) from the television via the Internet. VIERA Cast is a web menu that's built into the television, letting you enjoy great online entertainment like YouTube videos and your digital photos on Picasa Web Albums. You can also get instant weather updates as well as the latest financial information from Bloomberg Television. In addition, the VIERA Cast menu will self-update as soon as new online content becomes available.
Note: VIERA Cast requires a Broadband high-speed Internet service no less than 1.5 Mbps.
SD Card Slot: The SD card slot on the front-panel of the TH-50PZ850U allows you to view JPEG photos from an SD, SDHC or miniSD card. An adapter is required to use a miniSD card. The maximum capacity for each type of media are: SDHC (16GB), SD Card (2GB), miniSD card (1GB). You can view images as thumbnails (up to 12 images), view them individually allowing you to rotate the image 90-degrees clockwise or counter-clockwise or view them as a slide show, with adjustable picture duration. You can adjust the time duration for the slide show between 1-10 seconds, 15, 20, 30, 45, 60, or 120 seconds. You can also adjust the TV's picture settings for your still photos.
Audio Menu: In addition to bass, treble, and balance, the TV's audio menu includes the following advanced features:
AI Sound: This audio feature equalizes the overall volume levels across all the channels and external inputs.
BBE: BBE High Definition Sound restores clarity and presence for better speech reproduction and musical realism.
BBE VIVA 3D: BBE ViVA HD3D (High-Definition 3D) Sound provides musically accurate natural 3D image with Hi-Fi Sound. The clarity of the sound is improved by BBE while the width, depth and height of sound image are expanded by BBE's proprietary 3D sound process. BBE ViVA HD3D Sound is compatible with all TV programs including news, music, dramas, movies, sports and electronic games.
Surround Function: The surround function enhances audio response when listening to stereo programming. This function is active only for the TV's built-in speakers.
Audio Leveler: The Audio Leveler monitors the difference in audio levels between inputs and minimizes the change in volume when you change inputs. This function is active only for the TV's built-in speakers.
Bass And Treble: The television features independent bass and treble settings to increase or decrease bass and treble response of the unit's built-in speakers.
Closed Caption: The television includes a built-in decoder that is capable of providing a text display of the audio. The program being viewed must be transmitting Closed Caption (CC) information. The TV features analog and digital close captions:
Analog:

CC 1-4: displays information related to pictures (appears at bottom of screen)
T 1-4: displays textual information (appears over entire screen)

Digital: The digital Closed Caption menu lets you configure the way you choose to view the digital captions when viewing a digital station with (CC). You can adjust size, font, style, foreground, opacity, background and outline settings.
Input Labels: Each input can be labeled to reflect the source connected. The label options are Skip, VCR, DVD, Cable, DBS, PVR, Game, Aux, and (blank). If "Skip" is selected, the TV/Video button will skip the input.
Station Caption: You change a channel's station name to a custom seven character name.
Favorite Channels: Channel numbers can be registered as Favorites and displayed in the TV's Favorite Tune menu for easier access.
Sleep Timer: This television features a built-in sleep timer, set by remote control, that turns the TV off automatically after 30, 60, or 90 minutes.
Programmable On/Off Timers: The programmable timers allow you to program the TV set to turn itself on and off at designated times, on designated days, tuned to designated channels. Up to 5 events can be programmed using the timers. An event can have multiple episodes (Daily, Mon-Fri, Every Wed, etc).
Lock: The Lock function has four settings to block viewing of particular channels or inputs. You create a 4-digit password that's required to bypass the lock. The available settings are:
Off: nothing is locked
All: all channels and external inputs are locked
Game: channels 3 and 4 and the video inputs are locked
Channel: locks up to seven specific channels
Program: block programs based on their TV or movie rating
Automatic Shut-Off Function: The television is equipped with the following automatic shut-off functions to conserve energy.
No Signal Shut-Off: To conserve energy, the TV automatically turns off when no signal and no operation is performed for more than 10 minutes.
No Action Shut-Off: To conserve energy, the TV automatically turns off when no operation of remote or front panel buttons continue for more than 3 hours.
Remote Control
Multibrand Remote: The supplied remote is pre-programmed to operate this unit and a number of functions on other brands of components; including VCRs, DVD players, DVD recorders, personal video recorders (PVR), cable boxes, combination cable box/PVRs, DBS receivers, and combination DBS receiver/PVRs. The OK button and directional keys allow you to move the on-screen selector, making menu navigation simple and efficient. The remote control will also operate certain functions of Panasonic equipment with "HDAVI Control" connected by HDMI automatically through the TV's VIERA Link feature.
Input And Output Notes
HDMI Inputs: The TH-50PZ850U has 3 rear-panel HDMI inputs and 1 front-panel HDMI input. All of the HDMI terminals can accommodate copy-protected digital signals (HDCP) from other devices (such as digital set-top boxes) that have compatible interfaces. All of the HDMI inputs can be used with an HDMI-to-DVI adapter and the left and right RCA audio jacks or 3.5mm stereo jack (for the audio portion of the signal) from the Component 1, Component 2, Video 1, Video 2 or PC input of the TV if necessary. The front-panel HDMI input does not support HDMI-to-DVI conversion. The HDMI inputs will accept 1080p, 1080i, 720p, 480p, and 480i inputs.
Component Video Inputs: The two component video inputs will accept 1080i, 720p, 480p, and 480i inputs.
Digital Audio Out: The rear-panel optical digital output allows you to send a Dolby Digital bit stream to a Dolby Digital receiver or decoder. If the program doesn't include a Dolby Digital soundtrack, a 2-channel PCM bit stream is output.
PC Input: The TV is equipped with an RGB (15-pin D-Sub) input for connecting your PC. A 3.5mm mini-jack is provided for PC audio.
LAN Port: RJ-45 (10BASE-T/100BASE-TX) Ethernet port for connecting your home network to the television.
RS232C Port: D-sub 9-pin port for external control of the television by a PC. Your connected computer will require software which allows ending and receiving of control data through its Serial port. You computer will need to meet the following parameters.
Signal Level: RS-232C compliant
Synchronization Method: Asynchronous
Baud Rate: 960 bps
Parity: None
Character Length: 8 bits
Stop Bit: 1 bit
Front Panel Input: The TV's front-panel input includes an HDMI input, left and right RCA audio connections, RCA composite video, and S-video connections.
SD Card Slot: The television features a front panel SD-card slot for viewing JPEG images stored on an optional SD-card (sold separately). The SD-card slot is compatible with SDHC cards up to 16GB, SD cards up to 2GB, and miniSD cards up to 1GB (miniSD cards require a miniSD card adapter).
Mounting
Pedestal Base: The TH-50PZ850U includes a pedestal base for cabinet-top mounting. The base comes unassembled, and unattached to the TV, so assembly is required. With the pedestal base the TV weighs 99.3 pounds.
Wall Mounting: On the back of the TV are four threaded inserts to attach an optional wall mount bracket. The inserts require M8 (8mm) machine screws, the horizontal hole spacing is 26" and a vertical hole spacing of 12-5/8". Without the pedestal base attached, the TV weighs 88.2 pounds.
Our Product Research Team
At Crutchfield, you'll get detailed, accurate information that's hard to find elsewhere. That's because we have our own in-house Product Research team. They verify what's in the box, check the owner's manual, and record dimensions, features and specs. We stay on top of new products and technologies to help people make informed choices.