Amazon Echo Spot
Compact speaker with Alexa virtual assistant and video (Black)
Item # 837ESPOTK | MFR # 53-006969
In Stock

Our VirginiaVA-based experts can help.
Overview
Our take on the Amazon Echo Spot by Crutchfield's Jeff Miller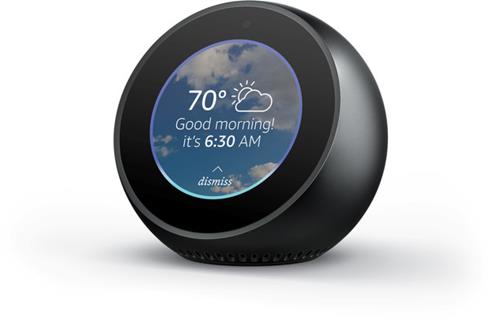 The Echo Spot packs Amazon's Alexa voice control and video features into a compact, bedside design.
Add Alexa — and video — to every room
I was an early voice-control skeptic, but now I find myself asking Amazon Alexa questions all the time. It's not simply convenient — it has become routine. With the Echo Spot, Amazon figured out a way to fit their friendly voice assistant into even more rooms of the house.
The super-compact Echo Spot looks like a bedside alarm clock, and will function as one, too. But with Alexa, a built-in camera, and a 2-1/2" video screen, this little guy can do so much more. Use voice commands to view and control your home surveillance system, watch videos, or make video calls — all hands-free.
Quickly make and take video calls
If any of your friends or family members have an Echo Spot, Echo Show, or the Alexa app on their phone, you can reach out to them with a video call. When the kids want to tell their grandparents goodnight, just say, "Alexa, call mom." Her device will ring, and soon you'll all be watching each other on-screen.
You can also "drop-in" on other Echo devices inside your own home. Chat with people in other rooms, either by audio or video. A co-worker told me it's a great way to tell her 11-year-old upstairs that it is dinnertime — and then remind him again ten minutes later.
Call out your song requests
My favorite use for Alexa voice control? Has to be music. If you want the Echo Spot to quickly play some background tunes, just say "Alexa," and tell it what you want to hear. It's easy to select songs and playlists. Tell Alexa to mix and match from Pandora®, Spotify®, Amazon Music, iHeartRadio, and more. Album art and track information will show up on-screen.
But let's face it: the Spot's tiny built-in speakers aren't enough for those of us who are "seriously into audio." One way to get bigger and better sound is using the Echo Spot's built-in Bluetooth® transmitter. It lets you send audio wirelessly to any Bluetooth-enabled speaker, sound bar, or home theater receiver.
Hands-free control over smart devices
Alexa can control smart home lights, switches, and thermostats from companies like Wemo, Philips Hue, Samsung SmartThings, Nest, and more. You set everything up with the Alexa app, a free download for your Fire OS, Android™, or Apple® device.
Always getting smarter
Alexa can answer questions, read audiobooks to you, and give you sports scores. Amazon refers to these types of abilities as "skills." Just ask, and you might be surprised what Alexa can do — make dinner reservations, check the weather, get flight info — more and more skills are added all the time.
And since this speaker is connected to the Cloud, Alexa can learn something new in the blink of an eye.
Product Highlights:
compact Alexa-enabled speaker with 2-1/2" video screen
styled after a bedside alarm clock
make hands-free video or voice calls to other Alexa-enabled devices
stream music or video, perform tasks, and control compatible smart devices with your voice

use the word "Alexa" to start a voice-activated command
Video Features:
view surveillance feed from a compatible camera
make video calls to friends and family with an Echo Spot, Echo Show, or Alexa app

"Drop in" feature lets you instantly connect to other Echo devices in your home

display lyrics and album art on-screen when you stream music
play video from Amazon Video, and other online video services
will not play videos from YouTube™
Alexa Voice Control:
"Voice profile" recognizes different voices for personalized answers

each person can sync their calendar, news preferences, and Amazon Music profile to their voice

make hands-free calls and dictate messages
access to Alexa skills, such as news updates, weather reports, smart home commands, and more
wirelessly stream from Spotify, Pandora, TuneIn, iHeartRadio, Amazon Music, and other online music services

multiple Amazon Alexa devices can be grouped together so you can play the same song in every room

free Alexa app is compatible with Fire OS, Android™, and iOS® devices and also accessible via your web browser
General Info:
connects to your home Wi-Fi® network
array of four built-in microphones to pick up voice commands
microphone mute button lets you choose when Alexa is listening
2-way Bluetooth for wireless music streaming and transmitting

send audio wirelessly to a Bluetooth-enabled stereo or speaker

3.5mm stereo output for connecting your own speakers or headphones
4-1/16"W x 3-7/8"H x 3-5/8"D
weight: 14.8 ounces
warranty: 1 year
Really attractive device that delivers all the Echo function you expect.

Richard, Roswell, GA
Reviews
Amazon Echo Spot Reviews
Average Customer Review(s):


Submit a review and then enter to win a $350 rewards card
Review this product
Thanks for submitting your review
Most reviews are processed and published within 5 business days. You will receive a confirmation email once your review has been published.
Customer photos
Pros:
Cons:
Crutchfield response
---
Details
Product Research
Features
Voice-Activated Speaker & Screen: The Echo Spot has the same basic capabilities as the regular, voice-only Echo (like listening to music & asking questions), but the built-in video screen display adds plenty of new functionality. The Echo Spot's video screen will give your more information about your Alexa queries (displaying a full weather report or the steps in each recipe, for example), and can be used to play videos, including news briefings from the likes of CNN, and content from YouTube and Amazon Video.
Built-In Screen, Camera, & Speaker: Voice responses from Alexa are now enhanced with visuals and optimized for visibility across the room, thanks to a built-in 2.5" video screen. Get the news with a video flash briefing from CNN, watch video content from YouTube & Amazon Video, see your Prime Photos, see lyrics with Amazon Music, and more with the Echo Spot's 2.5" video screen. A built-in camera even lets you enjoy live video chats from family & friends that also have an Echo or the Alexa App. An integrated 1.4" speaker provides audio playback.
Built-In WiFi (MIMO): The Amazon Echo Spot comes ready to connect to your home's WiFi network. It features Dual-band (2.4GHz/5GHz), dual-antenna MIMO WiFi (802.11a/b/g/n) for faster streaming and fewer dropped connections than standard WiFi. It does not support connecting to ad-hoc (or peer-to-peer) WiFi.
Alexa Voice Service: When you want to use the Echo Spot, simply say the wake word, "Alexa," and the Echo Spot lights up and streams audio to the cloud, where the Alexa Voice Service is leveraged to recognize and respond to your request instantly. Once you say "Alexa", the audio stream includes a fraction of a second of audio before the wake word, and closes once your question or request has been processed. Alexa (the brain behind Echo Spot) is built in the cloud, so it is always getting smarter. The more you use Echo Spot, the more it adapts to your speech patterns, vocabulary, and personal preferences.
Voice Profile: Voice Profiles give you the ability to teach Alexa your voice. Now when you then interact with your compatible devices, Alexa creates a personalized experience for you and each user in your home who creates a Voice Profile.
Wake Word: When the Amazon Echo Spot detects the "Alexa" wake word, a blue bar appears at the bottom of the video screen to indicate that the Amazon Echo Spot is streaming audio to the Cloud. If you'd like, you can give each Alexa device (Echo Spot or Echo Spot Dot) a distinct name.
Wake-Up Sound: You can also enable a "wake-up sound", a short audible tone that plays after the wake word "Alexa" is recognized to indicate that the device is streaming audio.
End-Of-Request Sound: You can also enable an "end-of-request sound" that will play a short audible tone at the end of your request, to indicate that the connection has closed and the device is no longer streaming audio.
Note: Alexa is developed to get better over time. Alexa uses your voice recordings and other information, including from third-party services, to answer your questions, fulfill your requests, and improve your experience and our services. When you set up the Echo Spot or link third-party services with Alexa, Alexa begins processing some information, such as your music playlists. You can also help Alexa improve its voice services by providing feedback within History or by using Voice Training in the Alexa App.
Far-Field Voice Recognition: Equipped with eight microphones, beam-forming technology, and noise cancellation, the Echo Spot hears you from any direction-even while music is playing. With far-field voice recognition, the Echo Spot can hear you ask a question from any direction - even while playing music. When you want to use Echo Spot, just say the wake word "Alexa" and the Echo Spot responds instantly.
Note: You can turn the Amazon Echo Spot's microphone off by pushing the microphone on/off button on the top of the device. When the microphone on/off button turns red, the microphone is off. The device will not respond to the wake word, nor respond to the action button, until you reactivate the microphone by pushing the microphone on/off button again.
ESP (Echo Spatial Perception): If you have more than one Echo Spot, Echo, or Echo Dot, Alexa responds intelligently from the Echo device you're closest to with ESP (Echo Spatial Perception).
Note: You cannot connect multiple Alexa devices to each other and play the same requested audio at the same time.
Alexa Calling & Messaging: Now you can quickly call and send/receive voice messages for your family and friends via Alexa-all just by using your voice. You can send and receive Alexa messages, as well as place and receive Alexa calls, between Echo, Echo Dot, Echo Plus, Echo Spot and Echo Show, as well as the Alexa App. You can place outbound calls to most phone numbers in the United States, Canada, and Mexico using the Echo, Echo Dot, Echo Spot, Echo Show and Echo Plus.
Calling: You can use supported Echo devices and the Alexa App to call another person who has registered for Alexa Calling & Messaging, or place an outbound call to most phone numbers in the United States, Canada, and Mexico for free. When you receive Alexa calls on your supported Echo devices, Alexa will tell you that you have an incoming call and identify the caller. You also will see a rotating green light ring on Echo, Echo Plus and Echo Dot devices, and an incoming call screen on Echo Show and Echo Spot. You can say "Alexa, answer" to pick up the call. Either person can end the call by saying "Alexa, hang up." When you receive a call, you also will receive a notification on your mobile phone and will see an incoming call screen in the Alexa App that lets you answer the call.
Messaging: You can use supported Echo devices and the Alexa App to send voice and text messages to another person who has registered for Alexa Calling & Messaging. Messages are processed in the Cloud to convert voice messages to text, and vice versa. When you receive a message on a supported Echo device, you will hear an audio tone and see a visual notification. You will be able to retrieve the message on your supported Echo devices by saying "Alexa, play my messages." When you receive a message, you also will receive a notification on your mobile phone, and you will be able to view and play the message in the Alexa App. Alexa messaging does not support sending or receiving text messages to or from phone numbers.
Video Chat & Drop In: The built-in video screen, camera, microphone, & speaker let you carry on live video chats with family friends that also have Echo devices or the Alexa App. You can also enable a new feature called Drop In for the special cases when you want to connect instantly with your closest family and friends or other Echo devices in your home. For example, you can drop in to ask what time dinner will be ready, see the baby's nursery, or check in with a close relative.
Notes:

Alexa Calling & Messaging supports receiving Alexa calls only; it does not support inbound calls from phone numbers.
You cannot call 911 and other emergency services using Alexa.
Music Apps: The Amazon Echo Spot provides hands-free voice control for Amazon Music, Pandora, TuneIn, iHeartRadio, and Spotify Connect. You can also upload your personal music collection from iTunes, Google Play Music, and more to your music library on Amazon and then stream your music through your Alexa device. Simply ask for your favorite artist or song, or request a specific genre or mood. You can also search for music by lyrics, when a song or album was released, or let Alexa pick the music for you. You can even view Music lyrics for many songs from Amazon Music. The screen highlights the music lyrics to follow the words in the song.
Note: The Amazon Echo Spot supports Spotify Connect (requires Spotify Premium subscription), which allows you to play music on the Echo Spot and use the Spotify app on your phone or tablet as a remote.
Multi-Room Music: Multi-Room Music allows you to play and control music from Amazon, Amazon Unlimited, Amazon Prime, and some other 3rd-pary music providers across multiple, compatible Echo devices at the same time. You can tell Alexa to play music across your compatible Echo devices on the same WiFi network. Tell Alexa to play jazz in the kitchen, top pop in the family room, or play the same song throughout your whole home. To stream different music on multiple devices or on more than one Multi-Room Music group at the same time, you must have an Amazon Music Unlimited Family plan.
Home Entertainment Control: Amazon Alexa now offers home entertainment skills for select multiroom audio systems - including Sonos, Heos by Denon, Bose SoundTouch & Yamaha MusicCast (all sold separately); as well as Sony Android TVs and LG AI ThinQ TVs (sold separately). You'll be able to control key functions and features by simply using voice commands.
Smart Home: The Amazon Echo Spot works with devices such as lights, switches, thermostats, and more from WeMo, Philips Hue, Samsung SmartThings, Insteon, Nest, and more. Ask Alexa to switch on a lamp, turn on the fan, dim the lights, or increase the temperature. Some products work directly with Alexa and other smart home ecosystems require a compatible hub.
Cameras: After you connect a compatible smart home camera, you can say - "Show [camera name] camera," to view the audio and video feed on your Echo Spot's video screen display.
Lighting: With the Amazon Echo Spot and Alexa, you can control lighting products using your voice, smartphone, or tablet.
Outlets: With the Echo Spot, Alexa, and smart outlets, you can control electronics and appliances using your voice, smartphone, or tablet.
Thermostats: With the Echo Spot, Alexa, and compatible thermostats, you can control the temperature of your home using your voice, smartphone, or tablet.
Door Locks: With the Echo Spot and Alexa you can control compatible door locks using your voice, smartphone, or tablet.
IFTTT: The Echo Spot with Alexa supports IFTTT, or "IF This, Then That," a third-party service that automates how your devices, apps, and websites work with each other through rules (or "Applets"). After you activate an Applet through the IFFTT website, Alexa can then trigger that IFTTT Applet when you interact with the Echo Spot.
Note: Currently, the Echo Spot and Alexa can't be the action in an Applet. For example, you can't allow Alexa to notify you of new tweets on your Twitter account.
Amazon Prime Shopping: Amazon Prime members can ask the Echo Spot through "Alexa" to order eligible products ordered before, many Prime products and digital music tracks and albums. Your default payment and shipping settings will be used to place your order. You can require a speakable confirmation code, turn purchasing off, and see product and order details in your Alexa App. Just like orders placed through Amazon.com, orders placed through Alexa are subject to Amazon's Conditions of Use & Privacy Notice.
News & Information: For news and information you can see and hear, just ask Alexa for your video flash briefing from CNN, Bloomberg, and more. Also, get the latest movie trailers or how-to videos from YouTube. The Amazon Echo Spot with Alexa can help you stay connected to the news that matters most to you - like world & local news, traffic, weather, sports, and movie times.
Personal Organizer: The Echo Spot helps keep you organized at home. Start a timer in the kitchen and watch as it counts down, or easily see and manage your family's calendar. Sign in to the Alexa App to take your to-do and shopping lists with you. Just add an item to the list from home, and whoever is out shopping will see it added instantly on their Alexa App.
Questions & Answers: The Echo Spot with Alexa taps into Yelp to provide you with info on local restaurants, shops, and other businesses. It also makes a great calculator and dictionary. You can even get fast facts on all type of topics from Wikipedia.
Alexa App: With the free Alexa App on Apple iOS 9.0+, Android OS 4.4+, Fire OS, and desktop browsers, you can easily setup (including WiFi network) and manage the Echo Spot voice-activated speaker & screen. The free Amazon Alexa App is a companion to your Alexa device for setup, remote control, and enhanced features. Interactions with Alexa are automatically mirrored visually on your Amazon Alexa App, providing more information as you want it. The Amazon Alexa App lets you easily manage your alarms, music, shopping lists, and more.
Music Apps w/ Multi-Room: Use the Alexa App to connect music services you already use like Spotify, Pandora, and iHeart Radio. The new Multi-Room Music section allows you to designate a group for devices on the same WiFi network. Once created, group names can be used to control music playback.
Smart Home w/ Routines: Setup your smart home devices from WeMo, Philips Hue, SmartThings, Insteon, Nest, and more. You'll be able to view the state and control your smart lights, locks, and thermostats. When you are on-the go, you can use the app to quickly check the status of your lock or turn off your lights. The new Routines section allows you to automate a series of Smart Home actions with one custom command.
Calls & Messaging: With the Alexa App, you can call and message Amazon Echo device owners and anyone else with the Alexa App on their phones. When you're away from home, use the app to make a quick call or send a message to your family's Echo. Use Drop In to instantly connect with your devices for a call. For example, you can drop in to let the family know it's time for dinner or check in on the baby's nursery.
Other Features: See what books are available to read from your Kindle & Audible libraries, plus enjoy Podcasts. View shopping, to-do lists, and Google Calendar while on the go. Control your timers and set custom tones for your alarms, and much more. The Alexa App is also where you discover and enable third-party skills.
Skills: Skills are voice-driven capabilities that enhance the functionality of the Amazon Echo Spot with Alexa. You can search for and enable skills in the Alexa app or from the Alexa Skills store on the website. You can also see ratings and reviews to learn what other customers are saying about the thousands of skills available in the Alexa App. To use an Alexa skill, first enable the skill, and then make your request based on the example phrases shown in the app. If you know the exact name of the skill you want, you can say, "Enable [skill name] skill." Some skills may require you to link to an existing account and a separate subscription in order to use the skill.
Note: At this time, you cannot customize which content is available on specific devices. For example, music, skills, shopping lists are available on all Alexa devices registered to the same account as the content.
Bluetooth Audio Streaming: The Echo Spot is also Bluetooth-enabled (A2DP/AVRCP) and acts as a Bluetooth receiver, transmitter, or controller. Advanced Audio Distribution Profile (A2DP) support provides audio streaming from your mobile device to the Amazon Echo Spot, or from the Amazon Echo Spot to a Bluetooth speaker or headphone. Audio/Video Remote Control Profile (AVRCP) offers voice control of connected mobile devices - like your smartphone or tablet.
Note: Hands-free voice control is not supported for Mac OS X devices. Hands-free phone communication (HFP) is not supported. Bluetooth speakers requiring PIN codes are not supported. Bluetooth audio streaming cannot be multiroom distributed.
Analog Audio Output: A 3.5mm stereo audio output allows you to connect the Dot to your AV receiver or powered speakers. Make sure your amplified device is powered on. Audio cable is sold separately.
Note: Some AV receivers and powered speakers will go into Standby mode when they have not received an audio signal for a specific amount of time. In this case, the Echo Spot cannot turn on these amplified devices through voice activation. You will have to physically turn back on the AV receiver or powered speaker through its front- or top-panel control, remote control, or compatible app before streaming audio from the Spot to the amplified device.
AC Power Adapter: The Amazon Echo Spot includes an AC power adapter that will need to be plugged into an AC power outlet, surge protector, or power conditioner.
Note: The Amazon Echo Spot is not battery powered.
Auto Updates: Because the Amazon Echo Spot is always connected to the internet, updates are delivered automatically.
Our Product Research Team
At Crutchfield, you'll get detailed, accurate information that's hard to find elsewhere. That's because we have our own in-house Product Research team. They verify what's in the box, check the owner's manual, and record dimensions, features and specs. We stay on top of new products and technologies to help people make informed choices.
Q & A
Customer Q&A
Crutchfield asked


Why did you buy this?
Upgrade from echo dot and to replace alarm clock - less clutter on nightstand.

[ Alan Jul 25, 2018 ]