LG OLED65B6P
65" Smart OLED 4K Ultra HD TV with HDR (2016 model)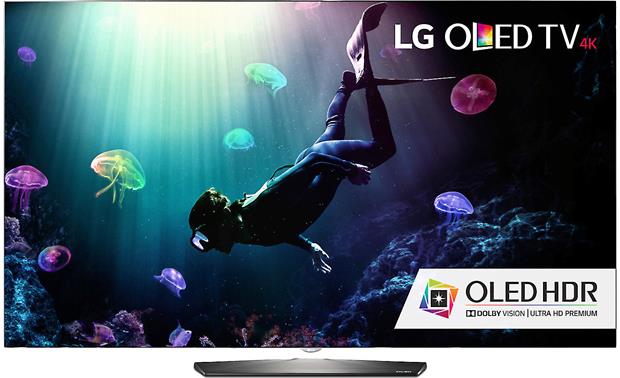 LG OLED65B6P - Front

LG OLED65B6P - Angled right

LG OLED65B6P - Angled left
Crutchfield: LG OLED TV 2016 lineup

LG OLED65B6P - Energy Guide

LG OLED65B6P - Back (full view)

LG OLED65B6P - Back (side-mounted A/V inputs)

LG OLED65B6P - Back (rear-mounted A/V inputs)

LG OLED65B6P - Top view

LG OLED65B6P - Side

LG OLED65B6P - Back

LG OLED65B6P - Remote

LG OLED65B6P - Close-up view of bezel
Item # 68965B6P | MFR # OLED65B6P
This item is no longer available.
Overview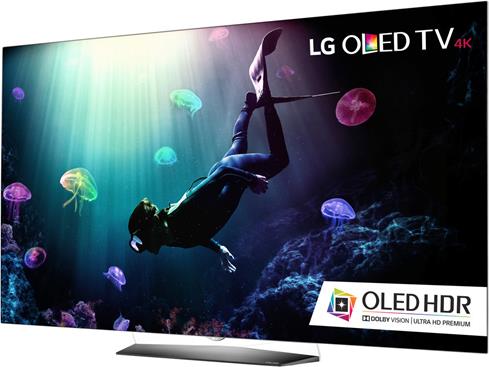 LG's 4K OLED models are among 2016's finest TVs
LG's flat-screen "B" series OLED models like the OLED65B6P are priced a lot lower than the company's flaghip models, but here's a secret: All of LG's 2016 4K OLED TVs use the same panel and video processing. So if picture quality is your top priority, the 65" OLED65B6P stands with the best you'll see this year.
Not familiar with OLED? It's the most advanced screen technology currently available. We have high-performance TVs coming through our Lab all the time, and none generate more "wows" than the OLED models. After winning awards and rave reviews for the past two years, LG continues to find new ways to improve and refine their OLED technology. And LG is still the only manufacturer building OLED TVs.
OLED (pronounced "oh-led") stands for Organic Light Emitting Diode. The OLED screen material is an organic substance that glows when it's activated by an electric current. The screen's pixel layer is made of this self-illuminating carbon-based material — each pixel is its own light source which can be independently switched on and off, so there's no need for a backlight with all its limitations.
Pixel-level illumination = infinite picture contrast and absolute black
Each and every OLED pixel — actually every sub-pixel — can switch off completely, producing absolute black. It's this ability that gives OLED it's remarkable contrast and black levels. LG's OLED design also has an edge when it comes to color and brightness. In LCD TVs, each pixel is made up of three sub-pixels — red, green and blue — to create the color palette. LG's unique 4 Color Pixel technology adds a white sub-pixel to the conventional three colors to enhance both color range and brightness.
In fact, these 2016 OLED models deliver noticeably brighter images than last year's models, and provide a color palette that's 15% bigger. These TVs demonstrate the exciting enhancements offered by HDR. If watching TV is something you routinely do with family or friends, you'll be impressed at the way OLED images maintain excellent contrast and color even for viewers seated off to the sides.
The premium HDR experience: Dolby Vision™
Our eyes can see a much wider range of contrast and color than most current TVs can display — even most 4K models. So, while 4K provides more pixels, TV makers are introducing new technologies to deliver "better" pixels that produce more vivid, colorful, and lifelike images.
The most important of these technologies is HDR (High Dynamic Range), which significantly expands the picture contrast range with both deeper blacks and brighter highlights. A limited amount of HDR-enhanced streamed video content is already available from Amazon, Vudu, and Netflix®. This TV not only supports the required HDR 10 format, but also the more sophisticated Dolby Vision™ format, which is a dynamic system that is able to adjust brightness and color levels in response to the video signal on a scene-by-scene basis.
A Smart TV approach that's fun and friendly
The OLED65B6P's built-in web apps give you instant access to a nearly limitless selection of entertainment including streamed video from services like Netflix, YouTube®, and Hulu®. The colorful WebOS 3.0 user interface lets you customize your home screen to access the apps you use most, and easily switch between them.
LG's motion-sensing Magic Remote is simple and fun to use. You can point, click, scroll and even speak into the remote to find exactly what you want, searching across apps, movies, TV shows and the web... all at the same time. It's a lot like using a wireless videogame controller or an air mouse.
Unsure if your network can handle demanding tasks like 4K streaming? Check out our wireless router buying guide. If you haven't upgraded your hardware in the last few years, a new router will offer big improvements in range and speed.
Use the Sanus MountFinder™ to see a list of wall-mounts that work with your specific TV.
---
From LG:
Stop Watching. Start Seeing.
With perfect black and intense color enhanced by both standard and Dolby Vision* HDR, LG OLED brings you a world of beauty without compromise.
Perfect Black
The individually illuminating OLED pixels can brighten, dim, and power off fully to achieve perfect black. That means contrast — the ratio between the lightest and darkest areas of the screen — is truly infinite. Perfect black is essential to a more lifelike image as well as the great shadow detail you can only get with OLED.
Cinematic Color
LG OLED TVs display a color palette that virtually matches the vast range of hues seen in today's high-end digital cinemas. With over a billion rich colors at its disposal, LG OLED TV delivers a theater-quality experience at home.
OLED HDR
OLED HDR delivers a stunning High Dynamic Range picture, including support for Dolby Vision* content. Enjoy brilliant brights and the deepest darks for infinite contrast, rich color and an exceptional viewing experience, closer to what filmmakers intended. With their perfect black and cinematic color, LG OLED TVs have also earned prestigious Ultra HD Premium certification.
*Dolby and Dolby Vision are trademarks of Dolby Laboratories.
Product Highlights:
Picture:
64.5" screen (measured diagonally)
Ultra High Definition TV with 4K screen resolution (3840 x 2160 pixels)
High Dynamic Range (HDR 10 and Dolby Vision™) for extended picture contrast and brightness when viewing HDR content from connected sources or streamed via the TV's built-in apps
self-illuminating OLED (Organic Light Emitting Diode) display panel produces infinite picture contrast and absolute black
4 Color Pixel technology adds an unfiltered white sub-pixel to the traditional red, green, and blue, for vivid colors
10-bit panel can display over one billion colors
Perfect Mastering Engine and 4K Upscaler enhance standard-def and high-def video signals for optimum display on a 4K screen
Video Source Compatibility:
watch streamed 4K video sources like Netflix®, Amazon Instant Video, and YouTube (requires Internet speed of at least 20Mbps)
DIRECTV 4K Ready — DIRECTV subscribers with the Genie Whole-Home HD DVR can enjoy 4K service and full DVR features without an additional receiver
tuner receives over-the-air HDTV broadcasts (antenna required)
Clear QAM tuner decodes unencrypted digital cable signals up to 1080i without a set-top box (subscription required to receive cable channels)
Smart TV Features:
WebOS 3.0 with built-in web browser
dual-band 802.11ac Wi-Fi® provides fast, reliable wireless streaming
video and music streaming from a DLNA-compatible Windows® PC
mobile-to-TV wireless mirroring with Miracast™ enabled phones and tablets
free downloadable apps for iOS® and Android™ let you use a compatible smartphone as a remote control
Connections:
4 HDMI 2.0a
1 component video (selectable component/composite)
RF input for antenna/cable signals
optical digital audio output (can pass Dolby® Digital/DTS multichannel or 2-channel audio from connected sources)
Ethernet port for a fast, reliable wired network connection
3 USB inputs for connecting a camera or thumb drive
General Features:
built-in 2.2-channel Harman/Kardon-designed down-firing speaker system (40 watts total)
Bluetooth® wireless audio streaming to a compatible speaker or set of headphones
motion-sensing Magic Remote with built-in microphone for voice control
detachable stand (stand "footprint" is 22-1/8"W x 8-15/16"D)
wall-mountable (bracket not included; LG OTW420B is available)
57-3/16"W x 33"H x 2-1/4"D (34-3/4"H x 8-15/16"D on stand)
weight: 56 lbs. with stand; 48.7 lbs. without stand
warranty: 1 year parts & labor — in-home service or pick-up for service
What's in the Box:
65" OLED TV
Pedestal base
Magic Remote (AN-MR600)
2 "AA" batteries
Component video adapter
Composite video/stereo RCA adapter
Back cover
Four M4 x 12mm screws
(lock-washers attached)
Cable-tie
Easy Setup Guide
Magic Remote User Information
Safety & Reference booklet
Product Registration Card
Warranty Sheet
Cleaning note
Oled technology lifts the viewing bar to new heights - my new LG 65 is unbelievable!

Romo, Cape Canaveral, FL
Energy Guide:

View the Energy Guide
Reviews
LG OLED65B6P Reviews
Average Customer Review(s):


Submit a review and then enter to win a $350 rewards card
Review this product
Thanks for submitting your review
Most reviews are processed and published within 5 business days. You will receive a confirmation email once your review has been published.
Customer photos
Pros:
Cons:
Crutchfield response
---
Details
Product Research
Video Features
Audio Features
Network/USB Functions
Convenience Features
Remote/Voice Control
Mounting Options
Video Features
OLED: "OLED" means organic light-emitting diode, named for the advanced material used in the TV's screen. The secret to OLED is this unique light-emitting diode structure with its electroluminescent layer, a special film made from an organic, carbon-based compound that emits its own light when hit with an electric current. A thin-film transistor (TFT) backplane switches each specific pixel on and off. This configuration enables a thinner, lighter form factor, higher resolution and big, home theater-ready screen sizes. Because OLED TVs do not require a backlight, pixels that are switched off are truly black, so OLED achieves deeper black levels and a higher contrast ratio when compared to LCD and LED-LCD TVs with conventional backlighting. OLED technology also increases energy efficiency.
Cinematic Color & True Color Accuracy: The LG UHD OLED TV displays Cinematic Color & True Color Accuracy with a color palette that virtually matches those seen in today's high-end digital cinemas, thanks to its 4 Color Pixel Technology. LG's 4 Color Pixel technology adds a white sub-pixel to the conventional 3 color red, green, and blue that enhances both color range and accuracy. This considerably improves the OLED pixels' ability to express the realistic colors and represents a giant step ahead of conventional flat-panel displays.
Perfect Black Panel w/ Infinite Contrast Ratio: As the first display technology that allows self-lighting pixels to switch on and off individually, OLED offers the first "Infinite" contrast ratio. LG OLED TV's self-lighting pixels switch off completely for a Perfect Black Panel. With no light bleed, LG OLED achieves absolute black levels, for infinite contrast. Contrast ratio measures the range from the brightest whites on the screen to the darkest blacks. The deep blacks will offer a greater sense of realism and depth on all content.
Absolute Motion Clarity: The critical response time of the LG UHD OLED TV (its ability to refresh the image on screen) is less than .1ms (microseconds), drastically faster than LCD or LED-LCD televisions. As a result, you get even the fastest action to be dependably crystal clear and virtually blur-free.
10-Bit LCD Panel: Thanks to its 10-bit LCD panel, the LG UHD OLED TV is capable of displaying billions of colors with fine steps of gradation. With so many more colors to express, you'll see a picture that is more detailed and natural when compared to conventional 8-bit panels.
Ultra Luminance: Ultra-HD picture quality becomes even more dynamic with an extended range of brightness, thanks to LG's Ultra Luminance technology. By enabling higher peak brightness and an enhanced contrast ratio, Ultra Luminance makes 4K & HDR images even more striking.
Ultra HD 4K Resolution & Upscaler: The LG UHD OLED TV has a display resolution of 3,840 x 2,160 (4K) and will display all video at that resolution, regardless of input signal, thanks to its Perfect Mastering Engine & 4K Upscaler. 4K provides four times higher resolution than current 1080p high-definition TVs with a total of 8.3 million pixels. Its detail is so vivid and crisp, even when viewed from close distances; it's nearly impossible to discern a single pixel, even from inches away. Enjoy incredibly flawless images, vivid colors, and picture details as never before. More benefits of Ultra-HD 4K include:
Greater Sense Of Depth: At 4K, distant objects in a scene can be rendered with greater clarity than at 2K, with more nuances of light and shadow and focus for a greater sense of perceived depth.
Better Color: Because pixels are units of colored light, their greater quantity in 4K enables more layered transitions and subtler gradations of tones, so the hues we see up on screen will be truer to what we see in nature.
Sit Even Closer: 2K HD TVs carry a recommended viewing distance of three times (3X) the TV screen height, but with a 4K display you can move in to one-and-a-half times (1.5X) screen height without exposing individual pixels. Sitting closer better fills your field of vision, assuring total immersion in whatever you're watching.
Ultra HD Premium: The LG UHD OLED TV features the Ultra HD Premium seal of recognition from the UHD Alliance for meeting the demanding standards set by the industry organization for resolution, high dynamic range, peak luminance, black levels, & wide color gamut. This UHD OLED TV delivers a stunning high dynamic range (HDR) picture with support for Dolby Vision content. Enjoy brilliant brights and the deepest darks for infinite contrast and rich color.
High Dynamic Range (HDR): HDR reproduces a greater dynamic range of luminosity or brightness levels, bringing greater contrast & wider color spectrum to the screen. This increased contrast reveals the subtle nuances of the image, from detailed blacks and shadows to the brightest whites and colors, plus greater depth. Previously hidden areas of dark shadow and sunlight are now full of clarity and detail. You can choose between four HDR video modes.

HDR Standard: Optimizes the screen for HDR video signal.
HDR Bright: The screen appears brighter and even more colorful.
HDR Vivid: Sharpens the image by increasing the contrast, brightness and sharpness.
HDR Gaming: Decreases input lag for HDR gaming, while maintaining all of the benefits of HDR (firmware update required).

Dolby Vision: The LG UHD OLED TV takes HDR video a step further with support for Dolby Vision content. Dolby Vision masters its video content at 4,000 nits (40x brighter than standard TV), resulting in more detailed images with greater contrast. With the expanded luminance of Dolby Vision, each scene is created with a range of colors much closer to what the eye actually sees. Dolby Vision unlocks many more hues across the full brightness range (up to 50% more color than regular TV) for a dramatic difference. By using a much wider range of brights-to-darks (50% more contrast than conventional TV), Dolby Vision provides a new level of richness and precision that makes every scene look more real with more detailed textures, patterns, and edges; plus a convincing three-dimensional feel. You can choose between three Dolby Vision modes.

Movie Dark: Optimizes the screen for the Dolby Vision HDR video signal.
Movie Bright: The TV screen appears brighter and clearer.
Vivid: Sharpens the image by increasing the contrast, brightness and sharpness on the Dolby Vision HDR video.
Note: Dolby Vision will be available via software update, which requires internet connection. Please use a premium high speed HDMI cable with 18 Gbps and above to view HDR content.
Video Inputs: The LG UHD OLED television features HDMI 2.0a, Component, and Composite video inputs. All of the television's video inputs are displayed at 3,840 x 2,160 (4K).
HDMI 2.0a: The four HDMI 2.0a inputs will accept 4K/HDR (60/30Hz), 1080p (60/24Hz), 1080i, 720p, and 480p video signals. The HDMI inputs not only allow you to connect your Blu-ray/DVD player or Satellite/Cable receiver to the TV, but also a laptop or computer. The television's HDMI inputs do not accept 480i video signals.

HDCP 2.2: HDCP 2.2 is supported by all of the TV's HDMI inputs. HDCP 2.2 is short for "High bandwidth Digital Content Protection" and is used for 4K video copyright protection for compatibility with 4K Blu-ray players and 4K Satellite/Cable providers.
4:4:4 Color Subsampling: All HDMI inputs will support up to 4:4:4 chroma subsampling for full color data rendering of 4K video (60fps). 4:2:2 (60fps) and 4:2:0 (60fps) are also supported by HDMI inputs 1-2. HDMI input 3 only supports 4:2:0 (60fps). With 4:4:4 color, luminance (brightness) and chroma (color) are sampled at the same rate, resulting in an RGB color palette as big as the video sampling rate for a video image with more total colors, plus greater color accuracy and detail. You must enable 4:4:4 color subsampling in the TV's on-screen menu.

Component Video: The Component Video input will accept 1080p (60/24Hz), 1080i, 720p, 480p, and 480i signals. The component video inputs consist of a 3.5mm jack and a 6" mini-to-component video adapter. This same component video output shares the audio signal with the composite audio/video terminal.
Composite Video: The composite video input will accept 480i only. The composite audio/video terminal consists of an AV 3.5mm connector and a 6" mini-to-composite video/stereo RCA adapter.
Note: The TV has built-in over-the-air HDTV (ATSC) and Digital Cable (QAM) tuners with an RF-coaxial input, so you don't need a separate set-top box to receive and decode over-the-air HDTV/SDTV or unencrypted Digital Cable signals.
Picture Settings: The LG UHD OLED TV provides preset, user, and expert adjustment of the television's picture settings.
Picture Size: You can select a different aspect ratio depending on input source (analog broadcasting, digital broadcasting, video input).

16:9: displays an aspect ratio of 16:9
4:3: displays an aspect ratio of 4:3
Original: changes the aspect ratio to 4:3 or 16:9 depending upon the input video signal
Just Scan: displays the picture in the original size without cutting off the edges
Vertical Zoom: adjusts the vertical dimension of the screen and aligns the screen vertically
All-Direction Zoom: adjusts the horizontal/vertical/diagonal dimensions of the screen and aligns the screen horizontally/vertically

Picture Modes: You can select the picture mode that is best suited to your viewing environment, preferences or video type.

Smart Picture: the TV will automatically adjust to the optimal picture settings based on data it receives on the genre of the program being played
APS (Auto Power Save): this Energy Saver mode changes the TV's picture brightness to reduce power consumption
Standard: provides optimum viewing for general use
Vivid: maximizes the effect of the video by strengthening the contrast, brightness, color, and sharpness
Cinema: optimizes video for watching movies
Sports: provides fast response speed for sports action
Game: provides even faster response speeds for fast gaming
Photo: optimized for viewing still-images
HDR Effect: enjoy a more dynamic, clearer image by correcting the light and dark areas of the display
User: manually adjust the TV's Backlight, Contrast, Brightness, Sharpness, Color, Tint, and Color Temperature
Expert: the TV is ISFccc Ready and contains the detailed standards necessary for professional calibration of brightness, contrast, tint, sharpness, color levels and much more to meet local lighting conditions for both day and nighttime viewing; the EXPERT/ISFccc mode allows an expert to fine-tune the picture quality using a specific image.

Advanced Picture Control: The TV also offers more advanced picture settings.

Dynamic Contrast: adjusts the contrast to keep it at the best level according to the brightness of the screen; the picture is improved by making bright parts brighter and dark parts darker
Dynamic Color: adjusts screen colors so that they look livelier, richer and clearer; this feature enhances hue, saturation and luminance so that red, blue and green white look more vivid
Preferred Color: fine tune Skin, Sky, and Grass color independently
Super Resolution: provides a crystal-clear picture by improving the details in areas where the picture is blurry or unclear
Gamma: you can adjust the brightness of dark areas and middle gray level areas of the picture
Color Gamut: maximizes the utilization of colors to increase color quality
Edge Enhancer: shows clearer and distinctive yet natural edges of the video
Color Filter: filters a specific color spectrum in RGB Colors to fine-tune color saturation and hue accurately
Expert Pattern: patterns used for expert adjustment
White Balance: adjusts the overall tone of the screen as desired
Color Management: this is a function used by experts when they adjust colors using a test pattern of six colors (Red/Green/Blue/Cyan/Magenta/Yellow) without affecting other color areas

Picture Options: Additional picture options are available to enhance your viewing experience.

Real Cinema: makes video clips recorded in a film look more natural by eliminating judder effect
Black Level: sets the black level of the screen to the proper level
Noise Reduction: reduces screen noise without compromising video quality
MPEG Noise Reduction: removes noise caused by compressing video
Motion Eye Care: automatically adjusts brightness and reduces image blur based on image data to reduce eye strain
Eye Comfort Mode: color temperature will be automatically adjusted to reduce eye strain

Panel Settings: With Panel Settings, you can improve image quality issues related to image sticking when the screen has been on for a certain amount of time.

Clear Panel Noise: this improves the quality of the image displayed on the screen by removing image sticking on the display panel
Screen Shift: this moves the screen slightly at regular intervals to prevent image sticking on the display panel
Magic Zoom: Magic Zoom enables you to magnify objects and letters anywhere on the screen without any degradation in picture quality, using the included Magic Remote.
Multi-View: The Multi-View feature lets you watch a live TV broadcast and an external HDMI input source simultaneously on the screen. Multi-View provides two smaller side-by-side images that are positioned in the middle of the screen (does not fill up the whole screen).
Audio Features
Harman/Kardon Sound Design: The TV's onboard speaker system has been designed by Harman/kardon to provide rich, cinematic sound in your living room.
Magic Sound Tuning: With the Magic Sound Tuning feature, you can detect the space where your TV is installed using your Magic Remote's microphone to optimize the audio of your TV for your environment. When the initial detection is complete, you can select your desired audio mode.
Standard: Selecting this option outputs Magic Sound Tuning-adjusted audio in Standard mode. This mode provides a clean and natural sound.
Bass Mode: Selecting this option outputs Magic Sound Tuning-adjusted audio with an emphasis on bass.
Treble Mode: Selecting this option outputs Magic Sound Tuning-adjusted audio with an emphasis on treble.
Off: This option disables the use of Magic Sound Tuning-adjusted audio. Selecting this option outputs your TV's default sound without making any adjustments to it.
TV Installation Type: This audio setting optimizes the sound based on the TV's positioning & setup. You have three options to choose from.
Stand Type 1: Use this if the distance between your TV stand and the wall is significant.
Stand Type 2: Use this if your TV stand is close to the wall. This will reduce bass reflex and give you clearer sound quality.
Wall-Mounted Type: Use this if your installed TV is wall-mounted type.
Audio Settings: The LG UHD OLED TV offers a variety of audio adjustments to fine-tune the television's sound to your preference and application.
Equalizer: The TV provides preset EQ modes. Choose from Smart Sound, Standard, Clear Voice III, Cinema, Sports, Music, or Game. You can also adjust the TV's sound manually by using the 5-band EQ (100Hz, 300Hz, 1khz, 3khz, 10kHz).

Smart Sound: The Smart Sound setting automatically adjusts the TV to the optimal sound mode based on data it receives on the genre of the program being played.
Clear Voice III: Clear Voice III automatically detects human voices in movies and TV shows, then increases their volume to ensure that the dialog doesn't get lost in the soundtrack. You can make the voice clearer by adjusting to one of the three clarity levels.

Simulated Surround: LG's OLED Surround technology provides simulated multi-channel surround sound from the speakers built into the television.
Auto Volume: You can set the TV's volume to automatically adjust for different broadcasting stations, so you can always listen to channels at the desired volume, even after switching the channels.
AV Sync: If the video and sound of the television are not synced, you can adjust the delay of the audio output to match the video.
Digital Audio Output: The optical digital output terminal will output Dolby Digital/DTS (when available) or 2 channel PCM. The digital optical output terminal only sends an audio signal in Dolby Digital/DTS when receiving Dolby Digital/DTS surround sound from a digital broadcast channel through the tuner, network apps, HDMI inputs, and USB ports on the OLED TV. The optical digital audio output will only output in 2ch stereo from sources connected to the TV via stereo RCA.
Note: You can choose to turn the television speakers off or leave them on with the TV's optical digital output active.
ARC (Audio Return Channel): The Audio Return Channel of the TV's HDMI 2 input enables the television, via a single HDMI cable, to send audio data "upstream" to your A/V receiver; increasing user flexibility and eliminating the need for any separate S/PDIF audio connection. This feature allows audio to be sent from the television to your A/V receiver through the same HDMI cable already being used to send audio/video to the television. This eliminates the need for extra cables connected to the TV. ARC allows audio from the TV tuner, Network connection, inserted USB device, HDMI inputs, or any analog connected device to be heard through your ARC compatible AV receiver via the television's HDMI ARC input. The audio from the TV's tuner, HDMI inputs, network connection, and USB ports can pass as Dolby Digital or 2ch PCM. Analog connected devices will be output as 2ch PCM only.
Note: Both the television and the receiver must support ARC for this function to work properly. When connecting an A/V receiver that is compatible with Audio Return Channel (ARC), connect it to the TV's HDMI 2 input. If connecting a system that is incompatible Audio Return Channel (ARC), an additional audio connection via Digital Audio Out (Optical) is necessary.
LG Sound Sync w/ Bluetooth: Thanks to the TV's LG Sound Sync and built-in Bluetooth, you can pair a single set of Bluetooth headphones or one Bluetooth speaker with the LG UHD OLED TV. You are able to stream audio from any of the the TV's built-in sources or connected sources. The TV's built-in speakers and audio outputs will be deactivated when streaming audio to Bluetooth headphones or speaker. The Bluetooth audio output's volume is variable, so volume of your Bluetooth speaker will need to be controlled by both the TV and the Bluetooth speaker for adequate volume level.
Note: Not compatible with all Bluetooth devices.
Network/USB Functions
Wired or Wireless Network Connection: The LG UHD OLED TV supports a wired or wireless network connection. Via the TV's network & internet connection, you can enjoy select online entertainment services. You can also access music, video, and still-image files stored on your computer or mobile device.
Ethernet (LAN) Jack: The LG OLED TV is equipped with an Ethernet (LAN) RJ-45 jack for connecting the television to your home network and computer. A back cover has to be removed to access the Ethernet port.
WiFi (wireless LAN): The LG TV offers built-in WiFi (802.11 b/g/n/act) hat allows you to wirelessly access the Internet and your home network. The TV's built-in WiFi provides a wireless network connection for the television with easy and quick setup. With this feature, you can easily connect to a wireless LAN and enjoy the benefits of networking in a cable-free environment. A wireless connection requires a home network with an 802.11 access point (802.11n or better recommended) and internet connection. Supports WPS, WEP, and WPA security; a dual-band Gigabit wireless-N or better router is recommended for 4K streaming.
Note: LG recommends a home network connection speed of at least 2.5 Mbps recommended for standard definition, 10 Mbps for high definition, and 20 Mbps for ultra-high definition.
LG Smart TV Apps: LG Smart TV Apps allows you to access a variety of online entertainment services and content directly on the LG TV through its network & internet connection. You can quickly and conveniently browse for TV Shows, Movies, and more to watch immediately. You can also download and use apps from various categories such as education, entertainment, lifestyle, news, and games. Click here for the latest compatible apps. Below is a list of some of the most popular apps from LG Smart TV Apps.
4K/HDR Content: This UHD OLED TV even offers HEVC & VP9 decoding, which means it'll be able to display 4K & HDR content from online movie & TV show providers like Netflix, Amazon Video, & YouTube. 4K & HDR network streaming requires a network speed of 20Mbps or greater. A wired Ethernet connection is recommended over a wireless WiFi connection for better performance. If you desire a WiFi connection, then use a dual-band Gigabit wireless-N router or better for 4K/HDR streaming.
TV Shows & Movies: Watch your favorite TV shows and movies on Vudu, Hulu Plus, FandangoNow Google Play Movies/TV, Crackle, & YuppTV.
Internet Radio & Music: Listen to your favorite Internet Radio stations and online music from Spotify, SiriusXM, Rhapsody, & iHeartRadio.
Sports & Videos: Get sports updates from MLB.TV, as well as watch downloaded videos from DailyMotion.
News & Weather: Catch up on the news at USA Today, plus get weather forecasts from AccuWeather & The Weather Network.
Games: LG Smart TV Apps contains a variety of online games. You may need to connect a compatible game-pad to the TV's USB port.
Note: Make sure the LG television has the latest software/firmware updates installed. Subscriptions & Fees may apply for some online services and content. Online content subject to change without notice.
Web Browser: The LG UHD OLED TV features a built-in web browser that lets you search the Internet for a particular website by URL or keyword searches. The web browser supports only HTML5 media and not Flash Plug-in. The web browser only replays the following media file formats - JPEG/PNG/GIF. Not all websites will be available for download, because of size and content.
ScreenShare: This LG UHD OLED TV offers Intel WiDi & Miracast capability through is ScreenShare feature.
Intel WiDi: With Intel Wireless Display (WiDi), playing content wirelessly from your Intel-based laptop or computer on the big-screen has never been easier. You'll be able to display video and watch videos that are on your laptop through the LG TV. Intel WiDi delivers rich, vibrant visuals and audio to the television without the clutter of cables. You get quick, reliable wireless connection with low latency, without the need for a wireless router.
Miracast: Miracast is a "screen mirroring" function which lets you wirelessly send the display from your compatible Windows 8.1+ or Android 4.2+ device (with support for Miracast) to the LG TV. This allows you to view practically any content that is playing on your compatible Windows or Android device on your TV screen; no wireless router or access point required.
SmartShare: SmartShare technology lets you enjoy audio, video, and photo content stored on your DLNA-compliant device, WiFi Direct-certified device, or USB-enabled device through the LG UHD TV. Compatible audio formats include MP3, AAC, WMA, WAV/PCM, & OGG. Compatible video files include AVI/Xvid, MPEG 1/2/4, MKV, Motion JPEG, MOV, WMV, & Vob. Compatible photo files include JPEG, PNG, BMP, JPS, & MPO.
WiFi Direct: When using WiFi Direct, you can connect directly with other WiFi-enabled devices without using a wireless router. You'll be able to wirelessly transfer personal content (such as photos & videos) to the LG TV from your device without connecting to your home network. WiFi Direct completely bypasses your WiFi access point/router, so it's easy to set up. Streaming of copy-protected content and other certain formats are not supported.
DLNA Certified: This TV is DLNA Certified; which means it can display and play movie, photo, and music content from your DLNA Certified network device and DLNA server (such as your Windows 7/8 PC). The Digital Living Network Alliance (DLNA) is a cross-industry organization of consumer electronics, computing industry and mobile device companies. Digital Living provides consumers with easy sharing of digital media through a wired or wireless network in the home.
USB Ports (3.0/2.0): The television features three USB (type-A) ports; there is one USB 3.0 port and two USB 2.0 ports. These USB port can be used for playback of video, still image, and music files stored on a connected USB memory device. The USB 3.0 port even supports playback of 4K video content. The television can support USB external hard disc drives (up to 2TB) and USB mass storage class devices (up to 32GB). The USB storage devices must be formatted as FAT 32 or NTFS file system. In addition, the TV will charge USB devices that can be charged via USB (max. 5V/0.5A). The LG television even lets you watch a slideshow of your photos (JPEG) while listening to background music (MP3) from an inserted USB device.
IoTV Compatible:
The LG UHD OLED TV allows remote & on-screen control of smart home appliances from LG and other manufacturers that are compatible with LG IoTV. Through the TV's weBOS 3.0 menu and Magic Remote control, you can control IoTV compatible home appliances such as refrigerators, air conditioners or washing machines. You'll even be able to adjust the brightness of the lights in the room or change the temperature setting of the air conditioner, as long as they are IoTV compatible. The TV and your IoTV compatible device must be connected to the same network.
Software Update: You can update the TV with the latest software to enhance the product operation and/or add new features via the TV's network connection. Visit LG's Support Site for the latest firmware/software updates.
Convenience Features
webOS 3.0: LG's latest webOS 3.0 menu system is easy to learn and use. Initial setup is smooth and simple, while connecting to other devices and searching for content is extremely convenient. The intuitive webOS 3.0 user interface features a redesigned Launcher menu that pulls together all your content choices. webOS 3.0 serves up entertainment options that neatly organize your recent viewing history, what's on Live TV, and what you might like to watch next, while the integrated LG App Store is ready to deliver the latest movies, TV shows, apps and games. Now you can spend less time navigating and more time enjoying the premium content that you and your family want, accessed right through the television, thanks to LG's intuitive webOS 3.0 user interface.
Content Search: The LG UHD OLED TV offers unique tools to search for live TV and online programming.
Live Menu: While watching TV, you can easily search for other channels by moving the pointer to the right side of the screen.
Program Guide w/ Scheduler: The television's built-in program guide gives you a weekly outlook of what's on TV and detailed information about each program (when applicable). You can select a current program to watch or schedule a future program to watch later.
My Channels: My Channels is a convenient feature that lets you quickly select channels of your choice without waiting for the TV to search through all the in-between channels.
Recommendations: This feature allows you to enjoy a wide variety of recommended content at your convenience. Recommendations encompass programming from TV networks, online movie services and online TV show providers. As you select more programs, the recommendations become even better-tailored to you.
App Categories: You can narrow down your online content search by selecting which category you would like to search from - All Apps, My Apps, Premium Apps, Movies, TV Shows, and Games. You can also enter a keyword search for content across multiple applications.
Quick Menu: The Quick Menu provides quicker access to commonly used functions like Picture Mode, Sound Mode, Aspect Ratio.
DIRECTV 4K Ready: The LG television is RVU-compatible which means DIRECTV subscribers with the Genie Whole-Home HD DVR can watch live broadcast (up to 4K) and stored content (up to 4K) from their DVR on the LG TV, without the need for additional Genie Mini Client devices or set-top boxes. However, you will need a DECA unit (sold separately) that converts Coax to Ethernet, which will plug into the LG TV's LAN port. Make sure the television has the latest firmware update.
Note: Whether you are a new or existing DIRECTV customer, you will need to contact DIRECTV to complete the RVU setup.
Analog & Digital Caption Modes: Analog and Digital Captions are provided to help the hearing impaired watch TV. Select a caption mode for displaying captioning information if provided on a program. Analog caption displays information at any position on the screen and is usually the program's dialog. Caption/Text, if provided by the broadcaster, would be available for both digital and analog channels on the Antenna/Cable. This TV is programmed to memorize the caption/text mode which was last set when you turned the power off.
Parental Control: Parental Control can be used to block specific channels, ratings, and other viewing sources (external input block). The Parental Control Function is used to block program viewing based on the ratings sent by the broadcasting station. The default setting is to allow all programs to be viewed. Viewing can be blocked by choosing the type of the program and the categories. It is also possible block a specific channel. The Parental Control function is protected by a 4-digit user password.
Energy Saving Feature: The Energy Saving feature helps to save electric power by adjusting the screen brightness; you can select from six modes - Auto, Minimum, Medium, Maximum, Screen Off, or Off.
On/Off & Sleep Timers: You can program the television to turn On and turn Off at a certain time. You can set the On and Off timer to Daily, Mon-Fri, Mon-Sat, Sat-Sun, or Once. You can also set the input, channel, and volume level for the On Timer. If you do not press any button within 2 hours after the TV turns on with the On Timer, the TV will automatically revert back to standby mode. The Sleep Timer turns the TV off at the preset time (10, 20, 30, 60, 90, 120, 180, or 240 minutes).
Built-in Customer Support: The LG OLED Smart TV offers built-in customer support to help your learn functions and diagnose problems.
On-Screen User Guide: The TV offers a built-in, on-screen User Guide to help you learn how to use your new TV.
Picture/Sound Tests: This customer support function executes picture and sound tests to make sure you have the TV properly connected.
LG Remote TV Service: LG Remote TV Service can allow LG Customer Service to help you perform menu actions and resolve many problems remotely. To use this feature make sure your TV is connected to the internet.
Remote/Voice Control
Motion Sensing Remote w/ Microphone: LG's Magic Remote acts as a remote controller, mouse pointer, and voice commander. This included RF remote control uses a 2.4GHz frequency range (2.4-2.4835 GHz; 32-channels) to control the TV up to a distance of 32.8', without direct line-of-sight. Through the TV's setup menu, you can also program the Magic Remote to operate your cable/satellite receiver, Blu-ray/DVD player, or home theater/soundbar system.
Remote Controller/Mouse Pointer: The RF remote operates the TV as if it were a wireless mouse pointer. It allows you to point the remote at the TV and move through menu options with the movement of the remote. With simple gesture control, LG'S exclusive Magic Remote enables you to move the on-screen cursor, navigate menus, drag & drop apps, and select icons.
Voice Command Functions : The built-in microphone enables Voice Command for live TV, internet apps, web browser, and volume control. Simply press-&-hold the Search button on the remote to activate the Voice Command function. When the microphone image appears on the screen, speak your desired search request into the remote. You can tune TV stations, browse TV shows & movies from online apps, search the web, and raise the volume up/down..
SIMPLINK: SIMPLINK allows you to control and play other LG AV devices connected with HDMI cable without additional cables and settings, from the television's remote control. SIMPLINK provides the following remote functions.
Instant Play: When you start a multimedia device, you can immediately watch content from the device on the TV without having to control anything.
Device Control: Enables the user to control multimedia devices with the TV remote control to watch content.
Main Power On/Off: If Auto Power Sync is set to On in the SIMPLINK settings, turning on a SIMPLINK-linked device will turn the TV on. If Auto Power Sync is set to on in the SIMPLINK settings, turning off your TV will turn off all of your SIMPLINK-linked devices.
Note: To operate SIMPLINK, an HDMI cable over Version 1.3 with CEC function should be used. This TV may work with devices with HDMI-CEC support, but only devices with the "SIMPLINK" logo are fully supported
LG TV Plus Remote App: You can download the LG TV Plus remote app onto your Android (OS 4.2+) smartphone/tablet or Apple iOS (6.1+) iPod/iPhone/iPad in order to control the television from your mobile device, share content from your mobile device to the TV, and other conveinent features.
Remote Control: With the LG TV Plus app installed, your compatible mobile device will act as a wireless remote & mouse pointer, just like the included Magic Remote. You'll be able to change channels and adjust volume from the app on your smartphone. You can even select the television's LG Smart TV apps, SmartShare content, and ScreenShare content.
Content Sharing: You can enjoy your pictures, videos, and music on your Apple iOS or Android device through the LG OLED TV's screen. As a bonus, Android (OS 5.0+) users can use the LG TV Plus app's Magic Mobile Connection feature to allow friends and family to share content from their Android device on the TV.
My Starter: The My Starter feature of the LG TV Plus app lets you view information through your TV, such as the current time, weather, and schedules you have added to your Apple iOS or Android device.
Note: The LG TV and your Android or Apple iOS device must be connected to the same network.
Keyboard Compatible: The LG OLED TV supports the use of a keyboard & mouse through its USB ports. You can enter text with the keyboard when using the Search function and the built-in Web Browser.
Mounting Options
Pedestal Stand: The TV is shipped with the pedestal stand unattached; assembly is required using the supplied hardware. The television weighs 56 lbs with the stand. The TV does not swivel.
Wall Mounting: The TV has four threaded inserts on the back for use with an optional wall-mount bracket (such as LG's 689OTW420B, sold separately). The spacing of the mounting holes is 300mm (h) x 200mm (v). The threaded inserts require 6mm machine screws (not supplied). The television weighs 48.7 lbs without the stand.
Ventilation Requirements: When mounting the TV on the stand or a wall (with optional bracket) leave 4" of clearance on each side of the television and 4" above/below the television for adequate ventilation.
Attached AC Power Cord: The television feature an attached 5' AC power cord. The power cord is fitted with a straight AC plug that sits 2.125" from the wall.
Our Product Research Team
At Crutchfield, you'll get detailed, accurate information that's hard to find elsewhere. That's because we have our own in-house Product Research team. They verify what's in the box, check the owner's manual, and record dimensions, features and specs. We stay on top of new products and technologies to help people make informed choices.
Q & A
Customer Q&A
Crutchfield asked


Why did you buy this?
Temporary hold over until I move into my new home with the LG OLED 77" as my bedroom primary.

[ Rajesh Jun 25, 2017 ]
OLED technology/PQ, proven over time, 2016 more affordable compared to 2017 with no appreciable drop off head to head.

[ Shaker Man Jun 15, 2017 ]
Maybe the best picture quality I have ever seen. Also, very well reviewed.

[ FRANK Jun 07, 2017 ]
best tv for 3K or less

[ Robert Jun 06, 2017 ]
Great product and price

[ ROBERT S May 27, 2017 ]
This model is reviewed well by many sites, and I hear so many good things about Crutchfield I wanted to buy from them...even though I have to pay VA sales tax, which would not be charged by out of state vendors.I'm hoping for a positive experience with OLED. We'll see.

[ william May 20, 2017 ]
OLED! What more is there to say?

[ Big Potato May 04, 2017 ]
reasonable price for the features offered. also had excellent reviews from purchasers.

[ riderjwc Apr 30, 2017 ]
Mainly because of product reviews

[ Nathan Mar 26, 2017 ]
All reviews on this TV say it has the best picture quality of any TV tested to date. It may be surpassed by the new 2017 models, but the closeout price made this TV almost a no brainer. I bought from Crutchfield based on my positive experiences with past purchases.

[ mcsyber Mar 24, 2017 ]
Because of the people good comments about this tv.

[ Miguel Mar 24, 2017 ]
Reviews

[ Roberto D. Mar 23, 2017 ]
Amazing color saturation and picture, the blackest of blacks. Best TV I have ever owned, better even than my Panasonic plasmas especially for bright rooms

[ JEFF Mar 19, 2017 ]
OLED!!!!, 4K, HDR, internet connection to 4K streaming services.

[ Terry Mar 18, 2017 ]
Excellent reviews. Positive viewing. Very helpful assistance by Adam.

[ Robert Mar 18, 2017 ]
Currently have plasma, and like the deep black. Need a "smart" TV.

[ Jeffrey Mar 13, 2017 ]
Value for the money

[ JK Mar 01, 2017 ]
Read reviews that this was the best and it was on sale.

[ Greg Feb 12, 2017 ]
After weeks of researching and comparing, I selected the LG OLED65B6P, based on the specs that meet my home theater requirements and the myriad of favorable reviews from other customers.

[ MARK Feb 11, 2017 ]
OLED for the better black color like my older plasma. Also the 1K off.

[ Tommy Feb 10, 2017 ]
It's the best technology available. I've looked at other products and there is no comparison. If you can afford this you should not settle for anything less.

[ Ronald Feb 08, 2017 ]
Outstanding picture and deep discount on price.

[ Kevin Feb 07, 2017 ]
the great reviews and the $1,000 price drop!

[ Ted Feb 05, 2017 ]
It's the best TV of 2016 and there are some amazing 4k games coming out that I want to make the most of.

[ Charles Feb 03, 2017 ]
Highly rated picture quality. The price was in the range I was looking to spend.

[ E Jan 30, 2017 ]
Supposedly a very good oled tv.

[ Jeff Jan 26, 2017 ]
tech reviews and picture quality

[ Timothy Jan 22, 2017 ]
I read many reviews on this and other TVs and was very impressed with the LG OLED

[ Kenneth Jan 19, 2017 ]
Picture quality

[ Peter Jan 15, 2017 ]
It had good reviews and was on sale.

[ Clint Jan 09, 2017 ]
Best picture available and a great price for an OLED. Not needing 3D or a SoundBar.

[ Joseph Jan 01, 2017 ]
Love LG TVs!! Several reviews indicated this is the must have in OLED tech. Our new home theater is going to ROCK!!

[ Christopher Dec 31, 2016 ]
Good reviews.

[ David Dec 31, 2016 ]
It was time to replace the TV and when we saw the OLEDs we were more than impressed. It will enhance our viewing of shows, movies and BluRays. the 65B6P was the size we wanted (it fit into the area we had) and the models "higher" in price did not give us features we were interested in. This was the perfect TV for the next several years.

[ Clyde Dec 31, 2016 ]
Highest reviews for televisions in this category. We did not want curved screen or 3D options so the LG 65OLED B6P was the perfect choice for us.

[ GAIL Dec 28, 2016 ]
Upgrade. Superb ratings.

[ C Dec 19, 2016 ]
Centerpiece for new family entertainment room

[ Tracy L. Dec 19, 2016 ]
It's supposed to be the best!

[ JEFF Dec 18, 2016 ]
The best reviewed picture quality of any TV this year.

[ Alex Dec 15, 2016 ]
Great ratings

[ TODD Dec 14, 2016 ]
Size and OLED

[ Keil Nov 28, 2016 ]
black Friday discount as well as Consumer Digest indicating it is a great TV and I love crutchfield......your the best !!

[ Jane Nov 28, 2016 ]
Quality, Technology, and Value!

[ Brent Nov 27, 2016 ]
Replacement.

[ Attila Nov 26, 2016 ]
get review

[ LARRY Nov 26, 2016 ]
Great price. There is no other TV that compares with this quality and value.

[ H Nov 26, 2016 ]
TV has the best picture

[ William Nov 26, 2016 ]
Online Reviews

[ Donald Nov 25, 2016 ]
Excellent ratings from other owners.

[ Steve Nov 25, 2016 ]
good reviews

[ Ali Nov 25, 2016 ]
OLED technology. Excellent review on cnet.

[ Patrick Nov 25, 2016 ]
quality and price

[ Min Nov 25, 2016 ]
CNET said "the best TV we've ever reviewed"

[ Nicholas Nov 25, 2016 ]
YOLO.

[ DAVID Nov 25, 2016 ]
One of the best TVs out there and very reasonable holiday pricing

[ Thomas Nov 24, 2016 ]
I chose it because I always liked the Plasmas best because of their black color and because it was rated best of 2016 by CNET.

[ Marty Nov 23, 2016 ]
Excellent reviews, and time to step up from a Panasonic 50" plasma. Will be used mostly for movie watching - this set has DolbyVision AND HDR10 and the best picture in the business.

[ John Nov 23, 2016 ]
By all accounts this appears to be the best HDR TV line, and it supports both versions. We'll see!

[ Joe Nov 23, 2016 ]
It's the best TV ever.

[ Richard Nov 22, 2016 ]
Positive reviews. Excellent price point & service.

[ PAUL Nov 22, 2016 ]
Picture quality.

[ john Nov 21, 2016 ]
The reviews have declared the picture of LG's OLED technology and after seeing the display personally, I am convinced. After watching the price drop all year to the lowest point I have seen, this became the perfect opportunity to purchase.

[ Andrew Nov 21, 2016 ]
peyton advised me

[ S Nov 20, 2016 ]
reviews, picture quality, off axis viewing of OLED

[ MARK Nov 20, 2016 ]
To watch hd movies

[ D Nov 17, 2016 ]
Love ALL the reviews I`ve read

[ Jude Nov 17, 2016 ]
to replace my Samsung 65in Plasma 3D TV

[ Phillip B. Nov 16, 2016 ]
SWMBO and I have been wanting a larger TV, 65" to 70" range. There were really only ever two options. Vizio P series and LG OlED. These are the only two TVs with HDR and Dolby Vision. We are moving from an old plasma so black levels were extremely important to me. Wife did not like the looks of the Vizio and until LG put these on sale, the OLED was a pipe dream. With this sale, the price came down to an obtainable level.

[ Ronald Nov 15, 2016 ]
Picture quality, and brightness is now better than in 2015

[ DANA P Nov 13, 2016 ]
I am hoping that this TV model is able to deliver on its advertisements of being the best picture available.

[ Richard Nov 12, 2016 ]
Great reviews

[ JOHN S Nov 08, 2016 ]
Unbelievable picture quality .

[ Brent Nov 04, 2016 ]
OLED . Also, the fact that this LG model has picture quality comparable to its more expensive siblings (I didn't need features such as 3D and a built in base speaker).

[ Thomas Anthony Nov 03, 2016 ]
The latest price reduction let me order this item that I have been wanting for some time.

[ Duane Oct 31, 2016 ]
Based on a combination of reviews and in store viewing...

[ Guest Oct 30, 2016 ]
excellent product

[ TRACEY E Oct 26, 2016 ]
quality

[ CHURCH Oct 10, 2016 ]
Picture quality, newest technology.

[ Carlos Sep 26, 2016 ]
After weeks of research the OLED kept coming up as the best on the market.

[ Thoman RE Servi Sep 20, 2016 ]
11 questions already asked