Parrot Pot
Self-watering gardening pot (Porcelain White)
Item # 333POTWH | MFR # PF901002
This item is no longer available.
Overview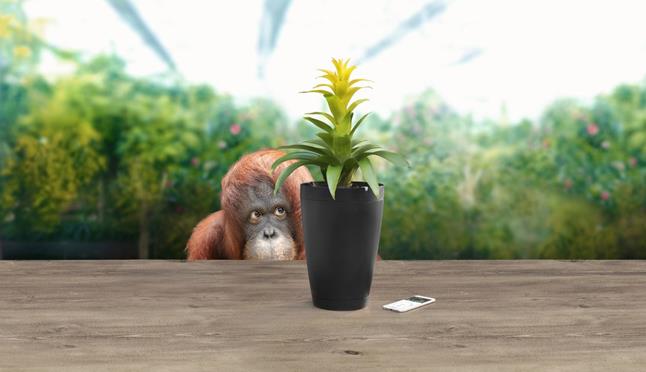 The Parrot Pot is so easy to use, even this house-sitter can't mess it up.
No green thumb? No problem.
I like to have plenty of growing things around my house. Sometimes, keeping them thriving is a bit of a mystery to me. If you're a bit of a haphazard gardener like me, the Parrot Pot can be your best ally. It has four embedded sensors that track soil moisture, fertilizer content, air temperature, and how much light your plant is getting. And there's a built-in 1/2-gallon reservoir that can automatically give your little green buddy exactly the amount of water it needs to keep growing, and making your home a brighter, happier place.
Remote watering modes
You can certainly take manual control of the Parrot Pot and water your plant as you see fit. If you're having a long day at work, or spending time out of town, you may want to look into some of the pot's automated modes. Perfect Drop mode actually learns from how you've watered your plants in the past, and can tend to its needs accordingly. Plant Sitter mode is ideal for long vacations — it rations the water in the tank to keep your plant alive for up to a month of unattended growth. And there's always Custom mode for a more personalized approach to remote gardening.
Product Highlights:
monitors environmental conditions so you can help your houseplants thrive
connects to your smartphone via Bluetooth® Low Energy
download the free Parrot Flower Power app and receive real-time alerts on your smartphone or tablet
app includes a database of more than 8,000 houseplants, with expert advice from botanists on how to care for them
automatically waters your plant based on your settings (Manual, Perfect Drop, Plant Sitter or Custom)
holds up to 2.5 quarts of soil
integrated 1/2-gallon water tank
powered by 4 AA batteries (included)
Sensors:
capacitive sensor keeps track of soil moisture (0-50%)
conductive sensor for reporting fertilizer content
precise light sensor lets you know when your plant needs more (or less) sun
tracks air temperature from 23°-131° fahrenheit
Dimensions and Warranty:
8-1/8" diameter x 12-5/16" height
weight: 52 oz.
warranty: 1 year
What's in the Box:
Smart plant pot
4 "AA" batteries
Quick Start Guide
Plants come to our house to die....Until I received an email from Crutchfield about these really cool pots! We love them! Super simple and fun to be able to check on your plant from the APP on your phone.

Scott and Vanessa, Lakeville, MN
Reviews
Parrot Pot Reviews
Average Customer Review(s):


Submit a review and then enter to win a $350 rewards card
Review this product
Thanks for submitting your review
Most reviews are processed and published within 5 business days. You will receive a confirmation email once your review has been published.
Customer photos
Pros:
Cons:
Crutchfield response
---
Details
Product Research
Features
Parrot Pot: The Parrot Pot is a smart, connected flowerpot that helps your plant flourish and stay healthy. It incorporates an intelligent watering system and four sensors that continuously analyze your plant's needs. With Parrot's Flower App for Apple iOS and Android, you can monitor your plant's health and customize automatic watering settings.
Dimensions: The Parrot Pot measures 8.125" in diameter and 12.5" tall. It weighs 52 ounces (without plant, soil, or water).
Capacity: Parrot recommends placing only one plant per Parrot pot for optimal watering. Your plant's root bulb diameter should be approximately 6.3125" or less. The Parrot Pot can hold up to 2.4 liters of soil. Its water tank/reservoir can hold up to a 1/2 gallon.
Soil Types: Parrot recommends using compost adapted to your plant. It is not advisable to put clay pebbles in the Parrot Pot. The Pot is optimized for compost drainage, in addition to providing the plant with the right quantity of water via the Perfect Drop watering system.
Operating Temperature: The Pot's built-in sensors and automatic watering system can withstand temperatures ranging from 23°F to 131°F.
Colors: The Parrot Pot is available in slate black, porcelain white and brick red.
Note: A plant that is too tall could topple the Parrot Pot.
Indoor or Outdoor Use: The Parrot Pot's sturdy, anti-UV treated ABS plastic cover is compliant with IPX5 standard and can be used outdoors in normal conditions, even in the rain. You can leave the Parrot Pot outside as long as the temperature does not drop below freezing point, as frost may cause damages to the electronics. Parrot recommends bringing in your Pot during periods of frost, or just empty the water tank if you want to leave it outside. If you leave the Parrot Pot outside with a full water tank during freezing periods (below 23°F), the water will freeze. Freezing water (ice) increases in volume, which in turn could damage the Parrot Pot and cause breakage and leak.
Note: Do not leave the Pot outside if the temperature drops below 23°F and the water tank is full. If the temperature drops under 32°F, empty the water tank or bring the Parrot Pot inside.
Four Built-in Sensors: The Parrot Pot's four built-in sensors monitor light, temperature, soil moisture and fertilizer levels in real time. It then sends out customized recommendations and alerts to help you better care for your plant.
Temperature: The satisfactory temperature range for most plants is generally between 50°F to 90°F (average over one day). Variation = 23°F to 131°F), Precision = (+/- 2.7°F)
Light: The light sensor is calibrated to measure the Photo synthetically Active Radiation (PAR), which designates the spectral range of solar radiation from 400 to 700 nm. Variation = 0 to 500 klux, Precision = +/-15%
Soil: The typical soil moisture range is generally between 8% (very dry) to 45% (saturated). In the absence of soil, the moisture range of the soil displayed will be 0. Most plants generally require a moisture range of the soil between 12% and 18%. Some plants can be damaged if the moisture range of the soil is over 40% during a long period. Water saturation encourages the apparition of pathogen agents in the soil and plants need oxygen at the root. Variation = 0 & agrave; 50 (%), Precision = +/-3
Fertilizer: The fertilizer level is measured when the soil is damp. If the fertilizer level of your plant is very high and the soil is constantly moist, Parrot Pot cannot provide precise data and the application will indicate that the data is not available. Water your plant generously to remove the excess fertilizer and drain the soil correctly after. A high level of fertilizer is likely to deteriorate the plant.
Note: The moisture sensor is placed deep below the soil to analyze the moisture rate of the soil precisely. Even if the surface feels dry, underneath it is actually sufficiently watered, thanks to the Perfect Drop and Plant Sitter intelligent watering asystems.
Parrot Flower Power App: With the Parrot Flower Power application for Apple iOS 7.0+ and Android OS 4.4+, you can monitor your plant's development every day from your mobile device. Additionally, you can access a vast database packed with information on your plant's maintenance and characteristics. You compatible Apple iOS or Android device and the Flower Power App communicates with the Parrot Pot via Bluetooth (v4.0) Low Energy wireless technology. You can download the Flower Power app to more than one device and setup the same user account, so all devices can monitor and receive alerts from the Parrot Pot. You can connect up to 200 Parrot Pots with one Parrot Flower Power account. However, you can only collect data and interact with one Parrot Pot at a time.
Monitoring: Get comprehensive monitoring of your plant's health - light, temperature, level of fertilizer, and soil moisture. Enabling notifications allows you to receive a real-time alert in the three following cases - low water tank level, low soil moisture content, and low battery level.
Plant Database: Over 8,000 varieties are listed in the Parrot database. In the application, you will find expert advice written by top international botanists. This customized advice helps you optimize your plant's growth. You can also freely browse the database to discover new varieties and learn how to care for your plants with tips and trends on their maintenance (sunshine, fertilizer, watering, etc.).
Suggestions: The Parrot Flower Power application helps you choose a plant that will be perfectly suited to your environment. To do this, you simply geotag yourself and indicate the level of sunlight (shade, half shade, full sun). In addition, you can consult the list of plants suited to your environmental settings according to preset categories - indoor plants, flowering plants, fruits & vegetables, outdoor plants, trees & shrubs, decorative leafy plants, cacti & succulents, as well as wellness plants. The Parrot Pot is not suitable for Orchid-type plants or Bonsai trees.
Real-Time Management & Monitoring: When you are near your connected Parrot Pot, you are able to check in real-time, the light intensity, ambient temperature, soil moisture and level of water in the Parrot Pot's tank. You can even remotely monitor your plant if you have a spare Apple iOS or Android device connected to the Internet and plugged in within range of the Parrot Pot. When lunching the Parrot Flower Power app, use the same user account on both mobile devices.
Note: You may use Parrot Pot without the mobile app. As soon the Parrot Pot is installed, it will initiate the "default plant" parameters and automatically waters your plant; these parameters are suitable to water 80% of plants. The built-in warning light will advise you to water the plant or to change the batteries
Water Tank & Watering Modes: The Parrot Pot is equipped with a built-in 1/2-gallon water tank & reservoir. To fill the water tank of your Parrot Pot, pour water into the water filter on the edge of the Parrot Pot. Only pour water in the water tank (no fertilizer or other liquid). From the Flower Power App, you have the option of selecting the Parrot Pot watering mode suited for your needs. Choose from Perfect Drop, Plant Sitter, Custom, or Manual.
Perfect Drop: The Perfect Drop irrigation system is an automatic watering system for the day-to-day growth of your plant, and only waters your plant when it needs it. The Parrot Pot automatically adapts to the plant's natural life-cycle and adjusts water consumption accordingly, giving your plant just the right amount of water at the right time.
Plant Sitter: The Plant Sitter watering mode is recommended for an absence of 10 to 30 days, as long as the water tank is properly filled. The Parrot Pot's self-watering Plant Sitter mode ensures up to a month of unattended care for your plant. It keeps your plant alive and healthy by adjusting watering levels. You can leave with peace of mind and find a healthy, happy plant when you return home. The growth of your plant will be slower if you choose the Plant Sitter mode instead of the Perfect Drop.
Custom: You can customize the configuration of the automatic watering settings for your plant.
Manual: Your plant's automatic watering system will be turned off, and you will need to manual water your plant.
Notes: Depending on the temperature and environment of the plant, algae growth is possible inside the tank. However, the Parrot Pot is designed to be easily cleaned, so as to prevent algal bloom from happening. You can also replace the pump if it no longer functions. You can order it as a spare part at www.parrot.com/usa/support/

.
Battery Powered: The Parrot Pot is powered by four "AA" 1.5V batteries (included). On a fresh set of batteries, the operating life of the Parrot Pot is approximately one year. However, battery life varies depending on the plant and number of waterings carried out. When the battery level of the Parrot Pot is low, the warning light flashes red. You can also us the Parrot Flower Power mobile app on your Apple iOS or Android device to check the precise battery level of your Parrot Pot. Moreover, you will receive a notification from the app as soon as the battery level is down to 10%.
Warning Light: The built-in Warning Light of the Parrot Pot flashes when the water level is low, batteries are low, or there is a problem with the watering system.
Slow Green Flashing Light: The water level is low and the Pot's water reservoir needs to be filled.
Slow Red Flashing Light: The Pot's batteries are low and need replacing.
Quick Green Flashing Light: The Pot has detected a problem with the watering system. You will need to use the Parrot Flow Power app on your smartphone or table to link to the Pot and determine the cause.
Water Saucer: The Parrot Pot's saucer is used to evacuate excess water when the plant has directly been watered inside or in the event of rain outside. If you water inside, do not forget to empty the saucer regularly to avoid overflowing. If your Parrot Pot is outside, bear in mind that the saucer will overflow during heavy rain. If compost is not compacted properly, the soil will not be as water-absorbent; consequently, when Parrot Pot waters the plant, rather than being absorbed into the compost, the water will run through the soil and deposit directly into the saucer. In this case, you will receive an alert from you application and via the warning light to test and trouble-shoot the Parrot Pot.
Our Product Research Team
At Crutchfield, you'll get detailed, accurate information that's hard to find elsewhere. That's because we have our own in-house Product Research team. They verify what's in the box, check the owner's manual, and record dimensions, features and specs. We stay on top of new products and technologies to help people make informed choices.