Sony NW-A35 Walkman®
High-resolution portable digital music player with Bluetooth® (Charcoal Black)
Overview
Our take on the Sony NW-A35 Walkman® by Crutchfield's Ralph Graves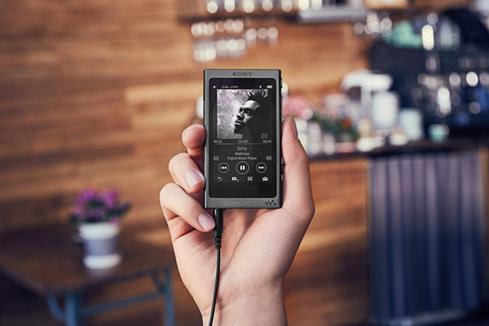 Enjoy high-res audio anywhere
Ready to enjoy your high-resolution music on the go? Sony's minimalist NW-A35 Walkman has you covered. It's compatible with high-res music files, such as those downloaded from sites like HDtracks. Plus, the player has built-in Bluetooth® so you can stream to a set of wireless headphones.
Support for high-resolution audio files
The NW-A35 is compatible with high-res PCM-based files (up to 24-bit/192kHz), Apple Lossless, and other formats. And if you've got low-resolution files, such as MP3s, Sony's Digital Sound Enhancement Engine can help them sound fuller. The built-in rechargeable battery can deliver up to 45 hours of operation, so you can enjoy music all day and then some.
High-res Bluetooth® streaming
This player offers LDAC Hi-Fidelity wireless music streaming. That means you can stream high-res audio signals wirelessly to compatible Sony speakers and headphones via Bluetooth. Thanks to NFC, you can quickly pair your compatible Android™ smartphone just by touching the NW-A35 to your device.
Storage for high-res files
The 'A35 features 16GB of built-in storage. Need more memory? The player's microSD card slot can accommodate up to a 128GB card. That gives you up to 144GB of storage, plenty for high-resolution files as well as CD-quality audio files. And of course, you can carry extra cards with you for an even bigger music library.
Product Highlights:
plays MP3, FLAC, ALAC, AAC, HE-AAC, AIFF, WMA, and LPCM audio files (up to 24-bit/192kHz)
microSD card slot accepts microSD, microSDHC, or microSDXC cards (available separately)
16GB internal flash memory, with up to 128GB additional storage (up to 144GB total memory)
3-1/16" color touchscreen display ( 800 x 480 pixels)
Bluetooth-compatible with LDAC Hi-Fidelity wireless music streaming
NFC touch pairing with compatible phones
DSEE HX and ClearAudio+ sound modes for restoring compressed music
S-Master® HX amplification offers accurate, detailed playback of high-resolution music files
stereo minijack headphone output (3.5mm)
high-speed USB 2.0 port
rechargeable battery provides up to 45 hours of playback
USB 2.0-compliant cable included for file transfer and battery charging
3-1/4"W x 5-5/16"H x 1-11/16"D
weight: 3.5 oz.
warranty: 1 year parts, 90 days labor
What's in the Box:
Sony NW-A35 Walkman® owner's manual
Portable digital music player
42" WM-port to USB cable
Instruction Manual
Setup Guide
"Listening For a Lifetime" booklet
Warranty Information
Great product.. Easy to use and compact.. Excellent customer service as well

T, Naples, FL
Reviews
Sony NW-A35 Walkman® Reviews
Average Customer Review(s):


Submit a review and then enter to win a $350 rewards card
Review this product
Thanks for submitting your review
Most reviews are processed and published within 5 business days. You will receive a confirmation email once your review has been published.
Customer photos
Pros:
Cons:
Crutchfield response
---
Details
Product Research
Features
Hi-Res Walkman: The Sony NW-A35 Hi-Res Walkman is a portable digital audio player capable of downloading and playing back high resolution audio files, as well a highly compressed music files. The Sony NW-A35 Hi-Res Walkman also offers a built-in FM tuner and Bluetooth audio streaming.
S-Master HX Headphone Amplifier: The NW-A35's S-Master HX digital headphone amp cuts distortion and noise across a wide range of frequencies for rich, full-bodied sound. It features a 3.5mm (1/8") headphone jack to connect a set of headphones (sold separately).
Supported Audio Formats: The Sony NW-A35 Walkman supports playback of a variety of high resolution and compressed audio files.
Resolution Type
File Format
File Extension
Bit Depth or Bit Rate
Sampling Frequency
Hi-Res
FLAC
.flac
16, 24-bit
8, 11.025, 12, 16, 22.05, 24, 32, 44.1, 48, 88.2, 96, 176.4, 192 kHz
Linear PCM
.wav
16, 24, 32-bit
8, 11.025, 12, 16, 22.05, 24, 32, 44.1, 48, 88.2, 96, 176.4, 192 kHz
Apple Lossless
m4a, .mp4
16, 24-bit
8, 11.025, 12, 16, 22.05, 24, 32, 44.1, 48, 88.2, 96, 176.4, 192 kHz
AIFF
aif, .aiff, .afc, .aifc
16, 24, 32-bit
8, 11.025, 12, 16, 22.05, 24, 32, 44.1, 48, 88.2, 96, 176.4, 192 kHz
DSD
dsf, .dff
1-bit
2.8224, 5.6448, 11.2896 MHz
Compressed
MP3
.mp3
32 kbps to 320 kbps
32, 44.1, 48 kHz
WMA
.wma
32 kbps to 192 kbps
44.1 kHz
AAC
.mp4, .m4a, .3gp
16 kbps to 320 kbps
8, 11.025, 12, 16, 22.05, 24, 32, 44.1, 48 kHz
HE-AAC
.mp4, .m4a, 3gp
32 kbps to 144 kbps
8, 11.025, 12, 16, 22.05, 24, 32, 44.1, 48 kHz
Notes:

This unit recognizes audio sources exceeding CD quality (44.1 kHz/16-bit quantization) and DAT quality (48 kHz/16-bit quantization) as High-Resolution Audio.
DSD audio files are converted to linear PCM at headphone output.
Files that are 4 GB or larger cannot be played back.
Built-in & Expandable Memory: The NW-A35 has a 16 GB internal memory and offers expandable storage capacity through its microSD card slot and a microSD, microSDHC, or microSDXC memory card (up to 128 GB - all sold separately).
16 GB Internal Memory

File Type
Number of Songs
MP3 (128 kbps)
3,3000 songs
AAC (256 kbps)
1,600 songs
FLAC (44.1 kHz/16-bit)
300 songs
FLAC (96 kHz/24-bit)
90 songs
FLAC (192 kHz/24-bit)
40 songs
DSD (2.8224 MHz/1-bit)
70 songs
Note: The approximate times are based on the case in which you transfer or record only 4 minute songs
Transferring Content via Windows & Mac: The Sony NW-A35 is compatible with Windows PC and Mac computers through free downloadable software. Download Media Go onto your Windows PC running 10, 8.1, 8, 8, 7, or Vista. Download Content Transfer onto Mac computer or laptop running MAC OS X 10.8 - 10.11.
Media Go (Windows): Media Go is software for Windows PC (use the latest version of Media Go). You can use Media Go to perform the following operations - Importing content (such as music) from CDs or online services to a computer, organizing and managing the content (such as creating playlists), & transferring content on a computer (including iTunes) to the Walkman.
Content Transfer (Mac): Content Transfer is software for Mac computers (use the latest version of Content Transfer). You can transfer content that you manage with iTunes or Finder. You can simply drag-and-drop the tracks or albums to transfer them to the Walkman.
3.1" Touchscreen: The Sony NW-A35 Walkman features a high-quality 3.1" (800 x 480) capacitive touchscreen with an intuitive interface for browsing, selection, and playback of your music library. The 3.1" touchscreen will also display song/artist/album information, along with album art (when applicable). In addition to touchscreen control, the NW-A35 offers hard-key push-buttons on the side of the Walkman - including Power, Volume, Play/Pause, Skip, and Hold.
Playback Screen: You can control playback operations from the playback screen. You can also configure various settings for playback. Playback functions include Play/Pause, Fast Forward/Rewind, Previous/Next Track, Repeat, Shuffle, Bookmark, and Playlist.
Library Screen: You can select tracks from the library screen. Tracks are classified into various categories (such as Songs, Album, Artist, Genre, Composer, etc.).
Lineup Screen: You can check the list of tracks that the Walkman will play with the current settings.
Bookmark List: You can add your favorite tracks to bookmark lists. Up to 10 bookmark lists are available. Up to 999 tracks can be added to a bookmark list
Playlists: You can collect your favorite tracks and save them as playlists on the Walkman. Playlists can be saved either in the internal memory of the Walkman or on a microSD card (sold separately). You cannot add a track from the internal memory to a playlist on the microSD card or vice-versa. Up to 999 tracks can be added to a playlist.
SensMe Channels: The SensMe Channels function automatically groups tracks by theme. You can play tracks to suit your mood, current activity, the time of day, and more. To use the SensMe Channels function on the Walkman, tracks must be analyzed by Media Go before you transfer the tracks.
Lyric Information: If you transfer tracks with lyrics information, you can view the lyrics on the Walkman. There are two methods of inputting lyrics information - adding lyrics to a track using Media Go or creating lyrics in a text file (an LRC file). Both of the methods above must be performed on a computer. Add lyrics on the computer, and then transfer the tracks to the Walkman.
Sound Quality Settings: The Sony NW-A35 offers a variety of sound quality settings to suit your type of music content and preferences.
ClearAudio+: ClearAudio+ automatically applies the recommended sound quality settings to the output sound.
Equalizer: You can select an equalizer setting to suit the musical genre that you are listening to. You can also preset your equalizer settings as a custom setting.
DSEE-HX: This function upscales the sound quality of audio files. The sound quality will become almost equal to that of High-Resolution Audio. The function reproduces the clear high-range sound that is often lost.
DC Phase Linearizer: This function adjusts low-frequency phase shifts to reproduce the audio characteristics of analog amplifiers.
VPT (Surround): This feature applies a surround effect and enriches the sound reproduction quality of the audio playback. VPT (Virtual Phones Technology) is a proprietary sound processing technology developed by Sony.
Dynamic Normalizer: You can moderate the change in volume between tracks to minimize differences in volume level.
AVLS (Automatic Volume Limiter System): The AVLS (Automatic Volume Limiter System) function reduces the risk of damage to ears from loud volumes. Using AVLS limits the maximum volume. AVLS does not work while there is an active Bluetooth connection.
Note: The sound quality settings do not apply to FM radio
Bluetooth Audio Streaming: With built-in Bluetooth 4.2 and support for A2DP (Advanced Audio Distribution Profile) & AVRCP (Audio Video Remote Control Profile), you can stream your music files wirelessly from the Sony NW-A35 Walkman to a Bluetooth-enabled speaker, headphone, receiver, or amplifier. You are able to control basic playback functions such as Play/Pause & Previous/Next Track (if supported by speaker, headphone, receiver or amplifier). The NW-A35 has a wireless Bluetooth range of approximately 32.8'.
NFC: In addition to SSP (Simple Secure Pairing), the NW-A35 offers NFC (Near-Field Communication) pairing. Bluetooth-enabled receivers, speakers, headphones and amplifiers that have the NFC function can be paired with the Walkman, by simply touching the back of the Walkman to the device's NFC logo. You can pair the Walkman with a maximum of 7 devices.
LDAC: In addition to support for Bluetooth standard SBC codec, the NW-A35 also supports Sony's newest LDAC codec. LDAC is a new audio technology from Sony that allows you to enjoy high quality wireless audio via Bluetooth. With 3x the data transmitted (compared to regular Bluetooth), LDAC provides an enhanced wireless listening experience for all your music.
FM Radio: The Sony NW-A35 is equipped with a built-in FM radio (there is no AM radio). The unit offers manual, seek, and preset tuning. You can store up to 30 FM presets automatically or manually. You cannot listen to FM radio while there is an active Bluetooth connection.
USB Mass Storage mode: The Sony NW-A35 can be set to USB Mass Storage mode so it can easily be recognized by your computer or laptop through the player's WM-Port and cable.
Language Study Function: The Language Study function provides the useful functions for learning languages. These useful functions include DPC (Digital Pitch Control), A-B Repeat, & Quick Replay.
Rechargeable Battery: The NW-A35's built-in rechargeable lithium-ion battery lets you enjoy up to 45 hours of highly compressed MP3 (128kbps) music playback or 30 hours of Hi-Res FLAC (192kHz/24-bit) music playback. Using its WM-Port and the included cable, you can charge the NW-A35 by plugging it into a free USB (type-A) port on your computer or laptop. You can also charge it from a USB/AC power adapter (sold separately). A full charge takes approximately 4 hours.
| | |
| --- | --- |
| Content Type | Battery Playback Time |
| MP3 (128 kbps) | 45 hours |
| AAC (256 kbps) | 39 hours |
| FLAC (96 kHz/24-bit) | 39 hours |
| FLAC (192 kHz/24-bit) | 30 hours |
| DSD 2.8224 MHz/1-bit | 25 hours |
| FM Radio | 32 hours |
| Bluetooth (SBC) | 20 hours |
| Bluetooth (LDAC) | 13 hours |
Note: You can increase battery life by reducing the screen brightness, adjusting all sound quality settings to off, as well as turning off Bluetooth & NFC.
Software Update: You can update the software of the Walkman through Media Go or the Sony eSupport site on your computer. Download the software update onto your computer, connect the Walkman to your computer via USB, and transfer the update to the Walkman.
Our Product Research Team
At Crutchfield, you'll get detailed, accurate information that's hard to find elsewhere. That's because we have our own in-house Product Research team. They verify what's in the box, check the owner's manual, and record dimensions, features and specs. We stay on top of new products and technologies to help people make informed choices.
Q & A
Customer Q&A
Crutchfield asked


Why did you buy this?
I chose the NW-A35 because of the combination of features, strong reviews, and Crutchfield's price.

[ Jon Dec 30, 2017 ]
Good product for high quality portable music and it's not Apple

[ PAUL G Dec 29, 2017 ]
Sony Brand

[ Kent Dec 29, 2017 ]
The reviews were good

[ LUIS Dec 21, 2017 ]
Wanted to upgrade from Ipod..

[ Andrew Dec 07, 2017 ]
Great reviews, good price point.

[ Walter R. Dec 06, 2017 ]
My sister introduced me to the Walkman in 1986, I want to return the favor and give her this for the holiday

[ j Dec 05, 2017 ]
Good value for the money and on sale compared to local brick and mortar stores. And of course, the Sony brand reputation. I've purchased many things from Crutchfield over the years and have always been 100% satisfied.

[ Dr. Dave Nov 24, 2017 ]
An excellent price point to experience high-resolution digital music...

[ Stephen R. Oct 23, 2017 ]
Recommended by Travis and Wolf. Particularly like the expandable nature of the unit with SD card, size of the screen and the simple analogue controls to compliment the screen controls. I am hoping uploading music from our computers will be as intuitive and easy as it is represented to be.

[ John Sep 26, 2017 ]
Features and price. Sony is a known and trusted brand.

[ william Sep 06, 2017 ]
Design, specs, & review ratings

[ Edward Jul 19, 2017 ]
CD's are cluttering car and at home on table. Need something to migrate such as Apple lossless flac to a big hard drive and then migrate it to MP3 player where I can plug it into home stereo and/or car to play, also have it portable for bicycling too. Sony seemed to be good because I don't need any fancy Bluetooth nor wifi stuff that would just interfere with the circuitry anyways..... And it seemed to have good battery life and be slim for portability such as biking and camping out.

[ Brent Jun 04, 2017 ]
Design, specs & review ratings

[ Edward Jul 19, 2017 ]
7 questions already asked