LG UBK80
4K Ultra HD Blu-ray player
California customers: Please click here for your Proposition 65 warning.
Item # 689UBK80 | MFR # UBK80
In Stock
Was: $199.99
Instant savings: -$20.00 Instant savings ends 11/17

Our VirginiaVA-based experts can help.
Overview
Find out what your 4K TV can really do
I'm the proud owner of an LG OLED 4K TV, and I can still remember when I first hooked it up. I immediately wanted to watch something in full 4K to truly test my new screen's performance. The LG UBK80 4K Blu-ray player can help scratch this "new TV itch." It will play Ultra HD Blu-ray discs — the absolute best-quality video source available today.
Ready for HDR
Ultra HD Blu-ray discs with HDR (High Dynamic Range) allow compatible TVs to display extremely bright and dark black picture content together within the same image. This player supports HDR 10, the format most commonly found on 4K discs with HDR.
HDR content makes for serious eye candy on my new OLED TV — it stands out even among other, stellar-looking 4K videos. Watching sunlight peek over a mountain and spill over a lush landscape with true-to-life shading is really a sight to see.
Top movie sound formats and flexible connections
This player has built-in support for the highest-quality surround sound formats, like Dolby® TrueHD and DTS Master Audio™. It also plays Dolby Atmos®-encoded discs. You simply set the HDMI audio output to "bitstream" when connected to an Atmos-capable receiver. You can also use a separate optical digital connection to get surround sound from the player to your receiver.
Product Highlights:
plays Ultra HD Blu-ray discs, 3D and standard Blu-ray discs, DVDs, CDs and rewriteable discs
full 4K resolution video for use with Ultra HD TVs

4K video upscaling for standard Blu-ray and DVDs

supports lower resolutions when used with non-4K TVs
HDR (High Dynamic Range) for extended picture contrast and brightness on compatible TVs
plays Region A Blu-ray discs and Region 1 DVDs
Technical Specs:
selectable video resolution up to 3840 x 2160 pixels
built-in audio decoding for Dolby® Digital, Dolby TrueHD, DTS®, and DTS-HD Master Audio

can pass Dolby Atmos and DTS:X soundtracks when HDMI output is set to "bitstream" for decoding by a compatible receiver

plays AAC, FLAC, MP3, and WMA audio file formats
BD-Live and BonusView support for added bonus features with compatible discs (requires external USB storage device)
Connections and General Info:
front-panel USB port to play music, movies, and images from external hard drives, thumb drives, or Android phones
1 HDMI output
optical digital audio output
dual-band 802.11ac Wi-Fi and Ethernet port for downloading firmware updates
will not play Netflix or any other streaming video services
remote control
16-15/16"W x 1-13/16"H x 9-3/8"D
warranty: 1 year
What's in the Box:
Ultra-HD Blu-ray player
Remote control (AKB75135401)
"AAA" battery
Simple Manual
Safety Information
Warranty Card
Reviews
LG UBK80 Reviews
Average Customer Review(s):


Submit a review and then enter to win a $350 rewards card
Review this product
Thanks for submitting your review
Most reviews are processed and published within 5 business days. You will receive a confirmation email once your review has been published.
Customer photos
Pros:
Cons:
Crutchfield response
---
Details
Product Research
Disc & USB Compatibility
Video Section
Audio Section
Convenience Features
Remote Control
Disc & USB Compatibility
Disc Compatibility: The LG UBK80 Ultra HD Blu-ray disc player is compatible with many disc types.
| | |
| --- | --- |
| Disc Type | Disc Description |
| Blu-ray | UHD BD-ROM, BD-ROM, BD-R, BD-RE, 3D-BD |
| DVD | DVD-ROM, DVD-R, DVD-RW, DVD+R, DVD+RW |
| CD | CD-Audio, CD-R, CD-RW |
Ultra HD Blu-Ray: Ultra HD Blu-ray provides these key features and advantages over standard Blu-ray.
4K Resolution: Ultra HD Blu-ray supports resolutions of up to 3840 x 2160 pixels. That's 4x as many pixels as Full HD televisions, and 27x as many pixels as Standard Definition televisions
Wider Color Gamut: Ultra HD Blu-ray can display over 75% of the visible color spectrum; this is known as "Wider Color Gamut". That's more than twice the color range of current Ultra-HD TVs.
HDR (High Dynamic Range): Ultra HD Blu-ray also supports High Dynamic Range (HDR) video. Dynamic range is the difference between the brightest whites and the darkest blacks on screen. HDR means that scenes with high contrast can be shown with much greater clarity and detail.
Smooth, Realistic Motion: Ultra HD Blu-ray supports progressive frame rates of 24, 25, 50 and 60 frames a second, enabling smoother, more realistic motion.
Greater Capacity & Speed: Ultra HD Blu-ray Discs will be available in a dual layer 66 gigabyte disc and a triple layer 100 gigabyte disc. Ultra HD Blu-ray can stream video up to a maximum of 108/128 Mbps for 66Gb and 100Gb discs.
Backward Compatible: Ultra HD Blu-ray players will play all current Blu-ray Disc & DVD content. When connected to a current Ultra-HD TV television, the player will output a standard Ultra-HD TV signal. Ultra HD Blu-ray players will support existing Blu-ray media, as well as provide down conversion and HDR to SDR conversion functionality to match the connected television's capabilities.
Note: Like standard BD, Ultra HD Blu-ray discs use region codes. The region code on your disc must match the region code on your player, otherwise the disc will not play. This Blu-ray player is region A and DVD region 1. Blu-ray Disc uses the Advanced Access Content System (AACS) to prevent unauthorized recording of copyrighted material.
Firmware & Software Updates: As Blu-Ray technology continues to evolve, new disc types with enhanced functionality will become available. In order for you to enjoy this new functionality, you will likely be required to update the firmware in your player. These firmware updates will become available for downloading from the Internet. The player's Software Upgrade menu allows you to upgrade the player's software & firmware for these performance improvements & additional services. You can upgrade via Network (Ethernet) or USB.
Note: Visit LG's Support Site for the latest firmware/software updates.
USB Port: The front-panel USB (type-A) port supports playback of a variety of video, photo, and audio files on a USB MSC (mass storage class) or MTP (media transfer protocol device). Compatible MSC devices include USB thumbdrives or external HDD(s) formatted in FAT32 or NTFS. An external HDD will require a separate power supply. Compatible MTP devices include Android smartphone & tablets (running Android OS 4.0 or later). The player can recognize up to 2,000 total files/folders.
Note: The USB port is not compatible with Apple iOS devices, USB hubs, card-readers, or computers.
Media File Formats: The LG UBK80 supports the following video, photo, and music files recorded onto BD-RE, BD-R, DVD+RW, DVD+R, DVD-RW, and DVD-R discs; or downloaded onto a USB MSC/MTP device.
| | |
| --- | --- |
| Media Type | Format |
| Video | MPEG 1/2/4, AVI, MKV, XVID |
| Photo | JPEG, PNG, GIF, MPO (4000x3000 max) |
| Music | MP3/WMA (up to 48kHz), AAC/OGG (up to 96kHz), AIFF/FLAC/WAV (up to 192kHz) |
Video Section
Ultra HD Premium: The LG UBK80 garners UHD Alliance's ULTRA HD PREMIUM logo which identifies products and services that meet or exceed strict performance levels for 4K resolution, high dynamic range (HDR), and wide color spectrum.
HDMI 2.0a Output: The LG UBK80 Ultra HD Blu-ray player is equipped with a HDMI 2.0a output with support for ultra high-definition video and high resolution multichannel audio. The HDMI output resolution can be set to 480p, 720p, 1080i, 1080p, 2160p (4K), or Auto. Please use a premium high speed HDMI cable with 18 Gbps and above to view Ultra HD and HDR content.
Note: There is no analog video output.
HDR10 Compatible: The LG UBK80 Ultra HD Blu-ray player supports HDR (High Dynamic Range) video using the HDR10 format. HDR reproduces a greater dynamic range of luminosity or brightness levels, bringing greater contrast & wider color spectrum to the screen. This increased contrast reveals the subtle nuances of the image, from detailed blacks and shadows to the brightest whites and colors, plus greater depth. Previously hidden areas of dark shadow and sunlight are now full of clarity and detail.
Note: HDR10 is an open standard and currently the most popular HDR format on the market. It supports 10-bit color and 1,000 nits. It uses static metadata at the start of a movie to tell the receiver and your TV that the video content is encoded using HDR.
3D-Ready: The LG UBK80 UHD Blu-ray disc player supports 3D playback of high-definition (720p/1080p) 3D Blu-ray discs when connected to a 3D-Ready HDTV via HDMI, along with wearing a pair 3D vision glasses.
x.v.Color: This player can playback AVCHD discs using the x.v.Color format. x.v.Color offers a wider color range than normal DVD camcorder discs.
Display Mode: When the player's resolution is set to 1080p or 2160p, you can select the 24Hz mode for smooth presentation of film material (1080p or 2160p/24 Hz) with a HDMI-equipped display compatible with 1080p or 2160p/24 Hz input. You can select a 60Hz mode for video material.
TV Aspect Ratio Settings: You can select the aspect ratio according to your television. Choose from 4:3 Letter Box, 4:3 Pan Scan, 16:9 Original, or 16:9 Full. You cannot select 4:3 Letter Box or 4:3 Pan Scan when the Blu-ray player's resolution is set to 720p or higher.
Picture Adjustments: The following picture adjustments are available - Contrast, Brightness, Color, & Sharpness.
Bonus View: The Bonus View feature provides picture-in-picture capability with select Blu-ray Disc titles. You can view addition content (such as director/actor commentary) in a small display window while the movie is playing.
Audio Section
Surround Sound Decoders: The LG UBK80 UHD Blu-ray player has built-in Dolby Digital and DTS surround processors with support for Dolby Digital Plus, Dolby TrueHD, DTS-HD High Resolution, and DTS-HD Master Audio. Dolby Digital Plus, Dolby TrueHD, and DTS-HD are only output via the player's HDMI output. You can set the unit's Digital Output (HDMI or Optical) to match the capabilities of your connected AV receiver.
Disc Type
Audio Stream
PCM
Bitstream (Unprocessed)
Bitstream (Re-encode)
HDMI
Optical
HDMI
Optical
HDMI or Optical
Ultra HD Blu-ray
& Blu-ray
PCM
up to 7.1ch
2ch
up to 7.1ch
2ch
Dolby Digital/DTS
Dolby Digital
up to 7.1ch
2ch
Dolby Digital
Dolby Digital
Dolby Digital/DTS
Dolby Digital Plus
up to 7.1ch
2ch
Dolby Digital Plus
Dolby Digital
Dolby Digital/DTS
Dolby TrueHD
up to 7.1ch
2ch
Dolby TrueHD
Dolby Digital
Dolby Digital/DTS
DTS
up to 6.1ch
2ch
DTS
DTS
Dolby Digital/DTS
DTS-HD
up to 7.1ch
2ch
DTS-HD
DTS
Dolby Digital/DTS
DVD
PCM
2ch
2ch
2ch
2ch
2ch
Dolby Digital
up to 5.1ch
2ch
Dolby Digital
Dolby Digital
Dolby Digital
DTS
up to 6.1ch
2ch
DTS
DTS
DTS
Note: If you have an AV receiver which decodes Dolby Atmos or DTS:X, you will need to set this UHD Blu-ray player's HDMI output to bitstream.
Optical Digital Output: In addition to HDMI connectivity, the UBK80 Ultra HD Blu-ray disc player features a digital optical (toslink) output. The optical digital output supports Dolby Digital, DTS, & PCM (2ch to 5.1ch) audio signals with a sampling frequency of 48, 96, or 192kHz.
Note: There is no analog audio output.
DRC (Dynamic Range Control): DRC (Dynamic Range Control) allows you to listen to a movie at a lower volume without losing clarity of sound. This feature is only available for Dolby Digital, Dolby TrueHD, and Dolby Digital Plus audio signals. DRC can be set to Auto, On, or Off.
Convenience Features
Start Up/Play Back Times: The LB UHD Blu-ray player has a start-up time of approximately 8.1 seconds. It takes approximately 25.1 seconds for a UHD Blu-ray disc to begin playback.
Note: The Start Up/Play Back Time tests were started with the UHD Blu-ray player initially turned off & in standby mode. The Start Up Time test was stopped when the player's Home Menu screen appeared. The Play Back Time test was stopped when the UHD Blu-ray disc began playback.
Ethernet Port: This player can be connected to a local area network (LAN) via its Ethernet (RJ45) port on the rear-panel. By connecting the unit to a broadband home network, you have access to services such as software/firmware updates and BD-Live interactivity. BD-Live technology allows you to download and stream bonus content such as additional scenes, shorts, trailers, movie-based games, and more (fees may apply).
Last Scene Memory: The LG UBK80 memorizes the last scene from the last disc that is viewed. The last scene remains in memory even if you remove the disc from the unit or switch off the unit. If you load a disc that has the scene memorized, the scene is automatically recalled.
Music During Slideshow: You can display photo files while listening to audio from a disc or USB device.
Parental Control: The LG UBK80 offers Parental Control settings to limit BD & DVD playback according to the age of the users. The parental control settings are protected by a custom 4-digit password.
Closed Caption: The LG UBK80 offers Closed Caption (CC) for the hearing impaired when viewing a BD or DVD disc. The disc must also be CC compatible (usually there is a "CC" logo on the disc jacket).
Audio Guidance: The UHD Blu-ray player will narrate some playback functions and menu settings to assist the visually impaired.
Auto Power Off: A screen saver appears when you leave the player in Stop mode for approximately 5 minutes. The unit will then automatically turn off within 15 minutes since the Screen Saver is displayed to save power.
Remote Control
IR Remote: The included IR remote control provides wireless operation of the Ultra HD Blu-ray player. You can also program the IR remote to control select brands of TVs (including LG, Sony, & Samsung).
SIMPLINK (HDMI CEC): Some functions of the UBK80 can be controlled by your TV's remote control when the player is connected via HDMI to a SIMPLINK compatible LG TV or other brand of HDMI CEC compatible television. Controllable functions include Play, Pause, Scan, Skip, and Power Off.
Our Product Research Team
At Crutchfield, you'll get detailed, accurate information that's hard to find elsewhere. That's because we have our own in-house Product Research team. They verify what's in the box, check the owner's manual, and record dimensions, features and specs. We stay on top of new products and technologies to help people make informed choices.
Q & A
Customer Q&A
Crutchfield asked


Why did you buy this?
Recommended to me by Jaden as a significant upgrade to my current player, and has what I need and no more, so it saved me money. Grateful for the sound advice.

[ Raymond Oct 23, 2018 ]
Price and features for the cost

[ Kevin Oct 05, 2018 ]
It was in stock and has good ratings

[ Jason Jun 23, 2018 ]
Carson, inquired as to room size and television needs. Was very thorough in identifying what would best fit my needs and budget.

[ M May 20, 2018 ]
Looking for more? Check out the next model in this lineup.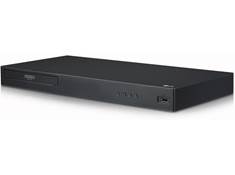 Out of Stock
$199.99 After $100.00 Instant savings
Add to Cart
Get the premium HDR experience with Dolby Vision
The LG UBK90 offers these features:
supports HDR10 and Dolby Vision
Dolby Vision adjusts brightness dynamically for greater shading and depth
2 HDMI outputs for separating audio and video signals