Alpine IDA-X001
Digital media receiver
Item # 500IDAX001 | MFR # IDA-X001
This item is no longer available.
Overview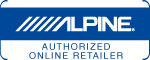 Alpine created the IDA-X001 digital media player specifically for the iPod lover. You won't find a CD player — this car stereo is all about the iPod. You get a striking color display, easy and fast iPod control, and the best possible sound quality.
High-res, full-color display
Alpine designed the stereo's display and menu system in collaboration with Apple to deliver the full iPod experience. A back button lets you backtrack through the menus, instead of having to start over from the top. The "view" button lets you switch the display from the time and date to different views of the CD art and song information. You can customize the display's background "skin" by downloading alternate backgrounds from Alpine's website.
Simple iPod navigation and control
The centrally located jog dial brings the functions of the iPod's click wheel to your car stereo. In Search mode, turn the jog dial just a little to scroll line-by-line. Turn it and hold it for a half second, and it switches to Alphabet Search mode. Now you can scroll through the letters of the alphabet to jump quickly through your lists of artists, albums, or songs. And while you're searching, the current song keeps playing, so there's no interruption of the music.
Top-level sound quality
You get an incredibly clean, digital transfer of the audio signal, whether you're using the USB connection with a new iPod or the "Full Speed" connection for an older iPod. The IDA-X001 uses a 24-bit Burr-Brown digital-to-analog converter for premium conversion of the digital signal into music.
Flexible system-building options
The IDA-X001 offers a ton of flexibility for expanding your car audio system. It includes a great AM/FM tuner and several connection options — the rest is up to you. The USB connection works with 5th generation iPods and other USB-capable music devices, including thumb drives. It even provides power to any device connected to the USB input. Alpine also includes their "Full Speed" iPod connection for older iPods, just add the optional connecting cable.
With Alpine's optional KCE-300BT Bluetooth® interface, you can press the dedicated phone button on the faceplate to mute the music, answer an incoming call, or access your phone book to place a call. An indicator light lets you know that the Bluetooth module recognizes your phone.
The stereo features an Alpine Ai-Net connection, letting you choose from all of Alpine's peripheral gear. Select from satellite radio, an auxiliary input adapter, a second USB input, or an HD Radio™ tuner. Setting up a system with external amplifiers or subwoofers? You'll appreciate the three sets of preamp outputs and the ability to control the subwoofer's output level from the stereo.
Stereo security
You can remove the portion of the faceplate housing the controls to keep your stereo safe from thieves. The display remains attached, so you don't have to worry about damaging it on the go.
Note: If you're going to use your iPod with this receiver, be sure to check "Details" for specific iPod model compatibility with this receiver or its optional iPod adapter.
Note: Sorry, Crutchfield cannot ship Alpine products to Guam or Puerto Rico.
Product Highlights:
General features:
digital media receiver (no built-in CD player)
built-in amplifier (18 watts RMS/50 peak x 4 channels)
designed for use with iPods — display and jog dial mimic iPod display and controls
plays MP3, WMA, and AAC music files from external sources
full-color, high-resolution, 2.2" TFT display
detachable face
optional remote control
Audio features:
24-bit Burr-Brown digital-to-analog converter
bass and treble controls
Expandability:
USB input for direct connection to, and control of, fifth generation iPods and other USB devices
"Full Speed" iPod controls for all other dockable iPods (requires Alpine's interface cable, $29.99)
Bluetooth ready, including dedicated button for accessing address book and placing or receiving calls
satellite radio ready
compatible with Alpine's HD Radio™ tuner
optional auxiliary input or second USB input
compatible with most factory steering wheel audio controls (adapter required)
CD changer controls
three sets of preamp outputs (subwoofer output has bass level control)
Other features and specs:
What's in the Box:
Alpine IDA-X001 Owner's manual
AM/FM/Digital Media receiver
Face
Sleeve
Trim ring
Wiring harness
8" iPod/USB cable
6.5' USB extension cable (with male Type A USB connector on one end and a female Type A USB connector on the other end)
Cloth face pouch
2 Radio removal tools
4 Flat-head ISO screws (M5 x 7mm)
Face fixing screw
Owner's Manual on CD-ROM
Owner's Manual CD instructions
"To Customers" sheet about the Owner's manual
Quick Reference Guide
Customer Care registration card
It is realy good for the iPod, but I have noticed that the radio reception is not that great. Over all I liked it. Please keep in mind there is no CD player. It is easly seen in full sunlight and the clock and date display is great.

John, Riverside, Ca
Reviews
(From Alpine): The IDA-X001 was the first Alpine head unit that offered complete iPod control via the radio controls. Consequently, it was manufactured with a first generation Apple authentication (1.0) chip that has since been replaced by Apple with a 2.0 version for all later models. While this does not directly affect the regular iPod models, it causes some real problems with iOS devices using 4.0 Apple software. In many cases, these problems can be resolved through an Apple software revision that can update the device. Unfortunately, the problem is related to hardware and there is no way to find a fix with a software revision. As is, the unit will still continue to charge the device but all other control needs to be done on the device itself.
Alpine IDA-X001 Reviews
Average Customer Review(s):


Submit a review and then enter to win a $350 rewards card
Review this product
Thanks for submitting your review
Most reviews are processed and published within 5 business days. You will receive a confirmation email once your review has been published.
Customer photos
Pros:
Cons:
Crutchfield response
---
Details
Product Research
Features
External Device Controls
Features
Digital Media Receiver: The Alpine iDA-X001 is an in-dash digital media receiver with an AM/FM tuner, a rear-panel USB input, and a 2.2" high-resolution LCD screen, but no CD slot. You can connect and control an iPod, a USB "thumb" drive, and a CD changer, and the unit is HD Radio ready, Bluetooth ready, and Satellite radio ready.
CEA-2006 Compliant: The specifications given by Alpine for the built-in amplifier comply with the CEA-2006 mobile amplifier power testing and measurement standards from the Consumer Electronics Association. All manufacturers who comply with the standard can display the CEA-2006 logo on their product.
MP3/WMA/AAC Playback: The iDA-X001 can play MP3, WMA, and AAC files stored on a USB Memory device (also known as a "thumb drive") or in a compatible CD changer. MP3 files can be recorded with bit rates of 8-320 kbps, WMA files can have 16-320 kbps bit rates, and AAC files can have 8-576 kbps.
File/Folder Name Search: During MP3/WMA/AAC playback, you can activate the search mode to locate a specific folder or file by name. The USB Memory Device can be searched up to the eighth hierarchy.
Sound Quality: The iDA-X001 uses clean digital connections, a 24-bit DAC (digital-to-analog converter), and dynamic MediaXpander processing to your compressed music files to restore the full harmonic structure across the full bandwidth. The MediaXpander makes vocals and instruments sound distinct regardless of the source.
EQ Presets: In addition to bass and treble controls, you can select an EQ preset for a variety of musical types. The EQ presets include: Flat, Rock, Pops, News, Jazz & Blues, Electric Dance, Hip Hop & Rap, Easy Listening, Country, and Classic.
Optional Auxiliary Input: With the optional KCA-121B Ai-NET/RCA interface cable or KCA-410C Versatile Link Terminal, you can input audio from an auxiliary source unit, such as a TV, VCR or portable unit.
Center Jog Dial: The iDA-X001 features a large spring-loaded jog dial near the center of the faceplate. You can turn the dial in either direction to navigate through the function menus and the music tracks as they appear on the display. The dial can be turned one step to move through menu items one at a time, or turned two steps and held to change items continuously. If the Sound Guide beeps are turned on, one beep or two beeps will sound depending upon the number of steps the dial is turned. A press of the "Enter" button confirms the highlighted menu item.
Partially Detachable Face: The portion of the faceplate containing the control buttons and the jog dial is detachable for security purposes. The 2.2" LCD screen remains attached to the receiver. A soft cloth pouch is included for carrying your faceplate.
Calendar/Clock Display: Using the "View" button, you can select the calendar/clock display on the front panel LCD. The calendar/clock display resembles an older analog flip-down "digital" display. The clock can be set to 12 or 24 hour display, and the calendar can be displayed as M/D/Y (month/day/year), D/M/Y, or Y/M/D. When the calendar/clock display is given display priority, the time and date are displayed (and the button illumination) even after the unit is turned off. The calendar/clock display can be turned on or off with the View button when the unit is powered off.
Display Dimmer: The LCD screen and the face button illumination will dim when the vehicle's headlights are turned on. You can select one of three levels of dimming, or turn off the dimming feature if desired. Note: The orange illumination wire in the supplied wiring harness must be connected to the vehicle's headlight circuit in order for the dimming feature to work.
Wallpaper: You can select one of three display wallpaper backgrounds. Additional display wallpaper can be downloaded from Alpine's special "i-personalize" website, saved to USB memory, and uploaded into the head unit.
Optional Wireless Remotes: The iDA-X001 does not include a remote control. It is compatible with two optional wireless remotes: RUE-4190 (item # 500RUE4190) and RUE-4202 (500RUE4202).
Steering Wheel Remote Compatibility: The iDA-X001 has a steering remote control input on the back panel. When used with the optional SWI-JACK interface (item number 127SWIJACK), you can retain the use of your factory steering wheel and/or rear seat radio controls when replacing the factory head unit in select vehicles. The SWI-JACK is compatible with over 95% of the vehicles made from 1986 to the present. Compatible vehicles include many Acura, Audi, BMW, Buick, Cadillac, Chevrolet, Chrysler, Dodge, Ford, GMC, Honda, Hummer, Infiniti, Isuzu, Jaguar, Jeep, Kia, Land Rover, Lexus, Lincoln, Mazda, Mercury, Mini, Mitsubishi, Nissan, Oldsmobile, Plymouth, Pontiac, Saab, Saturn, Suzuki, Toyota, and Volkswagens and Harley Davidson motorcycles. Please consult "Outfit My Car" to see if your vehicle is compatible.
External Device Controls
iPod Interface: The iDA-X001 allows you to connect an iPod in two ways: using the supplied USB cable, or with the optional Full Speed connection cable (500KCE422i). Before connecting an iPod to this unit, you should download the latest available firmware version for your iPod from the Apple iPod website. Only the 5th generation iPod and 1st and 2nd generation iPod nano can be connected via the USB cable. If the iPod is connected via USB, you get the fastest speed available, album art (if available), and a direct digital connection to the unit's 24-bit DAC. If the iPod is connected via the Full Speed cable, the controls on the iPod are not functional. You can quickly and easily search through all of the music contained on your iPod through Playlist, Artist, or Album searches. You can view Artist, Album, Song Information and Song Number right on the head unit's display. The iDA-X001 is compatible with the following iPod models:
USB Connection:

5th generation iPod
1st generation iPod nano
2nd generation iPod nano
iPod classic

Full Speed Cable Connection:

4th generation iPod
5th generation iPod
iPod photo
iPod mini
1st generation iPod nano
2nd generation iPod nano
iPod classic
iPod Playback Modes: During iPod playback, you can activate any of the following playback modes:
Random Play Shuffle:

Shuffle Album: An album in the iPod is selected at random, and is played back in the album song order.
Song: If you select a song in the search mode, all songs in the selected mode are played back at random.

Random Play Shuffle All: All of the songs in the iPod are played back in random order.
Repeat Play: A single song is repeatedly played back.
iPod Display: Using the View button, you can change the receiver's front panel display during iPod playback. The display can show the following information:
Song title, Album title, Artist Title
Album Cover, Song title (only when connected via USB)
Calendar, Clock
iPod Searches: Using the Center Jog Dial and the "Enter" button, you can easily and quickly search for and locate songs on your iPod. Using the iPod's individual hierarchy, you can narrow your search as follows:
| | | | |
| --- | --- | --- | --- |
| Hierarchy 1 | Hierarchy 2 | Hierarchy 3 | Hierarchy 4 |
| Playlists | Songs | --- | --- |
| Artists | Albums | Songs | --- |
| Albums | Songs | --- | --- |
| Podcasts | Episodes | --- | --- |
| Audiobooks* | --- | --- | --- |
| Genres | Artists | Albums | Songs |
| Composers | Albums | Songs | --- |
| Songs | --- | --- | --- |
*only when connected via USB
USB Memory Mode: You can play MP3, WMA, or AAC files stored on a USB memory device. During playback, the display shows song, album, and artist title, and elapsed time. If no tag information exists, the display shows the folder and file name and elapsed time. You can repeat the current track or current folder, and play the tracks in the current folder or all of the tracks in the USB memory in random order.
USB Adapter Ready: If you need a second USB input, you can use the optional KCA-620M USB adapter (item number 500KCA620M). With the adapter, you can connect and control other MP3 players that have USB connections. In addition, if you have MP3s stored on a USB thumb drive, you can select and play those files from the head unit.
Satellite Radio Ready: There are several options for connecting an optional XM or SIRIUS Satellite Radio receiver to this receiver:
XM Satellite Radio: To receive XM Satellite Radio, you can connect the optional CNP2000UC XM Mini Tuner (220CNP20UC) and the Alpine CNP-ALP1 adapter cable (package item number 700XMALP1).
SIRIUS Satellite Radio:

Universal SIRIUS Tuner: You can connect the optional SIRIUS SC-C1 SIRIUS Connect Universal Vehicle Tuner, along with the Alpine KCA-SC100 SIRIUS satellite Radio interface (package item number 700SIRALPC) directly to the head unit.
SIRIUS Plug and Play: The KCA-SC100 (item number 500KCASC10) allows you to integrate many SIRIUS plug and play receivers. Compatible tuners include the Sportster, Starmate, Stratus, and Stiletto. You can control the satellite receiver from your head unit and use the Quick Search feature to browse all artists and songs currently playing on all channels. The SIRIUS text information also appears on the head unit display.

Auxiliary Input: A portable satellite radio receiver, such as the Delphi SkyFi3 or SIRIUS Sportster, can be connected to the head unit via an auxiliary input. (If the head unit doesn't include an auxiliary input, you will need the Alpine KCA-121B Auxiliary Input Adapter.)

Note: A subscription is also required to receive satellite radio programming from SIRIUS or XM.
Bluetooth Interface Ready: With the optional KCA-300BT Bluetooth adapter (item number 500KCE300B), you can make and receive calls hands-free on your Bluetooth-capable cellular phone, and communicate through a microphone (included with the Bluetooth interface) and your vehicle's speakers. In addition to the wireless connection and hands-free operation, you also get caller ID, phone book access, and on-screen call information.
HD Radio Ready: The iDA-X001 can receive HD Radio signals, including multicast broadcasts, when the TUA-T550HD HD Radio Tuner Module (500TUAT550) is connected via the Ai-NET connector. The digital seek function allows you to search for only HD Radio stations if you prefer.
CD Changer Controls: The iDA-X001 is compatible with Alpine Ai-NET CD changers, including MP3-compatible changers such as the CHA-S634 (500CHAS634). During playback, the LCD will display the disc and track numbers and elapsed time, plus, if CD Text exists, the Disc Name and Track Name. For MP3 discs, the Song, Album, and Artist titles and elapsed time will be displayed. During CD changer playback, you can repeat the current song, current folder (if MP3 disc), or current disc. You can also play tracks in the current disc, current folder (if MP3 disc) or all the tracks in the current CD magazine in random order. During MP3 disc playback, you can activate the search mode to locate a specific folder or file by name.
External Processor Controls: This unit can control an Alpine multi-channel sound processor, such as the PXA-H701 (item number 500PXAH701).
Our Product Research Team
At Crutchfield, you'll get detailed, accurate information that's hard to find elsewhere. That's because we have our own in-house Product Research team. They verify what's in the box, check the owner's manual, and record dimensions, features and specs. We stay on top of new products and technologies to help people make informed choices.