Panasonic VIERA® TC-P55VT30
55" 1080p 3D plasma HDTV with Wi-Fi®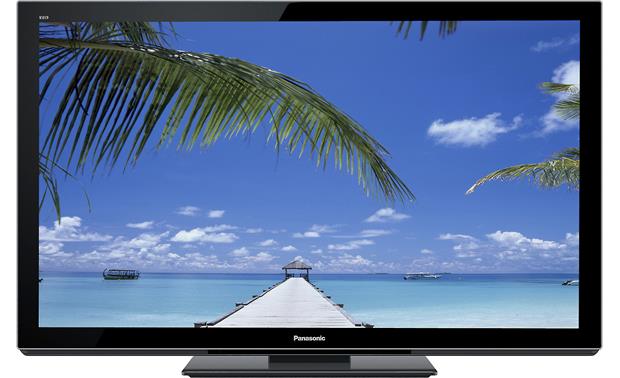 Panasonic VIERA® TC-P55VT30 - Front

Panasonic VIERA® TC-P55VT30 - Angled left

Panasonic VIERA® TC-P55VT30 - Angled right
Crutchfield video: Panasonic VT30-series HDTVs
From Panasonic: VIERA Connect

Panasonic VIERA® TC-P55VT30 - Back (AV inputs)

Panasonic VIERA® TC-P55VT30 - Back (full view)

Panasonic VIERA® TC-P55VT30

Panasonic VIERA® TC-P55VT30 - Remote
Item # 133P55VT30 | MFR # TC-P55VT30
This item is no longer available.
Overview
Our take on the Panasonic VIERA® TC-P55VT30 by Crutchfield's Tara W.
Brilliant images, vibrant colors, and deep, rich black levels
This Panasonic VT30-series plasma TV will keep your family occupied for endless rainy days to come — and look amazing while doing it. You'll get easy access to online video sources like Netflix®, Hulu Plus™, and more (subscription required for some services). Plus, you can connect a 3D Blu-ray player, don your 3D glasses, and watch as the movie action appears to unfold beyond the confines of your screen.
---
Fantastic color and detail, plasma-style
This set boasts a sleek, thin frame that'll match any decor. It houses Panasonic's Infinite Black Pro 2 panel that delivers deep, rich black levels and high-contrast colors in virtually any viewing area. And THX® picture settings will display your movies with cinema-quality accuracy.
---




The power of the Internet — on your TV screen
Panasonic's equipped this set with built-in Wi-Fi, so you'll be able to enjoy the Internet without running a cable across your room. Watch the latest episode of your favorite show on Hulu Plus, keep up on viral videos on YouTube®, and stream movies from Netflix.
Skype video phone calls on your TV
You can also take advantage of this TV's Skype™ capability when you add an optional camera. Line your family up on the couch and chat with friends and family around the world. Learn more from our video at right.
Tip: For a list of over-the-air digital TV stations you can receive, as well as antenna recommendations for your location, enter your zip code in AntennaWeb's mapping tool.
Features:
55.1" screen (measured diagonally)
tuner receives over-the-air HDTV broadcasts (antenna required)
QAM cable TV tuner receives unscrambled programs without a set-top box (cable service required)
displays 3D images when you wear Panasonic's active shutter glasses (1 pair of glasses is included)
2D-to-3D conversion adds 3D-like depth to non-3D video sources
600Hz Sub-field Drive for clearer video motion
Infinite Black Pro 2 Panel for high picture contrast and deep black levels
VIERA Connect Internet-ready TV — plays Netflix® video and more (broadband service required; subscription required for Netflix service)
Skype™-ready for video calling (requires optional Skype camera)
use the included Wi-Fi® USB adapter to link to a wireless network
video and music streaming from a DLNA-compatible Windows® PC
built-in speakers (6 watts x 2, plus 10 watts for woofer)
illuminated remote control
VIERA Link simplifies control of compatible Panasonic components via the HDMI connection (HDMI-CEC)
meets ENERGY STAR® requirements
Connections and Dimensions:
6 A/V inputs, including:

1 composite video
1 component video
4 HDMI v1.4

PC input
RF input for antenna/cable signals
optical digital audio output
Ethernet port for a high-speed connection to a home network
3 USB ports for connecting a camera or thumb drive
SD memory card slot for viewing photos and videos
detachable stand (stand "footprint" is 22-1/8"W x 15-1/4"D)
wall-mountable (bracket not included)
52-3/8"W x 31-3/4"H x 2-3/8"D (33-1/4"H x 15-1/4"D on stand)
weight: 98.2 lbs. with stand; 84.9 lbs without stand
warranty: 1 year parts & labor — in-home service or pick-up for service
What's in the Box:
Panasonic VIERA® TC-P55VT30 Owner's manual
55" Plasma TV
Pedestal base
Pedestal posts
Remote control (N2QAYB000571)
2 "AA" batteries
3D active-shutter glasses (TY-EW3D2MA)
40" USB charging cable (with a mini-USB type-B connector on on end and a USB type-A connector on other end)
3D glasses storage case
USB/WiFi adapter (N5HBZ0000055)
USB dock
Antenna extension (with a male push-on RF-connector on one end and a female threaded RF-connector on other end)
Composite AV adapter (with a right-angle male 3.5mm AV connector on one end and male composite/stereo connectors on other end)
Audio adapter (with a right-angle male 3.5mm audio connector on one end and stereo female RCA connectors on other end)
Component video adapter (with a right-angle male 3.5mm video connector on on end and female component video connectors on other end)
PC adapter (with a proprietary connector on one end and a HD15 jack on other end)
Optical adapter (with male Toslink connector on one end and a female optical port other end)
RS232C adapter (with a 3.5mm connector on one end and a RS232C connector on other end)
Eight M5 x 25mm machine screws (with flat-/lock-washers)
Cable-tie
Ferrite core
Owner's Manual (Eng/Fre/Spa)
"Start Here" guide (Eng/Fre/Spa)
Stand assembly diagram
Product Registration Card
Child Safety notice (Eng/Fre/Spa)
VIERA Concierge letter (Eng/Fre/Spa)
Cable-tie instructions
RS232C Terminal Specifications sheet
Impressive tv, so thin on wall. Picture quality is amazing with good quality HDMI cables. I'm using the Chocoloates. TV is still brand new and will only get better with more use. Completely satisfied with my purchase.

Jezzcar99, Nashville, TN
Energy Guide:

View the Energy Guide
Reviews
Panasonic VIERA® TC-P55VT30 Reviews
Average Customer Review(s):


Submit a review and then enter to win a $350 rewards card
Review this product
Thanks for submitting your review
Most reviews are processed and published within 5 business days. You will receive a confirmation email once your review has been published.
Customer photos
Pros:
Cons:
Crutchfield response
---
Details
Product Research
Video Features
Audio Features
PC/Media Player/Network Functions
Convenience Features
Remote Control
Mounting Options
Video Features
"One Sheet of Glass" Design: The front surface of the TV screen is designed from a smooth and beautiful, single sheet of glass. The "one sheet of glass" design was created to deliver ultimate image quality. The TV's metal frame lends solidity to the glass design and the images displayed on the screen, and also provides a sense of enhanced stability. The television blends in with your room while maintaining a strong presence. This design is ideal for viewing high-quality 2D & 3D images.
NeoPlasma Panel Technology: The Panasonic VIERA TC-P55VT30 utilizes NeoPlasma panel technology to further boost the image quality of 2D and 3D images. It delivers sharp, detailed images, deep blacks and remarkable brightness, with lower power consumption. Core technologies for the NeoPlasma panel include:
Infinite Black Pro 2 Panel: The television's Infinite Black Pro Panel (2nd generation) delivers deep blacks and minimizes reflection for bright, crisp images. Enhancements to the panel and cells help reproduce images with smooth, natural gradation and deep, rich blacks even when viewed in bright surroundings. In movies, the true, deep blacks faithfully convey the intent of the filmmakers, adding power and realism to the viewing experience.
Louver Filter: Improvements to the shape and material of the redesigned louvers in the filter improve the light blocking effect and the absorption effect. This new filter reduces reflections from ambient light and achieves deeper black levels.
New Light-Emitting Process: The television's new light-emitting processes reduces double image in dark areas. Conventional light emission, which goes from dark-to-light, was changed to a light-to-dark sequence. This turns maximum emission afterglow into minimum emission afterglow, and dramatically reduces the afterglow duration. Also, by speeding up the timing of each light emission and expanding the interval until the next frame's emission, Panasonic greatly reduced the interference to the left and right frames, which causes double image.
Fast Switching Phosphor: The Panasonic VIERA TC-P55VT30 Plasma TV utilizes Fast Switching Phosphor technology to virtually eliminate motion blur - making sports, movies, and video games look amazing. As a result, you'll see razor sharp moving picture images. The use of this new fast switching phosphor has also significantly reduced the afterglow time, decreasing energy costs and increasing panel life.
600Hz Sub-field Drive: 600Hz technology lets you view superb full-HD motion and still images with 1080 lines of resolution. The 600Hz Sub-field Drive produces crisp, focused images for sports, dramatic action, and all other fast-moving scenes. Your full-HD movies and games will look clearer and sharper. For even greater clarity with motion images, Panasonic uses its own unique image-analysis technology (know as Cinema Mode). This technology converts the motion in each scene into data. And each frame is practically displayed for a shorter length of time than in previous systems, to reduce aftereffects.
100,000 Hour Panel Life: Thanks to a newly designed phosphor process and rear panel process, Panasonic VIERA Plasma panels last for up to 100,000 hours before the brightness decreases by half. That's more than 30 years of viewing, 8 hours a day.
THX 3D Certified Display: In order to enjoy the original image quality of a movie, you need to have a display that portrays the images exactly as the movie's creators intended. The Panasonic VIERA TC-P55VT30 has met the high standards set by THX Certified Display Program, reproducing both 2D and 3D images with cinema-like quality.
VIERA Full HD 3D: Panasonic uses Full-HD Frame Sequential technology to create its 3D images when watching a 3D Blu-ray movie or a 3D broadcast. Images recorded in 1920 x 1080 pixels for both the right-eye and the left-eye alternately flash on the screen at the ultra-high rate of 120 frames-per-second. When you view the screen through the included IR active-shutter glasses that open and close each lens in sync with the alternating images, you see Full HD 3D pictures with clarity and realism. The included glasses can be charged through the TV's USB port. Additional Panasonic active-shutter glasses are available (133EW3D10U, sold separately). The TC-P50VT30 utilizes unique, enhanced 3D technologies too minimize the double images (crosstalk) that can hinder 3D viewing comfort. By accurately detecting the information for each of the right-eye and left-eye 3D images, Panasonic has been able to minimize double images, which pose the main noise problem in 3D. This results in clear, comfortable 3D viewing.
Note: For a 50" television, you should sit approximately 6'2" to 10'5" from the TV. For a 55" television, you should sit approximately 6'8" to 10'5" from the TV.
2D-to-3D Conversion: Unique Panasonic technology converts 2D images into high-quality 3D images in real-time. The technology generates a detailed depth effect for each type of image, so the 3D effect is natural and realistic. You can enjoy standard Blu-ray movies, DVD movies, USB/SD-card content, and even ordinary TV broadcasts in 3D (not compatible with PC). The Super Resolution function allows images that were converted from 2D to 3D to be displayed in sharp, clear 3D while minimizing double image. The addition of 3D image quality adjustment functions lets you enjoy 3D images more comfortably. The visual disparity between the eyes, which determines the 3D depth effect, can be adjusted in 7 steps.
Note: When a 2D source is converted to 3D, the 3D effect is slightly less pronounced than with native 3D sources.
Built-in Tuners: The TV has both analog (NTSC) and digital (ATSC) tuners, as well as a QAM tuner for unencrypted cable signals. With these built-in tuners, you don't have to purchase a separate digital set-top box to receive and decode HDTV/SDTV signals.
1080p Native Resolution: The Panasonic TC-P55VT30 has a full HD native resolution of 1920 x 1080 with over 2 million pixels (more than twice the pixels of 720p HDTV). The TV's four HDMI inputs can accept 480i, 480p, 720p, 1080i, 1080p and 1080p (60/24Hz) signals, and the component video input can accept 480i, 480p, 720p, and 1080i signals. All video signals from standard definition and high definition are upconverted to 1080p via HDMI.
Full-HD Resolution Speed: Full-HD Resolution Speed, the new standard for moving picture measurement announced by the Advanced PDP Development Center Corporation (APDC), indicates the maximum moving picture speed that can be enjoyed with full-HD resolution. The Panasonic VIERA TC-P55VT30 achieved 1,200 pps (pixels per second) under this new standard. Even images that scroll left or right at the extremely high speed of 1,200 pps are able to be correctly displayed at the maximum resolution of 1,080 lines.
HD Video Inputs: The Panasonic VIERA TC-P55VT30 provides High Definition HDMI and component video inputs.
4 HDMI (v.1.4) Inputs: The TC-P55VT30 features four HDMI (v.1.4 inputs). The HDMI (High-Definition Multimedia Interface) terminals provide an uncompressed, all-digital audio/video interface between this TV and any HDMI-equipped A/V equipment.. The HDMI input will accept 1080p (60/24Hz), 1080i, 720p, 480p, and 480i signals.
Component Video Input: The component video input will accept 1080i, 720p, 480p, and 480i signals. The component video input consists of a 3.5mm video connector and 3.5mm audio connector, with a 3.5mm video-to-Component video adapter and a 3.5mm audio-to-Stereo RCA adapter.
Note: The TV is also equipped with a composite video (480i only) input. The composite video input consists of a female 3.5mm AV connector with a 3.5mm AV-to-Composite AV adapter.
6,144 Shades of Gradation: Plasma displays can suffer from an artifact called false contouring, where transitions between different shades of the same color are too sharp. These transitions can appear as distinct lines between the different shades of color. Having 6,144 shades of gradation helps minimize the false contouring artifact so color transitions take on a smooth, natural appearance.
Wide Color Viewing Angle: No matter where you sit in the room, you see breathtaking images with spectacular colors. Plasma HDTVs are self-illuminating, so images look beautiful from any angle. Black areas do not fade, and colors look virtually the same from every point in the room.
Deep Color Support: VIERA faithfully reproduces all the colors inherent in today's most advanced image sources, such as Blu-ray Discs and DVDs. This TV supports Deep Color technology via HDMI. This technology supports higher bit rates and more color possibilities than previous HDTV signals.
x.v.Color Compatible: VIERA models with x.v.Color compatibility reproduce all of the vibrant color in images recorded by wide x.v.Color gamut compatible camcorders.
3D 24p Cinema Smoother: In plasma displays, increasing the number of frames creates smoother images. VIERA incorporates technology that analyzes picture information in both the preceding and succeeding frames, and creates a precise supplementary frame between them. When reproducing images from a 24p film source, the Panasonic TV's 3D 24p cinema smoother function suppresses the jerky effect seen in movies, so playback is smooth and natural-looking. You'll enjoy naturally flowing 24p films with familiar TV-like quality. The distinctive tonal qualities and atmosphere of the movie are preserved, and you enjoy extremely lifelike 3D images.
Game Mode: Games are much more fun when there's no lag in operation. VIERA automatically chooses settings that provide the optimal image, so you get super-fast response and no delays. Even dark scenes with delicately rendered details are beautiful and easy to see.
Aspect Adjustments: You can make the following aspect adjustments.
Screen Formats: Depending on the input signal, you can choose one of the following screen formats:

Full: 16:9 source displayed in original aspect; stretches a 4:3 picture horizontally to fill the screen (recommended for anamorphic sources)
4:3: displays a 4:3 picture at its standard size with bars along the sides
Zoom: magnifies the picture uniformly (vertically and horizontally) to fill the screen, so the top and bottom are cut off (recommended for letter box sources)
Just: stretches a 4:3 picture to fill the screen but with aspect correction applied to the sides of the screen so that elongation is only apparent at the left and right edges of the screen (recommended for normal TV broadcasts)
H-Fill: enlarges the 4:3 picture horizontally to fill the screen, the side edges are cut off

HD Size: Selects between 95% and 100% for the scanning area with high definition signal. Select 95% if noise is generated on the edges of the screen.
H Size: adjust the horizontal display range to reduce noise of both side edges of an image
Zoom Adjustments: adjusts vertical alignment and size when aspect setting is "Zoom"
Picture Settings: You can adjust the following image and picture settings.
Picture Modes: You can choose one of the following picture modes:

Vivid: provides enhanced contrast and sharpness when viewing in a well lit room
Standard: recommended for normal viewing conditions with subdued room lighting
Cinema: for watching movies in a darkened room, provides a soft, film-like picture
THX: precisely reproduces the original quality of the image without any revision
Game: for playing video games
Custom: adjusts contrast, brightness, color, tint, and sharpness manually

Color Temperature: This feature selects the level of warm colors (red) and cool colors (blue); choose from a Cool 2, Cool 1, Normal, Warm 1, or Warm 2.
Color Management: Enhances green and blue color reproduction, especially in outdoor scenes.
C.A.T.S: Adjusts the brightness and gradation according to the ambient lighting condition. You can select On or Off.
Video NR: Video Noise Reduction removes snow (noise) from a weaker analog TV signal.
Note: The preset Picture Modes (Vivid, Standard, Cinema, THX, Game) are saved for all inputs. The Custom Picture Mode can be adjusted independently for each input.
Pro Settings: The TV's Pro Settings lets you adjust the picture settings in more detail.
Color Space: Adjusts the color representation in panel color gamut (Wide/Normal).
W/B High (RGB): Adjusts the white balance for light red/green/blue areas.
W/B Lows (RGB): Adjusts the white balance for dark red/green/blue areas.
W/B Detail Adjustment: Adjusts the red/green/blue gain value of each input signal level (10IRE to 100IRE).
Red/Green/Blue Hue: Adjusts the hue of red/green/blue areas.
Red/Green/Blue Saturation: Adjusts the saturation of red/green/blue areas.
Color Detail Adjustment: Adjusts the hue & saturation of yellow/cyan/magenta areas. Also adjusts the luminance of red/green/blue/yellow/cyan/magenta areas.
Black Extension: Adjusts the dark shades of the image in gradation.
Gamma Adjustment: Adjusts the intermediate brightness of the image (Gamma Correction).
Gamma Detail Adjustment: Adjusts the gain value of each input signal level (10IRE to 100IRE).
Panel Brightness: Selects the display panel brightness (H/M/L).
Contour Emphasis: Adjusts the contour emphasis of the image.
AGC: Increases the brightness (0-15) of dark signals automatically.
Advanced Picture Settings: The TV offers the following advanced picture settings to further enhance image quality.
3D-Y/C Filter: The motion adaptive 3D-YC comb filter minimizes noise and cross-color in the picture when the composite video input is used.
Color Matrix: When viewing a signal input through the component video inputs, this TV will automatically optimize the color parameters based on the color matrix setting:
Block NR: Reduces noise of specific digital signal from DVD, STB, etc..
Mosquito NR: Reduces HDTV flicker noise in the contoured section of an image.
Black Level: You can adjust the TV's black level to Dark or Light.
3:2 Pulldown: Adjusts the picture recorded in 24 fps for optimum quality.
24p Direct In: 24p Direct In achieves more cinematic playback by reproducing the movie contents at twice the speed of 24 framers per seconds (96Hz/60Hz/48Hz).
Anti-Image Retention Features: The TV's Pixel Orbiter feature helps to prevent image retention (burn-in) by shifting the display image. You can set the feature to automatic or force, and designate the time interval for the "Force" setting as 1, 2, 3, or 4. You can also change the brightness of the side bars that appear in 4:3 mode, or start a scrolling white vertical bar across the screen to prevent burn-in.
ISFcc (Imaging Science Foundation Certified Calibration Configuration) Calibration: An ISF-certified installer can calibrate the Panasonic VIERA HDTV, so that image reproduction is customized to the actual viewing conditions in your home and your personal preferences. The calibration process provides the settings that bring out the full expressive potential within the image signals. Settings for contrast, tint, sharpness and color are optimized to meet your home's lighting conditions for both daytime and nighttime viewing.
Note: This function is exclusively for professional calibrator use, only. It is not intended for consumers.
Audio Features
ARC (Audio Return Channel): The Audio Return Channel in HDMI 1.4 enables a TV, via a single HDMI cable, to send audio data "upstream" to an A/V receiver; increasing user flexibility and eliminating the need for any separate S/PDIF audio connection. This feature allows audio to be sent from the television to your A/V receiver through the same HDMI cable already being used to send audio/video to the television. This eliminates the need for extra cables connected to the TV. ARC allows audio from the TV tuner, Network connection, inserted USB device, HDMI inputs, or any analog connected device to be heard through your ARC compatible AV receiver via the television's HDMI ARC input. The audio from the TV's tuner, network connection can passed as Dolby Digital or 2ch PCM. HDMI, USB, and analog connected devices will be output as 2ch PCM only.
Note: Both the television and the receiver must support ARC for this function to work properly. When connecting an A/V receiver that is compatible with Audio Return Channel (ARC), connect it to the TV's HDMI 1 input. If connecting a system that is incompatible Audio Return Channel (ARC), an additional audio connection via Digital Audio Out (Optical) is necessary.
2.1 Speaker Design: Newly developed speakers bring additional power to 3D images. An improved 2.1 speaker layout produces clearer, higher-quality highs and more dynamic, robust bass. Dual speakers face forward and provide clear highs, while a boxed woofer behind the display improves the TV's bass performance.
CONEQ: CONEQ, an acoustic power equalizing technology, produces sounds that are extremely faithful to the source. An optimal acoustic field is reproduced in front of the TV. CONEQ is also used in mastering studios and concert halls, as its sound enhancing technologies are widely recognized by sound engineers.
A.I. Sound: This feature equalizes overall volume levels across all channels and external inputs.
Surround Function: The surround function enhances audio response when listening to stereo programming. This function is active only for the TV's built-in speakers.
Bass & Treble: This function increases the bass & treble frequencies independently.
Volume Leveler: The Volume Leveler monitors the difference in audio levels between inputs and minimizes the change in volume when you change inputs. This function is active only for the TV's built-in speakers
Digital Audio Out: The optical digital output terminal will output Dolby Digital (when available) or 2 channel PCM. The digital optical output terminal only sends an audio signal in Dolby Digital when receiving Dolby Digital Surround Sound from a digital broadcast channel through the tuner on the Plasma TV, and Dolby Digital Surround sound from an EASY IPTV app, via the television's Ethernet port or optional WiFi. The optical digital audio output will only output in 2ch stereo from sources connected to the TV via HDMI, RCA, or USB.
Note: There is no analog audio output.
PC/Media Player/Network Functions
PC Compatible: The television can be used as a monitor for your PC through the TV's RGB HD-15 input (via included adapter). The TV supports VGA, SVGA, XGA, WXGA, and SXGA PC video signals. You can also listen to PC sound with audio cable connected from your PC to the TV's side-panel A/V input.
Wired (Ethernet) or Wireless (WiFi) Network Connection: The Panasonic TC-P55VT30 features a RJ-45 Ethernet port (10BASE-T/100BASE-TX) and includes a USB Wireless LAN adapter (IEEE802.1a/b/g/n) to connect the television to your home network via a hardwired Ethernet connection or wireless WiFi connection. This allows you to share photos, videos, and music stored on your Windows PC on the television; as well as access select internet content from Panasonic's VIERA Connect online service. You can also operate your computer's Network camera from the TV's remote and check the images from the Network camera on your TV (PC required).
Note: The included USB Wireless LAN adapter plugs into the USB 2 port on the TV.
VIERA Connect: VIERA Connect is a "Cloud-based Internet Service" that allows you to access a variety free & pay Internet applications from the online "VIERA Connect Market" such as videos & movies, music, sports, games, news, social networks, and more through the Panasonic TC-P55VT30. VIERA Connect service content includes the following (as of May 2011):
| | |
| --- | --- |
| Applications | Available Content |
| Videos & Movies | Alphaline Entertainment, Amazon Video, Bild.de, Break Comedy, CinemaNow, Dailymotion, Hulu+, Netflix, Ustream.TV, YouTube |
| Music | Napster, Pandora, SHOUTcast |
| Sports | FOX Sports, NBA GameTime Lite, MLB.TV |
| Games | Blackjack, Chess Challenge, Dracula's Coffin, Free Throw, Gem Reversi, Hangman, Illustration Logic, Mahjong Fruits, Mine Sweeper, Number Place, Penalty Shoot, Poker, Rockswap, Solitaire |
| Social Networking | Facebook, Picasa Web Albums, Twitter, Skype |
| News & Lifestyle | AccuWeather, AP, Bloomberg LP, Local Weather, Tagesschau, WealthTV 24/7 |
| Health & Fitness | Withings |
Note: You will need a broadband internet connection. Required speed - at least 1.5Mbps for SD and 6 Mbps for HD picture quality. Dial-up Internet service cannot be used for VIERA Connect. Not all VIERA Connect content is available depending on the country and area.
Skype Compatible: The Panasonic VIERA TC-P55VT30 lets you enjoy free Skype-to-Skype voice and video calls. To make a Skype video call, just add a specially-designed high-performance Panasonic HD Communication Camera (TY-CC110W, sold separately). The camera can broadcast HD pictures in 720p and also includes a special 4 unidirectional microphone system that can easily pick up sound from couch-distance, so all members of the family can take part in conversation. You can make and receive Skype calls using the TV's remote control or connected USB keyboard (sold separately).
DLNA Certified: This TV is DLNA certified. DLNA (Digital Living Network Alliance) is a standard that makes DLNA Certified digital electronics easier and more convenient to use on a home network. It allows you to share photos, videos, and music stored on your Windows 7 PC (connected to your home network) through the Panasonic TC-P55VT30.
VIERA Media Player: You can view still and motion images, and play music saved on a USB flash memory device or an SD memory card through the television's 3 USB (type-A) ports and SD-card slot.
3 USB Ports: Equipped with 3 USB (type-A) ports, the Panasonic Plasma TV makes it easy to view your stored photos and videos on the big full-HD screen. Likewise, you can listen to stored music through the television's built-in speakers. The TC-P55VT30 only supports USB Mass storage class devices. An external USB dock (with one USB type-A port) is included to make connecting your USB MSC device more convenient.
SD-Card Slot (3D compatible): Equipped with an SD card slot, the Panasonic Plasma TV makes it easy to view full-HD and 3D photos and motion images that you shot yourself. After shooting with your 3D-compatible camera or camcorder, simply insert the SD card into the SD-card slot on the Panasonic TC-P55VT30. The viewing experience is incredible, with images so realistic it feels as though you're right back in the moment. You can make your slide shows even more impressive by adding background music and attractive frames. You can even convert and save 2D images to 3D. Compliant card types include - SDXC (up to 64GB), SDHC (up to 32GB), microSDHC (up to 32 GB), SD (up to 2GB), and miniSD (up to 2GB). microSDHC and miniSD memory cards required and adapter.
Compatible Media Formats: The Panasonic TC-P55VT30 supports the following still-image, video, and audio formats via SD-card, USB memory, and DLNA.
Media Type

Compatible Formats

Photo

JPEG files (DCF and EXIF standards)

Sub-sampling: 4:4:4, 4:2:2, 4:2:0
Image Resolution: 8 x 8 to 30,712 x 17,272 pixels

Videos

SD-Video Files (SD-Video Standard ver.1.3)
AVCHD Standard Compatible files (modified data with a PC may not be display correctly)
MP4 Files (Video codec H.264 / Audio codec MP3/AC-3/LPCM)
MKV files (Video codec H.264 / Audio codec MP3/AC-3/LPCM)
MPEG-2 PS files (DLNA only)
MPEG-2 TS files (DLNA only)

Music

MP3 Files (MPEG Audio Layer-3)
AAC Files (MPEG2-AAC / MPEG4-AAC)
LPCM files (DLNA only)
Convenience Features
VIERA Tools: VIERA Tools is an easy way to access the TV's special features (3D, THX, VIERA Connect, Media Player, DLNA, VIERA Link, Eco mode). They are displayed as shortcut icons on the TV screen.
Favorite Channels: Channel numbers can be registered as Favorites and displayed in the TV's Favorite Tune menu for easier access.
Input Labels: Each input can be labeled to reflect the source connected. You can enter a preset label (Blu-ray, Cable/Satellite, DVD, DVD Recorder, DVR, Game, Home Theater, Receiver, Computer, Media Center, VCR, Camera, Monitor, Auxiliary, Not Used) or create your label name.
Closed Caption: The television includes a built-in decoder that is capable of providing a text display of the audio. The program being viewed must be transmitting Closed Caption (CC) information. The TV features analog and digital close captions:
Analog: CC 1-4: displays information related to pictures (appears at bottom of screen); T 1-4: displays textual information (appears over entire screen)
Digital: The digital Closed Caption menu lets you configure the way you choose to view the digital captions when viewing a digital station with (CC). You can adjust size, font, style, foreground, opacity, background and outline settings.
Lock: The Lock function has three settings to block viewing of particular channels or inputs. You create a 4-digit password that's required to bypass the lock. The available settings are:
Off: Nothing is locked.
All: All channels, external inputs, and network are locked
Custom: You can specify to lock settings for Channel, Game, Program, and EASY IPTV.

Channel: locks up to seven specific channels
Game: channels 3 and 4 and the video inputs are locked
Program: block programs based on their TV or movie rating using V-chip technology
EASY IPTV: requires password for network/internet access\
Timers: The TC-P55VT30 provides programmable On/Off & Sleep timers.
Programmable On/Off Timers: The programmable timers allow you to program the TV set to turn itself on and off at designated times, on designated days, tuned to designated channels. Up to 5 events can be programmed using the timers. An event can have multiple episodes (Daily, Mon-Fri, Every Wed, etc).
Sleep Timer: This television features a built-in sleep timer, set by remote control, that turns the TV off automatically after 15, 30, 60, or 90 minutes.
ENERGY STAR Certified: Earning the ENERGY STAR means a product meets strict energy efficiency guidelines set by the US Environmental Protection Agency and the Department of Energy. For TVs, it means they save energy both in Standby and On modes. ENERGY STAR qualified TVs use about 30% less energy than standard units. The factory default settings of this television meet ENERGY STAR requirements.
ECO/Power Saving: To conserve energy, the automatically turns off when no signal and no operation is performed for more than 10 minutes. Also to conserve energy, the TV automatically turns off when no operation of remote or side panel keys continue for more than 3 hours.
Remote Control
Wireless Remote Control: The supplied remote is programmed to operate this TV only. The OK button and directional keys allow you to move the on-screen selector, making menu navigation simple and efficient. The remote control will also operate certain functions of Panasonic equipment with "HDAVI Control" connected by HDMI automatically through the TV's VIERA Link feature. The remote's buttons are backlit and will light up with a press of a button.
VIERA Link: VIERA Link interlinks the operation of a variety of Panasonic AV devices, so you can operate them all using only the television's remote control. VIERA Link HDAVI Control lets you operate all of your Panasonic "HDAVI Control" compatible home theater components connected by HDMI by pressing a single button on the TV's remote control. Panasonic equipment with the "HDAVI Control" function enables the following operations - Automatic Input Switching, Power On/Off Link, Energy Saving Mode, and Speaker Setup.
VIERA Remote App: The VIERA Remote App is a Free TV remote controller app for your iPod touch, iPhone, or iPad (iOS 4.2 or later) that provides basic control of the Panasonic TC-P55VT30. Simply install the VIERA remote app on your iPod touch, iPhone, or iPad from the iTunes App Store and connect the device to your home network via Wi-Fi where the Panasonic TV is also connected. The VIERA remote app lets you operate the Panasonic TV more intuitively (with gesture commands) from your iPod touch, iPhone, or iPad - than with the included IR remote control. Using slide and flick operations, you can flip through the channels, switch external inputs, and control the volume while viewing the TV screen.
RS232C Port: The RS232C terminal on this TV is a standard computer Serial interface. The TV can be controlled by a personal computer when connected through an RS232C cable (sold separately). The computer will require software which allows sending and receiving of control data through its Serial port. The TV's RS232C terminal consists of a 3.5mm port with a 3.5mm-to-RS232C adapter.
Mounting Options
Pedestal Base: The Panasonic TC-P55VT30 includes a pedestal base for tabletop mounting. The base comes unassembled and unattached to the TV, so assembly is required. With the pedestal base the TV weighs 98.2 lbs.
Wall Mounting: On the back of the TV are four threaded inserts to attach an optional wall mount bracket. The inserts require 8M (8mm) machine screws. The horizontal hole spacing is 500mm and the vertical hole spacing of 300mm. Without the pedestal base attached, the TV weighs 84.9 lbs.
AC Power Cord: The television is fitted with a 6.5' AC power cord which is terminated by a straight 3-prong AC plug. The AC cord sits out 1.5" from the wall.
Our Product Research Team
At Crutchfield, you'll get detailed, accurate information that's hard to find elsewhere. That's because we have our own in-house Product Research team. They verify what's in the box, check the owner's manual, and record dimensions, features and specs. We stay on top of new products and technologies to help people make informed choices.