In a nutshell. A home stereo system includes two speakers for two good reasons. Most recordings have two separate and distinct channels. And you have two ears.
When you listen in stereo, recorded music sounds more like a live performance. It's a feeling you won't get from a single wireless speaker.
Most stereo systems include three things:
A stereo receiver or amplifier
A matched pair of speakers
At least one music source
This article will help you choose a home stereo system that suits your lifestyle and your listening space.
Wireless speakers are super convenient. One box is all you need. And some of them sound surprisingly good. For background music, I love them.
But stereo recordings have discrete left and right channels for a reason. They give you the unmistakable impression that you're in the room with the performers. In this regard, a pair of speakers always beats one.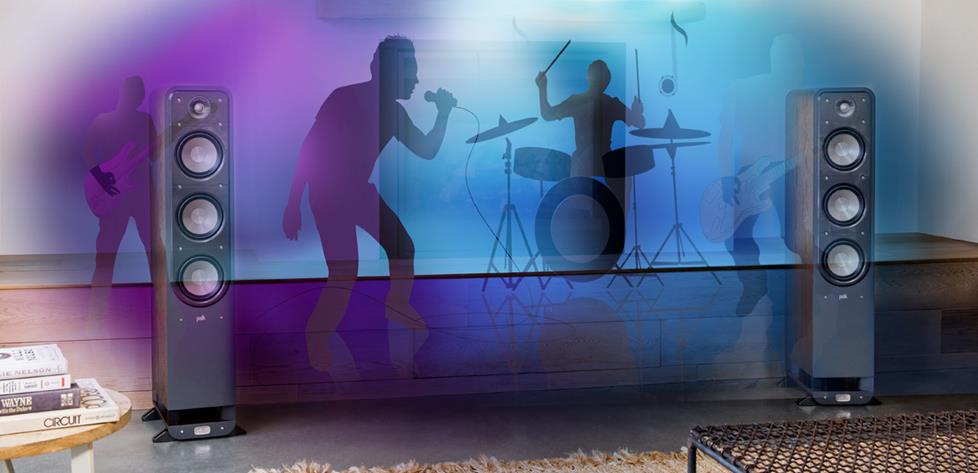 Listening to music in stereo gives you the experience the artist had in mind. And it's just plain more fun! You can hear the musicians spread out across a three-dimensionsal sound stage.
With stereo, different instruments come at you from different points between and beyond the speakers. You hear your music in three dimensions – just like you hear real musicians positioned in different places on an actual stage. You experience the music and the space in which it's played.
Parts of a home stereo system
A home stereo system typically includes three main ingredients:
A stereo receiver or amplifier
A matched pair of speakers
At least one music source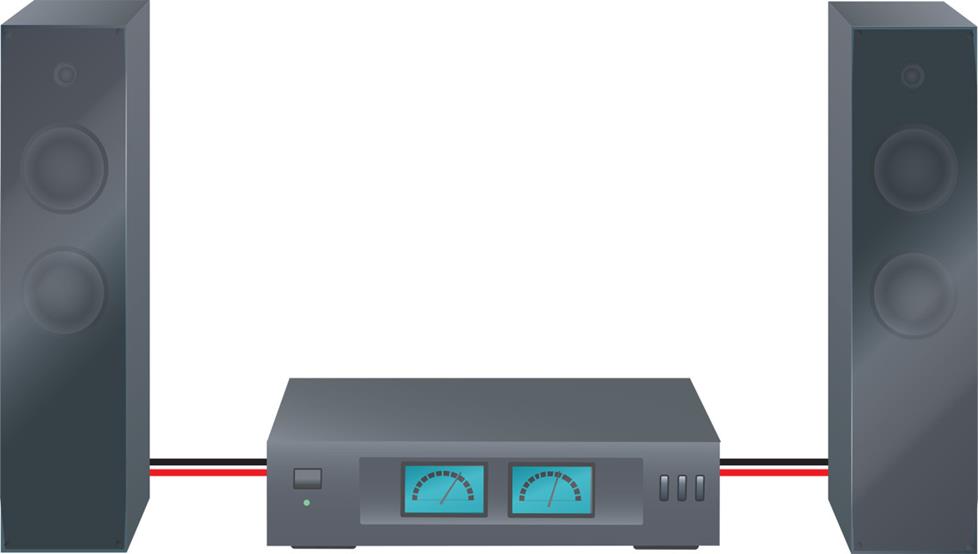 The music source could be an external component, such as a turntable or CD player. It could be a receiver's built-in AM/FM tuner. Or it could be a wireless connection to a smartphone or a home network.
What is a stereo receiver?
Traditional stereo receivers combine an AM/FM radio tuner with a 2-channel power amplifier and a preamp section. The preamp section gives you control over source selection, volume, tone and balance.
What's an integrated amplifier?
An integrated amplifier is just like a receiver, but without the radio. Some models are as large as a typical receiver. But there are plenty of compact amps, too. For more info, see our integrated amplifiers buying guide.
For a super-simple system, try powered stereo speakers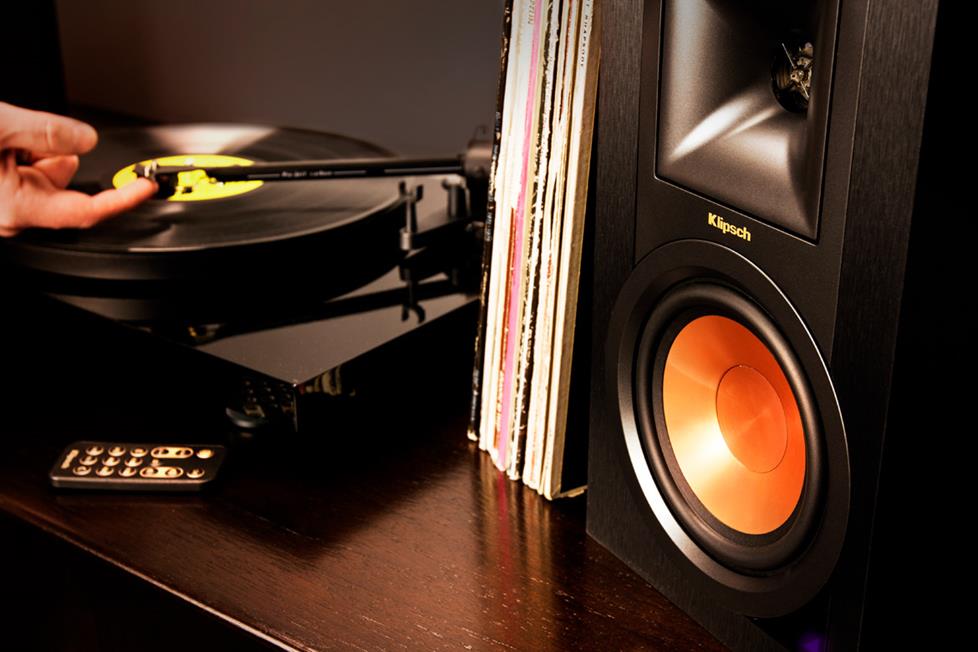 A turntable and a pair of powered speakers make a great compact stereo system.
If you're looking for an even more compact system to liven up a dorm room, kitchen, or small apartment, consider a pair of powered stereo speakers. With the amplifier (and, in some cases, the Bluetooth receiver) built in, these speakers save a lot of space.
Wireless speakers in stereo mode
Some wireless multi-room speakers can be linked together in stereo mode. If you alread have a wireless speaker, check to see if you can pair it with another identical speaker.
For example, if you're a Sonos owner, you can add a second Play:1, Play:5, or Sonos One in the same room. Use the Sonos app to pair them. One of the speakers will play the right channels, and the other will play the left channel.
Stereo amps with wireless multi-room audio built-in
Want to enjoy the benefits of a wireless multi-room audio system, but with real stereo speakers in at least one room?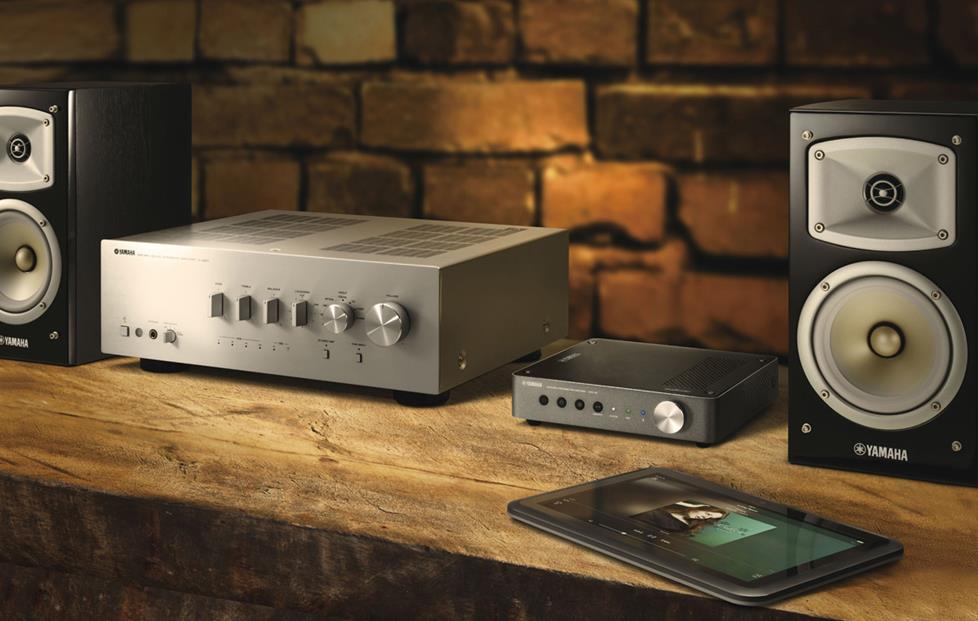 The Yamaha WXC-50 wireless streaming preamplifier adds Wi-Fi, Bluetooth, and MusicCast multi-room audio features to a traditional stereo amp or receiver.
Consider mating a pair of regular (non-powered) stereo speakers with a powered zone component like the Sonos amp. It's a very compact wireless multi-room music player with a stereo amplifier built in. Amplified zone players are also made by Yamaha, Denon, and Bluesound.
Speaker options to fit your taste and your space
Your library, home office, spare bedroom, or any other small, relatively private room can become your sonic sanctuary. Bookshelf speakers are perfect for small rooms. They can be wall-mounted or placed on speaker stands.
Floor-standing speakers are great for large rooms. They produce plenty of deep bass. They're hard to beat for big, room-filling sound.
For more speaker selection tips, see our article on choosing stereo speakers.
Don't forget the speaker wire
Most speakers don't come with any wire. You'll need to get some to connect the speakers to your receiver or amplifier. For more info, see our article on choosing and installing speaker wire.
How many watts do you need?
If you're buying a pre-packaged system, you don't have to worry about the finer points of matching speakers and amps.
If you'd like to put together an a la carte system, you can get some advice from one of our expert advisors. Or you can follow these simple guidelines:
Look at the recommended power range for the speakers you want to buy.
Choose an amp whose RMS power output (watts) is within the acceptable range.
If you already have an amp (or you'd rather pick your amp first), make sure the speakers you choose can handle the power it puts out.
If you're using 4-ohm speakers, make sure the amp you choose is compatible.
To get the most from a small amplifier, choose efficient speakers (as reflected in their sensitivity rating). The higher the number (in decibels or dB), the more efficient the speaker, and the louder it plays with a given amount of power.
Setup makes a huge difference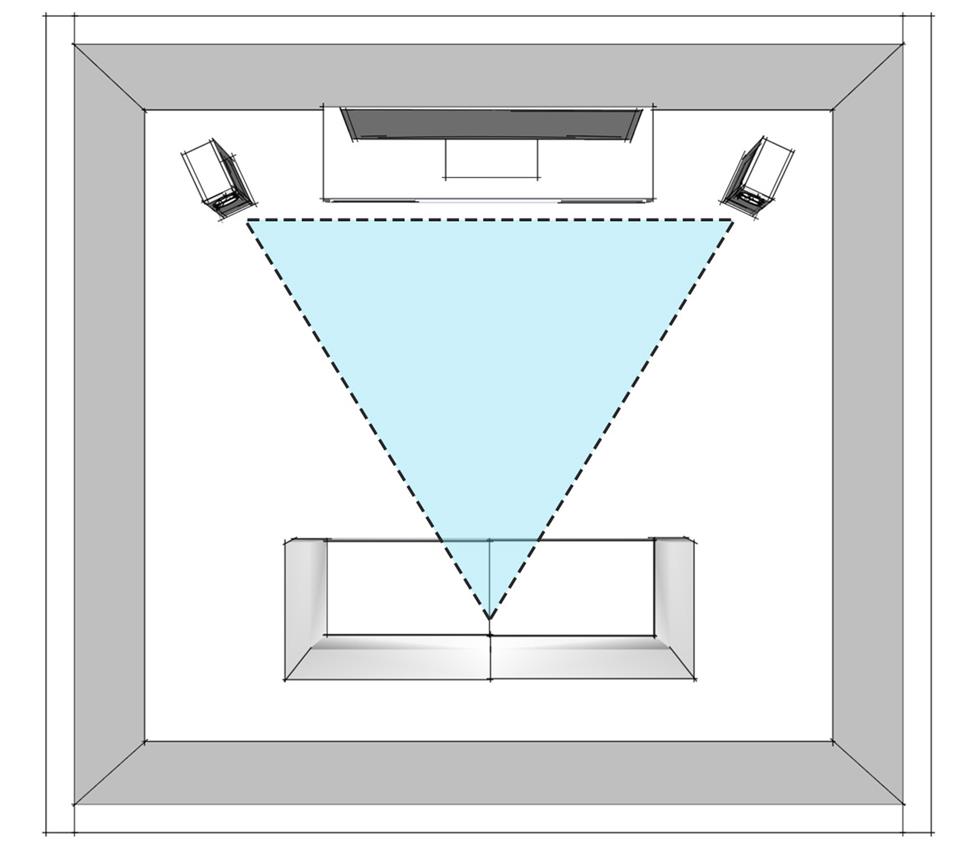 Toeing in your speakers (pointing them toward your seat) can make a dramatic improvement in their sound.
The placement of your speakers relative to your listening seat plays a large role in your system's sound.
The speakers should form an equilateral triangle with your listening position. This means your speakers are the same distance apart from each other as they are from you. For more tips on how to set up your speakers, see our article on speaker placement for stereo music listening.
Will a stereo system work with my phone?

Stereo receivers with home networking capabilities give you access to an endless variety of music.
Think stereo systems are strictly old-school? Think again. Many of today's stereo systems have Bluetooth® and/or Wi-Fi® built in, so you can easily connect your phone and listen to Spotify or You Tube™.
Think they're just for well-heeled audiophiles? You might be surprised by how little you have to pay to get a decent system.
A stereo system takes up more room than a single wireless speaker. But for music lovers, that's a worthwhile trade-off.
We can help you choose
Have questions about home stereo? Our expert Advisors know the gear inside and out.
Your Advisor can send specific Crutchfield pages to your screen, saving you a lot of browsing time. You'll get a shopping cart loaded up with everything you need. Contact us today.
Free lifetime tech support is included with your Crutchfield purchase.
For some more home stereo system design tips, read our budget audiophile playbook.