Bose® SoundLink® Wireless Mobile speaker review
Heads up!
Welcome to this article from the Crutchfield archives. Have fun reading it, but be aware that the information may be outdated and links may be broken.
I recently had the chance to check out the Bose® SoundLink® Wireless Mobile speaker. The first thing that caught my eye was that it can be completely wireless — it connects to a phone via Bluetooth® and has a built-in rechargeable battery. Knowing that, I was excited to hear how the SoundLink sounded.
The speaker is about as long as a pad of paper (it's sitting next to one on my desk right now) and just a couple inches deep, so it fit most places — on a kitchen table, a bookshelf, or the rail of our gazebo outside at work. A neat extra: Bose includes a cover with the SoundLink and it flips down to become a stand for the speaker.
Bluetooth® by Bose®
If your phone, tablet, or computer has built-in Bluetooth, you can make a wireless connection to the SoundLink. A minijack audio input on the back of the speaker lets you make a conventional wired connection if your device doesn't have built-in Bluetooth.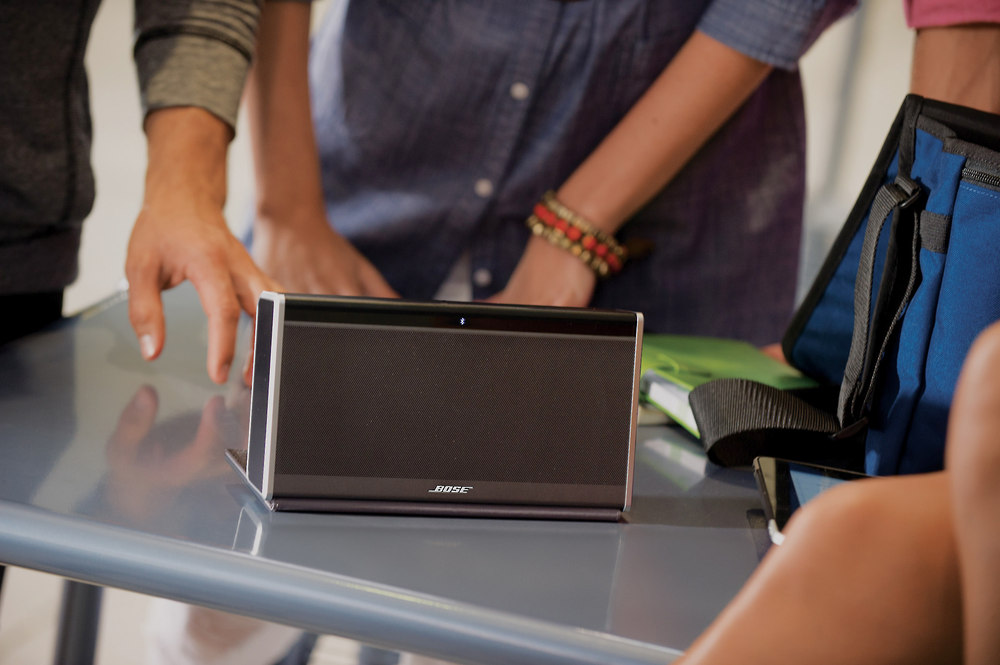 No, this isn't my desk. But this photo does give you a good idea of just how little desktop space it took up.
At first, I used my iPhone® with the SoundLink. Pairing it was easy. I turned Bluetooth on in my phone's menu and selected the SoundLink from the list of compatible devices. Within just a few seconds, the SoundLink was playing audio from my phone. And I wasn't limited to the actual music files that are stored on my phone, tablet or computer.
I queued up apps and music services — like Spotify®, my new favorite — and sent that audio out to the SoundLink. If I'd gotten to keep the SoundLink forever, I could see using the Bluetooth streaming function to get better audio from movies on my iPad®, too.
The SoundLink would be great to travel with because of its compact size and rechargeable battery. It'd be a great addition to a beach trip, camping weekend, or even a picnic — we used it to listen to music in a gazebo on our Crutchfield campus. That said, I did most of my SoundLink testing indoors and I loved being able to leave my iPhone in my pocket and control playback of the SoundLink across the room.
The listening test and the results
Whether I was listening to music in my living room or kitchen, the SoundLink performed well — filling each room with detailed sound. I listened to the Civil Wars whose music is packed with beautiful harmonies, acoustic guitar, piano, and soft drums. The SoundLink really allowed the singers' vocals to shine through — their harmonies played out clearly and airily around my home. On the low end, the SoundLink still delivered a wide soundstage where I could almost pinpoint where the drumbeats were coming from.
The Bose® SoundLink® Wireless Mobile speaker delivers a solid audio performance. When I combine that with the Bluetooth capability and rechargeable battery, this becomes an iPod (phone, tablet, and computer) speaker that'll work well in an office, in a home, and at a tailgate party.