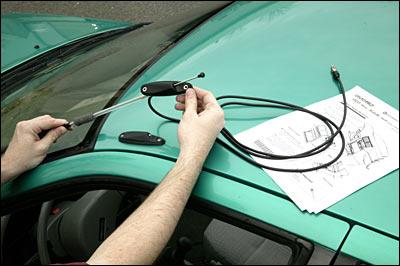 Most modern vehicles will never need to have the AM/FM radio antenna replaced. But older cars or cars with long, thin metal-shaft antennas might occasionally need a replacement. Those are the vehicles and antennas that we're talking about here.
How do I know if I need a new antenna?
It's sometimes hard to tell with FM, because relatively strong FM signals can sometimes be picked up without an antenna. On the other hand, if you get nothing across the entire AM band, you probably need a new antenna.
If you can tune in a station, gently take hold of the antenna near its base and jiggle it lightly back and forth. If the signal pops in and out, your antenna is not making firm contact with the body of the car. It may just need tightening, or it may be partially corroded and need replacing.
Stock antennas may need to be replaced after only four to six years. They wear out faster if you live near the ocean, where the salty sea breezes can accelerate corrosion. Generally, most people will only need to replace the antenna if the mast is obviously rusted or broken.
What if my radio antenna is in the windshield?
If you have an antenna that's embedded in the windshield, you'll get better reception if you upgrade to a fender-mounted antenna. They're just better at receiving radio signals. But that means you'll need to cut a hole in a fender and run the antenna cable to your radio. Do-able, but more challenging than a direct-replacement job.
Motorized antennas
If you want the convenience and security of a motorized antenna, which automatically raises and lowers the mast, we have models to fit most vehicles. However, a motorized model won't improve reception unless the original antenna has gone bad.
Is installing a new antenna a difficult task?
Installing an antenna can be challenging because of the need to replace the entire run of antenna cable. But if you give yourself plenty of time and follow our suggestions for feeding the cable through the car, you should be able to do it without too much difficulty. When you purchase your replacement antenna from Crutchfield, we give you installation instructions specific to your vehicle AND our technical support expertise.
Would an antenna booster improve my radio reception?
If your overall reception is good and you just want to get better reception on a couple of stations, then yes, an antenna booster may do the trick. On the other hand, if your overall reception is poor, the problem may be the antenna or the radio's tuner.
First check the antenna connection using the "jiggle test" we mentioned up top. If radio reception pops in and out when you gently jiggle the base of the antenna, then your antenna is not making firm contact with the body of the car. It may just need tightening, or it may be partially corroded and need replacing.
If the connection is fine and the antenna is not obviously rusted or broken, then changing antennas won't be of much help. In this case a booster may be easiest, most cost-effective solution.
You might need a cable adapter
Most car manufacturers use a standardized antenna connection, called a Motorola plug. If you own a GM, Nissan, or VW, however, you'll need an adapter. These manufacturers do not use the standard connector. Crutchfield carries the appropriate adapter for your vehicle, so use our vehicle selector to find the right adapter and a new antenna.
In most cases, you need to remove your radio to reach the antenna plug. If you buy your antenna from Crutchfield, you'll get the stereo removal instructions for your vehicle for free. As with anything else you buy from us, we'll be here if you need any help when you install your new antenna. Our Tech Support staff is just a phone call away.
We're here to help
To see if we have a replacement antenna for your vehicle, just tell us what you drive and we'll show you your options. And if you have any questions, contact our helpful advisors via phone or chat.