Sensaphone remote monitoring
Checking the temperature in a network server room
Heads up!
Welcome to this article from the Crutchfield archives. Have fun reading it, but be aware that the information may be outdated and links may be broken.
A Sensaphone® remote monitoring system can be a great way for folks to keep tabs on a second home, like a lake house or weekend cottage. They're also handy for people who travel a lot and want to check on their home while they're away. And a Sensaphone system is perfect for keeping an eye on the office after hours. These systems let you monitor a number of different aspects of your home or office remotely, using your telephone.
We try out many of the products that come through our office, and our home monitoring products are no exception. But we did more than just try out the Sensaphone system -- we actually put it to work.
Our IT department wanted to keep track of the temperatures in a couple rooms that house important computer equipment, so we installed two Sensaphone systems that can monitor temperature (and do a whole lot more, too).
Why Sensaphone?
A lot of systems have a way to monitor temperature, but a Sensaphone system calls you if the temperature goes lower or higher than a customizable range. This was very convenient for our IT department -- should an alert be triggered, the system would call them automatically whether they were at the office or at home.
What we installed
We wanted to monitor temperature in two locations of the same room -- one by the thermostat and one by a specific rack of gear. We first installed one of Sensaphone's main units, the Model 800, near a power supply and phone line because this is the unit that'll make the outgoing phone call in case an alert is triggered. The unit connects to as many as seven other "alarms" and features built-in temperature (key to our purposes), loud noise, and power failure alarms. It monitors the overall temperature of a room, but we also wanted to monitor the temp near one location, so we added a Temperature Alert sensor right on the rack of gear in question.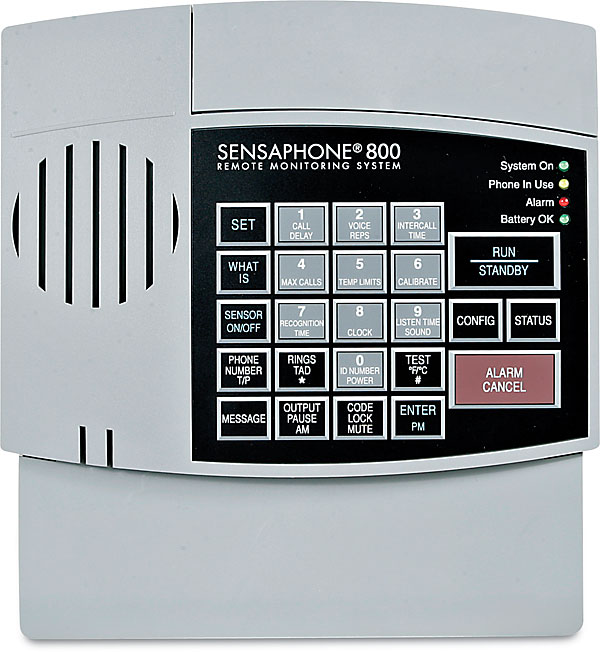 Adding the second sensor was pretty quick and simple. A Crutchfield employee ran some simple wire through the room's drop ceiling to the desired locale, and then connected the wire to the Temperature Alert sensor.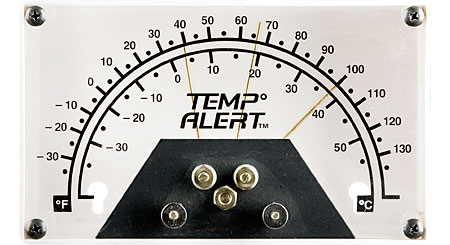 Customizable settings
The Sensaphone system is entirely programmable, but conveniently comes with many of its settings preprogrammed. That way, you only have to change the settings that really matter to your situation. The manual's very detailed and outlines exactly how to change each setting. For example, this model calls up to eight people when an alarm is triggered. In addition to inputting the phone numbers of the people you want to call, you can adjust the length of time the system spends on each call before trying another person, you can adjust the time in between calls (to give someone a chance to call back and deactivate the alarm), you can adjust how many times it rotates through the eight numbers, and you can adjust the number of times it plays the alert message when someone answers. With such detailed and customizable settings for just one aspect of this system, we quickly saw how this would be a really great tool for just about anyone's home or office.
Since our focus was on temperature control, we adjusted both temperature sensors to trigger alarms below 45 degrees and above 85 degrees (the presets were 10 and 100 degrees, respectively). We programmed in the phone numbers of eight lucky members of our IT department so they'd be notified in the event of a temperature change, power failure, or loud noise.

Expandable options
We've barely scratched the surface of what this Sensaphone system can do, and internally, it's already getting rave reviews because of its amazing programmability. While it serves our purposes now, we can adjust it to perform even better in the future. We may add more sensors to monitor other rooms or other aspects of that one room.
And should any member of our IT department wake up late at night wishing they knew the temperature in that particular room, they can dial that extension, enter a security code, and the Sensaphone system will tell them the temperature of the room. That way, they go back to sleep, knowing our computer systems are safe in a comfortable climate.