Astell & Kern AK240
High-resolution portable music player with Wi-Fi®
Item # 838AK240 | MFR # AK240
This item is no longer available.
Overview
Our take on the Astell & Kern AK240 by Crutchfield's David Brown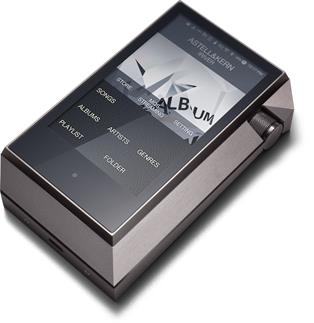 The AK240 features a sleek design, large touchscreen interface, and superb sound for DSD, FLAC, and other digital music files.
Astell & Kern takes portable audio to stratospheric heights
Every time we think Astell & Kern has reached the pinnacle of portable audio performance, they keep raising the bar. First, the AK100 wowed us with its superb sound quality and user-friendly interface. Then, the AK120 took a giant leap forward with even better sound and more memory. Now, the AK240 has set a new benchmark for portable music players. This completely updated design is an eye-catcher, with a larger touchscreen display, a cool ergonomic feel, and a snappy user interface that's much improved over previous versions. Best of all, the sound is positively otherworldly.
Dual DACs with native DSD conversion

Like the AK120, the AK240 employs dual digital-to-analog converters (DACs), one for each stereo channel. This results in outstanding detail and dynamic range, a dead quiet background, and a wide-open soundstage. But Astell & Kern has taken another massive leap with the AK240, choosing Cirrus Logic DACs that are capable of native conversion of Direct Stream Digital (DSD) files. While many DSD-capable DACs first convert the signal to PCM, the AK240 converts DSD and double-DSD files directly to analog, giving listeners the full sonic benefits of this exciting high-resolution format. In addition, the Cirrus Logic DACs do wonders for 24-bit/192kHz FLAC, Apple Lossless, and other high-res formats. This player will even make your CD-quality and lossless files sparkle with more detail and depth that most smartphones and portable players can offer.
Praise for the Astell & Kern AK240 music player from Sound & Vision

"...this is the best portable audio player I've enjoyed to date, with unassailable build quality, sweet aesthetics, not-half-bad ergonomics, and stupendous sound, including the special attraction of uncompromised DSD playback. ...is the AK240 a fabulous product that brings endless fun and pleasure? An emphatic yes. I loved the little thing to death."

— From Mark Fleischmann's review in Sound & Vision, July/August, 2014
Read the full review
---
Built-in Wi-Fi adds a new dimension
What other new features make the AK240 the latest lusted-after device from Astell & Kern? Built-in Wi-Fi opens up even more listening possibilities than what you can store on the player. Download Astell & Kern's free software to your networked computer and stream songs over your home network. You can even download those songs onto the AK240, with no need for a wired USB connection. Wi-Fi also allows for wireless firmware upgrades — an important feature given Astell & Kern's history of continually adding improvements to each of their players. One planned future improvement is the ability to purchase and download high-resolution music files directly onto the AK240. At launch, the player features support for the "groovers" music service, with plans to add more storefronts in the future.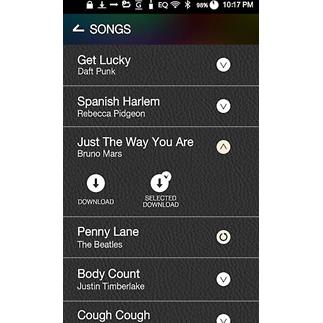 Built-in Wi-Fi lets you stream or download songs from your networked computer using free software.
Improved user interface offers smooth performance
If you're worried that the AK240's user interface might be a little undercooked, you can rest easy. Astell & Kern has completely revamped its original software for faster response time, more features, and even easier navigation. The new software provides a smooth, polished touchscreen experience with the large 3.3" color display. The graphic EQ has been updated from five to ten bands, with even finer control to dial in your ideal sound signature. File scanning has been sped up and a search function added so you can quickly find and play any song on the AK240.
---
Other cool features
What else is there to love about this incredible player? It can be used as a USB DAC to get superb sound from digital music on your computer with the included USB cable. Internal memory is a whopping 256GB, with a microSD card slot that can handle up to 128GB cards. There's a new balanced output, for even cleaner sound than the standard headphone output offers. And then there's the unique design. Astell & Kern clearly put a great deal of thought into making this player stand out, not just for its cool looks but its ergonomic feel. Encased in durable aluminum alloy with a carbon fiber back panel, the AK240 isn't so delicate that you'll be afraid to take it off the shelf. It's a legitimate portable device with the build and sound quality of an audiophile home stereo component. If you're looking for a killer combination of portability, ease of use, and unrivaled sound quality, the AK240 is it.
Product Highlights:
digital music player — plays MP3, FLAC, WAV, ALAC, Ogg Vorbis, AAC, AIFF, APE, WMA, DFF, DSF

native DSD playback for DSD64 (2.8MHz) and DSD128 (5.6MHz) files

dual Cirrus Logic CS4398 digital-to-analog converters for bit-perfect playback of high-resolution audio files (up to 24-bit/192Khz for PCM and 5.8MHz for DSD)
256GB internal flash memory
microSD card slot for cards up to 128GB (up to 384GB total memory)
built-in Wi-Fi for streaming and downloading music from a networked computer (requires free MQS Streaming Server software — download from Astell & Kern's website)

allows wireless firmware upgrades
future support for direct purchasing of digital music via online stores

functions as a USB DAC when connected to a computer via the USB input
3.31" color touchscreen OLED display
recessed analog volume knob provides fine level adjustments
3 side-panel control buttons (Play/Pause, Next/FF, Previous/Rewind)
supports gapless playback
3.5mm unbalanced headphone/optical output for connection to headphones, receiver/amp, or an external DAC
2.5mm balanced output
Bluetooth 4.0-compatible (A2DP, not recommended for files with sampling rates greater than 48kHz)
10-band EQ with 0.5dB-step adjustments and user-created presets
high-speed USB Micro-B interface (cable included) for drag-and-drop file transfer and battery charging
built-in rechargeable battery
durable aluminum alloy casing with carbon fiber rear-panel plates
custom leather case and protective screen film included
output impedance: 2 ohms (3.5mm headphone output), 1 ohm (2.5mm balanced output)
total harmonic distortion: 0.0007% (1kHz, unbalanced output)
signal-to-noise ratio: 116 dB
2-5/8"W x 4-1/4"H x 11/16"D
weight: 6.5 oz.
warranty: 1 year
This is redundant, but the AK 240 is by far the best player in the Hi Fi, High End market. The balanced output, the dual DAC and power can pretty much give any high end headphone or IEM sound just right! If you dont care about the nice IOS apple interface, this android based device is PERFECT!

povidio, New York, NY
Reviews
Astell & Kern AK240 Reviews
Average Customer Review(s):


Submit a review and then enter to win a $350 rewards card
Review this product
Thanks for submitting your review
Most reviews are processed and published within 5 business days. You will receive a confirmation email once your review has been published.
Customer photos
Pros:
Cons:
Crutchfield response
---
Details
Product Research
Features
Overview: The Astell&Kern AK240 from iRiver is a portable high-resolution music player which comes closer to the original sound than its predecessors, the AK100 and AK120. The AK240 takes the dual DACs (digital-to-audio converters) of the AK120, and adds a balanced output and native DSD (direct stream digital) playback for better sound quality. It has a huge internal memory so you'll be able to store thousands of high-resolution music files. The AK240 has a 3.31" AMOLED touchscreen display, plus built-in Wi-Fi and Bluetooth.
Note: Direct Stream Digital (DSD) is the digital audio file format originally developed for SACD (Super Audio CDs). DSD features 1-bit / 2.8MHz-5.6MHz resolution, with wide frequency responses up to 100kHz and dynamic range beyond 120dB.
Construction: The AK240 is only 2.59"W x 4.21"H x 0.68"D, and weighs 6.5 ounces. It is made from gun metal-colored aircraft-grade duralumin, and comes with a fine leather case to protect it from scratches. Analog controls include a rotary volume knob on the right side, and Play/pause, Previous/rewind, and Next/fast forward buttons along the left side.
Digital Storage: The AK240 has a built-in 256 GB internal memory. You can also insert a 128 GB microSD card in the memory card slot on the side of the device to bring the total memory capacity of 384 GB. That's enough storage for approximately 3,750 four-minute songs, recorded at 24-bit/96kHz resolution.
Dual DACs: The AK240 is equipped with two Cirrus Logic CS4398 DACs that support up to 24-bit/192 kHz bit-to-bit decoding. An exclusive XMOS chip was added to allow Native DSD support. One DAC is used for the left channel, and one for the right channel. Each DAC delivers outstanding performance with the following specifications:
Signal-to-Noise Ratio (@1kHz): 116dB unbalanced, 117dB balanced
Crosstalk (@1kHz): 130dB unbalanced, 135dB balanced
THD+N (@1kHz): 0.0007% unbalanced, 0.0005% balanced
Frequency Response: 20Hz-20kHz (±0.023dB); 10Hz-70kHz (±0.3dB)
USB DAC: You can use the AK240 as an external USB DAC which supports Native DSD playback. With the Dual DACs and the exclusive DSD chip, the AK240 delivers much better sounding audio than your computer's built-in sound card. Connect the unit via USB from your computer and listen to your stored digital music with headphones, powered speakers, or home stereo. The USB DAC is compatible with Windows XP (32-bit), Windows 7 (32- & 64-bit), Windows 8/8.1 (32- & 64-bit), and Mac OS X 10.7 and up; Sampling Rates: 44.1kHz - 192kHz; Bit Rates: 16-bit / 24-bit; DSD Support: DSD64 (1-bit 2.8MHz), DSD128 (1-bit 5.6MHz).
Balanced/Unbalanced Outputs: The Astell&Kern AK240 offers both balanced (L+/L-/R+/R-) and unbalanced outputs (L+/R+/GND). Balanced outputs have an additional "cold" signal to compliment the hot signal, which reduces external noise and increases output. The balanced output is a 4-conductor 2.5mm port (1 ohm) on the side of the device, and can be used with earphones or headphones that support balanced audio connections. You can also connect an external audio device to the AK240 by connecting to both the earphones port (ground) and the balanced port (LR).
Digital Audio Files: The AK240 is capable of playing high resolution digital music up to 24-bit, 192kHz, the same as used in the music mastering process. This Mastering Quality Sound (MQS) includes all of the high resolution formats, including WAV, AIFF, FLAC, and ALAC. These lossless files provide approximately 6-1/2 times more detail than a CD (16-bit, 44kHz), and can be played at sample rates of 8kHz-192kHz and 8/16/24-bits per sample. In addition, the unit can play MP3, AAC, WMA, OGG, and APE compressed audio files.
User Interface: The AK240 features a high-quality user interface to make it easy to find and select your music files, change the volume, and adjust the sound:
3.31" LCD Touchscreen: The full-color LCD touchscreen has a resolution of 480 x 800 pixels. The screen displays the title and artist of the currently playing song, along with elapsed and remaining time, with the album art in the background. On the touchscreen, you can touch the Play/Pause, Previous/Rewind, or Next/Fast Forward icons to control playback. You can make adjustments to the EQ, set the repeat and random modes, and add the song to a playlist, all using the touchscreen interface.
Rotary Volume Knob: The AK240 has a side-mounted analog-style rotary volume knob. The volume control range is 00.0 to 75.0 with detents at every 0.5. As you adjust the volume, the volume range is shown numerically on the display.
Hardware Control Buttons: There are four physical buttons on the unit: a top-mounted power button, along with side-mounted Play/Pause, Previous/Rewind, and Next/Fast Forward buttons.
Drawing Equalizer: The AK240 has a 10-band Equalizer that lets you set the EQ levels by "drawing" the curve on the touchscreen. You can set the levels of each band from -10dB to +10dB at 32kHz, 62Hz, 125Hz, 250Hz, 500Hz, 1kHz, 2kHz, 4kHz, 8kHz and 16kHz. Each band can be set one at a time by touching the desired level on the screen, or set them all at once by a single swipe of the finger across the screen in the shape you desire.
Micro-B USB: The AK240 has a Micro-B USB port on the bottom of the unit for connecting the unit to your computer for downloading music files and for charging the battery. The AK240 is compatible with Windows XP, Vista, 7 and 8/8.1, as well as Mac OS X 10.7 and up.
Wi-Fi Capability: The AK240 features built-in Wi-Fi (802.11 b/g/n--2.4GHz), allowing you to connect the device and your computer to the same network for streaming and downloading music. With the MQS Streaming Server software installed on your PC or Mac, you can use the AK240 to access music files stored on your computer's hard drive or a connected HDD. In addition, the Wi-Fi connection allows you to receive notifications of new available firmware updates (OTA Upgrades), allowing you to download them on the spot.
Bluetooth: The AK240 also has built-in Bluetooth V4.0 for connecting a Bluetooth device to listen to music wirelessly. DSD playback is not available via Bluetooth, and performance may be limited for high-res playback; 48 kHz or lower resolution is recommended). You must maintain a distance within 8" of the paired Bluetooth device for best audio quality and connection quality. Car audio Bluetooth connections are not supported.
Power Requirements: The AK240 is equipped with a 3250 mAh 3.7V Lithium-Polymer battery. The battery charges via USB in about 4.5 hours. A fully charged battery can provide up to approximately 10 hours of continuous playback time.
Our Product Research Team
At Crutchfield, you'll get detailed, accurate information that's hard to find elsewhere. That's because we have our own in-house Product Research team. They verify what's in the box, check the owner's manual, and record dimensions, features and specs. We stay on top of new products and technologies to help people make informed choices.
Q & A
Customer Q&A
Crutchfield asked


Why did you buy this?
Since I purchased this, I have downloaded hours of wonderful hi-res music. I cannot enjoy plain CD quality or mpegs now. There is so much more substance, fullness and richness in the music. Eventhough my Samsung S8 can play hi-res along with the PlayerPro software, the Dual DACs in the AK240 still produce a much richer sound. I use both in my car. Additionally the AK plays DSD and the S8 cannot.

[ Stephen May 19, 2017 ]
4 questions already asked