DarbeeVision DVP-5000S
HDMI video processor
Item # 890DVP5KS | MFR # DVP 5000S
This item is no longer available.
Overview
Our take on the DarbeeVision DVP-5000S by Crutchfield's Steve Kindig
Get a better-looking picture — instantly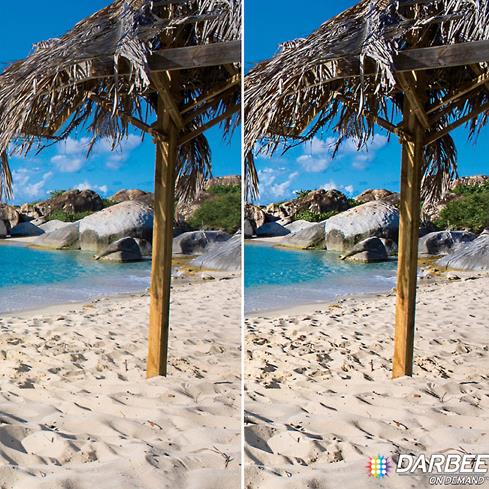 Darbee processing emphasizes fine details and enhances the sense of visual depth.
Want to improve your HDTV picture quality wihout investing in a new 4K TV? The DarbeeVision DVP-5000S video processor does exactly that. It applies powerful video processing to enhance the detail and depth of any video source, whether it's high-definition Blu-ray or standard-def cable or satellite TV signals. And although its design is highly advanced, the DVP-5000S is super easy to hook up and use.
This is the smallest video processor we've ever seen — about the size of a chubby smartphone. Connections are simple: one HDMI input and one HDMI output, plus a power jack for the AC wall wart. Just connect an HDMI cable between your video source and the DVP-5000's input, and another HDMI cable between the DVP-5000S's output and your TV or projector.
If you use an A/V receiver in your system, you can use the DVP-5000S to enhance all the video sources connected to your receiver by inserting this processor between the receiver's HDMI output and your display.
Go beyond basic "sharpness" and "detail" controls
Most TVs and Blu-ray players come with their own picture controls, labeled "sharpness" or "detail", but those controls are crude and low-tech compared to the latest Darbee Visual Presence™ V 2.0 video processing found in the DVP-5000S. This custom algorithm analyzes images, detecting areas with dark/light transitions, then increases contrast between lighter and darker details within the image to emphasize fine details and create an enhanced sense of visual depth.
This powerfully precise approach enables the DVP-5000S to enhance image quality without adding noise or "halos," or altering overall color, contrast, or black level. The effect is adjustable, and there's a split-screen demo mode for easy before/after comparisons, so you can dial in exactly the level of visible improvement you desire. A remote control is included for tweaking the image from the comfort of your couch.
DarbeeVision processing is so effective that Oppo, builder of extremely high-performance Blu-ray players, created a "Darbee Edition" of their flagship BDP-105 player. That's pretty high praise in our book.
Shop our selection of HDMI cables.
Product Highlights:
video processor enhances picture detail, contrast and depth
supports all standard- and high-definition video resolutions up to 1080p, and also supports 3D video up to 1080p
installs between any HDMI-compatible video source and display
on-screen menu to access controls
Darbee Visual Presence™ V 2.0 technology emphasizes fine details and enhances the sense of picture depth
video processing effect is adjustable, and includes bypass mode
High Def, Gaming, and Full Pop picture presets
one set of HDMI connections (in/out)
HDMI 1.4 compliant
remote control
AC power adapter included
1.5-meter HDMI cable included
7-5/8"W x 3/4"H x 2-1/4"D
warranty: 1 year
What's in the Box:
DarbeeVision DVP-5000S owner's manual
HDMI video processor
AC power adapter (w/ attached 47" DC cord)
4 AC plug inserts (US/AU/UK/EU)
Remote control
2 "AAA" batteries
59" HDMI cable
5' IR extender cable
"Congratulations" card
i have top of line Samsung tv,it has a great picture,but the darbee has improved the sharpness of the tv.i am very pleased with this purchase through crutchfield, at a very good price.

Anonymous, wisconsin dells
Reviews
DarbeeVision DVP-5000S Reviews
Average Customer Review(s):


Submit a review and then enter to win a $350 rewards card
Review this product
Thanks for submitting your review
Most reviews are processed and published within 5 business days. You will receive a confirmation email once your review has been published.
Customer photos
Pros:
Cons:
Crutchfield response
---
Details
Product Research
Features
HDMI Video Processor: The Darbee DVP-5000S is an external HDMI video processor which significantly increases clarity and depth of standard- and high-definition video signals (up to 1080p) through Darbee Visual Presence V.2.0 technology.
How It Works: The image processing is done intra-frame so that no large buffer memory or time delays are required. Processing is resolution independent, scaling linearly with the number of pixels in a frame. The algorithms do disparity synthesis, then apply a patented defocus-and-subtract of the resulting images. The algorithm next applies the enhancement only to the areas of interest, via the Perceptor, a proprietary saliency map. The processing is local, modifying the image luminance on a per-pixel basis.
Compatible Source Material: Because the results are embedded in the pixels of an image, the process can be applied any time during the life of the image. The Darbee process can be applied in digital TVs, DVD players, cable or satellite boxes, cameras, video games, mobile devices, PCs, printers, video, or movie post production (up to 1080p video).
Note: You should calibrate your television first and then add the DVP-5000S. The DVP-5000SS will not affect your color, brightness, contrast, or gamma settings.
Darbee Visual Presence (DVP) V 2.0: Darbee Visual Presence V 2.0 technology creates a video image with enhanced visual fidelity. This image processing solution for enhancement of all video sources (up to 1080p) creates an image that appears to have an exceptional level of depth, clarity and realism. Darbee's Visual Presence V 2.0 technology is adjustable; you get to choose the effect that pleases you the most, given the broad video quality spectrum that you might encounter, ranging from pristine BluRay down to low-resolution web videos.
Hi Def: Select this mode for highest fidelity sources and cleanest image processing. Has the most refined and artifact-free output.
Gaming: Choose this mode for video games and CGI sources; adds more depth and detail. Provides a stronger enhancement and fairly strong artifact suppression. It's great for clean computer-generated video, such as games and animated movies.
Full Pop: Adds the strongest depth cues for all sources, especially low-resolution or low-quality sources. Gives the strongest depth and realism, but you may see some artifacts, especially on text.
Note: You can adjust the level of each DVP mode from 0 to 120. A level 0 bypasses DVP video processing.
HDMI 1.4: The DVP-5000S is fitted with one HDMI input and one HDMI output. Both HDMI jacks are version 1.4 and will support 480, 480p, 720p, 1070i, and 1080p video. Simply plug your HDMI source (such as your Blu-ray player) into the DVP-5000S's HDMI input jack and connect the DVP-5000S's HDMI output jack to your TV or display monitor. If you are using an AV receiver, connect DVP-5000S between the output of your AV receiver and the input of your TV. It can also be used on the output of an HDMI switcher or input of an HDMI splitter.
30-Bit Deep Color: The DVP-5000S's HDMI 1.4 input and output support 30-bit Deep Color with 4:4:4 color supsampling. Deep Color lets HDTVs and other displays go from million of colors to billions of colors with increased contrast ratio. It also eliminates on-screen color banding, for smooth tonal transitions and subtle gradations between colors. In addition, it can represent many times more shades of gray between black and white.
3D Ready: In addition to 2D video, the DVP-5000's HDMI 1.4 jacks support 3D video so you can continue to enjoy your 3D movies.
Note: The DVP-5000S does not support Audio Return Channel (ARC) and High-Speed Ethernet Channel (HEC).
HDMI Cable: The Darbee DVP-5000S includes one HDMI cable. You will need to purchase an additional HDMI cable. Your HDMI cables should be no more than 20' in length between your source device, television, and the DVP-5000S. HDMI cables that are longer than 20' may not hold signal integrity as well.
Remote Control w/ IR Extender: The DVP-5000S includes an IR remote for wireless operation of the HDMI video processor. An IR extender is provided in case you have the DVP-5000S hidden and out of direct line sight for IR commands.
On-Screen Menu: The DVP-5000S offers an on-screen menu for initial setup, adjustment, and demo of the HDMI video processor.
External AC Power Supply: The Darbee DVP-5000S operates off of standard house hold current using the included external AC power adapter (Input: 100-240V; Output: 5V/2A).
Future Upgrades: Darbee is continuing to develop improvements to the Darbee Visual Presence algorithm. Check Darbee's website for upgrade announcements. The DVP-5000S is upgradeable after purchase, although you will have to send it in to receive new firmware, and there may be a processing charge.
Our Product Research Team
At Crutchfield, you'll get detailed, accurate information that's hard to find elsewhere. That's because we have our own in-house Product Research team. They verify what's in the box, check the owner's manual, and record dimensions, features and specs. We stay on top of new products and technologies to help people make informed choices.
Q & A
Customer Q&A
Crutchfield asked


Why did you buy this?
I always was curious about the Darbee Visual Processor, and I read a lot of viewer reviews which gave it high marks. And what made me pull the trigger was that the site Secret to Home Theater Fidelity made it one of their products of the year.

[ Dale Dec 08, 2016 ]
I've been wanting to purchase this device since I first heard of its incredible technology, several years ago! It's received mostly great reviews on the internet. Up until a few days ago, Monoprice was selling it for $129.99, but I missed the sale! And so, when I saw that you have it on sale for $20 more, I couldn't pass up your second best sales price! Thank you!

[ MARC Dec 04, 2016 ]
Christmas gift for husband, he specifically requested this item :-)

[ Linda Nov 27, 2016 ]
Came across it by accident when doing a search on adjusting the 3D settings for my set. Looked up professional and consumer reviews and asked around within websites I belong to.

[ Joseph Nov 18, 2016 ]
I have a 1080P project, and while the picture is good, the reviews I have read suggest this will bring more sharpness and pop to the picture without adding the artifacts that the typical sharpness controls built into the project (or TV) create.

[ colby Nov 17, 2016 ]
To enhance the TV picture

[ Robert Nov 04, 2016 ]
picture quality

[ quat Nov 03, 2016 ]
multiple positive reviews (on this site and others), previous positive experience w/Crutchfield, and best price

[ Maurice Oct 06, 2016 ]
I am running a Sony HW45ES projector via a 50ft Active HDMI cable to a Marantz 6010 receiver. In order to get the most detail out of my DirectTV cable box I have read this will help significantly. Worth a try!

[ P Sep 23, 2016 ]
I got this to connect to my projector, Sony HW55ES. I've heard good things about the Darbee, and I decided it's time to try it out for myself.

[ Chris Aug 15, 2016 ]
To improve my TV watching.

[ Joseph Aug 11, 2016 ]
I want to try this item out because I have an old TV it's HD but it is not Wi-Fi television so from what I understand about this it can help your picture out I'll know more about it after I have installed it I'll keep you up-to-date.

[ Mike Jul 09, 2016 ]
I have an oppo 103D and really like what darbee does . I plan on putting the 5000S between my receiver and tv..

[ Joseph Jul 06, 2016 ]
Great Products

[ Daniel May 23, 2016 ]
Recommended by a friend and the reviews indicate the product really works as advertised.

[ Michael May 21, 2016 ]
My older version of the Darbee was zapped by an electrical storm...so I opted to buy the latest version. Having used the older Darbee for more than 2 years, I can't live without it. The enhanced picture quality is really great!

[ Donald May 19, 2016 ]
Did a bit of research on this item and the vast majority of reviews were very good.

[ Franklin May 12, 2016 ]
I wanted to see if I could improve the already very good picture quality on my Kuro plasma. Not ready to invest in a 4K TV yet.

[ Gregory May 08, 2016 ]
I want to see if it makes a difference on my 1080p display(s). If it does I may order more for myself and for gifts. The world is not quite 4K yet.

[ SHAUN Mar 30, 2016 ]
Did research.

[ D Mar 28, 2016 ]
I have an OPPO blu-ray player with Darbee and its does enhance the video. I wanted to see if the Darbee DVP does the same for satellite TV.

[ J Mar 25, 2016 ]
For curiosity

[ Fernando Mar 23, 2016 ]
Hoping it improves my already decent picture quality from my Sony Projector!

[ James Feb 05, 2016 ]
3 questions already asked
No indicator when in use. However, you can turn off with remote and see, on the display or screen, the Darblets level revert to zero (indicting it's off). Level will only show when a show or video is displayed.

[ James Sep 03, 2016 ]
I do not know why you would want to turn it off. Wattage draw is near nothing and Most electronics are more hurt by on and off voltage spikes . So I can not tell you as I never turn it off

[ William Sep 03, 2016 ]
Once I had this hooked up and then dialed in as far as the setting that I wanted----i have never even used my remote again. It stays on auto standby---and this is shown by the led indicators on the darbee. You do not need to turn this on or off. Make sense?

[ DOUG Sep 02, 2016 ]
I've never been able to figure that out either. I just leave it on all the time-it uses hardly any power. Not worth the hassle to me.

[ WILLIAM Sep 02, 2016 ]
I leave mine on all the time, there LEDs that indicate when it is connected to a source and processing

[ steve Sep 02, 2016 ]
Yes mine is behind the tv works fine

[ RICHARD Jun 04, 2016 ]
No. it appears to be omnidirectional.

[ Franco M Nichin Jun 04, 2016 ]
In my case it is line of sight----and it works well.. it is so small you can place it on top of your receiver or in my case on top of my direct tv box. It is even small enough to sit on top of my martin logan sound bar... I would not think it would work out of a direct sight line ....But just my best guess.

[ DOUG Jun 03, 2016 ]
Yes it is a line of sight but it does work. behind the recover mine is completely in the back of my recover and I can't even see it at all but it still works it really works great.

[ stephen Jun 03, 2016 ]
One of the odd things about this device that does not show on the contents of the box is that it has an IR extender included. The cord is about three feet long and plugs into the device right next to the HDMI input. The only mention of this is on the inside packaging. When you open the box, the cardboard containing the Darbee shows, on the right hand side, Power supply, HDMI in connector, and IR extender connector.

[ John Jun 03, 2016 ]
No is not line of sight, the signal will bounce off the walls. I have mine on the floor behind the livingroom corner table and I have no problems. Paul

[ Sonia Jun 03, 2016 ]
it is an IR not RF which means you have to have line of sight. I placed mine on top of the audio video rack for a couple of days while I experimented and became happy with the setting. After that I placed it behind the audio equipment and have never felt the need to adjust it again.

[ William Jun 03, 2016 ]
Yes this remote is line of sight. It's an IR remote. Not RF. IR infered. RF radio frequency.

[ DAVID Jun 03, 2016 ]
It is IR so yes.

[ steve Jun 03, 2016 ]
I am pretty sure you do not need a direct line of sight. It has to be close to the receiver or tv/projector so it would be silly to need a direct line. I put mine on top of the projector and never have an issue with the signal being read. I may aim toward the projector but I never had to paya ttention to its exact location. It really does work. I would pause and rewind and play back video with it on and off and their is definite improvement when watching Direct TV and DVDs.

[ Jason Jun 03, 2016 ]
Yes but it comes with an extender cable so it's easy to position without being noticable.

[ Roy Jun 03, 2016 ]
Yes it does

[ RICHARD Jun 04, 2016 ]
I have an Epson 2030 projector and it make a very noticeable differnece, you see more detail, I only have it at 65% but it improves the picture quality very nicely I highly recomended for any projector. Paul

[ Sonia Jun 03, 2016 ]
I do not own a projector but I see no reason it will not help anything that has an HDMI . I have an $8,000 70' Elite led TV with an extremely good processor and was happy with the improvement. The DarBee default was 110% but I turned mine back to 80% . It doesn't make it a 4K equivalent but it is an improvement.

[ William Apr 19, 2016 ]
I use it on my Sony projector with a 106" screen and it works well! On a 50" tv you don't see the improvement as well by the bigger the screen the more noticeable

[ steve Apr 18, 2016 ]
Sorry - but I have no idea on this----as in my case---the darbee is hooked directly to the direct tv receiver and then to the TV. I have no idea how this would work for a projector... I would recommend that you call Darbee directly. They do answer the phones and are also very helpful.....

[ DOUG Apr 18, 2016 ]
I don't have a projector however, it did enhance the depth and diffinition of my Pioneer Viera LCD TV quite noticeably and this was after I had calibrated the TV. I hope this helps. Rich

[ Richard Apr 18, 2016 ]
I'm not shire but on my Sony xbt850 I works great direct tv still broadcast in 720p/1080I but the darbee takes the picture to where it should be or at least much closer give it a try crutchfield has a great return policy.

[ stephen Apr 18, 2016 ]
I don't have experience with projectors, but like others have reviewed it with projectors they seem to say it works well with them so i am sure it would help.

[ ERIK Apr 18, 2016 ]