Mackie ProFX16v2
16-channel mixer — with effects, compression, and USB connection
California customers: Please click here for your Proposition 65 warning.
Item # 863PFX16V2 | MFR # 2044603-00
In Stock
Was: $499.99
Price break: -$50.00
Consult a pro audio advisor

Our VirginiaVA-based experts can help.
Overview
Experience helps build a better mixer
Mackie brings over forty years of experience to the design table with the latest upgrade of their popular ProFX Series mixers. The ProFX16v2 16-channel mixer comes packed with all the input and output features you need for live sound production, along with onboard effects that allow you to retire that outboard gear and still be able to add some space and nuance to a mix.
Low-noise mic preamps
The ProFX16v2 uses ten Mackie Vita™ microphone preamps, each featuring a virtually noiseless Class A design, made specifically for live sound. Each mic input also features a low-cut filter to help remove the unwanted rumble and bleed of a live stage mix. You can assign individual channels to four separate submixes, giving you better control over multiple instruments and voices.
Effects onboard
Mackie's ReadyFX™ effects processor includes 16 performance-tested reverb, delay, and chorus effects to color the sound just the way you like it. You can plug in an optional footswitch so a player could activate or defeat an effect from the stage. You can assign a 7-band graphic equalizer to either the main stereo mix or a monitor mix so you'll have control over the front-of-house tone or any feedback issues in your monitor mix. The ProFX16v2 also includes one-knob audio compressors on four channels, to rein in and smooth out inconsistent dynamics.
Connects to computer with USB
Integrated USB connectivity makes 2-track digital recording and playback simple. For recording, the ProFX16v2 comes with Tracktion® music production software, but it'll also work with almost any DAW software. For playback, you can stream music directly from your laptop during breaks, for instance. A "Break" button mutes all mic and line inputs so you can play music through the PA while the band's off stage, without any unexpected noises coming from live channels.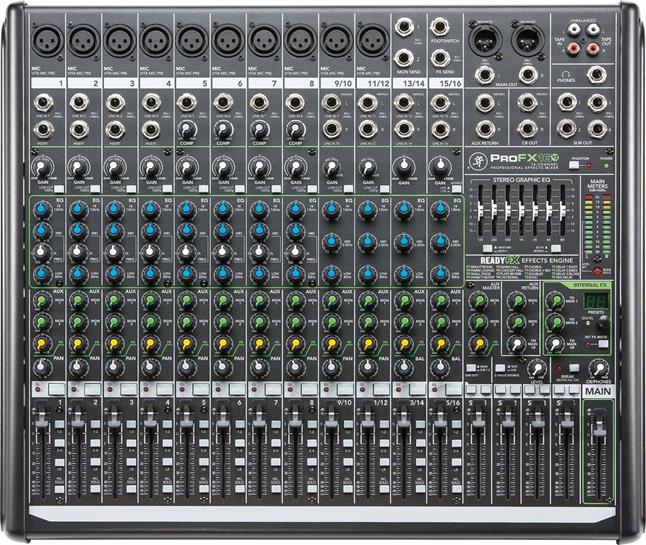 Product Highlights:
16-channel Mixer
channels 1-8:

mono mic/line inputs (XLR and 1/4" TRS)
switchable high-pass filter (100 Hz, 18 dB/octave)
insertion (I/O) jack on channels 1-4
one-knob audio compressor on channels 5-8

channels 9/10 and 11/12

mono mic and stereo line inputs (XLR and 1/4" TRS)
switchable high-pass filter (100 Hz, 18 dB/octave)

channels 13/14 and 15/16:

stereo line inputs (1/4" TRS)

switchable phantom power (+48 volts) on all mic inputs
3-band EQ on all channels

high: 12,000 Hz (shelving)
mid: tunable 100-8,000 Hz on chs 1-8, fixed 2,500 Hz on chs 9-16 (peaking)
low: 80 Hz (shelving)

OL (overload) lights on all channels
Special Features
Mackie Vita™ Class A microphone preamps
computer connectivity via USB (2-channel record and playback)
Tracktion® music production software included

compatible with Mac OS X 10.4.11 and later, and Windows XP, Vista, 7, and later

ReadyFX™ effects processor with 16 effects (reverb, chorus, delay)
Left/Right main outputs (XLR and 1/4" TRS)
3 auxiliary sends

Mon 1 and 2: pre-fader
FX: post-fader bus to effects processor and effects send

4 subgroups with direct outputs
7-band stereo graphic EQ on main mix or Mon 1 output
Break button mutes all channels but tape and USB inputs
General Features
LED output meter with peak indicator
PFL (pre-fader listen) for metering and monitoring individual channels
mute, pan, and stereo/group assignment controls on each channel
headphone and control room outputs
unbalanced stereo Tape (RCA) inputs and outputs
steel chassis
dimensions: 18-3/4"W x 3-13/16"H x 16"D
weight: 13 lbs.
warranty: 1 year
What's in the Box:
Mackie ProFX16v2 Owner's manual
16-channel Mixer
5' AC cable
6' USB cable (Type A USB on one end and Type B USB on other end)
Quick Start Guide
Software license card
Reviews
Mackie ProFX16v2 Reviews
Average Customer Review(s):


Submit a review and then enter to win a $350 rewards card
Review this product
Thanks for submitting your review
Most reviews are processed and published within 5 business days. You will receive a confirmation email once your review has been published.
Customer photos
Pros:
Cons:
Crutchfield response
---
Details
Features and Specs
General
Mic inputs
10
Line inputs
16 x 1/4"
Phantom power
+48V
Channel EQ
3-band
Master EQ
7-band
Monitors
2 x 1/4"
Effects
16 ReadyFX
Talkback
N
Height (inches)
3-13/16
Depth (inches)
16
Width (inches)
18-3/4
Weight
13 lbs
Product Research
Features
Overview: The Mackie ProFX16v2 is a professional 16-channel compact mixer with ten mic preamps and a USB interface. The Mackie ProFXv2 series mixers includes a new ReadyFX effects engine that instantly delivers your choice of 16 effects. In addition, the ProFX16v2 offers 60mm faders, 3-band equalization for each input, and a stereo 7-band Graphic EQ for the main or monitor mix. The mixer features a solid steel chassis with rugged ABS side panels. Included with the mixer is easy-to-use Tracktion recording software (via free download).
Main Inputs: The ProFX16v2 offers the following main inputs:
Vita Mic Preamps (Ch. 1-8, 9/10, 11/12): Mackie's all-new Vita microphone preamps are designed for live sound with higher fidelity and tremendous headroom. Channels 1-8, 9/10 and 11/12 are equipped with female XLR connectors that will accept balanced mic or line level inputs from almost any type of source. The mic inputs feature 48-volt phantom power from a single 2-way switch.
Mono Line Inputs (Ch. 1-8): In addition to female XLRs, the channel 1-8 inputs have 1/4" jacks that will accept line level signals from balanced or unbalanced sources. These 1/4" jacks share circuitry, but not phantom power with the mic preamps.
Stereo Line Inputs (Ch. 9/10, 11/12, 13/14, 15/16): These pairs of 1/4" jacks may be driven by stereo or mono balanced or unbalanced sources. They may be used with just about any professional or semi-pro instrument, effect, or tape player. If you are connecting a mono source, you should use the left (mono) input, and the mono signals will appear on both sides of the main mix. The level for each pair of stereo line inputs is adjusted with a single potentiometer. The last stereo pair (15/16) includes a switch that lets you select the USB input or the Line input.
Inserts: On channels 1, 2, 3, and 4, single 1/4" inputs are provided for connecting serial effects processors, such as compressors, equalizers, de-essers, or filters. The signal can go out of the insert jack to the external device, be processed, and come back in on the same insert jack. (The insert cable must be wired as follows: Tip=Send, Ring=Return, Sleeve=Common Ground.)
Setting Gain: Each input channel has a gain knob that lets you adjust the input sensitivity. Nearly every level control on the mixer features a "U" symbol to indicate "Unity Gain," or no change in the signal level. For line-level signals, you can adjust the input sensitivity between -20dB and +30dB. For mic signals (from the XLR connectors), the range of adjustment is 0dB to +50dB. For the hybrid channels (9/10 and 11/12), the gain control only affects the microphone input (0dB to +50dB). A low-cut switch on channels 1, 2, 3, 4, 5, 6, 7, 8, 9/10, and 11/12 cuts bass frequencies below 100 Hz at a slope of 18dB per octave. On the stereo channels 13/14, 15/16, the range of gain control is -20dB to +20dB, with no Level Set LEDs or Low-Cut Switch.
3-Band Equalization: Each of the inputs has 3-band equalization, with "low shelving," peaking mids, and "high shelving.". Shelving means the circuitry boosts or cuts all frequencies past the specified frequency. The mono channels 15dB of boost or cut at 80Hz and 12kHz, and a semi-parametric mid-sweep center frequency control between 100Hz and 8kHz. EQ knobs for the stereo channels 9/10, 11/12, 13/14, and 15/16 provide 15dB of boost or cut at 80Hz, 2.5kHz, and 12kHz. The "U" symbol indicates the center position (Unity Gain) where there is no change in the signal level.
Built-in Compressor: Each of the last four mono channels (5, 6, 7, 8) has an in-line compressor circuit with a variable threshold. You can use the compressor for vocals or drum microphones for more control. When the incoming signal exceeds the threshold level set by the compression knob, the signal level is automatically compressed. This reduces the dynamic range and reduces the chance of distortion due to overloading the input signals. The compression ratio is fixed at 6:1 and can be adjusted from Off (no compression) to 0dBu (maximum compression).
USB Input/Output: On the mixer's rear panel, the Type B USB 2x2 interface allows you to record two streams from the mixer, or input stereo playback from a computer. A Line/USB switch is provided on the last stereo channel to let you switch to the USB input, and control the level from -20dB to +30dB.
Tape In/Out: The ProFX16v2 offers both Tape Inputs and Outputs. The stereo unbalanced RCA inputs allows you to connect a CD or MP3 player or other line-level source. The level of the input signal can be controlled with a separate Tape Level knob. The stereo unbalanced RCA outputs let you record the main stereo mix onto a hard disk recorder or automatic CD burner.
Main Meters: The mixer's main peak meters include two columns of 12 LEDs, with three colors to indicate signal level ranges: green (-30dB to +3dB), yellow (+6 to +15), and red (+20 OL).
Main & Headphone Outputs: The ProFX16v2 analog mixer is fitted with XLR and 1/4" main outputs, as well as a 1/4" headphone output:
Main XLR Outputs: Two male XLR connectors on the mixer's front panel provide a balanced line-level signal at the end of the mixer chain. This fully mixed stereo signal can be sent to your main power amplifiers, powered speakers, or a serial effects processor.
Main 1/4"Outputs: Two 1/4" connectors provide balanced or unbalanced stereo line-level signals from the main mix for connecting to inputs of your powered speakers, main power amplifier, or to the next device in the signal chain, such as an external processor. This is the same signal that appears at the XLR Main outputs, but are 6dB lower.
Control Room (CR) Outputs: Left and right 1/4" outputs are provided to feed a stereo signal to a control room amplifier or headphone distribution amplifier.
Headphone Output: A single 1/4" TRS jack supplies the output to a pair of stereo headphones. It is the same signal that is sent to the main and tape outputs. The level of the CR and Headphone Outputs is controlled by a single CR/Phones knob.
Sub Groups: The ProFX16v2 offers four flexible sub groups that allow you to send the output of individual channels to the inputs of a multi-track recording deck or to secondary amplifiers. Each sub group has its own 1/4" output and separate fader control. You can assign each sub group to the left, right, or both side of the mix.
Channel Assign Switches: Beside each channel fader, you'll find three channel assignment switches that determine the destination of the channel's signal. Two-way switches let you assign the signal to the main mix (L-R), Sub Group 1-2, and Sub Group 3-4. The channel's pan knob (see below) determines how much signal is split between the left and right sides of the main mix, sub 1-2, and sub 3-4.
Pan/Balance: The ProFX16v2 allows you to adjust how much of the channel signal is sent to the left vs. the right outputs. When the knob is rotated fully left, the signal feeds the main left output, or the Sub 1 or Sub 3 busses (depending on the assign switches). With the knob panned hard right, the signal feeds the main right output, Sub 2 or Sub 4 busses (depending on the assign switches). The pan control has a Constant Loudness design which increases or decreases the signal when panning to maintain the same apparent loudness. Channels 13/14 and 15/16 have a Balance Control, similar to the Pan control of the other channels.
Stereo Returns: Two 1/4" jacks are provided as stereo (aux) returns for balanced or unbalanced signals. They allow the stereo processed output from an external effects processors or other devices to be added to the main mix. The level of the incoming signal can be adjusted with the Stereo Return (ST RTN) fader. These inputs can also be used to add any stereo line-level source to the main mix.
Internal Effects: The powerful new ReadyFX effects engine uses a floating-point DSP to deliver 16 effects that can be used to enhance any performance. A rotary dial and 2-digit numeric display let you choose between the following effects:
| | | | |
| --- | --- | --- | --- |
| 1. Bright Room | 5. Warm Hall | 9. Chorus | 13. Delay 1 (Fast) |
| 2. Warm Lounge | 6. Concert Hall | 10. Chorus + Reverb | 14. Delay 2 (Medium) |
| 3. Small Stage | 7. Plate Reverb | 11. Doubler | 15. Delay 3 (Slow) |
| 4. Warm Theater | 8. Cathedral | 12. Echo | 16. Pan Delay |
Aux Monitor/FX Sends: The ProFX16v2 features 2 Aux Monitor and 1 Aux FX Sends:
Aux Monitor Send: Stage monitors allow the musician to hear themselves clearly on stage. The monitor mix may be carefully adjusted in level using the Aux Mon controls on Channels 1, 2, 3, 4, 5/6, 7/8, 9/10, 11/12, 13/14, and 15/16. These tap a portion of each channel's signal to provide two 1/4" TRS outputs to feed external stage monitors. Each channel has separate level controls for Mon 1 and Mon 2. The controls are off when fully turned down, deliver unity gain (no change in level) at the center detent, and provides up to 15dB of gain when fully turned up.
FX Send: The Aux FX knobs tap a portion of each channel's signal to provide a FX mix feeding the internal FX processor, and to feed an external FX processor via the FX Send 1/4" connector. The controls are off when fully turned down, deliver unity gain (no change in level) at the center detent, and provides up to 15dB of gain when fully turned up. Effects are added to the main mix by increasing the level of the "FX to Main" knob. You can also add FX to each monitor mix by adjusting the "To Mon 1" or "To Mon 2" knobs.
FX Footswitch: A 1/4" TRS connector is provided for connecting a one-button, on/off footswitch to mute or un-mute the internal effects.
Graphic Equalizer: The ProFX16v2 offers a 7-Band Graphic EQ for the left/right main mix or for monitor 1. The EQ affects the line-level outputs, but not the headphone or tape outputs. It can be bypassed at the press of a button, if needed. Each slider lets you adjust the level of its frequency band with up to 15dB of boost or cut. The center detent indicates no change in level (0 dB). The frequency bands are: 125Hz, 250Hz, 500Hz, 1kHz, 2kHz, 4kHz, and 8kHz.
Applications: The Mackie ProFX16v2 is great for Live sound mixing, houses of worship, clubs, gyms, banquet halls, conference and board rooms, studio and field recording, video post-production, multimedia applications, broadcast, and many more.
Our Product Research Team
At Crutchfield, you'll get detailed, accurate information that's hard to find elsewhere. That's because we have our own in-house Product Research team. They verify what's in the box, check the owner's manual, and record dimensions, features and specs. We stay on top of new products and technologies to help people make informed choices.
Q & A
Customer Q&A
Crutchfield asked


Why did you buy this?
Recommended by adviser Roy as well as other items in this cart per our unique Bose 402 requirements.

[ Bron Feb 28, 2018 ]