Installing an Alpine system in a Camry
Two Crutchfield advisors add new gear to a 2007 Toyota Camry
In this article... I checked in with two of our new advisors while they worked on upgrading the audio system in Anthony's 2007 Toyota Camry. They went all in with Alpine gear, led by the unique Alpine Halo9 iLF-X309 car stereo.
e encourage our new advisors to work on upgrades for their own vehicles as part of their training. Anthony, one of our latest batch of rookies, jumped at the chance to overhaul the audio in his 2007 Toyota Camry with some help from fellow newbie, Carlos. Although they're new to Crutchfield, they're not new to car audio installations, so it was cool to get their take on the experience while they were working.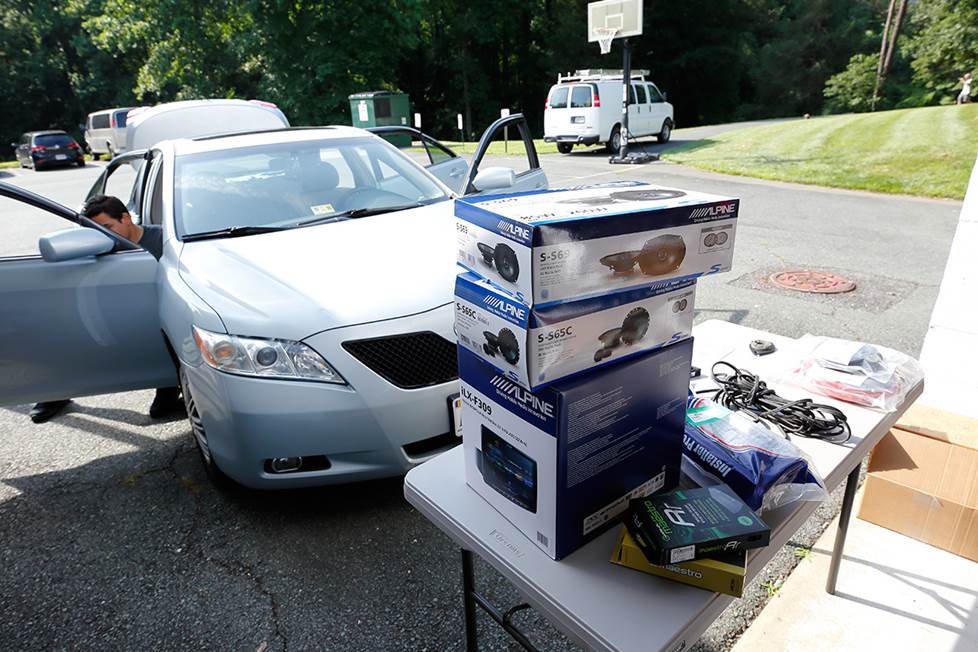 New Alpine audio gear waits to be installed.
Upgrading older gear for bigger sonic punch
Anthony already had aftermarket gear in his Camry, but he just wasn't getting the sound he wanted. So he decided to replace all the speakers, add a stronger 4-channel amplifier to drive them, and step up his bass with a 12" subwoofer and an amp to power it. To control it all, Anthony began with the impressive new Alpine Halo9 iLX-F309 digital media receiver.
The eye-catching "brains" of the system
What really caught my attention (lots of peoples' attention actually) was the amazing Alpine iLX-F309 receiver Anthony chose to head up his system. It boasts a 9" touchscreen display but fits into a 2" tall dash opening. Anthony referred to it as a "floating tablet", because he could adjust the height to clear his climate controls and tilt the display for better visibility.
It also provided the high-voltage preamp outputs that he needed to connect both of the amps he added to the Camry's system. Sophisticated tone controls let him adjust the crossover and level settings for his new Alpine speakers and subwoofer. Loaded with Apple CarPlay™, the Halo9 also supplied Anthony with the sources he wanted — all within a familiar interface. You can read Anthony's review of the Halo9 for a deeper look.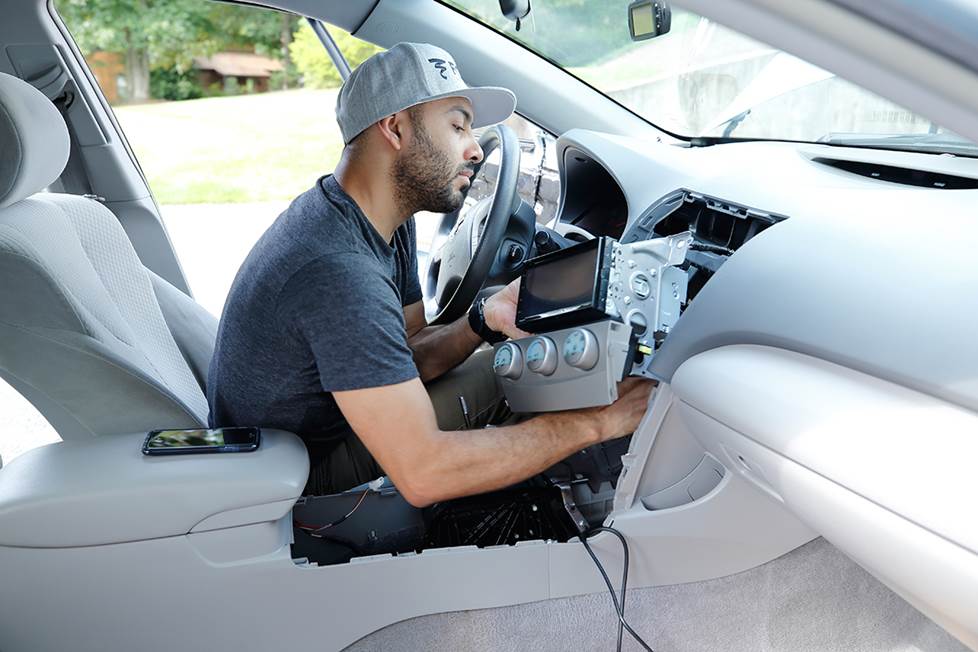 Carlos removes the old radio and climate control assembly.
Installing the Alpine stereo
The Halo9 receiver is a rather beefy receiver that requires support, so it only works in select vehicles in which the dash kit bolts into the subdash. Check out our OutfitMyCar application to see if your vehicle is compatible.
The other challenge for Carlos and Anthony was that the display's angle adjustments had to be made prior to installing the receiver in the dash. Luckily, they were able to remove the Camry's entire dash console, install the kit, and make the angle adjustments on the workbench. Once the adjustments were done and wiring was complete, they could install the entire dash console all at once.
Anthony and Carlos set the angle for the Halo9 receiver's display.
Anthony was also familiar with iDatalink's Maestro ADS-MRR radio replacement interface, which would let him take advantage of some pretty cool features to be used with the Alpine receiver. In addition to providing electrical and signal connections between the Camry's wiring and the Alpine stereo, the Maestro displays some of the Toyota's diagnostic information such as tire pressure, fuel efficiency, and electrical current. That last thing allows Anthony to keep tabs on the current draw when he shows off his system.
Moving to the speakers
Anthony stuck with Alpine when he chose the new speakers for his Toyota. He stayed within the same series for the front door and rear deck speakers, so they would be voice-matched and keep the sound cohesive throughout his vehicle. The Alpine S-S65C 6-1/2" component speakers bring outstanding soundstage imaging to the front seats, while the Alpine S-S69 6"x9" 2-way speakers provide some rear sound and mid-bass punch for the Camry's sound.
Component speakers take some planning and effort to install, but Anthony and Carlos found that the results were worth the effort. Component speakers are made to handle more power, so they deliver a richer, more accurate listening experience.
caption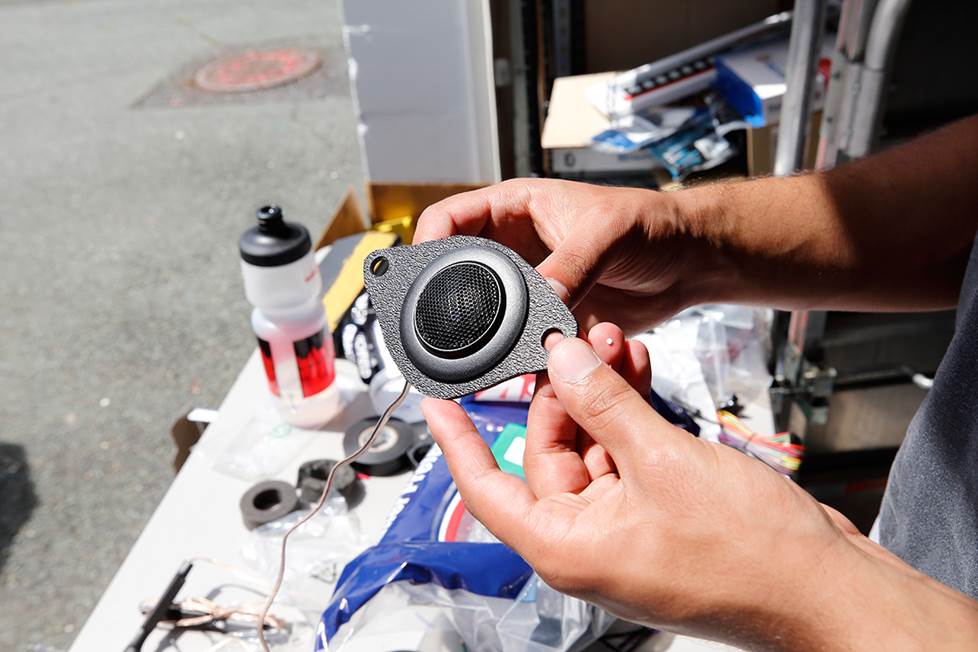 caption
A little creativity comes in handy when installing components, since the aftermarket tweeters are rarely a direct fit in factory tweeter openings...assuming there are any. Anthony and Carlos made their own brackets out of some ABS plastic, then cut them in the shape of the Camry's factory tweeter brackets and ground out a hole that would accept the Alpine tweeters. Pretty clever!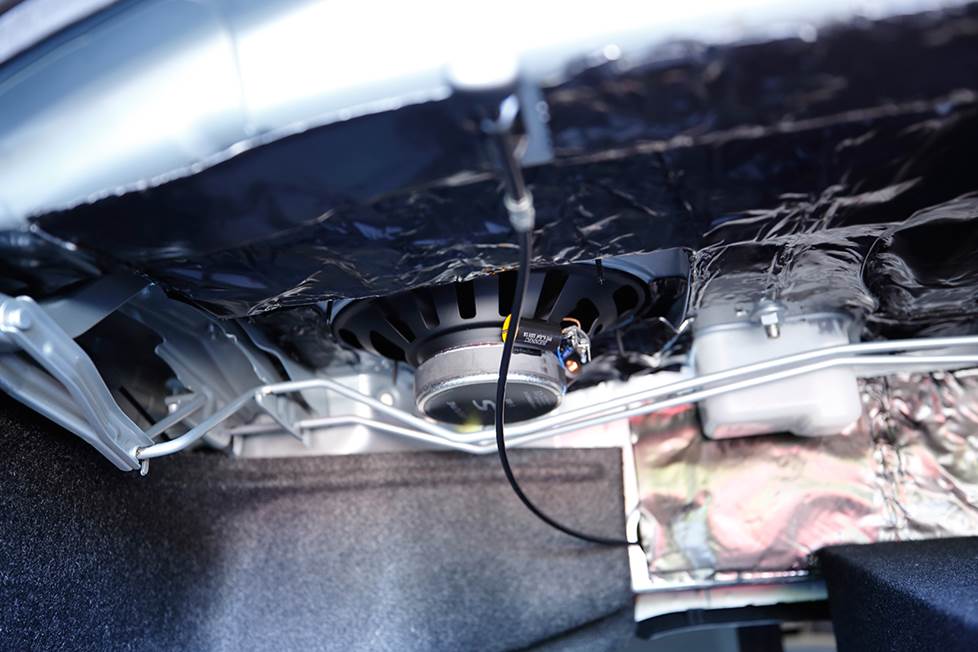 Anthony and Carlos had to re-drill screw holes to install the Alpine speakers in the rear deck.
"We had to drill new screw holes for the rear deck speakers. And since we added a new amplifier for the speakers, it was tough running wires to the front speakers, since they're in the doors."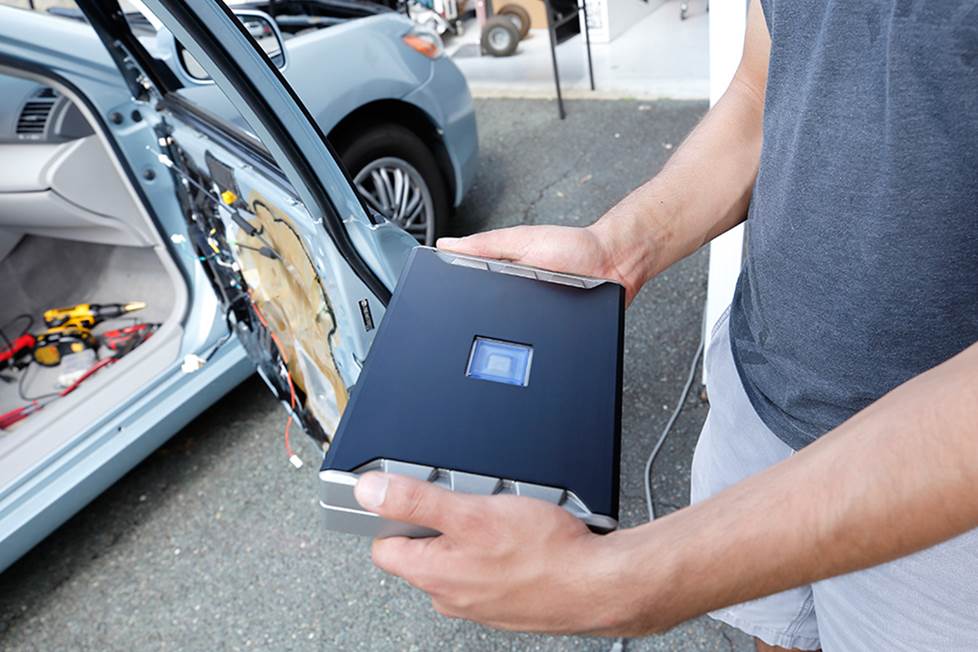 Anthony prepares to install the powerful Alpine PDR-F50 4-channel amplifier to drive his Alpine speakers.
Bring on the power with an Alpine amplifier
Component speakers generally need more power than a car stereo can deliver to sound their best. Anthony wisely chose an Alpine amp that matched the power handling of the speakers he installed. The Alpine PDR-F50 4-channel amplifier puts out 85 watts RMS per channel, which is perfect for the power handling capabilities of the new speakers.
With the upgrade in power, Carlos and Anthony also had to upgrade the wiring to handle the increased power and electrical draw. They used a 4-gauge Crutchfield amp wiring kit, Crutchfield Reference RCA cables, and 14-gauge speaker wire to ensure the speakers received a super-clean signal flow.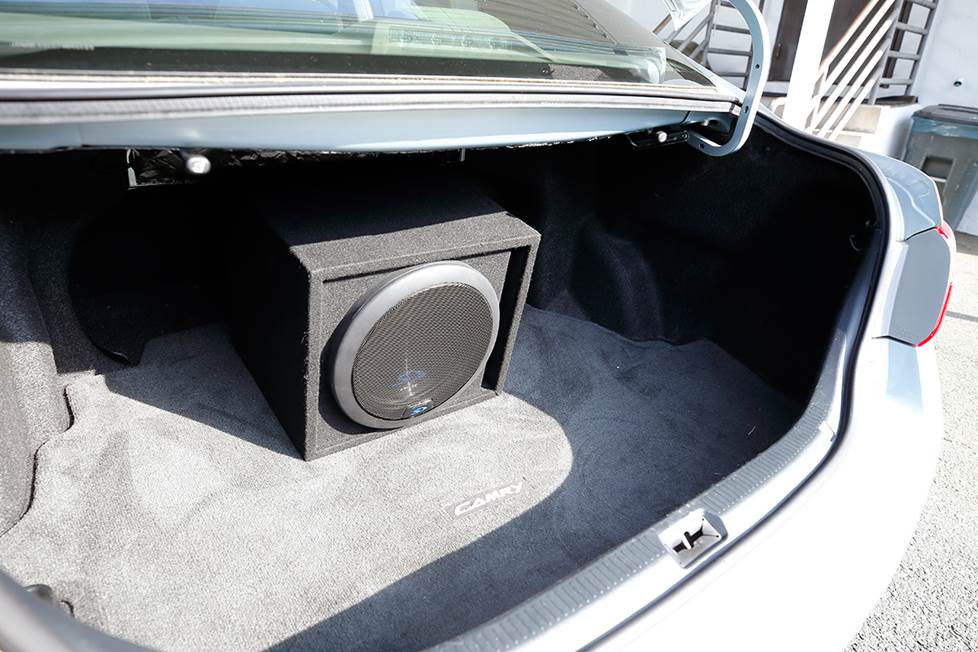 The Alpine SWS-12D4 12" sub offers dual 4-ohm voice coils, which lets Anthony wire it in parallel for a 2-ohm load and more power.
Adding some boom with a subwoofer
One thing Anthony's original system didn't have was a subwoofer. To add some low-end thump to the system, Anthony chose an Alpine SWS-12D4 12" sub. This sub has dual 4-ohm voice coils, so Anthony wired it in parallel to a mono sub amp. That dropped the impedance load to 2-ohms and boosts the power to give some serious push to the subwoofer's driver. This diagram shows how he wired the sub to the amp.
[Find out how to properly wire your subs to your amplifier]
Like many people, Anthony is building his car audio system in stages – a few pieces at a time. Currently, he is using an older JBL amp to power the subwoofer. His next upgrade will be to replace that amp with the Alpine PDR-M65 mono amp. It'll deliver 650 watts to his Alpine sub.
Final thoughts
Anthony really digs the improved sound in his Toyota, and it's not just about the volume increase. The tone controls and amplifier also offer a much tighter sound for all his music. He loves the look of the receiver in his dash, and he really enjoys using the sound-shaping controls to fine-tune the system. For him, the work was worth the result.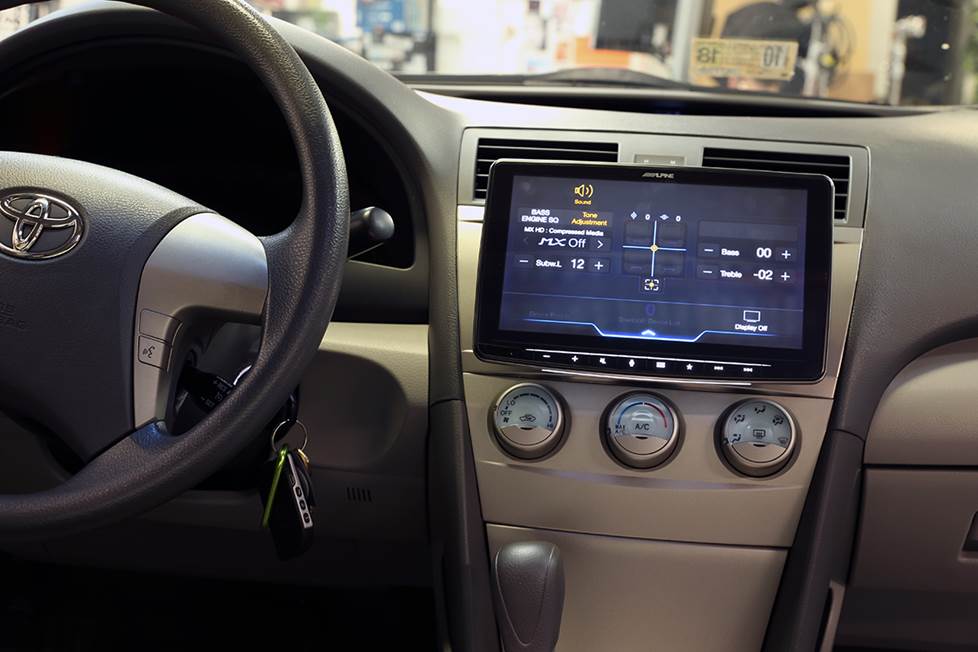 The Alpine Halo9 stereo looks great in Anthony's dash, and the bottom accent lights illuminate his climate controls.
Ready to install your own audio system?
Our expert Advisors have answers to your questions and can set you up with everything you need. Call, email, or chat with us today. Free lifetime tech support is included with every Crutchfield purchase.
Last updated 8/15/2018
Ask an expert advisor
No pressure, no commission — just lots of good advice from our highly trained staff.
Featured Products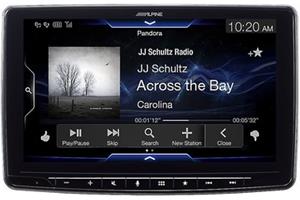 $899.99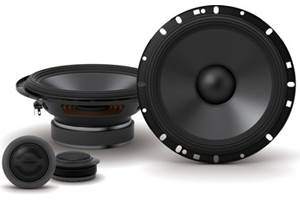 $129.99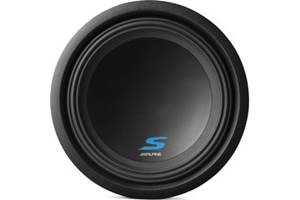 $149.99