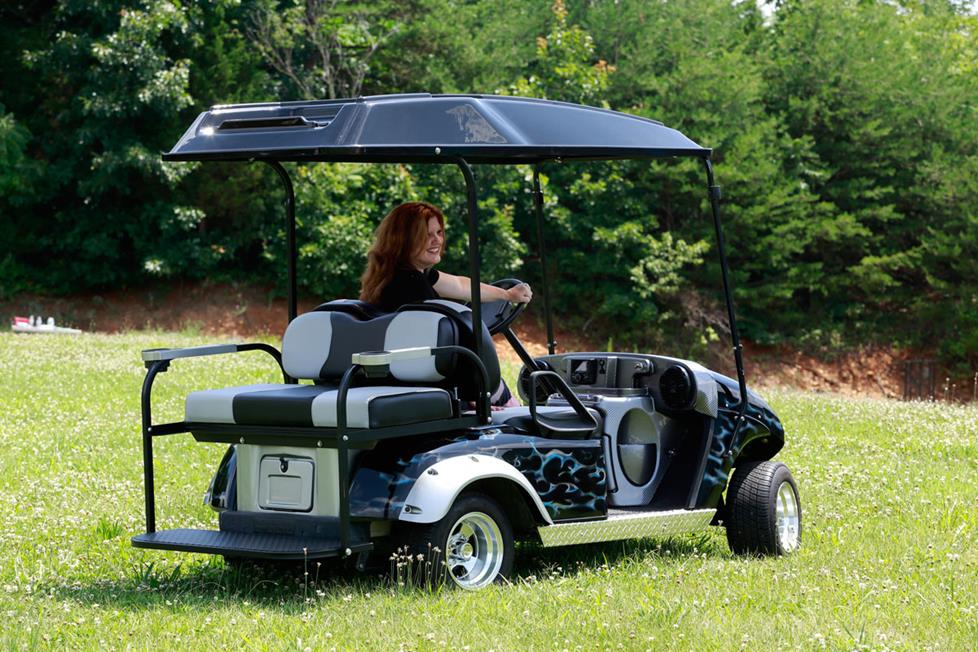 In a nutshell: Thinking about adding a stereo to your golf cart? In this article, we'll show you the the cool custom dash consoles and audio systems available for Club Car Precedent and E-Z-Go TXT carts.
Golf carts aren't just for the "back nine" these days — they're almost as likely to be found driving around the back forty. You'll also find them in neighborhoods, campgrounds, racetracks, or anyplace else where a car is too big, an ATV is too loud, and walking or biking (while good for you) aren't the most efficient ways to get around.
It's almost unfair to call them "golf carts" anymore, because they're used by so many people for so many purposes. Golf carts (for lack of a better term) are also being personalized, customized, and modified by owners who want a cart that's uniquely theirs.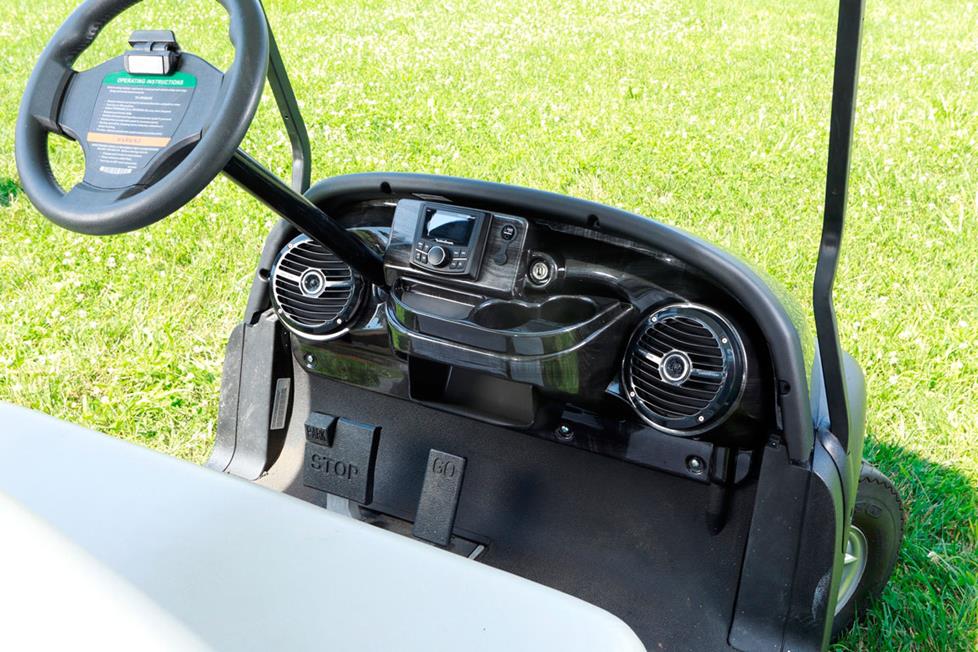 This custom golf cart dash kit fits right into your Club Car Precedent. You can order a complete package, or order an unloaded dash and add your own stereo gear. (Crutchfield Photo)
Made in Virginia, made for your golf cart
VIP Golf Cars makes some of the best golf cart accessories around, and they're located just up the road from us in Elkton, Virginia. They designed these rugged ABS plastic dash consoles to fit Club Car Precedent and E-Z-Go TXT carts.
These custom audio kits are available with your choice of audio systems from Boss, Dual, and Rockford Fosgate. Our golf cart stereo systems come with everything you need to bring big-time sound to your Club Car or E-Z-Go, with a receiver and speakers, wiring and an antenna. Choose the system you want, and you can save $50 on the dash kit that fits your cart.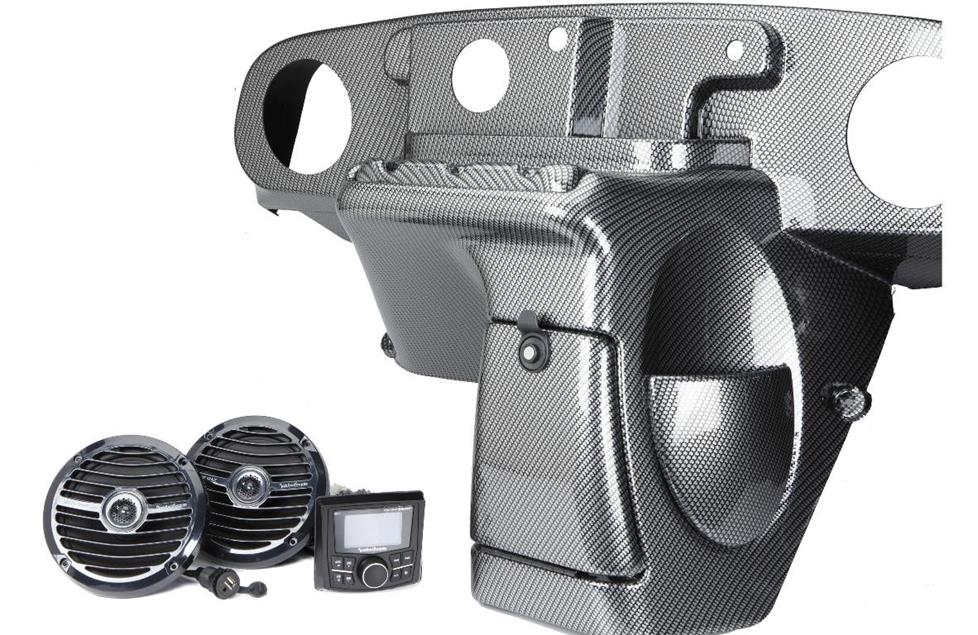 When you order an audio system form Crutchfield, you can save $50 on the dash kit that fits your E-Z-Go TXT golf cart. (Crutchfield Photo)
Or, add your own stereo to your golf cart
If you already have the car stereo gear or just want different options, the unloaded dash kits come with either a precut gauge-style or single-DIN (2" tall) opening for the stereo of your choice, plus two 6-1/2" cutouts on either side for a pair of speakers. Available in Carbon Fiber, Carbon Fiber Weave, or Greywood finishes, they're easy to install, look great, and stand up to life in the great outdoors.
If you choose this route, we recommend choosing a marine-rated stereo and marine-rated speakers that'll stand up to outdoor conditions.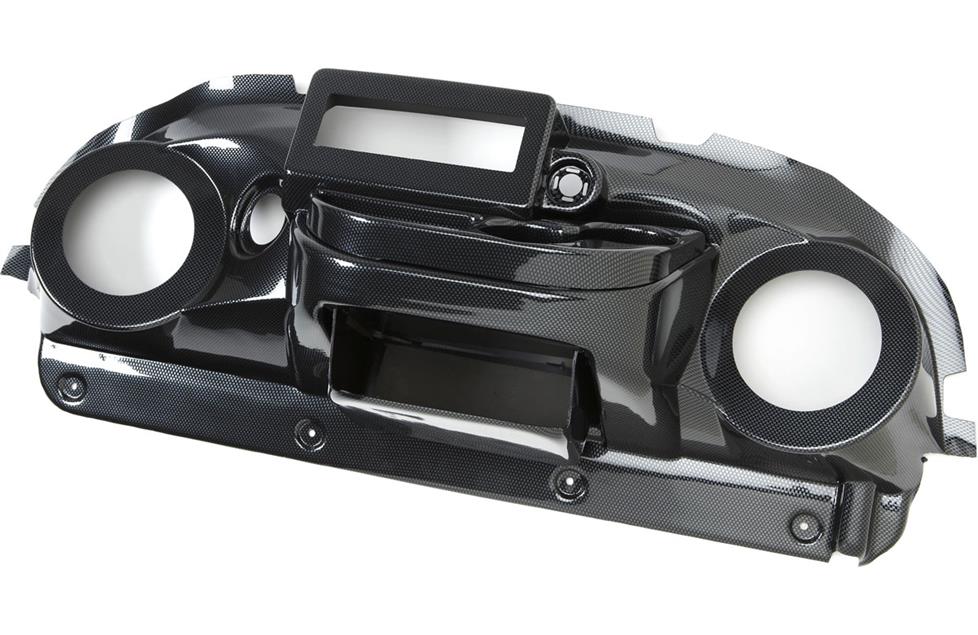 You can choose unloaded consoles with single-DIN (above) or gauge style openings. They're available in three colors. (Crutchfield Photo)
Easy installation for your golf cart stereo
Each dash console is styled to match your cart and designed to replace the stock dash with minimal stress and effort. You can install the kit and the audio gear using basic hand tools, so it can be a fun DIY project. The receiver, speaker, steering shaft, ignition key, and USB/AUX jack openings are pre-cut, but if you need to add switches for additional gear (extra lighting, battery meters, etc.), there's space available.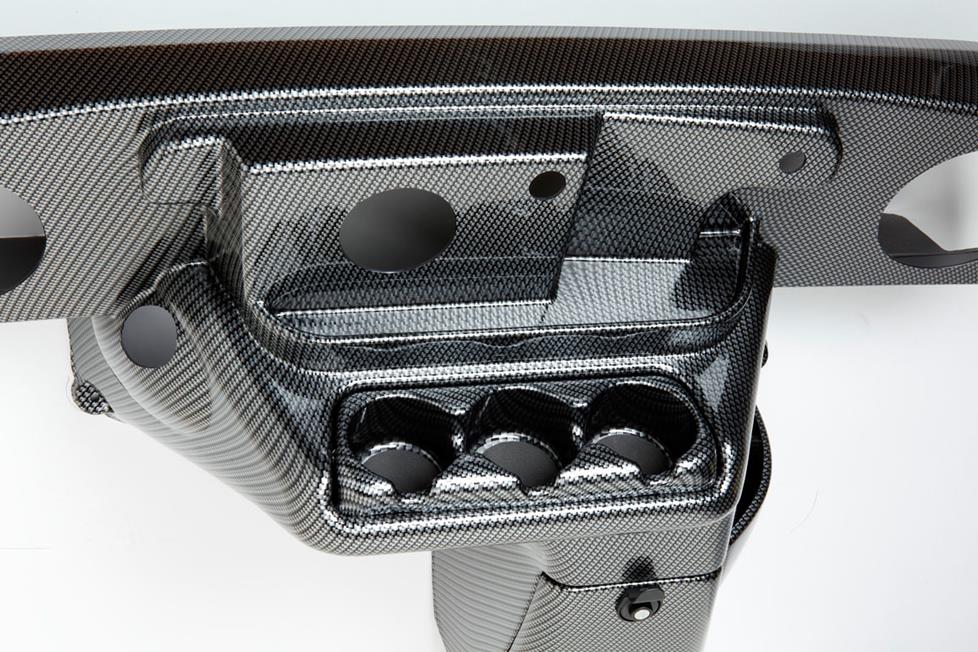 This E-Z-GO TXT kit has a gauge-style receiver cutout and plenty of cupholders. There's also storage underneath. (Crutchfield Photo)
Customize your cart to suit your tastes
With cupholders, a storage tray, and an under-dash cubby for other gear, you'll enjoy improved functionality along with outstanding sound. You can also accessorize your cart with a phone mount (sold separately), which will keep your device secure even when you're on rough trails or uneven terrain.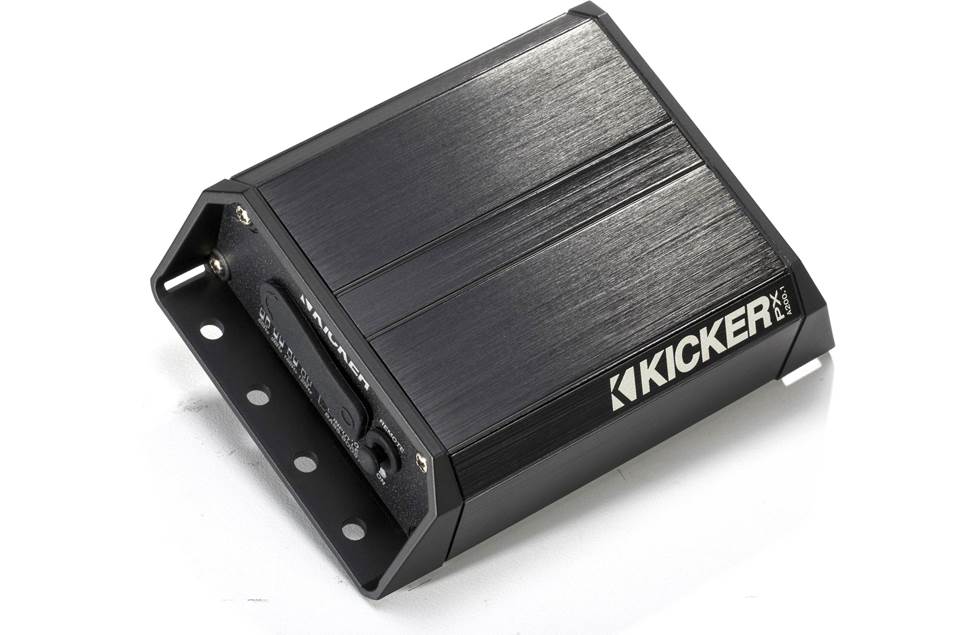 Need more bass on your cart? This compact Kicker mono amp has the power you need for the sub you want. (Crutchfield Photo)
The start of something special?
If you're really into sound, you know that a dash kit and a set of speakers is often just the jumping-off point for a truly amazing golf cart stereo system. It happens in cars, trucks, boats, and homes, so why wouldn't it happen here? You can add more speakers, a compact, all-weather amplifier or two, and even a subwoofer. If you can dream it up, we can help you make it a reality.
We're here to help
Ready to crank up the sound on your cart? Give us a call. Our expert advisors can help you find the audio gear and accessories you need for your golf cart. And when you buy your gear at Crutchfield, you'll get free tech support for the life of the product.