In a nutshell: To set up your own backyard theater, you'll need the following ingredients:
Read on to see how it all goes together.
grew up in a small desert town that had a few drive-in theaters, but only one "walk-in" theater. So until I moved away for college, I saw most movies from the cargo bed of a parked pickup truck, with the stars shining overhead.
I still like watching movies outside in the fresh air, and while I haven't hosted any outdoor movie nights at my house, I've helped with the setup for a few at friends' homes, and I wanted to share some of the things I've learned.
Lending a hand with Jason's movie party
Crutchfield's fun-loving art director, Jason, has been hosting movie parties in his backyard for years.
"After seeing a friend's outdoor movie setup, I wanted to try it," Jason told me. "First I borrowed his equipment, but after a few parties I got tired of lugging it over to my house. I bought a cheap screen, but it was a pain to set up."
When Jason announced his most recent movie party, a few of us invited ourselves over and brought some new gear to simplify the setup and ramp up the fun.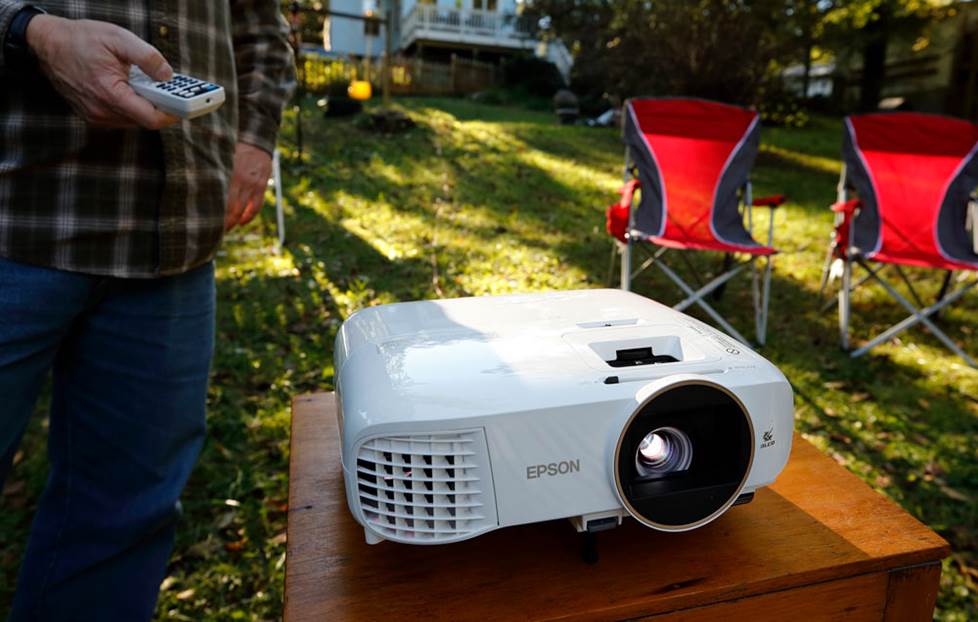 This Epson projector has loads of light power, and that makes it great for outdoor movies. You won't have to wait until it's fully dark to start your movie.
Step 1: The projector
Jason had previously borrowed a friend's low-cost projector, which was really made for showing PowerPoint presentations at work. So we brought a compact Epson Home Cinema projector that's designed for watching movies.
These projectors can get pretty bright. They deliver punchy contrast with accurate, lifelike colors, and can produce a clean, crisp picture on a huge screen, even in less-than-total darkness.
Outdoor movie projector tip
A projector's light output is measured in lumens, and for outdoor viewing you should look for a projector with at least 2,000 lumens.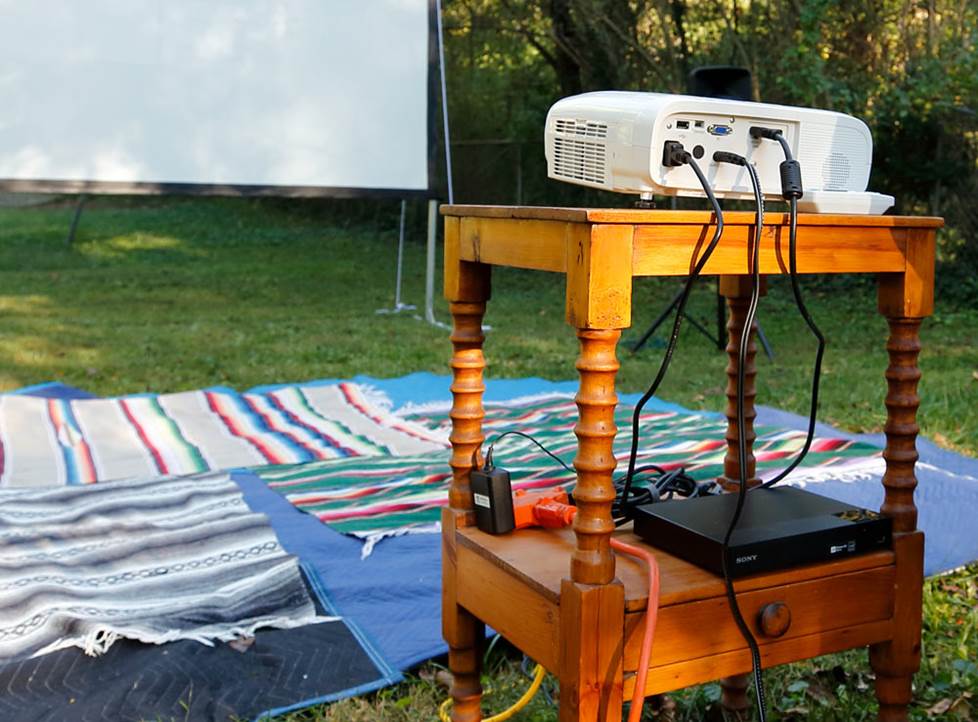 Sony's compact BDP-S6700 Blu-ray player does a great job playing discs, and has built-in Wi-Fi® and streaming apps for Netflix® and Amazon.
Step 2: The video source
For outdoor setups, especially with a large screen, high-definition sources will ensure a sharp picture. Blu-ray disc is one of the best options, and Jason already owned a Sony Blu-ray player that was the perfect source for his backyard theater.
If you want to minimize cable clutter and stream video wirelessly, you could use a high-quality streamer like a Roku box, Apple TV, or a Blu-ray player with built-in apps (like Jason's Sony).
Tip
If you plan to stream a movie, make sure your Wi-Fi network can maintain a robust signal at the spot where you'll set up.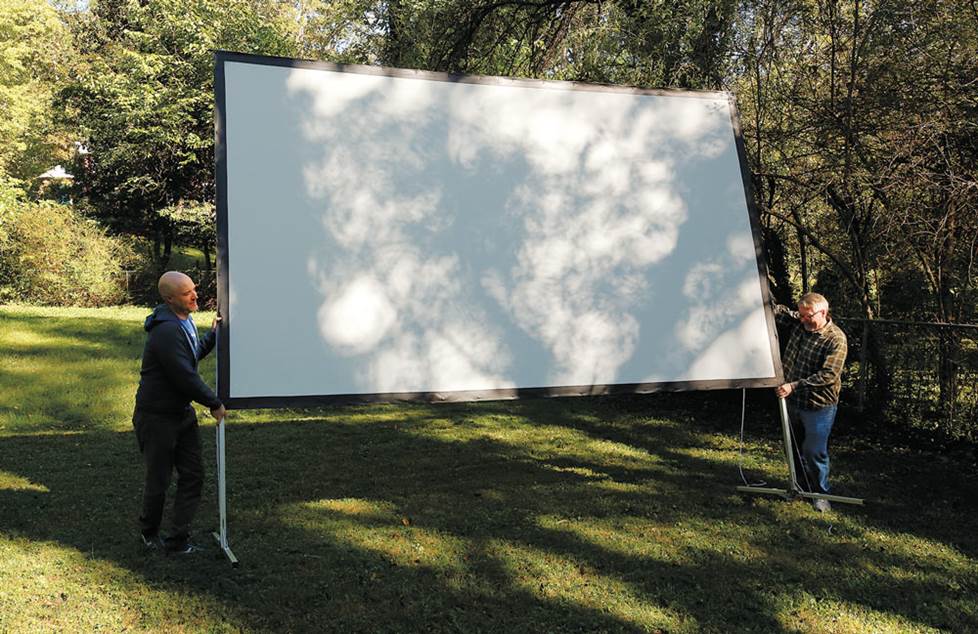 Some of Elite's smaller Yard Master screens can be assembled and set up by just one person, but this 150" screen was much easier to handle with two people.
Step 3: The BIG screen
When it comes to screens, bigger is better. Jason had purchased a large screen a couple years ago, but said it was a real hassle to set up. So Elite Screens generously provided us with one of their Yard Master 2 Dual portable outdoor screens.
Some of the smaller-sized Yard Master models can be assembled and set up by just one person, but the 150" screen we used was much easier to handle with two people.
One of the cool aspects of Elite's Yard Master 2 Dual screens is that the bi-directional material means you can use the screen for either front or rear projection.
Front projection — where the projector is in front of the screen — is the typical arrangement, and it's how we did it, partly because our equipment was set up over 100 feet from our AC power source on Jason's deck, and projecting from the rear would have added another 40-50 feet of distance.
With rear projection, the projector is placed behind the screen and the image is projected through the screen material. This way, folks watching can stand up and move around without creating shadows on the screen. And you don't have to deal with cable clutter in your viewing area.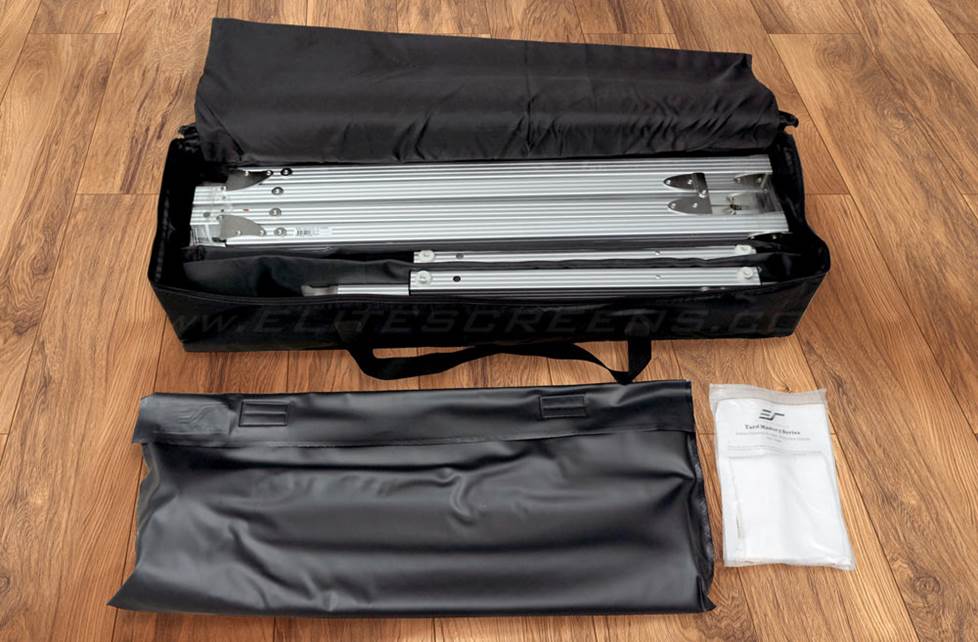 One of the best things about the Yard Master screens is that they come packed in a soft bag that's easy to carry.
Tip
Do yourself (and your guests) a favor and plan on using a projector screen. Even an inexpensive screen will provide a picture that looks way better than projecting onto a bed sheet.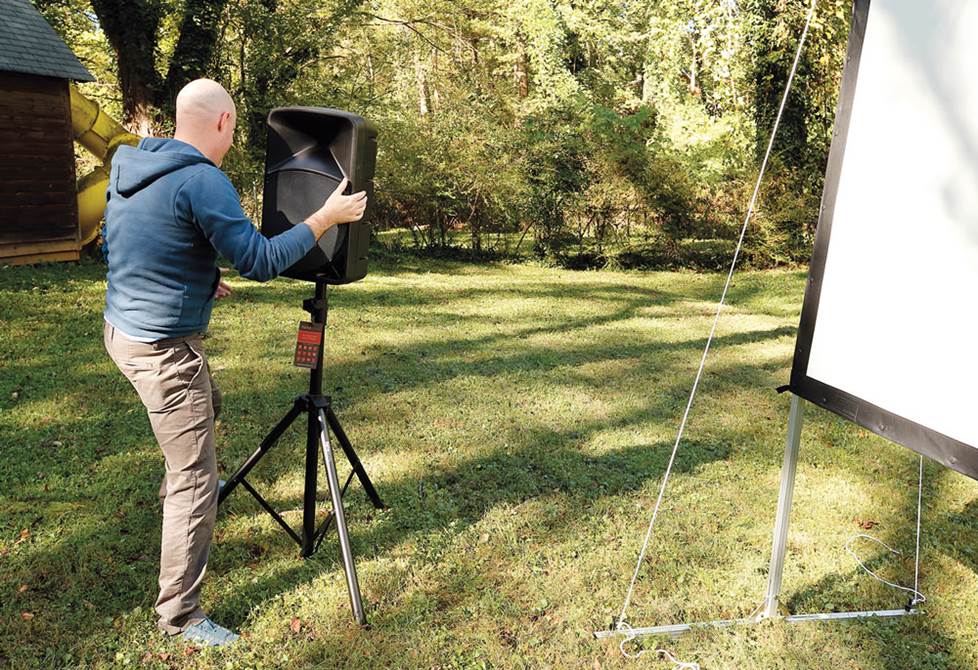 Jason's sound system featured a pair of Behringer powered PA speakers. It took only a few minutes to hook them up, and they delivered powerful sound that filled the backyard.
Step 4: Sound
What's the best audio option for outdoor home theater? After trying a few different approaches over the years, I'd recommend a pair of powered PA speakers.
Jason had recently upgraded his sound setup to a pair of Behringer 1000-watt powered PA speakers. Mounted on a pair of Gator Frameworks speaker stands, they created a huge soundstage that synced nicely with the jumbo-sized image, while the 12" woofers pumped out impactful bass.
As is typical for PA speakers, the Behringers featured XLR inputs rather than standard RCA or minijack inputs. So, from the projector's minijack audio output, we connected a mini-to-XLR adapter cable, then connected that to a pair of microphone cables with XLR connectors to plug into the Behringers.
Those speakers sounded great with music, too. While we waited for it to get dark enough to start the movie, Jason paired his phone to the Bluetooth® enabled speakers, and moments later, one of his indie rock Spotify® playlists filled the backyard.
Speaking of Bluetooth, Jason's Blu-ray player had built-in Bluetooth, so we could have streamed the music and movie sound wirelessly to the PA speakers. But wired connections offer superior sound quality and stability, so that's what we went with.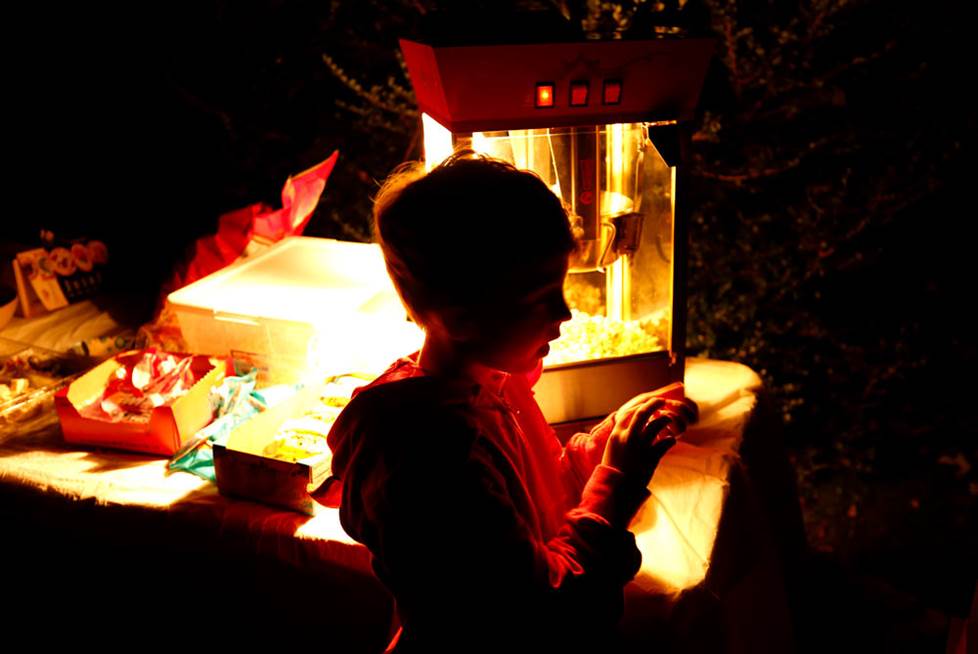 When it comes to movie snacks, it's all about what you like. For Jason's party, we borrowed Crutchfield's popcorn machine, which was a fun touch.
A few closing tips
Make sure you have some decent-quality long extension cords and a power strip for your gear. For Jason's setup, we needed one 150-ft. extension cord to the projector and player, plus two 50-ft. cords to the powered speakers. Try to use a heavy-duty power strip like the Furman SS-6B PRO.
Remember: It needs to be dark to see a crisp, colorful picture, so plan your start time accordingly.
Use blankets and tarps to cover cables so people won't trip over them in the dark.
Personalized advice from our team of experts
Need some help choosing equipment for your backyard theater? Our expert Advisors know the gear inside and out. Contact us today.
Free lifetime tech support is included with every Crutchfield purchase.