Alpine IVA-W505
DVD receiver
Item # 500IVAW505 | MFR # IVA-W505
This item is no longer available.
Overview
Our take on the Alpine IVA-W505 by Crutchfield's Ken Nail
A touchscreen command center for your dash
The Alpine IVA-W505 DVD receiver doesn't just look good in the dash — it's your control center for a full-featured audio/video system that'll define your ride.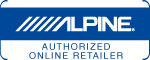 ---
Audio excellence
It starts with the sound. A high-resolution 24-bit digital-to-analog converter delivers clean, crisp sound, imparting a sense of realism that makes your driver's seat the best seat in the house. The built-in amplifier punches out a healthy 18 watts RMS by four channels, or you can upgrade your power to 45 watts RMS x 4 channels by adding Alpine's TP-445 Power Pack. Tweak your system to perfection with Alpine's optional PXA-H100 IMPRINT™ audio processor and the KTX-H100 tuning kit. The IMPRINT measures your car's acoustics and adjusts the stereo's settings automatically to create a perfect the perfect listening space.
Informative display
The intuitive 7" touchscreen offers two display modes, "Professional" and "Stylish," giving you a choice of how much information you'll see on the screen. You can view DVDs on the screen while you're parked, and you can connect a back seat monitor so your passengers can enjoy movies while you're driving.
---
Navigation and other options
The IVA-W505 offers expansion options galore. Just flip down the motorized faceplate, slide Alpine's NVE-P1 navigation module into its dedicated dock, then enter your navigation commands and view maps right on the touchscreen. The NVE-P1 has built-in Bluetooth® so you can enjoy hands-free calling with your compatible cell phone. Add Alpine's Bluetooth adapter if you're not using the NVE-P1.
Connect thumb drives or disk drives loaded with music files to the built-in USB input, and take thousands of tunes on the road with you. Add Alpine's high-speed iPod® adapter to enjoy access to your favorite playlists, or add an HD Radio™ tuner or satellite radio for more listening options.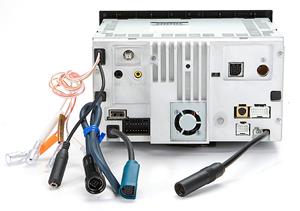 The IVA-W505 comes equipped with an optical digital output — add a sound processor and amplifiers to bring true 5.1-channel sound to your movies. An A/V input gives you the freedom to add a gaming system or other video device, and you can hook up a rear-view camera to keep tabs on what's behind your vehicle.
---
Note: If you're going to use your iPod with this receiver, be sure to check Hands-on Research for specific iPod model compatibility with this receiver or its optional iPod adapter.
Note: Sorry, Crutchfield cannot ship Alpine products to Guam or Puerto Rico.
Product Highlights:
General features:
DVD/CD receiver with 7" touchscreen and internal amp (18 watts RMS/50 peak x 4 channels)
fits double-sized dash openings
remote control
audio/video features:
plays DVD Video (including two-layer), DVD-R/RW, DVD+R/RW, DVD-Audio (including two-layer), Video CD, CD, and CD-R/RW
plays MP3, WMA, and AAC files on CD and DVD
Dolby Digital and DTS 5.1 digital output via optical cable to optional processor — 2-channel down-mix of Dolby Digital and DTS 5.1 with internal amp
compatible with Alpine's PXA-H100 IMPRINT audio processor and KTX-H100 tuning kit
Expandability:
dedicated dock for control of NVE-P1 navigation module (not included)
built-in iPod control via USB input or with optional Full Speed connection cable
compatible with Alpine Bluetooth adapter, HD Radio tuner, satellite radio, CD changer, navigation module, and surround-sound processor
inputs: USB input, A/V input, rear camera input
outputs: A/V output, optical digital output, 6-channel preamp output (front, rear, subwoofer)
Other information:
compatible with most factory steering wheel audio controls (adapter required)
warranty: 1 year
What's in the Box:
Alpine IVA-W505 Owner's manual
2-DIN Multimedia Receiver with 7.0" widescreen LCD monitor
Sleeve (installed)
Trim ring
Power harness (has in-line 10A fuse and fuse holder)
Pre-amp output harness
A/V input/output harness
78" USB cable (female USB type A on one end and proprietary Alpine plug on the other)
78" A/V extension cable (male mini-plug on one end and female mini-jack on the other)
1' iPod dock to USB/mini-plug adapter cable
RUE-4203 wireless remote control
1 CR2025 lithium battery
2 Removal keys
8 Pan-head machine screws (M5x8mm)
6 Countersunk machine screws (M5x8mm)
2 Adhesive seals
2 Navigation slot cover machine screws (M2x4mm)
Owner's Manual CD-ROM (English/French/Spanish)
Quick start/Wiring guide (English/French/Spanish)
Customer Care Registration card
CD-ROM Requirements/ Instructions
Note on removal of optional navigation system
This have to be one of the best head unit of all the other alpine head units i have owned. GREAT, GREAT JOB ALPINE. This head unit going to be a big hit.

Everett, Clinton MD
Reviews
Alpine IVA-W505 Reviews
Average Customer Review(s):


Submit a review and then enter to win a $350 rewards card
Review this product
Thanks for submitting your review
Most reviews are processed and published within 5 business days. You will receive a confirmation email once your review has been published.
Customer photos
Pros:
Cons:
Crutchfield response
---
Details
Product Research
Overview: The Alpine IVA-W505 is a 2-DIN multimedia head-unit featuring an integrated 7.0" widescreen display designed to easily mount flush in many double-DIN dashes of today's automobiles. The IVA-W505 is equipped with a built-in DVD/CD player, AM/FM tuner and navigation dock for optional Alpine Blackbird portable GPS unit while allowing you to connect to multiple audio/video sources with an abundance of convenient features that give you full control from one central touchscreen.
Display Features
AM/FM Tuner
DVD/CD Playback
External Device Connection
Audio Section
Sound Processing (with optional PXA-H100)
Remote Control
Display Features
Motorized 7.0" Wide Touchscreen Display: The IVA-W505 has a motorized 7.0" touchscreen monitor (with 16:9 aspect ratio) that serves as a video monitor and system information display. The unit's touchscreen provides audible and visual confirmation of commands. For better visibility you can adjust the monitor's angle; choose flat or one of five settings angled upward.
Video Lock-out Feature: For safety and legal reasons, the IVA-W505 features a video lock-out feature to prevent the viewing of a video source while the vehicle is in motion. To watch a video source, the vehicle must be parked with the ignition in the ACC or ON position. The vehicle's parking brake must be engaged, disengaged, and engaged again while the foot brake is held in.
Display Modes: You can select one of the following display modes:
Mode 1 (Wide): evenly stretches a 4:3 picture horizontally to fit the wide screen monitor
Mode 2 (Cinema): displays a 4:3 picture by stretching out the picture horizontally and vertically; good for displaying a cinema-type picture with a 16:9 ratio
Mode 3 (Normal): displays a 4:3 picture at the center of the screen with a vertical black band at each side
TV Screen Mode: This feature allows you to select the viewable aspect ratio of the IVA-W505's screen to match the source being played. You can choose from 4:3 Letter- Box, 4:3 Pan-Scan, 16:9 Wide-Screen.
Visual EQ Mode: You can select one of the following preset modes suitable for the subject image:
Night Mode: suitable for movies in which dark scenes frequently appear
Soft: suitable for animated films
Sharp: suitable for old movies where images are not clearly shown
Contrast: suitable for recent movies
User Memory (P-1, P-2): change and save Brightness, Color, Tint, Contrast, and Sharpness values of -15 to +15 from any of the presets in up to two user memories
Illumination Control: You can select one of the following dimmer settings:
Auto: adjusts the brightness of the background illumination of the monitor depending on the ambient light in your vehicle
On: keeps the background illumination of the monitor dark
Off: keeps the background illumination of the monitor bright
Button Lighting Dimmer: You can adjust the brightness of the button lighting at night from -2 to +2.
Background Screen: You can choose different background textures for the display. When Auto Background is activated, the background texture will change each time the ignition key is turned off and turned on again.
Background Data Download: You can download wallpaper from Alpine's website to a CD-R or CD-RW, then upload and store the wallpaper in the IVA-W505.
Blackout Display Mode: When the Blackout mode is activated, the display turns off to reduce power consumption. The additional power made available by turning off the display helps enhance sound quality.
AM/FM Tuner
AM/FM Tuner: The unit features a built-in AM/FM tuner with two FM bands and one AM band.
Preset Tuning: You can preset up to six stations for each band giving you a total of 12 FM presets and 6 AM presets. The unit's tuner can also automatically seek and store six strong stations in a selected band in order of signal strength.
DVD/Video CD Player
Compatible Discs: The unit's integrated disc drive will play back the following disc types - DVD Video (including two-layer), DVD-R/RW, DVD+R/RW, DVD Audio (including two-layer), Video CD, CD, and CD-R/RW.
MP3/WMA/AAC Playback: This unit can play CD-R/RW, DVD-R/RW and DVD+R/RW discs containing MP3, WMA, and AAC files recorded using the ISO 9660 Level 1 or Level 2 formats; constant and variable bit rates from 32 kbps to 320 kbps are supported for MP3, 48 kbps to 192 kbps for WMA, and 16-320 kbps for AAC. Recordings made using Track At Once or packet writing cannot be correctly played back. ID tags are supported; track title, artist name, and album name up to 128 characters.
Pre-stop Function: When the Pre-stop function is used, the position at which playback is stopped is stored in the memory, and playback resumes from that position.
Step/Slow Motion Playback: When a DVD or Video CD is in the pause mode, you may move forward through the program being played one step (frame) at a time, or in one of the following slow motion speeds: 1/2 or 1/8. When playing a DVD or CD, you can use slow motion playback in the reverse direction. No audio is played during slow motion playback.
Fast-Forward/Fast-Reverse: While a DVD or Video CD is playing, you can view the program in double speed in either direction by touching and holding the fast-forward or fast-reverse button on the touchscreen for more than 1 second. If held for 5 or more seconds, playback at 8x speed in the selected direction will begin. If held for 10 or more seconds, playback at 21x speed will begin.
Repeat Playback: When playing a DVD, you can repeat the current title or the current chapter. When playing a Video CD, you can repeat the current track or the entire disc.
Multi-Angle Display: This function allows you to choose the viewing angle of scenes that were shot from a number of different angles.
Note: This function is limited to DVDs recorded with multiple camera angles.
Parental Lock: Parental Lock allows you to restrict the playback of DVDs that are unsuitable for younger viewers. You can select a parental lock rating from 0-8, which is protected by a 4-digit password.
External Device Controls
Audio/Video Input: Stereo RCA jacks, an RCA composite video jack, and an S-video jack are provided for connecting an external video source such as a VCR, DVD player, or video game.
Audio/Video Output: Stereo RCA jacks and an RCA composite video jack are provided for feeding A/V signals to an optional video monitor(s). When the Rear Entertainment Function is used and these jacks are connected to a rear seat entertainment system (e.g. a rear seat monitor and wireless headphones), your rear seat passengers can view/listen to a different source than the one selected for the front passengers.
Rear Camera Input: A single composite video input is provided for an optional rear-view camera. If a rear-view camera is connected, you should also connect the reverse lead to the vehicle's back-up lamp circuit. When properly connected, the image from the rear-view camera appears on the monitor when the vehicle is shifted into reverse.
Navigation: The IVA-W505 allows you to dock Alpine's NVE-P1 navigation drive (500NVEP1, sold separately) inside the unit behind the slide-down video display, above the CD/DVD slot (a plastic panel over the dock opening needs to be removed before installing the NVE-P1). The NVE-P1 easily adds navigation to your system, without wiring another component. Additionally, the NVE-P1 gives you wireless Bluetooth capability using the supplied microphone (supplied with the NVE-P1). The IVA-W505 is also compatible with Alpine's outboard navigation system, the NVE-M300 (500NVEM300, sold separately).
iPod Interface: The IVA-W505 allows you to connect an iPod using the supplied USB cable. With the USB connection you get the fastest speed available and a direct digital connection to the unit's 24-bit DAC. The controls on the iPod are not functional once connected. The IVA-W505 supports audio/video transfer from iPod video, iPod nano, and iPod classic. You can quickly and easily search through all of the music contained on your iPod through Playlist, Artist, Album, Song, Podcast, Genre, Composer, and Audio Book searches. You can view Artist, Album, and Song information, as well as the song number and elapsed time on the head unit's display. The unit also supports Repeat and Shuffle playback modes. The Alpine IVA-W505 is "Made for iPod" compatible and supports the following iPod model features (as of Dec. 2009):
iPod/iPhone Model
Generation
Media Type
Control
Display
Charge
Audio
Video
Unit
iPod
Song/Artist
Track
dock-connector
3rd
N
N
N
N
N
N
N
click-wheel/color-display
4th
N
N
N
N
N
N
N
mini
1st
N
N
N
N
N
N
N
2nd
N
N
N
N
N
N
N
video
5th
Y
Y
Y
N
Y
Y
Y
classic
80GB
Y
Y
Y
N
Y
Y
Y
120GB
Y
Y
Y
N
Y
Y
Y
160GB
Y
Y
Y
N
Y
Y
Y
nano
1st
Y
N
Y
N
Y
Y
Y
2nd
Y
N
Y
N
Y
Y
Y
3rd
Y
Y
Y
N
Y
Y
Y
4th
Y
Y
Y
N
Y
Y
Y
5th
Y
Y
Y
N
Y
Y
Y
touch
1st
Y
Y
Y
N
Y
Y
Y
2nd
Y
Y
Y
N
Y
Y
Y
3rd
Y
Y
Y
N
Y
Y
Y
iPhone
2G
N
N
N
N
N
N
N
3G
N
N
N
N
N
N
N
3GS
N
N
N
N
N
N
N
Note: Apple firmware updates may change functionality results.
USB Memory Mode: You can play MP3, WMA, or AAC files stored on a USB memory device. The USB connection will also allow you to control and playback MP3 and WMA files on a portable player. During playback, the display shows song, album, and artist title, and elapsed time. If no tag information exists, the display shows the track number and elapsed time. Additionally you can connect and control MP3 players using the MTP protocol. The maximum recognizable number of files is 10,000. You can repeat the current track, and play the tracks in the current category or all of the tracks in memory in random order.
Satellite Radio Ready: There are several options for connecting an optional XM or SIRIUS Satellite Radio receiver to this receiver:
XM Satellite Radio: To receive XM Satellite Radio, you can connect the optional CNP2000UC XM Mini Tuner and the Alpine CNP-ALP1 adapter cable (700XMALP1, sold separately).
SIRIUS Satellite Radio:

Universal SIRIUS Tuner: You can connect the optional SIRIUS SC-C1 SiriusConnect Universal Vehicle Tuner, along with the Alpine KCA-SC100 SIRIUS satellite Radio interface (700SIRALPC, sold separately) directly to the head unit.
SIRIUS Plug and Play: The KCA-SC100 (item number 500KCASC10) also allows you to integrate many SIRIUS plug and play receivers when used with the SiriusConnect Plug and Play Dock (700SIRALPP, sold separately). Compatible tuners include the Sportster, Starmate, Stratus, and Stiletto. You can control the satellite receiver from your head unit and use the Quick Search feature to browse all artists and songs currently playing on all channels. The SIRIUS text information also appears on the head unit display.

Auxiliary Input: A portable satellite radio receiver, such as the Delphi SkyFi3 or SIRIUS Sportster, can be connected to the head unit via an auxiliary input.
Note: A subscription is also required to receive satellite radio programming from SIRIUS or XM.
HD Radio Ready: The IVA-W505 can receive HD Radio signals when the TUA-T550HD HD Radio Tuner Module (500TUAT550, sold separately) is connected via the Ai-NET connector. While receiving HD Radio, the unit can automatically switch between the analog and digital signals, or you can manually switch to the digital signals exclusively. When used with the compatible HD Radio Tuner, the IVA-W505 supports Multicasting, which is the ability to broadcast multiple programs streams over a single FM frequency, thereby increasing the amount and diversity of content choices.
Bluetooth Interface Ready: Using the Alpine KCE-400BT Bluetooth adapter with the KWE-460E interconnect cable adapter (700KCE460B, sold separately), you can make and receive calls hands-free on your Bluetooth-capable cellular phone, and communicate through a microphone (included with the Bluetooth interface) and your vehicle's speakers. If an Alpine NVE-P1 navigation unit is docked inside the IVA-W505 you do not need the KCA-400BT adapter; both units have built-in Bluetooth.
Note: The Pass-Through port of the KCE-400BT allows you to connect the Bluetooth adapter as well as an iPod to the IVA-W505. The KWE-460 interconnection cable is still required along with a KCE-433iV Full Speed iPod connection cable (500KCE433I, sold separately). The KCE-422i iPod cable will not be used in this configuration.
Changer Controls: This unit is compatible with 6- and 12-disc Alpine Ai-NET CD changers.
Auxiliary Inputs: In addition to the unit's A/V Aux RCA Input, the following optional adapter can be used so audio from other auxiliary sources can be played through the unit's AI-Net connection - KCA-121B Ai-NET/RCA interface cable (500KCA121B, sold separately). When the KCA-121B interface cable is used, a CD changer cannot be connected to the head unit.
Audio Section
24-Bit DAC: The IVA-W505 utilizes a 24-bit D/A converter to ensure accurate audio reproduction.
Dolby Digital and DTS Compatibility: The IVA-W505 can perform 2-channel Dolby Digital and DTS decoding when playing back a DVD through its analog outputs (the multi-channel soundtracks are down-mixed to 2-channel). When the optical digital output on the rear of the head unit is connected to an optional Alpine digital audio processor, you can enjoy Dolby Digital and DTS 5.1 surround.You can select a digital output setting of Auto or LPCM. When set to Auto, the digital output is switched automatically according to the type of audio signals being played. When set to LPCM, the audio signals recorded on the disc are converted to 48kHz/16-bit (for DVDs) or 44.1kHz (for Video CDs and CDs) linear PCM audio signals for output.
Bass and Treble Controls: Without an external processor, the head unit features independent Bass and Treble controls. Each can be adjusted as follows:
Bass Center Frequency: 60Hz, 80Hz, 100Hz, or 200Hz
Bass Band Width: four options from 1 (narrow) to 4 (wide)
Bass Level: select from -7 to +7
Treble Center Frequency: 10kHz, 12.5kHz, 15kHz, or 17.5kHz
Treble Level: -7 to +7
Loudness: The Loudness feature introduces a special low and high frequency emphasis at low listening levels. This compensates for the ear's decreased sensitivity to bass and treble sound at lower volumes.
Subwoofer Control: The IVA-W505 features a dedicated subwoofer preamp output with user level adjustment between 0 to 15.
High Pass Filter: The receiver features independent high-pass filters for the front and rear speaker channels. You can select from Off, 80, 120, or 160Hz.
Preamp Inputs/Outputs: When the system switches are in the Normal position, the IVA-W505 provides preamp outputs for front, rear, and subwoofer channels. When the system switches on the bottom of the chassis are in the EQ/DIV position, the front and rear preamp connections operate as inputs, allowing you to connect an optional Alpine EQ or audio processor.
Rear Entertainment Function: The rear entertainment function independently routes different sources to the front and rear in a vehicle. For example, while listening to the radio or other audio source in the front, a DVD can be enjoyed in the rear with an optional rear monitor and headphones; the rear zone signals are passed by RCA composite video and stereo RCA preamp audio connections.
Simultaneous Function: This function allows you to watch the video portion of one source, while listening to the audio portion of another source.
Interrupt Feature (NAV.MIX): With an Alpine navigation system connected to the IVA-W505, the voice guidance of the navigation system will be mixed with the radio or CD audio. You can adjust the volume level of the voice guidance.
Sound Processing (with optional PXA-H100)
Imprint: With the addition of the optional PXA-H100 Imprint box (500PXAH100, sold separately) and KTX-H100 tuning kit (500KTXH100, sold separately) a car's inherent acoustic shortcomings can be overcome with the MultEQ feature. Imprint also gives you much more sound adjustment flexibility as detailed below.
MultEQ: MultEQ, developed by Audyssey Labs, automatically optimizes the audio for the listening environment inside your vehicle. The Imprint box and tuning kit include the hardware, software, and microphone necessary to measure multiple positions in the car and capture frequency and time domain information from the vehicle's actual acoustical environment. Once the car's speaker location delays are measured, along with the frequency peaks and dips caused by the absorptive and reflective materials in the interior, MultEQ creates a set of equalization filters to correct the frequency response and time domain problems for each speaker in the vehicle. It also removes sound distortion caused by the specific acoustical problems in the vehicle by applying unique FIR filters, using more than 500 points along the frequency spectrum per channel. This optimizes the sound reproduction to the specific vehicle listening environment with much greater precision than can be achieved using typical graphic or parametric equalization. The result is a more accurate soundstage and smoother, more natural sound optimized to match your vehicle.
Equalizer: 10 typical equalizer settings are preset at the factory for a variety of musical source material. You can select from - Flat, Pops, Rock, News, Jazz & Blues, Electrical Dance, Hip Hop & Rap, Easy Listening, Country, and Classical. The head unit will also save six custom EQ curves you create by adjusting the units built-in EQ. Choose the parametric or graphic EQ:
5- Band Parametric EQ: The built-in Parametric EQ allows you to adjust the following 5 frequency bands in 1/3 octave steps from -6 to +6 dB at a bandwidth Q factor of 1, 1.5, or 3:

Band 1: 20 Hz to 80 Hz
Band 2: 50 Hz to 200 Hz
Band 3: 125 Hz to 3.2 kHz
Band 4: 315 Hz to 8 kHz
Band 5: 800 Hz to 20 kHz

7-Band Graphic EQ: The built-in Graphic EQ allows you to adjust the following 7 frequencies from -6 to +6 dB:

Band 1: 63 Hz
Band 2: 150 Hz
Band 3: 400 Hz
Band 4: 1 kHz
Band 5: 2.5 kHz
Band 6: 6.3 kHz
Band 7: 17.5 kHz
Crossover: The active crossover can be used as a 2.2 channel (3-way; low-pass subwoofer, band-pass midrange, high-pass tweeter) or a 4.2 channel (2-way; high-pass front and rear, low-pass subwoofer). A crossover limits the frequencies delivered to a given speaker, so you send only the frequencies for which the speaker is well suited. The crossover adjusts the high pass filter or low pass filter of each band along with the slope and output level. You can adjust the following crossover settings:
4.2 Channel:

High Pass Filter: the front and rear outputs are individually adjustable; crossover from 20 to 200 Hz in 1/3 octave steps with a slope of Flat, 6, 12, 18 or 24 dB/oct, additionally you can adjust the output level from -12 to 0 dB
Low Pass Filter: the subwoofer output can be stereo or mono; crossover from 20 to 200 Hz in 1/3 octave steps with a slope of Flat, 6, 12, 18 or 24 dB/oct, additionally you can adjust the output level from -12 to 0 dB

2.2 Channel:

Tweeter/High Pass Filter: crossover from 1 kHz to 20 kHz in 1/3 octave steps with a slope of 6, 12, 18, or 24 dB/oct, additionally you can adjust the output level from -12 to 0 dB
Midrange/Band Pass Filter: a band pass has both high pass and low pass filters; HPF 20 to 200 Hz in 1/3 octave steps with a slope of Flat, 6, 12, 18 or 24 dB/oct; LPF from 20 Hz to 20 kHz in 1/3 octave steps with a slope of Flat, 6, 12, 18 or 24 dB/oct, additionally you can adjust the output level from -12 to 0 dB
Subwoofer/Low Pass Filter: the subwoofer output can be stereo or mono; crossover from 20 to 200 Hz in 1/3 octave steps with a slope of Flat, 6, 12, 18 or 24 dB/oct, additionally you can adjust the output level from -12 to 0 dB
Time Correction: The time correction feature delays the audio signal to the speakers closer to the listener. This effectively creates a perception of increased distance for those speakers. Time Correction allows the listener to be placed at an equal distance from all speakers for optimum staging. You can adjust the distance of each speaker and subwoofer (6-channel) to the listener from 0 to 132.7 inches.
Media Xpander: The MX (Media Xpander) function makes vocals or instruments sound distinct by restoring sound quality typically lost during recording or transmission; this function helps restore audio information that becomes obscured when audio is compressed. The MX function can be applied to all sources, except AM radio. There are three settings and each source can have its own setting.
Remote Control
IR Wireless Remote: In addition to the unit's touchscreen and hard-key controls, the IVA-W505 comes supplied with a full-function IR wireless remote control.
Optional Factory Steering Wheel Remote Interface: If your vehicle is equipped with steering wheel radio controls, you may be able to operate the IVA-W505 using those controls. The PAC SWI-JACK Steering Wheel Radio Control Interface (127SWIJACK, sold separately) can adapt your vehicle's steering wheel controls to this unit through the rear panel's Steering Wheel Remote Input (a 3.5mm mini-jack input on a 4" pigtail). Please check the Crutchfield Car Selector to confirm whether your vehicle is compatible with the SWI-JACK interface.
Our Product Research Team
At Crutchfield, you'll get detailed, accurate information that's hard to find elsewhere. That's because we have our own in-house Product Research team. They verify what's in the box, check the owner's manual, and record dimensions, features and specs. We stay on top of new products and technologies to help people make informed choices.