Sanus ELM302-W1 Cable Tunnel Accessory Kit
Easily conceal A/V cables below your wall-mounted TV
Item # 051ELM302 | MFR # ELM302-W1
This item is no longer available.
Overview
Say goodbye to the mess of wires below your TV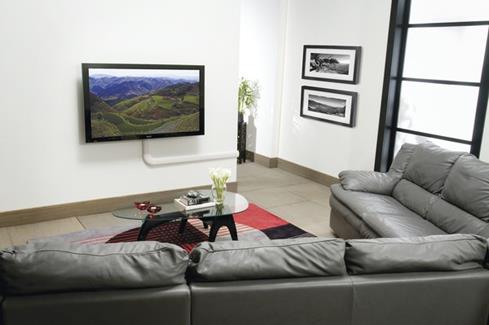 Use the included "elbow" to turn the corner and hide those difficult-to-conceal wires.
If you've been looking for an easy way to hide the unsightly wires running down the wall from your TV, check out the Sanus ELM302-W1 Cable Tunnel Accessory Kit. It includes everything you need to make your television's power, optical, and HDMI cables disappear. It's a fast and simple way to clean up your TV or sound bar's footprint while keeping your cables organized.
Paint the channel covers to match your wall
The two 20" cable channels give you plenty of coverage between the bottom of your TV and your entertainment center. Cut them to the length that you need, and then paint them to blend in seamlessly with your decor. Sanus provides wall anchors and mounting screws to securely attach the wire guides to the wall. Neatly run your cables through the wire loops, and then snap the cable channels into place. Voila — cables gone!
Product Highlights:
hide and organize your audio/video cables
run cables around or below items mounted on the wall
cut and paint channels to custom-fit your decor
cable tunnel kit includes:

(2) 20" long wire channels
(2) 45° elbows
(4) wall mounts and mounting hardware with concrete anchors
(1) joining clip
(1) 90° inside corner
(1) 90° outside corner

wire channels: 3-3/16"W x 20"H x 7/8"D
warranty: 60 days
Worked perfectly for the job that I had to do.

John, Morgan Hill, CA
Reviews
Sanus ELM302-W1 Cable Tunnel Accessory Kit Reviews
Average Customer Review(s):


Submit a review and then enter to win a $350 rewards card
Review this product
Thanks for submitting your review
Most reviews are processed and published within 5 business days. You will receive a confirmation email once your review has been published.
Customer photos
Pros:
Cons:
Crutchfield response
---
Details
Product Research
Features
Cable Tunnel Kit: The Sanus ELM302 is a cable tunnel expansion kit that conceals and routes even the most complex cable arrangements. These easy-to-install 20" cable channels can be painted, cut and even routed around a corner. Simply attach the uniquely designed wall clips to the wall, secure cables and wires to the fasteners and snap the tunnels onto the clips. This kit includes two long cable channels, two 45º elbows, one joining clip, one 90º inside corner, one 90º outside corner and mounting hardware.
Easy Installation: Simply attach the included wall clips to wall, fasten cables into place and snap tunnels onto wall clips for a seamless appearance.
Customizable: The 20" ABS channels can be painted to match room décor and cut to specific lengths.
45° Elbows: Two 45° elbows along with inside and outside 90° corners make any complex room easy to wire.
Cable Concealment: The uniquely designed wall clips attach to wall and secure even the most complex cable arrangements, discreetly concealing them under cable tunnels.
Dimensions:
Outer: 3.625" (w) x 20" (h) x 1" (d)
Inner: 3.3125" (w) x 20" (h) x 0.8125" (d)
Installation Tools Needed:
Electric Drill
3/16" Drill Bit
Phillips-Head Screwdriver
Our Product Research Team
At Crutchfield, you'll get detailed, accurate information that's hard to find elsewhere. That's because we have our own in-house Product Research team. They verify what's in the box, check the owner's manual, and record dimensions, features and specs. We stay on top of new products and technologies to help people make informed choices.
Staff Reviews
Product reviews from the Crutchfield Labs
Office Wiring Solution!
Written by Jude, Director, Digital Imaging,
on
2/23/2016 10:23:00 AM
What are the Labs?
Q & A
Customer Q&A
Crutchfield asked


Why did you buy this?
I've purchased one of these in the past. Love the look.

[ James Aug 07, 2018 ]
Able to remove front cover

[ Paul Aug 05, 2018 ]
I could not remove it that was very annoying

[ Stacey Jul 22, 2018 ]
I didn't and I could not get it out of my cart. Finally gave up and made the purchase

[ Guy Jul 21, 2018 ]
I was unable to remove from my cart, so I bought it. Glitch?

[ Anthony Jul 16, 2018 ]
I saw it as a promotion. I've used a different brand in the past, but I really like Sanus' quality.

[ PETER H Jun 15, 2018 ]
clean install for wiring to my tv

[ Sean Jun 04, 2018 ]
price

[ David May 22, 2018 ]
The kit will facilitate a "clean" look.

[ Eugene May 16, 2018 ]
To make installation look more professional.

[ William May 11, 2018 ]
to hide wires

[ Antonio May 01, 2018 ]
Recommendation at checkout

[ L Apr 30, 2018 ]
It was 50% if I purchased a particular mount.

[ Anthony Apr 13, 2018 ]
This item could not be removed from my shopping cart.

[ Joshua Apr 03, 2018 ]
Good brand name reputation and discounted price.

[ Ronald Apr 02, 2018 ]
it's the discount, of course! it was a detail i did not consider. was helpful that crutchfield suggested.

[ Barry Mar 26, 2018 ]
I needed it

[ Patrick Mar 24, 2018 ]
knew sinus was good product.

[ steven Mar 23, 2018 ]
hoping it looks good in the house and b/c it was cheap enough with the discount to try out

[ Brandon Mar 22, 2018 ]
it was on sale

[ HAL G Mar 13, 2018 ]
To hide cords

[ MICHAEL Feb 25, 2018 ]
thanks

[ JOSE A Feb 12, 2018 ]
Price

[ Bill Feb 05, 2018 ]
ALREADY OWN ONE WORKS GREAT

[ OC Feb 05, 2018 ]
Great price

[ William Jan 24, 2018 ]
quality

[ James Jan 17, 2018 ]
previous experience

[ Andrew Jan 09, 2018 ]
Used similar product in past

[ GREG C Jan 06, 2018 ]
got a discount with a purchase.It looks like it will make a clean instulation

[ STEVEN Dec 29, 2017 ]
Better looking installation when cables are concealed. Great price deal.

[ Luis Dec 18, 2017 ]
Because you offered it for 50% off

[ Manuel Dec 18, 2017 ]
Pop up on ad.

[ A Dec 16, 2017 ]
Great sale price

[ Anthony Dec 09, 2017 ]
I put it in my cart and wanted to remove it but it wouldn't remove it.

[ Robert L. Dec 05, 2017 ]
Because I couldn't get it removed from my cart after trying 5 Times

[ Mark Dec 01, 2017 ]
It was the only wall mounting bracket I could find to feel secure about moving my heavy tv away from the wall.

[ John Nov 29, 2017 ]
It was 50% off and I hope it helps hide cables.

[ ROBERT B Nov 28, 2017 ]
GREAT DEAL

[ R Nov 27, 2017 ]
Price no sure if I'll use it but I might

[ Steve Nov 27, 2017 ]
It was a mistake! Once I added into the cart I could not remove it (remove link does not work)

[ Anton Nov 24, 2017 ]
price was right and it looks useful

[ Dirk Nov 24, 2017 ]
Really Not sure but I believe it conceals the wiring.

[ Russ Nov 24, 2017 ]
Almost free

[ Michael Nov 24, 2017 ]
because you wouldn't let me not choose it

[ chase Nov 23, 2017 ]
It will be useful in covering up the cords and the price was right.

[ Cathy Nov 22, 2017 ]
price.

[ J Nov 20, 2017 ]
because i need it

[ ora Nov 17, 2017 ]
price discounted 70%

[ Jerold Nov 17, 2017 ]
I tried to remove it from my card multiple times and reappeared again. I don't want to buy this junk

[ ANDREI Nov 17, 2017 ]
So as not to cut a hole in my new house. And couldn't pass up the great sale

[ Stuart Nov 16, 2017 ]
It was discounted and I needed it to cover the wires for my newly wall mounted TV.

[ MICHAEL Nov 16, 2017 ]
50% off and may be necessary to complete a clean installation.

[ Peter Nov 01, 2017 ]
It was 50% off and I might have a need to conceal some cables from my equipment stand to my wall mounted tv.

[ David Nov 01, 2017 ]
I was on the fence about installing a cable race but at this price, I was convinced It would look a lot better.

[ Bill Oct 29, 2017 ]
Clean look paintable

[ MIKE Oct 25, 2017 ]
Good Quality. US Supported

[ Bruce Oct 22, 2017 ]
Cart would NOT allow me to REMOVE it!

[ Rob Oct 08, 2017 ]
it was offered.

[ Richard Oct 07, 2017 ]
$5!

[ Adam Oct 04, 2017 ]
It looks like a smart way to hide all that cables and wires

[ Juvenal Sep 24, 2017 ]
exactly what I needed

[ Peter Sep 18, 2017 ]
Perfect for my installation.

[ Edson W Sep 13, 2017 ]
It was offered as an option at 50% off but couldn't tell exactly what it was. thought I would look at in the card to determine if needed. Doesn't look like I need it for this installation. but then couldn't delete it from the cart - tried delete twice and zeroing out the quantity once - neither worked. Think I can use for other TV install though.

[ David Sep 06, 2017 ]
Why not!

[ D Aug 18, 2017 ]
1 stop shopper

[ Dr. Dennis Pago Aug 03, 2017 ]
it wouldn't let me delete it from my order. I didn't want it.

[ D Jul 21, 2017 ]
I didnt intend to, but it was in my basket at the end and I thought it might be useful, but woudl not have chosen it intentionally. I missed the option to decline

[ Scott Jul 12, 2017 ]
Allen recommended it & for my 'application' (recessed wall-mount) it makes perfect sense. Also, the low price ($5).

[ CHRIS Jul 08, 2017 ]
The price.

[ tracy Jun 11, 2017 ]
it was discounted

[ Mark May 21, 2017 ]
inexpensive option if needed

[ Mark May 14, 2017 ]
Need this for hiding cables to audio equipment.

[ George May 14, 2017 ]
Because you offered it to me for 50% off

[ B May 09, 2017 ]
good suggestion from web site

[ JOSEPH May 02, 2017 ]
Discounted pricing

[ Robert May 02, 2017 ]
cheap offer when I selected other product, good marketing promotion

[ Lee Apr 23, 2017 ]
I needed a way to hide the wires this does the job.

[ William Apr 11, 2017 ]
This came with my Sinus wall mount for A 55" TV.

[ Marcell Apr 04, 2017 ]
Needed for wall hanging new TV. Thank you for suggesting, and offering such a good price.

[ Carl Mar 26, 2017 ]
Because is a good deal.

[ Marivi Mar 25, 2017 ]
price

[ robert james Mar 24, 2017 ]
Hide cables

[ ERIC Mar 24, 2017 ]
PRICE

[ Rich Mar 22, 2017 ]
Worth the minimal expense in the event there are cables that need to be concealed.

[ Michael Mar 18, 2017 ]
The price really stood out to me, looked like one heck of a deal. I want a nice, clean look due to the fact that I am hanging the TV on the wall. The fact that it can be painted to match our wall color also made a big difference.

[ Andrew Mar 15, 2017 ]
to assist in a neat installation

[ SAM P Mar 02, 2017 ]
Low profile. Reputation for quality. Leveling.

[ Peter Feb 11, 2017 ]
half off

[ Craig Feb 09, 2017 ]
Hide cables

[ Celeste Feb 07, 2017 ]
clicked to check it out, couldn't get it out of my cart, so I bought it.

[ John Jan 26, 2017 ]
Recommended by Crutchfield

[ Thaddeus Jan 23, 2017 ]
A good value and important item in reducing visible clutter of wires/connections!

[ Susan Annette Jan 01, 2017 ]
Offered at discount in cart.

[ STEPHEN Dec 30, 2016 ]
It was offered and I need to hide my wires.

[ Jason Dec 26, 2016 ]
This kit matched the wall mounted shelf I ordered and was offered at a great price with the tv mount I bought as well

[ Angel Dec 23, 2016 ]
Thought it would hide and keep the cables together for a wall mounted TV.

[ William Dec 19, 2016 ]
Discounted price with another purchase.

[ Steven Dec 14, 2016 ]
You never know when you'll need a kit like this.

[ Michael Dec 06, 2016 ]
It was on sale and I might need it.

[ kenneth Dec 03, 2016 ]
i did not, but i could not eliminate it from my cart

[ D Dec 01, 2016 ]
hoping it helps keep it neat

[ Todd Nov 30, 2016 ]
Low profile and stand for ease of connections

[ Douglas Nov 29, 2016 ]
My experience with Crutchfield has always been outstanding, which is hard to find these days. Tech Support is second to none. Sylvain

[ Sylvain Nov 28, 2016 ]
It was recommended on the site and it seemed to be a worthwhile accessory

[ John Nov 27, 2016 ]
Hide cables

[ Billy Nov 26, 2016 ]
I don't need this product. This product was force fed into the order...I couldn't remove it from the shopping cart or set qty to 0.

[ Bryan Nov 26, 2016 ]
It was recommended, it was cheap, I have a hunch it may assist with routing wires behind a wall. Not 100% sure. If it does not work, no loss.

[ Randall Nov 25, 2016 ]
I did not intend to buy this. I had no use flor the last one

[ Mehrdad Nov 17, 2016 ]
It was only $5 with my order.

[ John Nov 13, 2016 ]
Significant discount when purchased with the Sanus TV mount.

[ Robert Nov 12, 2016 ]
discount offer

[ Charles Oct 28, 2016 ]
Thanks for this. I will be mounting the tv on the wall a few feet above the sound bar, power source, etc.

[ Jason Oct 28, 2016 ]
Because I can always call a get info from a very qualified advisor. It makes a difference to me.

[ John J Oct 27, 2016 ]
Priced at 50% off as a suggested add on.

[ E Oct 18, 2016 ]
Recommended by Crutchfield

[ Wayne Oct 10, 2016 ]
short term answer to hiding cables

[ H Oct 10, 2016 ]
to hide the hideous cords on the wall I bought one with my last crutch field purchase and I love it and everyone comments on how well it looks and I am going to paint it like my wall to become invisible

[ wendy Oct 09, 2016 ]
To have a cleaner wall-mounted installation with the wiring concealed within the wall.

[ ROBERT Oct 06, 2016 ]
I was looking for a clean look to hide the cables hanging down from my television which is installed on the wall using a fully-articulating bracket. This cable tunnel is a great way to disguise those cables.

[ Jason Oct 04, 2016 ]
recommended

[ walter Sep 27, 2016 ]
50% off seems like a great idea!

[ Jay Sep 23, 2016 ]
because it was $4.

[ Lionell Sep 18, 2016 ]
I don't like cables running everywhere.

[ Robert Sep 07, 2016 ]
PRICE DISCOUNT

[ SCOTT D Aug 31, 2016 ]
Looked compact, easy to mount and reasonably priced. Sanus makes a quality TV wall mount.

[ Tom Aug 28, 2016 ]
This was the size that will hold all the cables I have.

[ Brian Aug 25, 2016 ]
I did not want to it would not let me remove it from the order

[ Jeffery Aug 24, 2016 ]
Because it is on discount.

[ rudel Aug 14, 2016 ]
Reduced price

[ R Aug 10, 2016 ]
It was cheap

[ HECTOR Aug 10, 2016 ]
To hide wires and cables

[ Roto-Rooter Ser Aug 02, 2016 ]
hanging tv on a wall

[ Robert Jul 22, 2016 ]
To make the install look better

[ LARRY Jul 15, 2016 ]
I am relocating a TV to another room to make room for my new one so this makes the move a lot easier. The old TV had a lot of wires going to it and this is a simple way to make the installation look a lot cleaner, and you can't beat the price.

[ Bill Jul 05, 2016 ]
Cover cables on the wall

[ Lenny Jul 04, 2016 ]
Seems like a great deal for a necessary product!

[ MARCUS Jun 23, 2016 ]
It was forced on my order. I tried to remove it but it wouldn't go away. So I gave up and let it stay.

[ BRYAN Jun 05, 2016 ]
This option to conceal the cables was at an amazing price. This will make your installation look professional

[ P May 16, 2016 ]
To hide the cables and the price seemed fair.

[ John Mar 17, 2016 ]
To help organize and hide cables

[ Alan Mar 13, 2016 ]
it was recommended when I checked out with my order for the wall mount. didn't even think about it until then. since it is paintable, the cords coming out from the back of the wall mounted TV will not look messy and distracting.

[ SANDRA Mar 09, 2016 ]
good offer

[ Corwin Mar 04, 2016 ]
Hide cords. Good price.

[ BEN Mar 01, 2016 ]
I picked these items at Crutchfield because of Crutchfield's reputation and they had a significantly lower price on both Items I ordered.

[ Russell Feb 24, 2016 ]
Price was right, looks easy to install, and it is paintable to match my walls.

[ Phillip Jan 31, 2016 ]