Parrot Bebop 2 Power Quadcopter
Aerial drone with Skycontroller 2, dual batteries, and CockpitGlasses
Item # 333F726205 | MFR # PF726205AA
This item is no longer available.
Overview
Our take on the Parrot Bebop 2 Power Quadcopter by Crutchfield's Eric Angevine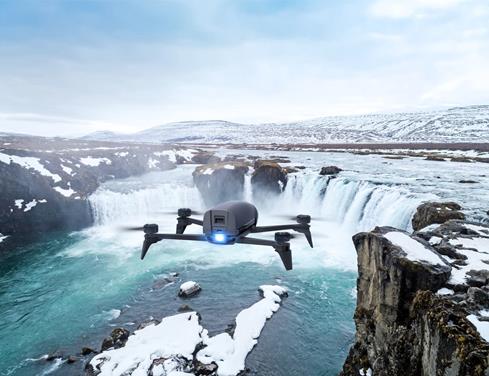 The Bebop 2 Power lets you immerse yourself in the experience of flight.
Immerse yourself in UAV flight
The Parrot Bebop 2 has been a real hit with our customers, and we're happy to see the new Bebop 2 Power add to that legacy. It flies farther, faster, and longer than its impressive predecessor.
It comes with the compact, intuitive Skycontroller 2, immersive CockpitGlasses VR goggles, and two rechargeable batteries, so you'll be ready to fly — and have loads of fun — from day one.
Enjoy intelligent flight modes
The free FreeFlight Pro app offers a versatile set of pre-programmed features and modes.
360°, Rise, Reveal, and Epic camera Auto Shots let you re-create thrilling movie-style camera shots without spending hours of practice at the controls. In similar fashion, Smart Flight modes like Orbit, Boomerang, Parabola, and Tornado send your Bebop 2 on a smooth, steady pre-planned flight path. Cameraman mode lets you manually fly the drone wherever you like, while the camera stays locked on your subject.
The Bebop 2 Power includes Follow Me Visual and GPS tracking, which tells the drone to follow your smartphone. Then you can put the device in your pocket and run, boat, bike, or drive while the 'copter follows and films.
Product Highlights:
remote-controlled flying drone with 14-megapixel HD video camera
shoots crisp, clear 1080p video
FreeFlight Pro app for Apple®, Android™, and Windows® mobile devices offers advanced piloting options

Follow Me visual and GPS tracking feature lets you go hands-free
Auto Shots modes: 360°, Rise, Reveal, and Epic
Smart Flight modes: Orbit, Boomerang, Parabola, Tornado, and Cameraman

720p HD Wi-Fi® video transmission to your smartphone
easy to disassemble for storage and transportation
Drone:
battery charger and two batteries so you can stay in the air longer

battery life: 30 minutes of flight time per charge

top speed: 40 mph in Sport mode
automatic return to the takeoff point
12-7/8"W x 3-1/2"H x 15"D
weight: 1.1 lbs.
Camera:
14-megapixel CMOS image sensor
live video streaming on your smartphone or tablet
180° fisheye lens (6 optical elements)
8GB internal flash memory
shoot 360° panoramic photos
3-axis digital video stabilization
CockpitGlasses:
wearable goggles turn your smartphone into an immersive viewer so you feel like you're in the cockpit
90° viewing angle
adjustable dock is compatible with smartphones with screen sizes from 4-3/4" to 5-3/4"
weight: 13.75 oz.
Skycontroller 2:
dock and connect your smartphone or tablet for live view and video streaming
optimized Wi-Fi connection reduces transmission lag for more precise control

transmits up to 1-1/4 mile away
left stick pilots the drone, right stick controls the camera angle

7-7/8"W x 7-1/8"H x 4-5/16"D
weight: 17.6 oz.
warranty: 1 year
What's in the Box:
Parrot Bebop 2 Power Quadcopter owner's manual
Drone quadcopter (pre-installed lens-cap)
Skycontroller 2
Cockpitglasses 2 (w/ strap)
2 Rechargeable batteries (3350maH)
Battery charger
AC power plug inserts (US/EU/UK/AU)
17" Battery harness
59" DC cord
58" microUSB-to-USB cable
Mobile device cradle
8 Propellers
Propeller assembly tool
Quick Start Guide
Start Guide
Safety Instructions
Great little drone, bought it in scratch n dent, the only thing that looked slightly used was one of the batteries; every thing else was brand new. I Love shopping at Crutchfield.

Howard, Stow, OH
Reviews
Parrot Bebop 2 Power Quadcopter Reviews
Average Customer Review(s):


Submit a review and then enter to win a $350 rewards card
Review this product
Thanks for submitting your review
Most reviews are processed and published within 5 business days. You will receive a confirmation email once your review has been published.
Customer photos
Pros:
Cons:
Crutchfield response
---
Details
Product Research
Bebop 2 FPV Drone
FreeFlight Pro Application
Skycontroller 2 & FPV Cockpitglasses
Warnings & Warranty
Bebop 2 FPV Drone
Rugged Aerodynamic Design: The Parrot Bebop 2 Power's new Dual Black design combines two sleek finishes; matte black and glossy black. The drone's structure is a blend of carbon fiber and Grilamid. The latter is a lightweight plastic used in the automotive industry and is renowned for its extreme resistance. Thanks to ideal aerodynamics and an optimized propulsion system, the Parrot Bebop 2 Power can fly up to 40mph (65km/h) in sport mode and can resist winds of up to 37mph (60km/h).
Advanced Processors with GPS + GLONASS: The Parrot Bebop 2 Power Drone's navigation computer utilizes Parrot's P7 dual-core CPU for fast, accurate processing. The Parrot Bebop 2 Power also features embedded GPS + GLONASS satellite tracking technology and optical ground recognition to guarantee stability and safety during all flights.
Locate My Bebop: If you can't seem to find your drone, Locate my Bebop lets you locate it on a map.
Return Home: Upon request or if connection is lost, the drone can automatically return to its take-off point.
Geofence: Define a flight zone within which your drone can continue to operate, but with set limits that cannot be passed. When your drone has reached the set limits, the drone will continue to hover at the same altitude enabling you to take control.
Rear Flash LED: A rear flashing LED provides better visibility of the drone at long distances, so you can tell its direction and location.
3-Axis Digital Stabilization + VPS (Visual Position System): Patented 3-axis digital stabilization guarantees images with remarkable stability by reducing vibration and aliasing. To ensure optimum stability without compromising handling and filming, the Parrot Bebop 2 Power Drone merges data from 3 sensors - including an accelerometer, gyroscope and magnetometer. In addition, an ultrasound sensor with a range of 5m, a pressure sensor, and a vertical camera measure ground speed.
2.4GHz WiFi MIMO: The Parrot Bebop 2 Power Drone features built-in 2.4GHz WiFi MIMO (802.11 a/b/g/n/ac) with a wireless range of approximately 1.2 miles/2km (without obstacles or interference) when connected to the included Skycontroller 2.
14MP Wide-Angle Camera w/ Digital Image Stabilization: The Bebop 2 Power Drone's camera is equipped with a custom-designed wide-angle camera lens, 14MP 1/2.3" CMOS sensor, anti-distortion technology, and digital image stabilization for brighter and clear aerial shots. The Parrot drone records videos and pictures in a 180° field with remarkable image quality. The full HD camera is digitally stabilized on 3-axes. This full-digital image stabilization technology allows the Parrot Bebop 2 Power Drone to take remarkably stable and clear aerial footage regardless of the drone movements. The neutral angle of the camera allows you to capture more ground and less sky.
Video Recording: Record video up to 1920 x 1080p (30fps) in H.264
Photo Recording: Record still images up to 4096 x 3072p in JPEG and Adobe DNG RAW
Note: The camera is located at the front on the Parrot Bebop 2 Power Drone. The camera located under the Parrot Bebop 2 Power Drone is for stabilization only.
8GB Flash Memory: Video (H264) and still images (JPEG/RAW/DNG) are recorded to the drone's built-in 8GB flash memory. The internal memory for video recording is limited to 29 minutes. These video and still images can be transferred to your WiFi connected smartphone or tablet device, so you can delete them from the drone's flash memory. There is no media slot for an external memory card.
Computer Transfer: The Parrot Bebop 2 Power Drone can be plugged into your Windows PC for transfer of video and photo images to your computer's hard drive; your computer will recognize the drone like a USB thumbdrive. Mac computers require the Android File Transfer connection software to be installed to detect the Parrot Bebop 2 Power Drone like a USB flash drive
Rechargeable Battery: The Parrot Bebop 2 Power Drone is powered by a rechargeable lithium-polymer (33500mAh) battery which can provide up to 30 minutes of flight time. Two batteries are included for a total flight time of 60 minutes with one stop to change batteries. A charger is included to recharge the battery; charging time is approximately 80 minutes.
Software Updates: You can install software and firmware updates to the Parrot Bebop 2 Power Drone via the FreeFlight 3 application on your mobile device over WiFi or via USB on your computer from the Parrot Support Site.
FreeFlight Pro Application
FreeFlight Pro Smartphone App: The Parrot Bebop 2 Power Drone can be controlled from the free FreeFlight Pro piloting application on your Apple iOS 9.0+ and Android OS 4.0+ device. It takes just one touch to fly, film and easily share your aerial photos and videos. The FreeFlight Pro app lets you experience an immersive flight and is designed to function with the included Parrot Skycontroller 2 and the Parrot Cockpitglasses 2.
Live Video Feed: The FreeFlight Pro app on your compatible Apple iOS or Android device provides a live HD (720p) video display on the drone's front camera.
Flight Data: The app also provides you with real time flight data which is a great help for a more accurate piloting. The app tells you where your drone is located, at which distance it is located, and at what altitude it is flying.
Note: The FreeFlight Pro App automatically detects the Parrot drone you are piloting. Simply switch on the drone and activate the WiFi of your tablet/smartphone. Then the network menu, select "Bebop" and launch the FreeFlight 3 application.
Smart Flights: With Smart Flights, you can get assistance while taking photos enabling you to get the perfect shot. Thanks to the drone's embedded intelligence and the FreeFlight Pro application on your Apple iOS or Android device, you can launch incredible automated flights with Smart Flights.
Cameraman Function: In this mode, you only control the movement of the drone, while the subject is automatically framed for you
Touch & Fly Function: In this mode, simply touch the FreeFlight Pro app screen on your Apple iOS or Android device with your finger and the drone will immediately go there while maintaining its altitude.
Sport & Video Modes: Customize your drone's flight behavior thanks to two dedicated modes - Sport & Video. Video mode ensures the best configuration for your shots and Sport mode ensures the best settings for high speed flying.
Follow Me (requires in-app purchase): The Follow Me mode with GPS and visual tracking gives the drone the capacity to follow the pilots every step while recording video and keeping you in the center of the video - even during extreme sports activities.
FlightPlan (requires in-app purchase): FlightPlan mode lets you prepare pre-programmed autonomous flights from your Apple iOS or Android device. Simply create customized routes for the drone by selecting GPS waypoints on your screen, tap "take-off", and watch the drone do the rest.
Selfie Modes: Put new, immediately shareable videos on social networks or messaging services. Four types of automated, aerial selfies are available in the Touch & Fly and Follow Me mode.
Orbit: The drone goes around you in horizontal rotation while keeping you in the center of the image.
Boomerang: The drone goes out and comes back, up to about twenty meters, keeping you face-on, in the center of the image.
Parabola: Flies above you, forming a semicircle, starting in front of you and finishing behind you.
Tornado: Rises and gradually comes back down in a spiral while keeping you within the frame.
Auto Shots: Parrot has automated several video shots that would normally require a high-level of flying skill.
360°: The drone turns in a 360° circle and captures the entire surrounding landscape.
Reveal: The drone advances from filming the ground and gradually lifts up the camera angle to reveal the landscape on the horizon.
Epic: The drone gradually moves away over 196.85' (60 meters) to put the landscape into perspective.
Rise: The drone goes up, with the camera facing the ground, and gradually turns its view towards the horizon ending with a panorama revealing the surroundings.
Take Off Modes: The Parrot Bebop 2 Power Drone can either be hand throw into the air or take-off from the ground.
Parrot Cloud + Drone Academy: Connect to Parrot Cloud to share your stats with other pilots. Keep track of all your sessions and share your photos, videos and navigation data with other members of the Parrot Cloud. Connect to share instantly to YouTube and Facebook. Join Pilot Academy with over 200,000 pilots registered. Free backup of your sessions and acrobatics data.
Skycontroller 2 & FPV Cockpitglasses
Parrot Skycontroller 2: The Parrot Skycontroller 2 extends the WiFi reach of the Parrot Bebop 2 Power Drone up to 1.2 miles/1.2km (open-field conditions). Optimized for a perfect connection and latency reduction, the Skycontroller 2 is safer and adapted for long distance flights. Simply dock and connect your compatible smartphone or tablet, and sync with your Parrot Bebop 2 Power Drone over WiFi via the FreeFlight Pro application downloaded to your Apple iOS or Android mobile device.
Joystick Controls: The pilot takes control of the drone via two ultra precise joysticks on the Skycontroller 2. The left joystick controls up/down movement and left/right rotation of the Parrot Bebop 2 Power Drone. The right joystick controls forward/backward movement and left/right turns of the drone.
Smartphone/Tablet Cradle: The Parrot Skycontroller 2 can be used with an Apple iOS or Android device with the FreeFlight Pro application in order to have a video feedback and advanced control functions. The piloting smartphone or tablet is placed on the included cradle of the Skycontroller 2 that is compatible with the vast majority of Apple iOS devices and Android smartphones/tablets (measuring between 4.75" -7.125").
Notes: When the WiFi signal is low, the Parrot Skycontroller 2 makes a tone signal every 10 seconds.
Rechargeable Battery: The Parrot Skycontroller 2 utilizes a 2700mAh rechargeable lithium-polymer battery that can last up to 250 minutes. Charging time is approximately 55 minutes with the included charging base. When the battery level of the Parrot Skycontroller 2 or the Parrot Bebop 2 Power Drone is low, the LED indicator turns red. The Parrot Skycontroller 2 makes a sound signal every 10 seconds.
FPV (First Person View) w/ Cockpitglasses 2: The included Parrot Cockpitglasses 2 lets you discover and experience FPV (First Person View) for fully immersive flights. You simply insert a compatible Apple iOS or Android OS device (with the FreeFlight Pro app installed) inside the Parrot Cockpitglasses 2 and place them over your eyes (can be used with prescription eyewear). Your Apple iOS or Android device must also connect to the included Skycontroller 2 via USB. The first person video footage is captured by the drone's front camera and wirelessly transmitted to the FreeFlight Pro app on your smartphone inside the Parrot Cockpitglasses 2. The FPV experience features perfectly stable HD (720p) video images, with no distortion, and follows the Bebop 2 Power Drone's flight path with a display of a radar and telemetric data. You'll feel as if you were inside the cockpit of the aerial drone.
Note: The Cockpitglasses 2 fits Apple iOS and Android devices that measure 4.5"-6" (w) x 2.5"-3.25" (h) in landscape mode.
Warnings & Warranty
Flight Pattern Warning: The Parrot Bebop 2 Power Drone is a remote control model aircraft designed only for entertainment purposes only. Please fly responsibly. Do not fly your Parrot Bebop 2 Power Drone over any populated area, such as beaches, others people's backyards, heavily populated parks, professional or collegiate sports events, or over gathering of animals. Absolutely, do not fly near an airfield. If you want to fly your Parrot Bebop 2 Power Drone in any populated area or near an air field, do contact your local aerial authority to get the appropriate authorization.
Note: Please be aware that there may be federal, state, and/or local laws or regulations restricting the use of this drone in certain areas. Click here for more rules and regulations regarding drones.
Recordings Warning: Recording and circulating an image of an individual may constitute an infringement of their image and privacy for which you could be liable. Ask for authorization before filming individuals, particularly if you want to keep your recordings and/or circulate images on the Internet or any other medium. Do not circulate a degrading image or one which could undermine the reputation or dignity of an individual. The use of the Parrot Bebop 2 Power Drone for surveillance or espionage is strictly forbidden and could result in your prosecution under the law. Check that your use of the cameras on board the Parrot drone complies with the legal provisions on the protection of privacy.
Product Warranty: Parrot warrants that the Parrot Drone will be free from defects in material and workmanship for a period of 12-months from the initial date of purchase upon presentation of proof of purchase to the retailer or to Parrot (including the date and place of purchase, product serial number). Return to retailer is not applicable in the USA - return shall be made to Parrot only. During the contractual warranty period, any defective product should be returned in its original packaging to Parrot's after-sales service. After inspection of the product, Parrot will, at its sole discretion, either repair or replace the defective part or product, excluding any other indemnification of any nature. Parrot's warranty does not cover:
defects due to damage caused by an accidental collision, fall, or abnormal use
defects caused by any reason other than a defect in material, workmanship, and craftsmanship
defects cause by customization of product by the end-user
defects caused by repairs carried out by the end-user or an unauthorized 3rd party, except spare parts provided by Parrot
defects due to the use of spare parts not provided by Parrot in the original packaging
defects due to the fact that spare parts have been installed without following the recommendations and instructions provided by Parrot at www.parrot.com or if the Parrot Bebop Drone has been customized by the end-user;
loss of charge time by rechargeable battery over time does not constitute a defect in material or workmanship
Note: If upon technical tests being carried out any product is found non defective we reserve the right to return such product to the sender at the sender's cost and to levy a charge to cover Parrot's technical test fees. Upon expiration of the 12-month warranty period or if the defect is not covered by the warranty, any defective product can be returned to Parrot's after-sales service in order to be repaired or for a defective part to be replaced at the sender's costs. Repair will be carried out only after acceptance of the corresponding quotation.
Our Product Research Team
At Crutchfield, you'll get detailed, accurate information that's hard to find elsewhere. That's because we have our own in-house Product Research team. They verify what's in the box, check the owner's manual, and record dimensions, features and specs. We stay on top of new products and technologies to help people make informed choices.
Q & A
Customer Q&A
Crutchfield asked


Why did you buy this?
just love Parrot products

[ philip Jun 26, 2018 ]
Reviews

[ chad william Dec 30, 2017 ]
1 question already asked
Scratch & Dent inventory would not be missing any essential items (if anything at all). They are covered by the full original manufacturer's warranty (1 year) as well as our 60 day satisfaction guarantee period. I hope that helps. My bio: https://www.crutchfield.com/bio/Ryan [ Ryan Feb 05, 2018 ]

Staff