Pearl RearVision Wireless Rear-view Camera and Alert System
Rear-view camera frame with two wireless HD cameras, a car adapter, and phone mount
Item # 994PEARLCM | MFR # PRVC100US
In Stock

Our VirginiaVA-based experts can help.
Overview
Our take on the Pearl RearVision Wireless Rear-view Camera and Alert System by Crutchfield's Alexander Hrabe
Totally wireless

I love it when using technology is easy, and while I've been pleased with all the aftermarket backup camera options available, I haven't been so crazy about the installation necessary to integrate one into my car. Pearl's RearVision wireless rear-vision and alert system changes everything. Seriously. Installation is quick (really quick), just about anyone can do it, and there are no wires to mess with or holes to drill. And best of all, you don't need to add a monitor to your dash — the RearVision system streams video of what's behind you to your smartphone. This system's so great it was awarded "Best New Product" at the most recent SEMA show.
Installation
Affix the included universal camera bracket over your license plate. It supplies solar power to the dual built-in HD cameras and it's made of weatherproof aluminum for a long life in the elements. The RearVision system includes an all-essential car adapter that plugs into your vehicle's OBD port, which is under the dash in most vehicles. A magnetic phone mount is also included for perfect screen placement on your dash.
Download the free Pearl App to your Android™ or iPhone® for complete control of the RearVision system. As soon as you open the app, the adapter transmits the wireless video signal from the backup cameras to your phone. The app is not triggered by shifting your vehicle in reverse, so you'll need to be sure to open the Pearl App before backing up.
What you'll see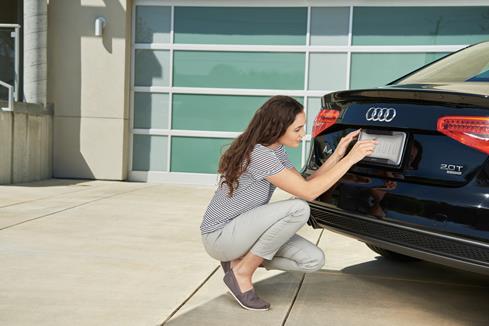 Pearl gives you everything you need for a quick and simple installation.
Pearl gives you everything you need for a quick and simple installation.The RearVision's two HD cameras stream crisp video to your smartphone. One camera is optimized for night vision and provides an excellent picture, even in the lowest light. Using the Pearl App on your phone, the RearVision uses a two-stage proximity alert system to warn you visually and audibly if you're getting too close to an obstacle.
When your phone is in portrait mode, you'll see two views of what's behind you: wide and super-wide. The Pearl App lets you use your touchscreen to pan your super-wide view for a targeted picture of the area behind your vehicle. When your phone is in landscape mode, you'll gain a fullscreen super-wide view. Once you've finished backing up and achieved 10 MPH driving forward, you can program the Pearl App to automatically launch the app of your choice like Google Maps™ or Spotify® to make your drive go more smoothly.
Note: Audi, Volvo, 2011-up Volkswagen Jetta, and 2007-up Jeep Wrangler vehicles will require a free adapter kit for mounting the RearVision license plate bracket. Make sure you identify your vehicle so we can include the adapter if needed.
Product Highlights:
intelligent visual and audible obstacle alerts
two HD cameras in a wireless solar-powered camera frame
weatherproof aluminum metal camera frame
magnetic phone mount for hands-free viewing with both vent and dash mounts
universal fit
free Pearl App for iOS and Android and over-the-air updates
wide and super-wide controllable views
easy adjustability from portrait and landscape
night vision
warranty: 3 years
Simple 5 min install on the rear license plate holder for as 2006 Saab convertible. The app was easy to install and configure via bluetooth+wifi sync. Emailed the wifi config from my phone to self so I could update other phones. Good thing I did that since my original phone died a month later.

Subhendu, Bloomfield, NJ
Reviews
Pearl RearVision Wireless Rear-view Camera and Alert System Reviews
Average Customer Review(s):


Submit a review and then enter to win a $350 rewards card
Review this product
Thanks for submitting your review
Most reviews are processed and published within 5 business days. You will receive a confirmation email once your review has been published.
Customer photos
Pros:
Cons:
Crutchfield response
---
Details
Features and Specs
Features and Specs
Camera Type
Rear
Resolution
Not given
Parking Guidelines
No
Lux Rating
Not given
Selectable Views
Y
Reversed Image
Mirror
Horizontal Viewing Angle
175 deg
Vertical Viewing Angle
N/A
Wireless
Yes
Plug type
N/A
Product Research
Features
PEARL RearVision: The PEARL RearVision upgrades your vehicle with a backup camera system and turns your smartphone into your rearview screen. It consists of a Camera Frame, featuring dual HD cameras, that installs securely over your license plate and wirelessly pairs to the companion Car Adapter inside your vehicle that plugs into your car's OBD port. Together, they connect to the PEARL App for Apple iOS & Android, allowing you to see and control super-wide views of what's behind your car - right on your smartphone. Audible and visual alerts warn you of obstacles in your path and a thoughtfully-designed Phone Mount is included for hands-free viewing. There is no drilling, no wires, and no professional installation required.
Notes:

This rearview camera system feature is meant as a back-up aid only; never solely rely on the rearview camera system when backing-up. In addition to using the rearview camera, always look behind you to make sure everything is clear when backing up your vehicle.
Laws and regulations applicable to the installation and use of the PEARL RearVision system vary by State. The PEARL RearVision has been designed, marketed, and sold for use by residents of the United States only; and should not be used outside of the United States
Vehicle Compatibility: The PEARL RearVision wireless backup camera system is designed to work on all standard passenger vehicles (cars, trucks, SUVs, & minivans) made after 1996 for the US market - the year OBD-II ports became standard.
Note: Audi, Volvo, 2011-up Volkswagen Jetta, and 2007-up Jeep Wrangler vehicles will require a free adapter kit for mounting the RearVision license plate bracket.
Wireless Communication: The PEARL RearVision backup camera system utilize 5GHz WiFi and Bluetooth 4.0 to send a wireless video signal from the system's dual HD cameras to your compatible smartphone's screen. The system uses a direct 5GHz WiFi wireless connection between the Camera Frame mounted on the rear exterior of the vehicle and the Car OBD Adapter inside the vehicle, plus a Bluetooth 4.0 wireless connection between the Car OBD Adapter and your compatible Apple iOS or Android device with the downloaded PEARL App.
Notes:

Cell service is not required to use the PEARL RearVision camera system. It works the same in a city as it would in a remote area. Connectivity, via cell or the Internet, is only required to download the PEARL App and to receive automatic software/firmware updates.
As with any wireless video transmission, the video you see and the alerts you receive are time-delayed. Remain alert, especially if there are quickly moving objects.
Camera Frame: The RearVision's Camera Frame features a unibody aluminum frame that is splash- and water-resistant so it can function in harsh conditions. The Camera Frame mounts around your vehicle's license-plate using the included bracket, two existing screws from your license-plate and two proprietary screws supplied the with the Camera Frame (you will need to remove any other license-plate bracket you are currently using. .
Notes:

The Camera Frame can withstand a car wash. However, fully submerging the Camera Frame in water could cause damage or impair its functionality.
The Camera Frame can be damaged and become inoperable if your vehicle is exposed to extreme heat (122°F or above) or cold (-22°F or below). In case of these extreme temperatures, you should remove the Camera Frame from your vehicle.
Dual HD Cameras: Dual HD cameras are housed in the camera frame. One camera is optimized for the day, while the other camera is IR-sensitive for nighttime. Each camera is equipped with a 1/3" CMOS sensor and a custom 7-element lens hydrophobic coating that repels water droplets in rain weather. Both cameras feature a f/2.0 aperture and provide a 175° field-of-view. Built-in image software is used to automatically manage exposure and geometry distortion.
Notes:

To better aid you in safely backing up, any audio from your smartphone (music, podcasts, etc.) is temporarily paused until the video from RearVision stops. Note that you can still receive calls as you would normally.
Some video capabilities may not be available in extreme weather, in low or harsh lighting conditions (such as extremely bright sunlight beams that are directed or reflected onto one of the camera lenses), or when the HD cameras on the Camera Frame are obstructed/soiled/damaged.
Car Adapter: The included Car Adapter, plugs into your vehicle's OBD port and creates a secure wireless connection to the companion Camera Frame. Together, they connect wirelessly to the PEARL App, allowing you to see and control super-wide views of what's behind your car - right on your smartphone. The Car Adapter uses its sophisticated 3D vision algorithms to instantly process and understand the video streams sent from the Camera Frame, and relays that video and information to the PEARL App on your compatible Apple iOS or Android device. This process provides the real-time audible and visual alerts that warn you of obstacles in your path.
PEARL App: The PEARL RearVision requires the use of the PEARL App for Apple iOS and Android. The PEARL App is free and can be downloaded from Apple's App Store or Google Play onto your Apple iPhone 5 or newer (iOS 9.0+) or Android smartphone (OS 5.0+). The PEARL App gives you a customizable, super-wide view of what's behind and around your car right on your smartphone in both portrait and landscape. In addition visual and audible alerts warn you of obstacles in your path. There is even a Night Vision feature which offers stunning clarity in low-light-to-dark driving conditions.
Camera Controls: Convenient camera controls include - switch between wide to-super-wide views, tap screen to pan and peek around corners, tap to tilt and set your ideal view, & turn night vision on/off.
App Launcher: When you're done backing up and your vehicle reaches 10 mph or after a predetermined amount of time has passed, the Pearl App will automatically display a convenient App Launcher view with quick shortcuts to a select group of in-car apps. You may customize your list of shortcuts from a curated list of popular apps.
Notes:

The Pearl App must be physically activated from your device by pressing the Pearl App icon on its touchscreen (there is no automatic rearview switching).
You can easily share your RearVision credentials with other drivers (such as your family or friends), so they can also use the PEARL App with their compatible Apple iOS or Android device when driving your vehicle.
Apple iOS & Android Device Compatibility: Many devices that meet the minimum requirements below can download the PEARL App and will support all aspects of PEARL RearVision. However, due to the number of different devices, models and operating system versions, full compatibility has only been validated for these preferred devices that have been tested internally.
iPhone 5 or Newer with iOS 9.0 or Newer: Tested compatible models include iPhone 5, iPhone 5S, iPhone SE, iPhone 6, iPhone 6 Plus, iPhone 6S, and iPhone 6S Plus.
Android OS 5.0 or Newer Smartphone with Bluetooth 4.0 and 5GHz WiFi Support: Tested compatible models include Samsung Galaxy S5, Samsung Galaxy S6, Samsung Galaxy S6 Edge, Samsung Galaxy S6 Edge+, Samsung Galaxy S7, Samsung Galaxy Note 4, Samsung Galaxy Note 5, Nexus 6, Nexus 6P, and LG G5.
Note: Click here for the latest compatibility list.
Audible Alerts: RearVision's obstacle alerts are powered by cutting-edge stereo-vision algorithms. The Car Adapter's eight-core processor runs billions of calculations per second to analyze images from both cameras while you're backing up. When an obstacle is detected, a tone sounds from the built-in speaker in the Car Adapter, and the object is highlighted in the PEARL App. The audible alerts come from the Car Adapter rather than the PEARL App because if your smartphone device was on silent, these important alerts would not be heard.
When you are about 6.5' from an object in your path, you'll hear an audible alert, and you'll see a visual ripple on the screen, indicating the approximate location of the object.
When you are about 4' from an object in your path, you'll hear another audible alert, and will see another visual ripple on the screen (similar to one above).
When you are about 2' from an object in your path, you'll hear a different, continuous alert tone and the PEARL App will also display a red border surrounding the video. This urgent alert indicates that you should stop your car now before you back into the object.
Note: Alerts are On by default, but can be turned within the PEARL App on your smartphone device.
Smartphone Mount: The include smartphone mount features a carbon steel gimbal that offers 140° of rotation, so you can mount your smartphone horizontally (landscape) or vertically (portrait); as well as angle it in any direction for the best view of the screen. Also included are two magnetic plates for your phone; one small plate for smaller smartphones (like the iPhone SE) and one large plate for bigger phones (like the iPhone 6S+). These magnetic plates attach to the back to the back of your smartphone device via self-adhesive tape. Once the plate is installed on your phone, it will magnetically attach to the smartphone cradle mount - your phone can be easily attached, detached, and reattached. The smartphone mount can be installed to your vehicle's dash or vent.
Vent Mount: The vent mount attaches to the smartphone mount magnetically. It works with most air vent configurations found in today's vehicle's - including horizontal, vertical, and round air vents. Mounting your phone on a vent blowing hot air may result in a temperature alert from your device, so please consider this when using your dash heater while your smartphone is mounted.
Dash Mount: The dash mount also attaches to the smartphone mount magnetically. It attaches to your dash via self-adhesive tape. This is adhesive tape intended for only one application and not multiple uses.
Notes:

Do not charge your smartphone wirelessly with the magnetic phone plate installed, as this can cause extreme overheating.
State and local laws may restrict placement of the smartphone phone. Before installing the mount, please check your State and Local laws and regulations and be sure to comply.
Rechargeable Battery w/ Solar Charging: The PEARL RearVision's camera frame features a 2500mAh lithium-ion battery that is solar-charged, and with good exposure to daylight, should maintain a continuous charge, even on cloudy days. But if you're storing your car in a garage or out of the daylight for long periods of time, you may need to recharge the Camera Frame before using it again. A USB cable has been built into the Camera Frame should the battery require wired recharging (takes approximately 5 hours to fully charge). The PEARL App will give you a "low battery" warning if it is needing charge.
Theft Deterrents: The PEARL RearVision has a number of built-in theft deterrents to help prevent the camera system from being stolen.
First, the Camera Frame is electronically paired with its companion Car Adapter at the factory, so they will not work independently of each other.
Second, when you set up the PEARL App for the first time, your phone is uniquely paired with the PEARL RearVision system. You can easily share your RearVision credentials with other drivers (such as your family or friends), but to anyone without these credentials, your RearVision will be completely non-functional and useless.
Third, a special locking tool secures the PEARL RearVision via a built-in security screw. The RearVision can only be removed from your car with this locking tool, so be sure to keep it somewhere safe.
Our Product Research Team
At Crutchfield, you'll get detailed, accurate information that's hard to find elsewhere. That's because we have our own in-house Product Research team. They verify what's in the box, check the owner's manual, and record dimensions, features and specs. We stay on top of new products and technologies to help people make informed choices.
Staff Reviews
Product reviews from the Crutchfield Labs
Pearl got rid of the wires with their RearVision rear-view camera. Installation is simple, and the high-quality video streams right to your phone.
What are the Labs?
Q & A
Customer Q&A
Crutchfield asked


Why did you buy this?
Wireless iOS and simple to install

[ Robett Jul 07, 2018 ]
Wireless design

[ Michael Jun 24, 2018 ]
Completely wireless... no splicing required so it can be moved from the back of the camper to the back of the truck very easily for different situations.

[ Jeremy May 23, 2018 ]
Solar powered with backup camera and proximity sensors in one package

[ Jeffery May 17, 2018 ]
Ease of installation No modifications to car Image quality (from other reviews)

[ DA May 12, 2018 ]
Rational design

[ Ray May 11, 2018 ]
Looks simple. No batteries and wireless. Hope it works.

[ John Mar 28, 2018 ]
wireless (cluster free) connections. I don't like the idea of drilling holes, removing and clipping back panels.

[ Brian Mar 17, 2018 ]
looks like a good product in the u-tube presentation.

[ RAUL Mar 15, 2018 ]
Wireless and solar powered. "Apple" type design.

[ Stephen Mar 08, 2018 ]
I choose this item because I don't have a backup camera in my can and is the best way to have it without any wiring problems .

[ Jamal Al Feb 27, 2018 ]
I liked the solar power, easy installation, and software features.

[ William Jan 15, 2018 ]
Ease of installation. Tired of wires.

[ Robert Dec 14, 2017 ]
Looks easy to install

[ RAMON Nov 30, 2017 ]
Safety reason

[ John Nov 29, 2017 ]
The best available although I was disappointed that it didn't include side view cameras at this price

[ Steven Nov 16, 2017 ]
Still enjoy driving my 2007 335 but it sorely needs a backup camera.

[ Ryan Oct 06, 2017 ]
High quality system

[ Lowell Aug 19, 2017 ]
Heard great things about this item Hard to find

[ Christopher Aug 01, 2017 ]
I've purchased several audio and video products from Crutchfield in the past. Their service is the best. ever.

[ WILLIAM L Jun 27, 2017 ]
Works well, super easy install.

[ nathan Jun 27, 2017 ]
Ease of installation and quality of product.

[ leo May 22, 2017 ]
After several back up cameras purchased and not working properly, I will try the Peal RearVision. It seems as a great idea with no wires to run or spliced together.

[ LEONARDO May 07, 2017 ]
If you've ever driven and had to backup an Alfa 4C coupe, you would not have to ask!!! LOL !!!!

[ Stephen Mar 26, 2017 ]
Beats having to take my truck to a custom auto shop to have a rear view camera system installed. Plus, it's removable in case we sell the truck or want to use it on another vehicle.

[ K Feb 22, 2017 ]
Wireless install

[ Gary Feb 18, 2017 ]
easy installation, great features

[ kathleen Jan 08, 2017 ]
works as designed, the new software upgrade works great, product is flawless!

[ Ferhan Dec 29, 2016 ]
Ease of installation and good reviews.

[ Laura Dec 23, 2016 ]
Present for husband

[ FRANCES A Dec 15, 2016 ]
quality and price

[ Tom Dec 14, 2016 ]
Ease of install and features.

[ Mark Dec 13, 2016 ]
Saw it in Crutchfield catalog!

[ Mani Nov 25, 2016 ]
19 questions already asked