Kenwood DDX471HD
DVD receiver
Overview
Our take on the Kenwood DDX471HD by Crutchfield's Ken Nail
It's got the goods
Kenwood's DDX471HD DVD receiver delivers an impressive set of features for your car audio system upgrade. You'll enjoy compatibility with many iPhone® apps, comprehensive iPod®/iPhone controls, a built-in HD Radio™ tuner, and Bluetooth® capability. You'll take control from a bright 6.1" touchscreen with a simple menu that makes it easy to dive right in, so you can start enjoying its many features. You can even adjust the button color to match your dash.
Easy Bluetooth pairing with your iPhone (and works with Siri, too)
The DDX471HD's Apple Auto Pairing automatically recognizes your iPhone when you plug into the USB port and sends a pairing request. Just press a button on the receiver's touchscreen and your iPhone is paired. If you've got an iPhone with Siri, you can access Siri through the receiver — no need to pick up the phone or change what you're doing.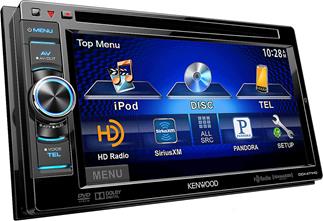 The DDX471HD sports a clean, easy-to-use interface.
App control
The DDX471HD offers fingertip control over your Pandora® Internet radio stations when your smartphone's connected by USB (iPhone) or via Bluetooth (Android and iPhone). Kenwood's iPhone App Mode lets you stream video content from sources like Netflix and YouTube when your car's parked . Another big plus — load Garmin's impressive Street Pilot app on your iPhone 4 or 4S, and you can display maps and directions on the receiver's screen, so you can stay on course during your travels.
Enjoy music and videos
And if you think that radio has "jumped the shark," try out the crystal clear sound of the built-in HD radio tuner and access the additional channels broadcast by participating stations. If you spend a lot of time in your car, you should consider adding an optional SiriusXM tuner to this Kenwood — you'll be able to check out the in-depth music, news, and entertainment programming offered on satellite radio, and your favorite stations will never fade away.
You can watch your favorite DVDs or iPod video on the built-in screen whenever you're parked. But if you're traveling, you can entertain your back seat passengers while you drive — just set them up with an external screen and wireless headphones and they can watch video content while you drive.
Want to keep your car's steering wheel audio controls?
In most vehicles, you can use an adapter (not included) to connect your vehicle's steering wheel controls to this Kenwood stereo. Connect a few wires, then program the adapter for your particular car and this Kenwood, and you'll retain the convenience of your steering wheel controls.
Note: Bluetooth compatibility with this device may vary, depending on your phone and service provider.
iPod/smartphone note: If you're going to use your iPod or smartphone with this receiver, be sure to check "Details" for compatibility information.
Product Highlights:
General features:
DVD/CD receiver with AM/FM tuner
built-in internal amp (22 watts RMS/50 peak x 4 channels)
6.1" touchscreen with variable color button illumination
Bluetooth for hands-free calling and audio streaming
built-in HD Radio tuner
built-in iPod, iPhone, and iPad control (see Details tab for model compatibility)
Siri voice control with select iPhones
playback and control through USB of music files on compatible Android devices
Pandora control with iPhone
iPhone App Mode with limited control of apps like Netflix and YouTube
display function for Garmin "Streetpilot" navigation app for iPhone 4/4S
fits double-DIN dash openings
Audio/video features:
plays CDs, DVDs, and USB memory devices (see Details for full capabilities)
3-band parametric equalizer with 8 preset EQ curves
high- and low-pass filters
subwoofer controls
speaker type setting
Expandability:
works with SiriusXM tuner (not included)
inputs: rear USB input, dual rear A/V inputs, input, rear-view camera input
outputs: rear A/V output, 6-channel preamp outputs (4-volt front, rear, subwoofer)
Other information:
compatible with most factory steering wheel audio controls (adapter required)
warranty: 1 year
What's in the Box:
Kenwood DDX471HD owner's manual
Double-DIN DVD receiver w/ built-in 6.1" monitor (10A fuse)
Sleeve (attached)
Trim ring
Wiring harness
6.5' Parking brake wire (light green)
Microphone with integrated bracket (attached 10' cable terminated by a right-angle male 3.5mm connector)
2 Radio removal tools
6 Pan-head ISO-mount screws
6 Flat-head ISO-mount screws
Instruction Manual (English)
Instruction Manual (Spanish)
Instruction Manual (French)
Warranty card
It's the best head unit I had yet, but it doesn't have its down falls.

Devon, Pa
Reviews
Kenwood DDX471HD Reviews
Average Customer Review(s):


Submit a review and then enter to win a $350 rewards card
Review this product
Thanks for submitting your review
Most reviews are processed and published within 5 business days. You will receive a confirmation email once your review has been published.
Customer photos
Pros:
Cons:
Crutchfield response
---
Details
Product Research
Touchscreen Display
Built-in Bluetooth
Disc & USB Playback
iPod/iPhone Integration
HD+Pandora+SiriusXM Radio
Audio Section
AV Connections
Remote Control
Touchscreen Display
6.1" Touchscreen Display: The Kenwood DDX471HD features a fixed 6.1" wide, 16:9 touchscreen display with a TFT active matrix system. The screen has a resolution of 800 (H) x 480 (V) x RGB with 1,152,000 total pixels. This unit has touchscreen controls with interactive video graphics, making menu navigation easy.
Aspect Ratio: You can change the aspect ratio for video playback. You can select from Full (16:9), Just (4:3 LB), Normal (4:3), or Auto (automatically selects to match incoming video signal) .
Picture Adjustment: You can adjust the unit's display brightness, contrast, color, tint, sharpness, and black level to suit your viewing needs during video playback.
Custom Background Images: You can download a still image (800 x 600) for use as the unit's background from a connected USB thumbdrive.
Customized Top Menu: You can select and arrange which sources and icons display on the unit's Top Menu screen for easier, quicker access. Select the "ALL SRC" icon to see all sources at one time.
Note: For your convenience, this unit is equipped with a multiple language display. Select between 18 different languages including English, Spanish, French and others.
Front-Panel Controls w/ Variable Color Illumination: In addition to the touchscreen controls, the unit includes frequently used buttons and a rotary-dial along the left edge of the screen. You can adjust the head unit's button illumination from the following preset colors - Blue, Purple, Sky Blue, Yellow, Green, Amber, Red, Pink, White or Scan (Scans through all preset colors). You can also select a custom "User" color that is adjusted between Red, Green, and Blue (values range: 0-31). The Eject and Kenwood logo remain red, regardless of variable color illumination setting.
Dimmer: The dimmer function will dim this unit's display and button illumination automatically when the vehicle light switch is turned On when you connect orange/white Illumination wire of this player's harness. You can also manually dim the unit's display and button illumination. You can adjust the dimmer level from -15 to +5.
Clock Display: The DVD receiver offers a 12-hour clock which is visible from any source or menu screen. With your vehicle's key in the accessory or start position, the head unit will continue to display the LCD background image, clock, and button illumination during "Standby" mode. Pressing and holding the source button turns the unit off completely.
Parking Brake Detection: To prevent the display of video while the vehicle is in motion, the light green wire (attached to rear-chassis) must be connected to the vehicle's parking brake detection circuit. You cannot view video unless your vehicle's parking brake is fully engaged. If you attempt to view video without the parking brake engaged, the unit's LCD touchscreen will simply display a blue screen and "Parking Off". While your vehicle is in motion (parking brake off), you can still view all of the head unit's menu screens/settings, source information, metadata, and album artwork.
2-DIN Chassis: The DDX471HD has a 2-DIN chassis (also known as "Double-DIN"), and will fit in many vehicles with a large dash opening. The unit can be ISO-mounted using factory brackets, or Euro-mounted using the supplied mounting sleeve. As always, please consult Crutchfield's Outfit My Car to verify fit with your vehicle.
Built-in Bluetooth
Bluetooth Technology: The Kenwood DDX471HD is equipped with built-in Bluetooth (2.1+EDR) allowing you to make and receive phone calls wirelessly through the receiver; as well as stream music wirelessly from your smartphone to the head unit. In order to use Bluetooth wireless technology, your phone must also be Bluetooth compatible and be able to interpret certain profiles. This unit is compatible with the following Bluetooth Profiles:
Hands-Free Communication: HFP 1.5 (Hands Free Profile), OPP 1.1 (Object Push Profile), PBAB 1.0 (Phone Book Access Profile).
Audio Streaming: A2DP 1.2 (Advanced Audio Distribution Profile), AVRCP 1.3 (Audio/Video Remote Control Profile).
Note: Due to the differences in Bluetooth technology, some Bluetooth enabled devices may be incompatible, function improperly, or may not support all features when used with the Kenwood DDX471HD. Visit Kenwood's Support Site for a complete list of compatible Bluetooth enabled phones
SPP (Secure Simple Pairing): With Secure Simple Pairing (SSP), you can easily pair a Bluetooth enabled phone to the Kenwood DDX471HD without having to enter pin codes or go through complicated settings. The head unit will even establish pairing automatically with the Apple iPhone (iOS 5.0+), even if the Bluetooth function is deactivated on the device. Once a device is paired, the registered Bluetooth device will automatically connect to the receiver when it is in close proximity (up to 30') to the receiver. You can register up to five Bluetooth-enabled devices with the Kenwood head unit (only one paired phone can be used at a time).
Hands-Free Communication w/ External Mic: The head unit supports Bluetooth hands-free communication for your Bluetooth enabled mobile phone. The touchscreen controls of the DDX471HD can be used to dial a number, answer an in-coming call, or end a call. The unit also includes an external microphone (featuring adjustable gain), so you can carry on your side of the conversation while listening to the caller through your vehicles speakers (All or Front only). During a conversation, you can switch between the Private Mode (talking directly on your cell phone) and the Hands Free Mode.
Answering a Call: When a call comes in, a ring-tone will be heard through your vehicle's speaker and the caller's name or phone number will be displayed. You can answer the call from the head unit's touchscreen, or setup the head unit to automatically answer the incoming call immediately in 5 seconds.
Dialing a Number: Using the DDX471HD, you can dial a phone number in one of the following ways:

Entering a Phone Number: Allows you to directly dial a phone number up to 32 digits from the head unit's touchscreen.
Speed (Preset) Dialing: Allows you to register up to 6 phone numbers for quick dialing. The preset numbers can be accessed from the head unit's touchscreen.
Phone Book: You can dial by using the downloaded phone book. You can download phone book data from your cell phone to the DDX471HD. Up to 5,000 numbers can be stored for each registered cell phone. Each number can be up to 32 digits long and each name can be up to 50 characters long. You can search the phone book in alphabetical order.
Call History: The Call History is a list of calls that have originated from and were received by this unit that you can dial. You can select Outgoing, Incoming, or Missed calls (up to 50 each).
Voice Dialing: If your mobile phone supports voice recognition, then you can dial out by voice command. Simply speak into the included microphone.
Note: This unit allows you to answer a call or dial out using any option without engaging the vehicle's parking brake.
External Microphone: The Kenwood DDX471HD includes an external microphone to carry on your side of your phone conversation and voice command dialing. The external wired microphone offers improved audio quality versus an integrated microphone, so you can be heard easier over noisy traffic and road noise. You can adjust the volume level and noise cancellation of the microphone without affecting the other sources. The external microphone features an attached 10' cable terminated by a right-angle 3.5mm connector which plugs into the mic input on the rear-panel of the head unit. The microphone offers an integrated mounting bracket which can be clipped to your vehicle's sun-visor or taped to your dash. The external microphone measures 0.525" (diameter) x 1.505" (depth).
SMS: If your Bluetooth enabled mobile phone is compatible with SMS (Short Message Service), the Kenwood head unit will notify you when a message has been received. You must then use your phone to check the message. You cannot read, edit, or send a message through this unit.
Wireless Audio Streaming (w/ Metadata Display): The Kenwood DDX471HD also supports wireless audio playback (AD2P) and control (AVRCP) of a Bluetooth enabled audio player or smartphone. The DDX471HD will be able to control basic playback functions of your Bluetooth device's stored music; such as Play/Pause, Skip Next/Previous, Fast Forward/Rewind and Random/Repeat. The head unit will also display your stored music's song information; such as Artist name and Song/Album title. The DDX471HD also supports audio streaming of music apps downloaded on your smartphone with metadata display and limited control. Advanced music control of your music apps will still need be done via your Bluetooth-enabled smartphone. When an incoming call or outgoing call is in progress from your Bluetooth enabled mobile phone, audio streaming will be paused so you can take your call. Once the call is finished, your streaming music will resume.
Siri Eyes Free Control: When paired and connected with an iPhone with Siri via Bluetooth (not USB), the Kenwood DDX471HD has the ability to access Siri through its front-panel controls and external microphone. Simply press-and-hold down on the head unit's "VOICE/TEL" button to engage Siri and use the included microphone to communicate with Siri. Siri's voice will heard through your vehicle's speakers. All Siri functions including hands-free calling, music search, setting reminders, text-messaging, audible navigation, and more can be done through the DDX471HD and its microphone. The head unit's LCD touchscreen will only display hands-free calling and Bluetooth audio information (all other functions of Siri are only audible through the Kenwood DDX471HD; visual data will still need to be viewed from your iPhone device).
Note: You can ask Siri to get directions to a destination and the turn-by-turn instructions will heard through your vehicle's speakers, while the on-screen map still displays on your iPhone with Siri. The head unit's audio is attenuated while Siri provides audible directions.
Disc & USB Playback
Compatible Discs: The unit has a front-loading disc-slot to make loading your disc easier because there is no panel to slide or fold-down. The Kenwood DDX471HD supports playback of DVD-Video, DVD-R/RW, DVD+R/RW, CD-Audio, CD-R/RW, and VCD discs. The unit supports MPEG-1/MPEG-2 video & JPEG files recorded on to CD-R/RW, DVD-R/RW and DVD+R/RW discs. It also supports playback of MP3, WMA, AAC, and WAV music files loaded onto a CD-R/RW, DVD-R/RW, or DVD+R/RW disc.
USB Port: The Kenwood DDX471HD features a rear-panel Full-Speed 2.0 USB type-A port (attached to the unit's rear-chassis by a 38" cable) for connection and control of a portable USB mass-storage class (MSC) device; such as select Android smartphones (Froyo/Gingerbread OS only), portable digital audio players, or USB thumbdrives. The USB port enables playback of MP3, WMA, AAC, and WAV audio files; as well as JPEG still-picture files stored on a compatible USB memory device. The DDX471HD also supports video playback of MPEG1/MPEG2 video files from a connected portable USB MSC device. USB portable audio devices that can be charged via USB will be charged when plugged into the DVD receiver's USB port (5V/1A), and the vehicle's ignition switch is set to ACC or On.
File Compatibility: The Kenwood DDX471HD supports the following types of audio, video, and photo files recorded onto a disc or loaded onto a USB mass storage class device.
Media Type
Disc (CD-R/RW or DVD-R/RW, DVD+R/RW)
USB
File System
ISO9660 Level 1/Level 2, Joliet, Romeo, Long File Name
FAT 16/32
Playable File Types
Audio
MP3: bit rate of 8-320kbps w/ sampling rates of 8-48kHz
WMA: bit rate of 5-320kbps w/ sampling rates of 8-48kHz
AAC: bit rate of 16-320kbps w/ sampling rates of 32-48kHz
WAV: bit rate of 16-bit w/ sampling rate of 44.1kHz
Video
MPEG-1: 352x240 to 720x480 or 352x280 to720x576 (4.0Mbps)
MPEG-2: 352x240 to 720x480 or 352x280 to 720x576 (4.0Mbps)
Photo
JPEG: 32x32 to 8192x7680 pixels
Maximum # of Folders/Files
250 folders/5,000 files (999 files per folder)
Tags
MP3 ID3-tags (ver. 1.0/1.1/2.2/2.3/2.4), WMA-tags, AAC-tags, and WAV-tags
Dolby Digital/DTS: The DDX471HD supports playback of Dolby Digital and DTS 2.0 DVD discs and will convert multi-channel Dolby Digital sources to 2-channel.
Folder/Track List: The Folder/Track List allows you to search folders and audio/video/picture files stored on a disc.
Playback Screen: During DVD playback, you can control certain operations simply by touching an area of the screen. The touchscreen has 4 functions areas. You can touch the left of the screen to start the current chapter over, or the right of the screen to skip to the next chapter. Pressing the top center of the screen activates the DVD disc menu control buttons, while pressing the bottom center activates the source control screen.
Zoom: The DDX471HD features a 3 level zoom when playing back video and still images.
Parental Control: Parental Control allows you to restrict DVD playback according to a predetermined level. You can select a parental control rating from 0-8, which is protected by a 4-digit password.
Auto Reload: The DVD player will automatically reinsert the disc if it's ejected, but not removed for 20 seconds or more.
Firmware Updates (via USB): The unit's operating system is updateable via free downloadable software from Kenwood's support site. Firmware downloads assist in maintaining system performance when using external devices and emerging technologies. Firmware/software updates can be downloaded onto a USB thumbdrive from your computer and then inserted into the head unit's USB port and uploaded. The tested unit contained firmware version G11.03.00. Go to Kenwood's Support Site for the latest firmware/software updates.
iPod/iPhone Integration
iPod Audio/Video Playback: The Kenwood DDX471HD supports direct connection of your 30-pin or Lightning-connector iPod/iPhone through its rear-panel USB port and 3.5mm input. The DDX471HD offers audio/video playback, music navigation, information display, and charging of select Apple iPod/iPhone models. Video can only be displayed while the vehicle is in park.
30-Pin Dock Connector: If you own an older iPod/iPhone with the 30-pin dock connector, you can enjoy audio and video files on your Apple device through the Kenwood DDX471HD. Using Kenwood's KCA-IP202 iPod video cable (113KCIP202, sold separately), you can enjoy audio playback of your stored music and music apps on your iPod/iPhone; plus video playback of your stored movies and video apps on your iPod/iPhone through the Kenwood DDX471HD. If you only desire audio playback, you can use Kenwood's KCA-IP102 iPod cable (113KCIP102, sold separately) or the dock connector-to-USB cable that comes with your Apple device to connect your iPod/iPhone to the DDX471HD.
Lightning Connector: If you have a newer iPod/iPhone with the Lightning-connector, you can use the Lightning-to-USB cable that came with your Apple device to connect your iPod/iPhone to the Kenwood DDX471HD for audio playback only. You'll be able to listen to stored music and music apps on your Lightning-connector Apple device through the Kenwood DVD receiver. Video playback is not supported.
Note: The unit's rear-panel AV input must be set to "iPod" in order to playback audio/video from your connected iPod/iPhone, using the KCA-IP202 cable. The unit's rear-panel AV input must be set to "AV-IN2" in order to use the Kenwood KCA-IP102 iPod cable or the cable that came with your Apple device for audio playback only.
iPod/iPhone Control: The Kenwood DDX471HD lets you control your iPod/iPhone from the head unit's touchscreen, your iPod/iPhone's touchscreen/clickwheel, or a downloaded app.
Head Unit Control Mode: The Kenwood head unit allows you to navigate your iPod's music library by Playlist, Artists, Album, Song, Genre, Song, Podcast, or Audiobook. Your iPod's video library can be searched by Video Playlist, Movie, Music Video, TV Show, Video Podcast, Rented Movie, or iTunesU. You can then search each of these categories using the head unit's touchscreen slider function (categories will be listed in alphabetical order). The head unit also supports basic playback functions such as Play/Pause, Fast Forward/Rewind, Previous/Next Track and Repeat/Random of your connected iPod/iPhone. Newer iPod/iPhones with iOS 6.0+ will still allow you to navigate stored music and movies from the Apple device's touchscreen; older iPod/iPhone devices will be locked during connection.
iPod/App Control Mode: The iPod/App control mode allows you to navigate stored music and movies from your older Apple device (iOS 5.1.1 and earlier). You'll still have access to basic playback controls (like Play/Pause, Fast Forward/Reverse, Previous/Next Track) from the head unit, but advanced navigation functions will be locked. The iPod/App mode also lets you listen to your favorite music apps, streamed to your 30-pin or Lightning-connector iPhone (iOS 3.0+) through the Kenwood head unit and your vehicle's speakers. You can even watch video on the Kenwood DVD receiver's touchscreen from select streaming movie apps (like Netflix) downloaded on your iPhone 4/4S (iOS 4.0+), via the Kenwood KCA-IP202 iPod video cable (sold separately). Not all apps will be compatible and control will be limited.
Note: Access to your iPhone's downloaded applications will depend on the availability of a cellular and/or WiFi network for purposes of allowing your iPhone to connect to the Internet.
Song/Artist Info & Album Art: In Head Unit Control mode, the DDX471HD will display your iPod/iPhone's stored music information including Track number, Elapsed playing time, Song/Album title, Artist name, and Album art. There is no music information displayed when this unit is set to iPod/App Control mode. Instead, the head unit will display "iPhone App and iPod Control Mode" (song/artist information will need to viewed on your iPod/iPhone's LCD screen).
Battery Charging: The head unit's USB connection provides 1A of current to power and charge your connected iPod/iPhone when your vehicle's ignition switch is set to the 'ACC' or 'On' position. This unit does not charge the iPad. If your iPod/iPhone has no initial battery charge, then the unit will not recognize it.
Garmin App: In addition, the optional KCA-IP202 iPod cable (113KCIP202, sold separately) allows you to view navigation maps and get audible/visual directions on the DDX471HD's touchscreen, when the Garmin StreetPilot Onboard USA app ($49.99), and the Vehicle Display Integration in-app option ($49.99) are both downloaded to your connected iPhone (4/4S) or iPad (1/2/3); running iOS 5.1 or later. The Garmin StreetPilot Onboard USA app contains NAVTEQ map data for the United States (lower 49 states); with over a million POIs, turn-by turn directions, lane assist with junction view, traffic updates, and speed limit alerts. Because the map data is downloaded onto your iPhone and does not live on the network, wireless coverage is not required to navigate. Once you have selected your destination on your connected iPhone, your map route will be visible on the DDX471HD's touchscreen (even with parking brake disengaged) and turn-by-turn directions can be heard through your car stereo speakers. You will continue to use your iPhone's touchscreen to control the Garmin StreetPilot USA app. The screen of your iPhone and the screen of the Kenwood DDX471HD may not be identical.
Note: A Garmin StreetPilot Onboard app with North American maps (US, Canada, Mexico, Puerto Rico, USVI, and more) is also available for $59.99.
iPod/iPhone Compatibility Chart: The Kenwood DDX471HD is "Made for iPod/iPhone" compatible and supports the following iPod/iPhone model features (as of 9/30/2014):
Apple Device
Generation
Tested Version
Media Type
Control Type
Specific Apps
Display Type
Bluetooth
Charge
Audio
Video
Head Unit
iPod/App
Pandora App
Garmin App
Song/Artist Text
Track Info
Album Art
Phone
Audio
Siri
iPhone
2G
3.1.3
Y
Y
Y
Y
N
N
Y
Y
Y
Y
N
N
Y
3G
4.2.1
Y
Y
Y
Y
N
N
Y
Y
Y
Y
Y
N
Y
3GS
5.1.1
Y
Y
Y
Y
Y
N
Y
Y
Y
Y
Y
N
Y
4
7.1.2
Y
Y
Y
Y
Y
Y
Y
Y
Y
Y
Y
N
Y
4S
8.0
Y
Y
Y
Y
Y
Y
Y
Y
Y
Y
Y
Y
Y
5/5C/5S*
8.0
Y
N
Y
Y
Y
N
Y
Y
Y
Y
Y
Y
Y
6/6+*
8.0
Y
N
Y
Y
Y
N
Y
Y
Y
Y
Y
Y
Y
touch
1st
2.2.1
Y
Y
Y
Y
N
N
Y
Y
Y
N
N
N
Y
2nd
4.2.1
Y
Y
Y
Y
N
N
Y
Y
Y
N
Y
N
Y
3rd
5.1.1
Y
Y
Y
Y
N
N
Y
Y
Y
N
Y
N
Y
4th
6.1
Y
Y
Y
Y
N
N
Y
Y
Y
N
Y
N
Y
5th*
8.0
Y
N
Y
Y
N
N
Y
Y
Y
N
Y
Y
Y
nano
1st
1.3.1
Y
N
Y
N
N
N
Y
Y
Y
N
N
N
Y
2nd
1.1.3
Y
N
Y
Y
N
N
Y
Y
Y
N
N
N
Y
3rd
1.1.3
Y
Y
Y
Y
N
N
Y
Y
Y
N
N
N
Y
4th
1.0.4
Y
Y
Y
Y
N
N
Y
Y
Y
N
N
N
Y
5th
1.0.2
Y
Y
Y
Y
N
N
Y
Y
Y
N
N
N
Y
6th
1.2 PC
Y
N
Y
Y
N
N
Y
Y
Y
N
N
N
Y
7th*
1.02 PC
Y
N
Y
Y
N
N
Y
Y
Y
N
Y
N
Y
classic
80GB
1.1.2
Y
Y
Y
Y
N
N
Y
Y
Y
N
N
N
Y
120GB
2.0.1
Y
Y
Y
Y
N
N
Y
Y
Y
N
N
N
Y
160GB
2.0.4
Y
Y
Y
Y
N
N
Y
Y
Y
N
N
N
Y
video
5th
1.3
Y
Y
Y
N
N
N
Y
Y
Y
N
N
N
Y
iPad
1
5.1.1
Y
Y
Y
Y
Y
Y
Y
Y
Y
N
Y
N
N
2
8.0
Y
Y
Y
Y
Y
Y
Y
Y
Y
N
Y
N
N
3
8.0
Y
Y
Y
Y
Y
Y
Y
Y
Y
N
Y
N
N
4/air*
8.0
Y
N
Y
Y
Y
N
Y
Y
Y
N
Y
Y
N
mini*
8.0
Y
N
Y
Y
Y
N
Y
Y
Y
N
Y
Y
Y
Note:

*Requires the use of the Lighting-to-USB cable that came with your Apple device to connect to the head unit. These Apple devices only support audio playback (no video output).
Apple iPod/iPhone software updates may change functionality results. If you download a newer software version, you may need to reset the head unit and your iPod/iPhone to regain functionality. If this doesn't work, you may need to wait until a newer software update is available.
HD+Pandora+SiriusXM Radio
Built-In HD Tuner: With its built-in HD Radio tuner, you can receive digital AM/FM broadcasts from local stations where available. HD Radio significantly improves AM/FM audio quality and reception, as well as includes information such as artist name and song titles or traffic news, viewable on the receiver's display. HD Radio Technology will deliver high-quality digital sound. AM digital will have FM-like quality in stereo (70dB SN @ 40-15kHz), while FM digital will have CD-like quality (75 dB SN @ 20-20kHz) with static free and clear reception. The unit's built-in HD Radio tuner allows analog AM/FM tuning as well.
Seek Modes + Direct Access Tuning: You can choose one of three seek modes: Auto 1 (seek tuning), Auto 2 (cycles through and tunes the selected band's preset stations only with each button press), or Manual. You can also setup the DDX471HD to search only HD Radio stations. In addition, you can directly access an AM/FM station by entering in the frequency number using the unit's LCD touchscreen.
Tuner Presets: The DDX471HD's tuner features 3 FM banks (1, 2, 3) and 1 AM bank for storing presets. You can store 6 presets for each AM/FM bank giving you a total of 18 FM presets and 6 AM presets (total of 24). Not only does the DVD receiver's tuner allow you manually enter your desired presets you can choose to have the unit automatically put stations with good reception in the memory banks automatically; this is a handy feature when traveling.
Station Text & Multicasting: AM/FM digital stations can offer text and data such as artist names and song titles. In addition to conventional broadcasts, with HD Radio broadcasting it is possible to choose from up to 8 multicast programs (HD1 to HD8).
Note: HD Radio is the system for digital AM and FM broadcasting in the U.S. More than 2,000 radio stations are broadcasting their primary signals in digital HD Radio technology, as a free service. Go to HDRadio.com to check for HD Radio stations in your area.
Pandora App (for iPhone/Android/Blackberry): The free Pandora App (either from iTunes Apps, Google Play, or BlackBerry App World) lets you play music from the Pandora music service through the Kenwood DDX471HD using your USB-connected Apple iPhone (iOS 5.0+) or Bluetooth paired Android/Blackberry smartphone. Your compatible mobile device will need an active Data Plan account with connection to the Internet via 3G, EDGE, or WiFi. You will also need a Pandora music service account. The Kenwood DDX471HD provides control over the Pandora music service and displays Artist, Album, and Song information.
Station/Genre List: You can select Pandora stations from your Station or Genre List by date or alphabetically (A-Z). You can also choose to randomly playback songs from all your registered stations.
Create New Station: New stations can be created based on the current songs or artists playing on Pandora.
Skip Songs: You can skip song tracks within a station. You cannot skip back to a previous song. Pandora limits the number of skips allowed.
Thumbs Up/Down: You can give songs a thumbs up or thumbs down to help Pandora personalize stations to suit your preferences.
Bookmarking: The song or artist currently being played can be bookmarked & stored in your Pandora account.
Note: Access to the Pandora service will depend on the availability of a cellular and/or WiFi network for purposes of allowing your iPhone to connect to the Internet. Pandora is not supported in Canada & only available in the United States.
SiriusXM Ready: The Kenwood DDX471HD comes ready for SiriusXM programming with access to XM and Sirius Satellite Radio stations. Thanks to its proprietary SiriusXM Connect port, you can add the optional SXV200V1 SiriusXM Connect tuner and receive more than 150 channels of exclusive programming directly from SiriusXM, via the "SiriusXM All Access" package (subscription required). Visit SiriusXM.com for a complete list of subscription options and channel guide. Additional features of the SXV200 SiriusXM Connect tuner include:
Channel list displays a list of all available channels
Category Search searches for channels in a certain category
Displayed Information such as Channel Name, Artist Name, & Song Title can be viewed on the head unit's LCD
Up to 24 SiriusXM Satellite Radio station presets
Supports the SiriusXM Instant Replay function, so you can pause, rewind, and replay up to 60 minutes of live content
Channels containing unsuitable content for children can be blocked
Note: A separate SiriusXM Satellite Radio subscription is required (operates on the XM Network). However, you can easily add this SiriusXM tuner to an existing Sirius or XM account for a Multi-Radio Discount Plan.
Audio Section
24 Bit D/A Converter: The Kenwood DDX471HD utilizes a 24-bit digital to analog converter for superior sound quality with a Signal to Noise ratio up to 99dB.
MOSFET Amplifier: The Kenwood DDX471HD is equipped with a MOSFET amplifier. Compared to conventional power supplies, the MOSFET amplification circuit is smaller and more efficient, and it delivers increased power with less distortion and absolutely zero on/off switching noise. More power means louder and cleaner music at higher volumes because you're not pushing the limits of the amplification circuit. The power output specs for the DDX471HD are as follows:
Full Bandwidth Power: 22 watts RMS x 4 channels (at 4 ohms, 20-20kHz, 1% THD)
Maximum Output Power: 50 watts x 4 channels
6ch/4V Preamp Outputs: The DDX471HD features front, rear and subwoofer 4.0-volt preamp outputs. The front and rear speaker preamp outputs are balance and fade adjustable. The subwoofer preamp output is non-fading. The front, rear, and subwoofer preamp outputs are fixed to the rear chassis of the head unit.
Front & Rear High-Pass Filter: The DDX471HD features an independent High-Pass Crossover for the front & rear channels when your front & rear speakers are connected by the unit's speaker-outputs or preamp-outputs. You can adjust the high-pass crossover from 'Through' (off), 40, 60, 80, 100, 120, 150, 180, or 220 Hz. The "Through" selection is a full-range setting. This feature is very helpful when you have smaller-type speakers in the front and larger-type speakers installed in the rear of the vehicle.
Subwoofer Controls: The Kenwood DDX471HD offers the following subwoofer controls, when you have the unit's subwoofer preamp output activated.
Low Pass Filter: The receiver features a built-in Low Pass Filter control for the preamp-output, when the output is set to Subwoofer. You can select from 50, 60, 80, Hz, 100 Hz, 120 Hz, or 'Through' (off).
Subwoofer Phase: You can adjust the phase of the subwoofer output between 180-degrees (Reverse) or 0-degrees (Normal).
Subwoofer Level: Once the Subwoofer preamp output is activated, you can independently control the subwoofer preamp output level (-50 to +10) from the DVD receiver.
Speaker Type Setting: This feature tailors the DDX471HD according to the type of front speakers in your vehicle. You may select Standard (for speakers with a general diameter), Narrow (for speakers with a small diameter), Middle (for speakers with a medium diameter), or Wide (for speakers with a large diameter).
Equalizer: Eight EQ curves are preset into memory, allowing you to recall the best preset EQ curve for different types of music. Each preset has its own level settings for bass (100Hz), midrange (1kHz), and treble (12.5kHz). You can choose from the following preset EQ curves - Rock, Pops, Easy, Top 40, Jazz, Natural, Flat, and User. The DDX471HD features independent Bass, Treble, and Midrange control when the Preset EQ is in User mode. EQ Pro allows you to adjust the following settings for the Bass, Treble and Mid frequency levels.
EQ Pro
Center Frequency
Q-Factor
Bass Extension
Level
Bass
40, 50, 60, 70, 80, 100, 120, or 150 Hz
1.00, 1.25, 1.50, or 2.00
On/Off
-8 to +8
Midrange
0.5k, 1.0k, 1.5k, or 2.0k Hz
1.00 or 2.00
N/A
Treble
10.0k, 12.5k, 15.0k, or 17.5k Hz
N/A
N/A
Note: You can store bass, middle and treble tone settings for each source (Disc, Tuner, AV, USB, iPod, and Pandora).
Sound Enhancements: The head unit provides further sound enhancements for your car audio system.
Loudness: This function enhances low and high frequencies to make the sound clearer lower volumes.
Volume Offset: The level of each source may be independently adjusted to prevent radical leaps in output volume when switching from one source to another. The available settings range from -15 to +6.
Dynamic Range: The dynamic range can be adjusted by selecting either Normal, Wide or Dialog. Dialog makes the total sound volume become larger as compared with Wide and Normal, allowing you to listen to the movie's dialogue more clearly. This is effective only on Dolby Digital software.
Key Beep: The in-dash multimedia head unit provides an audible beep to confirm button operation. This function can be turned On or Off.
AV Connection
Dual A/V Inputs: The Kenwood DDX471HD DVD receiver is fitted with two rear-panel minijack (3.5mm) audio/video inputs to connect external AV sources, such as a game system, Blu-ray player, or TV tuner. The rear-panel AV input labeled "AV-IN2" also serves as the input for Kenwood's proprietary KCA-IP202 iPod video cable.
Camera Input: The unit features a composite video input for connecting an optional rear view camera, such as the Kenwood CMOS-220 (113CMOS220, sold separately). The video from this connection can be set to display when switched to this input, or display the rear view camera video automatically when the vehicle is shifted into Reverse gear. The purple/white wire (attached to the rear chassis) must be connected to the vehicle's reverse lamp circuit for automatic video switching. Automatic video switching takes approximately 1.5 seconds. Audio from your music source will continue playing, while the back-up camera is displayed.
A/V Output (Dual Zone): The unit features a composite video and 3.5mm audio jack to output A/V signals to an optional monitor and headphone system in the rear of your vehicle. You can select between a 16:9, 4:3 LB, or 4:3 PS Aspect Ratio for the unit's video output to match your connected monitor. The audio/video source which you can output to a separate monitor and headphone system depends on the current source that is being played back on the Kenwood DVD receiver.
| | |
| --- | --- |
| DVD Receiver Source | A/V Output Source |
| DVD | DVD, AV-IN1, AV-IN2, or Off |
| Tuner/SiriusXM (optional tuner required) | DVD, USB, iPod, AV-IN1, AV-IN2, or Off |
| USB | USB, AV-IN1, AV-IN2, or Off |
| iPod | iPod, AV-IN1, or Off |
| Pandora | AV-IN1, or Off |
| AV-IN1/AV-IN2 | DVD, USB, iPod, AV-IN1, AV-IN2, or Off |
Note: The volume of the A/V output will be controlled by your rear entertainment system.
Remote Control
Steering Wheel Remote Compatibility: The head unit features an OEM steering wheel remote control input wire (blue/yellow) within the included wiring harness that lets you keep your vehicle's factory radio steering wheel remote controls when used with an optional steering wheel audio control adapter (sold separately). Please consult Crutchfield's Outfit My Car to see if your vehicle is compatible.
Optional Remote Control: The optional Kenwood KNA-RCDV331 IR wireless remote control (113RCDV331, sold separately) unit is designed to operate this Kenwood multimedia head unit. The wireless remote controller operates off of two supplied "AAA" batteries. The remote operates off of IR transmission so the KNA-RCDV331 must be pointed at the front-panel of your compatible Kenwood head unit within direct line of sight.
Our Product Research Team
At Crutchfield, you'll get detailed, accurate information that's hard to find elsewhere. That's because we have our own in-house Product Research team. They verify what's in the box, check the owner's manual, and record dimensions, features and specs. We stay on top of new products and technologies to help people make informed choices.
Q & A
Customer Q&A
10 questions already asked