Klipsch RP-440WF Reference Premiere HD Wireless
Wireless powered floor-standing speaker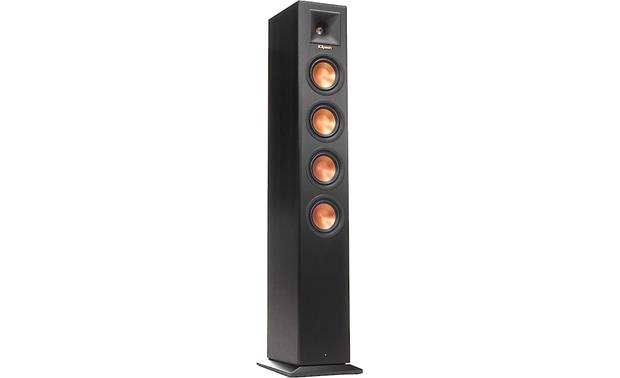 Klipsch RP-440WF Reference Premiere HD Wireless - Front (shown with included grille removed)

Klipsch RP-440WF Reference Premiere HD Wireless - Angled front view with grille attached

Klipsch RP-440WF Reference Premiere HD Wireless - Back
From Klipsch: Reference Premiere HD Wireless Quick Start Guide
From Klipsch: Reference Premiere HD Wireless

Klipsch RP-440WF Reference Premiere HD Wireless - Direct front view with grille off

Klipsch RP-440WF Reference Premiere HD Wireless - Direct front view with grille on

Klipsch RP-440WF Reference Premiere HD Wireless - One-button wireless pairing for easy setup
Overview
Our take on the Klipsch RP-440WF Reference Premiere HD Wireless by Crutchfield's Dave Bar
High-powered wireless sound
No doubt about it: our customers love their Klipsch speakers. Now we think they'll be even more stoked that they can get that famous Klipsch performance wirelessly. With 125 watts of built-in amplifier power and sophisticated wireless technology on-board, the Klipsch's Reference Premiere RP-440WF floor-standing speaker delivers powerful, crystal-clear sound without the need for unsightly speaker wires running across your floor or under your carpet.
Each slender tower boasts four 4-1/2" woofers for tight, punchy lows and clear mids, plus Klipsch's signature 1" horn tweeter for crisp, extended, highs. The RP-440WF's dynamic, full-range performance makes it a great choice for both music and home theater systems.
Hear every detail
The brains behind every Klipsch Reference Premiere HD wireless speaker is the RP-HUB1 HD Control Center (required, sold separately). Using state-of-the-art WiSA™ wireless technology, this compact system hub transmits high-quality audio at up to 24-bit/96kHz resolution. That means that not a single detail is lost on the way to your speakers.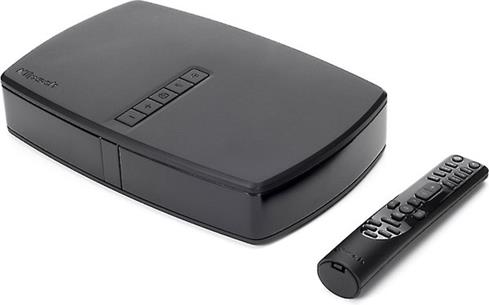 The compact RP-HUB1 HD Control Center (sold separately) is the essential nerve center behind every Klipsch wireless home theater system.
How it works
Rather than using a traditional receiver or amplifier, you simply plug all of your source components — DVD or Blu-ray players, cable boxes, game consoles, and network music players — into the HD Control Center. Audio signals are streamed to the speakers wirelessly. The hub also receives Bluetooth® signals, so you can enjoy music from your compatible tablet or smartphone. A single button on the back of the speaker seamlessly pairs it to your HD Control Center for easy system setup.
You can start your system off with just a single pair of Klipsch wireless speakers for impressive stereo sound, then add to it to create a full-blown 7.2-channel home theater system. The Control Center's on-board Dolby® Digital and DTS® decoders ensure you'll hear rich, enveloping surround sound.
(One important heads-up: You will need AC power for the hub and each speaker in your system.)
Klipsch speaker technology for dynamic performance
Horn technology is one of Klipsch's long-standing hallmarks. Flared openings in the speaker cabinet project sound waves toward your listening area and prevent them from simply spilling out in all directions. This design reduces reflections that can color the sound, and boosts dynamics and efficiency for powerful, "front row" sound that remains crystal-clear at all volume levels.
Klipsch's Hybrid Tractrix® horn features a circular throat around an advanced titanium diaphragm tweeter that transitions into a square 90º x 90º mouth. This unique shape provides a cleaner, more efficient transition of sound waves into your listening space. Compared to previous models, this horn design delivers a wider sweet spot with more precise placement of instruments and vocals. Even the horn material itself has been upgraded to molded silicone rubber that helps decrease resonance for smoother, warmer highs.
A horn that can enhance bass, too
Look around the back, and you'll see that instead of the conventional round port tube found on many speakers, Klipsch uses a Tractrix horn-shaped opening for smoother, more efficient airflow in and out of the cabinet. The resulting decrease in air turbulence makes for cleaner, more powerful bass with reduced port noise and low-frequency distortion.
High-tech woofer design
The RP-440WF's Cerametallic™ woofers dish out smooth midrange and articulate, well-defined bass. Klipsch makes its cones out of specially treated aluminum that's strong yet lightweight to dampen and prevent distortion. With the Reference Premiere Series, Klipsch also gave these woofers newly developed titanium voice coil formers that allow more linear movement for enhanced efficiency, lower distortion, and extended low frequency response.
Build your system with other Klipsch Reference Premiere HD wireless speakers
RP-140WM bookshelf speakers - These compact bookshelf speakers make a great pair for stereo music or for use as wireless surround sound speakers.
RP-440WC center channel speaker - The perfect center speaker for crisp dialogue and dynamic movie sound effects.
RP-110WSW powered subwoofer - Add excitement to your music and movies with deep, rumbling bass.
Product Highlights:
requires a Klipsch RP-HUB1 HD Wireless Control Center (sold separately)
frequency response: 48-25,000 Hz
high-efficiency DSP controlled amplification with separate, ultra-low noise amplifiers for each driver
total built-in amplifier power: 125 watts continuous (250 watts peak)
WiSA (Wireless Speaker & Audio) lossless wireless transmission with up to 24-bit/96kHz resolution for detailed, high-accuracy sound
simple, single-button pairing with Klipsch RP-HUB1 HD Control Center
90° x 90° Hybrid Cross-Section Tractrix® horn with 1" LTS (Linear Travel Suspension) titanium diaphragm tweeter
four 4-1/2" Cerametallic™ cone woofers
bass reflex (ported) cabinet design
rear-firing Tractrix port provides fast, efficient airflow from the cabinet for clear, powerful bass
beveled MDF front baffles reduce frontal surface area to minimize diffraction, plus decrease high-frequency distortion and resonance
magnetically attached grille for a clean, streamlined look
durable polymer veneer finish
angled MDF base plate for elevated image height and increased speaker stability
AC power connection required (power cable included)
8-5/8"W x 41-1/8"H x 11-3/4"D
weight: 36.5 lbs.
warranty: 5 years speakers, 2 years amplifiers and electronics
What's in the Box:
Klipsch RP-440WF Reference Premiere HD Wireless Owner's manual
Wireless floorstanding powered speaker (Ebony)
Grille (installed)
5' AC power cord
2 Self-adhesive rubber pads
User Manual
Warranty Information
Important Safety Instructions
Scratch & Dent items may be missing non-essential accessories. In some cases the manufacturer's accessories have been replaced with generic equivalents.
Fantastic looking and great sound. These speakers are impressive in the room. The sound is pure and pleasing. Glad I made the purchase.

Norman, The Villages, FL
Reviews
Klipsch RP-440WF Reference Premiere HD Wireless Reviews
Average Customer Review(s):


Submit a review and then enter to win a $350 rewards card
Review this product
Thanks for submitting your review
Most reviews are processed and published within 5 business days. You will receive a confirmation email once your review has been published.
Customer photos
Pros:
Cons:
Crutchfield response
---
Details
Product Research
Features
High-Resolution Wireless Floorstanding Loudspeaker: The Klipsch RP-440WF high-resolution floorstanding loudspeaker is part of the Klipsch Reference Premiere HD Wireless speaker system. The Klipsch RP-440WF combines WiSa wireless speaker & audio technology with Klipsch's legendary audio & system design expertise for a high-performance wireless speaker.
Two-Way Driver System: The Klipsch RP-440WF high-resolution floorstanding loudspeaker utilizes a two-way driver design with a 1" Titanium LTS tweeter mated to a 90° x 90° Hybrid Tractrix Horn and four 4.5" Cerametallic cone woofers with rubber surround for detailed, dynamic sound. The speaker features a tapered array crossover with a crossover frequency of 1.8kHz for the two upper woofers and a crossover frequency of 200Hz for the two lower woofers.
90° x 90° Hybrid Tractrix Horn: A redesigned Tractrix Horn utilizes a circular horn throat paired to a square horn mouth to further improve high-frequency response and extension, while enhancing imaging and dynamics. The compressed molded rubber construction adds high frequency damping to reduce harshness and improve detail. This creates the cleanest, most natural sound possible. These 90° x 90° Hybrid Tractrix Horns provide a wider sweet spot while maintaining controlled directivity of the sound.
1" Titanium LTS Tweeters: Behind the Tractrix Horn lies a 1" titanium tweeter with a linear travel suspension for open, natural, sound. The Linear Travel Suspension minimizes distortion for enhanced, detailed performance.
Four 4.5" Cerametallic Woofers: The four 4.5" woofers of the RP-440WF floorstanding loudspeaker features Klipsch's distinctive, copper-colored Cerametallic material. Made with an anodized aluminum, this cone is strong and dent resistant. The anodizing process converts its inner and outer surfaces to ceramic. The outcome is a rigid cone with superb damping characteristics that will not flex or resonate at frequencies within the woofer's operating range The 4.5" woofers also employ a rubber surround for added durability.
Custom Designed Integrated Amplifiers: The Klipsch RP-440WF high-resolution floorstanding loudspeaker employs separate ultra-low noise amplifiers that are custom designed for each driver to maximize performance. Total amplifier power is 125W RMS and 250W Peak. By customizing each amplifier to each driver, Klipsch is able to extract every ounce of performance out of the loudspeaker. Each amplifier uses DSP (digital signal processing) so the speaker sounds great at any volume level without distortion
Bass Reflex MDF Enclosure: The Klipsch RP-440WF employs a bass reflex enclosure with dual rear-firing Tractrix ports for greater efficiency and bigger bass response. Utilizing Tractrix geometry, the all new redesigned bass port allows for the most efficient, fastest air transfer from the cabinet for a clean, powerful low frequency response. The ported enclosure features a MDF cabinet finished with a premium wood-grain polymer veneer and a polymer front baffle. The speaker's rigid cabinet offers improved internal cross-bracing to minimize panel vibrations that can color sound.
MDF Plinth: The all new satin painted MDF plinth footer of the Klipsch Reference Premiere HD Wireless floor-standing speaker lends an acoustically sound, authoritative stance when placing the speaker on your wood, tile, or carpeted floors. The MDF plinth includes integrated rubber feet to protect your floors (no spike feet).
Magnetic Grille: The floor-standing loudspeaker features a removable magnetic low-diffraction grille which easily snaps into place over its polymer front baffle.
Reference Premiere HD Wireless System: The complete Klipsch Reference Premiere HD Wireless System consists of the RP-HUB1 HD Control Center, RP-440WF floorstanding speaker, RP-140WM bookshelf speaker, RP-440WC center-channel speaker, and RP-110WSW powered subwoofer (all sold separately). The floorstanding, bookshelf, and center-channel wireless speakers feature a two-way design and utilizes the same driver and horn technology as Klipsch's Reference Premiere series. The wireless powered subwoofer is modeled directly after the Klipsch Reference Premiere RP-110SW subwoofer. The Klipsch HD Control Center acts as the system's hub and directs audio wireless to each speaker. All of the Klipsch Reference Premiere HD Wireless System products offer the convenience of WiSa wireless connectivity.
Requires HD Wireless Control Center: The Klipsch Reference Premiere HD Wireless System requires at least two RP-440WF floorstanding speakers or two RP-140WM bookshelf speakers, plus the Klipsch RP-HUB1 HD Control Center (sold separately). The Klipsch HD Control Center replaces complicated AV receivers and transmits audio wirelessly to the Reference Premiere HD Wireless System's speakers. The HD Control Center creates its own dedicated WiSa (Wireless Speaker & Audio) network independent of your home WiFi to eliminate dropouts and interference caused by bandwidth constraints within your home.
WiSa Wireless Technology: Through the use of state-of-the-art WiSa (Wireless Speaker & Audio) technology, the Klipsch Reference Premiere HD Wireless System delivers unmatched wireless audio performance and ease-of-use. WiSa technology transmits 24-bit audio at sample rates up to 96kHz/second, with robust error recovery for uninterrupted listening enjoyment. With extremely low latency (<5mS) and negligible speaker-to-speaker delay, it offers flawless wired-quality performance and reliability. WiSa technology operates in the relatively unused 5.2 to 5.8 GHz UNII radio frequency spectrum, reliably transmitting uncompressed audio from 2ch stereo to 7.1ch surround, along with system configuration and calibration data. It has a range of approximately 30'.
Note: The floorstanding speaker has no speaker wire terminals on the back-panel to connect to a typical AV receiver. Instead, it has a built-in wireless receiver that functions only with the Klipsch RP-HUB1 HD Control Center (sold separately). The only hardwired connection the speaker will need is AC power via the included detachable AC power cord.
High Res 2.0-7.1ch Audio: The Klipsch Reference Premiere HD Wireless System can deliver 24-bit/96kHz audio in configurations ranging from 2ch stereo to 7.1ch surround sound, supporting both Dolby Digital Plus (7.1ch) & DTS (5.1ch). A pair of RP-440WF floorstanding speakers are ideal for a simple 2ch stereo setup. The RP-440WF can also be used as front, surround, and/or surround back speakers in a home theater application.
Simple Setup: The Klipsch Reference Premiere HD Wireless System gives you the ability to place speakers anywhere in your room without running speaker wire through walls or under carpet. Klipsch's proprietary Smart Speaker Selector provides a single-button solution on the rear of each speaker that seamlessly makes the connection to the HD Control Center without the need for speaker wire or a complicated AV receiver.
Firmware & Software Updates: Once you register the Klipsch Reference Premiere HD Wireless System, Klipsch will offer free firmware & software upgrades which can be downloaded from their website, so you can stay current with the latest Klipsch technologies while expanding your system over time.
AC Power + Auto On/Off: The Klipsch RP-440WF high-resolution floorstanding loudspeaker will need to be plugged into an AC power outlet, along with any other Klipsch Reference Premiere HD Wireless speakers you have in your system. The RP-440WF will turn on automatically when it senses a wireless audio signal and turn off (standby) automatically when there is no audio signal present. The speaker is exceptionally efficient whether it is on or in standby mode.
Our Product Research Team
At Crutchfield, you'll get detailed, accurate information that's hard to find elsewhere. That's because we have our own in-house Product Research team. They verify what's in the box, check the owner's manual, and record dimensions, features and specs. We stay on top of new products and technologies to help people make informed choices.
Q & A
Customer Q&A
Crutchfield asked


Why did you buy this?
Klipsch is known for sound quality and value.

[ Denny Nov 07, 2017 ]
This is the main floor standing speaker of the Reference wireless HD system. I've been looking for a TRUE wireless speaker system for a long time. From my research, this is one of the very few, and though I haven't heard it yet, I have high hopes from the reviews I've seen.

[ Robert Sep 01, 2017 ]
Only wireless system available, but also excellent quality

[ RONNIE Apr 27, 2017 ]
See answer #3

[ Aubrey Jan 29, 2017 ]
I have a large bonus room with a projector set up on a 135" screen. It is not a dedicated home theatre room though unfortunately as kids play in the area. I needed a wireless speaker set up to appease my wife who is opposed to me tearing up carpet and baseboards to try to run speaker wires. The Klipsch wireless system seemed like a good compromise.

[ James Feb 25, 2016 ]
1 question already asked
Jacky, You can not get this to work without Klipsch wireless master control unit , But if you do buy it it sounds great and each speaker has it's own amp so room placement of speakers is simple .

[ CARLOS May 24, 2016 ]
Short answer - I don't know for certain (but I seriously doubt it). fyi - heres some examples of HUB synching/trouble shooting. " Each time" you turn on the Klipsch HUB it scans for the Klipsch Wireless speakers and "synchs" to them (or not). The manual could stand some "beefing up" - for trouble shooting purposes. If theres a problem synching - Its helpful to "play" with the HUB menus - see what they do - and try trouble shooting. e.g. after the HUB has finished synching - go to menu>status>system status (shows up on TV screen). it will tell you what system configuration it has found (e.g. 5.1 or 5.1*, or something else) - then decide does what it displays on screen match reality? {5.1* means there's something wrong with the expected 5.1 configuration it found - you need to rescan) - {you could do a "speaker status - to attempt to clarify the error - see below}. If the scan configuration is not correct you need to go to menu>set up guide - have it rescan - then it will go through the speakers (one by one) and have each "beep" and "blink" (each speaker has an LED) - and the HUB will ask you to confirm (on screen menu) those speakers (i.e. front right, front left, center, subwoofer, side right, side left for my 5.1 configuration). Also after the first/initial scan & check of the "system status" - you can also go to menu>status>speaker status & the HUB menu will allow you to go through each speaker it has synched up with (and see which speakers it has/has not synched with.

[ RONNIE May 24, 2016 ]
The hub is needed... It is the "communicator" via a video monitor.

[ michael May 23, 2016 ]
Unfortunately you can not use the yamahas with these speakers. The system is proprietary and you must have the hub and klipsch wireless hd speakers.

[ James May 23, 2016 ]