Yamaha CD-S3000
Stereo SACD/CD player/DAC (Black)
Item # 022CD3000B | MFR # CD-S3000BL

Our VirginiaVA-based experts can help.
Overview
Our take on the Yamaha CD-S3000 by Crutchfield's Dave Bar

An exquisite musical experience
The flagship of Yamaha CD players, the CD-S3000 delivers a musical experience so involving that even the subtlest nuances of the original performance come to life in your living room. Whether playing standard CDs and SACDs, or decoding the latest high-res music files streaming from your computer or other digital audio sources, the 'S3000 offers the perfect union of digital clarity and analog smoothness, musicality and warmth.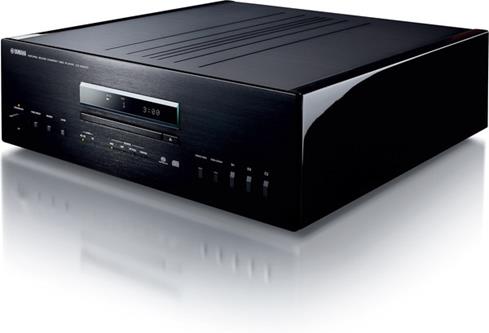 The CD-S3000 receives the same meticulous care and finish as Yamaha's world-class musical Instruments.
Crystal-clear sound with your digital sources
Along with its impressive disc-spinning skills, the CD-S3000 features optical, coaxial digital, and USB inputs for use as a stand-alone, high-resolution DAC. Its world-class ESS SABRE32 digital-to-analog converter runs in a dual-differential configuration so that even the most delicate musical details emerge from a stunningly silent background.
The player's analog and digital circuitry are completely independent, with each boasting its own dedicated toroidal power transformer. Separating the circuitry eliminates any loss of sound quality caused by interference and noise between the two — a common problem with single power supply designs. It's a costly effort, but priceless to your music.
To maintain optimal sonic performance the CD-S3000 offers fully balanced circuitry throughout, ending with XLR audio outputs to provide a low-noise, pro-quality connection to the compatible high-end amplifier of your choice, such as Yamaha's matching A-S3000.
Yamaha sweated the details, so you'll hear every detail
Sophisticated circuitry is just one aspect of this player's high-quality construction. Yamaha has paid particular attention to how those circuits interact. Crucial internal connections are made with screws rather than solder, and short cable runs are employed wherever possible — all to eliminate signal loss. Every circuit has been deliberately placed, including the digital and analog power supplies and their circuit boards, which are positioned on opposite sides of the player to prevent internal interference and achieve the ideal weight balance. It all represents Yamaha's dedication to preserving even the faintest musical details while offering sound marked by superior warmth and spaciousness.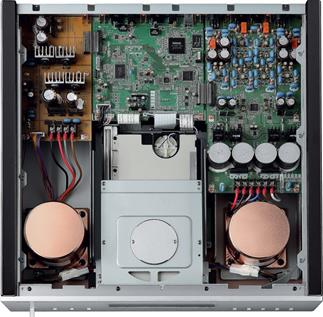 A look inside the CD-S3000's interior highlights the exceptional build quality and shows off its high-quality components such as twin copper-shielded toroidal power transformers.
Beautiful inside and out...
Just like Yamaha's world-renowned concert grand pianos, the CD-S3000 is beautiful in appearance, sturdy in construction, and created with genuine craftsmanship to give music lovers listening enjoyment and pride of ownership. It was built from the ground up with meticulous care to draw out all the details in your music.
Starting with its thick aluminum faceplate and high-rigidity main chassis, this player provides a massive platform to help eliminate vibrations that can rob your music of its sparkle and presence. The 'S3000's newly designed custom drive mechanism is attached by heavy anchors to the chassis to achieve maximum mechanical rigidity and resistance to outside vibration. Then the transport is carefully fine-tuned to ensure perfect horizontal alignment.
These time-consuming, labor-intensive adjustments eliminate any minute tilting of the mechanism to achieve stable rotation and ultra-precise signal reading by the laser pickups. At the same time, this precise alignment helps prevent any vibration caused by rotation of the disc from affecting the circuit boards. Even the tray itself is made from high-rigidity aluminum to further reduce secondary vibrations due to resonance of the spinning disc and motor. Load a disc into this player's disc tray and you'll immediately appreciate the incredibly smooth, quiet operation.
...right down to its feet
Yamaha left no stone unturned in its quest to squelch vibration. Even the 'S3000's feet are engineered to improve sound quality. The four heavy-duty metal footers include your choice of spikes or pads to support the player's beefy 42-pound chassis. And each one is individually adjustable to ensure perfectly level and stable operation. It all adds up to a player of uncompromising performance and sound quality that will raise your system to a whole new level.
Product Highlights:
stereo playback for SACDs, audio CDs, CD-Rs and CD-RWs (including MP-3 and WMA discs)
rear-panel asynchronous USB input (type B) for audio playback of stored computer or streaming music files, including high-res files up to 24-bit/192 kHz (ASIO 2.3 Yamaha Steinberg USB Driver is available as a free download from the Yamaha web site)
ESS Technology ES9018 SABRE™ Reference Stereo digital-to-analog converter operated in dual-differential mode for superior signal-to-noise ratio
rigid main chassis with left-right symmetrical construction improves anti-vibration properties
high-precision disc mechanism with aluminum disc tray minimizes vibration
fully balanced audio output stage with discrete circuitry greater accuracy and musicality
height-adjustable feet with built-in anti-vibration spikes
independently configured digital and analog circuits each with dedicated toroidal transformer-based power supplies
solid 5mm thick aluminum top cover
stereo RCA and balanced XLR outputs
optical and coaxial digital audio inputs for use in DAC mode
optical and coaxial digital audio outputs for CD
SACD specs:

frequency response: 2-50,000 Hz (-3 dB)
signal-to-noise ratio: 116 dB
dynamic range: 110 dB

CD specs:

frequency response: 2-20,000 Hz
signal-to-noise ratio: 116 dB
dynamic range: 100 dB

remote control
detachable power cord
weight: 42.3 lbs
17-1/8"W x 5-5/8"H x 18-15/16"D
warranty: 2 years
What's in the Box:
Yamaha CD-S3000 Owner's manual
Single disc SACD player
6.5' AC power cord
Remote control
2 "AA" batteries
Owner's Manual (En/Fr)
Safety Brochure (En/Fr)
US Warranty card
Reviews
Yamaha CD-S3000 Reviews
Average Customer Review(s):


Submit a review and then enter to win a $350 rewards card
Review this product
Thanks for submitting your review
Most reviews are processed and published within 5 business days. You will receive a confirmation email once your review has been published.
Customer photos
Pros:
Cons:
Crutchfield response
---
Details
Product Research
Audio Section
Analog & Digital Connectivity
Simple Control
Audio Section
High-Rigidity Aluminum CD Tray: The CD tray is made of high rigidity aluminum, reducing secondary vibrations due to resonance of the disc and the high-speed motor rotating the disc, resulting in improved audio signal-reading precision and quieter operation. In addition to the smart design and luxurious texture, Yamaha fine-tuned the opening/closing action by adding a specially designed meshed wire drive, achieving smoother and gentler operation.
Disc Compatibility: The Yamaha CD-S3000 supports playback of SACD, CD, CD-R, and CD-RW discs.
Super Audio CD: Super Audio CD use a technology called Direct Stream Digital (DSD) to convert music into a digital signal that can be stored on a disc. Compared to the traditional PCM method (the technology used for CD), DSD offers a much higher resolution by following more closely the original waveform of music. With a frequency response of over 100kHz and a dynamic range over 120dB across the audible frequency range - some 64 times higher resolution then CD - Super Audio CD offers music reproduction that reveals details you just cannot hear on a normal CD.
MP3/WMA Playback: This single disc CD player supports MP3 (32-320kbps; up to 44.1kHz) and WMA (48-192kbps; up to 44.1kHz) playback on CD-R and CD-RW discs compatible with ISO9660. The unit can recognize up to 648 folder and files (combined) and up to 299 folders.
Anti-Vibration & Symmetrical Chassis Construction: The main chassis, which supports the loader mechanism, was also made as strong as possible, and reinforcing each part improved the rigidity of the chassis itself. Moreover, the front-panel is made of 0.28" thick aluminum, contributing to the high rigidity of the entire chassis. The unit is constructed by placing the loader mechanism, which is a rotating body, in the center, then placing the digital power supply and circuit board on its left, and the analog power supply and circuit board on its right, to achieve a total symmetrical structure with the digital and analog parts separated, achieving the ideal weight balance. Finally, to minimize impedance as much as possible, the bottom chassis, which is the standard ground, has been copper plated.
Independent Digital & Analog Circuits: The CD-S3000 has adopted a twin power transformer method, which completely separates the digital and analog circuits from the power supply and equips each with its own dedicated power transformer. Separating the digital/analog circuits from the transformer eliminates sound quality deterioration caused by interference and noise between the digital and analog circuit blocks, which occur when there is one digital/analog power supply. This results in exceptionally clear and low-noise reproduction of analog audio. The power transformer is a toroidal transformer with low magnetic leakage which, for both the digital and the analog units, lowers adverse impact on the signal read from the disc. Following detailed research based on trial listening, Yamaha enclosed the power transformer in a copper-plated case, in order to reduce the impact of magnetic leakage and vibration. This produces a gentle, calm and even spacious sound, due to enhanced reproduction of detailed signals.
Digital/Analog Boards w/ Integrated Power Supply Circuits: The internal design of the CD-S3000 does not separate the power supply circuit boards, which include the power transformer; the block capacitors are mounted directly on the respective digital/analog circuit boards. Thus, an original board configuration which integrates the power supply circuits was adopted. Eliminating cabling from the power supply circuits to each circuit board and mounting directly have the benefit of reducing connection loss, as well as achieving low impedance. Connecting directly without soldering achieves thorough contact point loss and low impedances
Single-Stage Configuration I/V Conversion Circuit: To thoroughly eliminate audio signal loss, the CD-S3000 adopts an innovative circuit configuration for the analog circuit. The signal from the D/A converter is conventionally output as an analog signal through an I/V conversion circuit configured in multiple stages. However, in the CD-S3000, the signal is output by a single-stage configuration based on a discrete design of the I/V conversion circuit. This single-stage configuration with high slew-rate sharply lowers audio signal loss compared to a multi-stage configuration circuit and lowers NFB (Negative Feedback), eliminating any sonic suppression, resulting in a natural, spacious sound. The circuits beyond these D/A converters perform balanced transmission with a circuit configuration marked by symmetrical plus and minus sides. Using a balanced connection with the A-S3000 Floating and Balanced Power Amplifier lets you enjoy profoundly pure sound reproduction without any impact of transmission loss.
High-Performance 32-Bit DAC: The D/A converter for the CD-S3000 is the ESS Technology ES9018 SABRE Reference Stereo DAC. Yamaha selected this after careful examination of all points; not only its high precision processing of 32-bit audio, but also the ability to handle large amounts of audio data, strength in the low register and high quality definition in the high register. Since it is constructed with the master clock inside the D/A converter, it is also features an original jitter eliminator function, permitting D/A conversion with extremely low impact of clock jitter. Moreover, an 8-channel D/A converter is housed inside the chip, and applies double differential operation using 4-channel D/A converters on the right and left sides respectively. It delivers exceptional high performance and high quality signal output with superior signal to-noise ratio, since it employs an analog signal processing circuit with balanced configuration.
Meticulous Design & Beautiful Appearance: Every single aspect of its construction and design exudes master craftsmanship and reflects an obsession with quality. The player with its refined design has been meticulously finished by skillful use of advanced processing technologies; integrating the top-panel and side wood connection, leaving no gaps while using different materials (metal & wood) for the connection. On the CD tray, the gap between the front-panel and the tray is uniformly precise. Moreover, the beautifully finished half-mirrored glass window of the display is precision-fit to the front-panel smoothly without gaps; lending an exceptionally elegant appearance to the unit.
Insulator Feet: The insulators are crucial parts that block outside vibrations. They adopt Yamaha's original metal legs in order to maximize vibration control performance. You can select point installation by applying the supplied spikes or plane insulation with the supplied pads and use these combined with an interlocking rack if desired.
Analog & Digital Connectivity
Built-in USB DAC: With high resolution audio sources becoming more and more common today, Yamaha designed the CD-S3000 for optimum enjoyment of those sources with superior D/A conversion and the unit's balanced signal output, and equipped it with a built-in USB DAC function which allows direct input of digital audio (from a computer, etc.) through a USB (type-B) terminal. The USB DAC employs an original IC, developed specifically for Yamaha. It has an internal master clock, and can perform low-jitter transmission based on asynchronous transmission, or receiving signals without being synchronized with the master clock in the PC. The unit is compatible with digital audio of up to 192kHz/24-bit resolution.
Windows & Mac Compatible: The player's USB connection will support Windows Vista (SP2; 32-/64-bit), Windows 7 (32/64-bit), and Windows 8 (32-/64-bit). It also supports Mac OS X 10.5.8 through 10.8x.
ASIO 2.3 Yamah Steinberg USB Driver: The CD-S3000 supports the ASIO 2.3 protocol to take full advantage of the sound quality of the USB DAC function. The ASIO 2.3 protocol is a standard protocol for professional use digital audio or DTM, with a significant sound quality benefit: the ability to achieve lower delay and higher throughput than with a standard OS sound driver. The driver software is the ASIO 2.3 Yamaha Steinberg USB Driver, and allows high quality playback of digital audio data stored to computer. The software is available as a free download from the Yamaha web site.
Balanced (XLR) & Unbalanced (RCA) Analog Outputs: The CD-S3000 features a pair of gold-plated analog stereo XLR balanced outputs and unbalanced RCA outputs on the rear-panel.
Digital Inputs/Outputs: The Yamaha CD-S3000 features optical (toslink) and coaxial (RCA) digital inputs and outputs on the rear-panel. The digital inputs and outputs will support up to a 24-bit/192kHz, 2Ch PCM audio signal.
Simple Control
Pure Direct Mode: The CD-S3000 incorporates a special Pure Direct mode: When playing back analog audio, the display is turned off and the digital output circuitry is stopped, improving the quality of analog output. This enables a warmer, more natural sound with greater musicality, further enhancing the value of a fully balanced connection with the A-S3000.
DPLL (Digital Phased Lock Loop): The audio DAC (ES9018) of this unit employs DPLL to generate accurate clock signals synchronized with the clock of the input digital audio signal. The 7-step DPLL bandwidth setting gives the unit tolerance for fluctuation of the clock of the input digital signal and adjustment of the accuracy of the operating clock in the DAC.
Remote Control: The supplied remote control is designed in the same way as the aluminum panel of the CD player itself, with a simple, easy-to-understand button layout and gorgeous metallic texture. In addition to the basic CD track selection and play controls, it can also be used to adjust the volume and switch input sources on the companion A-S3000.
Note: If you connect an infrared receiver and transmitter (sold separately) to the Remote In/Out jacks on the rear-panel of this unit, you can operate the player and/or external component using the supplied remote control located in another room.
Playback & Search: The CD-S3000 offers the following playback modes & search functions.
Program: You can customize the playback order of up to 24 track store on an SACD or audio CD.
Random: You can play back tracks in random sequence from an SACD or audio CD.
Repeat: You can play back a single track or all tracks repeatedly from an SACD or audio CD.
Direct Search: You can enter the desired track number for an SACD or Audio CD using the numeric keypad (0-9) on the remote control.
Skip: You can skip to the beginning of the current, next, or previous track of an SACD, audio CD, or CD-R/RW.
Advance/Reverse: You can rapidly advance or reverse through a track on an SACD, audio CD, CD-R/RW.
LCD Display: The Yamaha CD player features a front-panel LCD display that shows the current status of the unit. You can select from elapsed time of the current track, remaining time of the current track, or the remaining time of the disc. You can also temporarily display the filename of your MP3/WMA files and CD Text discs. The front-panel display offers 3 brightness settings.
Auto Standby: The Auto Power Standby function can bet set to turn the unit off automatically after no operation and no audio signal of approximately 30 minutes
Our Product Research Team
At Crutchfield, you'll get detailed, accurate information that's hard to find elsewhere. That's because we have our own in-house Product Research team. They verify what's in the box, check the owner's manual, and record dimensions, features and specs. We stay on top of new products and technologies to help people make informed choices.