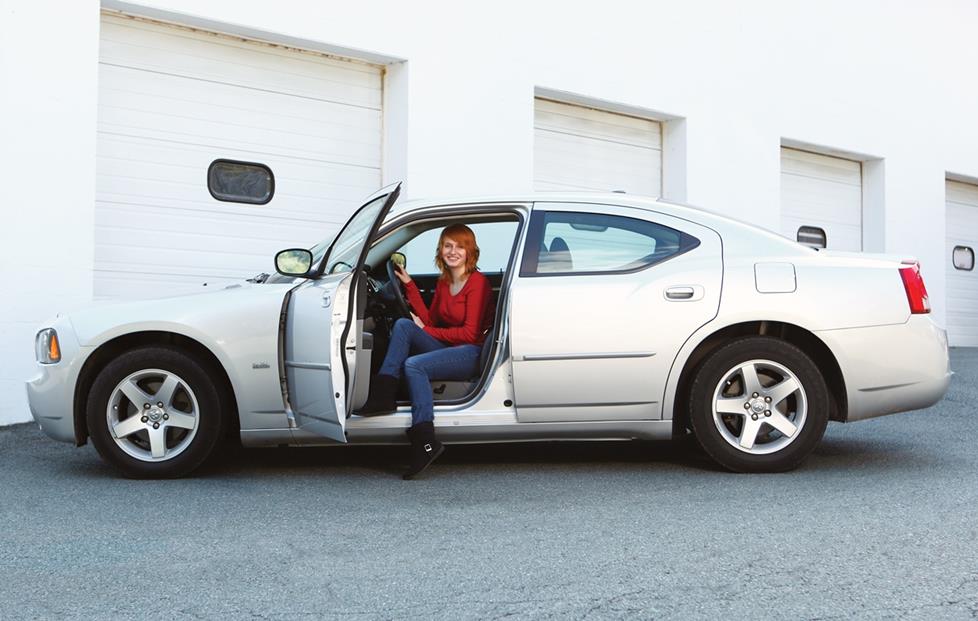 In a nutshell: In this article, we'll take a look at a budget-friendly, step-by-step audio system build-up. Use our vehicle selector to find the gear that will fit your vehicle, and give us a call if you need some system-building advice.
Some budding audiophiles look at building a car stereo as an "all or nothing" proposition. In other words, they make a wish list, look at the total cost, get nervous, and do nothing. It doesn't have to be that way, though. With a plan and a budget, you can install a great-sounding system in stages. It's easier on the wallet, and you'll enjoy hearing your system get better and better with each new step in the process.
Our 5-stage system buildup
Brittany loved her 2010 Dodge Charger, but she wasn't as thrilled with the weak factory stereo. When she asked us for advice on how to build a system on a budget, we surprised her by asking if we could use her car for a project we'd been discussing with our friends at Kenwood. Needless to say, she said yes!
Kenwood Excelon gear offers a tremendous amount of value for the money, so it's perfect for a project like this. The components are beautifully designed, well built, and they sound great. Plus, they come with a 2-year warranty. When you're building a system on a budget, that kind of peace of mind is a real bonus.
So, while Brittany didn't have to worry about budgeting her new system, the rest of us would! When planning your system, it's best to focus on the long term so that you know what to buy at each step along the way. Here is how we suggest building a big system like Brittany's over the course of five stages:
Install a new receiver, and a pair of coaxial speakers in the front doors
(Approximate cost: $400)
Add component speakers up front, move the coaxial speakers to the rear
(Approximate cost: $200)
Add a 4-channel amp to power the new speakers
(Approximate cost: $500, including wiring and wiring kit)
Add two subwoofers and an enclosure; use the rear channels of the amp to power them and (temporarily!) put the rear speakers on deck power again
(Approximate cost: $350)
Add a mono amp to power the subs; reconnect the rear speakers to the rear channels of the first amp
(Approximate cost: $300, including wires and cables)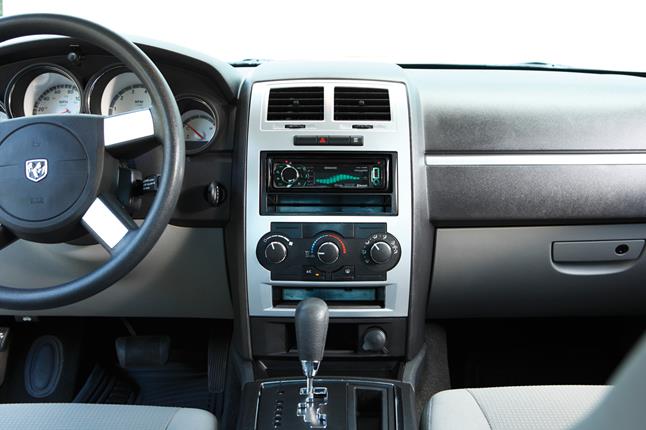 The Kenwood Excelon receiver was a massive improvement over the factory radio
Beautiful beginnings
A new receiver is the best first step
Our experience has shown that installing a new receiver makes any system sound better immediately. The Kenwood Excelon KDC-X896 receiver* we chose for Brittany's car sounds great, plus it's incredibly versatile. Brittany can enjoy music from her iPod® or CD collec­tion, Pandora® or an HD Radio™ station, plus it's SiriusXM ready if she wants to add satellite radio. Built-in Bluetooth® gives her the convenience of hands-free calling on the road.
*While the KDC-X896 is no longer available, check out our current lineup of Kenwood car stereos.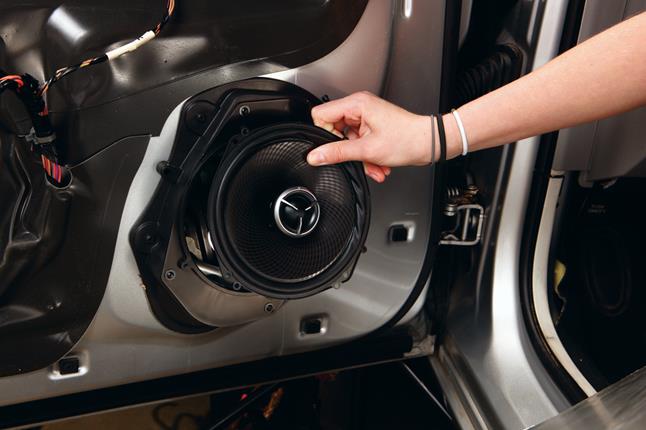 These 7" Kenwood Excelon KFC-X183C full-range speakers are a great fit for the Charger's front doors
Sounds more like it
Full-range speakers add volume and value
We wanted Stage 1 to be a real difference-maker, so we installed a pair of Kenwood Excelon KFC-X183C speakers in the front doors. The massive 7" woofers and 1" tweeters deliver solid bass and crystal-clear highs, so the improvement was noticeable. As a bonus, they also fit in the rear deck speaker location, which will come in handy during Stage 2. Brittany was impressed. "Wow!" she exclaimed. "It already sounds so much better than it did with the stock speakers!"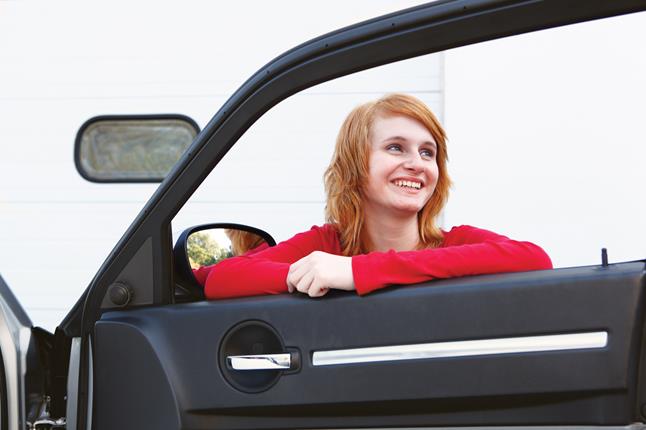 With tweeters in the sail panels (left), Brittany enjoys a much-improved soundstage
Higher highs, lower lows
Component speakers add depth and detail to the sound
Stage 2 added refinement to the system without blowing a hole in the budget. The Charger's front and rear speaker openings are the same size, so we were able to move the full-range speakers from Stage 1 to the rear deck, then swap in a set of Kenwood Excelon KFC-XP184C component speakers up front.
The 7" woofers fit into the door, while the 1" tweeters were surface-mounted on the sail panels. This "high-low" arrangement separates the bass and treble, elevates the soundstage, and adds new detail to Brittany's music. All this, combined with powerful fills from the relocated full-range speakers, makes the factory 4-speaker system seem like a distant (bad) memory: "That system was terrible," she said. "I love that I can turn this one up and it still sounds good."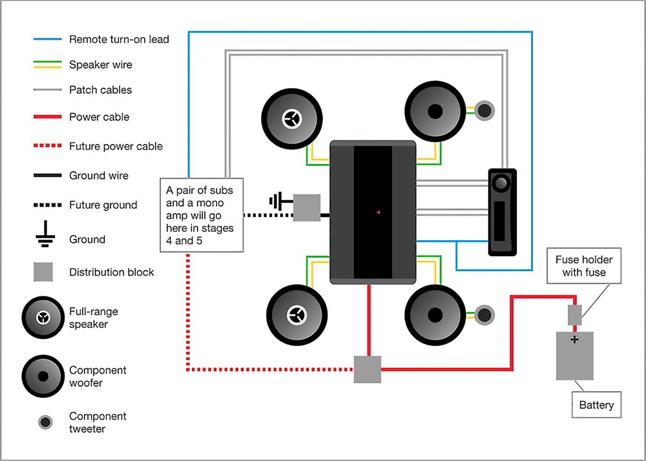 The wiring diagram for this system
Powering up and planning ahead
This 4-channel amp gives the system a real boost
The third stage of our buildup project combined instant gratification with long-range planning. The instant gratification came from a powerful 4-channel Kenwood amp that gave the system a real kick. We used it to power the front and rear speakers at this stage, knowing that this versatile amp would allow us to change things around as the buildup progressed.
We planned to install a sub and a mono amp shortly after, so while we were putting in the 4-channel, we pre-wired the car for our future installations (see diagram at right). We ran wire for the six channels we'd eventually need by running a third RCA cable for the subwoofer amp (to be added later) along with the two cables for the amp added at this stage.
We took full advantage of the Charger's rear-mounted battery – what a convenience for a car audio installation! To improve the efficiency of the system and our installation process, we used two 3-way power distribution blocks. That made it easy to hook up everything when we got to Stage 5, and we didn't have to remove the Charger's interior panels and seatbacks twice. That was a big time-saver on a project like this one.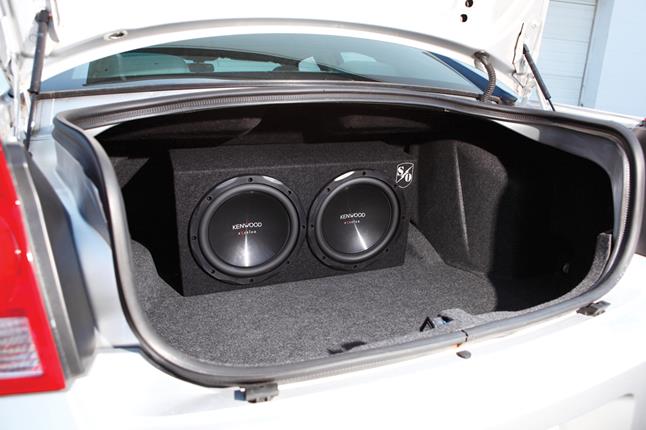 Twin 12" Kenwood Excelon subs look great in the Sound Ordnance Bass Bunker
A space full of bass
Adding two subs for a bigger boom
In stage 4, we're powering the subs by bridging the rear two channels of the amp. The rear speakers are powered by the receiver, but we'll move them back to the 4-channel amp when we install a dedicated mono amp for the subs.
After adding power and raising the soundstage, it was time to focus on low-frequency performance. Brittany likes music with a lot of bass, so we mounted a pair of 12" Kenwood Excelon subs in a subwoofer box. Since we'd already pre-wired the Charger's spacious trunk, the installation was relatively quick and painless.
Each sub is rated for up to 400 watts RMS, so two of them can handle anything Brittany wants to blast. They're also built for heavy use, with a dual ventilation system that keeps things cool, even on long drives at high volume. A sub box reduces vibrations and resonance to help the subs reproduce the deepest frequencies of Brittany's favorite tunes.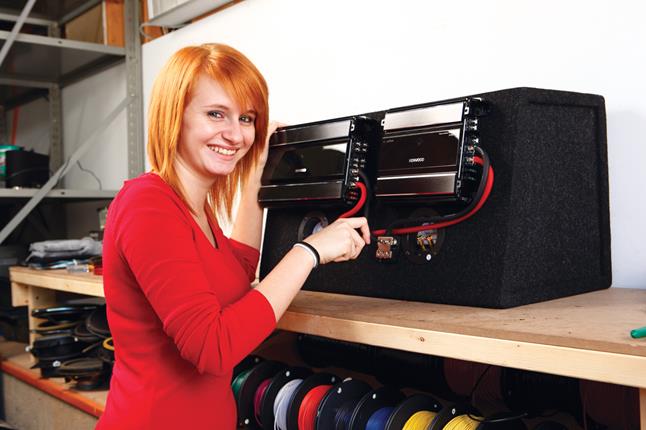 Brittany helping with the amp wiring
The final step: more power
A dedicated mono amp delivers maximum thump
Brittany's new stereo system sounded terrific, but we weren't quite finished yet. Bridging the rear channels of the 4-channel amp was a good short-term solution, but big bass requires big power. A mono amplifier gives the subs the juice they need to give Brittany the bass she wants. It's the perfect finishing touch to our budget-friendly buildup.
You can have an amazing aftermarket stereo system in your car, too. Installing a system in stages isn't just frugal, it's kind of fun. Give us a call, send us an email or log on to chat. Your Crutchfield advisor can help you plan a system that's right for your car, your budget, and your schedule.
Brittany loves the way her Charger sounds now. "I'm all about bass, but I like being able to hear everything else. When I really turn it up, the bass hits hard, but I can hear the singing, too. The whole system is amazing!"