The key to a legendary backyard bash
A PA system gets the job done
Heads up!
Welcome to this article from the Crutchfield archives. Have fun reading it, but be aware that the information may be outdated and links may be broken.
You've invited all your friends and neighbors. You've spent hours painstakingly crafting the perfect playlist. That's what music lovers do when they plan a big outdoor get-together.
But what happens when that large group of people gathers in your outdoor space? Nobody hears a note of all that great music.
So what's the answer?
POWER. That's where a PA system comes in.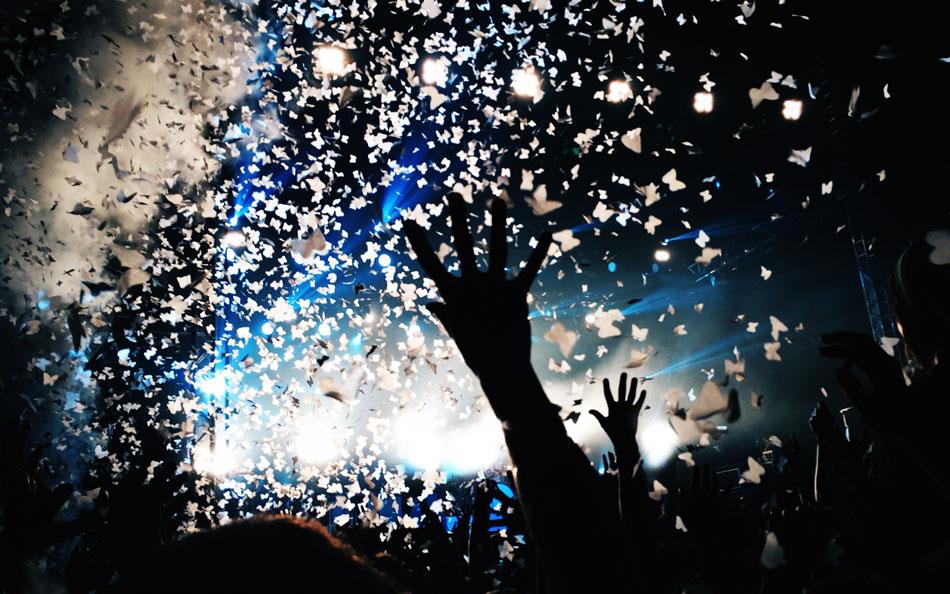 A PA system – for real?
That's right. Look: you don't want to lug your high-performance stereo system outside. It's not worth the headache or the risk of damaging your equipment.
Bluetooth® speakers are great for outside, but few have the size and power to fuel a backyard party
Even an installed outdoor speaker system might not offer the power or flexibility you need. If those speakers are installed on the patio, they might not be heard at the far end of your lot where you're setting up the bonfire.
A PA system lets you set up where you want and play your music as loud as you need it.
Lots of music options
PA systems let you play music from just about any device you can think of. Many systems come equipped with Bluetooth, so you can stream music directly from your smartphone or tablet. Plus, there are typically inputs for your laptop, turntable, and other audio gear.
You can plug in a mic to sing along with the music for instant karaoke. Or, if you want to play live music, most systems allow you to plug in instruments like guitars and keyboards, as well as multiple mics.
Smart investment
Sure, a PA speaker or system might seem like a big purchase for a one-time event. But once you own a PA system, opportunities to use it just seem to appear.
You'll find yourself bringing it out for birthday bashes, block parties, music performances and rehearsals, weddings, bar mitzvahs, church functions — anyplace where there are lots of people in a big open space who need music and a mic.
Ready to get started?
Our in-house pro audio experts have put together three PA systems to make your outdoor party or event a smashing success. And these bundles will save you some money over purchasing all the components separately. Check 'em out below. And you may want to give your neighbors a polite heads-up.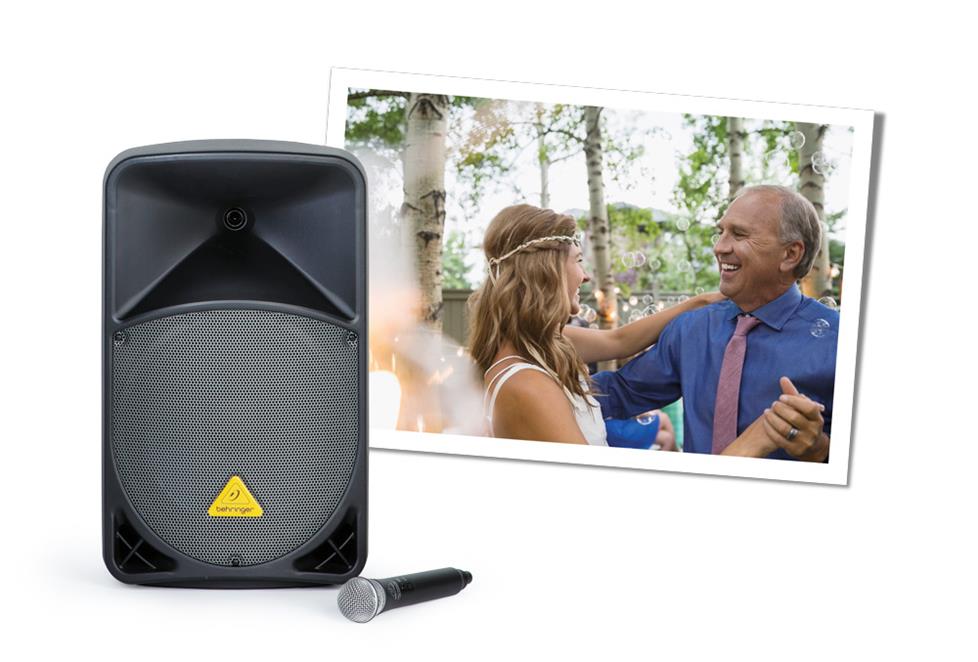 The Behringer B112W Party Bundle is ideal for smaller gatherings.
Simple setup
Need just a mic and a speaker? The Behringer B112W Party Bundle makes a great starter PA system. Plug the speaker into a power outlet and start having fun. Stream tunes from your phone via Bluetooth® and sing along using the wireless handheld mic. For receptions you can use the mic to make the toast, then cue up a tune to get the dancing started.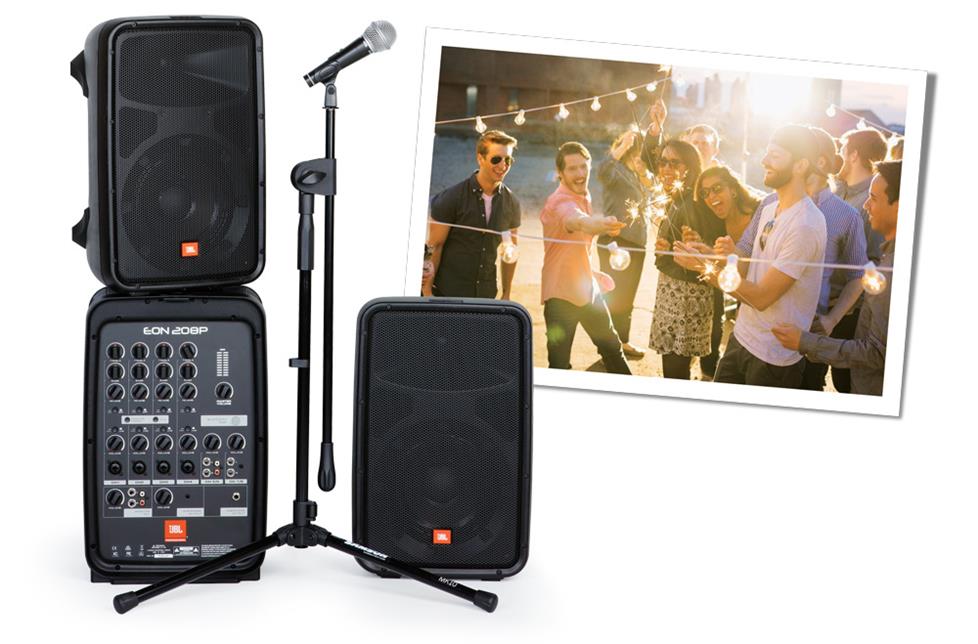 The JBL EON 208 Bundle kicks it up a notch, with stereo speakers for bigger sound.
Big sound for a big yard
If you want your guests to feel the music, a stereo PA system can make it happen. This JBL EON 208 Bundle features two speakers for big stereo sound. Built-in Bluetooth lets you stream music wirelessly from your phone. The system includes a mic, and you can easily add more gear. This is also a great system for a small band thanks to the mixer with instrument connections.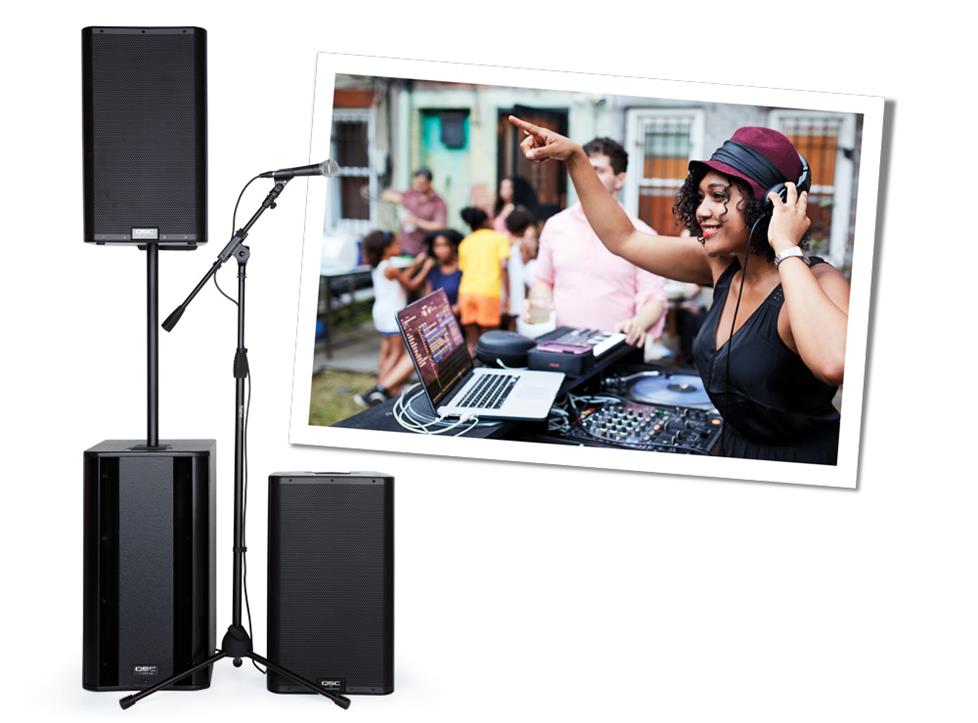 The QSC Dance Party Bundle will bring serious bounce to a big outdoor bash.
Blockbuster block party
Want to put on a real outdoor show? The aptly-named QSC Dance Party Bundle will let everyone hear your mad DJ skills. It can bring down the house with two 1000-watt speakers and a 1000-watt subwoofer. The bundle also includes a vocal mic. Both main speakers have built-in 3-input mixers, making it easy to add extra mics for your summer jam.
Shop all of our PA speaker system bundles
Need more help?
Our pro audio experts are ready to answer your questions. Call 1.800.555.9369. And once you've got your system, we have some tips for setting it up.