Auralex SubDude-II™
Subwoofer isolation platform
Item # 927SBDDE2 | MFR # SubDude-II
In Stock

Our VirginiaVA-based experts can help.
Overview
Our take on the Auralex SubDude-II™ by Crutchfield's Dave Bar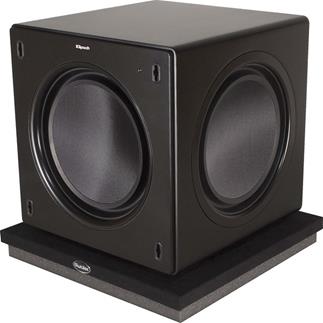 The Auralex SubDude-II isolation platform effectively decouples your subwoofer from the floor for cleaner, tighter bass.
Isolate your subwoofer for better bass
When your room's floor, walls, and ceiling vibrate along with your subwoofer, they're adding unwanted resonance and coloration to the sound of your bass. How can you stop it? Just place an Auralex SubDude-II under your subwoofer for an instant sonic upgrade.
This stylish sound-absorbing sandwich of velour-covered MDF and Auralex's proprietary sound isolation foam helps prevent sound coming from your sub from being transferred through the floor. You'll get cleaner, tighter bass, reduced coloration, and maybe even a thank you note from your downstairs neighbors!
The SubDude-II's 15" x 15" platform dimension is sized perfectly for small-to-medium-sized subwoofers in home theaters, hi-fi systems, or recording studios.
Product Highlights:
isolation platform for subwoofers
decouples subwoofer from the floor to reduce structural vibration and sound transmission to neighboring spaces
decreases resonance and sound coloration for tighter, clearer bass
velour-covered 3/4" MDF base over 1" isolation foam construction
15"W x 1-3/4"H x 15"D
supports subwoofers up to 200 lbs.
warranty: 60 days
This product is worth the money. My subwoofer was constantly moving away before I purchased this product now it remains in place and provides an excellent sound

Rich, Hollywood, FL
Reviews
Auralex SubDude-II™ Reviews
Average Customer Review(s):


Submit a review and then enter to win a $350 rewards card
Review this product
Thanks for submitting your review
Most reviews are processed and published within 5 business days. You will receive a confirmation email once your review has been published.
Customer photos
Pros:
Cons:
Crutchfield response
---
Details
Product Research
Features
Subwoofer Isolation Platform: The Auralex SubDude-II is a low-profile subwoofer isolation platform and is perfect for small subwoofers in home theaters and hi-fi systems. The SubDude-II subwoofer isolation platform utilizes Auralex technology and carefully chosen combination of specialized materials to instantly diminish structural vibrations, resulting in cleaner and tighter bass, reduced coloration and a more accurate low-frequency response.
Sound Improvements: The SubDude-II is an incredibly effective isolation platform that instantly improves your subwoofer's performance. This carefully engineered solution allows the true sound of your sub to come through by negating resonance artifacts.
Dramatically reduces structural vibrations through walls, floors & ceilings.
Preserves the accuracy of the original audio track.
Tightens bass and increases low-end clarity.
Construction: The Auralex SubDude-II features a functionally inert 3/4", velour-covered, MDF platform supported by a 1" base layer of sturdy Auralex Platfoam that is an effective isolation boundary to decouple the subwoofer from the floor underneath. This combination of materials dramatically diminishes structural vibrations and resonances, resulting in reduced coloration, tighter bass and a perceived extension of the subwoofer's low-frequency response.
Compatibility: The Auralex SubDude-II is great for home theater & hi-fi small- to medium-size subwoofers weighing up to 200lbs. The SubDude-II measures 15.0625" (w) x 1.8125" (h) x 15.0625" (d).
The Auralex Guarantee: All Auralex foam products have been specially engineered for maximum acoustical performance, increased longevity, flame retardancy, and great looking aesthetics.
Our Product Research Team
At Crutchfield, you'll get detailed, accurate information that's hard to find elsewhere. That's because we have our own in-house Product Research team. They verify what's in the box, check the owner's manual, and record dimensions, features and specs. We stay on top of new products and technologies to help people make informed choices.
Q & A
Customer Q&A
Crutchfield asked


Why did you buy this?
I have 2 subwoofer and would like to improve the sound [bass]

[ CLAUDIO D Aug 06, 2018 ]
Reviews

[ Charles Jun 19, 2018 ]
Auralex SubDude-II removes the sound of the room from the bass by isolating the sub from the environment. Would't use a sub without one under it.

[ Brian Jun 05, 2018 ]
My neighbor complain about sound vibrations

[ Cesar May 17, 2018 ]
I have hardwood floors and this prevents my sub from taking a walk.

[ Sagar May 10, 2018 ]
Recommended by a friend to help disconnect the base cubes from the hard floor.

[ Michael May 08, 2018 ]
I live in a condo and am proactively attempting to limit noise/vibration-bleed to my neighbors.

[ John May 02, 2018 ]
Today's advisor auto-suggested the largest, most expensive product. But... when questioned, Adam helped out and found a more appropriate product for my situation. Hat's off to Adam.

[ JOHN Mar 03, 2018 ]
I have two SDII's and need a third. These work great

[ Brent E. Feb 20, 2018 ]
I've been getting resonance from my B&W 610XP subwoofer for as long as I've owned it. I didn't realize something like the SubDude existed so once I found out, I ordered one! I can't wait to put it to use and clarify my bass.

[ H Feb 08, 2018 ]
Reviews

[ Nathan Jan 22, 2018 ]
i choosed this product because i live in a 3rd floor apt. i don't want to bother my neighbors

[ sergio Jan 22, 2018 ]
Read several reviews comparing other isolation systems. This product seems to stand out as being better. We'll see.

[ Carl Jan 13, 2018 ]
This is to get my subwoofer off the floor for tighter bass.

[ Randolph Jan 06, 2018 ]
To give the subwoofer a platform to reflect the bass off of and in turn keep the sound nice and tight.

[ James Dec 15, 2017 ]
Crutchfield seems to always have what I need. And they are a preferred Dealer for Auralex. My Crutchfield advisor knew all about the product which is a perfect solution to my current situation.

[ Brent E. Nov 29, 2017 ]
Works well with my other sub that is on a Spanish tile floor to keep from moving and rattling.

[ JUSTIN R Nov 15, 2017 ]
Recommended. Good reviews.

[ SERGE Oct 01, 2017 ]
already have the one for my turntable . excellent product. could tell difference right away. hoping to get same results for sub.

[ D Sep 01, 2017 ]
Looking to get my woofer off the hardwood floor.

[ Kevin Aug 29, 2017 ]
Enhances my bass on a wood floor.

[ Richard Jul 23, 2017 ]
Used to de-couple a 12" subwoofer from my wood floor.

[ James Jun 10, 2017 ]
I chose to use this because I have hard floors and my sub kept moving around. I tried the spike and they kept it in place but caused the sub to audibly vibrate and the sound wasn't as good. So I'm hoping with this my problem will be solved and my sound quality will stay intact.

[ Daron May 30, 2017 ]
Too much subwoofer vibration.

[ WILLIAM T Apr 30, 2017 ]
Need it

[ G Apr 27, 2017 ]
To reduce the vibration of my walls and windows while isolating the low frequency output of my subwoofers.

[ Stephen Apr 18, 2017 ]
I was wanting to eliminate some of the vibration and ratting in my front room, due to having two 12 inch Powered subs.

[ Jeff Dec 15, 2016 ]
Quality and desire to isolate subwoofer.

[ Robert Oct 06, 2016 ]
Sub is currently on tile floor with way too vibration and rattling.

[ JUSTIN R Oct 01, 2016 ]
To use under my sub for isolation. Hopefully will make the bass sound tight and the residences lower in intensity.

[ Brian Sep 27, 2016 ]
Hardwood Floors

[ John Jul 10, 2016 ]
I trust your people and Otis said it will do a good job. Thanks Otis's Bio: http://www.crutchfield.com/Support/Bio.aspx?bio=212

[ john Jun 20, 2016 ]
To solve woofer vibrations/distortions.

[ L. Raul Jun 14, 2016 ]
Have seen great reviews on many AVS forums about the incredible difference this makes in your subwoofer sound quality. Feel it in your chest and not your feet!

[ SEAN R Jan 15, 2016 ]
3 questions already asked
I have not used their turntable pad but my guess would be that the subwoofer pad is built to handle more weight. I can tell you that it made a big difference in my system. When watching movies the windows, and other things, would sometimes rattle. After putting the sub on the pad all the energy is now going to sound. The lows fill the entire soundstage. I recommend giving it a try. Good luck.

[ Charles Aug 24, 2018 ]
Hey Brian, I currently have the SubDude-II which measures 15" square. It works really well with my Audioengine S8 Subwoofer. However, I listen to mostly classical and jazz and rarely drive the sub hard. Your Def Tech Supercube measures 14.25 square. So, it should fit fine although a little bit tight. However, the purpose of the SubDude, at least in my mind, is to elevate the sub off the carpet and provide a uniform surface density for the subwoofer to play off of so as to clarify and tighten the bass content of the music . Obviously, the SubDude HT would be a lot larger but I don't think it would be significantly better at achieving the purposes I mentioned. So, I would start with the smaller SubDude-II and see how it sounds with your setup. If not, you always have the option of returning it to Crutchfield for a refund or exchange for the larger one. One last thought is to perhaps experiment with where you have your sub placed. Moving it one way or the other around your listening area can have great effect on eliminating resonance. Good luck!

[ Robert Jun 25, 2017 ]
The Sub Dude-II should work fine.

[ Michael Jun 25, 2017 ]
Hi Brian, I have a very similar size sub and I purchased the Auralex SubDude-II and it fits on this perfectly. The Pad is slightly over 15 x 15 so it will fit your supercube. I can say that this pad did a great job stopping the issues I had prior with my sub on the floor then on a stand I built for it, the pad seems to work similar to that of what dyno-mat would do in a car and takes out ratle and other similar issues. The product code for the Pad is 927SBDDE2. Thank you

[ Jason Jun 25, 2017 ]
From what you describe about the shaking of walls and furniture, I'm a bit reluctant to say that the SubDudes will alleviate your problems. They work well for me but I don't play my music at ear-bleeding levels. What the will do, however, is allow your RELs to play as evenly and precisely as they were engineered. They elevate the subs off the floor to allow the bass sounds to radiate out rather than to get pushed down and stuck in the carpet or floor. So, given Crutchfield's wonderful return policy, give them a try and see what you think. Best of luck!

[ Robert Apr 21, 2017 ]
Yes you can, and it will tighten up the bass too. You can also try to pull the sub(s) away from the wall or corner,

[ Michael Apr 21, 2017 ]
Hi Paul...I have a REL t7i on Auralex SubDude-II which is on carpet. It's in a second floor apt. I believe it helps with the vibrations going to the first floor. I don't have any issues with wall/furniture shaking. I can definitely feel the low end in my home theater set-up when playing blu-rays but that's the way you want it to be...but not rattle the furniture. Your 2 t9i subs have more power than mine but I do think the isolation platforms will improve the shaking you're experiencing!

[ LYNN Apr 21, 2017 ]
I have a Polk 12" 150 watt sitting on mine in a carpeted room on the second floor of my home. It does a great job of dampening vibrations while providing excellent, driving lows. It's part of a 7.1 surround system connected to an Onkyo TX-NR 757 receiver. I've been quite pleased with the SubDude II. I say go for it. You never know until you try. Good luck!

[ Robert Apr 21, 2017 ]
I use this on my hardwood floor and it definitely helps send the sound out the speaker and not through the floors. My windows rattled before and now they don't, I would definitely recommend trying them. My experience has been good with using this under my sub!

[ SEAN R Apr 21, 2017 ]