Celerity Technologies Detachable Fiber Optic HDMI Cable
High-speed fiber optic HDMI cable with detachable connectors (40 feet)
Item # 926DFO40P | MFR # DFO-40P
This item is no longer available.
Overview
Our take on the Celerity Technologies Detachable Fiber Optic HDMI Cable by Crutchfield's Dave Bar
HDMI cable that goes the distance
Enjoy all your high-definition movies, TV shows, and video games on any HDTV in your home with Celerity Technologies' fiber optic HDMI cables. These sleek cables deliver outstanding high-definition video and sound, including full 4K and 3D content, at distances up to 1,000 feet — far beyond the reach of conventional copper-based cables. Celerity cables also support ARC (Audio Return Channel) so there's no need to connect a second cable to enjoy sound from your TV through a compatible home theater system.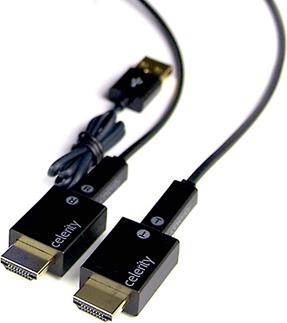 How it works
Celerity cables work by converting electrical HDMI data into optical signals inside the fiber optic HDMI connectors. Precision embedded technology sends light signals carrying the HDMI data stream from your source component through the fiber optic cable to your TV or projector, where it's converted back to an electrical HDMI connection. Since the cable is fiber optic, there's no signal loss, even over long runs, and it's impervious to interference from appliances, wireless devices, computers, or other noisy electronic equipment. Your audio/video content will arrive at its destination looking and sounding as good as when it started.
Easy two-step installation
Celerity HDMI cables are installed using a simple two-step process. First, pre-wire your setup by running the cable from your source component to your display. Each cable features a separate transmitter and receiver end conveniently pre-terminated with tiny, fiber optic plugs that make it easier to pull. Unlike thick HDMI cables, Celerity cables are thin and flexible so you can easily run them along baseboards, and install them in concealed locations, conduit, plenum spaces, and cabling raceways.
Step two: simply attach the included Celerity HDMI connectors to the cable's fiber optic plugs and hook them up to the sending and receiving A/V components at either end. The cable's transmitter electronics are powered by current drawn from your source component via its HDMI jack's "hot plug." Power at the display end of the cable is supplied by the included USB cable and the USB port on your display device. Handy blue LED power indicators on both connectors light up to verify that your components are powered up and ready to play.
Product Highlights:
pre-terminated fiber optic HDMI cable design with detachable HDMI connectors for the source and display components
supports data speeds up to 18 Gbps at lengths up to 1,000 feet
HDMI High Speed 2.0a certified design supports 3D, 4K/60 Hz, 1080p, 720p, 480p, HDCP2.2, EDID, CEC, and Deep Color
supports ARC (Audio Return Channel) for sending sound from an HDTV back to an A/V receiver
thin, durable jacketed cable for easier installations and high reliability
plenum-rated for safe in-wall residential and commercial installation
fiber optic conductors provide immunity to interference and electronic noise
power at the source (TX-transmit) end drawn from source component's HDMI connector via the HDMI "hot plug"
power at display (RX-receive) end supplied via USB cable and USB port on display device (optional USB AC power adapter required if no USB port is available on display)
blue LED indicators verify power connections at source and display ends
warranty: 1 year
Please handle fiber optic cable with care during installation for maximum reliability and performance
Had to run a 4K signal from receiver to projector 35' run. Tried very highly rated cables and neither would carry the signal reliably. These Work great. Cheaper cables are fine for 1080 signal but if you're sending 4K for a lengthy run, this is your cable.

Don, Springfield, IL
Reviews
Celerity Technologies Detachable Fiber Optic HDMI Cable Reviews
Average Customer Review(s):


Submit a review and then enter to win a $350 rewards card
Review this product
Thanks for submitting your review
Most reviews are processed and published within 5 business days. You will receive a confirmation email once your review has been published.
Customer photos
Pros:
Cons:
Crutchfield response
---
Details
Product Research
Features
Celerity Technologies: Celerity Technologies develops high performance, easy to use fiber optic products for residential and commercial AV systems. Celerity's first breakthrough innovation, Detachable Fiber Optic HDMI has become successful with professional AV installers for single and multi-room video systems. Celerity's sleek, thin fiber optic cable with detachable HDMI connectors and high bandwidth makes it easy for installation and provides the ultimate video performance.
Detachable Fiber Optical (DFO) HDMI Cable: Celerity's Detachable Fiber Optic (DFO) HDMI cable is designed to solve the installer's and home owner's common problems with long distance HDMI and concealed installations in home and business applications. The Celerity Detachable Fiber Optic (DFO) HDMI cable is an easy-to-use, secure connection for home video distribution, conference room presentation systems, classroom projection systems, and wherever a high definition video display is located. Fiber optics provides the speed and bandwidth needed for the best picture quality for high definition video at lengths up to 1000'; supporting the long distances required in many commercial and consumer video solutions.
Fiber Optics Benefit: Celerity's fiber optic technology converts HDMI into light signals that support today's high-definition and ultra-high definition bandwidth demands of 1080p and 4K, as well a multi-channel audio. Fiber optics work great for sending digital signals which include audio, video and data information. These signals travel faster and farther without degradation over fiber optics, versus copper. There is no loss of signal over long distance and no EMI interference which makes Celerity DFO the best choice for point-to-point and distributed high definition video connections. Celerity DFO HDMI offers the best picture and sound quality without and interference or loss of signal integrity.
18Gbps Bandwidth Technology for 4K & HDR: Enabled by Celerity's 18Gbps bandwidth technology, 4K/60Hz video performance for HDMI 2.0 is supported in Celerity Fiber Optic HDMI cables for sharp and detailed images on Ultra HDTV displays from 4K/60Hz resolution video sources. Also supporting HDR (High Dynamic Range) video & 36-bit Deep Color, Celerity offers unparalleled HDMI performance for picture quality, color depth and detail. In addition, Celerity DFO HDMI supports 1080p and 3D video.
HDMI Specifications: HDCP, EDID, DDC and CEC requirements are fully supported by Celerity's Detachable Fiber Optic (DFO) HDMI cables to ensure that the full quality HDMI experience is always reliable.
Zero Interference: Celerity Detachable Fiber Optic (DFO) HDMI cables do not pick up interference nor do they create interference to your entertainment system. As all of the signals being carried are optical light signals, they are completely immune to interference and electronic noise. Because Fiber Optic is EMI free, it can be installed with multiple cable pulls.
Detachable HDMI Connector: The Celerity Detachable Fiber Optical (DFO) cable includes two detachable HDMI connectors that are easily attached to the miniature fiber optic plugs on each end of the cable after pre-wiring. The small Celerity fiber optic proprietary plugs on each end of the Celerity Fiber Optic cable connect to these detachable HDMI connectors which plug into your source and display devices. This detachable connector design is so that the Celerity fiber optic cable between components can be easily installed in tight, hidden spaces and in conduit when required.
Note: Celerity Technologies' Fiber Optic Plug terminating each end of the Celerity Fiber Optic HDMI cable supports proprietary technology for HDMI over Celerity Fiber Optical cable. While the plug may appear similar to that of a micro-HDMI or mini-USB connector, it does not support any technical attributes of either connector.
Easy Installation + Plenum Rated: Celerity Detachable Fiber Optic (DFO) cables are thin, flexible, and easily hidden; plus feature a detachable HDMI connector making it very easy for professional AV technicians and DIY customers to install the fiber optic cable in walls, ceilings, and small conduit runs. All Celerity Fiber Optic cables are plenum rated for safe in-wall installation in your home, office, or building. There are no complicated fiber terminations, special tools, and testing required. And no extenders, baluns or amplifiers are needed either. The Fiber Optic Cable has a pull strength of 60 lbs.
Durable & Flexible Jack: Inside the Celerity Detachable Fiber Optical (DFO) HDmI cable's jacket is a woven layer of very strong yarn to provide durability and pulling strength. The yarn, known as "strength members", protects the tiny, optical glass fibers. The cable jack is also flexible with a bend radius of 0.2" (5mm), which is approximately the diameter of a pencil.
Audio Return Channel (ARC): Celerity is the world's first fiber optic HDMI cable to support Audio Return Channel (ARC). ARC offers the benefit of requiring no additional cables to send sound from a TV to the home AV system for playback through the speakers in the room. For rooms with in-wall, in-ceiling or bookshelf speakers, ARC improves the audio experience tremendously without the need for additional cables or other accessories.
Power Requirements: The Celerity Detachable Fiber Optical (DFO) cable is very efficient as its power needs are limited to very low levels. Power at the source component (TX/transmit) is drawn from the source HDMI connector using the HDMI "hot plug". At the display (RX/receive), power is easily connected via a USB port on the TV and with the USB power cable (19" in length) which is wired into the Celerity Detachable HDMI connector.
Note: In rare cases where insufficient power may be supplied, connecting the TX (transmitter) USB connector to a power source is required. The required specification is 5V 1000mA, 50/60Hz 120-240VAC.
LED Indicators: The Celerity Detachable Fiber Optical (DFO) cable includes an LED indicator at each end of the fiber optic HDMI connector. These tiny LEDs are really important and convenient. They let you know that the Celerity Fiber Optic HDMI cable is properly working from end-to-end.
Directional: Celerity DFO HDMI cables are directional and must be installed correctly. Ensure the fiber optical plug and included detachable HDMI connector marked "T" is located at the source component. Ensure that the fiber optic plug and detachable HDMI connector marked "R" is located at the video display.
Available Lengths: The Celerity Detachable Fiber Optical (DFO) cable is available in 35', 40, 50', 100', 200', 500', and 1000' lengths.
Our Product Research Team
At Crutchfield, you'll get detailed, accurate information that's hard to find elsewhere. That's because we have our own in-house Product Research team. They verify what's in the box, check the owner's manual, and record dimensions, features and specs. We stay on top of new products and technologies to help people make informed choices.
Q & A
Customer Q&A
Crutchfield asked


Why did you buy this?
Next shortest 40 foot may not have been long enough. Optical should have no interference, can use on a future different installation, detachable terminals for smaller hole in ceiling.

[ DAN Dec 27, 2016 ]
With help from Garrett

[ Don R. Feb 13, 2018 ]
quality

[ Ralph Dec 28, 2017 ]
My son, who is familiar with the various technologies, indicated Fiber Optic was best in class.

[ Carl Jun 11, 2017 ]
I was going long distance, And did not want signal loss. I've been using them for 2 years now, No problems.

[ Lee Mar 16, 2017 ]
Your design team suggested this item.

[ David Mar 02, 2017 ]
This seemed like the best solution for my installation which was in excess of 25 feet.

[ Stephen Jan 29, 2017 ]
Great reviews on the internet.

[ Brian Jan 02, 2017 ]
Keep wires hidden for 28Ft plus run.

[ Eric Dec 20, 2016 ]
Quality and function.

[ Stanley Nov 17, 2016 ]
I needed to carry 4k HDR over longer distances. Regular HDMI cables that are rated high speed do not work.

[ Michael Nov 16, 2016 ]
my current inside the wall cable not capable of handling 4k. liked the possibility to upgrade connectors when needed and still be able to keep/use the cable inside my wall.

[ ANTHONY V Oct 26, 2016 ]
Past problems with equipment damage

[ Samuel Jul 11, 2016 ]
These cables are at the highest standard currently, with the capability of an upgrade

[ ROGER May 20, 2016 ]
Need a long HDMI cable that work reliably with AppleTV 4K Dolby Vision

[ Scott Jan 20, 2018 ]
being able to carry 4k over that distance

[ MICHAEL Oct 23, 2017 ]
Sounds like its just what I need for the upcoming 4k TV purchase. Cant wait for the 77" OLED to go hit the market

[ THOMAS A Jan 15, 2017 ]
I need to extend an HDMI cable 40 feet from a TV in the family room to equipment in the basement and this solution, compliant with the latest HDMI standards gives me future protection.

[ Frederick Oct 26, 2016 ]
Long run from home theater receiver to TV. While I don't currently have 4K, I wanted to be prepared for future upgrade.

[ Dan Dec 11, 2017 ]
Needed a good 50 foot HDMI cable for 4K HDR10.

[ Alan Jun 04, 2017 ]
Eagerly awaiting arrival of this one. Seems you can't pass 4K HDR content across an HDMI cable longer than 9 meters or so...I have a run of 50 ft, and this should take care of it.

[ Ruben Mar 11, 2017 ]
the length I needed was in stock

[ chad Feb 09, 2017 ]
you want the best? you have to by the best. fiber optic is the only way to transfer data over long distance.

[ Jonathan Jan 30, 2017 ]
Long run, needed fiber optic

[ Douglas Nov 10, 2016 ]
I need 50' of HDMI cable, it was the only choice

[ David Oct 28, 2016 ]
best

[ greg Sep 24, 2016 ]
5 questions already asked