Sony CAS-1
High-resolution desktop audio system with Bluetooth®
Item # 158CAS1 | MFR # 12120899
This item is no longer available.
Overview
Our take on the Sony CAS-1 by Crutchfield's Deia Z.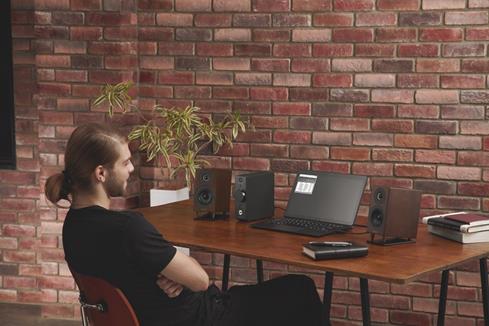 The compact CAS-1 high-resolution music system lets you make the most of the music on your computer.
Big sound for small spaces
Sony's CAS-1 high-resolution audio system turns your workspace into a haven of musical enjoyment. The compact main unit houses separate built-in amplifiers for speakers and headphones, so you'll get thrilling high-res sound no matter how you listen. Connect your PC, Sony high-res Walkman, Xperia phone or tablet, or a thumb drive and savor each note of your high-resolution music. This clever system even has powerful processing on board that helps restore lost frequencies to compressed audio files like MP3s. Bluetooth and NFC touch pairing add streaming convenience with a variety of mobile devices. Sony's high-quality LDAC™ codec provides a smooth wireless listening experience.
A dynamic amplifier duo
Developed specifically for high-resolution audio performance, Sony's S-Master HX™ all-digital amplifier reduces distortion and noise for rich, robust sound from the included speakers. An independent headphone amplifier with its own dedicated high-quality DAC (digital-to-analog converter)delivers pristine high-resolution audio to your favorite headphones. A gain toggle switch on the back panel helps you get optimum sound quality with easy-to-drive in-ear headphones or more demanding over-ear models.
Revel in the details
The CAS-1 creates an immersive near-field listening experience, putting you front and center. Even at lower volume levels, the system delivers precisely detailed, dynamic sound with crisp highs and satisfying lows. The included brass spikes let you adjust the angle of the speakers for the best possible stereo imaging, and the included speaker bases prevent vibrations from transferring to your desktop surface, which can muddy the sound.
Highlights:
high-resolution desktop audio system with independent built-in amplifiers for speakers and headphones
plays high-resolution music files
built-in Bluetooth for wireless music streaming from a compatible device

LDAC technology enables transfer of high-resolution audio content via Bluetooth connection
NFC-compatible for one-touch pairing with compatible Android™ devices

DSEE HX™ processing restores lost frequencies to your compressed audio files for better sound quality
near-field listening re-creates a rich, spacious sound field within a 2.5-6.5' range of the speakers
Pulse Height Volume and Low Volume Mode ensure dynamic sound even at low volumes
Power Amplifier:
20 watts x 2 (stereo) into 5 ohms (20-20,000 Hz) at 1% THD
S-Master HX digital amplifier technology reduces distortion and noise across a wide range of frequencies
Headphone Amplifier:
independent circuitry and dedicated DAC for powerful, precise headphone sound
adjustable gain control lets you match impedance to your preferred headphone type
Stereo Desktop Speakers:
2.4" woofer, 1/2" soft dome tweeter
bass reflex (ported) speaker cabinet design
brass spikes dampen high frequencies and let you adjust speaker angle for optimal soundstaging
isolation bases prevent sound-muddying vibration
3-3/4"W x 7-1/6"H x 6-13/16"D
3.31 lbs.
Main Unit:
2-3/16"W x 7-1/16"H x 8-5/16"D
2.9 lbs.
Connections and Control:
front-panel USB Type A input for music playback from a thumb drive, Sony Walkman, or other compatible device
rear-panel USB Type B input for music playback from a Sony Walkman or PC
front-panel stereo mini headphone output
remote control
free Sony SongPal app lets you use your compatible mobile device as a remote via Bluetooth or direct USB connection
warranty: 1 year
What's in the Box:
Integrated amplifier
2 Speakers
54" AC power adapter
23" AC power cord
Remote control (RMT-AA140UB)
CR2032 3V battery
47" USB-B to USB-A cable
Two 46" lengths of speaker wire
Amp stand
2 Speaker bases
8 Small spikes installed)
4 Large spikes
Operating Instructions
Precautions/Troubleshooting booklet
Amp stand instructions
Spikes instructions
Warranty Information
Online Product Registration
Scratch & Dent items may be missing non-essential accessories. In some cases the manufacturer's accessories have been replaced with generic equivalents.
Reviews


Submit a review and then enter to win a $350 rewards card
Be the first to review this product
Thanks for submitting your review
Most reviews are processed and published within 5 business days. You will receive a confirmation email once your review has been published.
Customer photos
Pros:
Cons:
Crutchfield response
---
Details
Product Research
Integrated Amplifier
USB & Bluetooth Connectivity
Near-Field Speakers
Dimensions
Integrated Amplifier
Dual Amplifiers: Two distinct amplification systems deliver outstanding High-Resolution Audio experiences, regardless of how you listen. The compact chassis houses two independent circuit boards for the speaker and headphone amps. Given the different power outputs and proximity to the drivers, headphones and speakers have distinct amplification requirements. The full digital S-Master HX amplifier drives the separate speakers, reproducing dynamic and powerful sound even within the confines of the compact design. The headphone amp and separate high-end digital-analogue converter better suits the more isolated headphone listening experience, driving headphone sound powerfully yet precisely.
S-Master HX Digital Amplifier: The CAS-1 features Sony's proprietary S-Master HX full digital amp technology for the speaker section which has been uniquely developed for high-resolution audio, reduce distortion and noise across a wide-range of frequencies, and produce a rich, full-bodied sound.
Independent Headphone Amp: The CAS-1 uses the same excellent headphone amplifier IC used in the high-precision Sony PHA-2 Portable High-Resolution Audio DAC/Headphone Amplifier to drive headphone sound powerfully and precisely. Boasting excellent drive compared to regular operational amplifiers (op-amp), this headphone amplifier can even easily drive high-impedance headphones to effectively reproduce high-quality sound.
32-Bit High Precision DAC: CAS-1 employs the same 32-bit high-precision digital to analog converter (DAC) used in Sony's acclaimed HAP-Z1ES High-Resolution Audio player. This DAC extracts high-resolution audio detailed sound field information from sound sources in its entirety, producing fuller, richer sound that recreates the original space. Compatible music files include -
High Res Music Files:

WAV/PCM with sampling frequency of 16/22.05/24/32/44.1/48/88.2/96/176.4/192 kHz and bit-depth of 16/24/32-bit
FLAC with sampling frequency of 44.1/48/88.2/96/176.4/192 kHz and bit-depth of 16/24-bit
AIFF with sampling frequency of 32/44.1/48/88.2/96/176.4/192 kHz and bit-depth of 16/24-bit
ALAC with sampling frequency of 44.1/48/88.2/96/176.4/192 kHz and bit-depth of 16/24-bit
DSD with a sampling rate of 2.8 MHz and bit-depth of 1-bit

Compressed Music Files:

MP3 with a sampling frequency of 16/22.05/24/32/44.1/48 kHz and a bit-rate of 32-320 kbps
WMA with a sampling frequency of 32/44.1/48 kHz and a bit-rate of 16-320 kbps
AAC with a sampling frequency of 16/22.05/24/32/44.1/48/88.2/96 kHz and a bit-rate of 40-320 kbps
High-Quality Construction: The Sony CAS-1 audio system is constructed of high-quality parts & components.
Reinforced Chassis: The CAS-1 boasts a reinforced chassis frame and beams designed to prevent casing and circuit board kinks and enhance sound quality. Its base structure adopts a combination of high-end series components and sheet metal, delivering high precision. The aluminum die-cast panel provides high rigidity and low resonance, placing no strain on the substrate when mounted, and optimizes heat flow away from components.
4-Layer Circuit Board: The CAS-1 main unit houses a four-layer circuit board that allows for ideal routings for earth and power supply patterns. Component layout is designed with a beautifully symmetrical pattern based on established high end models for cleaner sound with less noise.
Output Toggle Circuit: Every consideration was made in the quest for a pure audio experience on the CAS-1. Instead of a semiconductor switch, Sony implemented an output toggle circuit that uses a relay with little contact resistance and good sound.
DSEE (Digital Sound Enhancement Engine) HX: The CAS-1 audio system goes a step further, utilizing Sony's proprietary DSEE (Digital Sound Enhancement Engine) HX, by upscaling existing sound sources to near high resolution sound quality, making you feel as if you are really there at the record studio or concert.
Volume Modes: Technologies like Pulse Height Volume and Low Volume Mode ensure dynamic audio response even where many other digital amplifiers suffer, at low volumes.
Pulse Height Volume: The CAS-1 maintains the original audio detail even at lower volumes for dynamic audio even in confined spaces. Common digital amplifiers decimate the original music data when lowering volume. Pulse height volume adjusts the power supply voltage to maintain high density sound data while lowering volume. Pulse height volume reduces power supply noise created from lowering volume, producing a cleaner sound than common digital amplifiers.
Low Volume: Most conventional compact tabletop speakers tend to lose balance between the treble and bass of the original sound at lower volume. Low Volume Mode optimizes these properties, reproducing the auditory effect of faithful balance to the original sound at low volumes.
Electronic Volume Control: For volume control, the CAS-1 uses and electronic volume circuit with high sound quality that minimizes noise and distortion when lowering volume, for less deterioration of sound quality. Enjoy high quality sound faithful to the original sound space, without unwanted distortion. The unit uses LED to indicate volume level and the mute status.
Outputs: The Sony CAS-1 audio system is outfitted with rear-panel binding post speaker terminals and a front-panel 3.5mm headphone jack.
Binding Post Speaker Terminals: On the back side of the CAS-1 are four binding post terminals to connect the included speakers, using the supplied speaker wire.
Front-Panel Headphone Jack: The front side of the CAS-1 features a robust 3.5mm headphone jack made from high-quality metal parts. The use of quality metal parts ensures that your headphone jack fits snugly and securely each and every time, staying in place for a stable connection to prevent distortion and deliver uncompromising sound quality
Remote Control: The Sony CAS-1 includes an IR remote control for wireless operation of the audio system and your USB connected devices.
AC Power Requirements: The Sony CAS-1 audio system operates off of standard household current using the supplied external power supply and detachable AC power cord.
USB & Bluetooth Connectivity
USB-B Input: The Sony CAS-1 audio system's rear-panel USB (type-B) port lets you stream PCM & DSD high-resolution music directly from your Windows PC or Mac computer to the speaker system. Compatible computers include Windows Vista/7/8/8/1 and Mac OS X 10.6+. To play high-resolution audio format files on your Windows PC from the audio system, you will need to download and install Sony's "Media Go" and "Hi-Res Audio Player" software to your Windows PC. Mac computers do not require separate software installation. Supported audio formats include
PCM with sampling frequency of 44.1/48/99.2/96/176.4/192 kHz and bit-depth of 16/24/32-bit
DSD with a sampling rate of 2.8 MHz and bit-depth of 1-bit
Front-Panel USB-A Input: The CAS-1 audio system's front-panel USB-A input lets you connect a USB mass storage class (MSC) device or a Sony Walkman portable digital audio player. The audio system supports playback of a variety of music files loaded onto a USB MSC or Walkman device formatted in FAT/FAT32. You can operate basic playback control (Play/Pause & Previous/Next Track) from the included remote. USB portable audio devices that can be charged via USB will be charged when plugged into the unit's USB port (5V/1A). Compatible music files include -
High Res Music Files:

WAV with sampling frequency of 16/22.05/24/32/44.1/48/88.2/96/176.4/192 kHz and bit-depth of 16/24-bit
FLAC with sampling frequency of 44.1/48/88.2/96/176.4/192 kHz and bit-depth of 16/24-bit
AIFF with sampling frequency of 32/44.1/48/88.2/96/176.4/192 kHz and bit-depth of 16/24-bit
ALAC with sampling frequency of 44.1/48/88.2/96/176.4/192 kHz and bit-depth of 16/24-bit
DSD with a sampling rate of 2.8 MHz and bit-depth of 1-bit

Compressed Music Files:

MP3 with a sampling frequency of 16/22.05/24/32/44.1/48 kHz and a bit-rate of 32-320 kbps
WMA with a sampling frequency of 32/44.1/48 kHz and a bit-rate of 16-320 kbps
AAC with a sampling frequency of 16/22.05/24/32/44.1/48/88.2/96 kHz and a bit-rate of 40-320 kbps
Note: The front-panel USB-A port does not support Apple iPod/iPhone/iPad or Android smartphone/tablet devices.
Bluetooth Audio Streaming: The Sony CAS-1 features built-in Bluetooth (version 3.0) with support for A2DP wireless audio streaming. You'll be able to wirelessly stream stored music and music apps from your Bluetooth-enabled Apple iPod/iPhone/iPad, Android smartphone/tablet, Windows Phone/PC, or Mac computer to the Sony CAS-1 audio system. The speaker automatically selects the optimum compatible codec (SBC/AAC/LDAC) for your Bluetooth device so you can enjoy high-grade wireless sound. You'll continue to use your Bluetooth-enabled mobile device for music navigation and song/artist information display.
SSP + NFC Pairing: The CAS-1 pairs wirelessly and effortlessly with Bluetooth enabled devices (up to 9) with a single press of a button thanks to SSP (Simple Secure Pairing). Bluetooth-enabled devices (like Android 2.3.3 or later) that have Near Field Communication (NFC) are even easier to pair with; simply touch the device to the NFC logo on the speaker and they're paired. The NFC Easy Connect App is needed for your Android device, unless you have Android OS 4.1 or later installed. Once paired, the speaker system will automatically re-connect to your device when within range (up to 33').
LDAC Codec Support: In addition to support for Bluetooth standard SBC codec and Apple's AAC codec, the speaker system also supports Sony's newest LDAC codec. LDAC is a new audio technology from Sony that allows you to enjoy high quality wireless audio via Bluetooth. With 3x the data transmitted (compared to regular Bluetooth), LDAC provides an enhanced wireless listening experience for all your music.
Note: Due to the differences in Bluetooth technology, some Bluetooth enabled devices may be incompatible, function improperly, or may not support all features when used with the Sony CAS-1 audio system.
SongPal Remote App: By downloading Sony's free SongPal remote app (from Apple's App Store or Google Play), you can use your Apple iOS (7.0+) or Android (4.0.3+) device to control the Sony CAS-1 audio system via a wireless Bluetooth connection. From the SongPal remote app, you can select music sources and customize sound settings of the audio system. You'll be able to browse music stored on your connected USB-A MSC devices and view song/artist information from your compatible mobile device.
Near-Field Speakers
Two-Way Driver Design: The Sony CAS-1 audio system includes a pair of two-way speakers that distinctively create sound and improve directionality for immersive listening experiences, even in small spaces. These two-way speakers incorporate a 0.5" soft dome tweeter and a 2.5" carbon fiber cone woofer. Enjoy the added realism from reproducing subtle harmonics and sound textures not possible with many conventional tabletop speakers.
0.5" Soft Dome Tweeter: The 0.5" soft dome tweeter features a wide-dispersion design especially developed for reproducing the ultra-high frequency audio in high resolution audio formats.
2.5" Carbon Fiber Cone Woofer: The 2.5" highly-rigid carbon fiber cone woofer combined with a powerful magnetic circuit generates tight, powerful bass.
Non-Resonant Cabinet: A 12mm-thick MDF baffle board effectively stops vibrations, and the birch plywood on the wrap board brings out beautiful controlled acoustic harmonic vibration. Braces reinforce the enclosure and sound absorbent material controls enclosure vibrations. Even the paint is specifically chosen to further suppress unwanted harmonic vibration in addition to providing a stunning gloss appearance.
Bass Port: The two-way speakers utilize a bass reflex enclosure with a customized bottom-firing port that allows the compact speakers to reproduce deep, satisfying bass. The wide flare on the bass reflex port reduces duct noise so that, even near the speakers, bass remains tight and free of distortion.
Binding Post Terminals: Each speaker features a set of binding post terminals for connection to the audio system's integrated amp, using the included speaker wire.
Near-Field Placement: Recording engineers position their left and right speakers to form an equilateral triangle for optimal audio monitoring. The CAS-1's near-field speaker design lets you reproduce this layout at home for ideal stereo sound imaging. The stereo speakers should be placed 2.5' to 6.5' away from the main listening position and 2' to 2.5' apart from one another for optimal sound reproduction.
Included Speaker Accessories: The CAS-1 audio system includes exclusive speaker accessories specially designed to avoid interference and deliver high-resolution audio in the near field. These easy to install accessories allow you to achieve excellent acoustics in small spaces without troublesome adjustments.
Brass Spikes: Install the included brass spikes to elevate speakers to an ideal 8° upward angle. By tilting the separate speakers into the optimal position CAS-1 speakers are designed to deliver better sound straight to the ears, without unwanted reflection or interference
Steel Base: The included 5mm thick steel speaker bases provide stable acoustics on any surface without excessive reflection for uncolored, unaltered sound.
Dimensions
Integrated Amp:
Width = 2.1875"
Height = 7.0625"
Depth = 8.8125"
Weight = 2.86 lbs
Speakers:
Width = 3.75"
Height = 7.0625" / 7.25" (with base) / 7.875" (with base & large front spikes)
Depth = 6.75"
Weight = 3.3 lbs
Our Product Research Team
At Crutchfield, you'll get detailed, accurate information that's hard to find elsewhere. That's because we have our own in-house Product Research team. They verify what's in the box, check the owner's manual, and record dimensions, features and specs. We stay on top of new products and technologies to help people make informed choices.