Parrot MKi9200
Car kit for Bluetooth® cell phones
Item # 333MKI9200 | MFR # MKi9200
This item is no longer available.
Overview
Hands-free calling and musical control
Parrot's MKi9200 Bluetooth car kit links your compatible phone or device to just about any car stereo for hands-free calling through your car's speakers. It offers control over many portable music sources, including the iPod® and iPhone®. We carry cell phone kit harnesses that allow plug-in connection of Parrot's Bluetooth car kits in a wide variety of vehicles.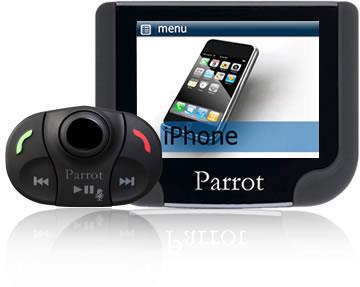 ---
Full-color display and great sound
But this is not your ordinary Bluetooth car kit — you'll also hear high-quality audio from all your portables, including music streamed from your phone along with files stored on USB drives or SD™ cards. And if you want to treat your eyes as well as your ears, the MKi9200's full-color 2.4" display provides you with album artwork and your own favorite images to go along with the music.
Easy to install
The kit consists of three main components: a mute box that installs beneath the dashboard, a remote control keypad, and the display panel. The mute box connects to your stereo system with an optional vehicle-specific harness and to the display panel with a single wire. The MKi9200 connects to your Bluetooth phone automatically once you start your car. For those who carpool with other Bluetooth users, the MKi9200 can handle up to five Bluetooth devices at once.
---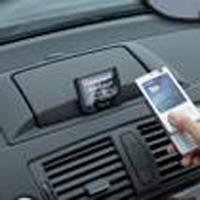 Talk with the MKi9200
With many phones, the voice-recognition software remembers up to 150 names from your address book — just say a name and the MKi9200 dials the number instantly. Using built-in text-to-speech technology, the MKi9200 can announce the names of your contacts, so you can browse through your phonebook or check out who's calling without taking your eyes off the road.
See and hear everything clearly
The MKi9200 mutes your car stereo when a call comes in, ensuring clear sound over your car's speakers. The included microphones feature noise-reducing technology that lets you speak clearly without having to shout. The MKi9200's screen displays phone numbers, caller names and images, and music information, including album covers and your favorite photos. You can easily remove the screen for safekeeping in the included carrying pouch when you're not in the car.
Note: The MKi9200 cannot display contact photos directly from the iPhone.
The MKi9200's built-in amplifier works in place of your factory radio's power section, for sound quality that surpasses other adapters and kits. You can bypass this feature if you're running an amplified or aftermarket system to keep the high-octane sound you've already got.
---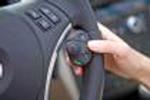 Convenient operation
The MKi9200 will guide you through dialing, accessing your phonebook, voicemail, and other phone functions while you concentrate on driving. You can use the keypad's scroll-knob to control the volume and browse menus, or to rewind, fast-forward, or jump to another song.
Access email and text messages with your voice
This device is now compatible with TextFriendly®, a service which allows you to access your email and text messages, all by voice activation. You can listen to, delete, compose, reply, and forward without taking your eyes off the road. TextFriendly also works with Facebook and Twitter updates, and is compatible with all phones that work with your Parrot device. You get six months of free service from Parrot — after that, you pay $4.99 a month, or $39.99 a year.
---
A wealth of portable music options
You'll find several connections for your portable music devices. The USB input works with newer iPods or other MP3 players. Simply connect your player and leave it in the glove compartment — you can control all the action from the keypad. You can even use your voice to control the music on your iPhone via the MKi9200's microphone. The display screen also includes an SD™ memory card slot, so you can access tunes from your own cards. And an auxiliary input accepts audio from almost any music source.
Bluetooth note: Use of this kit's Bluetooth features will depend upon your phone's Bluetooth capabilities. Learn more in our article explaining Bluetooth profiles.
Time-saving connections for your car
Crutchfield carries cell phone kit harnesses that allow easy, plug-in connection of Parrot's Bluetooth car kits in a wide variety of vehicle factory systems. You can also use these harnesses in conjunction with many aftermarket systems in compatible vehicles, as long as the factory stereo connections are available.
Product Highlights:
Bluetooth car kit includes 2.4" color display panel, two microphones, remote-control keypad, and mute box
hardware for mounting the keypad and display on your dash or steering wheel
works with all Bluetooth phones and A2DP stereo devices, including many iPod and iPhone models
removable, dash-mounted display panel lists caller, number and music information when available
6-button, remote-control keypad controls all phone menu and music functions
USB input and auxiliary input for connecting music sources
SD card slot built into the display panel
built-in digital amplifier (20 watts RMS x 4)
Features:
hands-free phone calls and streaming MP3 music with most factory or aftermarket car stereo systems (may require vehicle-specific adapters for plug-in connection)
automatically mutes your car stereo for phone calls
works with up to 5 Bluetooth phones
voice-recognition software stores up to 150 names for hands-free dialing (only works with certain phones)
voice-synthesis (text-to-speech) technology announces contact names
noise reduction and echo cancellation technology for clear voice transmission
works with TextFriendly service (available from Parrot) for hands-free access to SMS text messages and email
Other Specs:
dimensions: 2-7/8"W x 2-1/4"H x 1/2"D (display panel); 2-1/16"W x 1-1/2"H x 1-1/16"D (keypad); 5-3/8"W x 7/8"H x 4-1/8"D (mute box)
warranty: 1 year
What's in the Box:
Bluebox electronic control unit
Control screen
Wireless remote control with mounting strap
External dual microphone with attached 11.5' cord terminated by a male 2.5mm connector
Visor clip
5' iPod/USB/3.5mm connector cable
5' Control screen cable
Installation harness
Control screen mounting bracket
Wireless remote control steering wheel mounting bracket
CR2032 3V battery
Control screen carrying pouch
Quick Start Guide
Warranty/Registration Card
Featured Video:
It's a very nice quality product, the remote mount controller is very nice as well.

Mike, Louisville, KY
Reviews
Parrot MKi9200 Reviews
Average Customer Review(s):


Submit a review and then enter to win a $350 rewards card
Review this product
Thanks for submitting your review
Most reviews are processed and published within 5 business days. You will receive a confirmation email once your review has been published.
Customer photos
Pros:
Cons:
Crutchfield response
---
Details
Product Research
Features
Overview: The Parrot MKi9200 system is a unique Bluetooth hands-free car kit which installs in almost any vehicle. It combines the latest Bluetooth communication technologies with a full set of services dedicated to music. Once paired with your Bluetooth mobile phone, the MKi9200 enables you to establish in a few seconds any phone conversations in your vehicle without needing to handle your cell-phone, even leaving it in your pocket. In addition to providing a wireless Bluetooth connection, the MKi9200 offers an iPod dock connector, a USB type-A connector, and a male 3.5mm connector for connecting all types of portable digital music devices; as well as an SD-card slot integrated into the kit's control screen. Installed in your vehicle, the MKi9200 provides advanced hands-free performance and control of your Bluetooth enabled cell-phone or portable digital music player. The Parrot MKi9200 connects to your car audio system and delivers high-quality conversations and music.
Bluetooth Technology: Bluetooth enables voice, data and music to be sent via a short-distance radio link. It connects a wide range of electronic equipment without requiring additional cables. And, it extends the communications possibilities for cell phones and a large number of devices. The Bluetooth stereo (A2DP) profile uses the same radio frequencies and allows the sending of music files from one device to another. Bluetooth wireless technology offers a range of 33 feet (10 meters). The Parrot MKi9200 supports the following Bluetooth v2.0 profiles.
HFP (Hands-Free Profile)
HSP Headset Profile)
A2DP (Advanced Audio Distribution Profile)
AVRCP (Advanced Video Remote Control Profile)
OPP (Object Push Profile)
PBAP (Phone Book Access Profile)
Bluetooth Phone And Device Compatibility: The Parrot MKi9200 is 100% Bluetooth compatible with virtually every Bluetooth-enabled cell phone, smartphone (including Android), PDA, and iPhone (iPhone 3G-5S). You can visit the Parrot website to confirm that your cell phone is compatible. You can pair up to 5 Bluetooth enabled devices to the MKi9200.
Vehicle Integration Compatibility: The Parrot MKi9200 is designed to install seamlessly in almost any vehicle. If desired, the remote control functions can be interfaced with your vehicle's original equipment steering wheel audio controls using an optional available Parrot accessory harness (sold separately).
Installation: The MKi9200 connects to your aftermarket or factory stereo system so you can take calls from your Bluetooth phone through your car's speakers. The kit includes an electronic hide-away unit, a control screen, external dual microphones, wireless RF remote control, installation cable, audio cable, harness, and mounting brackets. Installation requires a vehicle-specific adapter for factory systems. Please enter your vehicle into Crutchfield's "Car Selector" installation guide to see if there is a harness available for your vehicle.
Note: T-harnesses are available to simplify the installation process in many vehicles. Check the Crutchfield Install Guide to see if a T-harness is available for your vehicle. The MKi9200 can also be hardwired, but inexperienced installers may have difficulty.
Hide-Away Box: The MKi9200 features a hide-away electronic box which is the central brain of the system. The supplied control screen cable, microphone, installation harness, and audio cable plug into this hide-away electronic box.
Control Screen With SD-Card Slot: The MKi9200 features a color TFT 2.4" dot matrix OLED control screen with a 5-line display. Phonebook contacts, calling information and music playback information are displayed on the dash-mounted OLED screen, which also detaches for theft prevention and comes with a soft carrying pouch. The screen of the MKi9200 also features a SD-card slot to easily access up to 32GB of music. The control screen comes with an adjustable, self-adhesive mounting bracket and soft carrying pouch.
Wireless RF Remote Control: The Parrot MKi9200 comes supplied with a wireless remote control for operation of the Hands-Free Car Kit. The remote features five buttons and one rotary knob. The remote operates off of a single CR2032 3V battery. The wireless remote control allows you to make, answer or end phone calls as well as control audio streaming. You can control the MKi9200 phone and music functions with the included wireless RF remote that can be mounted on the steering wheel or wherever you like in your vehicle.
External Dual Microphone: The Parrot MKi9200 features an external double microphone with noise reduction, echo cancellation, and full duplex operation which provides crystal clear calls at normal conversation level. The microphone features an integrated adjustable mounting bracket with an adhesive backing. The integrated bracket also features a mounting hole to attach the microphone with an optional self-tapping screw. In addition, the microphone comes supplied with a visor clip to mount to your vehicle's sun-visor.
Auto Car Stereo Muting: When a call comes in, the MKi9200 automatically mutes your car stereo and the caller's voice comes through your vehicle's speakers.
Voice Recognition: The MKi9200 features user independent voice recognition and voice synthesis (text-to-speech). To access your phonebook and make a call, simply press the green button to start the user-independent voice recognition. The MKi9200 recognize your voice and the name you are saying without any prior teaching process. When you speak the name or the contact you want to dial, the call is automatically dialed.
TextFriendly: A new feature called TextFriendly is available for the MKi9200 through a firmware update. It allows you to receive and answer texts and emails via voice. After a 6-month free trial period for new Parrot customers (or a 3-month free trial period for existing Parrot customers) a monthly fee is required to subscribe to TextFriendly.
Phonebook: The MKi9200 allows you to upload your phonebook from your Bluetooth enabled phone. Each time you add a contact name, the MKi9200 automatically synchronizes your cell phonebook. While you browse the phonebook, its listings will be spoken to you out loud through your vehicle's speakers. The MKi9200 can support up to 8,000 total contacts (1,500 per paired phone) .
Caller I.D. Announcements: If your Bluetooth enabled cell-phone supports Caller I.D., the caller's name (if in phonebook) will be announced to you over your vehicle's speakers. The MKi9200's control screen will also display the name (if in phonebook).
Discreet Mode: To follow on your conversation in a discreet mode, you can switch instantaneously the communication towards your Bluetooth headset or your mobile phone.
Digital Music Convenience: You can stream music from your Bluetooth enabled phone or other Bluetooth stereo (A2DP) device; or use the kit's iPod/iPhone, USB, and 3.5mm direct connections; or SD-card slot. The MKi9200 connects to any Bluetooth Stereo (A2DP) source such as MP3 players, musicphone, smartphones, or PDAs. The MKi9200 also comes supplied with a 5' music cable specifically designed to adapt to any sort of digital and analog music players (iPod/ iPhone connector, a USB type-A connector to plug any USB MP3 player, and a 3.5mm line-in input for analog sources). In addition, the MKi9200 features a SD-card slot to access up to 32GB of music. The MKi9200 allows basic playback functions (Play/Pause/Fast Forward/Rewind/Skip/Previous) of your connected Bluetooth device, iPod, USB audio device or SD-card. The MKi9200 displays the playlist of your connected Bluetooth device, iPod, and USB audio device, as well as an inserted SD-card. All music files are played back through your car's speakers (front and back).
Note: The unit's iPod dock connector supports 5th generation and newer iPods and the iPhone with dock connection for audio playback and control, as well as charging. It does not offer video/photo transfer. The MKi9200's display and control functions are not supported through the unit's 3.5mm input.
Built-In Digital Amplifier: The MKi9200 features a built-in digital 20-watt amplifier to give your music a boost in power and fidelity. You can control the volume of your music from the MKi9200's remote control.
Software Updates: The software in the MKi9200 can be updated from the Parrot website via a USB or Bluetooth connection.
Dimensions
Hideaway Box: Width = 5.355", Height = 0.875", Depth = 4.085"
Control Screen: Width = 2.835", Height = 2.235", Depth = 0.475"
RF Remote: Width = 2.055", Height = 1.425", Depth = 1.025"
Dual Microphone: Width = 2.415", Height = 1.145", Depth = 0.855"
Our Product Research Team
At Crutchfield, you'll get detailed, accurate information that's hard to find elsewhere. That's because we have our own in-house Product Research team. They verify what's in the box, check the owner's manual, and record dimensions, features and specs. We stay on top of new products and technologies to help people make informed choices.
Q & A
Customer Q&A
Crutchfield asked


Why did you buy this?
It will hopefully do what I'm wanting it to do

[ mjordan23 Mar 03, 2018 ]
gift, GF does not want to replace her factory stereo with aftermarket

[ Michael Apr 09, 2017 ]
This is a gift to enable my wifes 1992 buick park ave to move into the 21st century and connect to her i phone.

[ Tony Nov 27, 2016 ]
2007 was last year Honda Accord did not come with Bluetooth. The Parrot MKi9200 gave me full Bluetooth compatibility in my older model Honda. Has worked great for 2+ years. Crutchfield Tech Support was amazing too. Highly recommend.

[ Michael Nov 25, 2016 ]
This Parrot bluetooth adapter is exactly what I was looking for. I found it when I gave up on web browsing and simply asked a Crutchfield rep. In minutes I had the perfect contraption to bring my 2007 vehicle up to date with my iphone and my expectations.

[ Ken Nov 19, 2016 ]
Great reviews. Necessity now days.

[ ABELARDO Oct 12, 2016 ]
Worked well with my last car, 10 years old, before BT and USB

[ Casey May 04, 2016 ]
I have a Parrot in another car. Great product.

[ Ken Feb 05, 2016 ]
8 questions already asked