Noise-Canceling Headphone Challenge
Heads up!
Welcome to this article from the Crutchfield archives. Have fun reading it, but be aware that the information may be outdated and links may be broken.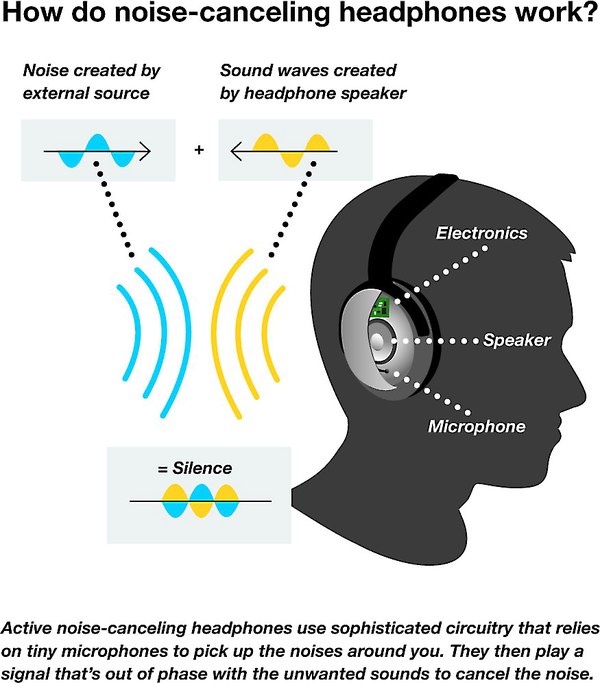 Whether you do a lot of traveling, have to work amidst distracting sounds, or just live in a busy household, noise-canceling headphones can be a godsend. Basically, these headphones use active electronics and tiny, built-in microphones to pick up the noises around you. Then they play a signal that's the exact opposite of the unwanted sounds, which helps to cancel out and quiet the noise.
Not all noise is created, or canceled, equally
While noise-canceling headphones can do a great deal to help reduce steady, droning noises, like the sound of an airplane engine — they can't "erase" loud, sudden noises such as someone coughing nearby. Still, it's the constant din of background noise that, in most cases, can lead to stress, fatigue, and even hearing loss over time.
An unexpected benefit of silence: greater clarity
Quieting the noises around you not only provides a more blissful and pleasant listening environment, it also makes it easier to hear and enjoy music from your portable player or the dialogue of in-flight movies at lower, safer volume levels.
Our I.T. department takes the challenge
Crutchfield's Information Technology department is a diverse group working in close proximity that, at times, can get pretty darned noisy. In order to reduce outside distractions, and help focus better on their work, many of our I.T. folks wear headphones. That's why we thought they'd make an ideal test group to invite into the Crutchfield Labs to try out some of our noise-canceling headphone models, and see which ones they liked best.
Members of Crutchfield's I.T. department take on a barrage of noise in our Labs to test the effectiveness, sound quality, and comfort of noise-canceling headphones.
We subjected 15 team members to various types of noise, including aircraft cabin sounds, a noisy lawn mower, a New York City Subway, and of course, a busy office. As they listened to their music, we introduced these noises at realistic levels through a surround sound audio system. Each individual took notes and scored the headphones he or she was wearing on a scale of one through five (five being the best). After everyone had a chance to evaluate each model, we averaged the scores. Here are our results, along with some of their comments.
The results:
Criteria
Bose® QuietComfort® 15 Acoustic Noise Cancelling® headphones
Sennheiser PXC 450
AKG K 495 NC
Klipsch Mode M40
PSB M4U 2
Headphones
Price

true

true

$249.99

Price Break, Save $50.00

Noise-Canceling
Ability
Sound Quality
Fit & Comfort
Listener Comments
Bose® QuietComfort® 15
"Bose was the best at getting rid of background noise."
"Very comfortable and no pressure points; they feel very light."
" Best at noise cancelation and sound quality, but felt a bit small around my ears."
"Very clear, even sound."
" Nice!"
Sennheiser PXC 450
"Cans were very comfortable and not squeezy. Nice and light. I could wear these for a long time."
" Good ear cushioning, but ear area seems a little big."
"Crisp vocals that were very lifelike, but noticeable background noise even with music playing."
"Fits pretty well. Very large cups took getting used to."
AKG K495 NC
"Best mix of sound quality and comfort. Excellent form factor."
"Good sound. Felt loose, takes getting used to."
"The fit was pleasantly snug and the ear pads were wonderfully pillow-like."
"Bassy, but clear sound. More lows than highs."
"Not very 'bright,' good bass."
Klipsch Mode M40
"I loved the clarity of sound these produced."
"Tends to press inward more. Cups ears well."
"I loved the clear sound. And they did a good job of shutting out external noise, especially office sounds."
"Heavy. Ear cups rigid, more padding needed."
"Clear vocals, nice midrange."
PSB M4U 2
"Best all-around sound. Comfortable with decent noise canceling."
"Well-balanced sound."
"Great around-the-ear coverage. A little heavy, moves if you move."
"I enjoyed the 'surround sound' these gave me."
" Great soundstage, I forgot I was listening to headphones."