Finding the right speakers to fit your vehicle doesn't have to be confusing. Crutchfield has measured and databased thousands of vehicles over the years to make it easy for you to find replacement car speakers.
What size speakers are in my car?
Figuring out car speaker sizes can be a little confusing. In the mobile audio world, it helps to think about the size of car speakers as more of a category than an actual size. Much like a 2x4 is not actually 2" thick and 4" wide, a 6-1/2" speaker isn't actually 6-1/2" in diameter. Its measurement is close, but the actual dimensions of speakers within the 6-1/2" category can vary based on a manufacturer's design.
The differences between speaker sizes
When we research the speakers we sell, we take into account several measurements and the manufacturer's information when determining if they'll fit in various vehicles. The size designation is most closely related to their frame's diagonal measurement and hole alignment. It's not just about the diameter of the speaker's cone or the cutout diameter, which is a common misconception. Below is a diagram showing how a few speaker sizes are determined: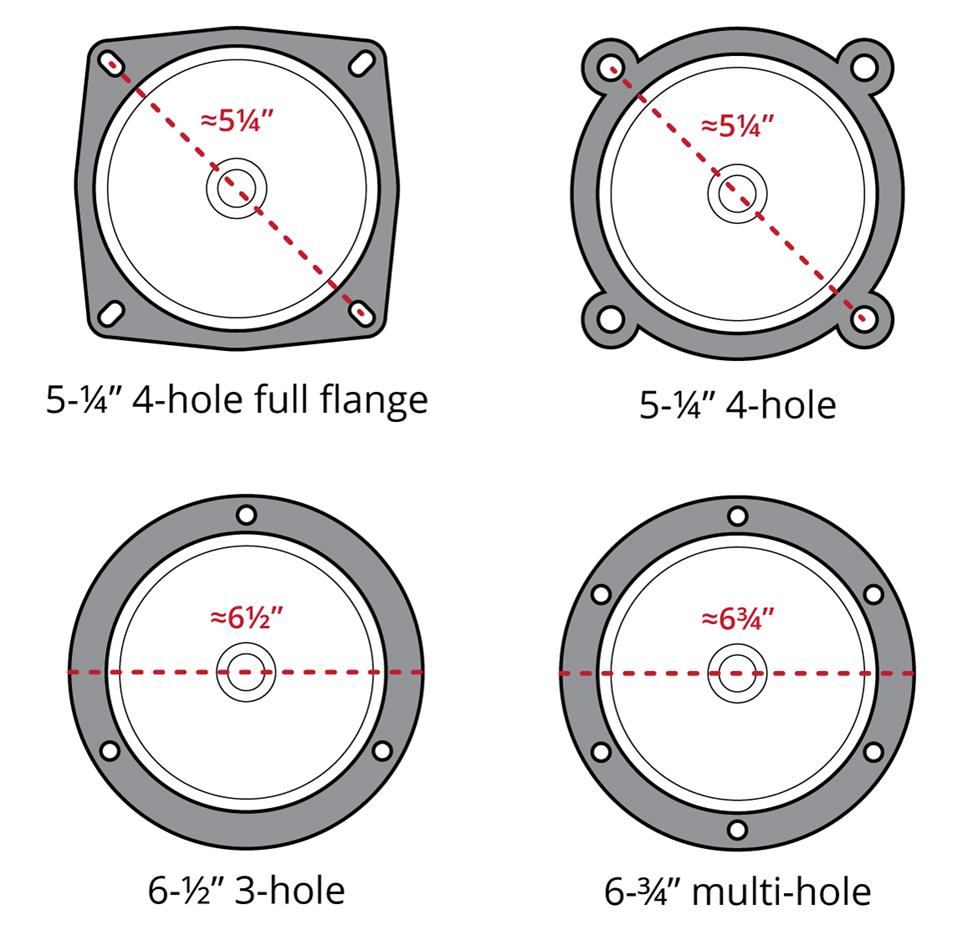 Not only does the size of the speaker frame help determine its size category, but note that the hole patterns on the 6-1/2" and 6-3/4" speakers are different.
Figuring out the size and dimensions of your vehicle's factory speaker
Determining the size of the factory speaker in your vehicle can be tricky. These speakers don't always adhere to the same size standards as aftermarket speakers because the factory speakers are designed to work with the overall design of the vehicle. And of course, you usually have to do some work to get to the factory speakers, since it's difficult to tell the size of a speaker when it's under a door panel or a grille. And in many vehicles, door speakers and rear speakers aren't necessarily the same size, so you have to measure each location.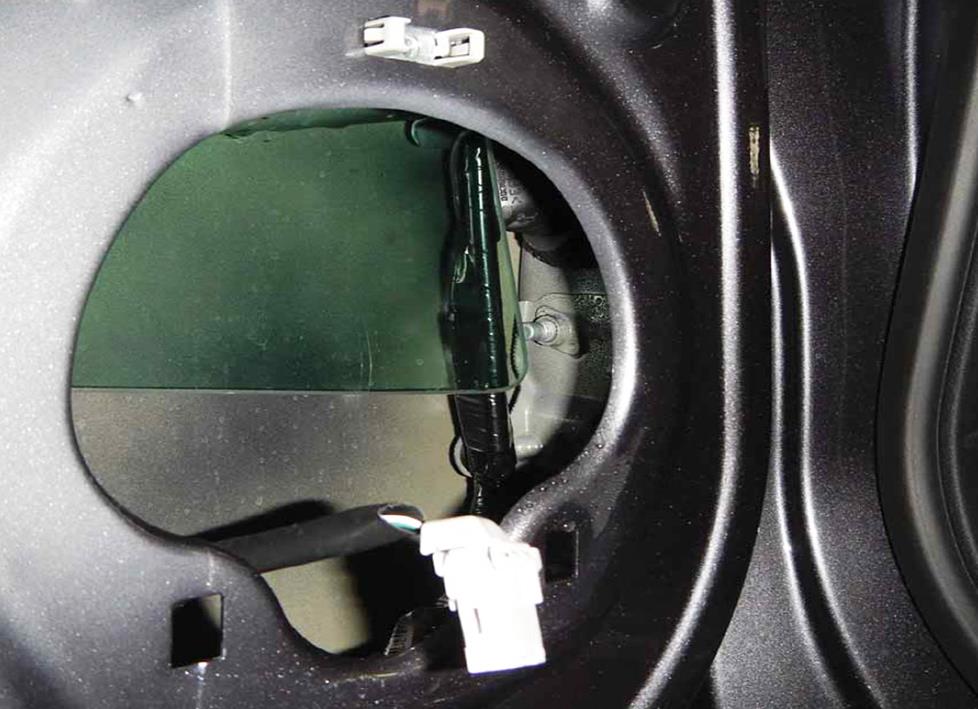 The speaker opening in a 2015 Honda Fit isn't a conventional size. It also uses only one screw and two tabs to keep the factory speaker in place. For many vehicles, we offer brackets to help the new speakers fit the factory opening.
We've done the research for you
For most vehicles on the road, Crutchfield has done the measuring work for you. Use our exclusive vehicle selector to tell us the year, make, and model of your vehicle and we'll show you which aftermarket speakers fit your vehicle.
Not only have we researched what speaker sizes can be accommodated, we've also taken other measurements into account. As you can see in the diagram below, we measure every dimension of a car speaker to provide you with the largest selection of speakers that'll fit your ride. And when we don't have a speaker that's the same size as the factory speaker, we usually offer brackets that work with other sizes to give you some alternatives.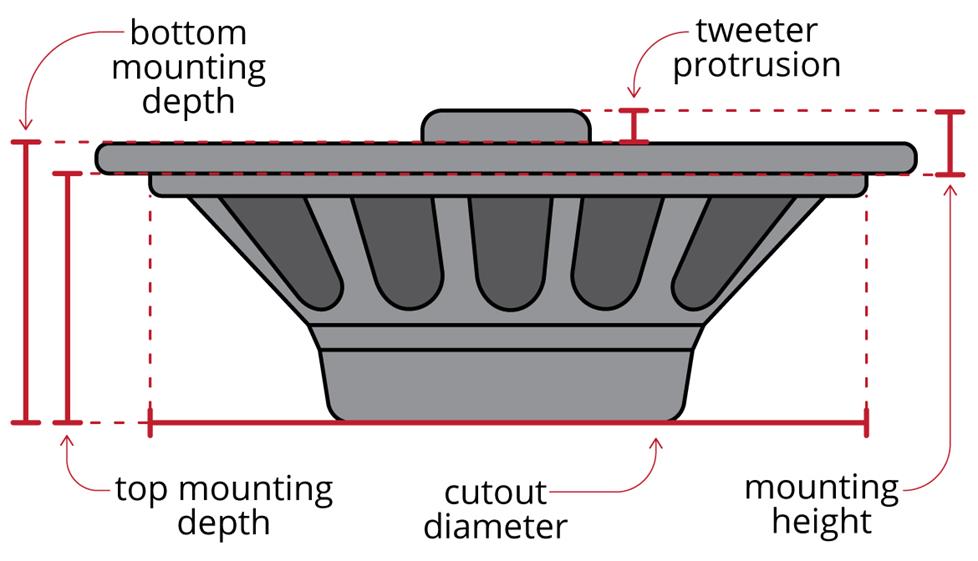 We measure all dimensions of a speaker to help determine what will work for you.
You get much more than a speaker when you buy from Crutchfield
For most vehicles, we include free wiring harnesses that let you plug your speakers into your factory wiring. The harnesses also make it easy to re-install the factory speakers when you sell or trade your vehicle.
We also include speaker brackets (if needed) so that you'll have everything you need for a successful installation. By doing it yourself, you'll save money and be able to take pride in a job well done.
Detailed speaker removal instructions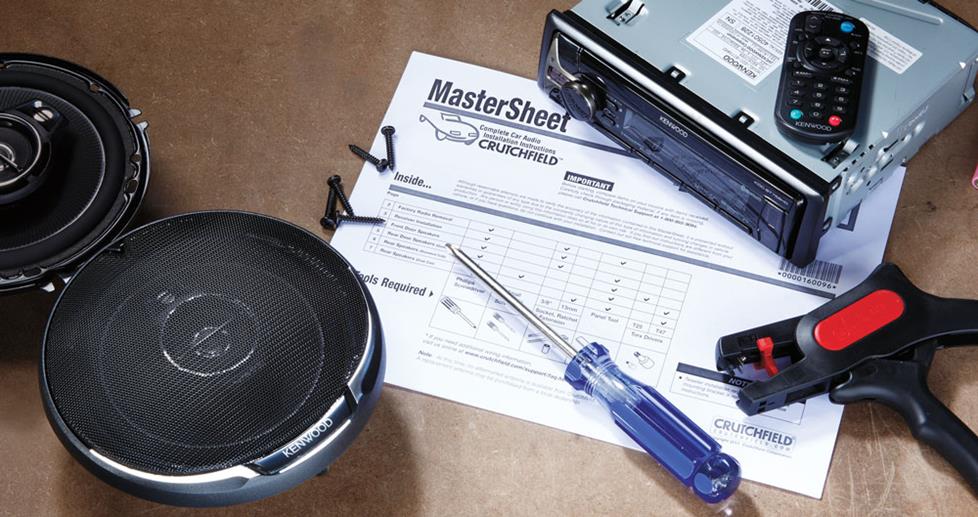 With step-by-step disassembly instructions and plenty of up-close, detailed photos, our exclusive
Crutchfield MasterSheet
™ takes the guesswork out of removing the factory speakers. It's free with your Crutchfield order, or you can purchase one separately for just $9.99.
So enter your vehicle information, and we'll show you which speakers will fit the factory locations, and let you know about any tricky details. And when you purchase your new speakers from Crutchfield, if you run into a snag during the installation, our free, lifetime tech support is just a phone call away.
And we're also here to help
To learn more about choosing replacement speakers for your car, read our car speaker buying guide or check out our selections for our best car speakers.
If you have any questions about finding new speakers for your vehicle, contact our advisors. They can look up your vehicle, answer questions, and help you choose new speakers that'll fit the first time!