Apple CarPlay™ now available in aftermarket stereos
iOS control through your dash
Apple's CarPlay technology is the newest way to take advantage of your iPhone® with a Lightning™ connector through your car stereo. You'll be able to use certain phone functions as you drive, but in a manner that'll let you stay focused on the road. Compatible receivers give you access to your iPhone's calling, music, mapping, and message applications with a simple one-cord connection to your iPhone using the phone's Lightning-to-USB cable.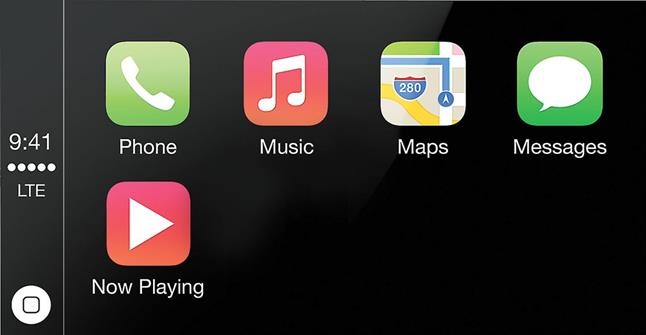 This is what your Apple CarPlay compatible receiver's screen looks like when you connect your iPhone 5 or newer.
How Apple CarPlay works
When you connect your iPhone to an Apple CarPlay compatible receiver, large, familiar iOS app icons appear on the stereo's touchscreen, along with the time and a "home" button you can press to activiate Siri® voice control. You'll be able to operate some apps with fingertip touches, while many functions can be initiated with Siri. You won't even have to take your hands off the wheel once you've started.
The iOS apps include:
Phone — Make calls, return calls you missed, and check your voicemail, all with Siri's help. You'll be able to see your caller information right on the receiver's screen.
Music — Pull up your iPhone's artists, songs, playlists, and more through your stereo's controls, or tell Siri what you want to hear. The display will mirror your iPhone's iTunes® screen, so you'll be able to see what's playing and choose tracks easily. Apple CarPlay will also support audio from select other music and podcasting apps, for added driving entertainment.
Maps — View your Apple Maps screen on the receiver's display, complete with turn-by-turn directions, traffic conditions, and estimated travel time. Use Siri and your voice to enter a destination or search for nearby points of interest.
Messages — You already know that texting and driving is a bad idea. With Apple CarPlay, you can have Siri send, read, and reply to your text messages for you, so you won't have to look at or touch your phone while you're behind the wheel.
Now Playing — One touch will show you instantly what's providing the soundtrack to your travels.
Most other apps will not be accessible through Apple CarPlay, with the exception of select audio apps such as Spotify, Beats Music, iHeartRadio, and Stitcher. Apple may approve more apps for Apple CarPlay in the future, but they'll likely only be apps that can be used safely while driving and with Siri.
Where to find Apple CarPlay
You can find Apple CarPlay compatible receivers as a factory option in select 2014 and newer vehicles, with more manufacturers joining in the future. There are even reports of Apple developing a wireless CarPlay interface for select factory systems (no word yet on when this might become a reality for aftermarket stereos).
Check out our full selection of car stereos that are compatible with Apple CarPlay. Some of the stereos we offer are also compatible with Android Auto™, making them ideal for shared vehicles driven by owners of different types of phones.