About the Kicker KEY180.4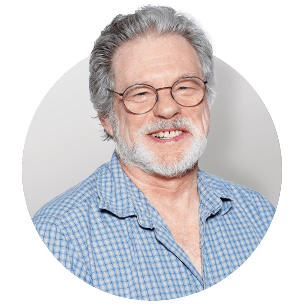 Musical boost and tune-up
Now you can get fantastic, high-quality sound without breaking the bank. Kicker's KEY180.4 compact car amplifier features automatic signal processing that tailors the audio for your specific vehicle. This 4-channel little power pack will send 45 watts RMS to each of your front and rear speakers — more than twice the power of a typical aftermarket receiver, three or four times the power of a factory radio.
Musical boost and tune-up
Now you can get fantastic, high-quality sound without breaking the bank. Kicker's KEY180.4 compact car amplifier features automatic signal processing that tailors the audio for your specific vehicle. This 4-channel little power pack will send 45 watts RMS to each of your front and rear speakers — more than twice the power of a typical aftermarket receiver, three or four times the power of a factory radio.
KEY Auto Setup tunes in minutes, not hours
After installation, you set up the included calibration mic, start the test noise (downloaded from Kicker), hit the activation button, and the KEY Auto Setup software automatically sets the crossovers, 40-band EQ, and time-aligns the sound for the front seat driver. Then later, with the button, you can A/B the before- and after-processing sound, to amaze your friends and family.
Advanced features
You can manually enable Auto Compression, for a more consistent and safer power output. A limiter kicks in and lights up when it detects clipping, letting you know that something's too loud. A Bi-Amp mode lets you actively run tweeters and woofers without a passive crossover, by applying customized active crossover settings during the KEY Auto Setup process.
Start-Stop problem solved
Some eco-friendly cars actually turn off their engines when stopped, and then start up again when the brakes are released. The voltage dip during starting could shut down an amplifier or allow it to pass a dangerous clipped signal to the speakers. The KEY180.4 prevents these issues by automatically engaging its limiter in these circumstances.
Integrates well
This amp's so tiny, it'll fit almost anywhere in almost any vehicle. Kicker's FIT2™ technology, using speaker-level inputs with DC offset sensing turn-on, ensures this amp will work in almost any system, even one with a factory radio. The Radio-Detect switch makes sure you never get a "No Speakers Detected" message on your receiver's display when you install this amp.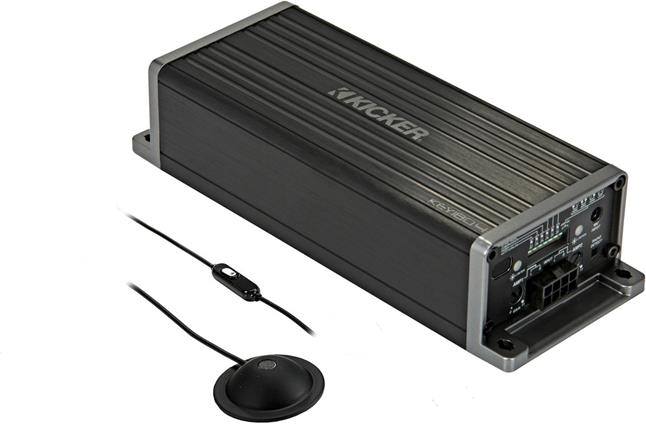 KEY180.4 with activation button and calibration mic
READ LESS
Product highlights:
4-channel car amplifier/sound processor
45 watts RMS x 4 at 4 ohms
CTA-2006 compliant
non-bridgeable — minimum impedance of 4 ohms per channel
Class D amp technology
KEY Auto Setup customizes the signal for your vehicle

calibration mic and activation button included
pink noise test tones available from Kicker.com
automatic adjustments include 40-band EQ, 24 dB/octave crossover filters, time alignment

Bi-Amp mode applies tweeter/woofer crossover settings during KEY Auto Setup
switchable auto compression
selectable high-pass filters (off, 60, 80, 120 Hz; 24 dB/octave)
Other Features:
automatic limiter with clip lights
preamp and speaker-level inputs

DC offset sensing turn-on with speaker-level inputs

Radio-Detect circuit supplies speaker load for receiver to sense
wiring and hardware not included with amplifier

14- or 12-gauge power and ground leads recommended

fuse rating: 20A x 1
dimensions: 7-3/8"W x 1-3/4"H x 2-13/16"D
warranty: 1 year
MFR # Kicker KEY180.4
What's in the box:
Kicker KEY180.4 owner's manual
4-Channel amplifier
12" Harness (power / ground / turn-on / speaker output)
12" Input harness (4-channel RCAs)
16" Loop of 14-gauge red power wire with in-line fuse holder
20A ATO fuse (installed in holder)
Microphone with attached 11.5' cable (3.5mm plug)
Rubber microphone holder
4 Self-tapping screws (length 1")
Two 12" wire ties
Owner's Manual
Quick Start Guide
Customer reviews for Kicker KEY180.4
Loading...
Loading reviews...
Average review:
4.5 out of 5 stars
Thanks for submitting your review
Most reviews are processed and published within 5 business days. You will receive a confirmation email once your review has been published.
Customer photos
This review was collected as part of a promotion
More details on the Kicker KEY180.4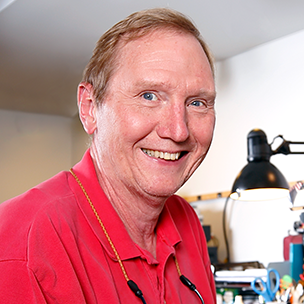 Researched by Crutchfield's

Mark G.
Product Research
Features
Overview: The Kicker KEY smart amplifier is designed to improve the sound quality of your vehicle's sound system. The KEY 180.4 delivers clarity and solid power to your speakers. With the included microphone, you can run the Auto Setup process to optimize the audio for your particular vehicle. The amplifier can run four full-range speakers, or you can bi-amp a pair of component speakers. The amplifier is less than 8" long and 1-3/4" high, allowing you to mount is nearly anywhere.
Power Output: The KEY180.4 is a 4-channel amplifier designed to power up to two pairs of speakers, or one pair of component speakers. The amplifier is essentially divided into two 2-channel amplifier sections: Amp 1 and Amp 2. The amplifier provides the following power output: 45 watts x 4 RMS at 4Ω stereo (≤1% THD+N, 14.4V). The KEY180.4 must be run at 4-ohms minimum impedance per channel. The amplifier is not bridgable.
KEY Auto Setup: The KEY Auto Setup procedure helps the amplifier set individual speaker equalization, Kicker EQ, time delay, and speaker sensitivity matching. The included microphone should be placed on top of the driver's seat headrest to optimize the settings for that seating position. The Auto Setup begins when you press the activation button on the microphone cable. During the test, you will need to play uncompressed pink noise from the head unit through the speakers connected to the amplifier. Any speakers or subwoofers in the vehicle that are not connected to the amp should be turned off. Once the procedure is complete, the amplifier will play "happy" music to indicate successful completion, or "sad" music and beeps to indicate an error code.
Gain Matching: The Kicker KEY180.4 makes it easy to set the input gain through a procedure called Gain Matching. The goal is to match the output of the source unit to the input level of the amplifier. The amp features a Limiter LED that lights up when the amplifier is clipping, allowing you to properly set the gain. Kicker recommends setting the gain using test tones for best results.
Limiter: The amp features a built-in limiter to protect your speakers and to assure continuous playback. The limiter is designed to engage in the following situations:
Engine Start: The amplifier is compatible with Start-Stop vehicles, and will not turn off during engine start. The limiter engages during engine start to prevent a clipped output signal from reaching your speakers.
Low Voltage: If the voltage on the power wire goes below +10.8V, the limiter will engage during moderate or high music volume levels.
Input Signal Overdrive: When the input signal causes the output to exceed the maximum rated power, the limiter will engage to prevent clipping. This is typically caused by the gain setting and/or the input signal being set too high. If this occurs, you should lower the input signal or the gain setting.
Controls: The controls are located on one end of the amplifier. A set of 8 DIP switches lets you configure the amplifier to your desired settings. There are two rotary gain controls for setting the input gain for Amp 1 and Amp 2. The DIP switches control the following settings:
Time Delay: Set to enable (EN) for all speakers' output to reach the driver (or the microphone location) at the same time. Set to defeat (DF) to turn off time delay.
Kicker EQ: The Kicker EQ is a 40-band equalizer that is automatically set during Auto Setup. You can set to enable (EN) to turn it on, or to defeat (DF) to turn it off. When off, the frequency response curve will be flat.
Bi-Amp Mode: You can bi-amplify component speakers, or door woofer/dash speakers. When the Bi-Amp switch is on, the amplifier will automatically detect and apply bi-amplification settings:

Woofers/Tweeters: 3.2kHz high pass for the tweeters (24dB/oct); 3.2kHz low pass for the woofers
Door Woofer/Dash Speakers: 320Hz high pass for the dash speakers (24dB/oct); 640Hz low pass for the door woofers

Compression: Auto Compression reduces high amplitude signals above a certain threshold to protect your audio system and provide more consistent sound. Set to enable (EN) to turn on compression, or set to defeat (DF) to turn Auto Compression off.
Fader: The fader switch lets you indicate the number of inputs you are running to the amplifier. Set to On if you are running two sets (front and rear, for example), or set to Off if you are driving all four channels with a single stereo input.
Auto Turn-on: You can use two different methods of automatic turn-on: run a dedicated +12V remote turn on lead (set DIP switch to 12V), or 3V DC offset on the speaker input wires (set to DC). Using DC offset puts +12V on the Remote Turn on wire for turning on additional amplifiers, if desired.
Hi-Pass Filter Options: The last two DIP switches can be configured to set the crossover frequency for the high-pass filter on the speaker outputs. The frequency can be set to 120Hz, 80Hz, or 60Hz. This Linkwitz-Riley High Pass filter has a 24dB per octave slope. The Hi-Pass filter can also be turned off, if desired.
Radio Detect: If you are using Hi-Level inputs, but the source unit cannot detect the presence of an audio system, or refuses to play audio from one or more speakers, you should set the Radio Detect switch to On. This activates a load resistor at the amp's input to indicate to the source unit that speakers are connected. Radio Detect should be set to Off if using Low-Level input signals. The amplifier's input sensitivity is 250mV to 10V.
Connections: The KEY180.4 has harnesses for the input signal, as well as for the power and output signals. The 4-channel Input Harness has two pairs of female RCA jacks for connecting a line-level signal from an aftermarket source unit. If you are using a factory head unit, or an aftermarket one without preamp outputs, you can cut off the RCA connections and splice the unit's speaker wires to the harness. The other harness has connections for +12V power, ground, and Remote turn-on, plus four speaker outputs. A short length of 14-gauge power wire with a 20A ATO fuse is provided for placement at the battery. Kicker recommends using 14-gauge wire (minimum) for the power wire from the battery to the amplifier. If you're bi-amping front component speakers or door woofer/dash speaker combinations, you should connect the tweeters to Amp 1 (front) and the woofers to Amp 2 (rear), and turn the Bi-Amp DIP switch to the On position. The passive crossover that typically comes with component speakers is not used when bi-amping.
Protection Circuitry: The KEY180.4 is equipped with a 3-way protection circuit that turns off the amplifier in the following situations:
Thermal: If the amplifier becomes very hot, its thermal protection is engaged. Overheating can be a sign of improper impedance on the speaker terminals or insufficient airflow around the amp.
Short Circuit: If the amplifier only plays at low volume levels, the short circuit protection is engaged. You should check for speaker wires that are shorted to each other or to the vehicle chassis.
Over/Under Voltage: If the amp shuts down only while the vehicle is running, the voltage protection circuitry is engaged. The amplifier is designed to operate at an input voltage between 6 and 16 volts. If voltage to the amplifier is not within this range, you should have the vehicle's charging and electrical system inspected.
Loading...
Loading accessories...
Loading...
Loading articles...