In this article: We'll offer practical examples of how to plan an outdoor sound system that can fill any space with music, including:
Our Advisors help Crutchfield customers build outdoor sound systems in yards large and small. The key to success for each one? Having a solid plan. We'll give you an idea what to do in some of the most common situations, and show you how to contact us if you need further advice.
SETUP 1: Small deck or patio
Stereo outdoor speakers give you good sound in a small area right outside the house. Figure out where you'll put them before you buy.
For the best stereo effect, we recommend mounting left and right speakers about 10 feet apart. Don't try to cover a bigger space by moving them further apart, or you may only hear one 'side' of the song.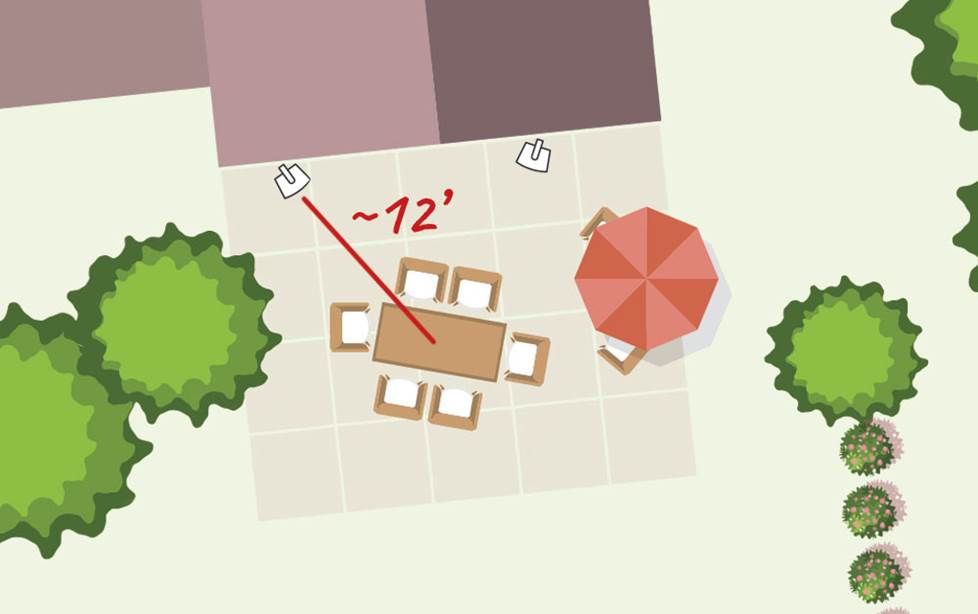 The dining table is in the sweet spot for stereo sound, about 12 feet from each speaker.
Have a covered porch?
Our Advisors often recommend in-ceiling speakers for covered outdoor spaces. Some are moisture resistant. They're made with bathrooms and saunas in mind, so they can handle the humidity.
Under the eaves, a popular mounting location
Many outdoor speakers are weather-resistant rather than weatherproof, so they'll need some cover. Are your eaves close to the ground (or the deck)? Mount speakers underneath, to protect them from rain.
Just don't mount them much higher than 10 feet above the listening area.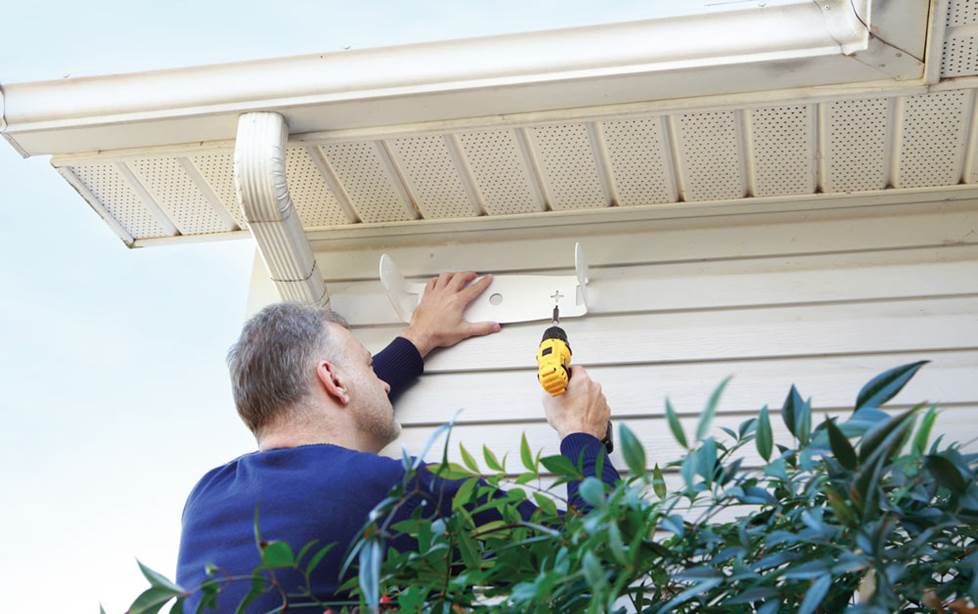 Mounting speakers under the eaves also helps hide them for a discreet look.
Music sources and wiring for simple stereo setups
You'll need a receiver or amp to power your speakers and connect music sources. Already have a home theater receiver with "Zone 2" or " Zone B" speaker outputs? They can be called into service to power your outdoor speakers.
In some cases, it might be much easier to install and operate a separate music source that can be placed much closer to your deck or patio. Consider adding a second receiver or a wireless music player that has a built-in amp, such as the Sonos Amp.
Many home theater receivers can connect to your home network. Most of these let you wirelessly control key functions via a smartphone app. You won't have to run inside to adjust volume or change playlists. Does your Wi-Fi® reach out into your yard? If not, a new Wi-Fi router or extender can boost your wireless coverage.
How much power do outdoor speakers need?
Inside your home, there are walls to reflect and contain sound. Outside, of course, it's wide open. To get the same perceived volume outside as you do indoors, you need to double the power.
Want to play your outdoor music quite loud? A powerful receiver or amp would be a good choice. If you're a Sonos fan, try a Sonos Amp or hook a Port (which has no amp) to your receiver.
SETUP 2: Music for a large yard
To enjoy music across a larger yard, you'll need to cover different areas or "zones" with sound. Think of each zone in your yard as you would a separate room in your house.
You need the right amount of speakers for each zone, so that it's never too loud or too soft in one area. Our A/V Design team can help with this — just send us your contact info and we'll be in touch.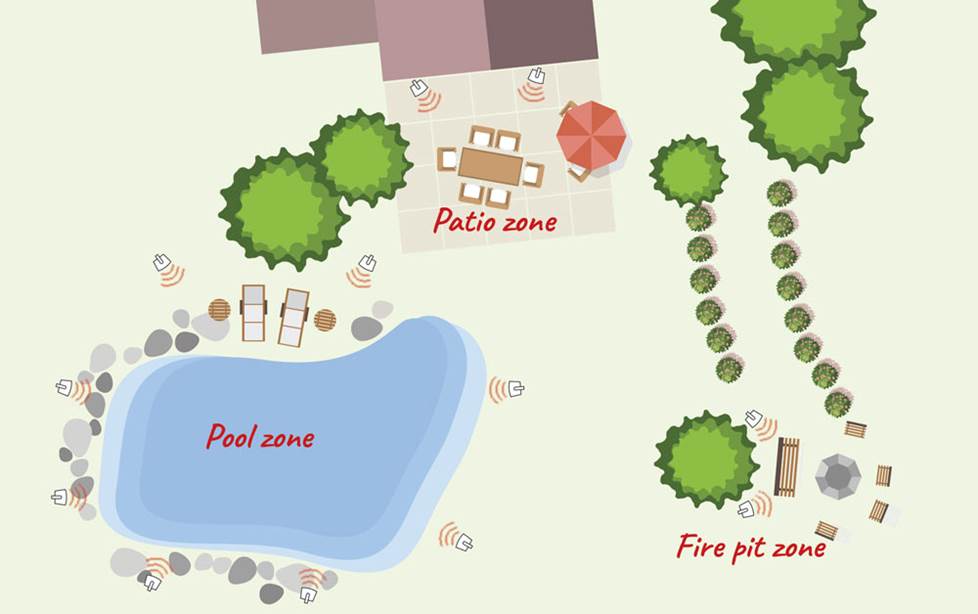 Our in-house A/V designers can develop a plan that covers different "zones" with music.
Stereo setups don't work well in large yards, either. You'll want speakers that play both left and right channels. There are two ways to approach this. You can get stereo-input speakers that have left and right connections. Or you can get amps that combine left and right channels, sending mono signals to standard speakers.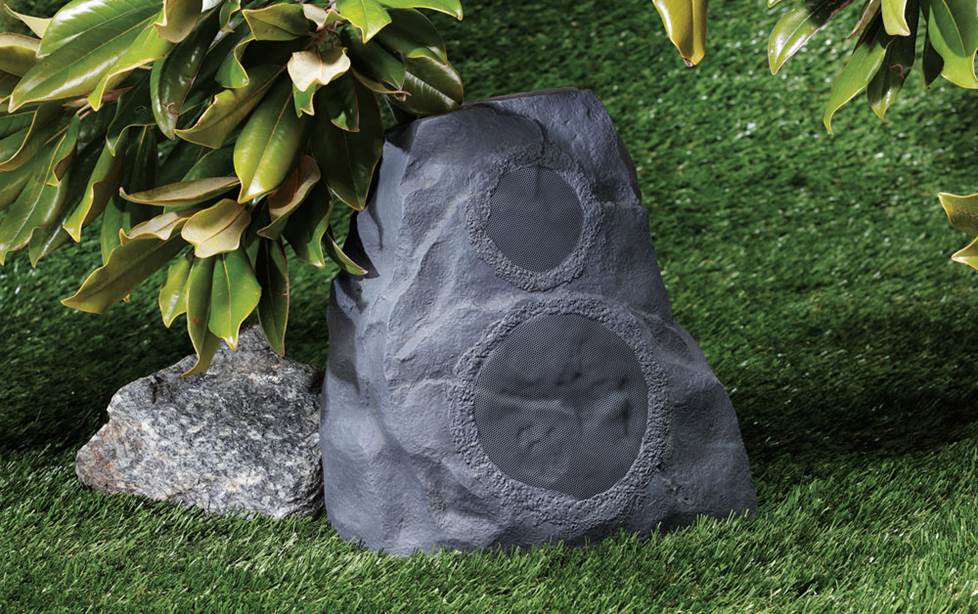 Rock speakers blend into your landscaping and help bring music to zones that are farther from the house.
Read our Outdoor speaker buying guide for more details.
What about wiring?
You can buy in-wall speaker wire with two conductors or four. Use four-conductor cable with stereo-input speakers. These cables contain wires for both left- and right-channel inputs. Use 16-gauge cable for runs of 80 feet or less. Use 14-gauge cable for runs of up to 200 feet.
Our in-wall speaker cables can be buried, but it's probably best practice to run buried cable through a hard plastic conduit, so you don't cut it with a shovel. This also keeps the wire protected from rodents.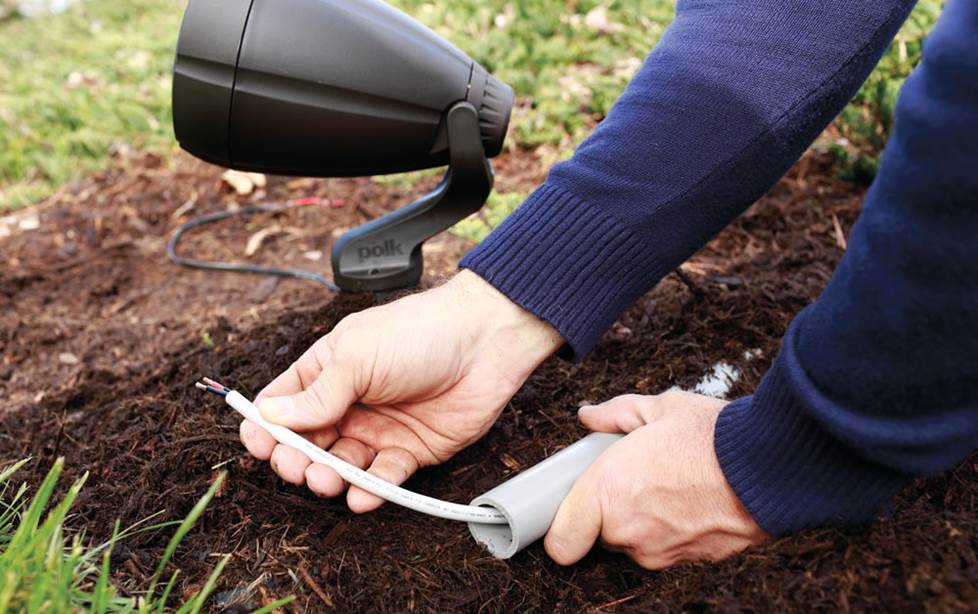 A PVC conduit gives you extra protection from lawn mowers, gardening tools, and critters.
Multi-channel amp
Multi-channel amps deliver a lot of power, and they give you separate volume control for each area. You might want your music loud by the pool and softer near the grill. Or vice-versa.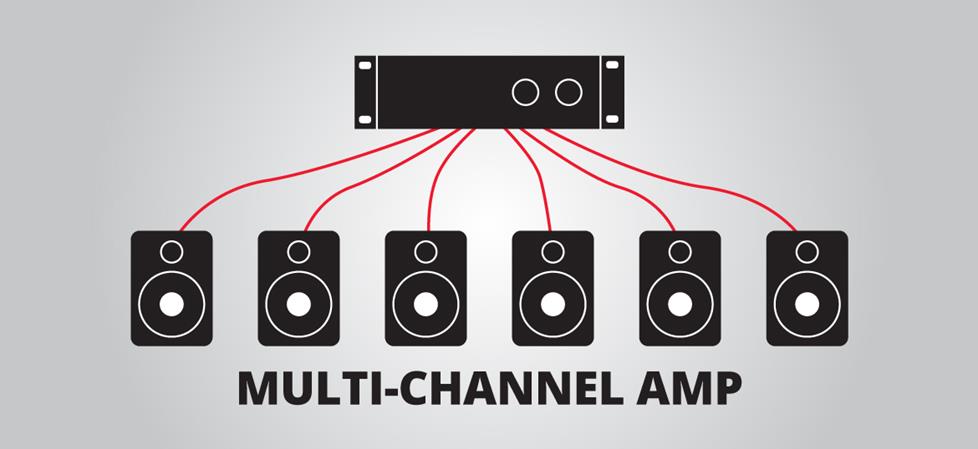 70-volt amp
A 70-volt commercial-grade amp can drive many more speakers than a comparably priced residential-grade amp. It's easy to add speakers later on. And you'll need much less wire.
Cost savings can be substantial with 70-volt systems, but system planning is more complicated, and you may sacrifice a little sound quality. You'll definitely want to contact an Advisor if you're curious about this approach.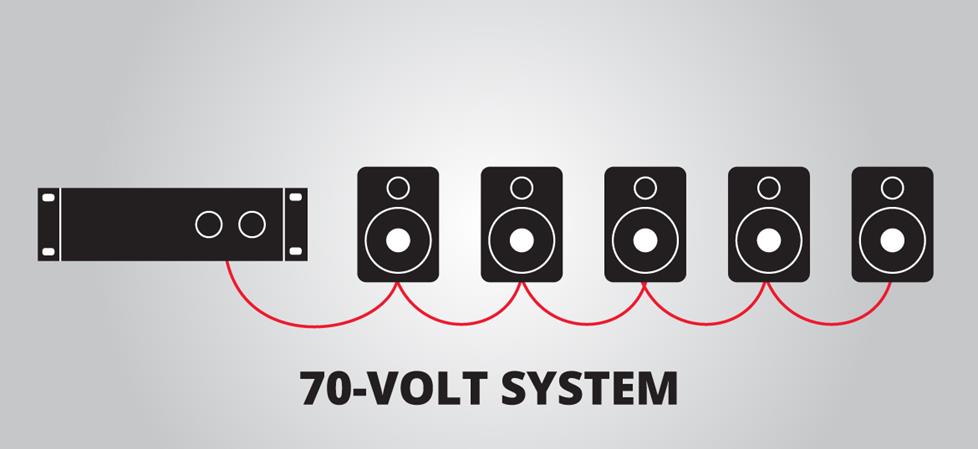 Volume control options
Sonos and other wireless audio systems let you control volume from your phone. But what if you're on a call or your wireless network drops out? Separate, weatherproof volume controls come in handy, especially in pool areas near water, where you might not want your phone.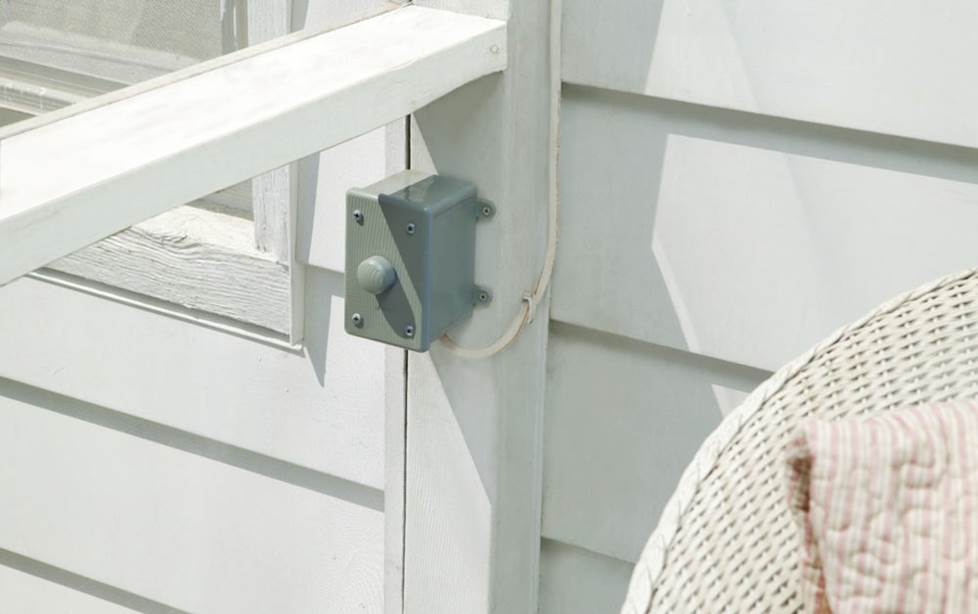 Separate volume controls let you turn your music up or down while you're outside — even while your phone is in use.
SETUP 3: Music for special events
Throw a lot of big parties? Need a sound system for an amateur band or DJ? Portable PA systems include mixers to plug in instruments, turntables, and microphones. Many have built-in Bluetooth or aux inputs so you can connect your phone for DJ duty.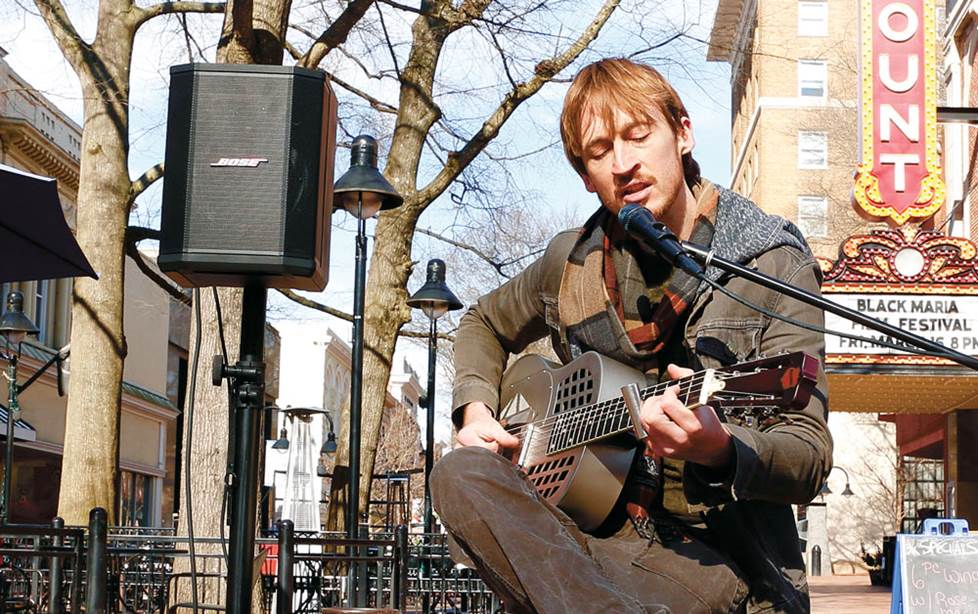 Musician Eli Cook performing in downtown Charlottesville with a portable PA system.
Need help getting started? Contact us
Sound like a lot to take in? Contact our Advisors for help. It goes so much easier with a little guidance from one of our experienced professionals.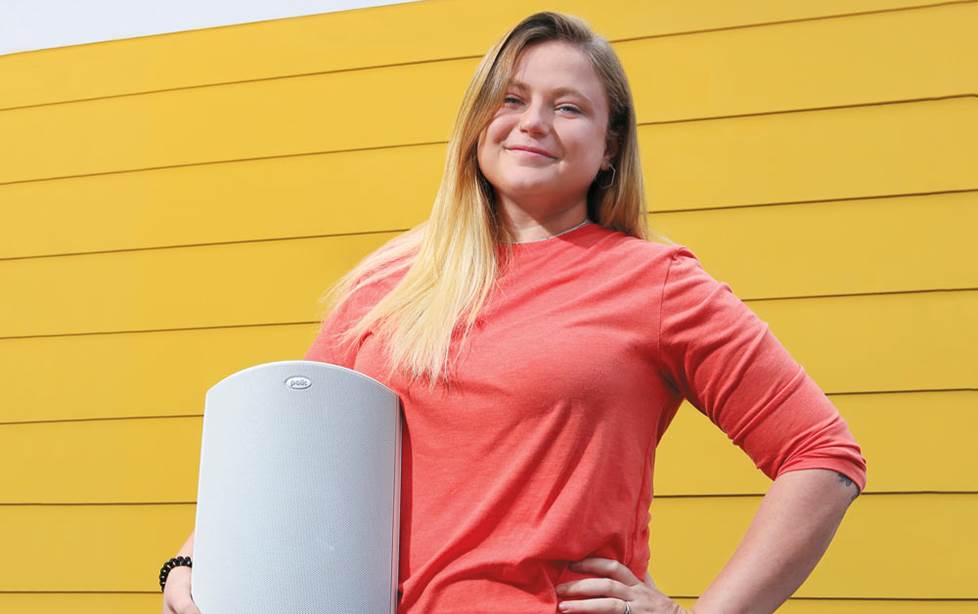 A/V designer Quinn is one of several friendly, knowledgeable Advisors available to help you plan your outdoor system.
Get a free system design
In a well-designed home, form and function are on the same team. Furnishings and appliances smoothly serve your family and guests. You should expect no less from your audio/video gear. But first you need a plan, and that's where your Crutchfield A/V design specialist comes in. Submit a system design request today! You'll receive a detailed system plan and a link to a pre-filled shopping cart.
3 easy steps
1
Share your info and ideas