MartinLogan ElectroMotion® ESL
Floor-standing speaker (Satin Black)
California customers: Please click here for your Proposition 65 warning.
Item # 839EMESLD | MFR # EMESLD
Out of Stock
Expected: 12/3/2018 Reserve yours risk-free Email me when available

Our VirginiaVA-based experts can help.
Overview
Our take on the MartinLogan ElectroMotion® ESL by Crutchfield's Dave Bar
Electrifying performance
Electrostatic speakers have always had their own niche on the outskirts of a more conventional "box speaker" world, presumably a bit too exotic to fit into the average Joe's system. So when we recently auditioned the MartinLogan ElectroMotion® ESL speakers in our cavernous product training room, we were not only impressed by their dramatic sound, but surprised by how effortlessly they played with some of our more affordable audio gear, including a mid-priced receiver. Our takeaway: you don't need a rack full of uber-expensive components or a fancy, dedicated listening room to enjoy fantastic sound with these speakers.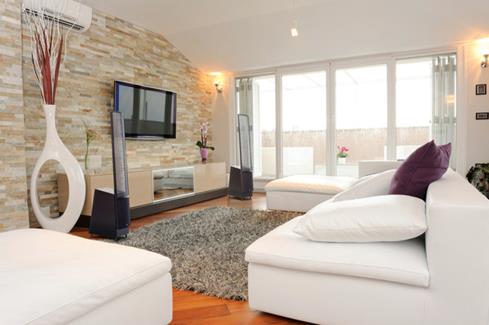 The secret to transparent sound
Unlike speakers that use domes and cones to reproduce treble and midrange, the EM-ESL features an ultra-thin polymer film, or diaphragm, suspended between two electrically charged, perforated steel plates. The diaphragm's ultra-low mass allows it to move very efficiently back and forth between the plates thousands of times a second in response to the music signal creating enticingly transparent, low-distortion sound with a lifelike sense of immediacy. The panel is visually transparent, too, so it makes an unforgettable impression when seen in person.
Throwing a curve into the equation
Controlling a speaker's sound dispersion in a room is crucial to creating realistic sound. MartinLogan's signature 30º curved electrostatic panels allow for ideal dispersion in your home listening environment and minimize reflected sound off of the side walls that can muddy detail and stereo imaging. This design helps take the room out of the sonic equation.
Less crossover equals better sound
Even the best crossovers can add distortions that negatively impact sound quality. The EM-ESL's hybrid design uses its electrostatic panel to operate all the way from the highest audible frequencies down through the crucial midrange (where our ears are most sensitive) to 500 Hz without a crossover for the purest possible music reproduction. A high-excursion 8" woofer takes over from there, seamlessly blending in to provide taut, accurate bass that rounds out the speaker's low-end end response.
Impressions from our Labs
We first heard the EM-ESLs in the Crutchfield Labs, where they looked and sounded like no other speakers to ever visit our listening room. Their tall sleek panels yielded exceptional levels of detail and clarity, with a huge soundstage that extended not only from wall-to-wall but from floor-to-ceiling, as well. The effect was intoxicating, almost as if the musicians were sitting right there in the room.
Product Highlights:
34" x 8-5/8" CLS™ (Curvilinear Line Source) XSTAT™ electrostatic transducer for wide sound dispersion, excellent clarity, and low distortion
8" high-excursion paper cone woofer (reproduces frequencies below 500 Hz)
bass-reflex (ported) woofer enclosure
external low-voltage DC power supply (included) requires AC outlet connection to energize electrostatic panel
high-performance Vojtko™ crossover network with custom air core coil, low DCR steel laminate inductors, polyester film capacitors, and low DF electrolytic capacitors
frequency response: 42-22,000 Hz (±3dB)
sensitivity: 91 dB
impedance: 6 ohms
recommended amplifier power: 20-300 watts
Black Satin finish
included adjustable floor spikes with removable protective covers
spring post speaker terminals accept bare wires, pins, and banana connectors
9-5/16"W x 53-1/8"H x 16-1/2"D
weight: 35.5 lbs.
warranty: 5 years (with product registration)
What's in the Box:
MartinLogan ElectroMotion® ESL Owner's manual
Floor-standing hybrid electrostatic loudspeaker
AC power adapter (w/ attached 10' DC cord)
Cloth grille (installed)
4 Pre-installed feet
User's Manual (En/Fr)
Product Registration Card
Reviews
MartinLogan ElectroMotion® ESL Reviews
Average Customer Review(s):


Submit a review and then enter to win a $350 rewards card
Review this product
Thanks for submitting your review
Most reviews are processed and published within 5 business days. You will receive a confirmation email once your review has been published.
Customer photos
Pros:
Cons:
Crutchfield response
---
Details
Product Research
Features
Electrostatic Technology (How it Works): Where traditional loudspeaker technology incorporate cones, domes, diaphragms, and ribbons that are moved with magnetism, electrostatic loudspeakers employ charged electrons attracting and repelling each other. An electrostatic transducer consists of three pieces; stators, the diaphragm, and spacers. The diaphragm is what actually moves to excite the air and create music. The stator's job is to remain stationary and to provide a reference point for the moving diaphragm. The spacers provide the diaphragm with a fixed distance in which to move between the stators. As your amplifier sends music signals to an electrostatic speaker, these signals are changed into two high-voltage signals that are equal in strength but opposite in polarity. These high voltage signals are then applied to the stators. The resulting electrostatic field, created by the opposing high voltage on the stators, works simultaneously with and against the diaphragm, consequently moving it back and forth, producing music. This technique is known as push-pull operation and is a major contributor to the sonic purity of the electrostatic concept due to its exceptional linearity and low distortion.
Hybrid Electrostatic Speaker: The MartinLogan ElectroMotion ESL X is a hybrid electrostatic loudspeaker that features a XStat CLS electrostatic transducer panel, an optimized Vojtko crossover, and two passive 8" woofers. Electrostatic panels are perfect for reproducing high, midrange, and midbass frequencies. However, both the size and the power requirements of deep bass frequencies are best served by traditional cone woofers. A phase and amplitude optimized Vojtko crossover (400Hz) ensures a seamless transition between the two sound reproduction philosophies. As a result, this speaker offers the best performance for high, mid, and low frequencies.
XStat CLS Transducer: The MartinLogan ElectroMotion ESL X features a 8.6" (w) x 40" (h) XStat CLS Transducer. This new XStat transducer builds upon the legacy of MartinLogan's electrostatic heritage with the incorporation of a myriad of technology and design innovations including CLS, MicroPerf, Generation 2 Diaphragms, ClearSpars, Vacuum Bonding, and AirFrame technology. Through rigorous testing, this curvilinear electrostatic panel has proven itself to be one of the most durable and reliable transducers available today. Fabricated from a custom tool punched high-grade steel, the patented panel is then coated with a special polymer that is applied via a proprietary electrostatic bonding process. This panel assembly houses a membrane just 0.0005" thick. Ruggedly constructed and insulated, the panel is rated to easily handle 20 to 300 watts of power.
CLS (Curvilinear Line Source): MartinLogan engineers discovered a simple solution to achieve a smooth pattern of dispersion from a smaller electrostatic transducer without degrading sound quality. By curving the horizontal plane of the electrostatic transducer, a controlled 30° horizontal dispersion pattern could be achieved, yet the purity of the almost massless electrostatic diaphragm remained uncompromised.
Generation 2 Diaphragm: The diaphragm used in the ElectroMotion ESL X XStat transducer employs an extremely sophisticated conductive coating applied to the polymer surface at an atomic level using a plasma bonding process. A proprietary compound is driven into the surface of the polymer film in an oxygen free argon chamber. This process allows extremely uniform surface resistivity characteristics, an optically transparent surface, and a nearly massless diaphragm. This uniform surface resistivity controls the electrostatic charge on the diaphragm surface and regulates its movement.
MicroPerf Stator: Although stators are the elements of an electrostatic driver that are supposed to stand still, they carry the audio signals that do the work of propelling the diaphragm back and forth to move air and produce sound. Because the stators sandwich the diaphragm between them, they must be perforated to allow sound to pass through. Yet they must also be rigid enough to remain absolutely stationary despite the strong electrostatic forces pushing and pulling at them during operation. MartinLogan's MicroPerf design optimizes this tradeoff by reducing the size of the individual holes and using many more of them than in a traditional electrostatic panel. MicroPerf almost doubles effective diaphragm radiating area without compromising structural integrity. The resulting increase in output capability and efficiency allows the XStat CLS panel to be made much smaller without sacrificing performance and lets you enjoy a substantial leap in bandwidth and dynamics.
Vacuum Bonding + ClearSpar Spacers: To achieve the power, precision, and strength of the XStat transducer, two insulated high-purity carbon steel stators along with a proprietary plasma bonded diaphragm and ClearSpar spacers are fused into a curved geometry with an aerospace adhesive whose strength exceeds that of welding. MartinLogan's proprietary Vacuum Bonding process guarantees uniform diaphragm tensioning and extremely precise construction tolerances, resulting in precision, linearity and efficiency.
AirFrame Technology: The XStat CLS panel is secured to speaker cabinet using MartinLogan's AirFrame technology. The extruded aluminum and composite AirFrame makes the panel extremely rigid while maximizing playable surface area and dipole sound radiation. At the same time, it provides electrical and acoustical isolation, minimizing intermodulation distortion caused by vibration and resonance. Overall, AirFrame technology enhances imaging, low-level sonic detail, accuracy, and efficiency.
Controlled Dispersion Sound Radiation: A key attribute of the ElectroMotion ESL X is its naturally dipolar radiation pattern. A true dipole, the EM-ESL X radiates sound with equal intensity from the front and back of its diaphragm, but the outputs are in opposite phase. As a result, sound waves rippling out toward the sides meet at the speaker's edge and cancel. That and the relatively large size of the ElectroMotion ESL X's electrostatic panel cause output at the sides to be very low relative to that of a conventional loudspeaker, which in turn minimizes side-wall reflections that tend to muddle sonic detail and stereo imaging. While the reduction in output to the sides contributes to the astonishing clarity, the energy reflected off the wall behind the speaker opens up and deepens the sound.
Full-Range Operation: Another significant advantage of MartinLogan's exclusive electrostatic transducer technology is that no crossover networks are used above 400Hz, because they are not needed. The ElectroMotion ESL X consists of a single, seamless electrostatic membrane reproducing all frequencies above 400Hz simultaneously. This eliminates the crossover phase aberrations that are associated with traditional tweeter, midrange, and woofer systems. The result is a dramatic improvement in imaging and staging performance.
Dual 8" Woofers w/ Ported Cabinet: Two precise 8" high-excursion, perfectly balanced, audiophile grade, doped-fiber cone woofers have been custom designed exclusively for The EM-ESL X by MartinLogan's in-house engineering team. These woofers precisely optimize cone suspension and magnetic flux field to produce high levels of bass output and simultaneous precise midrange. The custom woofers' rigid light-weight diaphragm eliminates cone flexure and maximizes response time to achieve remarkably low-distortion. The 8" woofers are housed in a non-resonant asymmetrical cabinet with a down-firing bass port for additional bass extension.
Note: When you first begin to play the ElectroMotion ESL X speaker, it will sound a bit bass shy. This is due to the high-quality, long-life components used in the passive woofer. The custom-made woofer requires approximately 72 hours of break-in at 90 dB (moderate listening levels) before any critical listening. The break-in requirements of the crossover components (and, to a lesser degree, the stator) are equivalent.
Proprietary Vojtko Filtering: To seamlessly blend audio output from the high- and mid-frequency electrostatic panel to the low-frequency woofers the ElectroMotion ESL X features a proprietary Vojtko topology filter utilizing custom air core coil and low DCR steel laminate inductors, polyester film capacitors in series, and low DF electrolytic capacitors in parallel.
Bi-Wirable Binding Post: The ESL X features bi-wirable binding posts and provide the ultimate level of flexibility for connection and setup. MartinLogan's proprietary tool-less binding posts simplify cable connection and management. Two sets are supplied; one connected to the electrostatic panel and the other feeding the woofer. You can choose to bi-amp the ESL X, or use jumper clips between the binding post sets for a single wire-connection. The binding posts will accept bare wire (16- to 8-gauge), pin-connectors, spade-connectors, and banana plugs (single only).
Low-Voltage DC Power Supply: The ElectroMotion ESL X speaker uses an external low-voltage power supply to energize its electrostatic panel. The included power supply firmly inserts into the "DC Power In" receptacle on the rear-panel of the speaker and then to an AC wall outlet. The ElectroMotion ESL X speaker features a signal sensing circuit which will switch the ElectroMotion ESL X off after a few minutes of no music signal, and requires less than two seconds to recharge the panels when a music signal is present.
Input: AC 100-240V~50/60Hz, 0.2A
Output: DC 15V, 0.4A
Applications: The MartinLogan ElectroMotion ESL X floor-standing speakers can be used as stereo speakers or home theater front/surround speakers. The ElectroMotion ESL X speakers are ideal for medium and small rooms.
Placement: The ElectroMotion ESL X speaker should be placed approximately 2' to 3' from the front wall (the wall in front of the listening position) and about 2' from the side walls. Your sitting distance should be further than the distance between the ElectroMotion ESL X speakers themselves. This will allow you to attain good center imaging and stage width. Generally, it is found that the ideal listening position is with the speakers slightly toed-in so that you are listening to the inner third of the curved transducer section.
Note: The front wall surface ideally should be one long wall without any doors, windows, or other openings. If you have openings, the reflection and bass characteristics from each channel can be different.
Interchangeable Feet: The MartinLogan ESL X floor-standing loudspeaker includes four pre-installed rubber feet for tile and hardwood floors. You can remove the rubber tip from the pre-installed feet to reveal four metal spiked feet for carpeted flooring. The feet are threaded into the base of the speaker and can be adjusted to non-level surfaces.
Our Product Research Team
At Crutchfield, you'll get detailed, accurate information that's hard to find elsewhere. That's because we have our own in-house Product Research team. They verify what's in the box, check the owner's manual, and record dimensions, features and specs. We stay on top of new products and technologies to help people make informed choices.
Q & A
Customer Q&A
3 questions already asked
Anything is possible. I currently don't have a cat. In the decades that I've had audio equipment and cats, I never had a problem with my cat destroying speakers, I've heard horror stories about animals destroying woofers. I've talked to a long time M&L dealer and he tells me that the panels are very durable. The mesh grilles on both sides of the panel, protect the film fairly well. A cat could get its claws through the panel and rupture the film. In the past how destructive are your cats?

[ JOHN E Aug 31, 2018 ]
Placement is indeed important, but not terribly difficult and can even be kind of fun as you discover the capabilities of these incredible speakers. Take the time to position the speakers in all the dimensions described in the manual: distance from side wall, distance from back wall, "toe-in" angle (using the flashlight reflection against the front panel, and finally the vertical angle (which does indeed make a difference). Also, I have two "modes of listening: one mode is for non-critical everyday stuff where I don't mind if my amplifier is doing the digital processing and tonal settings; the other mode is critical listening where I want the source to be as pure as possible and don't want any processing from my amplifier. Make sure your source audio is tope quality - you will hear the difference between lossy compressed 128 bit audio and lossless 256 bit audio. I eventually bought a Cambridge Audio DAC Magic Plus digital to audio converter which completely bypasses both the DAC in my Mac and the DAC in my amplifier. I hear things in my music collection that are truly astounding. On the other hand, crappy recordings will sound just that - crappy! So things you tolerated before may become really annoying now. Overall, these are great speakers - just take the time to set them up.

[ JUSTIN Jan 22, 2014 ]
It really isn't that difficult to set them up. Any speaker requires proper set up to sound its best. If you use the included guide as a start, then allow the speakers to break in their full period, fine tuning should be pretty easy. It took me about 15 minutes to place them by the guide and then a couple minor tweaks over a couple days after they broke in to get them to their best.

[ GREGORY Jan 17, 2014 ]
I didn't find it difficult at all to set them up. I think that the confusion that I've seen around this issue is related to the "correct toe-in" and spacing issue...such as is addressed in some of the YouTube videos from MartinLogan. But for my taste they sounded great out of the box. If you are looking for the "ideal sweet spot", they you can do some experimentation, but frankly these speakers have a 30 degree curve built in, so I found that the sound radiates to all parts of the room very well. 2 things I would recommend...they do have a "break-in" period of about 80-100 hours of listening, after which time you'll notice them sounding SO much better, (not that they don't sound awesome out of the box....they just get even better). 2nd, I would definitely recommend a subwoofer to back these up. That being said, these are the most amazing sounding speakers I've ever heard. Listening to music is an incredible experience now, and this is coming from a life-long audiophile. Buy these....you won't regret it.

[ Douglas Jan 16, 2014 ]
I found placement much easier than some reports have suggested. I have them only about three feet from the wall, toed in slightly, and they sound great. I expected to have more problems with them, given that they are dipole speakers, but they are much more forgiving than online reports might lead you to believe. MartinLogan's staff are very helpful and I am sure you could always work with them if you need assistance.

[ ZACHARY Jan 16, 2014 ]
I'm currently using Parasound 2250. Originally I was using Onkio NR929 receiver. It's suggested on different forums that they need more power and a bigger power reserve for the impedance dips. Inserting the Parasound amp really made a big difference. My next upgrade will be a class AB amp. My system is enclosed In a wall unit and the heat from a Class A would be too much. Originally I had home theater setup, but now with the Theos I'm doing more 2 channel listening. No matter what you choose you'll enjoy the journey.

[ CALVIN L. Jan 02, 2016 ]
i own Martin Logan Theos. They love lots of clean power. I would guess the same for the ESL's. The Sony TA-A1ES is a class A amplifier and I have no experience with class A. I'll guess it's a great setup for low to moderate listening levels.

[ CALVIN L. Jan 01, 2016 ]