Definitive Technology ProCinema 1000
Home theater speaker system (White)
Item # 700PCIN1KW | MFR # ProCinema 1000 WH
In Stock

Our VirginiaVA-based experts can help.
Overview
Our take on the Definitive Technology ProCinema 1000 by Crutchfield's Dave Bar
Big performance from compact speakers
Experience high-performance home theater sound from a compact, room-friendly system. Definitive Technology's ProCinema 1000 includes four satellite speakers, a center channel, and a 300-watt powered subwoofer. This system uses some of Definitive's best speaker technologies, so you'll experience lots of impact and convincing realism with all your movies, video games, and music. It's a great way to complement your crisp HDTV picture with rich, enveloping sound.
High-tech driver design for sonic precision
This system uses four of Definitive's ProMonitor 1000 satellite speakers to create a spacious, wraparound soundstage. Each has one 5-1/4" midrange that uses Definitive's Balanced Dual Surround System (BDSS) driver design, which places a surround on both the outer and inner edge of the speaker cone for greater linear excursion and exceptional clarity. This technology helps the system deliver big sound using smaller speakers. The ProCenter 1000 center channel included with this system uses two 4-1/2" BDSS midranges for crystal-clear dialogue and true-to-life sound effects.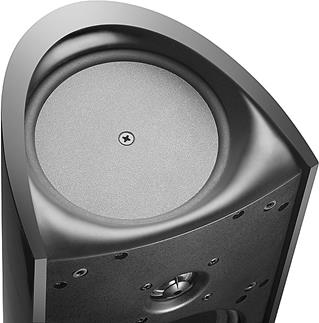 Passive radiators help expand the frequency range of the satellite speakers.
Smooth highs and extended mid-bass
All of the satellite speakers and the center channel have a 1" pure aluminum dome tweeter that produces extended highs, revealing nuance and shimmer without a trace of edginess. At the top of each satellite speaker and on either side of the center channel sits a passive radiator that's pressure-coupled to the midrange driver. The passive radiators increase the lower-midrange output of each speaker without increasing the size of the enclosure.
300-watt subwoofer for deep bass
Definitive's ProSub 1000 adds the excitement of deep, rumbling lows. A front-mounted 10" woofer works together with a pressure-coupled low bass radiator on the bottom of the enclosure to produce hard-hitting bass. Rigid baskets and a non-resonant cabinet make sure that you hear clean bass without sound-muddying vibrations. A 300-watt amplifier and advanced crossover ensure accurate response. And a continuously variable low-pass crossover and a side volume control allow you to seamlessly blend the ProSub 1000 in with the rest of the system.
Compact, easy-to-place speakers
The satellite speakers feature an integrated tripod base and the center channel comes with a leveler foot so you can easily place the speakers on shelves. You can also mount them on your walls using the keyhole slots for out-of-the-way placement. Connect the sub and tuck it under a table or in a corner, and you're ready to go.
All of the speakers in this system are also sold separately. For more information or to add more speakers, check out the ProMonitor 1000, ProCenter 1000, and ProSub 1000.
Did you know?
Your new speakers will probably sound better after several weeks of use than they do right out of the box. That's because the material surrounding the woofers will loosen up, allowing the drivers to move more fully. Definitive Technology estimates a break-in period of 24 to 48 hours of playback before the speakers will deliver optimum sound quality. For more information and helpful tips, check out this article from Definitive's website about conditioning your speakers.
---
Product Highlights:
includes 4 satellite speakers, 1 center channel speaker, and 1 subwoofer
system frequency response 18-30,000 Hz
gloss black or white finish on speakers and matte black finish on subwoofer
warranty: 5 years speakers, 3 years subwoofer amplifier
sensitivity 91 dB
8-ohm impedance
handles up to 200 watts
one 1" pure aluminum dome tweeter
one 5-1/4" BDSS bass/midrange driver pressure-coupled to one 5-1/4" bass radiator
5-way binding posts
keyhole slots and integrated tripod base
6-1/4"W x 10-13/16"H x 6-1/2"D
sensitivity 90 dB
8-ohm impedance
handles up to 200 watts
one 1" pure aluminum dome tweeter
two 4-1/2" BDSS bass/midrange drivers pressure-coupled to two 4-1/2" bass radiators
one pair of 5-way binding posts
leveler foot included
video-shielded for safe placement near any TV
14-5/8" W x 4-7/8"H x 5"D
bass-reflex (passive radiator) enclosure
10" woofer pressure-coupled to a 10" low bass radiator
built-in 300-watt amplifier
continuously variable low-pass 40-150 Hz crossover
auto on/off
speaker-level inputs and outputs
80 Hz fixed high-pass crossover for speaker-level outputs
LFE input for use with home theater receiver's subwoofer output
12-1/16"W x 14-3/8"H x 19-1/8"D
What's in the Box:
ProMonitor 1000 Satellite Speakers: 4 White satellite speakers
4 Removable cloth grilles (installed)
4 Removable pedestal feet (installed)
4 Plastic insert tabs
Owner's Manual
Online Product Registration card
ProMonitor Center Channel Speaker: White center-channel speaker
Removable cloth grille (installed)
2 Plastic inserts
Owner's Manual
Online Product Registration card
ProSub 1000: 10" Powered subwoofer
Detachable grille (installed)
7' AC power cord
Owner's Manual
Online Product Registration card
Reviews


Submit a review and then enter to win a $350 rewards card
Be the first to review this product
Thanks for submitting your review
Most reviews are processed and published within 5 business days. You will receive a confirmation email once your review has been published.
Customer photos
Pros:
Cons:
Crutchfield response
---
Details
Product Research
Satellite & Center Speakers
Powered Subwoofer
Satellite Speakers and Center Channel
Satellite Speaker Features: The Definitive Technology ProMonitor 1000 loudspeakers utilize state-of-the-art components (BDSS driver coupled with a pressure-driven planar low-frequency radiator, a pure aluminum dome tweeter, a uniphase crossover network, and a non-resonant PolyStone cabinet with low diffraction construction) in order to achieve the most lifelike sound possible in your listening room. The Definitive Technology ProMonitor 1000s feature a 5-1/4" BDSS driver coupled to a 5-1/4" pressure-driven planar low-frequency radiator, and a 1" pure aluminum dome tweeter.
Center Channel Speaker: The Definitive Technology ProCenter 1000 video-shielded center-channel speaker utilizes state-of-the-art components (BDSS driver coupled with a pressure-driven planar low-frequency radiator, a pure aluminum dome tweeter, a uniphase crossover network, and a non-resonant PolyStone cabinet with low diffraction construction) in order to achieve the most lifelike sound possible in your listening room. As much as 75% of a movie's soundtrack is played by the center-channel loudspeaker making it arguably the most important speaker in a home theater system. The Definitive Technology ProCenter 1000 features two 4-1/2" BDSS driver coupled to two side-firing 4-1/2" pressure-driven planar low-frequency radiators, and a 1" pure aluminum dome tweeter.
Pressure Coupled Radiator Design: The ProMonitor loudspeakers provides clear, high-definition sound by pressure-coupling Definitive's exclusive BDSS technology driver to an equal-sized mid/bass radiator cleverly placed on the top of the speaker. This technique doubles the lower-midrange radiating area of the speaker without increasing the size of the enclosure. The result is a warm and life-like sound.
BDSS Technology: Definitive Technology's Balanced Double Surround System (BDSS) drivers offers a wide-bandwidth accurate frequency response, broad dispersion, low distortion, and detail retrieval; so you hear more the music with greater accuracy and enjoyment. BDSS drivers incorporate the following design features.
Balanced Double Surrounds: The speaker's' balanced double surrounds support the cone at two points to provide better mechanical stability for longer, more linear excursion, and improved damping to suppress parasitic cone resonance.
Mineral-Filled Polymer Cone: The loudspeakers feature a deeply drawn mineral-filled polymer cone engineered using sophisticated 3D modeling techniques for wide range performance.
Waveguide: The cone's integrated waveguide smoothes off-axis response for broad, even dispersion and better imaging.
High Temperature Voice Coil: The driver's high temperature, oversized, lightweight vented voice coil offers improved power handling and quick transient response. The Lengthened voice coil also offers increased linearity and lower distortion.
Magnet Structure: The driver's magnetic system is optimized by finite element analysis to maximize magnetic flux in the gap for high efficiency and linear excursion.
Die-Cast Alloy Basket: The die-cast alloy basket minimizes ringing and vibration while the open area minimizes back wave reflection.
Non-Resonant PolyStone Cabinet: The Definitive Technology loudspeakers use a non-resonant PolyStone cabinet with low diffraction construction. The speaker cabinet is available in a high-gloss black or white finish. The speaker's cabinet feature a removable cloth grille.
Connections: Each speaker is equipped with a pair of gold-plated, 5-way binding posts to attach your receiver's speaker wire.
Mounting:
Satellite Speakers: The Definitive Technology ProMonitor 1000 loudspeakers may be placed on a stand or shelf, or mounted on the wall or ceiling. The ProMonitor 1000 features a pedestal foot which allows it to fit securely and safe on a stand or shelf. The attached pedestal foot can be removed to mount the speaker to Definitive Technology's matching speaker stand (ProStand, sold separately) or to wall-mount the speaker. The ProMonitor 1000 can also be wall-mounted using the rear-panel keyhole slot. In addition, there is a 1/4"-20 threaded insert on the back of the speaker so you can use Definitive Technology's optional mounting bracket (ProMount 80, sold separately), or other manufacture bracket (sold separately) to hang the speaker on a wall or ceiling.
Center Channel: The Definitive Technology ProCenter 1000 can be mounted on a stand or shelf; or even wall-mounted. The ProCenter 1000 has two threaded inserts (1/4"-20) on the back, which can be used with a pair of optional Definitive Technology ProMount brackets (735PMT80, sold separately) or other manufacture wall-mount bracket (sold separately) to mount the ProCenter 1000 on the wall.
Angle Adjustment: The ProCenter 1000 loudspeaker has a simple built-in device which allows you to adjust the vertical angle of the speaker. There is an adjustable rubber-foot on the bottom-rear of the speaker cabinet. when you set the center-channel speaker down, the speaker will lean back and rest on this foot. By varying how far you screw in-and-out the foot, you can adjust the vertical angle of the speaker. It is recommended that you aim the center-speaker so that it aims directly towards the height of the listeners' ears.
Break-In Period: The loudspeakers will sound good right out of the box; however, an extended break-in period of 20-40 hours or more of playing is required to reach full performance capability. The break-in period allows the suspensions to work in and results in full bass, a more open midrange, and smoother high frequency reproduction.
Powered Subwoofer
Overview: The Definitive Technology ProSub 1000 is an advanced state-of-the-art technology powered subwoofer with a built-in high-power, high-current amplifier and sophisticated electronic crossover, in combination with an active front-firing 10-inch high excursion woofer and 10-inch bottom-mounted passive radiator for massive bass with superior speed, control, and detail. The Definitive Technology ProSub 1000 is a compact, high quality, powered subwoofer that can be used in your home theater or music speaker system.
Passive Radiator Design: The ProSub 1000 features a 300-watt (RMS) amplifier driving a high-excursion 10-inch front-mounted direct-radiating woofer that is pressure-coupled to an 10-inch low-bass passive radiator on the bottom of the enclosure. The net radiating area of the ProSub 1000 is 39% greater than a single 12 inch woofer but with better speed, pitch definition, and control.
PowerField Technology Amplifier: The ProSub 1000 incorporates Definitive's proprietary PowerField technology, by which the amplifier is specifically engineered in conjunction with the driver for optimum load matching and power transfer characteristics. The Definitive ProSub 1000 powered subwoofer incorporates a unique, patented, digitally-coupled infinite power source amplifier with a high-current direct coupled power supply and discrete MOSFET output devices to ensure perfect high-definition resolution and reproduction of the most dynamic program material and demanding sub-bass transients. Construction quality is absolutely state-of-the-art, with only the highest quality components used including mil-spec glass epoxy circuit boards and precision resistors and capacitors for many years of faultless superior performance.
High-Definition Subwoofer: The powerful, high-definition 10" polymer subwoofer driver is specifically engineered by Definitive Technology to deliver rock-solid low distortion bass, reaching down to the lowest subsonic frequencies (18-150Hz), with superior transient response. The special ultra-stiff, low-mass cone (for super-fast transient response) is joined to a specially formulated surround and long-throw voice coil and spider. The ultra-rigid basket is engineered to hold the woofer's massive magnet structure and large voice coil in absolute alignment. The high temperature voice coil is made of aluminum wound with triple insulated ultra-pure copper wire and baked in epoxy for increased power handling.
Non-Resonant Cabinet: The cabinet of a loudspeaker plays a large part in its sonic performance. Resonance and vibration can add unwanted distortion as well as drain away important energy from the system. The Definitive Technology ProSub 1000 powered subwoofer utilizes a monocoque cabinet, which has been specifically engineered to be totally inert and vibration free, to ensure you of pure sonic reproduction. Monocoque means that the cabinet is of a unitized construction where all panels are permanently joined together into one solid structure. The cabinet walls themselves are high-density medite fused together by space-age polymer adhesives. The front and rear baffles are extra thick and the cabinet, itself, incorporates multiple internal braces to ensure total solidity.
Controls: A complete array of controls allows the ProSub 1000 to be perfectly integrated with any stereo or multi-channel audio system, and tuned for optimum performance in any room.
Volume Control: The ProSub 1000 features a convenient front-side-mounted volume control that makes adjustments fast and easy. This precision level control allows you to perfectly adjust the volume of the subwoofer to match your system and room as well as to fulfill your own personal sonic preferences.
Variable Low-Pass Crossover: The Definitive Technology ProSub 1000 powered subwoofer has a continuously adjustable low-pass filter control which allows you to choose a roll-off of from 40 to 150 Hz for the high end of the subwoofer. This unique "dual stage" roll-off (24dB/oct) is extremely steep which ensures perfect blending with your main speakers as well as eliminating unwanted midrange from the subwoofer. This is especially important because it gives you much greater flexibility in placing your subwoofer in your room without being able to hear where it is located.
Connections: The Definitive Technology ProSub 1000 powered subwoofer has a complete range of inputs and outputs to allow easy and effective hookup to any system. The ProSub 1000 has a separate direct-in LFE low-level input. Speaker-level inputs are provided in case you do not have a subwoofer output.
LFE Input: The Definitive Technology powered subwoofer has a low-level direct LFE input for Dolby Digital soundtracks, which bypasses the crossover network. If you are connecting the subwoofer to an AV receiver without a dedicated subwoofer or LFE preamp output, but does features a stereo RCA output, you will need to use a stereo RCA cable along with an RCA Y-adapter.
Speaker Level In: The Speaker Level inputs (binding posts) are designed to be used on receivers or amplifiers that do not incorporate any RCA type subwoofer outputs. If your receiver is equipped with an RCA type subwoofer outputs, these speaker level inputs should not be utilized.
Speaker Level Output: The ProSub 1000 also features speaker level outputs (binding posts), so you can connect your front (main speakers) through the powered subwoofer. The ProSub 1000 has a built-in speaker level high-pass crossover preset at 80 Hz (6dB/oct).
Note: When using the LFE input with a receiver that has an internal x-over you should set the x-over on the sub to 150Hz.
Auto Turn-On Circuit: The powered subwoofer has a special power circuit which automatically turns the powered subwoofer on when a signal is fed to the loudspeaker and turns it off when there is no signal present, so it does not require an on-off switch.
LED Indicator: The red LED on the back panel of the powered subwoofer will light up when a signal is sensed and the amplifier turns non. It will automatically turn off with the powered subwoofer, a little while after the signal is discontinued.
Protection Circuits: The Definitive Technology ProSub 1000 features two protection circuits that ensure that the subwoofer can never be overdriven.
Integrated/Adjustable Feet: The ProSub 1000 features four integrated feet with rubber tips so you can place it securely and safely on your home's floor. Each foot's height is adjustable to help you place the powered sub on an uneven surface.
Placement: The Definitive Technology powered subwoofer has been designed to operate at frequencies generally below 150 Hz. Because low-frequency information in this range essentially is non-directional, your subwoofer can be located anywhere in your listening room that is most convenient. Also the continuously variable low-pass filter operate at a very fast roll-off, ensuring great performance wherever you place the subwoofer. There are, however, some general rules that you should bear in mind when locating the powered sub.
For maximum output the subwoofer should be placed in a corner or against the wall.
Corner placement will increase the subwoofer's efficiency, which in turn will increase your system's maximum output and improve the dynamic capability of the subwoofer.
Our Product Research Team
At Crutchfield, you'll get detailed, accurate information that's hard to find elsewhere. That's because we have our own in-house Product Research team. They verify what's in the box, check the owner's manual, and record dimensions, features and specs. We stay on top of new products and technologies to help people make informed choices.
Q & A
Customer Q&A
Crutchfield asked


Why did you buy this?
This was highly recommended and I was blown away after hearing the difference between the 800 and 1000 at a showroom.

[ Joanna Dec 14, 2015 ]
Product rating. White wall mounted speakers with good mounting brackets that are also white.

[ JAMES F Dec 09, 2017 ]
3 questions already asked
I use an AV receiver to run my Def Techs. I have it set at 100hz. for all speakers. I am not sure what to tell you about the impedance. My AV receiver offers me the choice of 6 or 8 ohms. I am currently running mine at 8 ohms.

[ Robert Dec 05, 2016 ]
The speaker connectors utilize a "5-way" binding post. This type can accept bare wire, or any of the typical speaker wire connectors. The subwoofer you would use a cable that has the standard RCA connectors. Hope that helps. [ Kenny Jan 08, 2016 ]

Staff