2008-2013 Nissan Altima coupe
2008 • 2009 • 2010 • 2011 • 2012 • 2013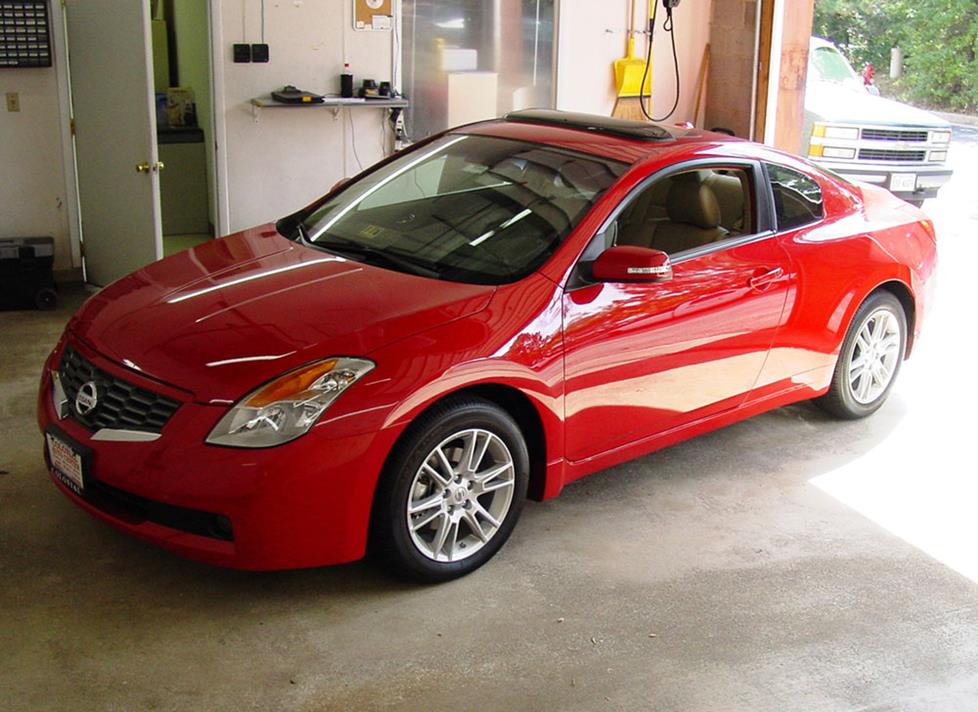 In a Nutshell
In this article, we'll tell you how to install car audio gear in your Nissan Altima coupe. Check it out and then use our vehicle selector to find the gear that will fit your car.
The stock audio systems are actually kind of decent, so start by upgrading the factory radio. A new receiver will help you get the most out of the stock speakers, plus you can add even more smartphone-friendly functionality.
Installing new front and rear speakers will make a big difference, and while there are a few things to pay attention to, it's nothing a reasonably skilled DIY-er can't handle. Adding an amplifier (or two), plus a subwoofer, will really bring out the best in your music.
Full Story
Overview of the Nissan Altima coupe
The Altima coupe is basically the sedan's fun-loving younger sibling. Given that the 4-door is a pretty sporty family hauler to begin with, this is a good thing.
Compared to the sedan, the coupe's chassis is shorter, the suspension is stiffer, the body panels (save for the hood) are different, and the interior, while obviously an Altima, has some unique touches that mark it as the athlete in the family. And, because it's a Nissan, it'll probably give you many miles of hassle-free driving enjoyment.
The stock stereos, especially the optional Bose® systems, aren't bad at all. Technology moves fast, though, and if you want your sports coupe to keep up, you'll need some new gear. The good news is that the Altima coupe is pretty easy to upgrade. The better news is that there's lots of great gear that'll fit.
This article is an overview of your vehicle's audio system and its upgrade options. If you're looking for step-by-step instructions on how to install a car stereo or speakers in your Altima, there's nothing better than our exclusive
Crutchfield MasterSheet
™. This detailed, well-illustrated document is free with your Crutchfield order, or you can purchase one separately for $9.99.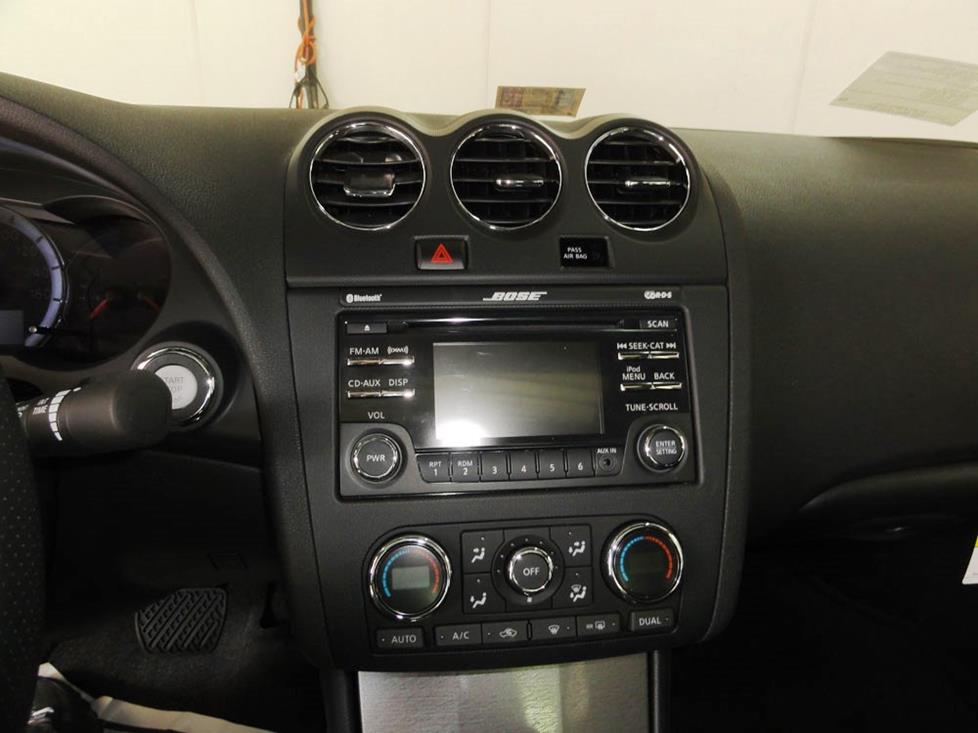 The big logo on the nav receiver lets you know that this is a Bose® stereo system (Crutchfield Research Photo)
Factory stereo system
The Altima coupe's base stereo is a 6-speaker AM/FM/CD set-up with an AUX input on the receiver. The optional 9-speaker Bose system features an AM/FM/6-CD receiver with an AUX input and built-in XM satellite radio. The top-of-the-line system is the Bose system coupled with a touchscreen navigation receiver.
The radio replacement process is basically the same for all of them, and it's detailed in your Crutchfield MasterSheet. There are some nuances, though, and we'll touch on them below.
For example, if you have the factory navigation system, currently there's no wiring harness available to help you install a new stereo. That means you'll have to hardwire all of the connections for the new stereo. Or you could keep the stereo and nav system, and focus on upgrading the audio components (speakers and an amplifier).
The stereo in the non-nav Bose system also presents a few interesting angles. First of all, the new wiring harness (included at a deep discount with your receiver purchase) does not have a ground connection. You'll need to connect the new car stereo's ground wire to a grounding point under the Altima's dash (usually any bolt that screws into the metal subdash). It's not really a big deal, just something we wanted to mention.
The adapter harnesses for non-Bose receivers do have a ground connection, so no problem there.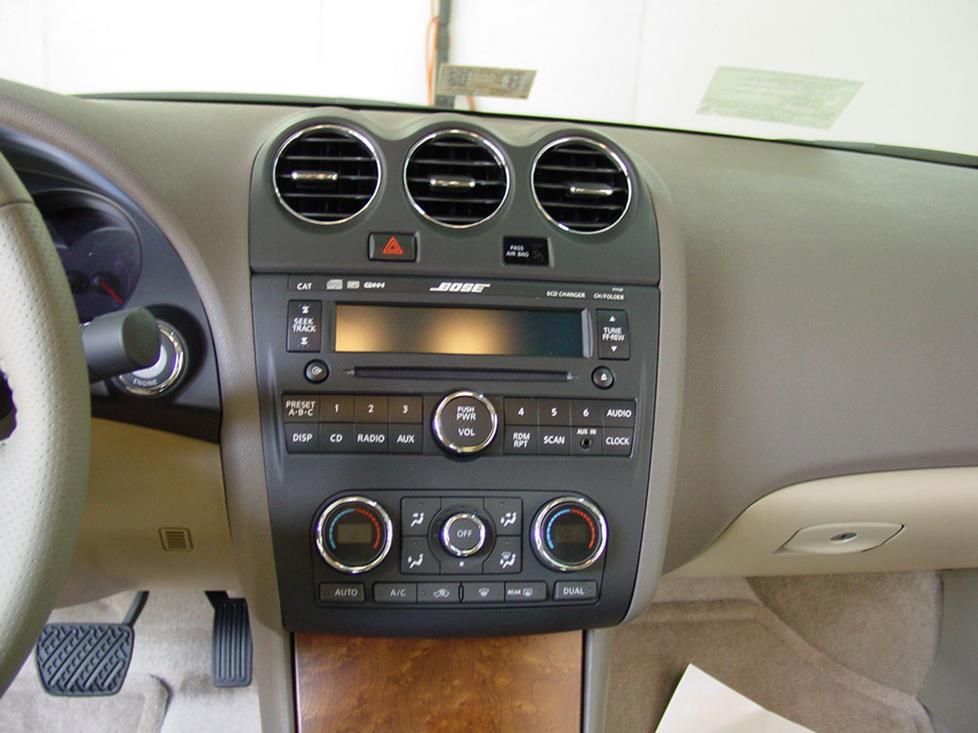 The non-nav receivers are available in Bose and base models (Crutchfield Research Photo)
Second, in order to retain the factory Bose amp (located under the liner on the right rear corner of the trunk), the wiring harness in this package connects to the new receiver's front and rear preamp outputs. If you choose a receiver without those outputs, our installation package will include the line output converter you'll need to retain use of the amp. You're good either way, but just a heads-up.
Last but not least, replacing the receiver means losing the factory AUX input and (if present) XM satellite radio. This is not a big deal, since there are lots of single-DIN (2" tall) and double-DIN (4" tall) receivers that give you both of those things and a lot more.
On the other hand, if your Altima has a USB input from the factory, we have an adapter that will allow it to continue working with your new stereo.
We'll remind you of those things (and some other things) throughout the shopping process, of course, but you read it here first. Our Outfit My Car tool will make sure you get the right gear for your car.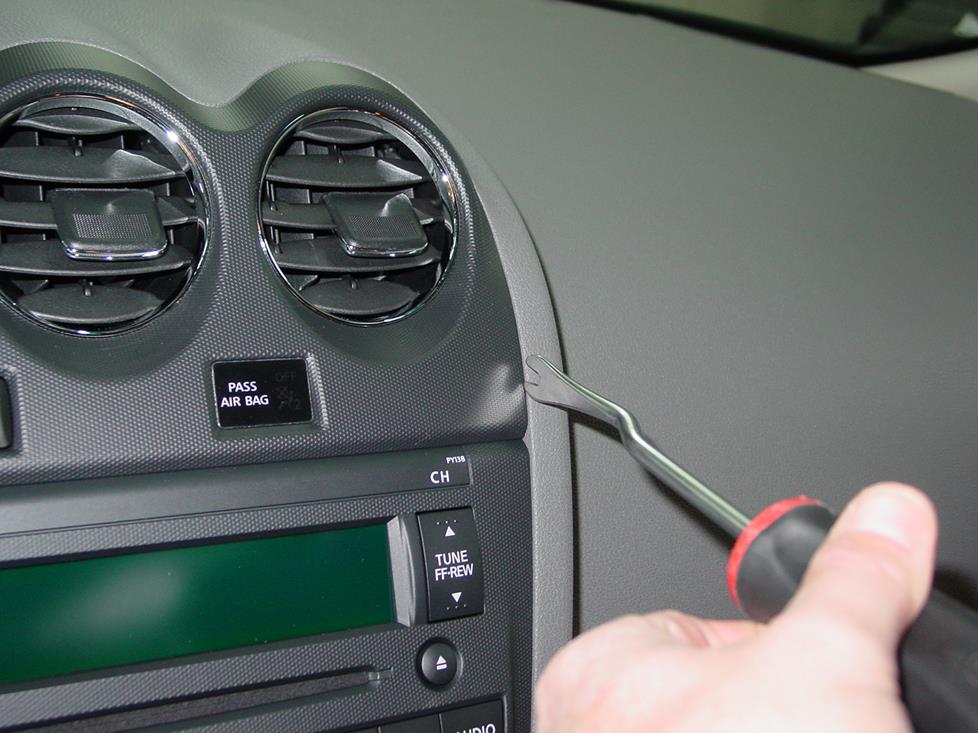 Be carefull when you're prying out the dash panels. Or any panels, for that matter. (Crutchfield Research Photo)
Replacing your factory radio
Replacing the stock radio isn't that hard to do, but before you do anything, set the parking brake and disconnect the negative battery cable to prevent any electrical short. Once that's straight, you're good to go.
Use a panel tool to pry out the sides of the upper dash vent assembly and release the retaining clips. Pull the whole assembly out and set it on top of dash. Don't disconnect the harnesses — one of them is an airbag sensor and could require a trip to the dealer if you unplug it. Do, however, use a clean towel to protect the dash surface.
This will expose two Phillips screws, which you'll need to remove. Pry out the lower climate control trim panel and remove two more exposed Phillips screws.
An extra step for cars with factory navigation
If your car does not have factory nav, you can skip this paragraph. If it does, you'll need to pry out the CD changer trim panel to release the retaining clips, then disconnect the harness and pull the whole thing out. Remove the six Phillips screws securing the CD changer brackets to the dash and pull the changer out just enough to access the bracket that's behind it.
Next (Welcome back, non-nav people!), pull out the whole receiver/climate control assembly, disconnect the wiring harnesses, and remove it.
To finish up, you'll need to remove two Torx T20 screws on the back of the receiver trim panel, then pry out the panel clips to remove the panel. Remove the eight Torx T20 screws (four on each side) securing the receiver to the brackets and get the old piece out of there.
Installing the new receiver is largely a matter of doing that stuff backwards, but pay close attention to your Crutchfield MasterSheet.
Tools needed: Panel tool, Phillips screwdriver, Torx T-20 driver (nav receiver only), towel
Steering wheel audio controls
It's relatively easy to retain the steering wheel audio controls when you install a new stereo in your Altima. When you enter your vehicle information, our database will choose the adapter you need to make your factory steering wheel controls work with your new receiver.
Shop for car stereos that fit your Nissan Altima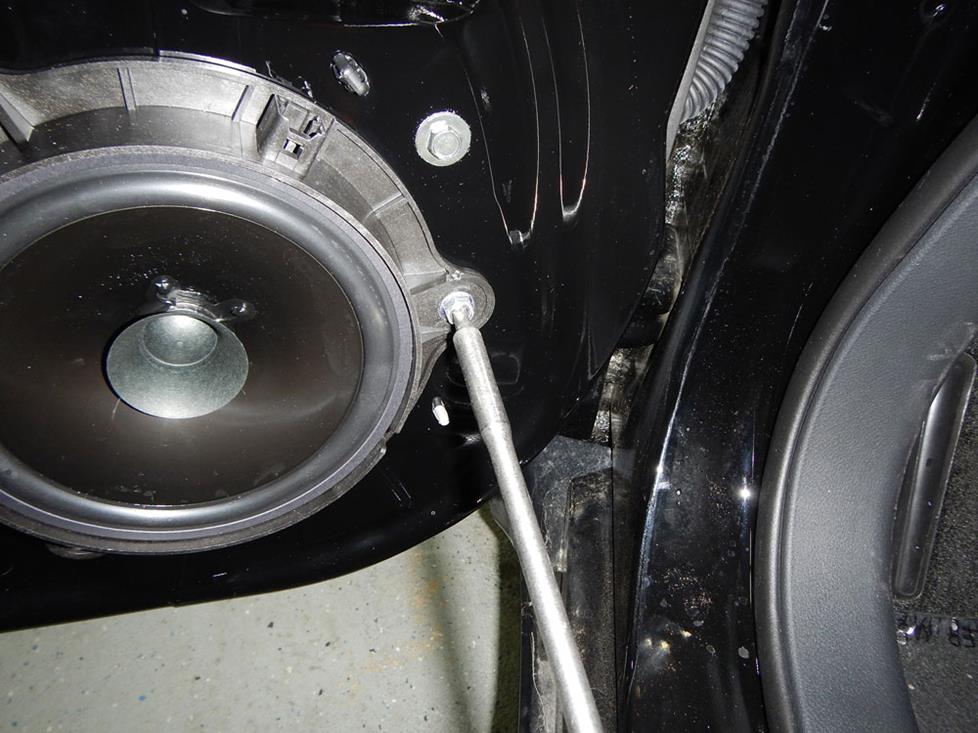 Replacing the front door speakers is a reasonably simple task (Crutchfield Research Photo)
Replacing your factory speakers
Speaker replacement is generally straightforward in the Altima coupe, but there are some things to be aware of before you start and some speakers are a little more challenging to deal with than others. The job's not hard overall, but preparation and patience will serve you well when you upgrade your car's speakers.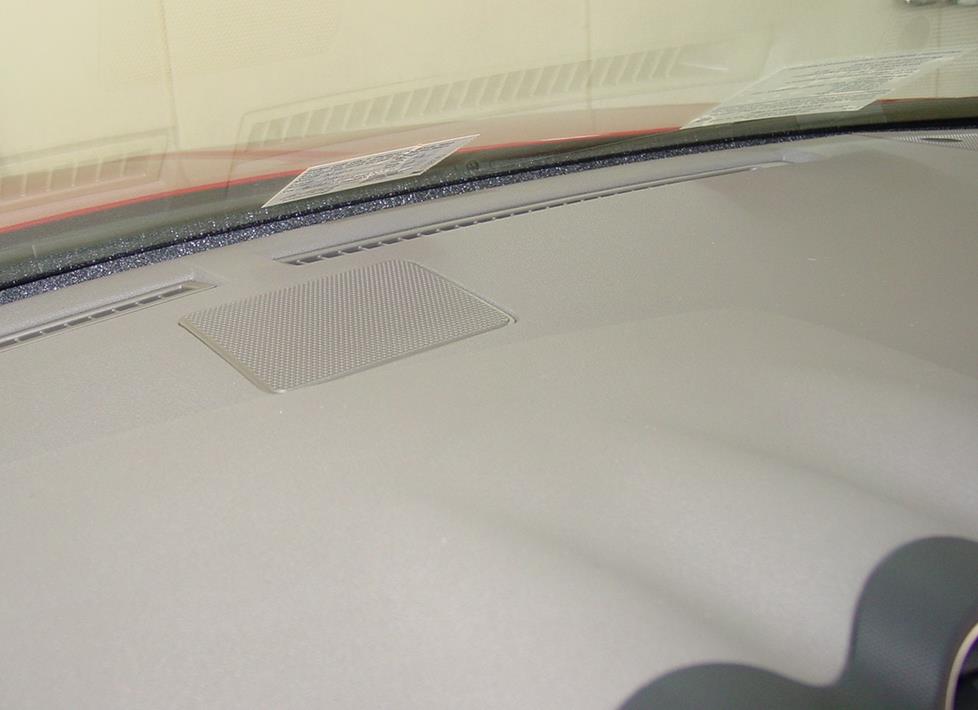 Removing this 3-1/2" speaker is pretty easy, but you'll need speaker connectors for the new ones (Crutchfield Research Photo)
Center dash speaker
The 3-1/2" center dash speaker is very easy to work with, and same-size replacements are available. Use a panel tool to pry up the rear edge of the center dash grille to release the retaining clips, then remove the grille. Remove the four 8mm screws securing the stock speaker to dash, then disconnect it and set it aside.
Tools needed: Panel tool, right-angle 8mm driver
The 3-1/2" corner speakers are easy to reach and replace, but you'll need connectors here, too (Crutchfield Research Photo)
Corner dash speakers
The corner dash speakers are also 3-1/2" models, and they're also easy to remove. Pull down the weatherstrip beside the pillar trim panel, then pull the pillar trim panel away from the pillar to release the retaining clips. Remove the panel, then use your panel tool to pry up on the rear edge of the corner dash grille to release it.
Set the grille aside, then remove four 8mm screws securing the speaker to the dash. Disconnect the wiring harness, remove the speaker, and get ready to install the new speakers.
Tools needed: Panel tool, open-ended 8mm wrench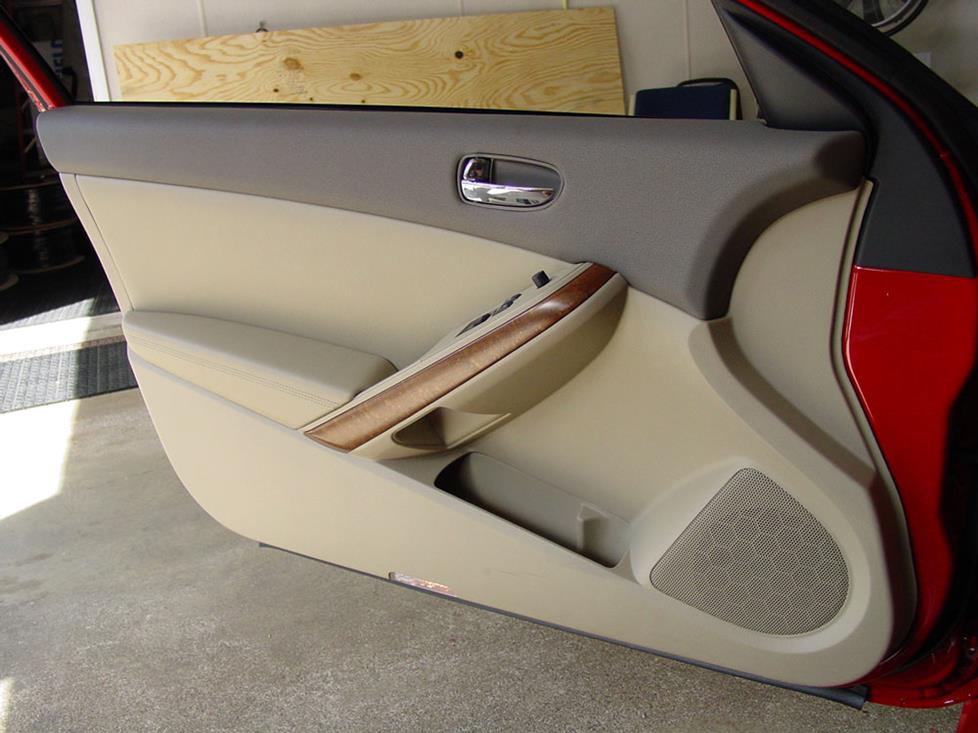 You'll have to remove the door panels to replace these speakers, but the job isn't all that hard (Crutchfield Research Photo)
Door speakers
The door speakers are 6-3/4" models that can be replaced by same-size or 6-1/2" models. You'll need mounting brackets for either size, and we'll include them with your Crutchfield speaker purchase.
The stock speakers (both base and Bose) are lower impedance speakers, so replacing them with higher-impedance aftermarket models will result in lower volume levels. Keep that in mind while you shop, and talk to our advisors if you have any questions.
The rest of the job is pretty straightforward. You'll need to remove the door panels, but all in all, this is a very do-able DIY project. Complete, illustrated instructions can be found in the Crutchfield MasterSheet that's included free with your Crutchfield order.
Here, and everywhere else in the car, be sure to test the speakers and make sure they're working before you put things back together. Test the door locks and windows before you button everything up, too.
Tools needed: Panel tool, Phillips screwdriver, drill with 1/8" bit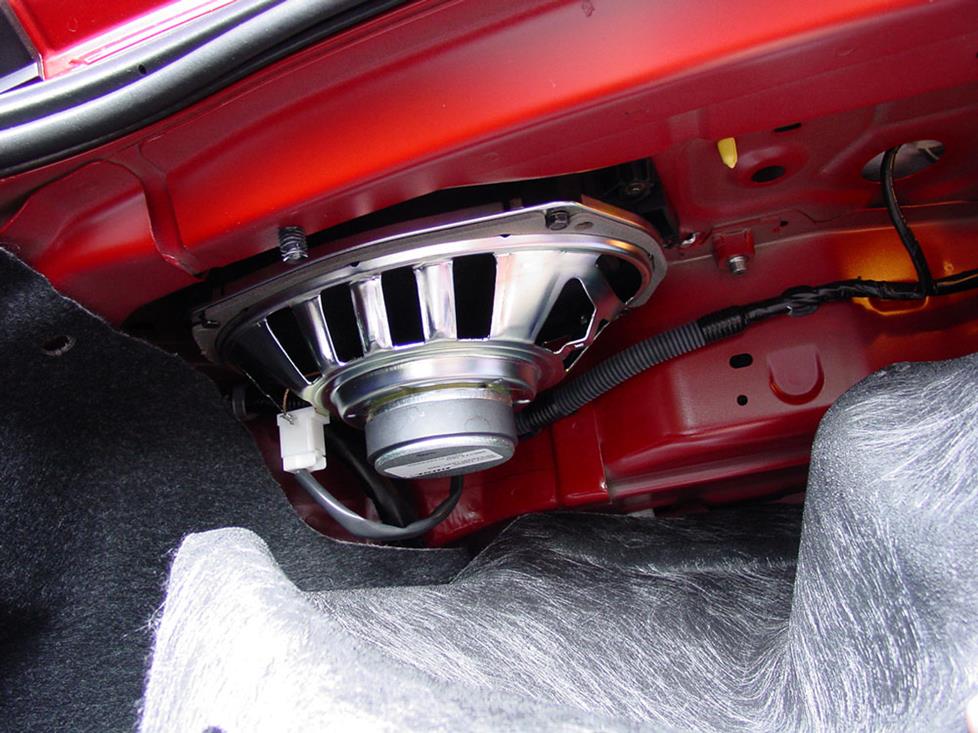 Base cars have full-range rear deck speakers, while Bose-equipped cars have components (Crutchfield Research Photo)
Rear deck speakers
The standard rear deck speakers are full-range 6"x9" models, while in the Bose system, they're woofers. Either way, a variety of speakers will fit back here. If you need mounting brackets for smaller speakers, they're included with your Crutchfield speaker purchase.
They're all lower impedance speakers, so replacing them with higher-impedance aftermarket models will result in lower volume levels. And with the Bose speakers, remember that they're just woofers, so the factory amp only sends them bass signals.
You'll need to remove six retaining pins in the trunk to release the upper trim covering in order to get to the speakers on the bottom side of the rear deck. Once that's clear, remove four screws from each speaker. Pull the speakers out, disconnect them, then install the new speakers. Be sure to retain all the stock screws you remove from the old speakers. They'll come in handy when you install the new ones.
And finally, if you install smaller-than-stock speakers, please note that the speaker mounts on top of the adapter bracket. Once together, the speaker/bracket assembly BOTTOM mounts to the factory bracket on the rear deck, just like the factory speaker did. This will be explained a bit more in your MasterSheet.
Tools needed: Panel tool, Torx T-20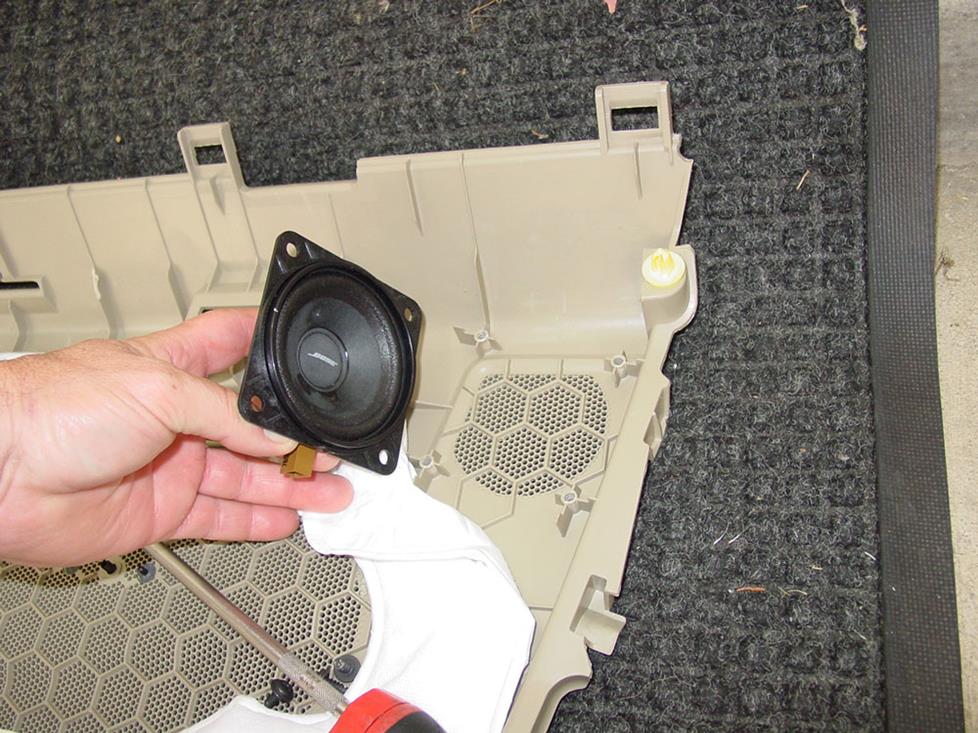 The Bose tweeters are mounted directly to the rear deck (Crutchfield Research Photo)
Rear deck tweeters
The 3-1/2" Bose tweeters are mounted directly to the underside of the rear deck panel, so you'll need to remove the whole thing to replace them. This is a pretty involved process, so for obvious reasons, we'd suggest replacing all four Bose rear deck speakers at the same time.
Pay attention to the impedance when you're shopping (see above), and remember that you'll need to use our universal backstraps (or hot glue or silicone) to mount the new tweeters in this location.
Once the speakers are secured, test to make sure they're working. And before you put the deck back together, make sure the seats and seat belts are secured properly and definitely check the brake light to be sure that's still doing its thing.
This is a somewhat lengthy process, but if you take your time and work carefully, it shouldn't throw you any big curveballs. If you do get stuck on a step, remember that buying from Crutchfield also gives you free tech support for the life of your gear. Our experts are right here in Virginia, and they'll be happy to assist you. Call if you need us.
Tools needed: Panel tool, Phillips screwdriver, small flat blade screwdriver
Shop for speakers that fit your Nissan Altima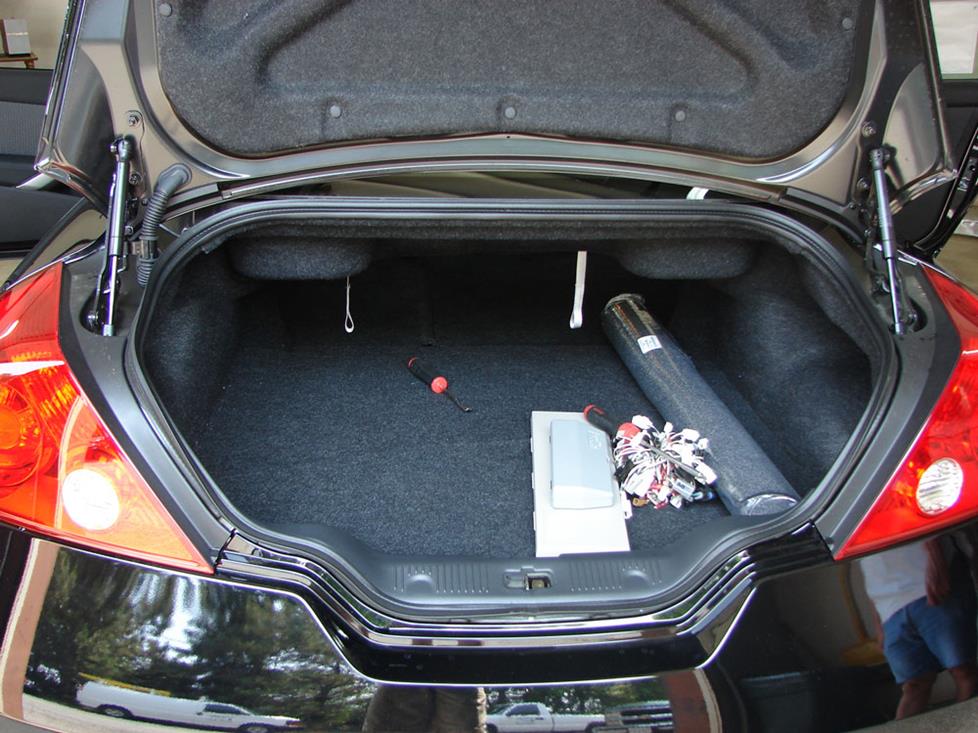 There's ample room for bass in the Altima coupe (Crutchfield Research Photo)
Bass in your Altima
The Altima coupe has a pretty big trunk for a sporty car, so there's a decent amount of room for extra bass. If you want to mount a subwoofer box back there, you'll have a 37" W x 12" H x 37"/28" D space in which to work.
If you don't want to sacrifice a lot of space, you can choose a powered subwoofer. One of these will improve the sound of your music while maintaining a smaller footprint.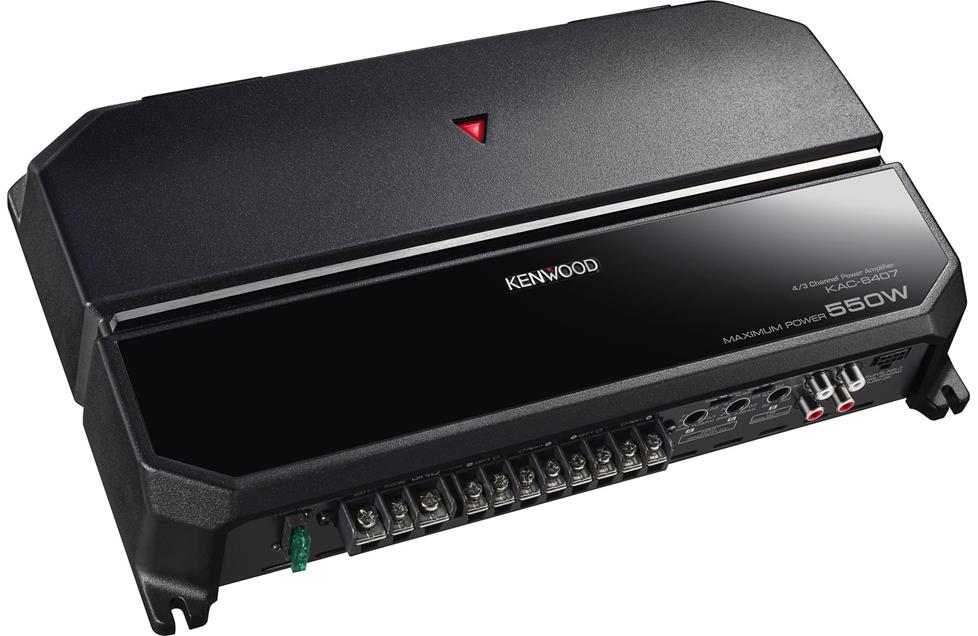 The 4-channel Kenwood KAC-6407 amp can deliver a true 40 watts RMS per channel.
Other options for your Altima
Here are some other sound and security ideas for your Altima coupe. If you want to learn more, give us a call and talk to one of our expert advisors.
Add an amp (or two) for better sound
A new 4-channel amplifier will help you get the most out of your new speakers. You'll get cleaner power (and a lot more of it), which will result in much, much better sound. A mono amp can provide the juice you need for your new subwoofer, too.
Sound processor
If you choose to keep the stock radio, install a sound processor to send a clear, clean signal to your new amp. Sound processors remove any limitations on the signal imposed by the factory radio. The better the signal, the better the sound. Read our article explaining factory sound processors to learn more.
Security
Installing a security system in your Altima isn't easy (security systems rarely are), but it's definitely a good idea. Our Crutchfield Advisors can help figure out what you need to get the job done, but we usually recommend taking your car and new gear to a professional installer.
Shop for car security systems for your Nissan Altima
Find the audio gear that fits your car or truck
Visit our Outfit My Car page and enter your vehicle information to see stereos, speakers, subs, and other audio accessories that will work in your vehicle.