Home theater receivers buying guide
Find the surround sound receiver that's right for you

In a Nutshell
Nothing beats surround sound for movies and TV – and surround sound starts with a home theater receiver.
A receiver with five channels of power supports a basic surround system. Models with seven, nine, or 11 channels support advanced surround formats like Dolby Atmos and DTS X.
A receiver is great for music, too, of course. And you can use some of the channels to power stereo speakers in other rooms.
How much power do you need? That depends on the size of your rooms, the power hungriness of your speakers, and how loud you like to play them.
Make sure you buy a receiver with enough inputs for all of your audio/video components. Plan to buy a new TV? Look for a receiver that supports 4K and HDR (most do).
Many receivers give you wireless music streaming through built-in Bluetooth or Wi-Fi. You'll enjoy endless music choices.
Ready to start shopping? Check out our top-rated home theater receivers.
Full Story
A home theater receiver brings immersive, theater-like surround sound to your living room. And it acts as a connection hub for a variety of audio, video, and internet streaming sources.
We'll walk you through the basics of home theater receivers, and then offer guidance on choosing the right model for you.
What is a receiver?
A home theater receiver (also known as an AV receiver) routes incoming video signals from your cable box, Blu-ray player, and other devices to your TV. At the same time, it directs the audio to your speakers.
The receiver's preamplifier section provides for switching between audio/video sources. It also decodes surround sound signals. Digital processing circuits improve sound and picture quality.
AV receivers also have built-in amplifiers to boost the processed audio signals and deliver them to five or more speakers.
Stereo vs surround sound
The video processing, surround sound decoding, and multi-channel amplifiers distinguish home theater receivers from simple stereo receivers that power two speakers and are used primarily for music playback. Of course you can still play stereo music sources like a CD player or turntable through a home theater receiver.
Get the right fit
You may need to think about how your current living room setup will accommodate an AV receiver. See our placement tips for some helpful ideas.
Pro Tip

A slimline receiver like the Marantz NR1608 is about half the height of a typical home theater receiver. It's perfect when space is at a premium.
How many channels do you need?
The numbers of channels an AV receiver has corresponds to the number of speakers it can power. You need at least five channels to get surround sound (front left/right, center, and rear left/right).
We usually recommend a 7-channel receiver. Even if you're starting with stereo speakers, you can always add more as your budget permits. Plus, with seven channels you can expand your system into another room.
There are also receivers with nine or eleven channels of power for even more versatility.
Pro tip
With seven or more channels of power, you can play cutting-edge surround sound formats like
Dolby Atmos and DTS:X
. They use in-ceiling speakers or special up-firing speakers to project sound from the ceiling.
How much power do you need?
Most AV receivers have enough wattage to power the majority of entry-level speakers. If your home theater occupies a large space and you want to fill the room with sound, you'll need a receiver with more power. The same is true if you invest in high-end speakers.
A few guidelines to consider:
When it comes to power, more is almost always better. It doesn't just equate to higher volume levels. It gives you clearer sound with less distortion.
Not all power ratings are equal. Different manufacturers measure power according to different standards. Look for power ratings measured into 8-ohm loads at 20-20,000 Hz with two channels driven. (We publish this spec on our site when manufacturers provide it.)
You'll often see a range of acceptable wattages to power a given speaker. To get the best sound with minimal distortion, aim for the high end of this range.
It can be tricky matching AV receivers and speakers. Contact us if you need help figuring it all out.
Connections
Most of your AV components will connect to your receiver via HDMI cables, which carry both audio and video signals. Take stock of your HDMI-capable gear. Then go with a receiver that has more HDMI inputs than you need, to allow your system room to grow.
Pro tip

Have a 4K TV and/or Blu-ray player? It's important that your AV receiver have at least a couple HDMI connections that are
HDCP 2.2
compliant.
For audio gear without HDMI connections like a CD player, an RCA or optical digital connection is your best bet. And, of course, you'll need speaker wire to connect your speakers.
Got a turntable? You might want to get a receiver with a dedicated phono input. Or you can add a phono preamp to any receiver without a phono input. Some turntables even have built-in phono preamps. Learn more in our article on how to connect a turntable to a receiver.
For a comprehensive list of connectors, including older video connections, see our Home AV Connections Glossary.
Pro tip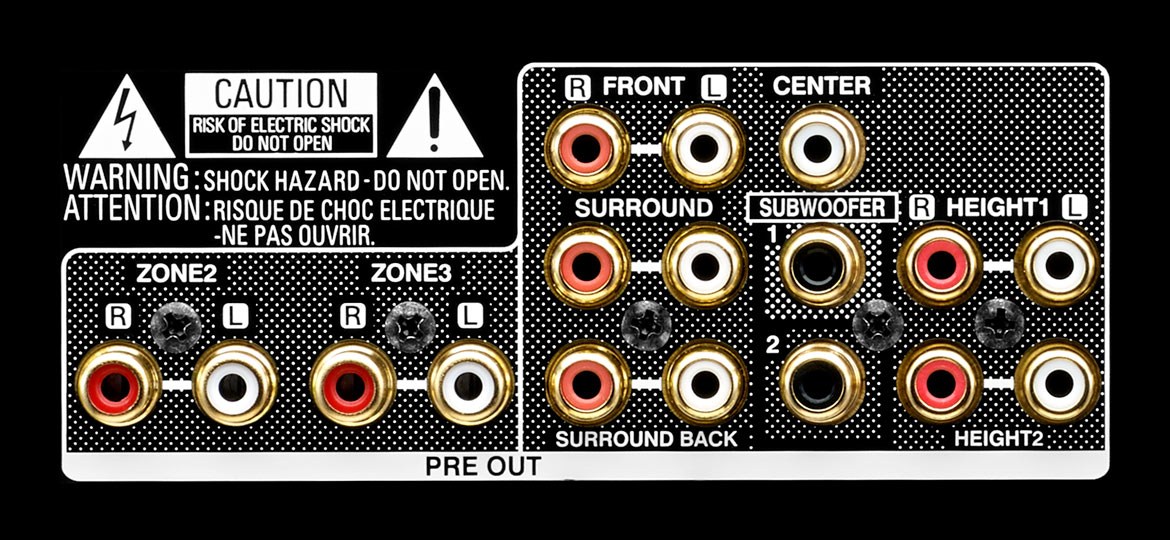 A receiver with
multichannel preamp outputs
can add flexibility to your system. You can add a multichannel power amplifier for more volume and clearer sound. Or just use the front outputs with an external stereo power amp for your front speakers. This is a great solution for home theater fans who are also serious music lovers.
Networking, Wi-Fi, and streaming
Most AV receivers have built-in streaming features. They let you play music from a compatible mobile device or computer. Or you can access online music services through the receiver's network connection. You'll find plenty of options with some or all of the following features:
Built-in support for popular streaming services like Spotify and Pandora. (A subscription is required for some services.)
Bluetooth for streaming any audio from any smartphone or tablet, and most computers.
Apple AirPlay for streaming lossless audio from compatible iOS devices.
Pro tip

Outside interference can slow your receiver's Wi-Fi signal. A wired Ethernet connection is more stable and reliable. Plus, the greater bandwidth is ideal for streaming high-resolution music files.
Multi-room audio and video
Would you like to use your receiver to listen to music in your bedroom or on your deck? Receivers with seven or more channels let you spread your home theater system into other rooms.
With a 7-channel receiver, you can use 5 channels for surround sound and two channels for stereo speakers in another room.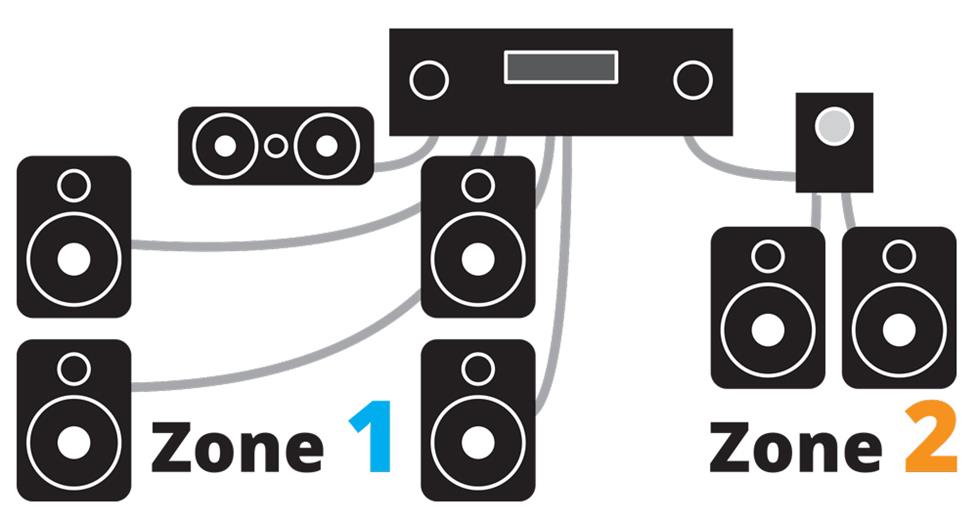 See our article on powering a multi-room music system for details, and for ideas on even more advanced setups.
With dual HDMI outputs, you can watch the same video content on two different screens in the same room or in different rooms. If the receiver has an independent HDMI output for a second zone, you can watch two different video sources on two separate TVs.
Check out our article on multi-zone video for more information.
Wireless multi-room music
Would you like your AV receiver to be part of a flexible wireless whole-home audio system? Some receivers can stream music to different speakers and/or sound bars in different rooms.
Some Yamaha receivers work with the MusicCast system. Some Denon and Marantz receivers integrate with Denon's HEOS line of wireless speakers.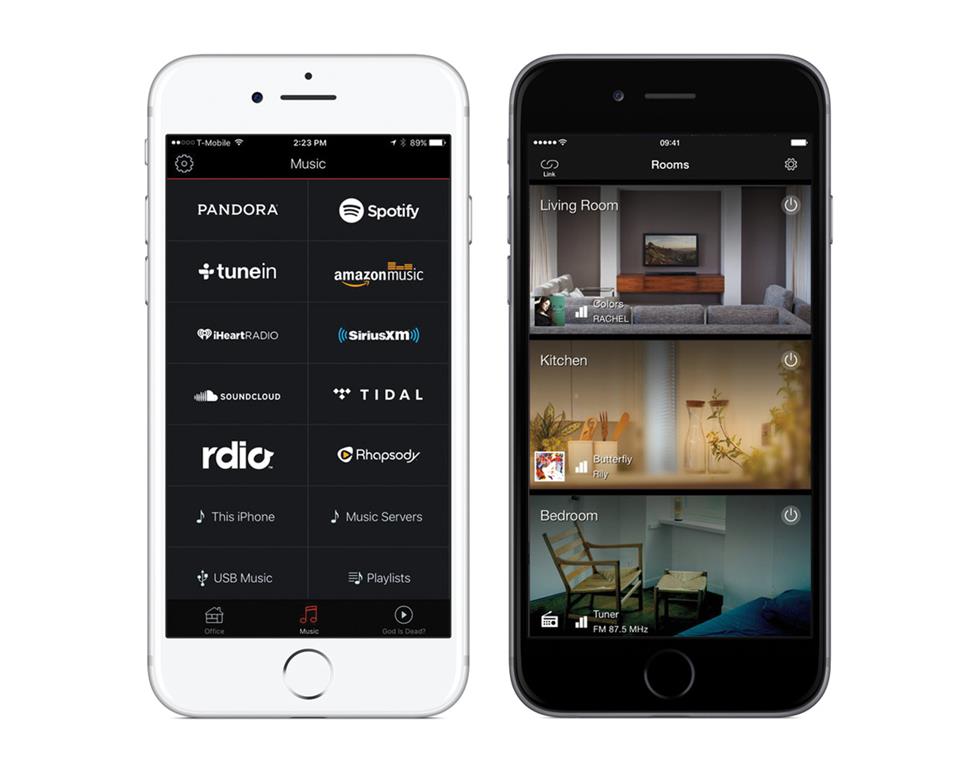 Receivers with wireless multi-room capability work together with compatible wireless speakers in other rooms.
Convenient app control
Just about every AV receiver with network capability offers a free app to use your phone or tablet as a remote. They make it easy to switch sources, adjust the volume, tweak settings, and stream music from online sources.
Pro tip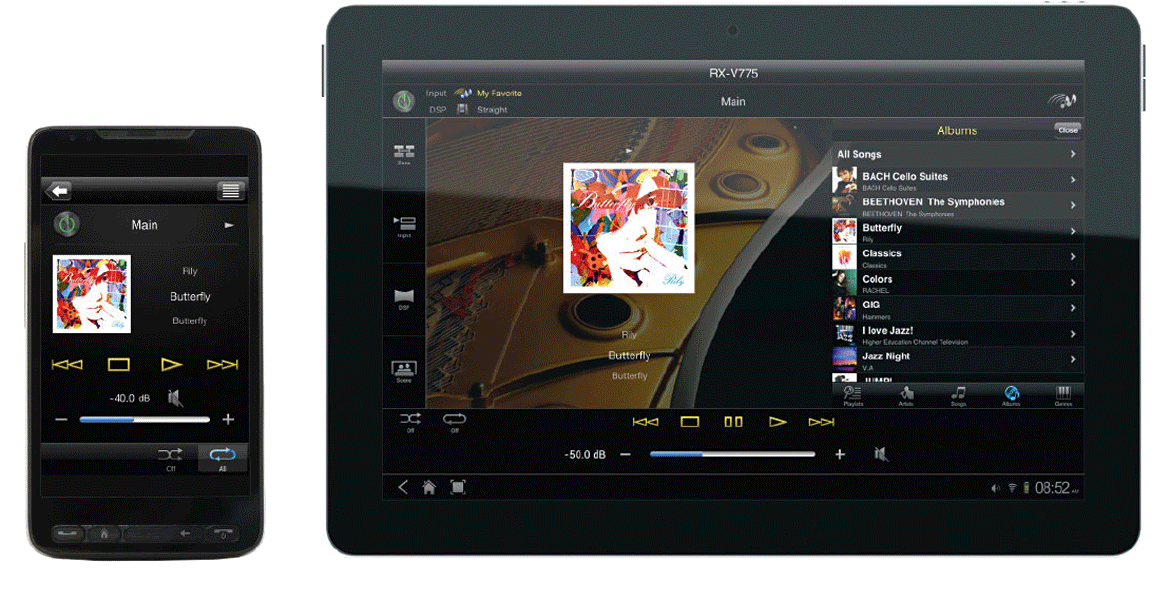 Remote apps are the easiest way to control your receiver's multi-zone features. You can choose which rooms to play music in, and select the music for each room.
We can help you choose
Have questions about choosing the right receiver? Call, email, or chat with us today.
Our expert Advisors know the gear inside and out. Your Advisor can send specific Crutchfield pages to your screen, saving you a lot of browsing time. You'll get a shopping cart loaded up with everything you need for your home theater.
Free lifetime tech support is included with your Crutchfield purchase.