Anthem STR Integrated Amplifier
Stereo integrated amplifier with built-in DAC and Anthem Room Correction (Silver)
California customers: Please click here for your Proposition 65 warning.
Item # 973STRSL | MFR # 1412000013
Low Stock

Our VirginiaVA-based experts can help.
Overview
Our take on the Anthem STR Integrated Amplifier by Crutchfield's Steve Kindig
Enjoy maximum sound quality from digital and analog sources
My friend and colleague, Dave Bar, is one of Crutchfield's most knowledgeable and seasoned audiophiles. So when he invited me over to his house recently to check out a new piece of gear, he didn't have to ask twice! As we took our seats in his cozy listening room, I noticed that the new face in his equipment rack belonged to the Anthem STR integrated amp.
It's a muscular multi-tool of a component, with a complete set of digital audio inputs: Toslink optical, coaxial, balanced AES/EBU, and asynchronous USB. It also provides four analog inputs, plus separate phono inputs for MM (moving magnet) and MC (moving coil) cartridges. These days, Dave listens primarily to 2-channel digital music sources. We listened to a mix of discs played on his Oppo Blu-ray player, and digital files played from his MacBook Pro.
Powerful, "grippy" sound
The STR is one of the most powerful integrated amplifiers Crutchfield has ever carried. Its power amp section is conservatively rated at 200 watts per channel into 8 ohms, or a hefty 400 watts per channel into 4 ohms. The STR can even deliver a whopping 550 watts into a difficult 2-ohm load, which would likely cause most integrated amps and receivers to give up and shut down. These numbers indicate tremendous current output capability, which is just what most high-performance speakers crave.
Dave had described the STR's sound as "powerful" and "grippy," and I could immediately hear what he was talking about. The STR's amplifier section has a high "damping factor," which means it exerts precise control over the stop-start motion of speaker drivers. I heard tighter, cleaner midbass from Dave's stand-mounted monitor speakers than I'd heard previously. And the STR's preamp section seemed to be delivering a wider-range signal to his powered sub, because I was hearing greater bass extension from it, as well.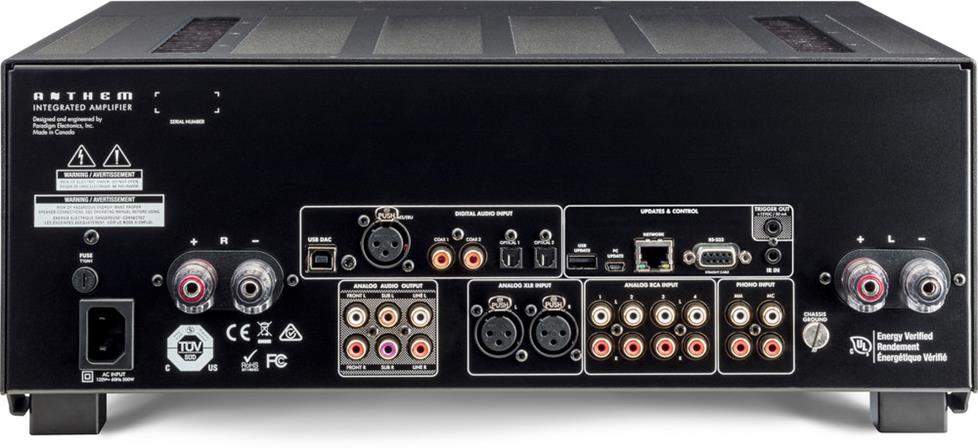 The Anthem STR includes a full array of analog and digital inputs, including both moving magnet and moving coil phono inputs.
Tame your system's biggest obstacle: your room
Anthem's advanced ARC (Anthem Room Correction) speaker calibration system is one of the best we've heard. It effectively tailors the STR's sound to your space, correcting for problems caused by sound reflecting off of the walls, floor, ceiling, and furniture in your specific room. With the effects of these obstacles removed, your system can deliver clearer, more natural sound.
Run the included room correction software on your Windows® PC, and measure multiple positions in your room with the included microphone. ARC takes advantage of your computer's processing power for the best possible results, showing you detailed graphs of the response curve and correction applied to each speaker in your system.
For quick, convenient room correction, download Anthem's free ARC Mobile app for iOS®. ARC Mobile lets you calibrate your system using the internal microphone of your iOS device or an optional calibrated mic that connects to your headphone jack for advanced room correction.
Product Highlights:
Features:
200 watts per channel into 8 ohms (20-20,000 Hz) at <1% THD
400 watts per channel into 4 ohms (20-20,000 Hz) at <1% THD
550 watts per channel into 2 ohms (20-20,000 Hz) at <1% THD
2-ohm capability allows use with a wide range of speakers
signal-to-noise ratio: 120 dB
large precision-wound triple-shielded toroidal transformer with oversized filter capacitors for stable, noise-free operation
Advanced Load Monitoring (ALM) circuitry constantly monitors the amp's temperature, current, and voltage to ensure optimum long-term performance
ARC (Anthem Room Correction) speaker calibration kit (software, USB microphone, and telescopic stand with boom included)

ARC software requires a Windows-based PC
free ARC Mobile app allows you to run ARC from compatible iOS® devices

premium 32-bit/384kHz differential-output digital-to-analog converter
Connections:
digital audio inputs: 2 Toslink optical and 2 coaxial (supports PCM audio up to 24-bit/192kHz)
USB (Type B) input for connection to a computer (supports PCM audio sources up to 32-bit/384kHz, DSD 2.8 and 5.6 MHz

if using a Windows PC, a USB DAC driver must first be downloaded from Anthem's website and installed

AES/EBU digital audio input with balanced XLR connection
4 sets of unbalanced stereo RCA inputs
2 phono inputs for connecting a turntable (one for use with moving-magnet cartridges, one for moving-coil cartridges)
set of balanced stereo XLR inputs for connecting a compatible source
fixed-level stereo RCA preamp outputs for connecting a headphone amp or recording device
dual stereo RCA subwoofer outputs (selectable mono or stereo operation)

built-in bass management, in conjunction with ARC, is uniquely engineered for seamless subwoofer blending

custom-designed binding post speaker connectors
Ethernet port for Anthem Room Correction, software installation, and control

lets you operate the receiver from a web browser control screen on a PC connected to your home network

rear-panel USB Type A port (factory use only)
rear-panel USB mini B port for software installation and ARC via PC
RS-232 input, remote (IR) input and 12 volt-trigger output for use with external controllers
If connecting to a TV, please make sure you can select "PCM" output in its audio menu — the preamp's DAC cannot decode multichannel Dolby® Digital signals
General:
remote control
detachable power cable
engineered and crafted in Canada
17"W x 6-13/16"H x 17-9/16"D
weight: 40 lbs.
warranty: 5 years
What's in the Box:
Anthem STR Integrated Amplifier Owner's manual
Stereo integrated amplifier
AC power cord
Remote control
2 "AAA" batteries
USB-B to USB-A cable
miniUSB-to-USB cable
3.5mm Microphone cable
USB microphone
Mic clip
Telescopic stand w/ boom
Ethernet cable
Operating Manual
Reviews
Anthem STR Integrated Amplifier Reviews
Average Customer Review(s):


Submit a review and then enter to win a $350 rewards card
Review this product
Thanks for submitting your review
Most reviews are processed and published within 5 business days. You will receive a confirmation email once your review has been published.
Customer photos
Pros:
Cons:
Crutchfield response
---
Details
Product Research
Features
STR Series Integrated Amplifier: The STR Integrated Amplifier has a well-earned reputation for being incredibly stable under difficult, low-impedance speaker loads. Reliability and performance is maintained using carefully selected components, many of them engineered exclusively in-house at Anthem. Short path design, superior DAC, and redundant systems (with Advanced Load Monitoring and other exclusive protective technologies) ensure that peaks are surmounted effortlessly, and guarantee a long life of high performance.
Massive Toroidal Power Supply: The STR Integrated Amplifier delivers incredible dynamics thanks to a massive, conservatively rated power supply, designed with high rail voltages. The advanced-generation toroidal power transformer minimizes stray magnetic field radiation and ensures ultra-quiet performance. The resulting power is pure, clean, low-noise; capable of effortlessly and instantly reproducing the full dynamics of even the most complex audio recording.
High Current, High Output Amplifier: The massive power supply operates in harmony with the high-current, high-output amplifier section to continuously produce an astounding 200 watts per channel into 8 ohms, 400 watts per channel into 4 ohms, and 550 watts per channel into 2 ohms (20-20kHz w/ <1%THD). Peak production is effortless and instantaneous with even the most challenging material. The use of multiple (8) bipolar output devices dramatically reduces distortion while ensuring extreme linearity, extensive bandwidth, and stress-free reliability.
Advanced Load Monitoring (ALM) Circuitry: Anthem's non-invasive Advanced Load Monitoring (ALM) circuitry protects the output section of the STR integrated amplifier by constantly monitoring temperature, current and voltage to ensure optimum long-term performance. ALM is totally non-invasive; it is not in the signal path and only engages in the most extreme circumstances to protect the amplifier from damage by maintaining the safe operating area of the output devices.
Upsampling DAC & Digital Audio Inputs: The Anthem STR integrated amplifier includes a high-resolution DAC with support for 32-bit/384kHz PCM and DSD 2.8/5.6 MHz digital audio sources. It will even up-sample lower resolution digital audio sources to 24-bit/192kHz. The Anthem STR Integrated Amplifier is designed with the shortest possible signal paths, and differential digital to analog circuitry to cancel artifacts and keep noise to a minimum. The integrated amp offers USB, AES/EBU, coaxial, & optical digital audio connectivity.
Asynchronous USB-B Input: Your Windows PC or Mac computer can also be connected to STR Integrated Amplifier's asynchronous USB-B input. Stereo PCM (up to 32-bit/384kHz) and DSD (2.8/5.6MHz) formats are supported through this connection. Simply connect your computer and use its media playing software to have music playing through the Anthem STR. If using a Windows PC, a USB DAC driver must first be downloaded from Anthem's website and installed. Mac OS does not require a separate USB driver. This high-quality USB audio input transforms digitally stored audio from your Windows or Mac computer into warm, natural analog sound.
Digital Audio Inputs: The STR Integrated Amplifier is equipped with two optical (toslink) digital inputs, two coaxial (RCA) digital inputs, and one AES/EBU (XLR) digital input. These digital inputs support 2ch PCM audio (up to 24-bit/192kHz). They are not compatible with Dolby Digital, DTS, or multichannel PCM.
Analog Audio Inputs: The Anthem STR Integrated Amplifier is outfitted with balanced, unbalanced, and phono analog inputs. Unwanted changes in volume when switching to or from an analog source can be prevented by adjusting the analog input levels from -20 to 20dB in 0.5dB increments. This is especially useful for some XLR sources that produce higher than typical output level, and for the phono inputs since cartridge output levels vary considerably between models.
Balanced & Unbalanced Analog Inputs: The Anthem STR integrated amplifier is equipped with a single pair of balanced XLR analog inputs and four sets of unbalanced stereo RCA inputs. A balanced XLR connection offers the highest analog transmission quality, particularly over long cable lengths because it rejects noise and hum pickup.
Separate MM & MC Phono Inputs: Anthem has also taken into consideration the resurgent popularity of vinyl long-playing records, and has included separate inputs for moving magnet (MM) and moving coil (MC) cartridges, with the phono section completely shielded to maintain signal purity. The MM input is suitable for turntables using moving-magnet and high-output moving-coil phono cartridges. The MC input uses input impedance and gain tailored to low-output moving-coil cartridges. There is also a ground wire terminal on back of the integrate amp to connect your turntable's ground wire to prevent excessive hum.
Heavy Duty Binding Posts: Anthem's custom-designed, oversized binding posts give you the flexibility you need for large-gauge speaker wire (up to 8AWG), pin-connectors, spade-lugs, and banana plugs (single only). Insulated, non-conductive, color-coded jackets make easy, fast, and solid connections with no interference or ghosting.
Front & Line-Level Outputs: The Anthem STR Integrated Amplifier features variable preamp outputs for connection of an external power amplifier. It also offers fixed line-level outputs suitable for a headphone amp or recording device.
Dual Subwoofer Outputs: The STR Integrated Amplifier is outfitted with two subwoofer outputs & bass mangement giving you more options for subwoofer configuration. Use one subwoofer or two for both channels, or two independent right-and-left channel specific subwoofers. The bass management in conjunction with ARC is uniquely engineered for seamless subwoofer blending, achieving an incredibly accurate and lifelike performance.
Crossover Frequency: The subwoofer output crossover frequency can be set from 25 to 160Hz in 5Hz steps. If you will be using the personal computer version of ARC, you do not need to select the crossover frequency since it will be set while running the program.
Polarity & Phase: Certain subwoofer positions can cause bass frequency cancellation. When the front speakers and subwoofer are out of phase or misaligned, they work against each other resulting in weak and dislocated sounding bass. This can be corrected by adjusting Phase and Polarity. As a general guide, set Polarity to Normal if the subwoofer is near the front speakers and to Inverted if the subwoofer is near the back of the room. Compare Normal to Inverted and use the setting that provides louder bass. Continue fine-tuning the crossover region using the Phase control which provides adjustment from 0 to 180 degrees in 5 degree increments.
Anthem Room Correction (ARC): Anthem Room Correction (ARC) is a proprietary digital signal processing system that allows you to quickly and accurately optimize the performance of your audio equipment to better suit the unique parameters of your room. By listening to your room's acoustic signature, ARC can tune your equipment to correct for the performance-robbing effects (reflections, resonances, standing waves, etc.) of the various surfaces and other obstacles in your room. ARC is easy to use, and just a few simple steps can optimize your speakers for your unique listening space. ARC is one of the most sophisticated, accurate, and detailed digital room correction technologies available today. There are 3 ways to calibrate your system using ARC or ARC Mobile.
Mobile App: Download Anthem's ARC Mobile app

to your Apple iOS 9.2+ device. This method uses your iOS device's built-in microphone for measurements. Not compatible with Android.
Mobile App + ARC Universal Mic: Download Anthem's ARC Mobile app

to your Apple iOS 9.2+ device, select "ARC Universal Microphone" on the app, and connect the ARC Universal Microphone to your iOS device for measurements. Not compatible with Android.
Windows PC App: Download and install Anthem's ARC software to your Windows PC. Connect either the calibrated ARC PC Microphone or ARC Universal Microphone to your Windows PC, and connect the STR integrated amplifier via USB or LAN. After running your measurements, you can customize the results, set up multiple configurations, and print correction curve graph. Not compatible with Mac.
Note: ARC digitally compares a room's acoustic signature to that of the lab standard. It measures the response of each speaker relative to the listening area. Then it uses advanced algorithms to eliminate the negative effects of the obstacles in the room, adjusting response and correcting phase effects. When ARC removes the obstacles, what's left is the lab standard performance.
Listener Position: Through the Listener Position setting, sound coming from all speakers is coordinated to reach the listening area at the same time. This way, proper imaging is achieved. The channel with the greatest distance setting will have no delay while channels with shorter distance settings will be delayed accordingly. Distances can be set between 0 to 29' Distances may be set before or after running ARC (ARC does not set distances).
Listening Modes: The Anthem STR Integrated Amplifier offers four listening modes to choose from - Stereo, Mono, Both Left, or Both Right.
Stereo: Left channel audio is output from the left speaker while right channel audio is output from the right speaker.
Mono: Blends the left and right channels into both speakers which can be useful when playing mono records with a stereo cartridge.
Both Left: Sends the left input to both speakers and can be useful when playing a mono record with a stereo cartridge when the left groove wall has less wear and sound better than the right groove wall.
Both Right: Sends the right input to both speakers and can be useful when playing a mono record with a stereo cartridge when the right groove wall has less wear and sound better than the left groove wall.
Volume & Level Adjustments: The Anthem STR allows you to configure the integrated amplifier's Power-On Volume, Maximum Volume, and Mute Level.
Front-Panel Display: The large Thin Film Transistor (TFT) display on the front-panel can be seen from across the room, and gives you surprisingly easy operation over the STR Integrated Amplifier via front-panel and remote control. Each input can be renamed, up to 10 characters long for easier identification on the front-panel display. The display's brightness can be set to Max, High, Medium, Low, or Off.
Remote Control: In addition to front-panel control, the Anthem STR integrated amplifier comes with an IR wireless remote control. The included IR remote provides wireless operation of the STR Integrated Amplifier. The integrated amp also offers IP & system control through its LAN & RS-232 ports, as well as provides a 12V trigger output and IR input.
IP Control: The integrated amplifier offers IP control through its RJ-45 Ethernet wired network connection.
RS-232C Port: The integrated amp's RS-232C port provides seamless integration with a wide range of third-party home automation control systems (such as AMX or Crestron).
IR Input: The 3.5mm IR input jack allows you to control the integrated amplifier without line-of-sight access using an optional IR remote control system (sold separately) and locating the remote sensor in sight.
12V Trigger Output: The integrated amplifier has a 3.5mm trigger output to send a 12V/40mA DC turn-on signal to another component that accepts a 12V trigger.
Auto Off: When there is no input signal for 5/10/20 minutes or 1/2/6 hours, the integrated amplifier will automatically turn off.
Detachable AC Power Cord: The Anthem STR Integrated Amplifier comes with a detachable AC power cord (IEC 2-prong).
Crafted In Canada: The Anthem STR integrated amp is designed, engineered, & manufactured in Canada. From the idea stage to the final manufacturing specs, Anthem has complete control over the whole intricate process. Anthem takes pride in this personal attention to detail, and use only the highest quality components, many designed and engineered in-house.
Our Product Research Team
At Crutchfield, you'll get detailed, accurate information that's hard to find elsewhere. That's because we have our own in-house Product Research team. They verify what's in the box, check the owner's manual, and record dimensions, features and specs. We stay on top of new products and technologies to help people make informed choices.
Q & A
Customer Q&A
Crutchfield asked


Why did you buy this?
ARC and previous experience with Anthem

[ C Oct 30, 2018 ]
It has all of the features I need .... specifically, a variety of inputs and bass management for a 2-channel system.

[ Gerald Dec 11, 2017 ]
Going out on a limb. I've not been able to find any reviews of this amp but it appears to have everything I want in an integrated amp. I have seen mostly favorable reviews of other Anthem amps & receivers. I'm most curious about trying out room correction software in a 2 channel set up. It'll be powering both Martin Logan Montis and Harbeth Super HL5plus speakers.

[ RONALD A Oct 30, 2017 ]
This is my dream amp I wanted to get one day. The scratch and dent price and installment payment plan allowed me to get it today instead of months from now.

[ Jonathan L Jun 30, 2018 ]
4 questions already asked