Best sound bars for 2018
Our expert's top picks, plus some shopping tips
In this article: Our list of best sound bars for 2018 ...
... plus a few buying tips.
Adding a sound bar is an easy, convenient, and space-saving way to get great sound from your TV. A good sound bar is the perfect solution for an apartment or a living room with an open floor plan. If your decor, lifestyle, or budget won't allow for a full-blown surround sound system, you'll find a lot to like in a sound bar.
Our top picks for 2018
Yamaha YAS-207 — More home theater bang for your buck
The YAS-207 is the first sound bar that comes ready for DTS:Virtual X — a lifelike 3D virtual surround sound format.
I tried out the YAS-207 with Virtual X on an episode of Game of Thrones, and was blown away by the extra intensity of the massive sound field.
This sound bar is easy to hook up, and is compatible with 4K TVs and video sources with HDR (high dynamic range).
Details
four 1-3/4" full-range drivers and two 1" dome tweeters
separate wireless subwoofer with 6-1/4" front-firing driver
What we love about it
Yamaha's Clear Voice feature makes dialogue easier to understand.
you can control your system with a free app
you can tailor the sound to match what you're watching.
built-in Bluetooth
What our customers say
"Watched a movie for the first time using it last night and was blown away by the sound clarity of both dialogue and music. The subwoofer really pumps, and the sound bar far exceeded my expectations. I have this paired to a 43" TV in a bedroom, and I dare say I like the sound quality better than the high-end setup in my main home theater room." -Kris from Califon, NJ

Sonos PLAYBAR — The sound bar for music lovers
Get killer TV and movie sound with access to all your favorite tunes through the Sonos PLAYBAR.
Sonos' Trueplay tuning lets you use an app on your iPhone® (currently not compatible with Android™) to measure how sound reflects off objects in your room, and fine-tune the PLAYBAR so it sounds great no matter where you place it.
You can get up to a 5.1 home theater system with the PLAYBAR and additional Sonos speakers.
Pair a Sonos SUB with the PLAYBAR to add bass impact to your home theater system. The SUB pairs wirelessly with the PLAYBAR, and is a simple way to enjoy rich, full-sounding music, movies, and TV.
Details
nine built-in speakers (three tweeters and six midrange drivers)
communicates wirelessly with other Sonos players
What we love about it
quick, easy setup and control with free Sonos app
you can add other Sonos speakers to your TV sound system
Dialogue Boost makes human voices easier to understand
What our customers say
"Typical Sonos quality and awesome sound. Paired it with the sub and the setup was typical Sonos... simple. As soon as I opened the box I was impressed at even how well it was packaged. Setting it up was as simple as a few clicks in the app and I was good to go. Doubles as a room zone for the rest of my Sonos speakers and doesn't disappoint there either. Sounds great. Wish I had bought it sooner." -Jeremy from Luverne, MN
Bose® SoundTouch® 300 soundbar — Most living-room-friendly design
The powerful Bose® SoundTouch® 300 soundbar has heavy-duty drivers that cut right through dead spots in open floor plans.
Bose's ADAPTIQ® room calibration system makes up for any challenges presented by objects reflecting sound in your room.
Bose also offers the optional wireless Acoustimass® 300 — the most powerful bass module they've ever made. It communicates wirelessly with the SoundTouch® 300 to add realistic impact to onscreen effects.
Details
specially designed drivers deliver full, spacious sound
PhaseGuide® technology simulates surround sound
What we love about it
What our customers say
"This is the best sound bar I have ever owned. Paired with the Bose Acoustimass 300 Bass module, the system delivers outstanding home theater as well as music listening. The setup was very simple and the wireless pairing with the bass module was a breeze. The universal remote was easy to program, and controls my entire system." -Matt from Westport, CT

ZVOX AV200 Accuvoice — Great for dialogue
Most sound bars have dialogue boost features, but they can still sound muffled to people with certain types of hearing loss.
The AV200 Accuvoice uses special circuitry like they use in hearing aids. It lifts speech above loud effects, background noise, and music in TV and movie soundtracks.
Details
three 2" full-range drivers
PhaseCue II virtual surround sound creates spacious effects
What we love about it
it's compact and easy to use
Output Leveling mode helps tame loud commercials
What our customers say
"From my 32" TV I now have full and glorious sound and clear dialogue, better than from any other much larger TV I've ever had. I can't recommend this product highly enough." -Alice from New York, NY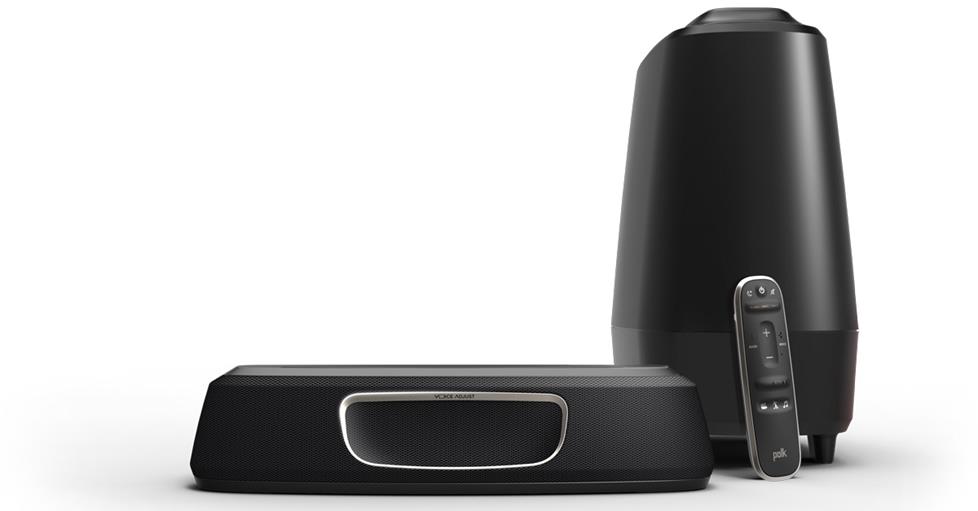 Polk MagniFi Mini — Perfect for small spaces
A lot of us here were blown away when we heard a demo of Polk's MagniFi Mini. We were surprised a sound bar so small could fill our spacious training room. Even from the back of the room, the dialogue was perfectly intelligible.
I ended up getting one for my small-ish living room, and I've been very happy with it. It's super compact and takes up very little space on my makeshift TV stand (a repurposed dresser). I have room to keep the cable box and Blu-ray player on there, under my wall-mounted TV.
The sound is big — full enough to compliment my OLED TV's picture, but not at all overbearing.
Details
four 2-1/4" drivers and two 1/2" tweeters
separate wireless subwoofer with 6-1/2" driver
What we love about it
What our customers say
"The MagniFi Mini was highly recommended by my Crutchfield advisor. I have a 24' x 16' living room so I was concerned it would sound hollow. The Polk actually can fill the room with bass and mid tones and if I want to increase dialogue I can and it works! Also kinda cool that when a commercial comes on the sound automatically goes way down so I'm not blasted by advertising." -Charlotte from Golden, CO
Sound bar shopping tips
Sound bars come in a variety of shapes and sizes to suit any space, budget, or TV setup. To find the right one for you, start by asking what you hope to get from it.
Are you looking for full-on home theater sound? Or do you just want to hear the TV better?
If you're simply looking for fuller sound from TV, a simpler sound bar model should suit your needs just fine.
If you'd like something that produces thrilling home theater effects, look for a sound bar with surround sound decoding.
Consider whether you'd like a separate subwoofer. Since their built-in speakers are so compact, sound bars can be lacking in the low frequency department. A lot of them come with wireless subwoofers to fill out the lower end. And some have outputs for a wired connection to the subwoofer of your choice.
How big is your room, and how big is your TV?
In general, larger TVs and larger rooms call for larger sound bars. And more compact models are great for smaller spaces.
Consider your placement options
Sound bars can be wall-mounted or placed on a stand with your TV. And platform-style models are designed to go under your TV.
Do you have a lot of components to connect?
Is your TV is wall mounted? It might be much easier to connect your cable box, Blu-ray player, and game console your sound bar. Make sure you get a bar with enough HDMI inputs. See our sound bar connection and setup guide for more information.
Need help choosing?
For more buying tips, see our complete sound bars buying guide.
Have questions? Our expert Advisors know the gear inside and out.
Your Advisor can send specific Crutchfield pages to your screen, saving you a lot of browsing time. You'll get a shopping cart loaded up with everything you need for your new home theater.
Call, email, or chat with us today.
Free lifetime tech support is included with your Crutchfield purchase.