Epson Home Cinema 4000
3-LCD 1080p home theater projector with 4K Ultra HD and HDR source compatibility (2017 model)
Item # 278HC4000 | MFR # V11H715120
In Stock
Was: $1,599.99
Instant savings: -$100.00

Our VirginiaVA-based experts can help.
Overview
Our take on the Epson Home Cinema 4000 by Crutchfield's Steve Kindig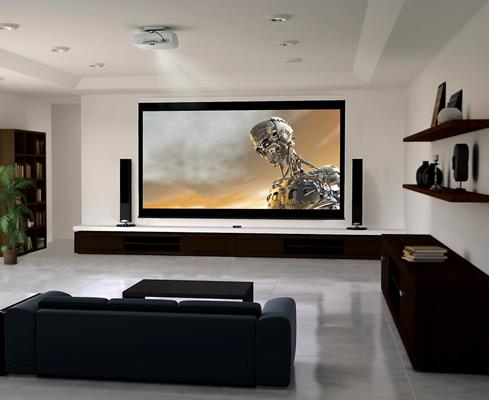 Epson's Home Cinema 4000 projector has enough brightness to produce a crisp picture even with some room lights on.
4K compatibility for less
While 4K TVs are flying off our shelves, we haven't yet seen a similar surge in the popularity of 4K projectors, mainly due to their high price tags. The arrival of Epson's 4K-compatible Home Cinema 4000 should change all that. It uses smart engineering to set new standards for picture quality in its price range.
The Home Cinema 4000 is a 1080p projector that accepts native 4K content, including movies and shows encoded with HDR (High Dynamic Range). These capabilities result in superior picture quality compared to typical 1080p projectors. With the 4000 in your home theater setup you can enjoy 4K and HDR-enhanced content at a fraction of the price of a true 4K projector.
The 4000's built-in video upscaling helps standard Blu-ray discs look amazing, too. And you'll want to dig out your favorite DVD titles, too, because Epson's Super Resolution "smart sharpening" feature gives standard-definition video sources a cleaner, clearer look.
A picture with lifelike detail, color and contrast
The 4000's extra-sharp, detailed picture is the result of Epson's 4K Enhancement Technology, which shifts each pixel diagonally by half a pixel to provide a sharper image. This allows the Home Cinema 4000 to render 4K content clearly with remarkable detail, for a bright, crisp image.
Movies and shows that are encoded with HDR give you incredibly vivid image color, brightness, and detail when displayed through a compatible projector. HDR is available on nearly all Ultra HD Blu-ray titles, as well as select 4K programming from streaming services like Netflix®, Amazon Instant Video, and Vudu — and the list is growing. Use a 4K Blu-ray player to feed your 4000 projector and enjoy an amazing picture for both high-def and 4K sources.
Enough light for bright rooms, enough control for dark rooms
Many high-performance projectors are designed for use in darkened or dimly lit rooms. That's fine if you have a dedicated home theater, but if you don't it can be a limitation. The 4000 has enough light power to handle real-world family rooms, home theaters with really big screens, and situations where others in the room need to keep some lights on.
The 4000's brightness also comes in handy for 3D viewing since 3D glasses tend to dim the picture a bit. Most TV-makers have eliminated 3D from their sets, but Epson celebrates it. Three of the projector's picture settings are dedicated to 3D, so you can enjoy a gorgeous 3D picture without changing the settings for watching in 2D. If you're able to make your room really dark, you'll want to use one of the projector's lower light settings, and turn on the "auto iris" feature, which optimizes black level and contrast for each scene.
Flexible placement and hookup options
For spontaneous or "event" viewing, the 4000 sets up easily on a table or shelf. Or you can use an optional ceiling mount for a more permanent installation. Horizontal and vertical "lens shift" allow you to position the projector off-center and still get a perfectly true image. Two HDMI inputs — one of which is HDCP 2.2 capable — are available for your high-definition sources.
For the best picture quality from this 4K-compatible projector, we recommend using a 4K-rated projector screen.
Product Highlights:
Picture:
3-LCD, 3-chip technology (1920 x 1080 pixels each)
4K Enhancement Technology shifts each pixel diagonally by half a pixel to provide a more detailed, higher-resolution image than regular 1080p
accepts 4K Ultra HD video sources
High Dynamic Range (HDR10) for extended picture contrast and brightness with HDR sources
widescreen 16:9 aspect ratio (can also display 4:3 material)
light output: 2200 lumens
140,000:1 dynamic contrast ratio
dynamic iris for excellent contrast and black level
wide color gamut provides 100% coverage of the DCI-P3 color space
10-bit processing enables over one billion colors
Frame Interpolation for reduced motion judder (not available when pixel shift is in use)
Super Resolution detail enhancement improves the look of standard-definition video
3D-ready with built-in RF emitter (Epson ELPGS03 active 3D glasses sold separately)
picture-in-picture (not available with 3D viewing)
Lens and Image Adjustments:
lens has 2.1X zoom capability (powered zoom/focus)
lens shift image adjustment (powered, horizontal and vertical)
program up to 10 preset powered focus positions
Connections:
2 HDMI inputs (one is HDMI 2.0a, the other is HDMI 1.4)

the HDMI 2.0a input is HDCP 2.2 compatible for connecting to a 4K video source (4K/30p)
to view 4K and HDR content from connected sources, use a compatible high-bandwidth HDMI cable

PC input
Ethernet port for a wired network connection
2 USB ports (one is for an optional HDMI cable with power supply; the other is for firmware update and an optional Wi-Fi module with power supply)
miniUSB port for software updates
RS-232C port for external control of the projector via compatible computer or third-party control device
12-volt trigger output
detachable power cord
General Features:
250-watt UHE lamp (lasts up to 5000 hours in Eco mode)
ultra-quiet cooling fan (20dB in Eco mode)
powered retractable lens cap protects lens when projector is not in use
illuminated remote control
can be placed on a tabletop or ceiling-mounted (mounting bracket sold separately)
20-1/2"W x 6-3/4"H x 17-3/4"D
weight: 24.3 lbs.
warranty: 2 years parts & labor — in-home or carry-in service (90 days on lamp)
this projector does not include any type of built-in TV tuner
What's in the Box:
Epson Home Cinema 4000 Owner's manual
Video projector
10' AC power cord
Remote control
2 "AA" batteries
2 HDMI cable clamps
Manual on CD-ROM
Quick Setup Guide
Extra Care Home Service booklet
Going from am epson 8350 to this was a night and day difference, the picture was brighter, clearer, and the blacks are darker. I am truly blown away at the picture quality, my gear includes a 9.2.2 setup with an oppo 103, Denon 4200W, and two emotiva power amps.

optimist, Killeen, TX
Reviews
Epson Home Cinema 4000 Reviews
Average Customer Review(s):


Submit a review and then enter to win a $350 rewards card
Review this product
Thanks for submitting your review
Most reviews are processed and published within 5 business days. You will receive a confirmation email once your review has been published.
Customer photos
Pros:
Cons:
Crutchfield response
---
Details
Product Research
Features
Epson 3LCD, 3-Chip Technology: The Epson Home Cinema 4000 projector utilizes Epson's own 3LCD, 3-chip technology for amazing color, incredible detail and solid reliability. 3LCD's 3-chip architecture dedicates an entire chip to process each primary color - red, green, and blue, continuously. Unlike single-chip technology that delivers color sequentially, you get full-time color. The result is vibrant, realistic images and video all delivered with 3LCD's true-to-life color.
True-to-Life Colors: 3LCD delivers up to 3x brighter colors in comparison with 1-chip DLP projectors. Color Brightness (Color Light Output) measured in accordance with IDMS 15.4. Color Brightness will vary depending on usage conditions. Additionally, 3LCD projectors have up to 3x Wider Color Gamut than 1-chip DLP projectors. With its 3-chip design, 3LCD delivers clear and vibrant images that are true-to-life. In contrast to 3-chip 3LCD projectors, 1-chip DLP projectors use a rotating color wheel that spins at a rapid speed, only displaying colors sequentially, which can result in color break-up or the "rainbow effect".
Greater Detail & Contrast: 3LCD projection efficiently uses light to project to the screen with no color disruption. 3LCD technology delivers sharper and brighter images with superior grayscale detail. Grayscale is the shades of gray (from black to white) required for greater image depth and detail; it allows greater variation in shadows and brings superior accuracy to color, creating a jaw-dropping, true-to-life visual experience
Energy Efficient: 3LCD projection technology uses light efficiently to create stunning images. In contrast to 1-chip technology, 3LCD requires 25% less electricity per lumen of brightness. 1-chip projectors use a color wheel, which leads to an inefficient design, thereby causing light loss. 3LCD does not rely on a color wheel. On average, 3LCD projectors are 25% more energy efficient.
Simple & Reliable Design: 3LCD systems are reliable and use a simple optical design which includes 3 chips and 1 prism. Light flows seamlessly through the system to produce brilliant on-screen colors and sharp images every time.
Projection Lamp (Fan Cooled): The projector uses a 250-watt Ultra High Efficiency (UHE) lamp with a life span of approximately 4000 hours in the Normal mode, 5000 hours in ECO mode, or 3500 hours in High mode. The lamp (Part # V13H010L89) and air filter (Part # V13H134A39) are the only user-serviceable parts. The projection lamp is kept cool by a fan. The fan noise level is 31dB in Normal mode and 20dB in ECO mode. If the projector is to be used at an altitude above 4921 feet (1500 meters), the High Altitude Mode should be turned on so the fan can properly cool the projector at the high altitude air pressure.
Smart Motorized Lens: The smart motorized lens offers a powered optical zoom and powered focus with a F-number of 2.0-3.0, Focal Length of 22.5-46.7mm, and Zoom Ratio of 1-2.1. You can preset up to 10 positions of focus, zoom, and lens shift.
Lens Shift: If the projected image is not centered in front of the screen, you can correct the position of the image using the vertical and horizontal lens shift dials on the top of the projector. The vertical position can be adjusted by up to +/- 96.3% of the height of the screen, while the horizontal position can be adjusted by up to +/- 47.1% of the width of the screen.
Keystone Correction: The vertical keystone buttons, located on the side of the projector, can correct the shape of the image, if it is not rectangular. Adjustable from -30° to + 30°. The unit does not have a horizontal keystone adjustment.
Projection Image & Distance: The Home Cinema 4000 projector can produce an image that is adjustable from 50" to 300" (measured diagonally). The projector's adjustable lens provides a wide range of placement possibilities (from 58.3" to 747.6") for a given screen size. The distance at which you place the projector from the screen determines the approximate size of the image. The image size increases the farther the projector is from the screen, but can also vary depending on the zoom factor, aspect ratio, and other settings.
Aspect Ratio
Screen Or Image Size
Projection Distance (wide to tele)
16:9
50"
58 - 123"
60"
70 - 148"
80"
94 - 198"
100"
118 - 248"
150"
178 - 373"
200"
238 - 498"
250"
297 - 623"
300"
357 - 748"
High Brightness & Ultra Black Contrast: In the normal mode, the Home Cinema 4000 outputs 2200 lumens of white light and 2200 lumens of color light for bright, balanced colorful images. Color brightness (color light output) and white brightness (white light output) will vary depending on usage conditions. Color light output measured in accordance with IDMS 15.4; white light output measured in accordance with ISO 21118. The projector is capable of a dynamic contrast ratio up to 140,000:1 for rich detail in both bright and dark scenes
Auto Iris: The Auto Iris system constantly controls the light output based on the gamma and black/white levels of the projected content to give you perfectly adjusted images and deepest blacks. Using the remote, you can select either Normal or High Speed to indicate how quickly you would like the projector to respond to changes in the brightness of the image.
Native 1080p Resolution with 4K Enhancement: The Home Cinema 4000 has a native resolution of 1080p (1920 x 1080) with 4K Enhancement. Epson's 4K Enhancement Technology delivers astonishing picture quality with every subtle intricacy is captured. 4K Enhancement Technology shifts each pixel diagonally by 0.5 pixels to double the resolution and surpass Full HD image quality.
Dual HDMI Inputs: The Home Cinema 4000 is equipped with two HDMI inputs that support 480i, 480p, 720p, 1080i, 1080p and 4K video signals. Because the 4000 only has a native resolution of 1080p, it has to use Epson's 4K Enhancement video processing technology that upscales the image to ultra-HD 4K.
HDCP 2.2: HDCP 2.2 is supported by the projectors HDMI 1 input. HDCP 2.2 is short for "High bandwidth Digital Content Protection" and is used for 4K video copyright protection for compatibility with Ultra HD Blu-ray players, 4K Satellite/Cable providers, and ultra high definition online video services.
HDR: The 4000 supports HDR (High Dynamic Range) video which reproduces a greater dynamic range of luminosity or brightness levels, bringing greater contrast & wider color spectrum to the screen. This increased contrast reveals the subtle nuances of the image, from detailed blacks and shadows to the brightest whites and colors, plus greater depth. HDR 10 format is supported.
Ultra Wide Color Gamut: The Home Cinema 4000 offfers 100% coverage of the DCI-P3 color space, the digital cinema standard.
Note: The projector features a USB-A (300mA) port for connecting an optical HDMI cable that requires USB power.
3D-Ready: Epson's advanced Bright 3D Drive technology enhances the brightness giving you theater-quality 3D images in your home. To view 3D content, you must first connect a 3D-compatible video device to one of the HDMI ports. You will also need a pair of Epson RF Active Shutter 3D glasses (ELPGS03, sold separately) for each viewer. The projector's 2D-to-3D Conversion setting will even transform 2D images to 3D content.
PC Input: You can also connect your Windows or Mac computer to the projector via VGA (D-Sub, 15-pin). The Projector's VGA input will support 640 x 480, 800 x 600, 1024 x 768, 1280 x 768, 1366 x768, 1280 x 800, 1280 x 960, 1280 x 1024, and 1600 x 900 video images.
Optional Network Adapter: You can send images wirelessly from your Windows PC or Mac computer to the projector via a WiFi network. To do this, you must install the Epson 802.11b/g/n wireless LAN module (sold separately) into the projectors USB-A port, and then set up the projector and your computer for wireless projection.
Epson iProjection App (requires network adapter): Epson iProjection is an intuitive mobile projection app for Apple iOS 8.0+ and Android OS 4.0+. Epson iProjection makes it easy to project images and files wirelessly from your compatible mobile device to the Epson projector. You'll be able to move about the room and effortlessly display content from your Apple iOS or Android device on the big screen. Key features include -
QR code easy pairing is now supported.
Display documents loaded in the Epson iProjection app on your mobile device.
Display web pages and images stored in the "Photo" library of your mobile device.
Use the built-in projector remote control feature to control input sources, AV mute, freeze, audio settings, operate menu, zoom by finger with Touchpad and more.
Send files from your email or cloud storage apps to the iProjection app.
Marker function enables highlighting and annotation of projected photos and documents and also saving annotation to your device
Notes:

Supported Formats & Activities: Microsoft Word (.doc, .docx, Office 2003 or later), Microsoft PowerPoint (.ppt, .pptx, Office 2003 or later), Microsoft Excel (.xls, .xlsx, Office 2003 or later), Keynote (.key), Adobe PDF(v1.7) (.pdf, Acrobat 8 compatible or later), .JPG, and .PNG.
Activities Not Supported: The Epson iProjection app does not support video playback, PowerPoint and Keynote animations, or mirroring.
Image Settings: Settings on the Image menu let you adjust the aspect ratio, color, and quality of your image for the input source you are currently
using. The available settings depend on the currently selected input source.
Aspect Ratio: You can select the following image aspect ratios, depending on the input signal from your image source. Black bands and cropped images may project in certain aspect ratios, depending on the aspect ratio and resolution of your input signal.

Auto: Automatically sets the aspect ratio according to the input signal.
Normal: Displays images using the full projection area and maintains the aspect ratio of the image.
Zoom: Displays images using the full width of the projection area and maintains the aspect ratio of the image.
Full: Displays images using the full width of the projection area, but does not maintain the aspect ratio.

Color Modes: The Home Cinema 4000 offers six color modes to optimize viewing for different environments and image content. The Color Mode adjusts the brightness, contrast, and color for the best possible picture. A different color mode can be selected for each input source.

Dynamic: For projecting the brightest picture available (2D or 3D).
Cinema: For viewing movies in a dark room (2D or 3D).
Bright Cinema: For viewing movies in a room with closed curtains. (2D only).
Digital Cinema: Projects using the same color spectrum as digital movie theaters (2D only).
Natural: For projecting natural, accurate colors in a dimly lit room (2D only).
B&W Cinema: For black and white movies projected in a dark room (2D only).

Fine Tune Picture: If the image colors don't look correct, you can adjust them using the following settings.

Color Convergence (Panel Alignment): You can use the Panel Alignment feature to manually adjust the color convergence (the alignment of the red, green and blue colors) in the projected image.
Color Tone (Color Uniformity): You can use the Color Uniformity feature to manually adjust the color tone balance in the projected image.
Manual Adjustments: You can manually adjust the images Brightness, Contrast, Color Saturation, Tint, Sharpness, and Color Temperature.

Image Enhancements: Use the projector's Image Enhancements to further enhance the projected video image.

Frame Interpolation: This setting compares the current and previous frames, then creates a frame between them to reduce fuzziness and produce clearer moving images. You can select from 3 levels of frame interpolation.
Super Resolution: This setting sharpens blurred images, enhancing the apparent detail of the image. You can select from 3 levels of enhancement. Note that intentionally blurred parts of the image, such as out-of-focus backgrounds, may become sharper. This feature is not available when projecting 3D.
Detail Enhancement: Enhances details to create clear outlines for sharper and more refined images that are more lifelike. This feature is not available when projecting 3D.
Noise & MPEG Noise Reduction: This setting reduces flickering of analog images, as well as reduces the noise or artifacts seen in MPEG video.

Advanced Settings: These advance settings offer expert level adjustment.

Gamma: Adjusts the gamma levels of the image.
RGBCMY: Adjusts the hue, saturation, and brightness for each color.
Deinterlacing: Sets whether to convert interlaced-to-progressive signals for certain video image types.
Super White: Reduces over-exposure of whites in an image.
Picture-In-Picture: The Home Cinema 4000's Picture-In-Picture (PIP) mode allows you to simultaneously project two video images from two different HDMI sources next to each other. The second HDMI video source appears as a sub-screen in the corner of the main HDMI source image; you can swap the images. You cannot use Picture-In-Picture while projecting 3D or 4K images.
Remote Control: The Epson Home Cinema 4000 can be operated from its control panel, the included IR remote, HDMI-CEC, your computer, or a 3rd party automation system (sold separately).
IR Remote: In addition to the control panel, the projector can be controlled by the supplied wireless remote control, which has a range of approximately 32'. The projector has infrared receivers on the front and rear to give you control from most anywhere in the room.
HDMI Link: When you connect HDMI CEC-compatible devices, such as an AV receiver or Blu-ray player, to the projector via HDMI cables, you can control them using the HDMI-Link control buttons on the projector's remote control. You can register the devices you want to operate in the HDMI Link section of the projector's menu.
Ethernet Jack: The 4000's Ethernet (RJ-45) jack allows you to connect the projector to your network and control it from a compatible web browser (Internet Explorer 8.0 or later & Safari) on your computer. To use the projector over a wireless network, install the Epson 802.11b/g/n wireless LAN module (sold separately) into the projector's USB (type-A) port.
RS-232C Port: There is also a RS-232C port for connecting the projector to a 3rd party A/V controller or automation system (sold separately).
Trigger Output: The projector has a 3.5mm Trigger Output port which delivers a 12-volt signal (max 200 mA) to lower your motorized projector screen while the projector is powered on.
Sleep Mode: The projector turns off automatically when no video signal is received for a preset amount of time. You can set the sleep mode to 5, 10, or 30 minutes.
Mounting Options: The Home Cinema 4000 can be placed on a tabletop or inverted and mounted on the ceiling. It can be used for front or rear projection. For tabletop use, you can adjust the image position by raising or lowering the front feet. For ceiling mounting, you will need an optional projector ceiling mount (sold separately). Nine 4mm threaded screw holes are provided on the bottom for a ceiling mount. A commercially-available Kensington security lock can be attached to the unit to prevent theft when installed in a public location.
Firmware & Software Updates (via USB or LAN): You can download files to update the software of the unit from Epson's Online Support Site. Simply copy the downloaded files to a USB thumbdrive, then insert the USB thumbdrive into the USB port of the projector and perform the update. You can also use Epson's EasyMP Network Updater software to update firmware (for Windows & Mac) over a wired Ethernet (LAN) connection.
Warranty and Extra Care Home Service: The projector is covered by a 2-year parts and labor warranty, while the lamp is covered for 90 days. Included with the warranty, Epson offers Extra Care Home Service. A replacement unit (in most cases, a refurbished unit) will be shipped to you immediately. (A credit card is required for security deposit.) If it's important that you receive your original projector back, you should use the basic carry-in service instead of Home Service.
Our Product Research Team
At Crutchfield, you'll get detailed, accurate information that's hard to find elsewhere. That's because we have our own in-house Product Research team. They verify what's in the box, check the owner's manual, and record dimensions, features and specs. We stay on top of new products and technologies to help people make informed choices.
Q & A
Customer Q&A
Crutchfield asked


Why did you buy this?
Bryce very clearly explained the features and benefits.

[ Patrick Sep 12, 2018 ]
Crutchfield reputation and previous experience with Eason.

[ G Jul 23, 2018 ]
After much research I finally decided that the Epson brand and service, replacement lamp cost, lens quality, in addition to the excellent feature set on the Cinema 4000 made it stand out from other 4k pixel shifters currently available at this price point.

[ Keith Jan 16, 2018 ]
Recommended by CJ

[ CHRISTOPHER Jan 12, 2018 ]
I've been looking for a nice projector for a while. After seeing my brother's, I finally knew what to look for. Every single review I could find on this one was 4 or 5 stars. People raved about the color, brightness, clarity and contrast depth. It also upscales to near 4k and still includes 3D. Seemed like a no brainer. This feels like the projector that I will have for a long time.

[ joshua Dec 30, 2017 ]
There are certainly better projectors at the market, but at some point the marginal cost exceeds the marginal value -- for me there just simply wasn't a better bang for the buck.

[ Jason Dec 03, 2017 ]
Parker was an excellent help!

[ Mark Dec 01, 2017 ]
Flexibility with lens shift, broad throw range, 4K upscaling, good price.

[ Fred Sep 30, 2017 ]
Low price

[ DUNG Aug 07, 2017 ]
I want to buy 4K projector under 2k .. I came to know about this deal and jumped on it.

[ P Aug 06, 2017 ]
better value than 5040

[ steve Jul 22, 2017 ]
Looking for more? Check out the next model in this lineup.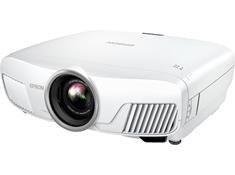 In Stock
$2,299.99 After $200.00 Instant savings
Add to Cart
Get a 4K-compatible projector with higher brightness and contrast.
The Epson PowerLite Home Cinema 5040UB offers these features:
higher light output: 2500 lumens
1,000,000:1 dynamic contrast ratio