GoPro HERO7 Black
4K Ultra HD action camera with Wi-Fi®
Item # 770HDHX701 | MFR # CHDHX-701
In Stock

Our VirginiaVA-based experts can help.
Overview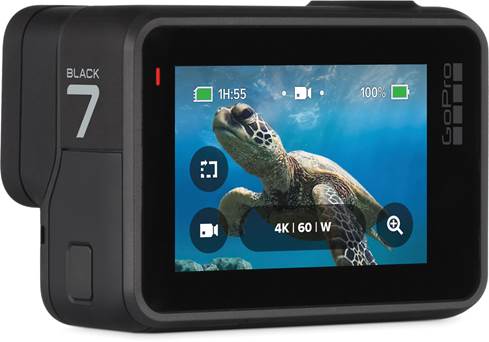 The GoPro HERO7 Black is waterproof down to 33 feet, so you can get incredible shots like this one.
Brilliant 4K footage and so much more
The GoPro HERO7 Black is the flagship of the HERO7 line. It's a rugged, waterproof, 12-megapixel camera that records 4K video at up to 60 frames per second. HyperSmooth image stabilization helps you shoot rock-steady still photos and shake-free video, even when you're running, biking, surfing or skiing.
There's a 2-inch touchscreen on the back to help you frame and review shots, and a 1-inch display on the front that helps you keep track of battery life, memory, and more.
Chock full of special features
The HERO7 Black shoots 1080p video at up to 240 frames per second, which allows 8x super-slow-motion HD footage. TimeWarp video records time-lapse footage at up to 30x speed, for another fun effect. You can shoot bursts of still photos at up to 15 frames per second to freeze moments of action.
The camera also has built-in GPS, so you can tag photos and video with telemetry data, then wirelessly upload and share with friends via social media. If you just want a selfie of you with the whole gang in front of a beautiful landscape, use the built-in timer to give yourself time to get in the picture.
Convenient voice control
"GoPro, take a picture." That's all you have to say to get this camera to spring into action. Voice control enhances the HERO7's legacy as a rugged, easy-to-use, all-around action cam. Just imagine — press the large button on top to start recording your adventure, and then you won't have to touch it again. Just tell the camera what to do, and it will be done.
Live stream your latest adventure
You want everyone to see what you're up to, so why wait? This camera can instantly stream video to Facebook Live, YouTube, and other platforms.
Product Highlights:
12-megapixel action camera shoots 4K Ultra HD video @ 60 fps
SuperPhoto applies High Dynamic Range (HDR) to optimize images
remotely control the camera with simple voice commands
waterproof to 33 feet without external housing
2-inch rear screen with touch zoom lets you preview, review, and edit footage
instantly monitor settings and functions on 1" front screen
shoot in horizontal (landscape) or vertical (portrait) orientation
free GoPro app features:

auto-transfer images to your smartphone
QuikStories automatically creates fun, shareable videos with music
share directly to your Instagram feed
back up unlimited stills and up to 250GB of video to the cloud with a GoPro Plus subscription

built-in GPS lets you tag photos with exact location and telemetry data
8X slow-motion (in 240 fps HD mode)
HyperSmooth image stabilization keeps photos sharp and video jitter-free
instantly stream video to Facebook Live, YouTube, and other platforms
TimeWarp video records time-lapse footage at up to 30x speed
burst mode: 15 frames per second
photo timer lets you get in the picture
Included Accessories:
The Frame mount
curved and flat adhesive mounts
mounting buckle
USB-C cable
Dimensions and Warranty:
2-1/2"W x 1-1/8"H x 1-3/4"H
weight: 4.6 oz.
warranty: 1 year
What's in the Box:
GoPro HERO7 Black Owner's manual
Action camera
Mounting frame (installed)
Mounting buckle (installed)
Thumb screw (installed)
AABAT-001 Lithium-Ion rechargeable battery (3.85V 1220mAh 4.7Wh)
Flat adhesive mount
Curved adhesive mount
22" USB cable (Type A USB on one end and USB-C on other end)
Quick Start Guide
Important Product + Safety Instructions booklet
Reviews


Submit a review and then enter to win a $350 rewards card
Be the first to review this product
Thanks for submitting your review
Most reviews are processed and published within 5 business days. You will receive a confirmation email once your review has been published.
Customer photos
Pros:
Cons:
Crutchfield response
---
Details
Product Research
Features
Overview: The GoPro HERO7 Black (CHDHX-701) is an ultra-compact digital action camera, designed to take 4K and Full HD videos and up to 12-megapixel still photos in extreme situations. The camera features many advanced features designed to give you the most stable videos and the sharpest still photos available from an action camera. The HERO7 Black is waterproof up to 33 feet (10 meters). The camera comes with The Frame (standard housing for the HERO action cameras), plus flat and curved surface mounts, and a rechargeable battery. A full line of GoPro accessories allow you to mount the camera virtually anywhere.
2" LCD Touch Display: The camera has a 2" LCD touch display on the back for framing and viewing your videos and still images. Numerous touch gestures (tap, swipe, press/hold, etc.) let you navigate through the menus. In addition, the HERO7 Black has a 7/8" square LCD status screen on the front panel.
Optics: The HERO7 Black has a fixed focal length, ultra wide angle glass lens for sharp image quality.
Touch Zoom: Touch Zoom helps you capture a closer view of the action. Touching the lower right corner of the screen brings up a slider control which lets you adjust the zoom, even while you're recording. Slide up to zoom in; slide down to zoom out. The zoom level remains locked until you readjust it, switch capture modes, or power off the camera.
Camera Orientation: You can set the camera to a right-side up or upside-down orientation so you can get the perfect angle for your video or still images. The Auto setting (Auto Image Rotation) automatically selects Up or Down orientation, based on the orientation of the camera when recording begins.
GPS: The HERO7 Black is equipped with built-in GPS that allows you to capture location information and embed the data into your videos and photos. The GPS data helps you view the locations where your footage was recorded on a map.
Connections: The HERO7 Black has a USB-C port for connecting the camera to a computer, or for charging the battery, via the supplied USB cable. You can also plug in an external microphone, using an optional adapter. The camera also includes a Micro HDMI port for connecting the camera to your TV (HDMI cable not included)
Voice Control: You can control the HERO7 Black with your voice using specific commands. The voice commands allow you to perform the following: Wake, Start or Stop capturing video, add a HiLight Tag, capture single or burst photos, start or stop time lapse, power on or power off the camera, and change the camera mode (to video, photo, burst, or time lapse).
Video Resolution: The HERO7 Black is capable of recording 4K and Full HD video in MPEG-4 (H.264/AVC) and MPEG-4 (H.265/HEVC) formats. The maximum video bit rate is 78 MB/s (4K). In addition to traditional video, you can also shoot "looping video" and save only the moments you want. This is similar to a dash cam that records until something happens. The camera records video at the following resolutions:
Video Resolution
Frame Rates
(NTSC/PAL)
Field of View
Screen Resolution
Aspect Ratio
4K
60/50
Wide
3840 x 2160
16:9
30/25, 24/24
Wide, SuperView
3840 x 2160
16:9
4K 4:3
30/25, 24/24
Wide
4096 x 3072
4:3
2.7K
120/100
Wide
2704 x 1520
16:9
60/50, 30/25, 24/24
Linear, Wide, SuperView
2704 x 1520
16:9
2.7K 4:3
60/50, 30/25, 24/24
Linear, Wide
2704 x 2028
4:3
1440p
60/50, 30/25, 24/24
Linear, Wide
1920 x 1440
4:3
1080p
240/200
Wide
1920 x 1080
16:9
120/100, 60/50, 30/25, 24/24
Linear, Wide, SuperView
1920 x 1080
16:9
960p
240/200, 120/100
Wide
1280 x 960
4:3
720p
240/200
Wide
1280 x 720
16:9
60/50
Linear, Wide
1280 x 720
16:9
Time Lapse Capture Modes: The HERO7 Black offers four Time Lapse capture modes:
TimeWarp Video: You can speed up time by capturing super stabilized time lapse video while you're riding your mountain bike or hiking. The default settings are 1440p video with a 4:3 aspect ratio, and Wide field of view at 10x speed.
Time Lapse Video: You can turn long events into short videos that you can share. Great for sunsets, street scenes, or other slow actions, while your camera is still. Settings: 1440p video, 4:3, Wide FOV, 0.5-second intervals.
Time Lapse Photo: Take a continuous series of photos for selecting the best shots later. Settings: 0.5-second intervals, Wide FOV.
Night Lapse Photo: Capture a series of photos in dark environments. The shutter stays open longer to let in more light, so you can shoot handheld. Default shutter speed and interval are set to Auto, with a Wide FOV.
HyperSmooth: The HERO7 Black is equipped with HyperSmooth electronic image stabilization to give you gimbal-like video. HyperSmooth uses advanced scene analysis and roller shutter correction algorithms to proactively look at how motion is happening frame to frame and adjust correction to make the video super smooth. The HERO7 Black uses HyperSmooth in all video modes, EXCEPT the following: 4K 4:3 (30/25), 2.7K (120/100), 1080p (240/200), 960p (240/200), and 720p (240/200). Standard stabilization is used at 4K 4:3 (24), 1440p (120/100), 1080p (120/100), and 960p (120/100).
Slow Motion Video: The HERO7 Black uses the ultra high frame rate mode of 1080p240 (240 frames per second) to capture video and play it back at up to 8x Slow Motion.
Live Streaming: Using the GoPro App, you can stream live video to Facebook Live or other compatible video platforms that support an RTMP URL.
Audio: The camera records the audio with three built-in mono microphones. The camera processes the audio from the three microphones to reduce noise, giving you the best possible sound for your action videos. In Auto audio mode, the camera chooses the microphone with the best sound quality, shutting off any microphone that may be picking up excessive wind noise. In Protune, you can select other audio modes.
External Microphone: You can connect an external microphone to the camera's USB-C port, using the GoPro Pro 3.5mm Mic Adapter (sold separately). When an external mic is connected, you can choose the following options: Standard Mic, Standard Mic+ (provides 20dB boost), Powered Mic, Powered Mic+ (with 20dB boost), or Line In (for connecting a mixing board or other audio equipment.
Protune: The HERO7 Black has Protune, which lets you discover your camera's full potential. Protune gives you manual control of color, white balance, shutter speed, and more. Protune lets you adjust the following:
Color: You can adjust the color profile of your videos and photos, by choosing between GoPro Color and Flat.
White Balance: You can adjust the color temperature of your videos and photos to optimize for cool or warm lighting conditions. The color temperature settings include: 2300K, 2800K, 3200K, 4000K, 4500K, 5500K, 6000K, 6500K, and Native.
ISO Minimum/Maximum: You can set a range for the camera's sensitivity to light and image noise. The default for ISO Minimum is 100. The default for ISO Maximum is 1600 for videos and 3200 for photos. You can also choose ISO 200, 400, 800, and 6400.
Shutter Speed: You can choose a shutter speed for both photo and video modes. For photos, the options include Auto, 1/125, 1/250, 1/500, 1/1000, and 1/2000 second. For video, the options depend on the fps setting. You can choose from Auto, 1/fps, 1/(2 x fps), 1/(4 x fps), and 1/(8 x fps).
Exposure Value Compensation: You can adjust the EV Comp from -2.0 to +2.0 EV.
Sharpness: Choose from High, Medium, and Low.
RAW Audio: This setting creates a separate .wav file for your video, in addition to the standard .mp4 audio track. You can choose from Off, Low, Medium, or High level of processing to the RAW audio track.
Microphone: The camera uses three microphones to capture sound when recording video. You can choose from the following: Auto, Stereo, and Wind.
Still Images with HDR: The HERO7 Black can take still images at 12MP resolution (6000 x 4000) and 4:3 aspect ratio. The camera features HDR (high dynamic range) to pick up greater detail in shadowed areas, while making sure the bright areas are not overexposed. Multiple shots are taken and combined, mixing bright light and shadows to accomplish this. HDR can be turned on or off as needed. Still images can be recorded in these capture modes:
Photo: Photos are captured one at a time, or continuously (up to 30 photos at 4 frames per second).
Burst: In Burst mode, you can capture 3 or 30 photos (depending on lighting conditions) in 1, 2, 3, or 6 seconds to capture fast-moving activities.
Night: In Night mode, the shutter stays open longer to let in more light, making it perfect for dim or dark scenes. It is not recommended for handheld or mounted shots when the camera is moving.
Photo Timer: You can choose a 3 second or 10 second delay for taking selfies or group shots.
SuperPhoto: SuperPhoto automatically uses advanced image processing to give you brilliant photos in virtually any light. SuperPhoto takes a little longer to process because the camera analyzes the scene and applies the proper amount of processing to achieve the best results. Depending on the lighting, SuperPhoto will automatically choose High Dynamic Range, Local Tone Mapping, Multi-frame Noise Reduction, or No Additional Processing.
HiLight Tagging: The HERO7 Black lets you mark specific moments in your video during recording or playback with HiLight Tags, making the moments easier to locate. Tags can be added using the camera or the GoPro App. During playback, the tags are visible in the GoPro App or GoPro software.
Storage: The HERO7 Black has a slot for inserting a microSD memory card (up to 128 GB). You should use microSD cards with a Class 10 or UHS-I rating for best performance. No memory is included with the camera.
Wi-Fi + Bluetooth: The camera features built-in 5 GHz Wi-Fi, as well as Bluetooth wireless technology, to allow you to wirelessly connect to your smartphone or tablet via the GoPro App. If your device or region does not support 5 GHz Wi-Fi, you can switch the Wi-Fi band to 2.4 GHz.
GoPro App: GoPro previously had more than one main app for controlling your camera and downloading and editing your footage. Now you can do it all in the new GoPro app (formerly known as Capture). Not only can you organize and view your photos and videos on your mobile device, the GoPro app will automatically transform them into professional-looking videos. The QuikStories feature automatically copies videos and photos from your most recent session from your camera to your mobile device, and turns them into an edited video, complete with music and special effects. This QuikStory can then be saved, edited, or deleted from your phone if you don't like it. The app also allows you to immediately post your favorite photos and videos directly to your favorite social media sites, including Facebook, Twitter, and Instagram. The GoPro app lets you control the HERO7 Black (or other GoPro camera) from your mobile device, including framing the shot with a live preview, or adjusting the settings. The app is compatible with Apple mobile devices running iOS 10.0 or later, as well as Android devices running version 5.0 and up.
Battery: The HERO7 Black is powered by a removable 1220mAh Lithium-Ion rechargeable battery (AABAT-001). The battery can be charged by connecting the camera to a computer or other USB charging adapter (5V 1A) using the supplied USB-C cable. Charging a fully-depleted battery takes approximately 2 hours. The optional GoPro Dual Battery charger lets you charge up to two batteries at once, so you'll always have a fresh battery. With the optional GoPro Supercharger, you can quick charge the battery 20-70% faster. With a fully charged battery, the estimated battery life is as follows:
| | |
| --- | --- |
| Video Mode | Battery Life (minutes) |
| 4K60 | 45-50 |
| 4K30 | 85-90 |
| 2.7K60 (4:3) | 60-65 |
| 2.7K120 | 30-45 |
| 1440p120 | 50-55 |
| 1440p60 | 70-75 |
| 1080p240 | 35-50 |
| 1080p120 | 40-55 |
| 1080p60 | 85-90 |
| 960p240 | 75-80 |
| 960p120 | 80-85 |
| 720p240 | 85-90 |
Specifications:
Dimensions: Width: 2.459", Height: 1.792", Depth: 1.303"

Weight: 4.1 ounces (camera and battery only); 5.8 ounces with the Frame and buckle
Mounting Options
The Frame: The HERO7 Black comes with The Frame, a standard housing for this camera. The Frame is attached to a GoPro quick-release buckle that lets you adjust the tilt of the camera. The rubber locking plug provides additional security.
Mounting Bases: The package includes a curved-surface and a flat-surface mount, each with industrial-grade adhesive, for mounting the camera to a helmet, vehicle, or other smooth surface. Additional curved and flat mounts are available for purchase.
Optional Mounts: GoPro offers numerous mounts for the HERO7 Black camera, including a head strap and chest harness. Other mounts can attach the camera to a bicycle seat post or handlebar, a roll bar, helmet, tripod, surfboard, or even your dog. For underwater shooting, the Super Suit Dive Housing will protect your camera down to nearly 200 feet.
Our Product Research Team
At Crutchfield, you'll get detailed, accurate information that's hard to find elsewhere. That's because we have our own in-house Product Research team. They verify what's in the box, check the owner's manual, and record dimensions, features and specs. We stay on top of new products and technologies to help people make informed choices.
Q & A
Customer Q&A
Crutchfield asked


Why did you buy this?
best of the best

[ michael Oct 10, 2018 ]
Image stabilization features and more fps options for 1080p and higher.

[ GEOFFREY Sep 30, 2018 ]
New and better video quality than the 5 black I have.

[ Vincent Sep 28, 2018 ]
Time to upgrade my go pro 4 to the latest model. Held out as long as I could.

[ DAMON C Sep 28, 2018 ]
Aviation photography.

[ Anil Sep 26, 2018 ]