Cambridge Audio CXUHD
4K Ultra HD Blu-ray player with Wi-Fi®
Item # 779CXUHD | MFR # CXUHD
This item is no longer available.
Overview
Our take on the Cambridge Audio CXUHD by Crutchfield's Jeff Miller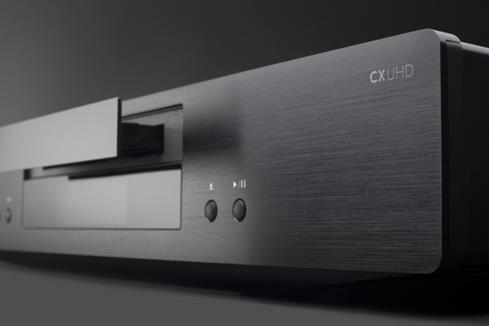 The Cambridge Audio CXUHD's sturdy disc tray and precision laser helps squeeze every detail from your 4K Blu-ray discs.
Super-rich picture from the British sound experts
If you want the best possible picture for your 4K or OLED TV, take a close look at the Cambridge Audio CXUHD 4K Blu-ray player. First off, Ultra HD Blu-ray is the highest-quality video source we've seen. And the CXUHD includes one of the best video decoders available. Cambridge has customized MediaTek's high-grade decoder so that it enhances picture depth and realism on your 4K screen. Colors are true-to-life — vibrant when they need to be, and muted when the scene calls for it.
That special image processor can make your standard Blu-ray discs and DVDs look much better, too. There's even a 4K-ready HDMI input for your Apple® TV, Roku Premiere, or cable/satellite box.
Ready for the best HDR standards
Ultra HD Blu-ray discs with HDR (High Dynamic Range) offer the absolute highest level of picture detail. HDR allows compatible TVs to display extremely bright and dark black picture content together within the same image.
I've personally seen movies with HDR go beyond that initial "wow, look at that picture pop off my screen." HDR provides a level of nuance that can actually add depth to the storytelling in the hands of a capable director.
Now, not all 4K Blu-ray movies offer HDR, but this player is ready for any that do. The player not only supports the required HDR 10 format, but will also support the more sophisticated Dolby Vision™ format. This dynamic system can adjust brightness and color levels on a scene-by-scene basis.
The company is called Cambridge Audio for a reason
It might seem weird for me to point out what the CXUHD player doesn't have, but you won't find any analog connections or DACs. Cambridge wanted to deliver the most pristine picture possible, so they didn't put anything under the hood that could interfere with the video processing. But don't worry! They have not abandoned their sonic roots.
There are plenty of digital outputs for connecting to high-grade amplifiers or home theater receivers, like Cambridge's own CX-series components. This player will serve up the latest movie sound formats — including pass-through of Dolby Atmos and DTS:X. And this well-built machine is also an excellent musical source for your CDs and high-resolution tunes.
Product Highlights:
all-metal casing with brushed aluminum front panel for reduced resonance

high-precision, fast-loading disc drive with balanced laser optic

plays Ultra HD Blu-ray discs, 3D and standard Blu-ray discs, SACDs, DVD-Audio, DVDs, CDs and rewriteable discs
built-in Wi-Fi for streaming photos/videos/music from a compatible DLNA-enabled Windows® PC or NAS drive
does not support Netflix® video streaming
plays Region A Blu-ray discs and Region 1 DVDs
Video Features:
full 4K resolution video for use with Ultra HD TVs

4K video upscaling for standard Blu-ray and DVDs
supports lower resolutions when used with non-4K TVs

HDR (High Dynamic Range) for extended picture contrast and brightness on compatible TVs

supports HDR10 format and Dolby Vision™

customized quad-core video decoder enhances video quality for more depth and realism

MediaTek MTK8591 video decoder

player does not include any internal digital-to-analog converters

helps keep video signal pure with no interference or noise
Connections:
HDMI 2.0 input for Apple® TV or 4K streaming devices like the Roku Streaming Stick+ or Chromecast Ultra
2 HDMI outputs for separating audio and video signals:

HDMI video output is HDMI 2.0a (connected 4K TV and/or receiver must have an HDCP 2.2-compatible HDMI input to view 4K content, and must have HDMI 2.0a to support HDR)
HDMI 1.4 audio output (does not output video signal)

optical and coaxial digital audio outputs
2 USB 3.0 ports for photo/video/music playback
RS-232C port for automated control systems
Ethernet port for wired network connection
no analog audio outputs
Technical Specs and Accessories:
selectable video resolution up to 3840 x 2160 pixels
video upconversion for standard Blu-ray, DVD, and digital sources (HDMI only)
audio pass-through for Dolby® Digital, Dolby TrueHD, Dolby Atmos, DTS, DTS-HD Master Audio, and DTS:X
plays high-resolution digital music files via USB storage device or a networked computer (up to 24-bit/192kHz resolution)
backlit remote control with rubber grip
detachable power cord
16-15/16"W x 3-1/8"H x 14"D
weight: 11 lbs.
warranty: 2 years
Very pleased with purchase. The set up was very simple. The picture and sound quality are excellent. My set up is a Sony xbr 65x900f, Marantz NR1609, & the CXUHD.

Charles, Sewell, NJ
Reviews
Cambridge Audio CXUHD Reviews
Average Customer Review(s):


Submit a review and then enter to win a $350 rewards card
Review this product
Thanks for submitting your review
Most reviews are processed and published within 5 business days. You will receive a confirmation email once your review has been published.
Customer photos
Pros:
Cons:
Crutchfield response
---
Details
Product Research
Disc & USB Compatibility
Video Section
Audio Section
Network & Bluetooth Connectivity
Remote & Convenience Features
Disc & USB Compatibility
Universal Disc Playback: The Cambridge Audio CXUHD's universal compatibility allows multiple disc formats to be played back including UHD Blu-ray, Blu-ray, 3D Blu-ray, DVD, DVD-Audio, SACD, and audio CD. The high-precision, balanced laser optical disc loader ensures smooth and reliable playback whichever disc you're playing. Its mechanism provides super-fast loading with error detection and correction.
| | |
| --- | --- |
| Disc Type | Disc Description |
| Blu-ray | UHD-BD, BD-ROM, BD-R, BD-RE, BD-3D |
| DVD | DVD-Video, DVD-Audio, DVD-R (DL), DVD-RW, DVD+R (DL), DVD+RW |
| CD | CD-Audio, SACD, CD-R, CD-RW, Kodak Picture CD |
Ultra HD Blu-Ray: Ultra HD Blu-ray provides these key features and advantages over standard Blu-ray.
4K Resolution: Ultra HD Blu-ray supports resolutions of up to 3840 x 2160 pixels. That's 4x as many pixels as Full HD televisions, and 27x as many pixels as Standard Definition televisions
Wider Color Gamut: Ultra HD Blu-ray can display over 75% of the visible color spectrum; this is known as "Wider Color Gamut". That's more than twice the color range of current HDTVs.
HDR (High Dynamic Range): Ultra HD Blu-ray also supports High Dynamic Range (HDR) video. Dynamic range is the difference between the brightest whites and the darkest blacks on screen. HDR means that scenes with high contrast can be shown with much greater clarity and detail.
Smooth, Realistic Motion: Ultra HD Blu-ray supports progressive frame rates of 24, 25, 50 and 60 frames a second, enabling smoother, more realistic motion.
Greater Capacity & Speed: Ultra HD Blu-ray Discs will be available in a dual layer 66 gigabyte disc and a triple layer 100 gigabyte disc. Ultra HD Blu-ray can stream video up to a maximum of 108/128 Mbps for 66Gb and 100Gb discs.
Backward Compatible: Ultra HD Blu-ray players will play all current Blu-ray Disc & DVD content. When connected to a current HDTV television, the player will output a standard HDTV signal. Ultra HD Blu-ray players will support existing Blu-ray media, as well as provide down conversion and HDR to SDR conversion functionality to match the connected television's capabilities.
Note: Like standard BD, Ultra HD Blu-ray discs use region codes. The region code on your disc must match the region code on your player, otherwise the disc will not play. This Blu-ray player is region A and DVD region 1. Blu-ray Disc uses the Advanced Access Content System (AACS) to prevent unauthorized recording of copyrighted material.
Firmware & Software Updates: As UHD Blu-ray technology continues to evolve, new disc types with enhanced functionality will become available. In order for you to enjoy this new functionality, you will likely be required to update the firmware in your player. Occasionally, Cambridge Audio may release new firmware for the purpose of additional features or product improvements. These firmware updates will become available for downloading from the Internet via a wired or wireless network connection. Check Cambridge Audio's website for the latest firmware & software updates.
Dual USB 3.0 Ports: With two USB 3.0 ports for media playback, the CXUHD is capable of playing a range of video, music and image files from USB thumbdrives and hard drives including HEVC, H.264, VP9 4K and Hi10P video (you can also add background music to a photo slideshow). Your USB mass storage class device should be formatted in FAT32, exFAT, or NTFS. The USB ports are rated to provide a maximum of 5V, 1A power to the attached device. This is usually sufficient enough to power USB flash drives and flash memory card readers, but may not be sufficient for all USB hard disks (may require external power).
Compatible Audio/Video/Photo Files: The Cambridge Audio UHD Blu-ray disc player supports playback of the following audio/video/photo files recorded on BD-R/RE, DVD+R/RW, DVD-R/RW, and CD-R/RW discs; plus compatible USB memory devices.
Supported Video Files: MPEG2, MPEG 2 HD, MPEG4, MPEG4 HD, AVC, VC-1, XVID, AVI, AVC, MKV (4.1), DAT, VOB, WMV, MOV, MP4, MPEG-PS, FLV, MTS, M2TS, M2T, M4V, QuickTime
Supported Photo Files: JPG, BMP, GIF, PNG
Supported Audio Files: AAC, WMA, MP3, APE, Ogg Vorbis, FLAC, WAV, DSD (64)
Video Section
High Precision Video: Using the latest technologies and Cambridge Audio's years of experience in quality home audio and cinema, the CXUHD player offers reference quality video playback. A customized quad-core video decoder (Mediatek) integrates Cambridge Audio's advanced video decoding, processing and optimization expertise. The CXUHD has been designed without DACs which will reduce noise within its digital signal path and result in improved audio and picture quality. The Onboard Mediatek chipset is focused on decoding and rendering the video image; passing Dolby and DTS audio signals through to an AVR, soundbar or TV of your choice. This ensures the entire power of the 64-bit quad-core Mediatek processor is used for image processing and giving you the very best 4K UHD viewing experience possible.
HDMI Connectivity: The Cambridge Audio CXUHD universal disc player is equipped with twin HDMI outputs (2.0a/1.4) and one HDMI 2.0a input.
Dual HDMI 2.0a Outputs: Two separate HDMI outputs are housed at the back of the CXUHD - a HDMI 2.0a port for connecting the latest 4K UHD TVs, projectors and AV receivers (carries both video and audio); plus a HDMI 1.4 audio port for connecting older AV receivers.
HDMI 2.0a Input: An HDMI 2.0a input supporting UHD resolution is included for users to connect external streaming devices such as Chromecast, Amazon Firesticks and Apple TV (all sold separately). This flexibility lets you choose from a wide range of streaming devices and services, all while taking advantage of the CXUHD's audio and video processing capabilities.
4K Ultra HD w/ Upscaling: The Cambridge Audio CXUHD supports the playback of 4K UHD Blu-Ray discs, playing video in resolutions up to 3840 x 2160, delivering 4x as many pixels as regular HD Blu-Ray. Other 4K media files are also supported for playback, utilizing HEVC H.265, H.264, VP9 4K and Hi10P video decoding for increased compatibility with user generated content. The CXUHD is also capable of upscaling lower resolution content (including standard and high definition) up to 4K. You can also down-scale 4K content to a lower resolution if you have an older TV that only supports 1080p, 1080i, 720p, 480p, or 480i.
HDR (High Dynamic Range): HDR or High Dynamic Range refers to an image that displays far greater contrast than regular images (Standard Dynamic Range, or SDR). The dynamic range of an image is the difference between its brightest and darkest areas. The higher this range, the higher the amount of available colors, and levels of detail, on screen. The Cambridge Audio CXUHD supports HDR (High Dynamic Range), expanding the range of contrast and brightness for advanced and expanded colors. It has been professionally calibrated to optimize the dynamic range between blacks and whites along with delivering natural colors and filmic fluidity. The CXUHD is compatible with HDR10 and Dolby Vision , as well as provides down-conversion for older SDR (Standard Dynamic Range) TVs, projectors, and displays.
HDR10: HDR10 is an open standard and currently the most popular HDR format on the market. It supports 10-bit color with over 1 billion colors and 1,000 nits for exceptional color detail, high brightness levels, and dynamic contrast. HDR10 uses static metadata at the start of a movie to tell the your TV and AV receiver that the video content is encoded using HDR (High Dynamic Range). To properly display an HDR10 image, a TV must be able to deliver a minimum of 1,000 nits.
Dolby Vision: Dolby Vision is a more advanced format of HDR - the process of implementation flows from initial content creation, through to mastering and then, finally, to the viewing experience at home. Dolby Vision carries an extra layer of clever metadata that contains frame-by-frame instructions to ensure the content is portrayed as accurately as possible. Dolby Vision compatible TVs use this frame-by-frame information from the source to improve brightness, contrast and color performance. Dolby Vision content is mastered in up to 12-bit color depth and around 4,000 nits for use on 4K/HDR compatible TVs - adding a lot of color depth and brightness to the screen, offering access to over 68 billion colors. Dolby Vision can even be mastered up to 10,000 nits, but there isn't a TV that can currently support this (however, this does mean the format is future proofed for when displays are at a level to support it).
SDR Conversion: You can set the player to convert HDR video to SDR if you have an older TV that doesn't support high dynamic range video. You can optimize the HDR to SDR conversion by setting the target luminance (60-1600 nits) to match your TV or projector.
Note: It is recommended to use an 18 Gbps Premium High-Speed HDMI cable to watch 4K UHD/HDR movies.
Source Direct Mode: For users who wish to use an external video processor, high-end audio/video receiver or display, the CXUHD offers a "Source Direct" mode. The original audio/video content on the discs is sent out with no additional processing or alteration. The actual output resolution varies by content -
| | |
| --- | --- |
| Content | Source Direct Output Resolution |
| NTSC DVD | 480i |
| PAL DVD | 576i |
| Most Blu-ray Movies (film source) | Ultra HD (4K) 23.976Hz or Ultra HD (4K) 24Hz 1080p 23.976Hz or 1080p 24Hz |
| Most Blu-ray TV shows or Concerts (video-source) | 1080i |
| SACD and DVD-Audio | 1080p |
1080p/24p Playback: Many standard Blu-ray Discs are recorded at 24 frames-per-second (fps), the same frame rate as the original movie's theatrical release. The CXUHD can faithfully redeliver the original frames using 1080p 24Hz output (compatible display required) for smoother motion and a flicker-free, film-like home theater experience. DVD 24P Conversion allows you to enable 24Hz frame rate conversion for DVD for smoother motion picture experience.
3D-Video w/ 2D-to-3D Conversion: The Cambridge Audio CXUHD lets you enjoy 3D Blu-ray disc movies in full HD 1080p (not compatible with 4K). 3D viewing requires compatible 3D content, 3D-ready HDTV, and 3D glasses. You can even convert 2D video to 3D video with customized depth perspective.
Picture Adjustment: You can fine-tune the universal disc player's brightness, contrast, hue, saturation, sharpness, & noise reduction. You can create and store up to 3 picture setting modes to suit a variety of viewing conditions and content types.
Bonus View: The Bonus View feature provides picture-in-picture capability with select Blu-ray Disc titles. You can view addition content (such as director/actor commentary) in a small display window while the movie is playing.
Audio Section
Digital Audio Pass-Through: The CXUHD has been designed without DACs which will reduce noise within its digital signal path and result in improved audio and picture quality. The Onboard Mediatek chipset is focused on decoding and rendering the video image; passing Dolby and DTS audio signals through to an AVR, soundbar or TV of your choice. With internal pass-through of Dolby TrueHD and DTS-HD Master Audio, and bitstream pass-through for object-based immersive audio formats such as Dolby Atmos and DTS:X, the CXUHD supports amazing sound whether it's for the latest blockbuster movie soundtrack or your favorite music album.
Note: The CXUHD does not offer built-in Dolby Digital or DTS decoders; your AV receiver will need to have built-in decoder to do the audio processing.
HDMI Audio Pass-Through: The CXUHD will pass through the following audio formats via the HDMI - up to 7.1ch/192kHz PCM, Dolby Atmos, DTS:X, Dolby TrueHD, DTS Master Audio HD, Dolby Digital, DTS, and DSD (2.8MHz).
Optical & Coaxial Digital Outputs: Coaxial and optical digital audio outputs provide backward compatibility with any older audio components you might have in your system that do not feature HDMI connectivity. The CXUHD will send an un-decoded audio bitstream to your AV Receiver for decoding into 5.1ch or 7.1ch, up to 192kHz (not compatible with Dolby Atmos or DTS:X).
ARC (Audio Return Channel): Audio Return Channel (ARC) is a feature which allows you to send digital audio signals from the television back to the player or receiver. Instead of listening through TV speakers, ARC allows the sound to be processed and produced by the home theater audio system.
Pure Audio Mode: You can enjoy higher quality music audio by turning off the video processing and output. The Pure Audio mode reduces any potential interference between the video and audio signals. Because HDMI carries audio together with video, the HDMI video signal cannot be completely turned off. A black screen is transmitted instead to minimize any potential interference.
A/V Sync: A/V Sync allows you to add a slight delay to the audio so it is synchronized to the video. The delay can be adjusted in 10ms steps and within the range of -100ms to +200ms. The delayed time will be applied to all output terminals.
Network & Bluetooth Connectivity
Wired or Wireless Network Connectivity: You can use the Built-in 802.11ac WiFi or Gigabit Ethernet (RJ45) port to connect the universal disc player to your home network, giving you easy access to media files stored on computers, laptops, NAS Drives and home servers; as well a BD Live content.
Network Media Playback: The Cambridge Audio CXUHD can remotely playback music, photos, and video files stored on UPnP and DLNA compatible media devices that are connected to the same home network. The CXUHD can be used as a Digital Media Player (DMP) or Digital Media Renderer (DMR), as well as used to access SMB/CIFS Clients.
Digital Media Player (DMP): The CXUHD can actively search, access, and pull content from media servers on your network.
Digital Media Renderer (DMR): The CXUHD plays content received ('pushed') from a digital media controller (DMC). A DMC-capable UPNP/ DLNA media server is required. Plus the control APP you wish to use which must be connected to the same network as the server and CXUHD.
SMB/CIFS Client: The player can directly access files shared by computers through SMB/CIFS clients over the network, as if accessing a local USB hard drive. Most computers especially those installed with Windows, already have an SMB client embedded.
Note: Compatibility with local network sharing hardware/software is on a best effort basis with no guarantee, due to variations in NAS devices, media servers and their configurations.
Compatible Media Files: The Cambridge Audio CXUHD supports the following media files via its network connection.
Supported Video Files: MPEG2, MPEG 2 HD, MPEG4, MPEG4 HD, AVC, VC-1, XVID, AVI, AVC, MKV (4.1), DAT, VOB, WMV, MOV, MP4, MPEG-PS, FLV, MTS, M2TS, M2T, M4V, QuickTime
Supported Photo Files: JPG, BMP, GIF, PNG
Supported Audio Files: AAC, WMA, MP3, APE, Ogg Vorbis, FLAC, WAV, DSD (64)
BD Live: The CXUHD supports the BD-Live feature offered on some Blu-ray Disc titles. BD-Live offers extra downloadable content and additional online interactive programs. The available BD-Live content varies by disc and studios, and may include additional subtitles, commentaries, movie trailers, games, and/or online chat. The player must be connected to your home's wired or wireless network with Internet access.
Remote & Convenience Features
Start Up & Playback Time: The Cambridge Audio CXUHD universal disc player has a Start Up time of approximately 9.3 seconds and a Playback time of approximately 23.7 seconds. The Start Up/Playback Time tests were started with the player initially turned off and in standby mode. The Start Up Time test was stopped when the player's Home Menu screen appeared. The Playback Time test was stopped when the UHD Blu-ray disc began playback.
Remote Control: The Cambridge Audio CXUHD includes an IR remote control for wireless operation of the universal disc player and volume control of Cambridge Audio CX series integrated amplifiers and receivers. HDMI-CEC compatibility simplifies your home theater by allowing a single remote control to operate multiple components through a HDMI connection. This full-backlit remote features an intuitive button layout with clear labeling. The CXUHD can be turned on or off from its 5-12V DC trigger input (3.5mm), while a 5-12V DC trigger output (3.5mm) can be used to turn on or off another component. The CXUHD also has a RS232 control port and can be integrated into most custom home theater control systems.
Resume Playback: The player automatically remembers the current position for a disc when playback is interrupted. Operations such as Open/Eject or turning Power off will cause the player to save the current playing position for that disc. The position is memorized even after turning off the unit or changing the disc. When the next time the same disc is played back, the player will recognize the saved playing position. Playback will automatically resume from this saved position. However if you wish to cancel the automatic resume and start playback from the beginning, you may press the "Stop" button when prompted. The player can remember playback position for up to five discs. When the sixth disc is memorized, the oldest one is replaced.
Note: Some Blu-ray discs do not support resuming and will always play from the beginning.
Gapless Playback: Gapless playback is supported with WAV files via USB or via disc on the CXUHD. The Gapless playback feature on the CXUHD is not supported over UPnP (network).
Parental Control: Parental Control allows you to set a rating limit based on the age of the viewer, preventing your children from viewing inappropriate material. Playback will stop if the ratings exceed the level you set, and it will require you to enter a 4-digit password before the disc will play back.
Auto Power Off & Sleep Timer: The universal disc player will automatically shut down after 30, 45, 60, 90, or 120 minutes of inactivity. This can help to reduce power consumption and increase player life. The player also has a Sleep Timer that can be set to 30, 45, 60, 90, or 120 minutes.
Our Product Research Team
At Crutchfield, you'll get detailed, accurate information that's hard to find elsewhere. That's because we have our own in-house Product Research team. They verify what's in the box, check the owner's manual, and record dimensions, features and specs. We stay on top of new products and technologies to help people make informed choices.
Q & A
Customer Q&A
Crutchfield asked


Why did you buy this?
I just bought a 4k TV and need a quality player to watch movies. This is a modified oppo udp-203 without any digital to analog converters. It should be a excellent universal player.

[ Pedro Sep 24, 2018 ]
Quality product.

[ JEFFREY Sep 21, 2018 ]
Built on the same platform as the OPPO BDP-203 and has no DAC or unnecessary streaming apps. Got to get one while it lasts!

[ Steven Sep 19, 2018 ]
review from sound and vision magazine

[ Kenneth Sep 10, 2018 ]
read the reviews on cambridge wed site took a chance

[ MIHAEL Aug 05, 2018 ]
bought this because the player I really wanted, Oppo 203, was no longer being made. And this player is based on the Oppo's innards so next best thing.

[ Ralph Jul 20, 2018 ]
Was planning on buying an Oppo D-203 but they stopped manufacturing in April 2018. Heard this was the best alternative - reviews look good.

[ Kevin Jul 17, 2018 ]
Excellent design and performance reviews as well as nice styling blend with my Cambridge AV amplifier.

[ WILLIAM Jun 23, 2018 ]
Reputed high quality of item.

[ J Jun 16, 2018 ]
Couldn't get the OPPO UDP-203 this player is based on.

[ Peter May 26, 2018 ]
Because Oppo is no longer in business and this shares same platform :)

[ Manoj Raj Apr 30, 2018 ]
better than discontinued oppo

[ Milan Apr 27, 2018 ]
1 question already asked
In the United States, we have 110 volt A/C outlets. Also, you would need the same region codes the United States has to play Blu-ray, 4k and DVD video.

[ Darrell Sep 26, 2018 ]
I have no idea if it works in India. I would recommend going to the Cambridge Audio web page and just ask them. That way you get the answer from the manufacturer.

[ WILLIAM J Sep 25, 2018 ]
That depends. The unit is region specific in regards to disc playback. The unit I purchased plays region 1 discs , or those designed to be played in North America. This may be a good question for Cambridge Audio directly - I would reach out to them in England or see if someone here at Crutchfield is in direct contact with them. Also , forgive my ignorance , what is the power source for India- 110 or 220 for the home ?

[ OWEN Sep 25, 2018 ]
The labeling on mine is for region code A for bd and region 1 for DVD ... so, no, my guess is that will not play Indian blu rays or dvds

[ Gene Sep 25, 2018 ]