In this article: we'll answer a few key questions about the 3D sound technology DTS Virtual:X...
What if I told you that you could experience immersive home theater sound in almost any room in your house without a ton of equipment? Sounds too good to be true, right? Well, maybe not, because sound bars with DTS Virtual:X are designed to do just that.
What is DTS Virtual:X?
DTS Virtual:X is an audio technology designed to enhance the sound provided by relatively small, affordable sound systems, like a two- or three-channel sound bar. It does this primarily through surround sound virtualization. Basically, DTS Virtual:X simulates the effects of surround sound without all of its usual requirements.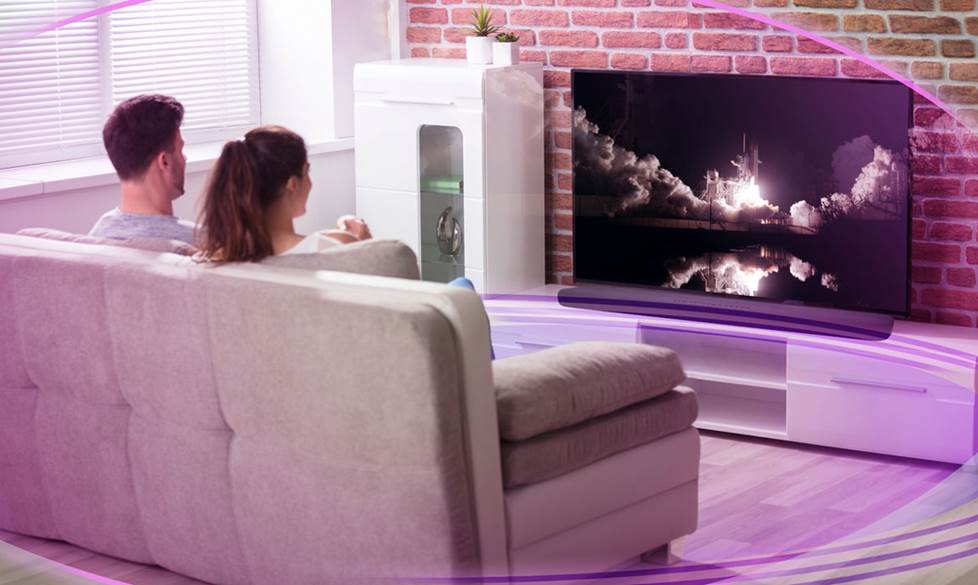 DTS Virtual:X is a flexible, cost-effective audio technology that simulates surround sound for a more compelling movie night.
Saying that DTS Virtual:X simulates surround sound is all well and good, but...what does that mean or actually sound like? Well, if you're watching TV or playing a video game you should be able to better place "where" sound seems to be coming from. This creates a more immersive listening experience and helps you feel closer to the action onscreen.
Maybe the main benefit of DTS Virtual:X, though, is that it can be used in almost any space and with fewer equipment requirements. A single affordable sound bar can deliver a surprisingly immersive soundstage. A true surround sound system will still outperform a sound bar relying on DTS Virtual:X, of course, but you can get much closer to an immersive home theater experience than you otherwise could at a similar price point.
How does DTS Virtual:X work?
DTS Virtual:X operates by using clever sound processing to take advantage of the science of psychoacoustics. "Psychacoustics" is a fancy word to describe techniques engineered to trick your brain into believing it's hearing sound coming from different directions. This creates the impression of a three-dimensional soundscape.
These techniques are as subtle as they are effective. Little details like the trickling rhythm of falling rain can help fill your listening space and pull you into a scene — making you feel as if you're standing in the rain with the other characters onscreen.
A traditional home theater system requires you to place speakers in different locations around your room. Rear-channel speakers, for instance, need to be positioned behind you and height-channel speakers need to be placed high up on a wall or above you in the ceiling.
In the same vein, multichannel sound bars with lots of precisely aimed drivers rely on bouncing sound off your walls or ceiling to create surround or height effects. Sound reflections like this can vary in effectiveness depending on your space. High or vaulted ceilings are particularly challenging for sound bars of this type.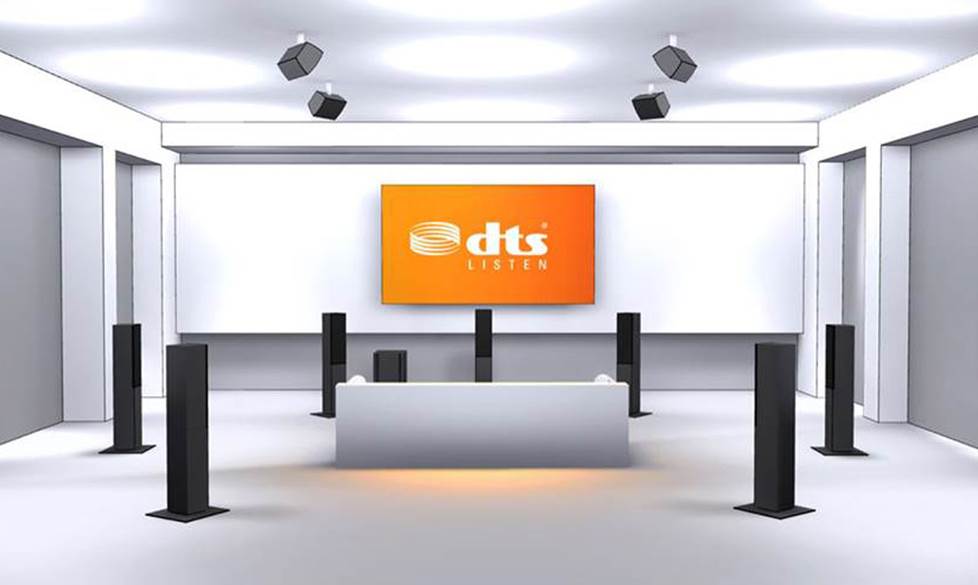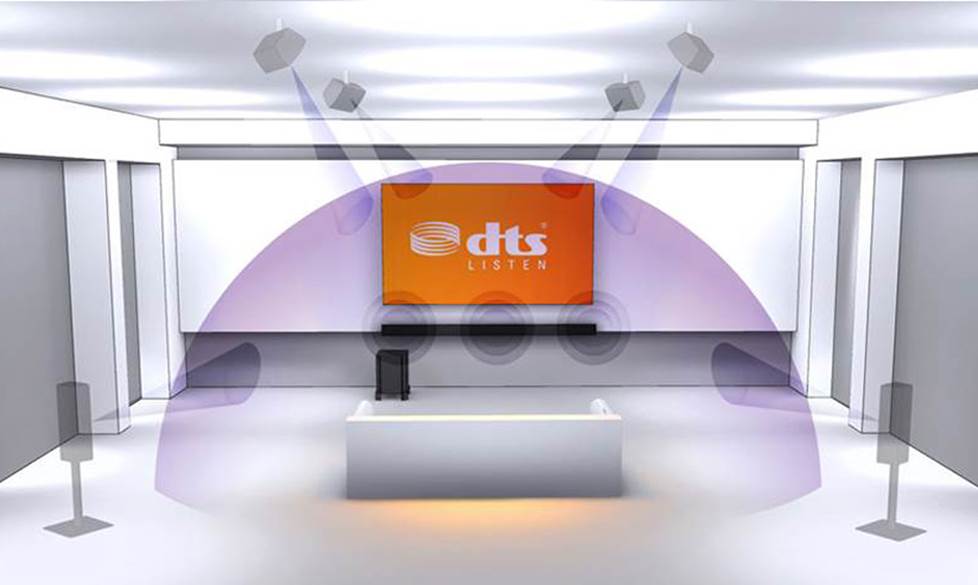 DTS Virtual:X doesn't rely on either of these approaches. This technology is designed to be used with a flexible number of speakers (at least two, the minimum of drivers built into a sound bar) in a range of acoustic environments and positions.
You don't need speakers behind you, above you, or speakers pointed up or at an angle. Instead, DTS Virtual:X utilizes timing, timbre, and harmonics to create 3D sound with speakers placed almost anywhere.
By adjusting the frequency of certain sounds and intentionally creating audio delays, DTS Virtual:X prompts a listener's brain to "fill in" other sounds that it expects to be there, but aren't. This can make the soundstage produced by speakers open up and seem more expansive. It can also extend low-end frequencies to help with spatial cues. This helps because our brains often rely on low-frequency sound cues to estimate distance.
DTS Virtual:X feels like it heightens, widens, and deepens your soundstage. This means your audio doesn't sound like it's all just coming from straight ahead. The expanded soundstage lets sound effects move across your space so they seem to be coming from the side or above you. This brings out details like the tires of a car screeching from one side of the room to another or the whoop whoop of a helicopter passing above.
But that's not all DTS Virtual:X does. It also boosts your dialogue and bass response. It's nearly impossible to follow the plot of a movie or TV show without being able to hear what the characters are saying. But voices are often the first thing lost in the sound mix. DTS Virtual:X boosts voices so they come through clearly.
With stronger bass frequencies, you also feel more impact when the action kicks off — without sacrificing the detail and clarity of the rest of your sound.
Where can I get DTS Virtual:X?
DTS has partnered with several manufacturers to produce gear compatible with their sound virtualization technology, including Yamaha, LG, Samsung, Denon, and Onkyo. One of the simplest ways to take advantage of this tech is to pick up a sound bar that supports DTS Virtual:X, which is why we've focused on sound bars for much of this article. But you can also pick up a home theater receiver that supports DTS Virtual:X.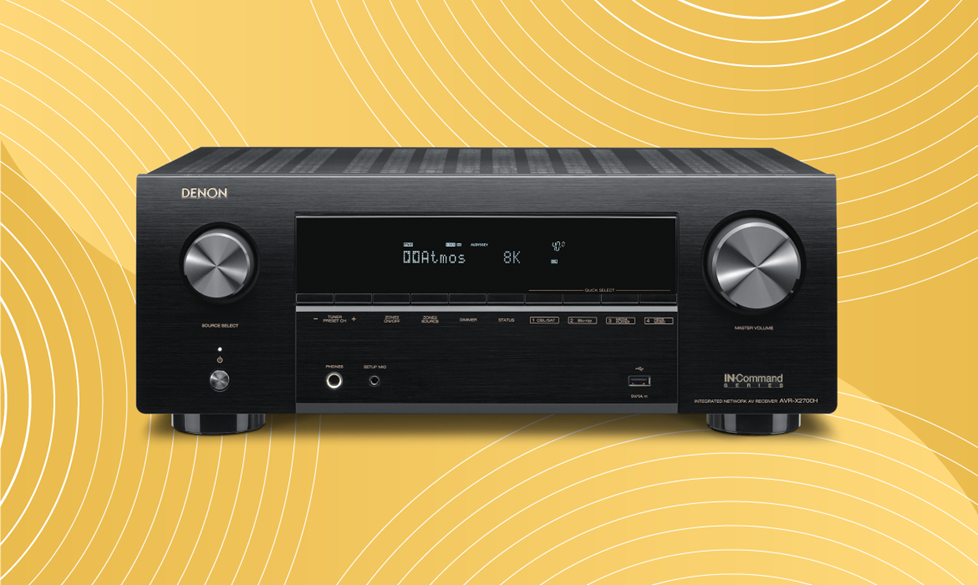 DTS Virtual:X isn't just for sound bars — compatible home theater receivers can benefit from its surround sound simulation for 2.1, 3.1, or even 5.1 set ups.
Home theater receivers with DTS Virtual:X let you benefit from 3D sound with a smaller sound system that uses traditional home speakers. DTS Virtual:X can work with almost any system, as long as you have at least two speakers. So, if you have an otherwise basic 2.1 or 3.1 setup, it will widen and heighten your sound the same way it does with a sound bar.
DTS Virtual:X can even improve a true 5.1 surround sound system by simulating height effects. Basically, if you have a receiver-based system that lacks either surround or height speakers, you can benefit from an expanded soundstage with DTS Virtual:X.
Get in touch!
We carry a range of sound bars and home theater receivers that support DTS Virtual:X. If you need help finding the right one for you, don't hesitate to get in touch with one of our friendly Advisors.
Free lifetime tech support is included with your Crutchfield purchase.