Want tunes flowing throughout your home, not spools of speaker wire?
There are lots of wireless whole-home music choices out there. But DTS Play-Fi gives you a lot of flexibility when choosing speakers for each room.
Mix and match speaker brands
Play-Fi lets you stream music room to room through different wireless speakers, sound bars, and components — and it isn't tied to a specific brand. Many of our favorite speaker brands are in on Play-Fi. You can pick and choose products from any of them.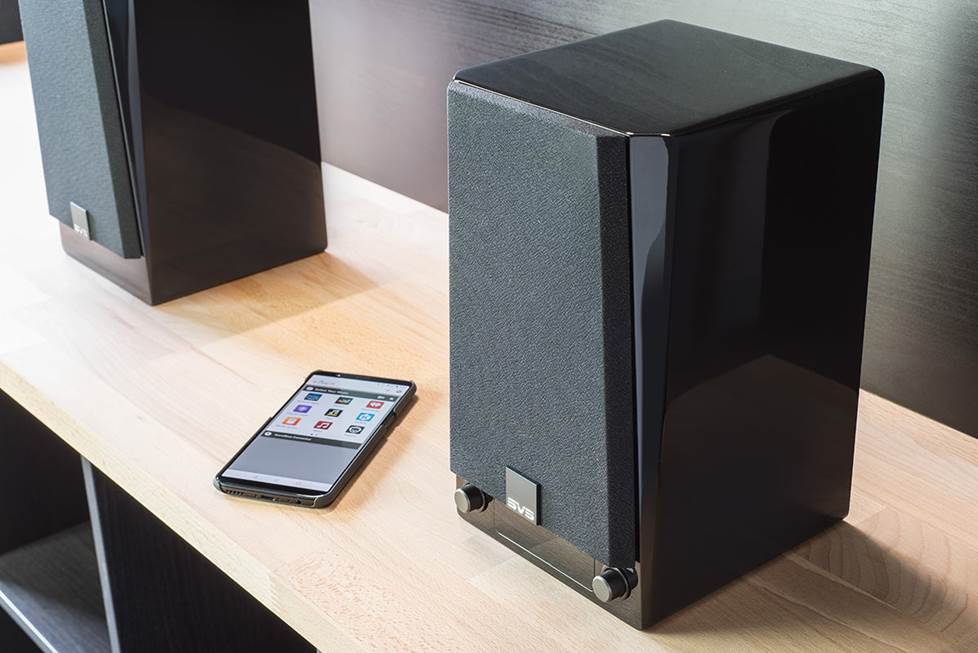 You can connect a turntable with a phono preamp to the SVS Prime Wireless Speaker System. Then as the LP plays, stream the sound to other rooms via Play-Fi.
Toggle between your top-flight home theater speakers, a sweet-sounding sound bar in the family room, and a compact powered speaker in your kid's room. Play-Fi takes care of the streaming technology — letting the speaker manufacturers focus on producing great sound.
Play-Fi works over your high-speed Internet connection and home Wi-Fi network. You'll need Play-Fi compatible wireless speakers or components, and a smartphone, tablet, or PC to control the system.
Play tunes and control speakers with your phone or tablet
You'll also need the Play-Fi app. It's a free download for Android, iOS, Kindle Fire, and Windows devices. The app lets you select songs and playlists from your music library. Or search through supported music services like Pandora®, TIDAL, SIRIUS XM, and various internet radio stations. If you have a Spotify® premium account, you can also use Spotify Connect on Play-Fi speakers or components.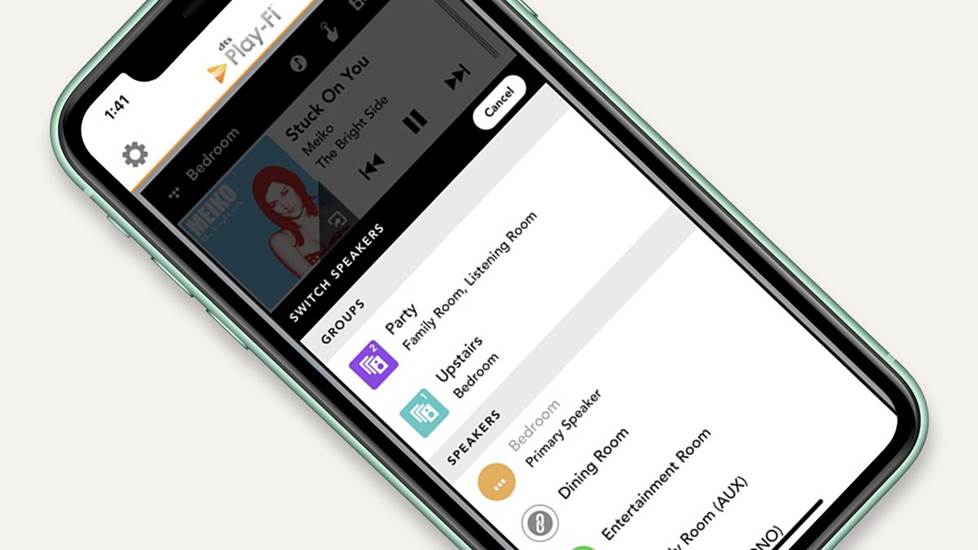 The Play-Fi app guides you through the simple setup process and allows you to control the speakers wirelessly.
Choose whether you want to hear the same song through a group of speakers or you want different songs playing on different speakers. You can also assign names to each speaker so you can easily identify them in the app.
Critical Listening Mode for high-res audio
High-performance speakers and components with Play-Fi built in offer something extra for music lovers. You can activate the Critical Listening Mode in the app and enjoy high-resolution audio without downsampling.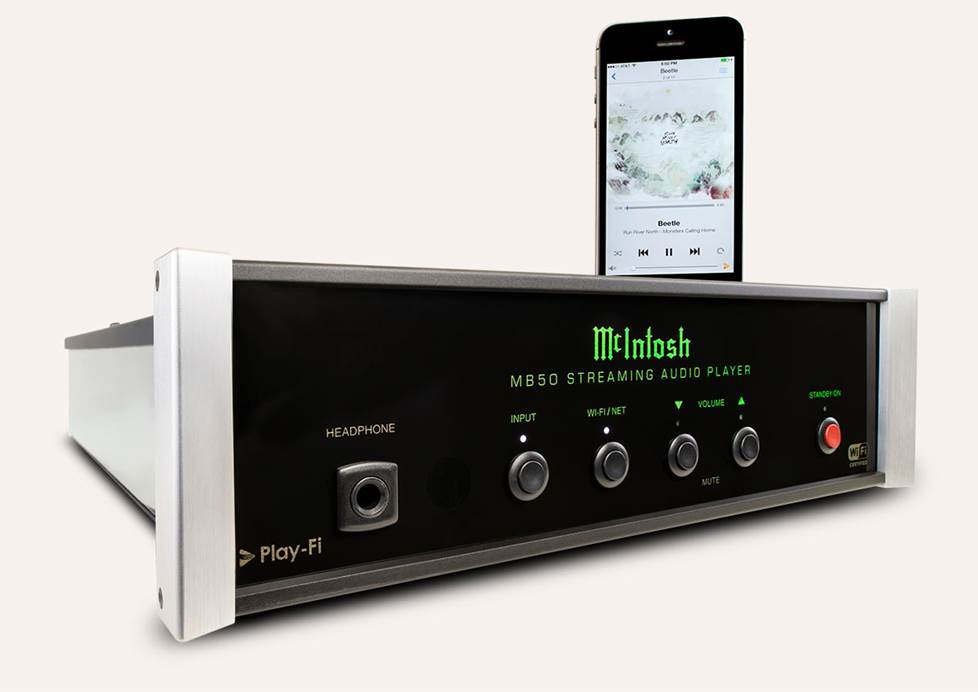 The McIntosh MB50 wireless audio streamer lets you stream high-quality audio from home audio systems and components without built-in Wi-Fi.
Devices like the McIntosh RS100 let you stream files up to 24-bit/192kHz without compression. If you subscribe to a high-res service such as Qobuz or TIDAL Masters, you can hear your music with all its detail
Compatible with Amazon Alexa
Some Play-Fi speakers and components are also compatible with Amazon Alexa voice control. If you're an Amazon Prime member, simply connect an Alexa-enabled device – such as an Amazon Echo – to a compatible Play-Fi speaker or component. The microphones from the Amazon device pick up your voice and translate your commands to the Play-Fi system.
You can tell your Play-Fi speaker what to play, to skip or pause the track, and adjust its volume all with voice commands. You can even tell the system which room you want the music to play in, and use the Play-Fi app to group rooms together to play the same song you selected through Alexa.
How does DTS Play-Fi differ from other multi-room systems?
DTS Play-Fi vs. Apple® Airplay® 2
Like Play-Fi, Apple Airplay 2 lets you stream higher-resolution audio. And you can have different brands of AirPlay 2 compatible speakers and components in the same multi-room audio system. The primary difference is that Apple Airplay 2 is exclusively iOS, so you can only use it with an iPhone®, iPad® or computer running iTunes®. To get the most out of AirPlay 2, you should also subscribe to Apple Music®, another iOS device exclusive.
DTS Play-Fi vs. Sonos
The Sonos ecosystem is the most popular of the multi-room wireless audio options. In such a system, you're limited to Sonos powered speakers. Play-Fi offers several brands of compatible powered speakers.
You can bring other brands of receivers and passive speakers into the Sonos ecosystem with a Sonos Amp, and Play-Fi offers similar solutions. Both Sonos and Play-Fi stream at 16-bit/48 kHz (equivalent to CD quality). Play-Fi in Critical Listening mode streams at a much higher 24-bit/192 kHz, which avoids downsampling WAV, FLAC, and other high-resolution audio files.
DTS Play-Fi vs. Google Chromecast
Google Chromecast, like DTS Play-Fi, is built into many brands of wireless speakers, receivers, and components. It can stream audio up to 24-bit/96 kHz, which is better than CD-quality sound. In Critical Listening mode, DTS Play-Fi streams at 24-bit/192 kHz. This means Play-Fi can stream at a much higher sampling rate, delivering more sonic detail more accurately.
One more thing — many companies are including multiple streaming technologies in their devices. You can find systems that support both DTS Play-Fi and Chromecast, as well as DTS-Play Fi and Apple Airplay 2. This doesn't mean you can combine the two systems. But it does mean you can use the same speaker in both wireless systems (just not at the same time).
Need help choosing?
There are a variety of Play-Fi products available, offered by different companies. So enjoy mixing and matching to create an optimal multi-room audio system for your home. And if you need any help deciding, don't hesitate to reach out to our expert advisors. Contact us today.