2003-2004 Mercury Marauder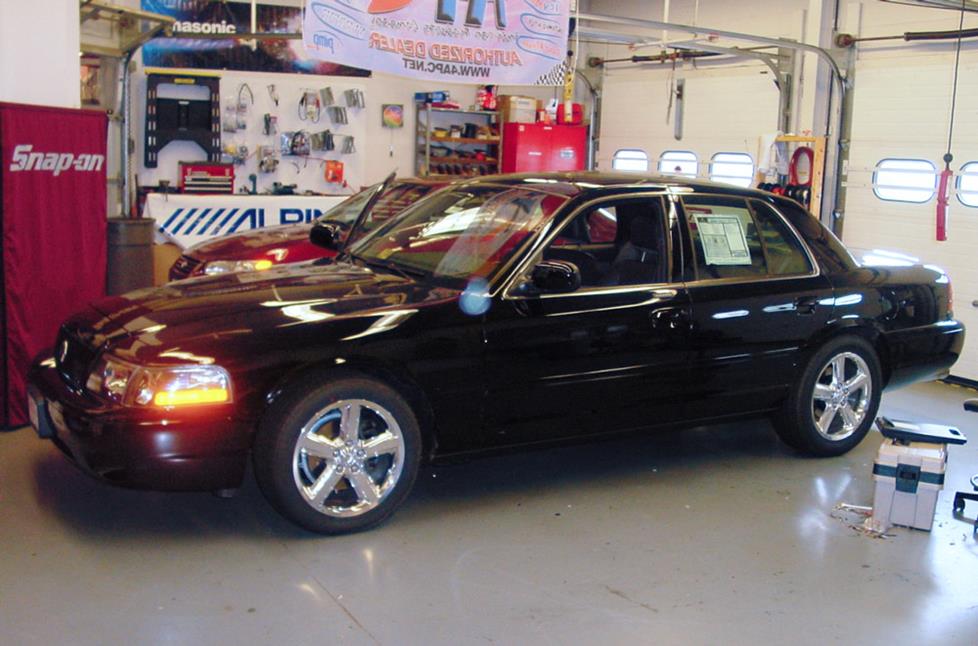 In a Nutshell
The Marauder is a sleek, subtle hot rod with plenty of power and pretty remarkable handling for a car this large. The factory stereo was standard-issue Ford with a factory amp and subwoofer, so you can do better. In this article, we'll discuss how to install new car audio gear in your Marauder.
Installing a new receiver is easy. Big screen receivers and even retractable screens won't work, but you'll have lots of single-DIN (2") receivers to choose from.
A wide range of 6"x8" or 5-1/4" speakers will fit the front and rear doors, and in a vehicle of this age, the stock speakers really need to be replaced. Replacing the stereo should come first, but the speakers should be your next move.
Full Story
Overview of the Mercury Marauder
Oh, to have been a Big Three engineer during the height of the muscle car era. Go to work, grab some coffee, and get busy figuring out new ways to transform sleepy suburban cruisers into tire-melting monsters. Not a bad way to spend the day.
Those days are long gone, of course, but the idea of shoving a big motor into a cheap car for the engineering (and marketing) fun of it never really went away.
Such is the case with the Mercury Marauder. No one really needed a gargantuan sedan that handled like a sports coupe, but Mercury built it anyway. The Marauder is an early-aughts take on the muscle car concept — big, fast, responsive, mean-looking, and kind of rare. With all that going for it, it doesn't have to make sense to everybody. You get it or you don't.
If you're still driving and enjoying your Marauder, good for you. If you're planning to upgrade the stereo, that's even better. There are plenty of ways to boost your sound without making permanent modifications to what's rapidly becoming a collectable car.
This article is an overview of your vehicle's audio system and its upgrade options. If you're looking for step-by-step instructions on how to install a car stereo or speakers in your Marauder, there's nothing better than our exclusive Crutchfield MasterSheet™. This detailed, well-illustrated document is free with your Crutchfield order, or you can purchase one separately for $9.99.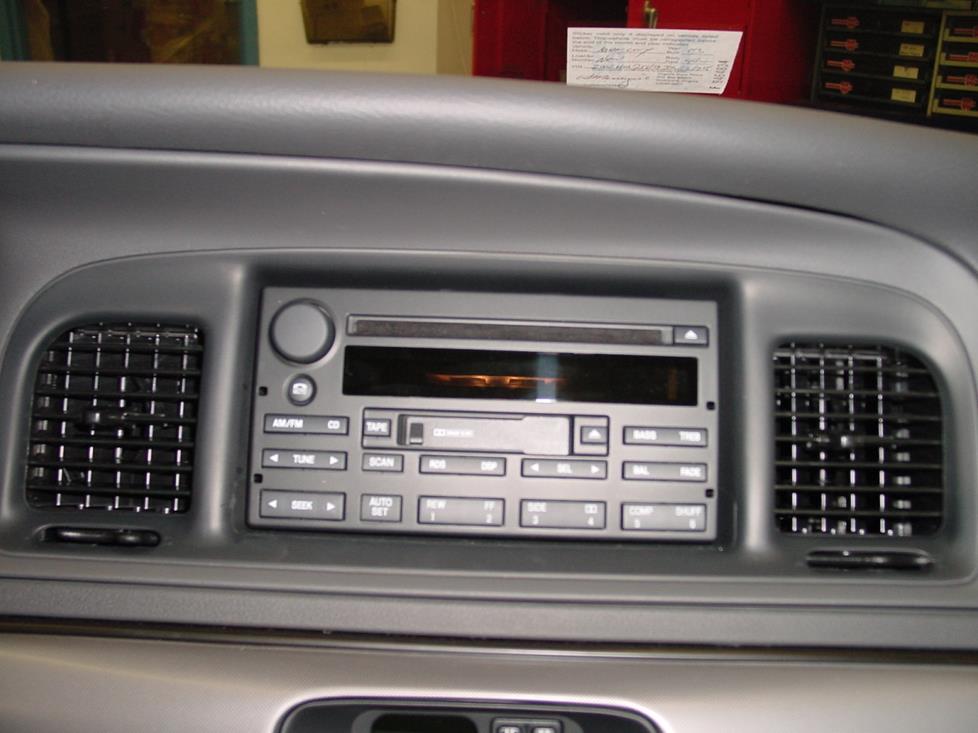 The Marauder's factory radio is nothing fancy (Crutchfield Research Photo)
Factory stereo system
The Marauder was equipped with the same basic AM/FM/CD/Cassette receiver found in almost every Crown Vic or Grand Marquis ever made, but this big Mercury has a 6-3/4" subwoofer in the trunk for a little more thump. Everything on the Marauder is easy to reach and replace, plus you won't have to subject the car to drilling and damage.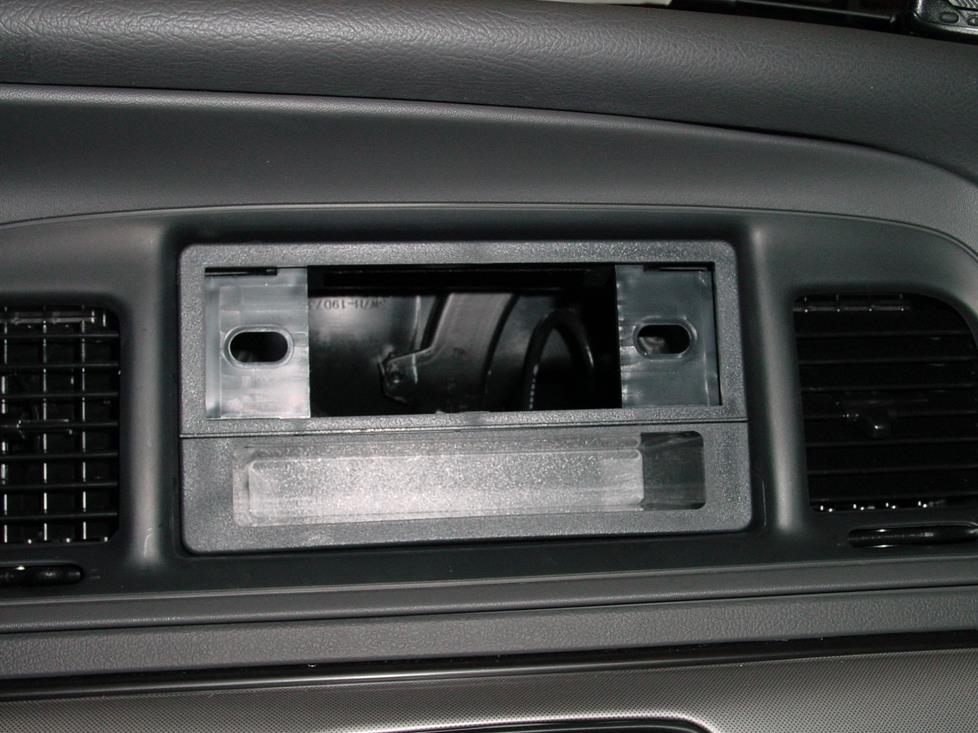 This mounting bracket is included at a nice discount with your Crutchfield order (Crutchfield Research Photo)
Replacing your factory radio
You have a lot of choices for a replacement stereo. Nearly any single DIN (2" tall) stereo will fit in the Marauder's dash, but because of the dash configuration, stereos with flip-out retractable monitors are not a good option. The dash overhang above the radio gets in the way.
To remove the factory receiver, you'll need to use the metal DIN tools that are included with your stereo purchase. Insert the tools approximately one inch into the holes in each side of the radio until you hear a click from each side. Be gentle during this process, because excessive force will damage the retaining clips. Once you've heard the magic click, spread the tools apart slightly, pull out the radio, disconnect the wiring harnesses, unplug the antenna and remove the radio.
That's the old radio out. Now it's time to prep the new stereo. The first step in this process involves attaching the new receiver to the mounting kit that's included at a deep discount with your Crutchfield stereo purchase. Next, connect your Crutchfield wiring adapter (also discounted!) to the receiver, following the instructions included with the adapter.
In order to make the new stereo work with the factory system, you'll also need to install a 12-volt to 5-volt converter. Otherwise, you'll hear an annoying (and potentially damaging) "pop" from the factory subwoofer every time the new stereo turns on.
Hold the receiver assembly near the dash and connect the receiver wiring adapter to the factory harness. Plug the antenna lead into the back of the receiver, then slide the whole assembly into the dash until it snaps into place. Test receiver operation, then snap the DIN trim ring into place.
Tools needed: DIN tools
Steering wheel audio controls
If you want to keep the steering wheel audio controls in your Marauder, we offer adapters from either PAC or Axxess. When you enter your vehicle information and choose your new stereo, you'll be directed to the right model.
Shop for car stereos that fit your Mercury Marauder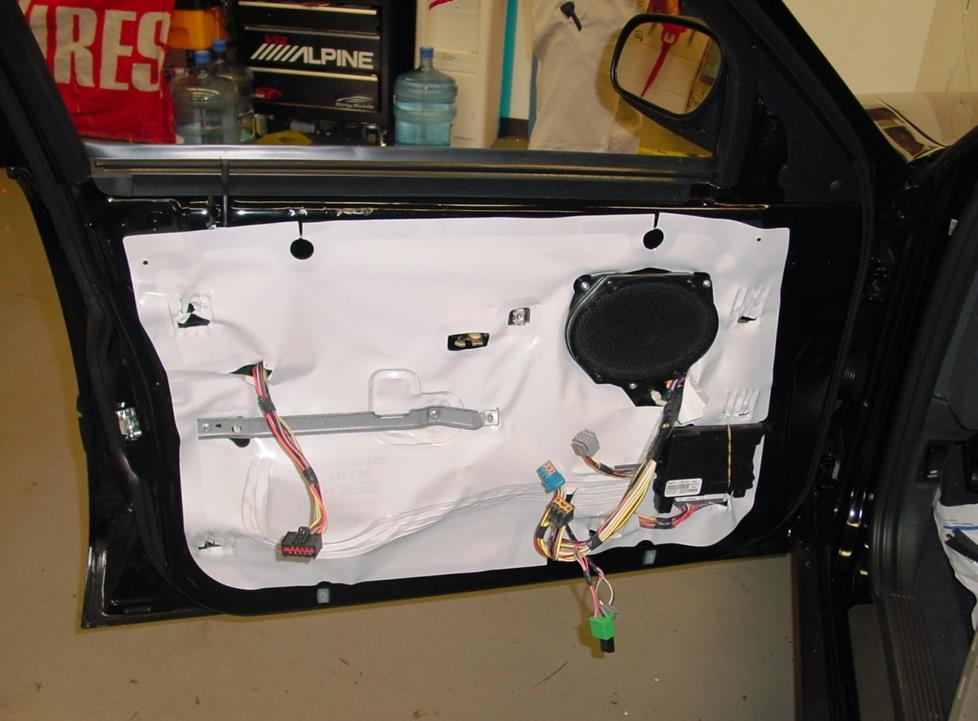 You'll need to remove the door panels to access the front speakers (Crutchfield Research Photo)
Replacing your factory speakers
With the exception of the subwoofer, the Marauder's speaker system is basically the same stuff you'd find in a Crown Vic or Grand Marquis. In other words, it's really not that impressive.
Installing front door speakers
The stock front speakers on all Marauders were Ford's 6"x8" models. You can replace them with the same size or 5-1/4" speakers. You'll need a mounting bracket for the smaller ones, and it's included at a deep discount with your Crutchfield speaker purchase.
Again, the process is relatively uncomplicated. You'll start by prying out the top edge of the sail panel to release the retaining clip. Lift the panel and remove it, but take good care of it, because this is an excellent spot for a tweeter if you're installing component speakers.
Moving down the door, pry off the screw cover in the door release assembly and remove the exposed Torx T30 screw. Next, pry around the front and side edges of the power options switch panel to release it, then lift it and pull it toward the front of vehicle. This will give you the space to disconnect the wiring harnesses and remove the panel. Underneath the panel is a 7mm screw, which you'll also need to remove.
Next, remove two 7mm screws from the bottom edge of the door panel, then lift the panel out a bit, disconnect the wiring harnesses, and store the panel in a safe, dust-free place.
The factory speaker is secured by four 5mm screws. Remove them, disconnect the speaker, then connect the new speaker's wiring adapter to the car's speaker harness and secure it using the screws you just removed. Be sure the speaker is working before you put the door back together.
Tools needed: Panel tool, Torx T30 driver, 5mm and 7mm sockets, ratchet and extension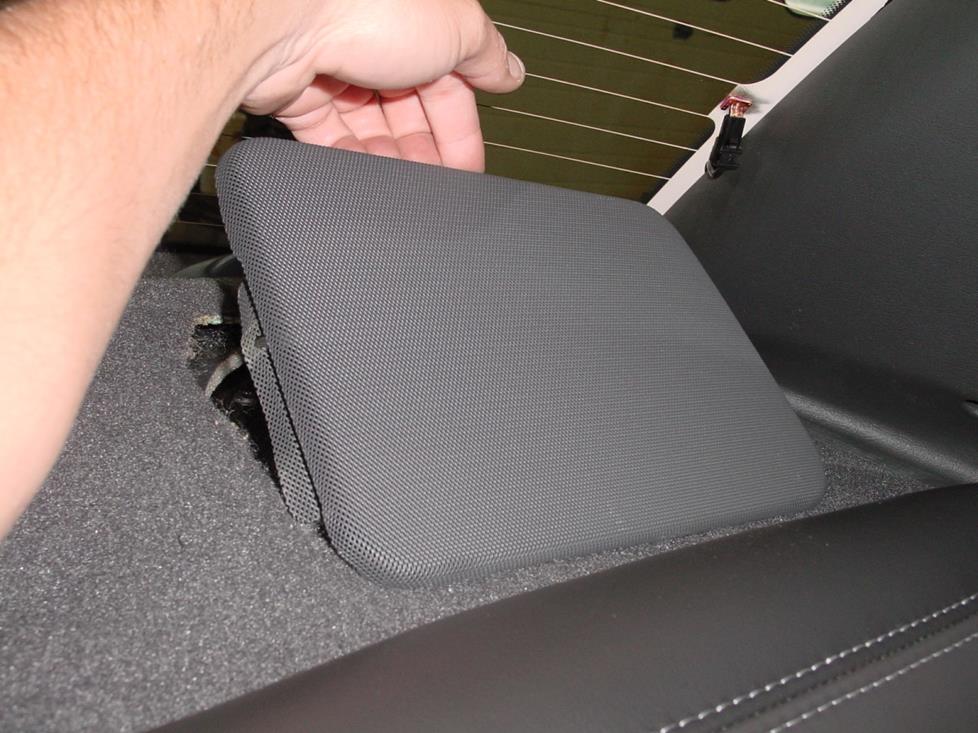 The top-mount rear deck speakers are easy to work with (Crutchfield Research Photo)
Installing rear deck speakers
The factory 6"x8" speakers can be replaced with same-size units or 5-1/4" speakers. You'll need a mounting bracket for the smaller ones here, too, and it's included with your purchase. Pry up the speaker grille then remove the four Phillips screws securing the speaker. Pull it out, disconnect the harnesses, and put it aside. Connect the replacement speaker's adapter to the vehicle speaker harness, then secure the new speaker with screws previously removed. Make sure it's working, then replace the grille.
Shop for speakers that fit your Mercury Marauder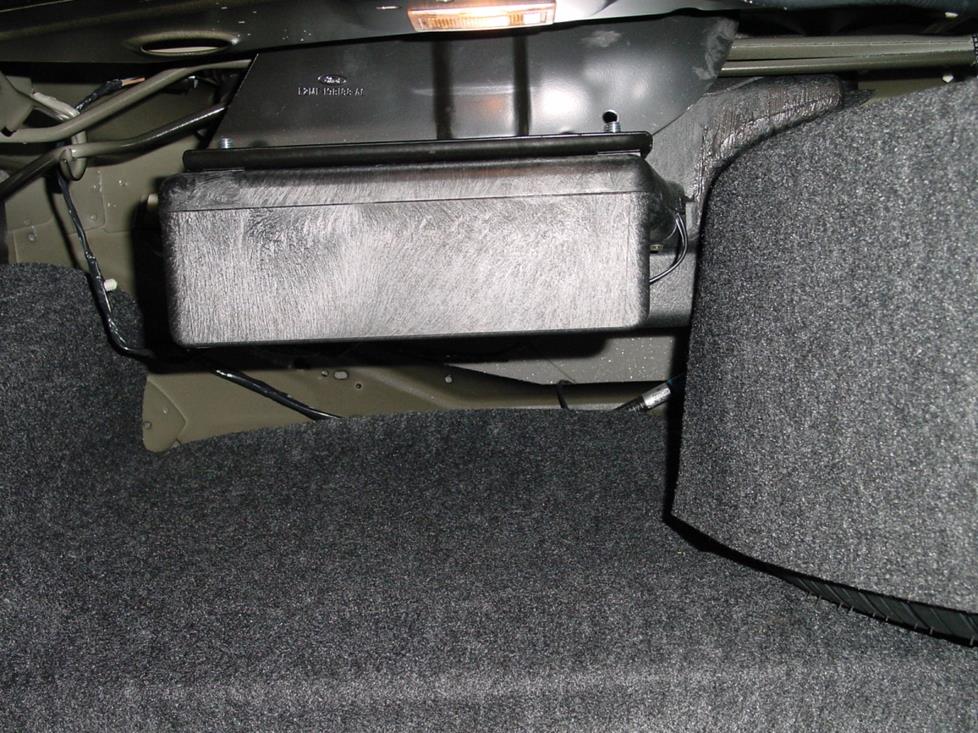 The sub is attached to the underside of the rear deck (Crutchfield Research Photo)
Bass in your Marauder
The stock subwoofer is a 5-ohm, 6-3/4" unit mounted on the underside of the rear deck. A variety of aftermarket 6-3/4" woofers will fit neatly into the space. For maximum performance, your best bet is to replace both the sub and the sub amp at the same time.
If you're doing your system in stages and getting to the sub last, you should know that the factory stereo only sends 5V to the stock sub amp and as a result, when an aftermarket stereo is installed, there may be a turn on/off "pop" from the subwoofer. We mentioned this up top under the radio section, but it's important so we're repeating it here. If you're keeping the factory sub, you'll need to install a 12-volt to 5-volt converter when you install the new stereo.
Replacing the factory sub is relatively simple. You'll need to remove the spare tire then wiggle into the trunk to remove the four 12mm nuts securing the subwoofer enclosure. Disconnect the wiring harness and remove the enclosure. Remove the four Torx T20 screws around the foam area, then lift the foam and remove it. Pry the speaker out of the enclosure, disconnect the speaker wires and remove the speaker. Connect the factory speaker wires to the new sub, then secure it with the screws previously removed. Test it out, then reinstall it.
Tools needed: Panel tool, Torx T20 driver, 12mm socket, ratchet and extension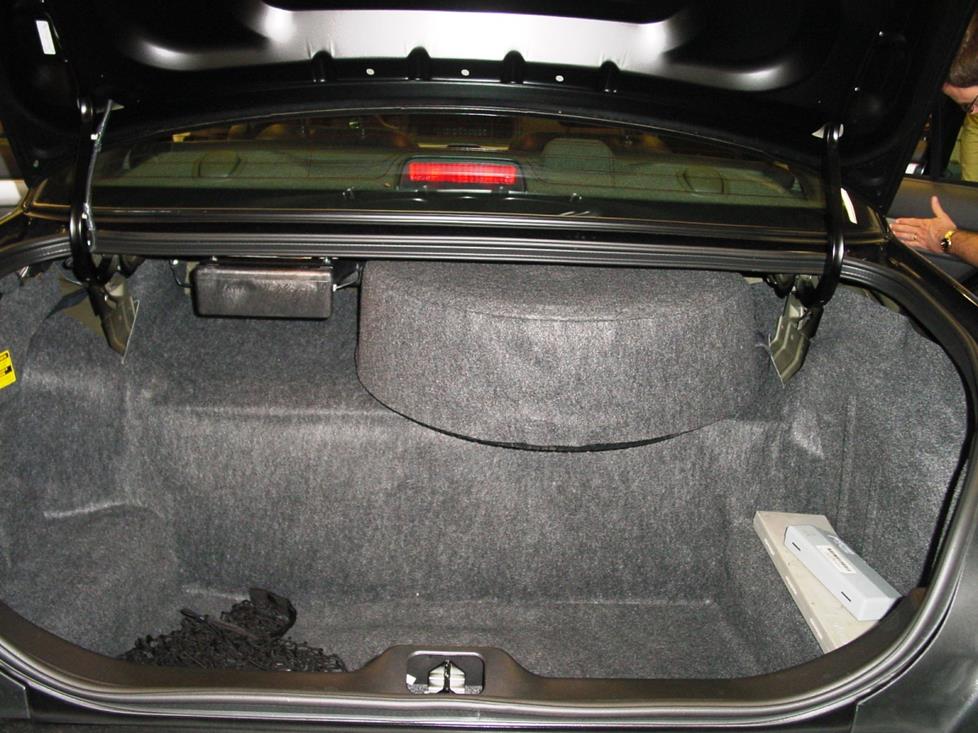 This is pretty much the opposite of a "spacesaver spare." (Crutchfield Research Photo)
Other subwoofer options
With a big ol' car like this one, you have plenty of room for even more bass, if you want it. And you should, because a new sub adds depth and clarity to any type of music, from classical to country.
Despite the presence of a full-size spare tire, the Marauder's trunk offers tons of space. If you're all about power and volume, you have plenty of room (40" W x 15" H x 26"/29" D) to add a subwoofer box and enough amplifiers to feed a big-time system. Even if you want to keep your luggage space and a stock appearance, there's still plenty of room for a smaller subwoofer box.
The more subtle option, of course, is a powered sub. You'll get surprisingly healthy performance in a compact package that will leave you plenty of room for suitcases, groceries, golf clubs, and what have you.
Shop for vehicle-specific subwoofers for your Mercury Marauder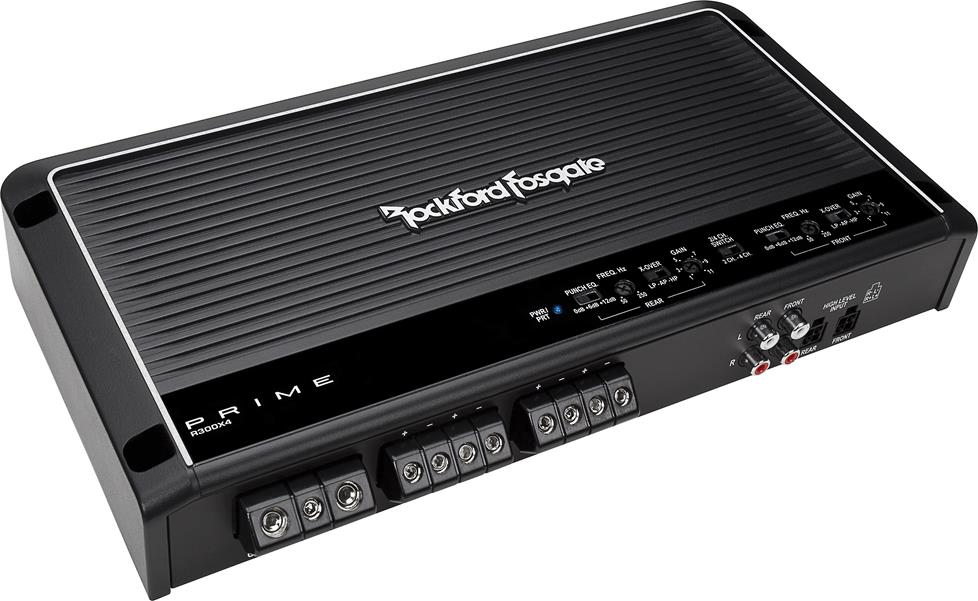 A 4-channel amp brings out all the details in your music
Other options for your Marauder
Here are a few more ideas for upgrading your Marauder:
Add an amplifier for better sound
No matter what else you do to your audio system, to further improve the sound quality, consider installing a 4-channel amplifier for your speakers. That will let you get the best sound from your music and be able to hear it over the roar of the Marauder's engine. And if you install a new subwoofer, you'll also need to install an amplifier to power it, as well. Talk to one of our advisors to get some ideas for how to economically and easily build your system.
Sound deadening
Even if you've been careful about racking up mileage, your Marauder isn't new anymore, so there might be some creaks and rattles. Installing Dynamat in the doors can help seal out noise and seal in sound. If you're installing a sub, lining the trunk with Dynamat will seal in the thump and keep the trunk lid from rattling, too. If you're all about sound, you might want to line the floors, as well.
Portable GPS
Just because you can't install a touchscreen nav receiver in your Marauder's dash doesn't mean you have to drive around lost. A portable GPS will give you turn-by-turn directions, traffic updates, and everything you need to make your road trip go smoothly. Plus, when you get where you're going, you can put it in your pocket and use it to find points of interest around town.
Minimal mods
If you want to expand your in-car entertainment options, but don't want to remove your Marauder's stock receiver, you still have plenty of options. From Bluetooth connectors, to iPod adapters to SiriusXM satellite radio, there are all kinds of ways to update your sound without changing your car.
Security
Installing a security system in your Marauder isn't easy (security systems rarely are), but it's less complicated than it could be. If you're installing an alarm, you won't need a transponder bypass unless you're also adding remote start.
Shop for car security systems for your Mercury Marauder
Find the audio gear that fits your car or truck
Visit our Outfit My Car page and enter your vehicle information to see stereos, speakers, subs, and other audio accessories that will work in your vehicle.